Welcome spring into your home with these beautiful spring mantel ideas. By adding a few simple mantel accent pieces to embracing spring colors you can transform you space in just a few steps.
From farmhouse spring mantels, rustic touches, to more modern mantels we are sharing our favorite looks for spring with you today.
These beautiful mantels feature accents like florals, pastels, and fresh greenery that will inspire you to add that perfect pop of spring color to your space.
My Spring Mantels
Looking at my mantel at first glance it is pretty neutral space. The white shiplap, is the perfect blank canvas to decorate.
I start by adding in pops of color with blue accents and greenery. This gives that perfect wow factor to my mantel.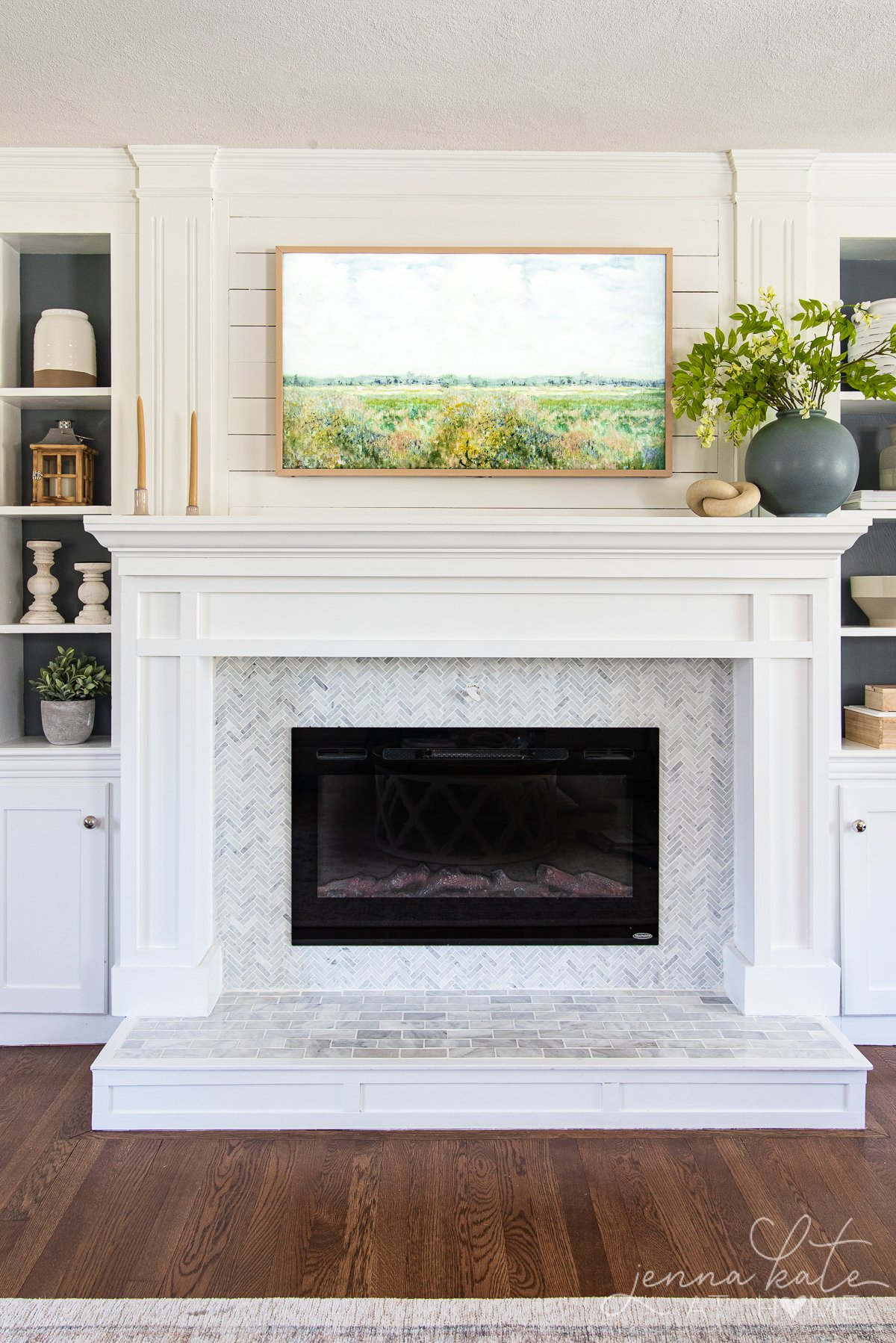 Something as simple as switching out the art on my Samsung Frame TV instantly adds a spring vibe to our living room. You can purchase and download the digital art I have on my TV here.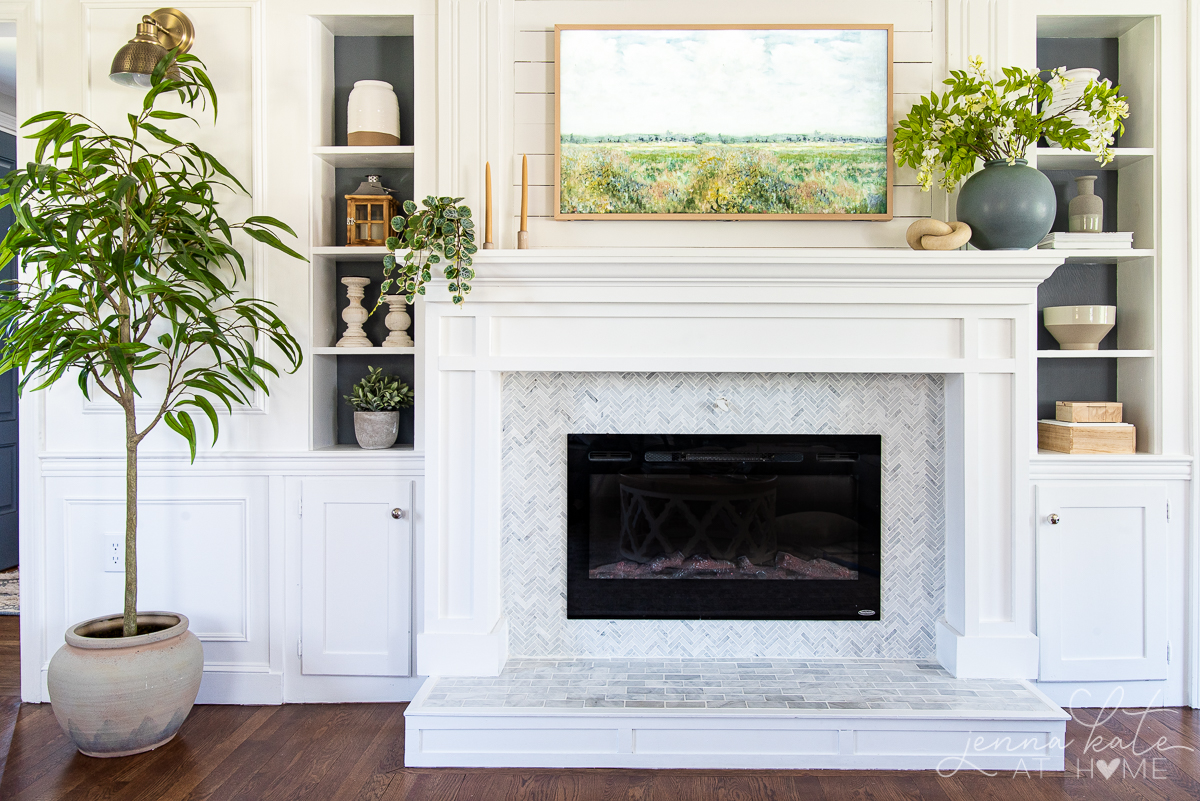 Of course, for me, adding greenery is essential to bring in the colors of spring. Some years I'll keep it simple and just add one pop, and other years I'll add more and even add a faux tree to flank the fireplace.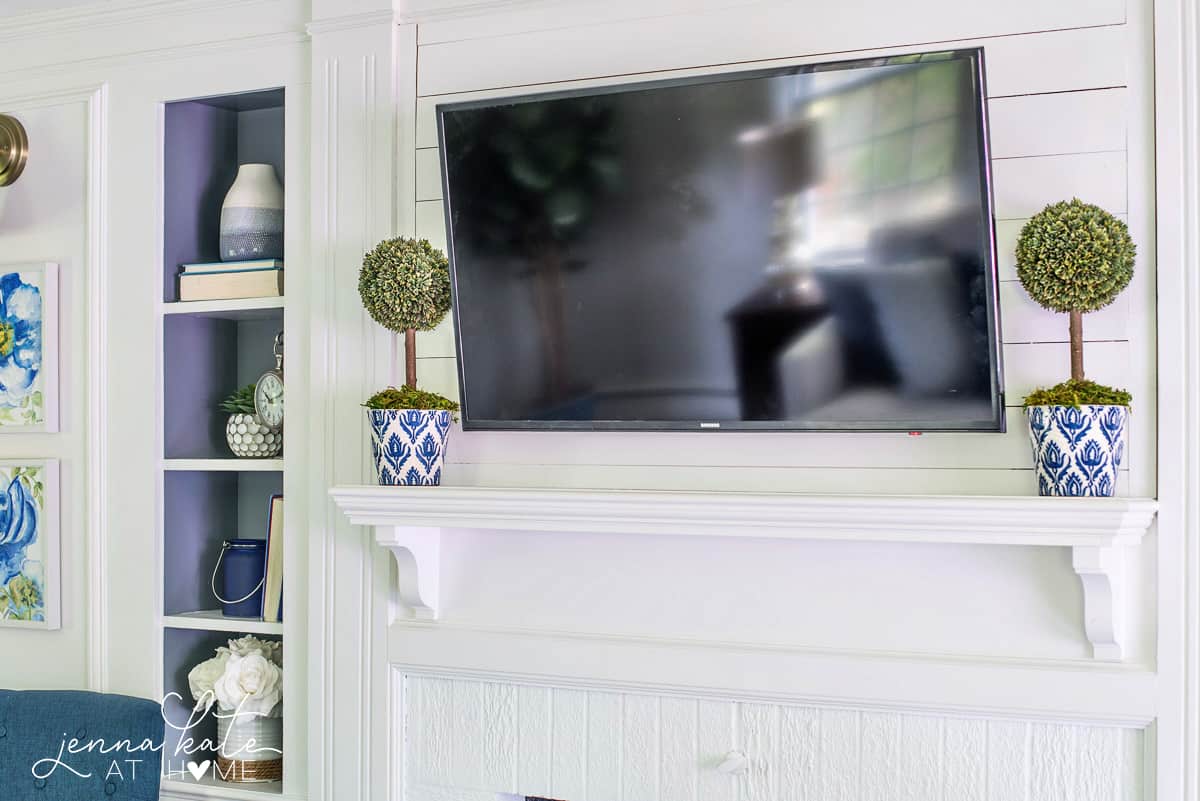 By painting by shelf inserts blue I have the color pops and can use neutral vases and candlesticks in my decor and still have the spring vibe on my mantel.
Natural Spring Mantels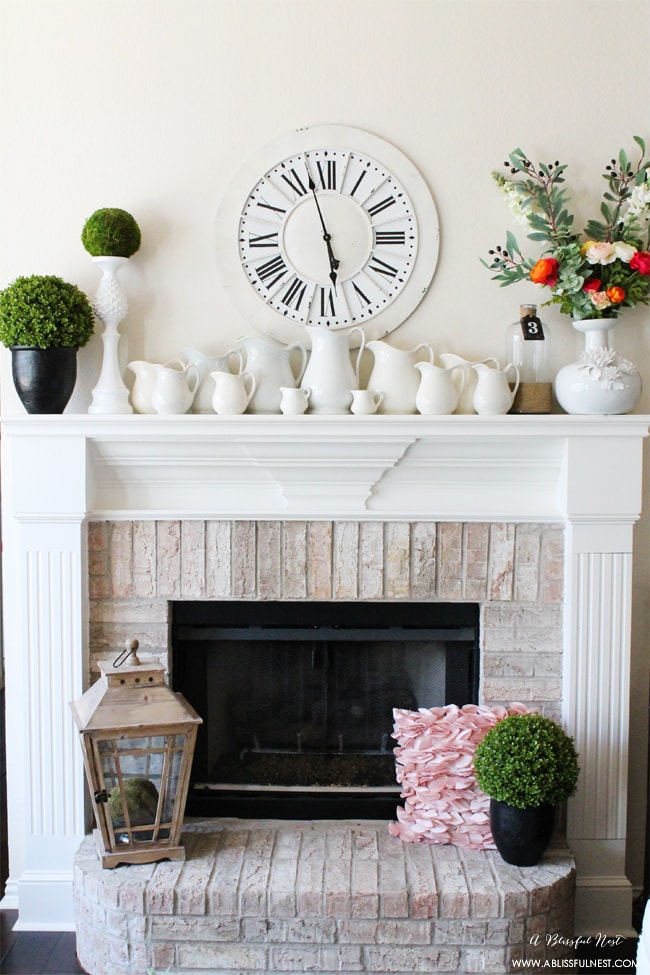 Rebekah's ironstone white pitcher collection is one for the books. We love her crisp white mantel and pops of color blended in with her greenery and florals.
By using faux boxwoods, moss ball, and a flower arrangement she has the perfect balance of white and color.
Her gorgeous clock is the perfect focal point. We also love how she layered natural elements like greenery, twine, and branches. They add the right amount of texture to her space.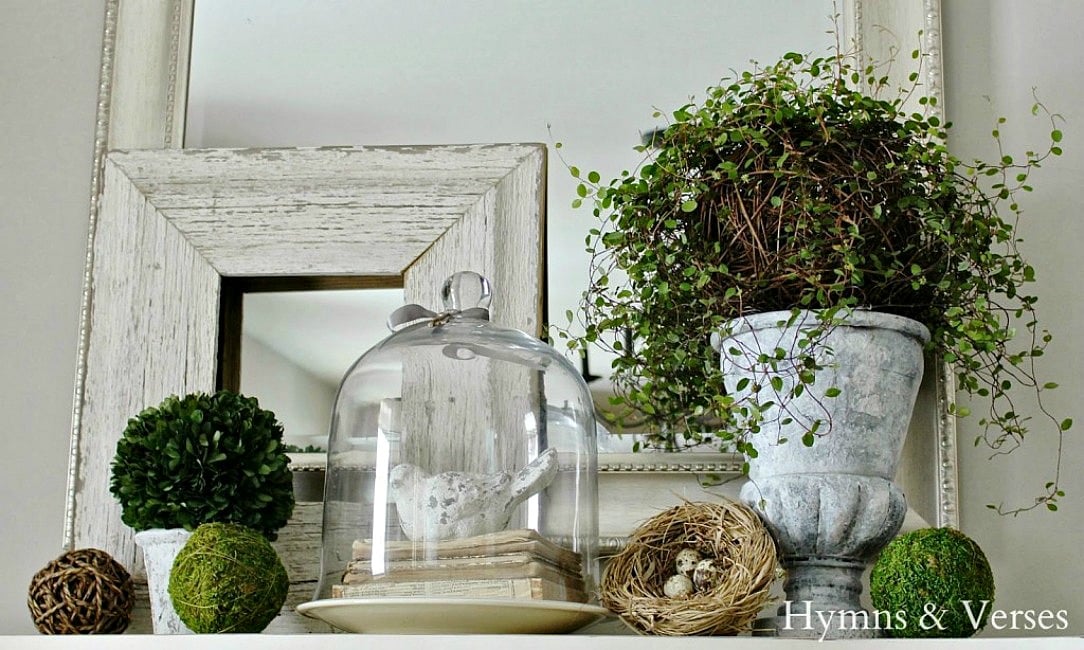 This nature inspired mantel gives us all the feels of a vintage French garden. From the weathered wood frame, moss and raffia balls, and preserved boxwood topiary.
We love the natural elements that bring the outdoors inside.
The large glass cloche makes a huge statement with a cement bird on a "nest" of vintage books.
Green Spring Mantels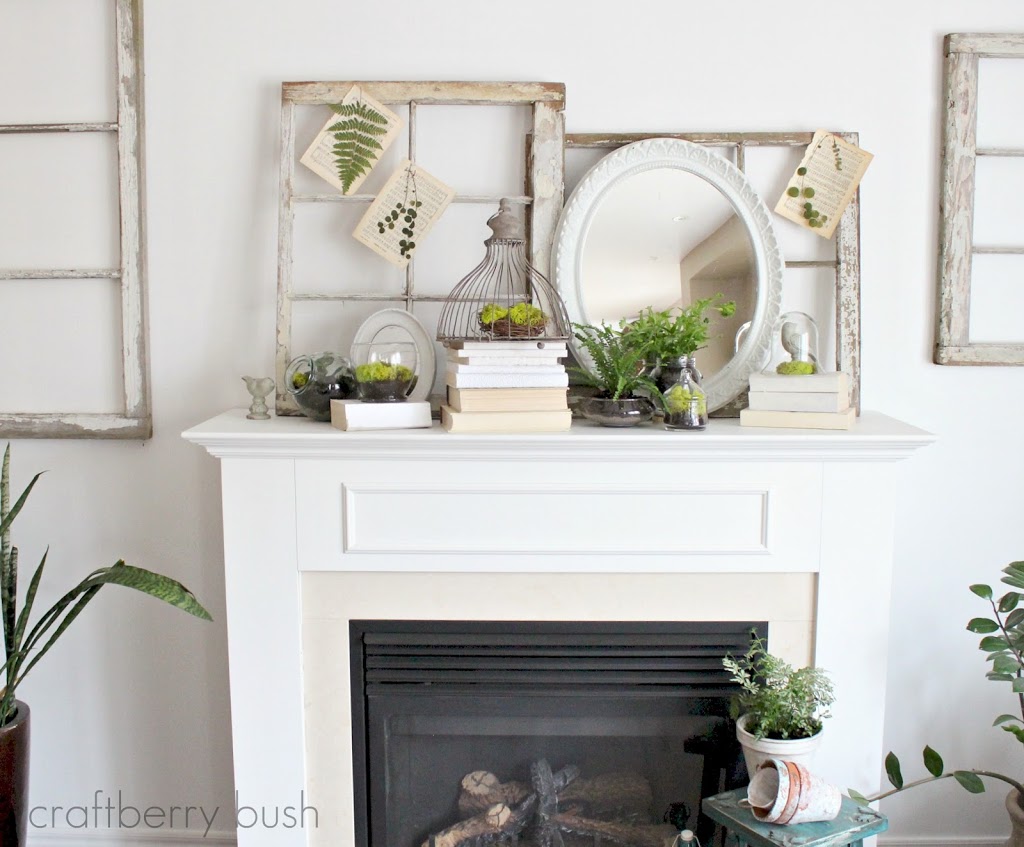 We cannot get enough of Lucy's thrifted glass jars, vintage picture frame, and gorgeous ferns. Such a perfect example of a natural green spring mantel.
She has perfect layers and her vintage books, add in some height. We love her DIY pressed plant covered pages, genius!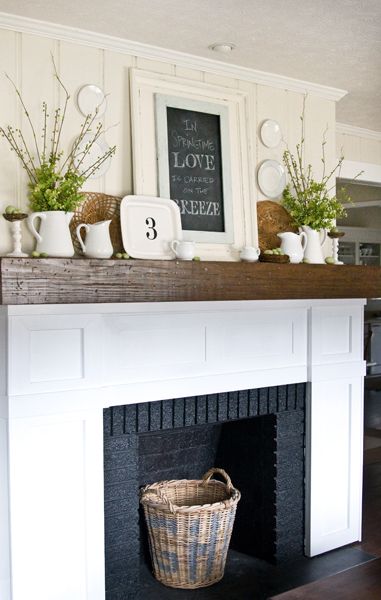 Layla's spring mantel gives us all the vintage farmhouse style vibes. How creative are her grapevine nest with eggs, placed on her candlesticks?
She is the queen of DIY's with her numbered platter, and her DIY chalkboard.
We also love her realistic faux greenery bouquets and vintage plates and pitchers.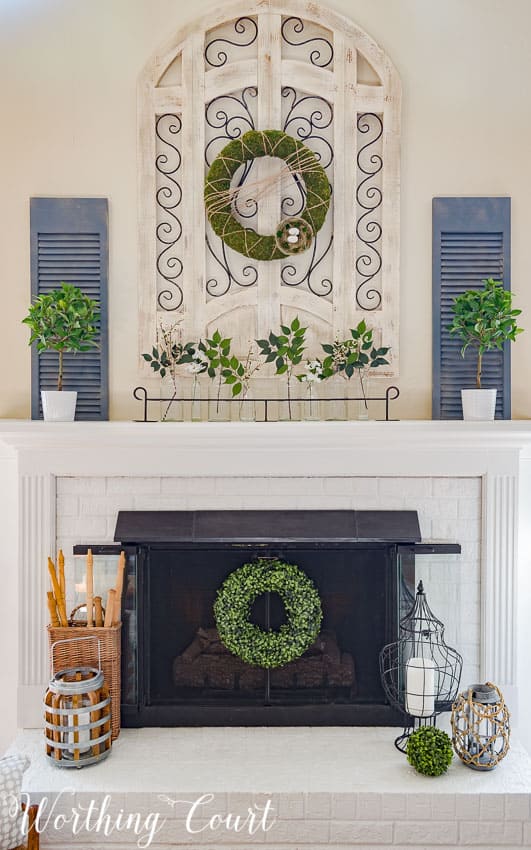 Suzy has created the perfect look for spring with her thrifted metal bottle decor, to her hanging wood metal architecture backdrop. We love mixing wood and metal into a space.
Her boxwood wreath brightens up the fireplace mantel, and we love the different textures that are working together perfectly.
Those blue shutters offer just the perfect amount of contrast for spring.
Perfect Pastels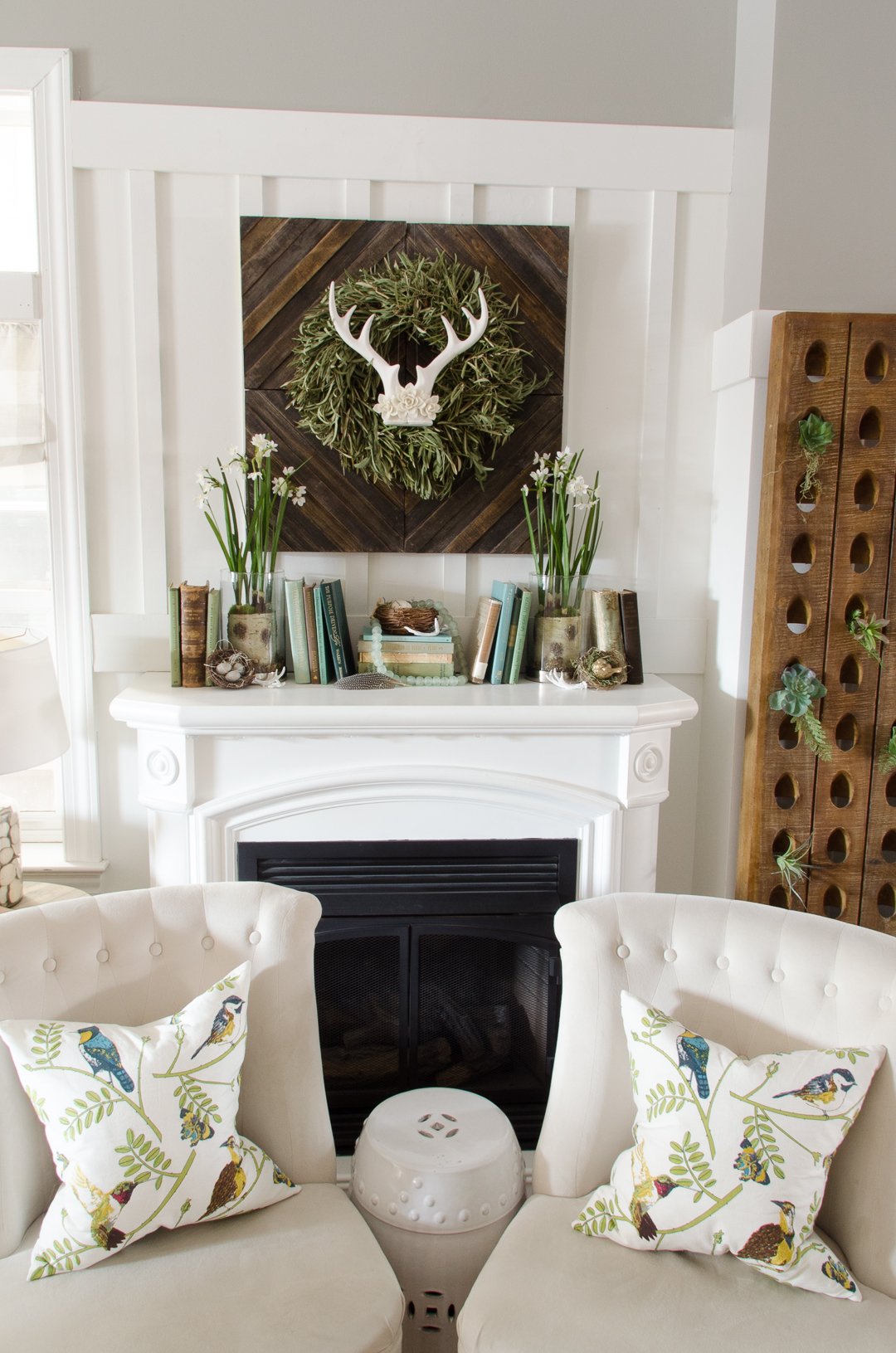 Beth from Home Stories A to Z sure knows how to pair natural accessories likes flowers, feathers, antlers, and greenery to bring spring into her spaces.
She has perfectly paired pastels, and wood tones in her spring mantel. We love the colorful bird pillows, they add amazing character to her natural chairs.
The colored books add a simple, but perfect pop of color to her mantel.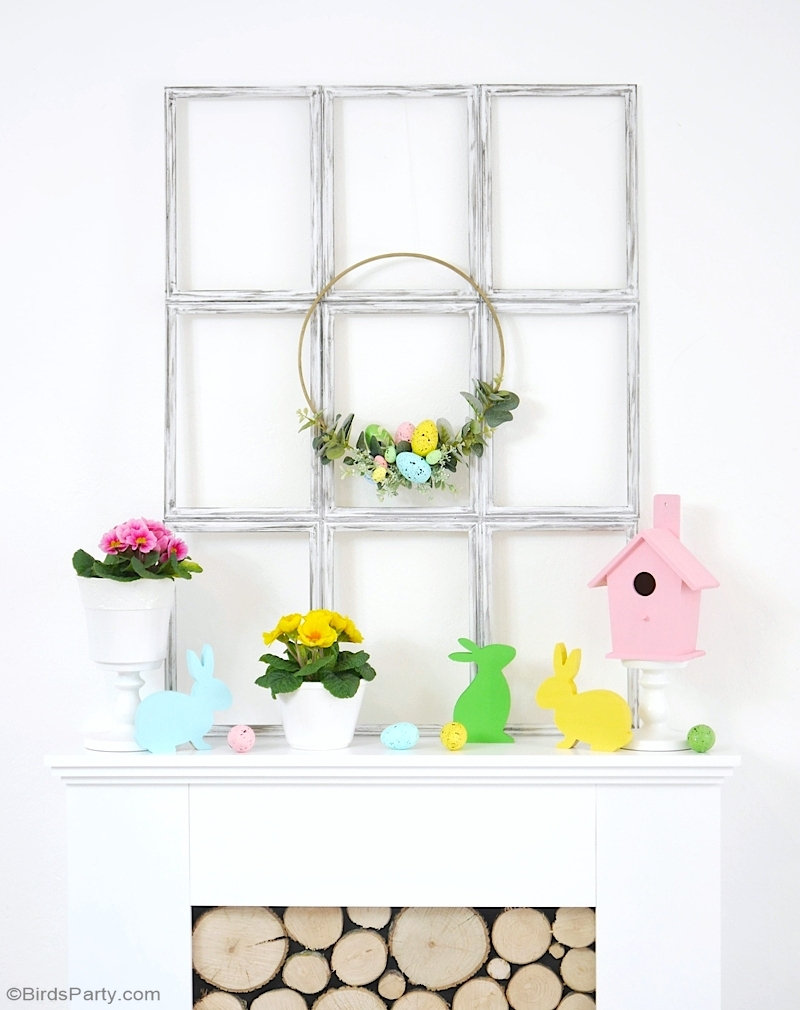 Bird has no shame in her game adding cheerful and comforting pastels into her Easter mantel. She has taken decorative pieces like wooden bunnies and eggs to really put pastel on the map.
We love the pink florals and birdhouse, and that egg wreath! You can see a trend with yet another gorgeous vintage window.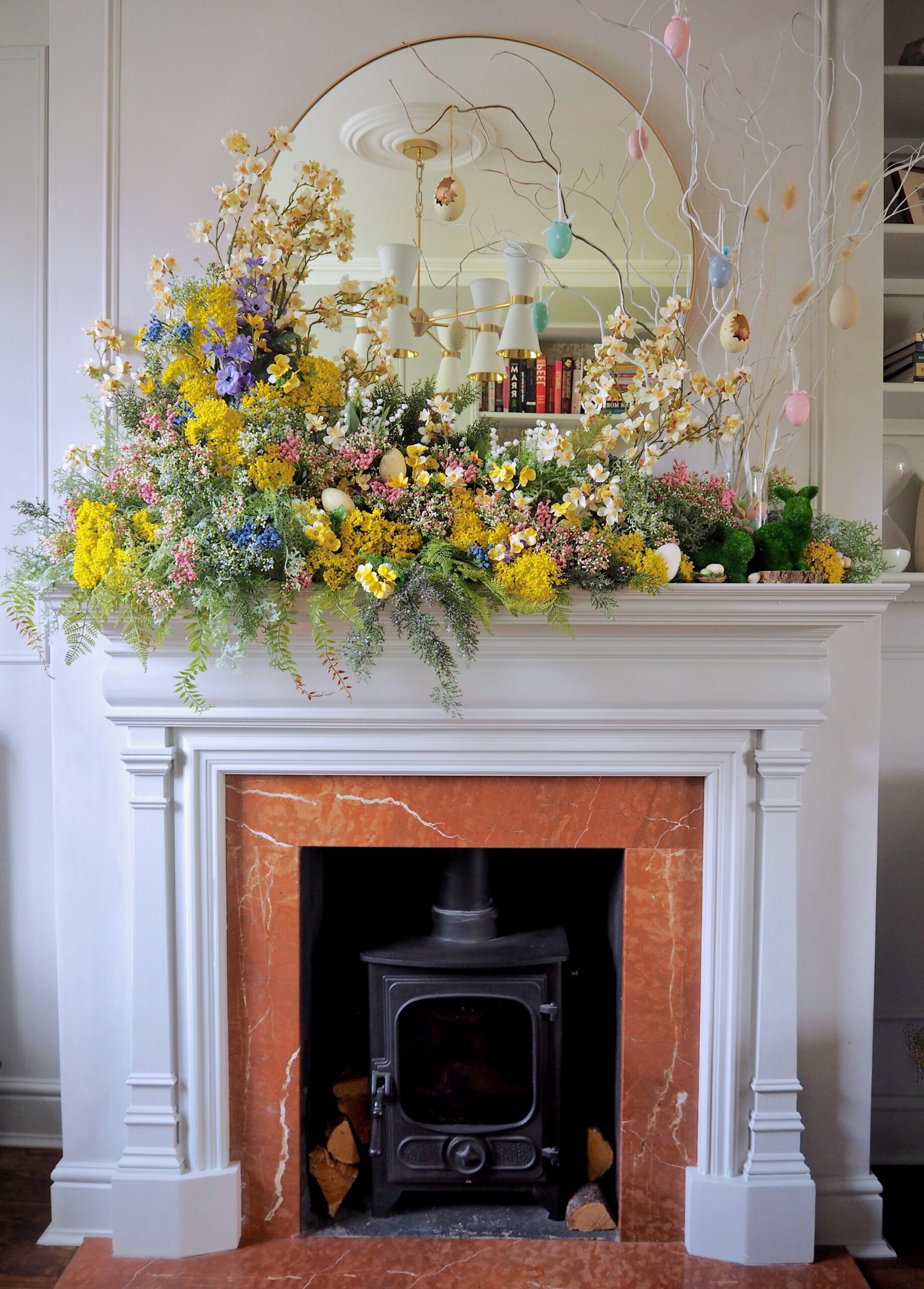 Melanie's spring dried floral garland literally stopped us in our tracks. I mean WOW! She built this beautiful garland on her mantel and it is definitely a show stopper.
When it comes to adding pastels and Easter feels to her mantel she takes the cake.
Rustic Spring Mantels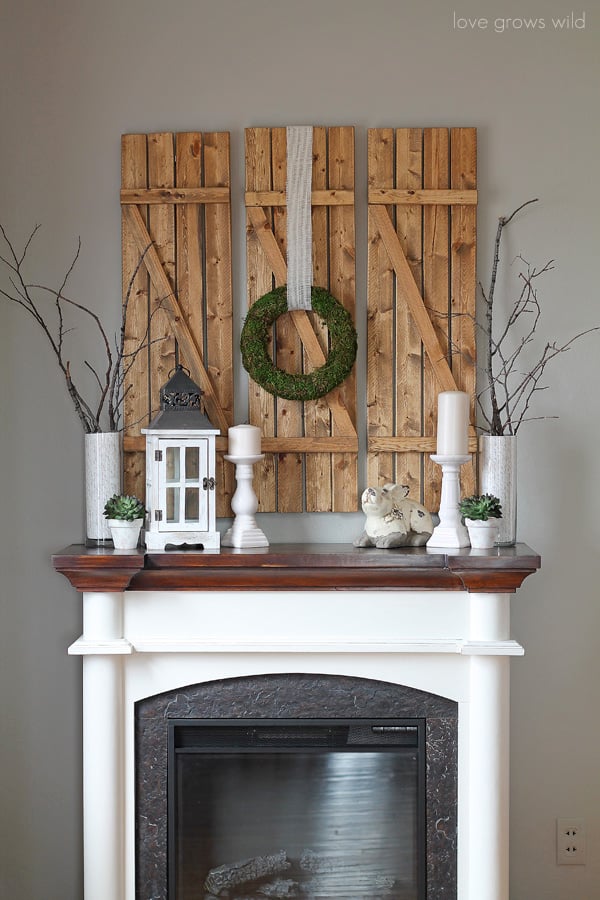 Liz from Love Grows Wild has used these beautiful barn wood shutters to grab out attention.
Her touches of spring from the vintage inspired chippy rabbit, to her tall DIY scrapbook paper cylinder vases with tree branches have us ready to decorate for spring.
Can you believe she made this DIY moss wreath? We just love it!
She finishes off this vignette with distressed, white clay pots, with succulents that really compliment her wreath.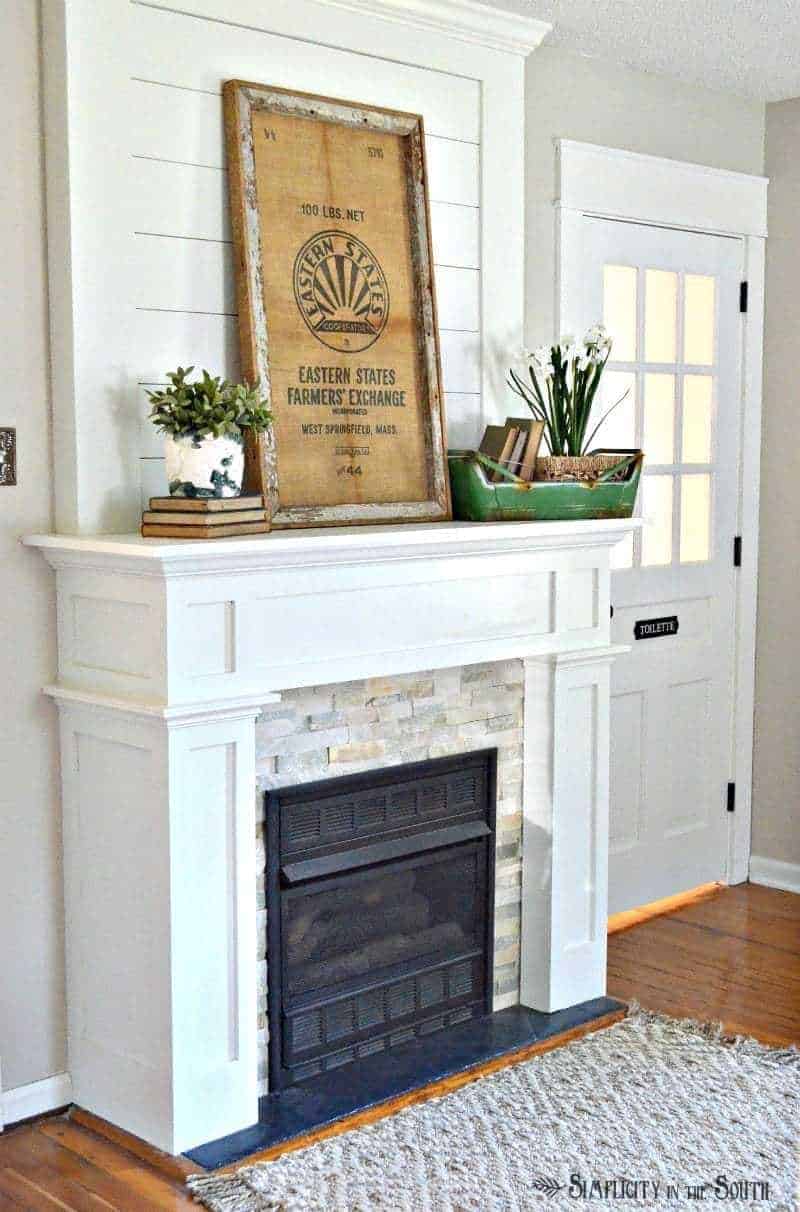 Want the perfect combination of green and white? Tricia from Simplicity in The South's spring mantel gives us that fresh-springy feels.
Simple but stunning at the same time.
Framing her vintage sack was a genius idea. Sprinkle in a few books, and the cutest green metal caddy, and you are all set.
Farmhouse Vibess
By adding a focal point like a window, wreath, or pieces of artworks can add so much charm to your mantel. Adding in a few vases with florals, or candlesticks finishes off this everyday space perfectly.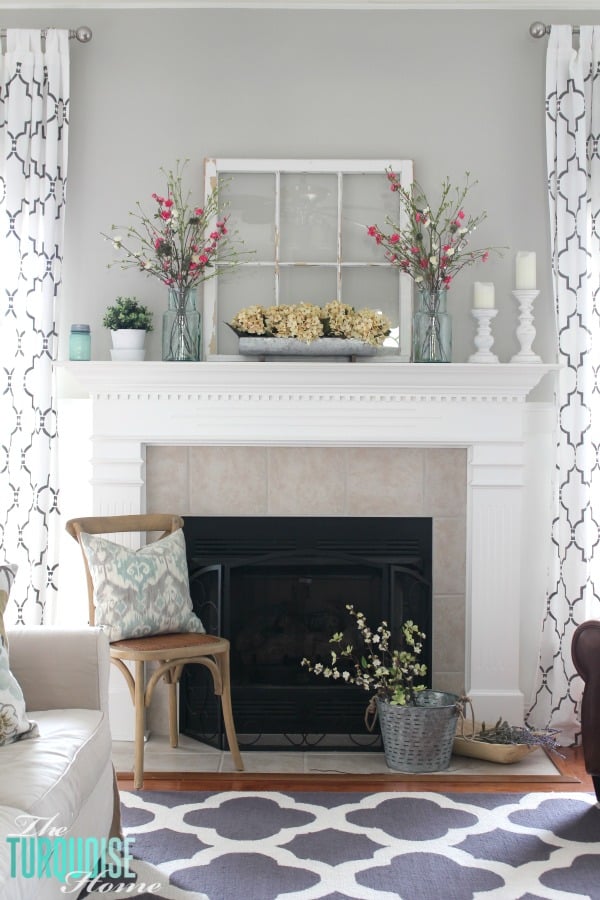 Laura from Turquoise home use of faux flowers and fresh, pretty colors, farmhouse neutrals, turquoise and pinks just make us smile.
She DIY-ed the pretty aqua and gray floral pillows. That aqua color carries over to her vases and candle on the mantel.
We just love the vintage wooden window, and how the gray rug and curtains, tie in with her metal accents in her living room.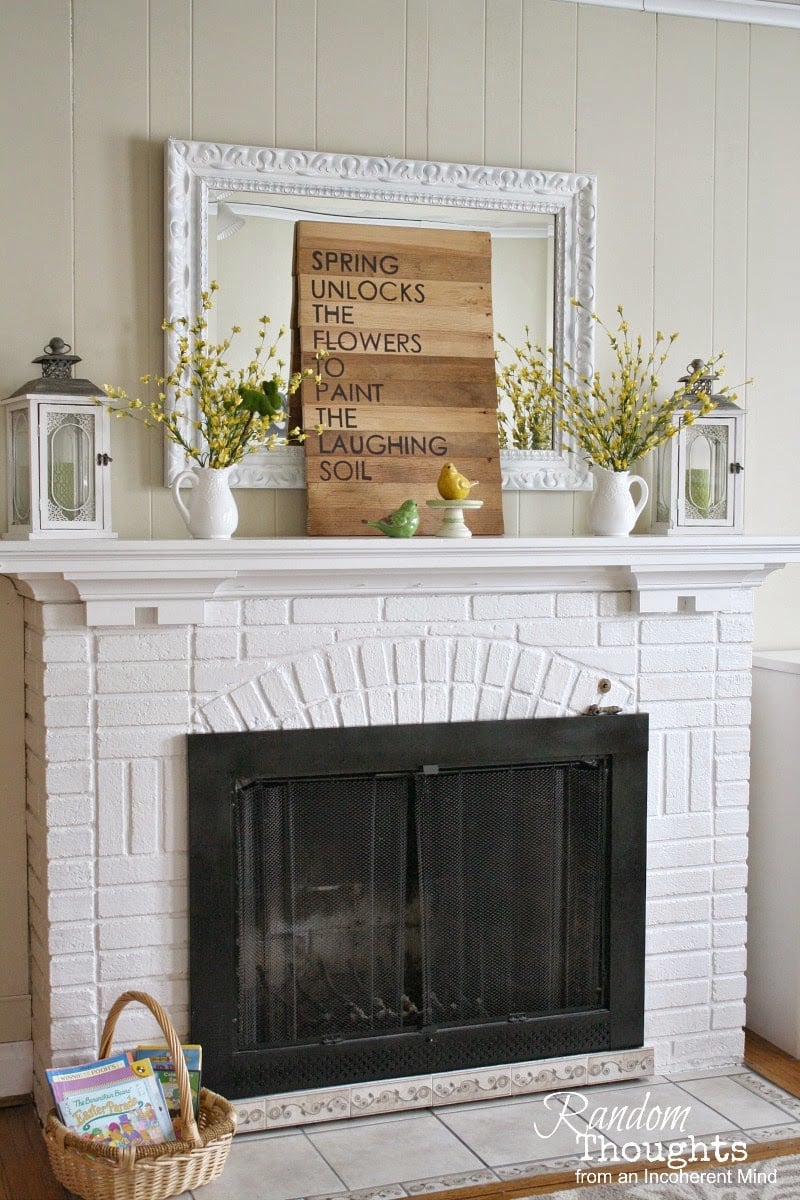 How about a fun DIY spring wood sign? Gina from Random Thoughts Home caught our eye with this creative idea.
Her colorful ceramic birds are the perfect pop of spring. She keeps it simple with her white ceramic pitchers with yellow spring blooms.
Again she uses white lanterns, and adds in green candles. Look at that large farmhouse ornate mirror, such gorgeous detail.
Romanic Spring Mantels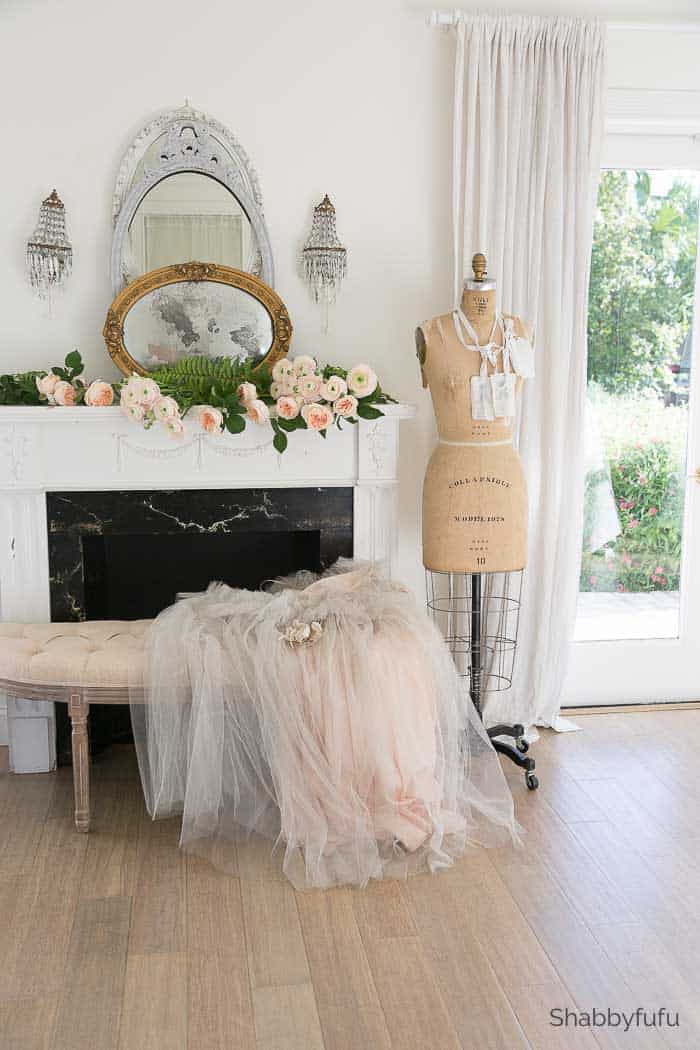 From the vintage lighting to that tule skirt and mannequin we are in love with this romantic spring mantel. Vintage mirrors and abundance of fresh florals scream all things spring.
Such a beautiful way to add a little romance to your bedroom mantel this spring.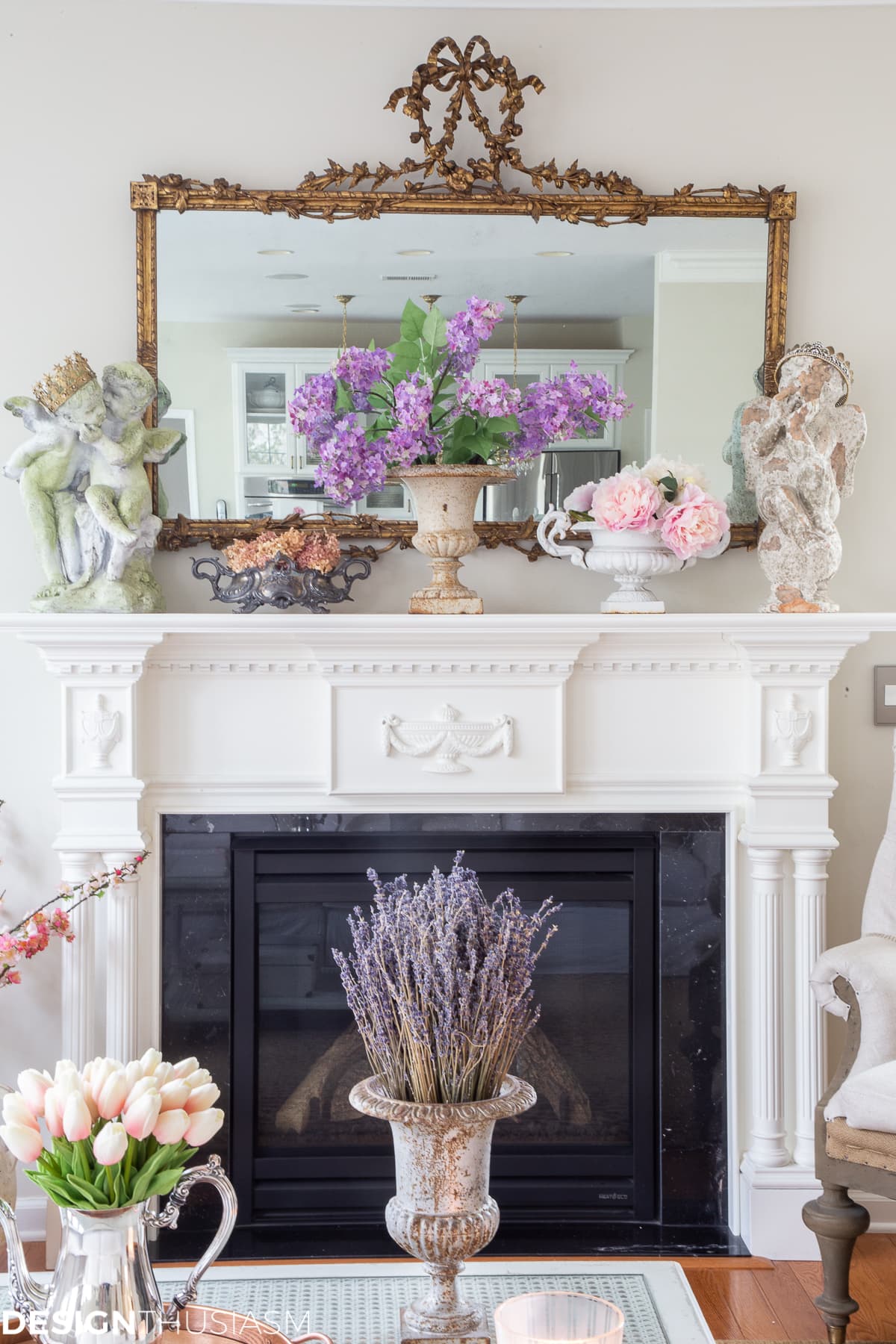 Lory loves to use garden statues indoors, and we love her ideas of using planters, urns, and vintage cast iron to bring spring inside to her mantel.
How about her fresh lilacs and peonies? That gold ornate mirror is stunning!
Bright & Beautiful Mantels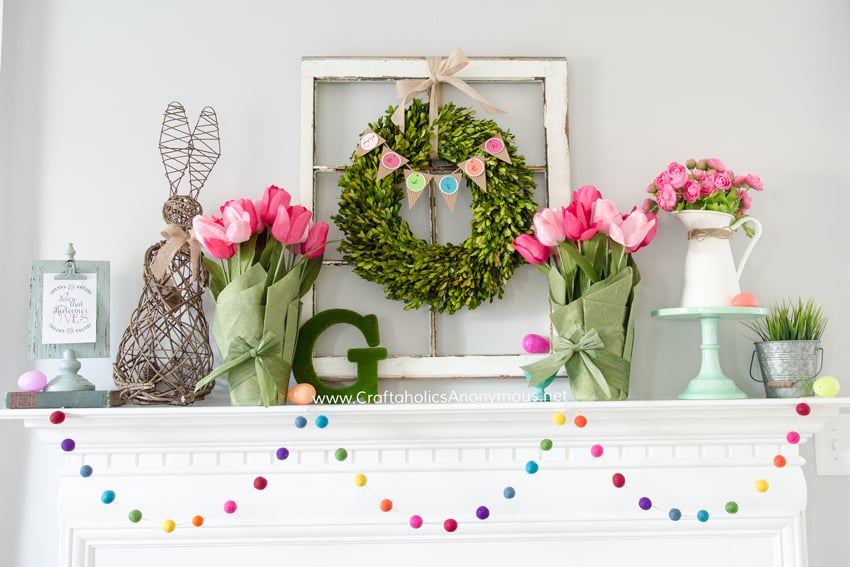 Raise your hand if you love bright spring colors! Linda's easter mantel should make your heart flutter. Colorful Easter decor from her egg garland, to bright pink tulips.
She definitely is making a colorful statement.
We love how she incorporated a cake stand into her mantel decor. Pulling in decor from around your own home can truly make a creative statement.
I spy her fun DIY project, a hand lettered bunting project on her beautiful boxwood wreath.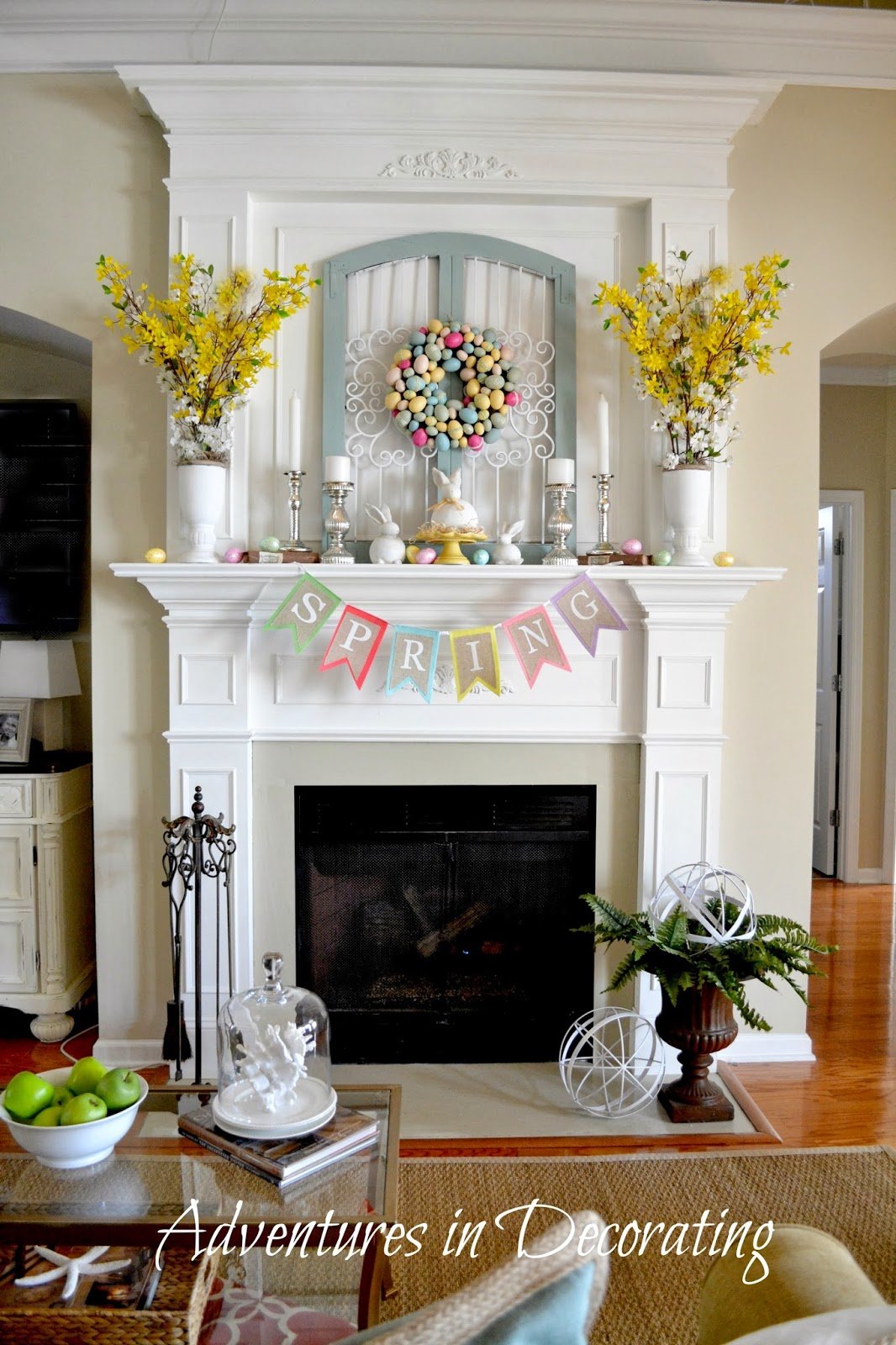 Another fun window focal point coming at you. Becca's blue window is perfect for spring, and adds so much depth to her mantel.
She is using a fun egg wreath to really grab our attention.
We love the twin yellow florals in vase, and her family of bunnies. The yellow stand, ties in with her yellow florals.
She even sprinkled in some silver candlesticks, colorful pops of scattered Easter eggs, and a fun spring banner.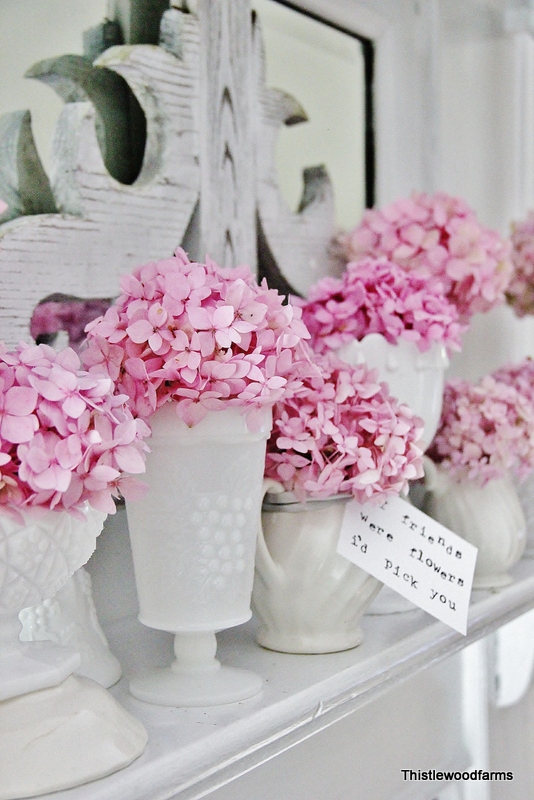 KariAnne sure knows how to bring her mantel to life with her bright pink hydrangeas. We love her white vase collection and her handmade typewriter font phrase!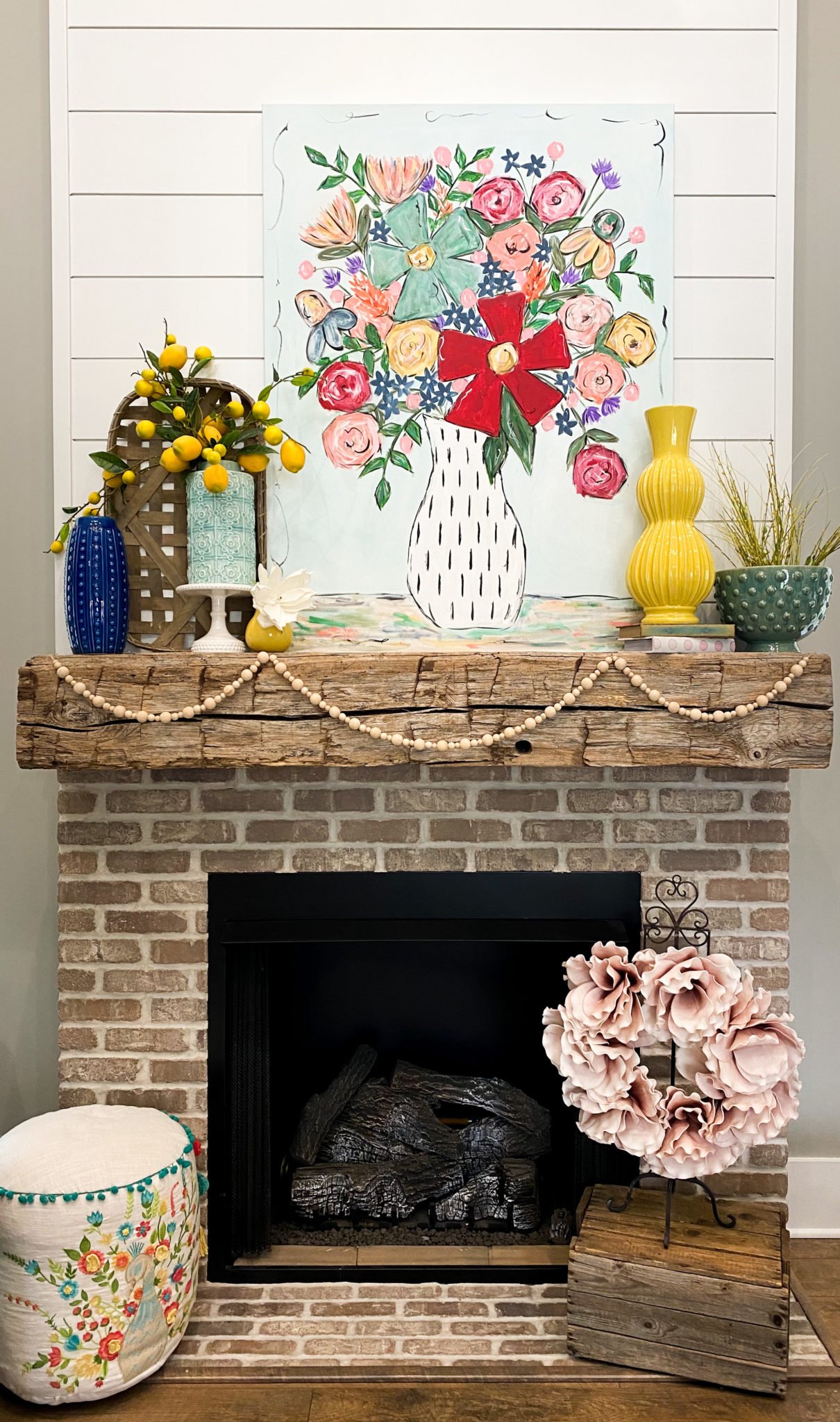 Brooke is ready for spring with her complete mantel makeover. She loves to incorporate bright colors after a long winter.
She is a perfect example of how to layer and add in different heights to a mantel. Her decor offers so much character from the artwork, pouf, to the colorful books.
Perfect pop of yellow to grab her visitors attention.
Simple Spring Mantel Inspiration
Here are some simple spring mantel ideas to give you all the inspiration you need to get started decorating your mantel.
Ashley shares her clean yet modern classic color palette that give us hope spring is around the corner. Bright yet neutral decor add a feeling of freshness to her mantel.
We love her framed DIY bunny print, black candlesticks, and adorable gold accents.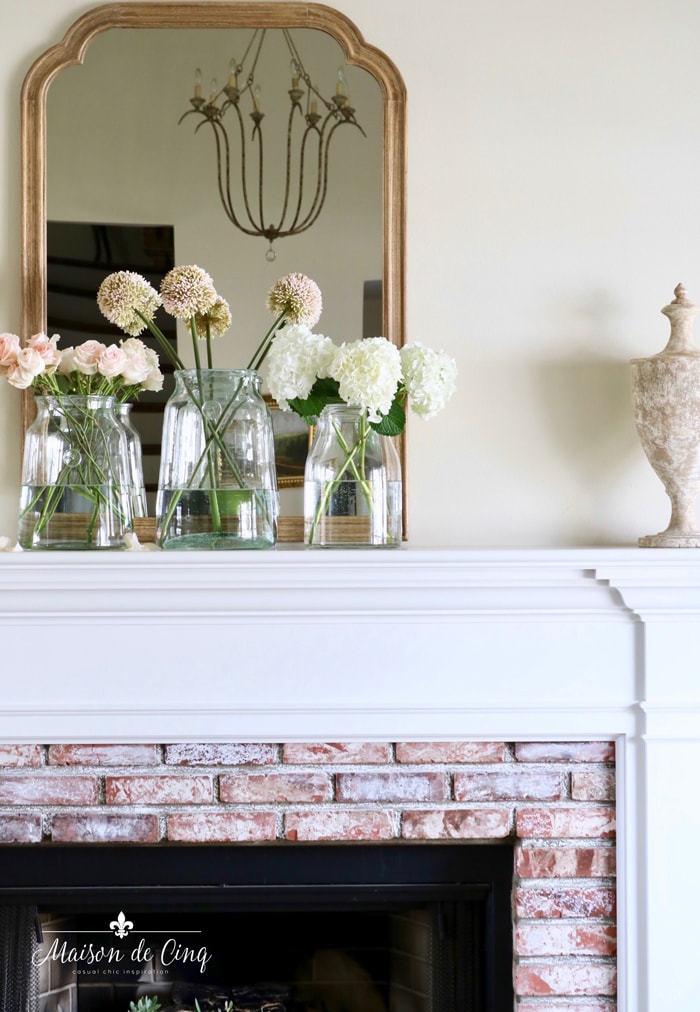 Simple spring flowers in soft pinks and whites add softness to this brick fireplace. We love the large French mason jars and architectural decor.
Simply add is some fresh roses and hydrangeas florals, even some faux alliums. This Target mirror reflecting her gorgeous vintage chandelier, finish off this gorgeous space.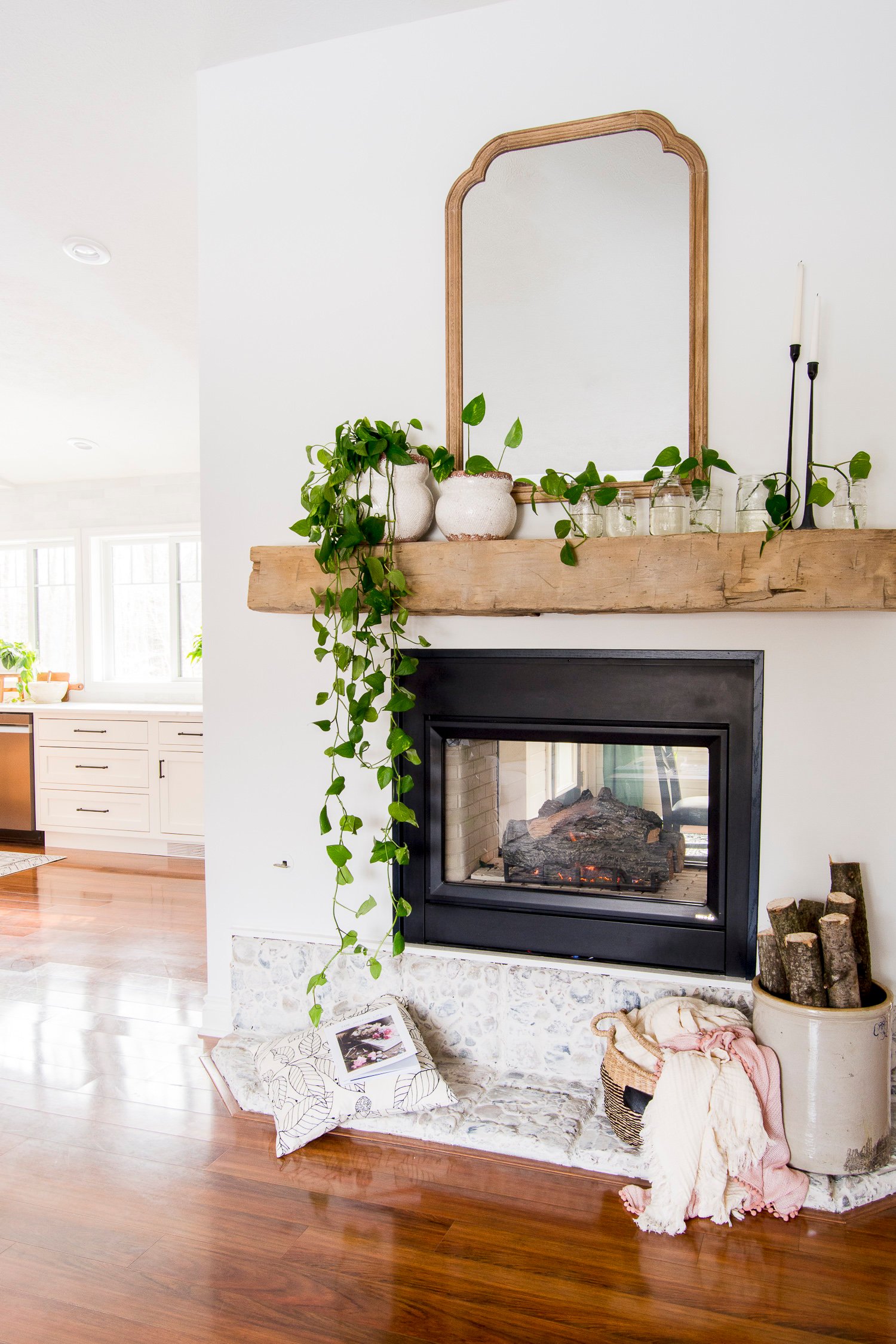 Sarah knows how to propagate Pothos! She is all about letting nature steal the show. Her beautiful indoor plants certainly scream spring to us.
We are in love with the simplicity.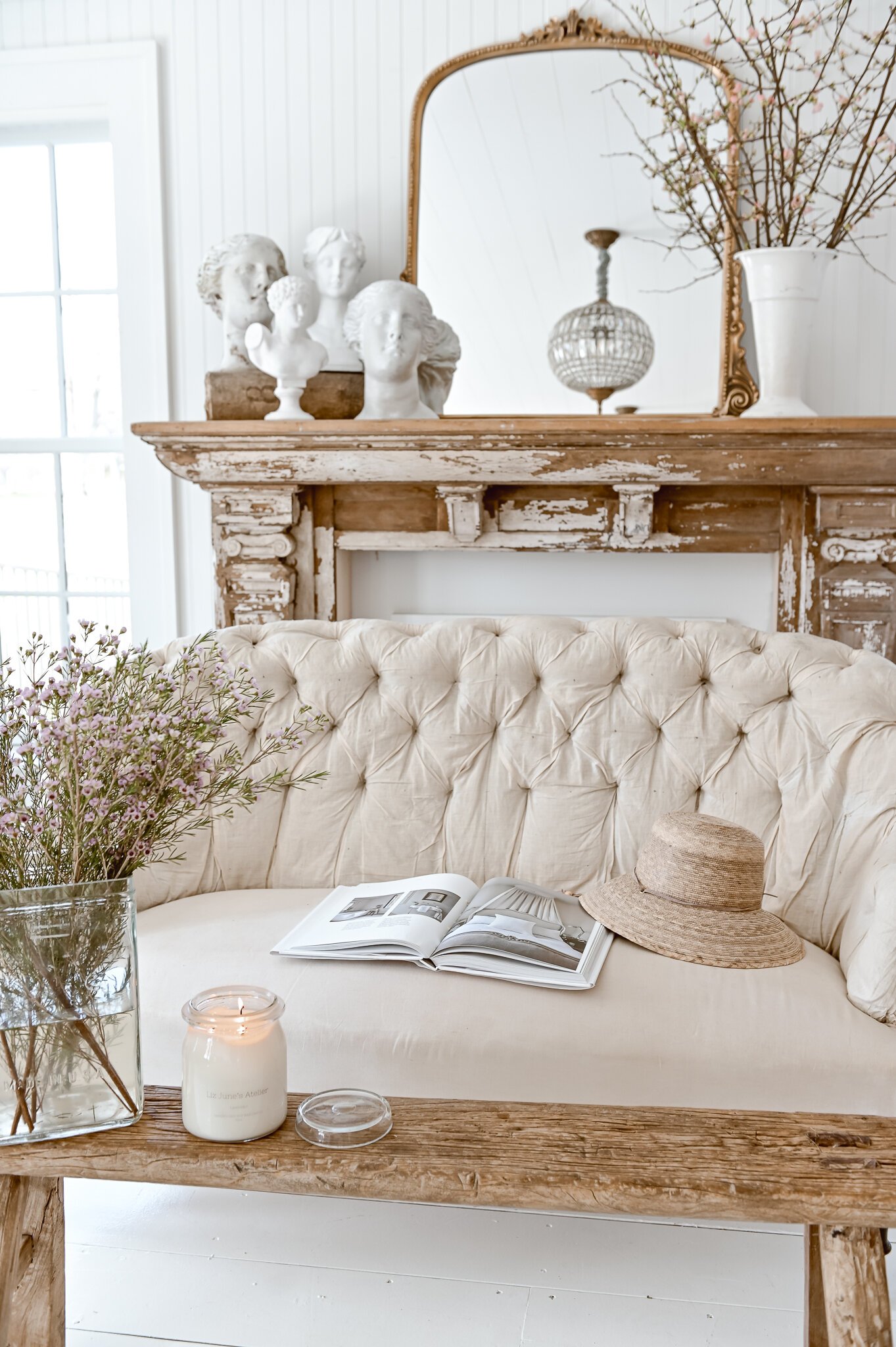 Liz Marie is all about foraging items from around your home. We love how creative she is to grab branches and fresh florals to simple vases.
Her bust planter collection has sure started a trend across social media. The woods and white offer a simple yet timeless vintage look to her mantel.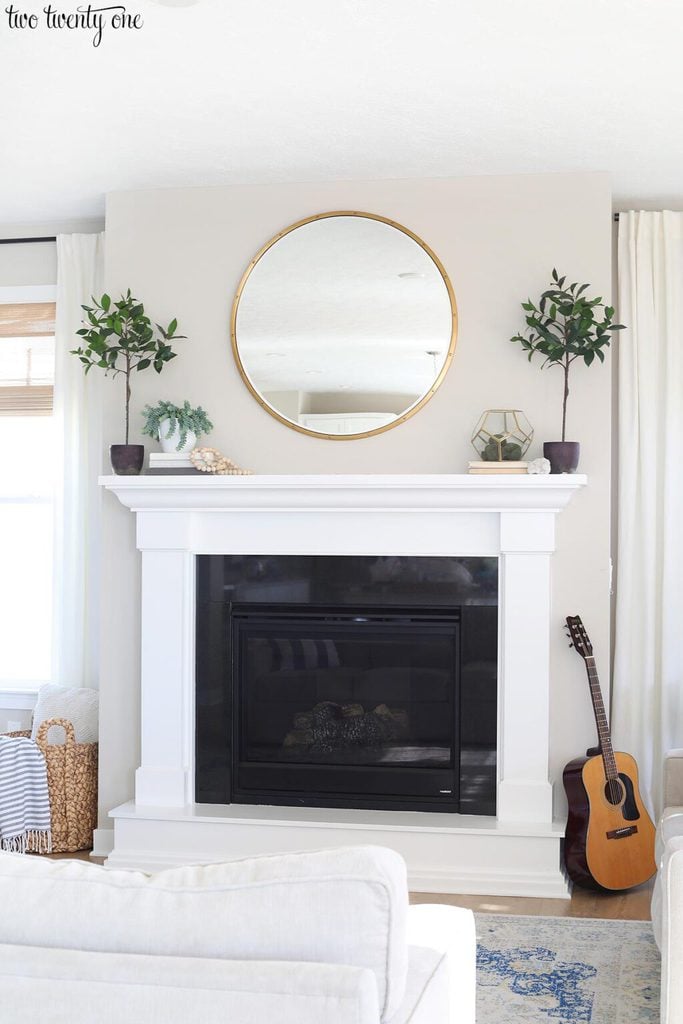 If you are looking for a clean and neutral mantel Chelsea has you covered. If you don't typically go all out in spring decorating she has some ideas for you.
How about her 29″ topiaries, brass terrariums, books, and her adorable geode? This mantel could really work for any season, not a lot would need to be changed.
Final Thoughts
Are you full of inspirations and fresh ideas to help you decorate your mantel for spring? I sure hope so! Whether you outright copy or just take tidbits from some of these ideas, I hope you'll have fun refreshing your fireplace for the upcoming season!
More Seasonal Ideas You'll Like