Fall mantel decor doesn't need to be expensive or fussy! Using what you already own and a few items from nature, you'll have a beautiful mantel for the season.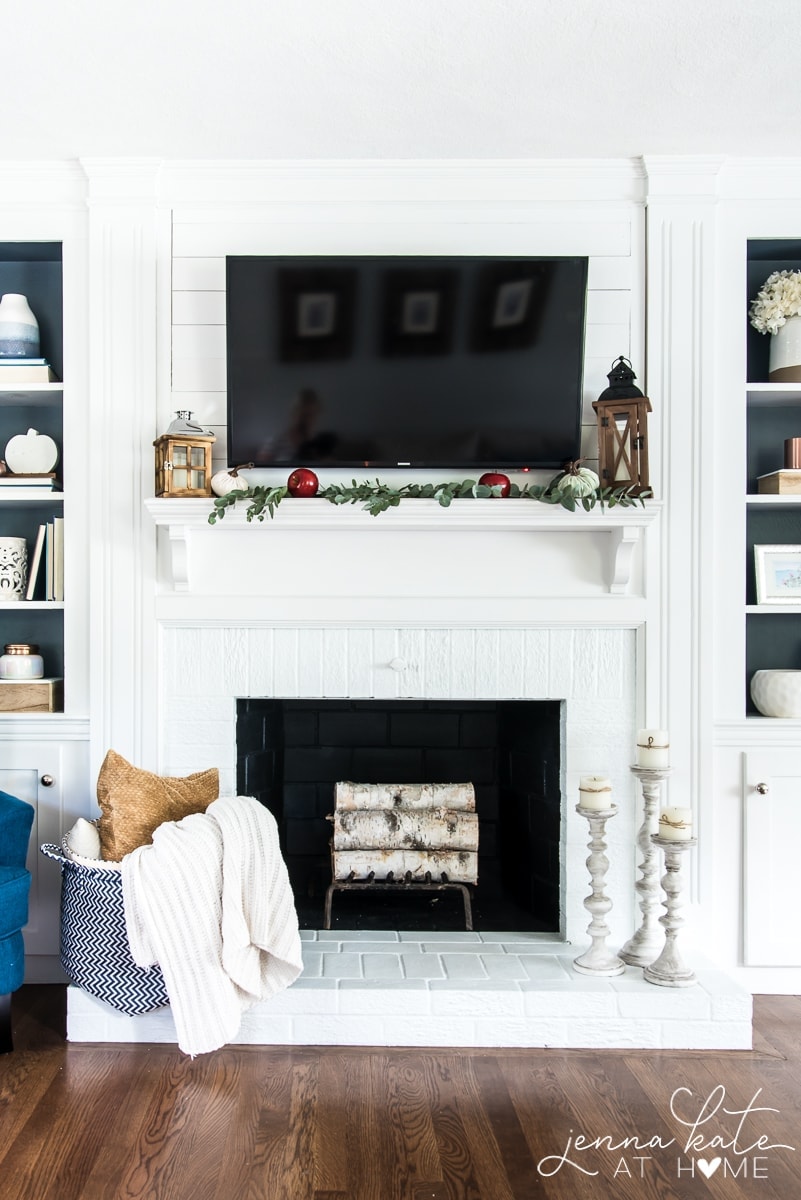 How To Decorate a Mantel For Fall
More than any other season, I think fall decor should take inspiration from nature. Take a look out your window or go for a walk. What colors do you see? Orange, yellow, bronze, gold, reds, brown and purple. Bring these colors in your mantel decor. You can use them all, or keep it simple with just a touch of color.
To create your own simple fall look, seek items you already own that have a rustic, comforting, autumnal feel. Antique pieces are often a nice touch, as are candles, and seasonal fruits and vegetables. After all, fall is the time of harvest! Look through your kitchen, your bedroom, and even items for other holidays. You never know when a beautiful fur throw or a pretty glass Christmas bauble will be the right piece to complete your fall décor.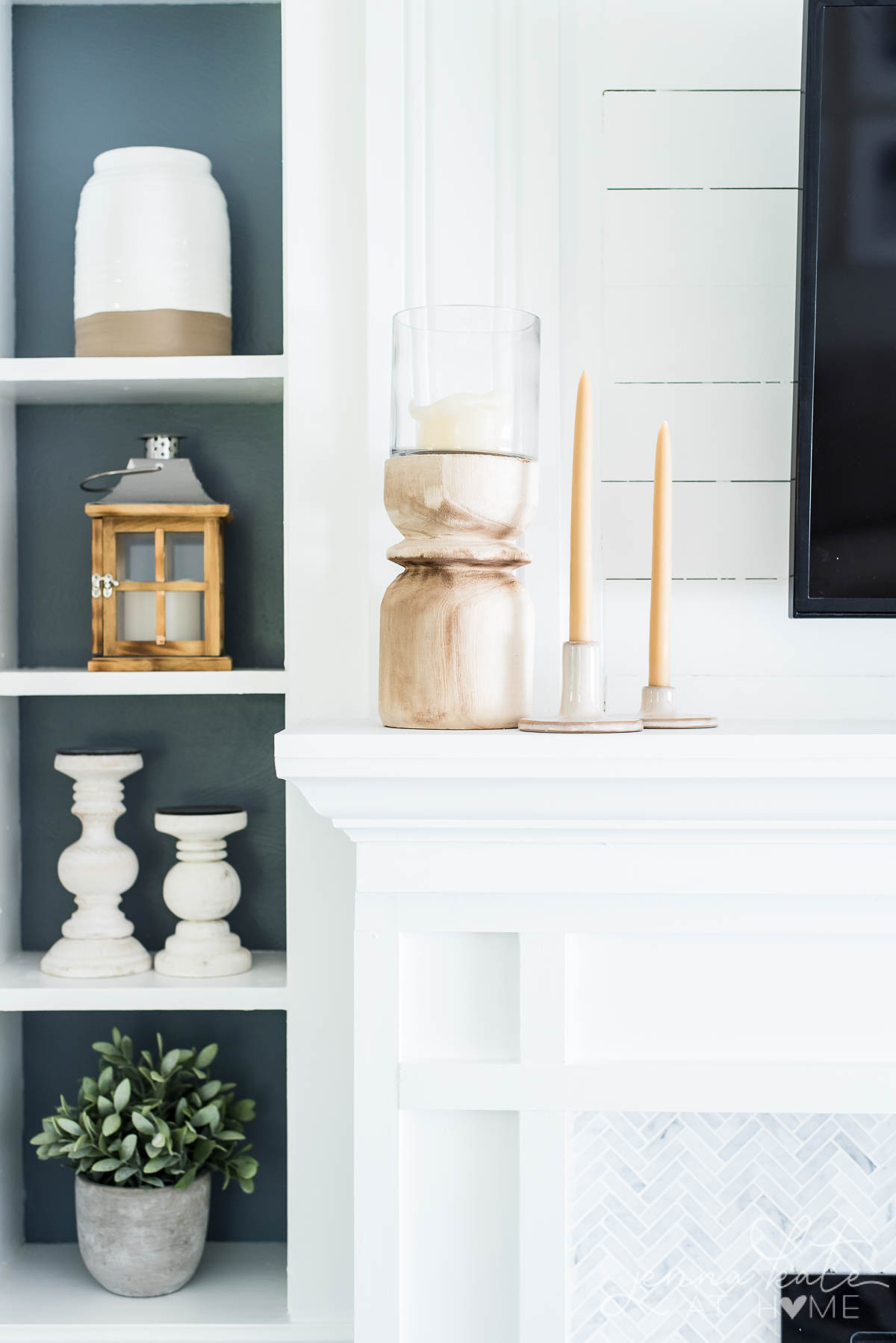 Don't be afraid to do something less traditional too. Soft pinks, blues and greens, deeper jewel tones, and soft textures are all fall-appropriate, while still feeling fresh and surprising. Play off the other colors in your room and look for ways to accent the items you already have.
I'm all about keeping it simple lately. When you think of decorating for the seasons, it can quickly become overwhelming or expensive, but there's really no reason to stress. Decorating should feel joyful. Add a few little touches to elevate your space for the autumn season.
For my simple fall mantel décor this year, I've decided to go with lots of natural greens. I accented with copper and a pop of red from the apples for some seasonally appropriate color. Of course, there are a few little velvet pumpkins included for good measure (last year's purchase from Target). Against the white backdrop of the fireplace, I think everything looks really pulled together. I love how the fall mantel turned out. Do you?
---
Looking For More Fall Decorating Ideas?
---
Rules For Decorating a Mantel
They really aren't any definitive rules for decorating a mantel, as what you choose to use will depend on your style.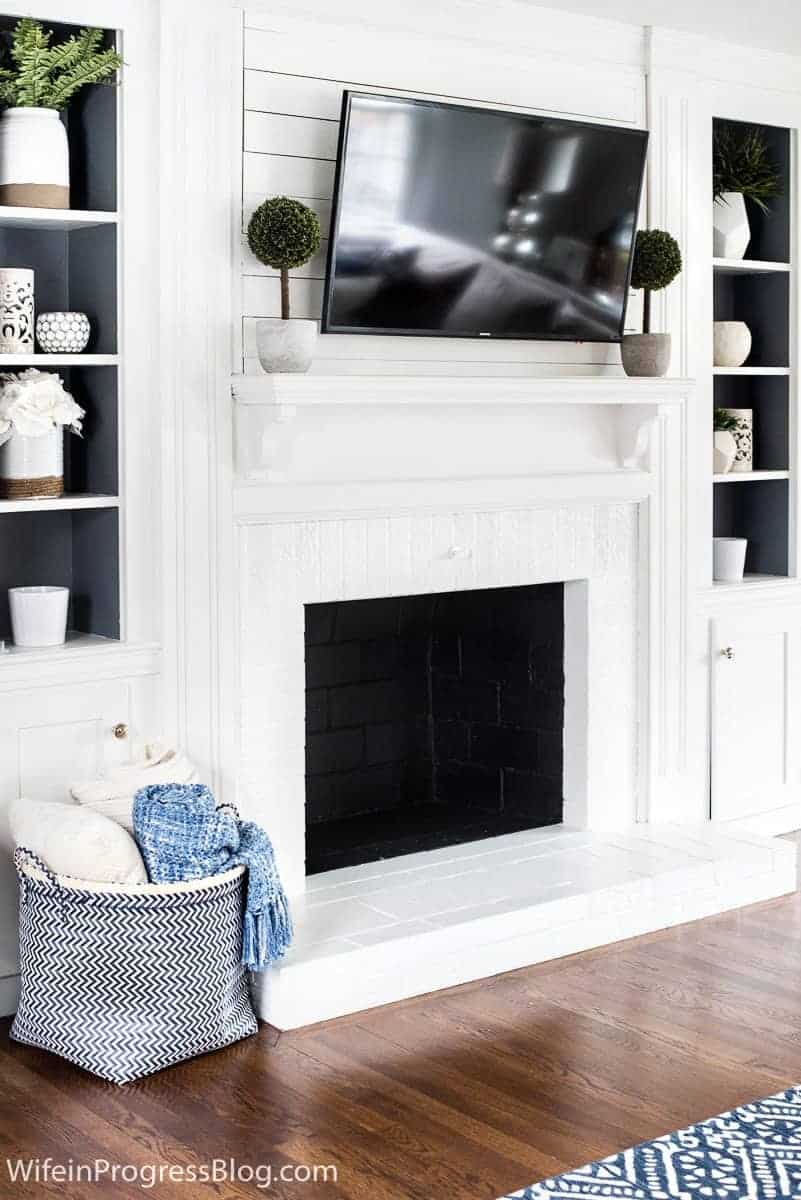 If you are decorating a mantel with a TV above it, then you may some height on the sides, but minimal height directly below the TV. In this case, flanking the TV with vases, mini topiaries or tall candle holders will help balance out that massive black rectangle.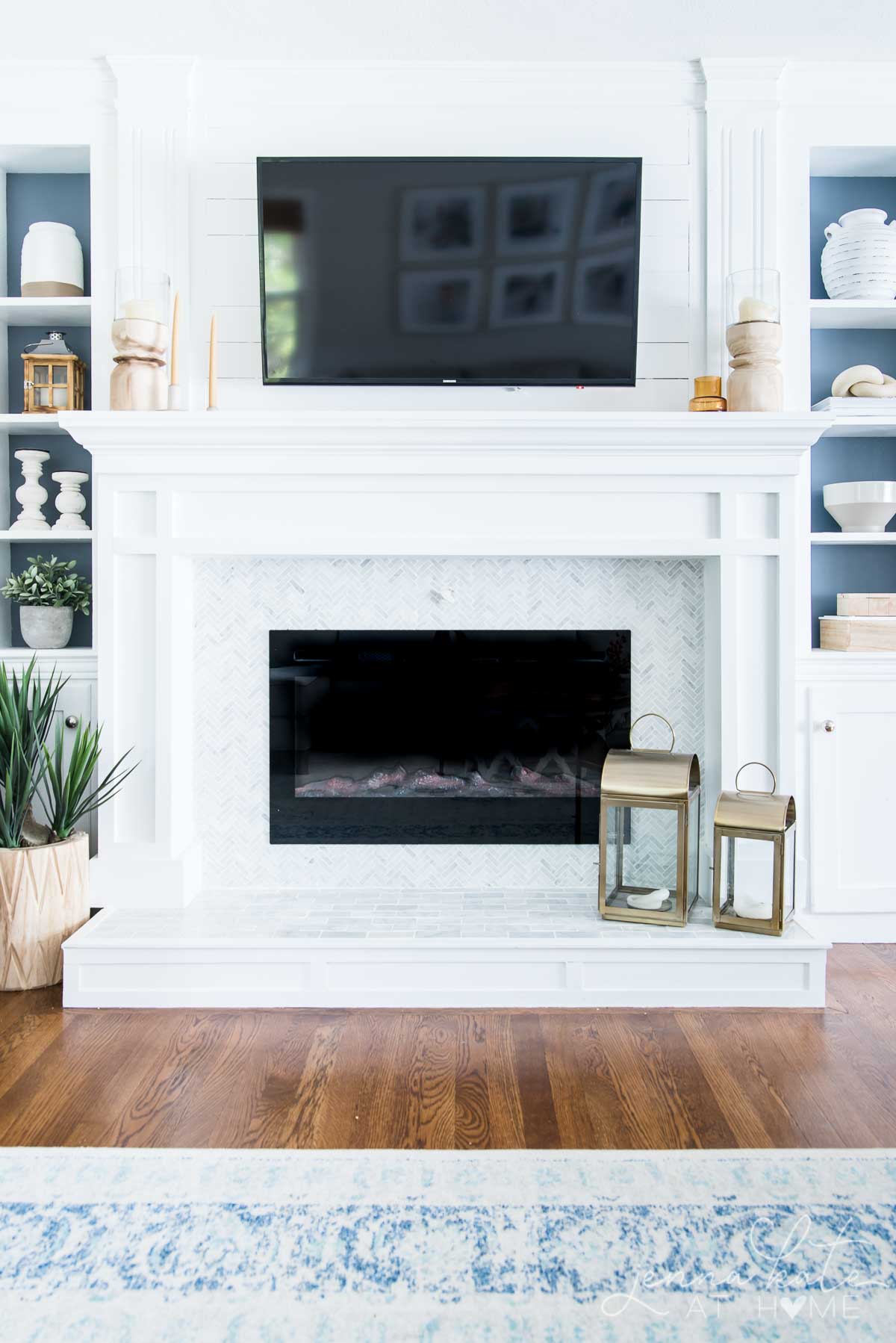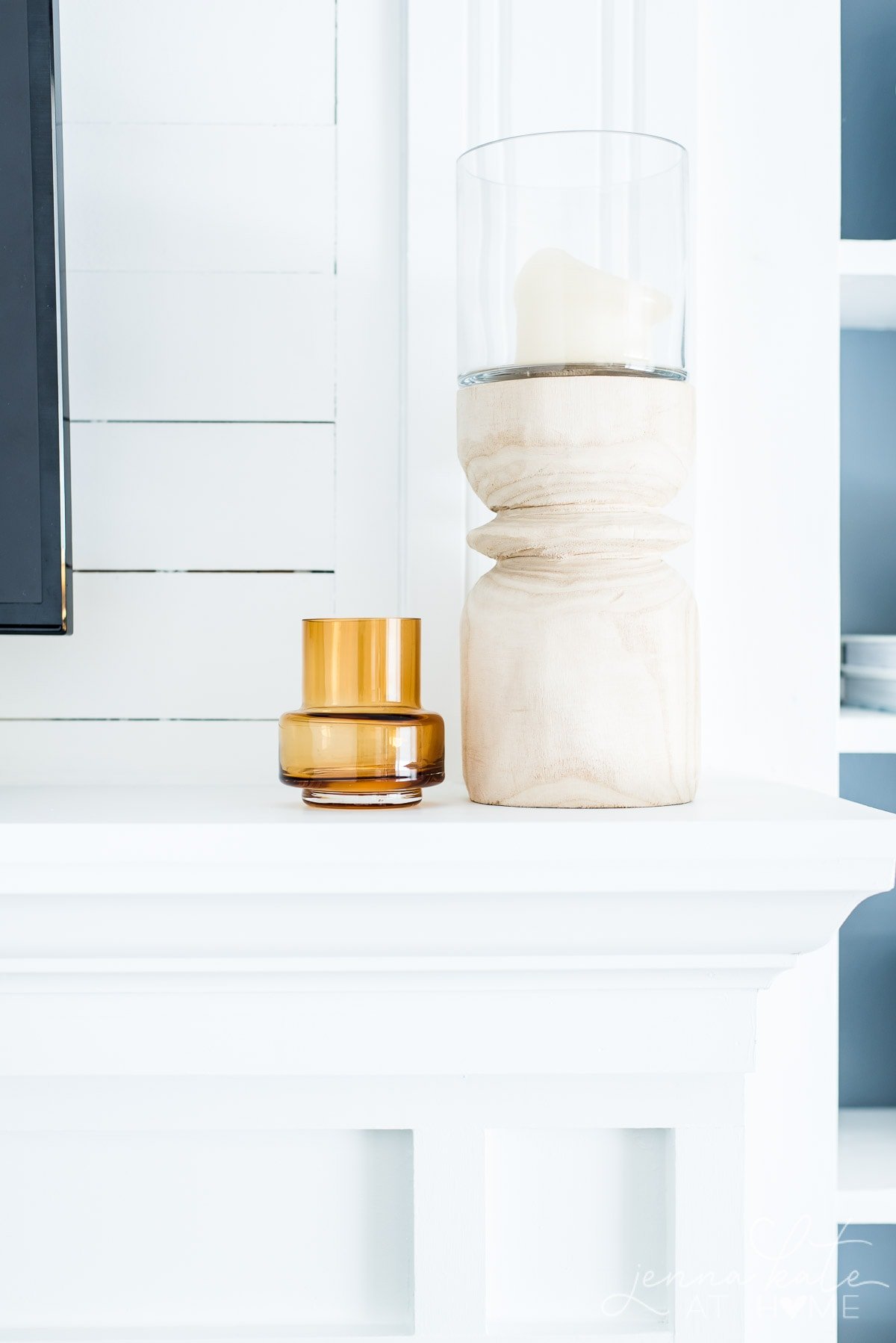 You can keep the display simple and minimalist like the photo above, or layer in more natural fall decorative elements such as greenery, garland, pumpkins, pinecones and such.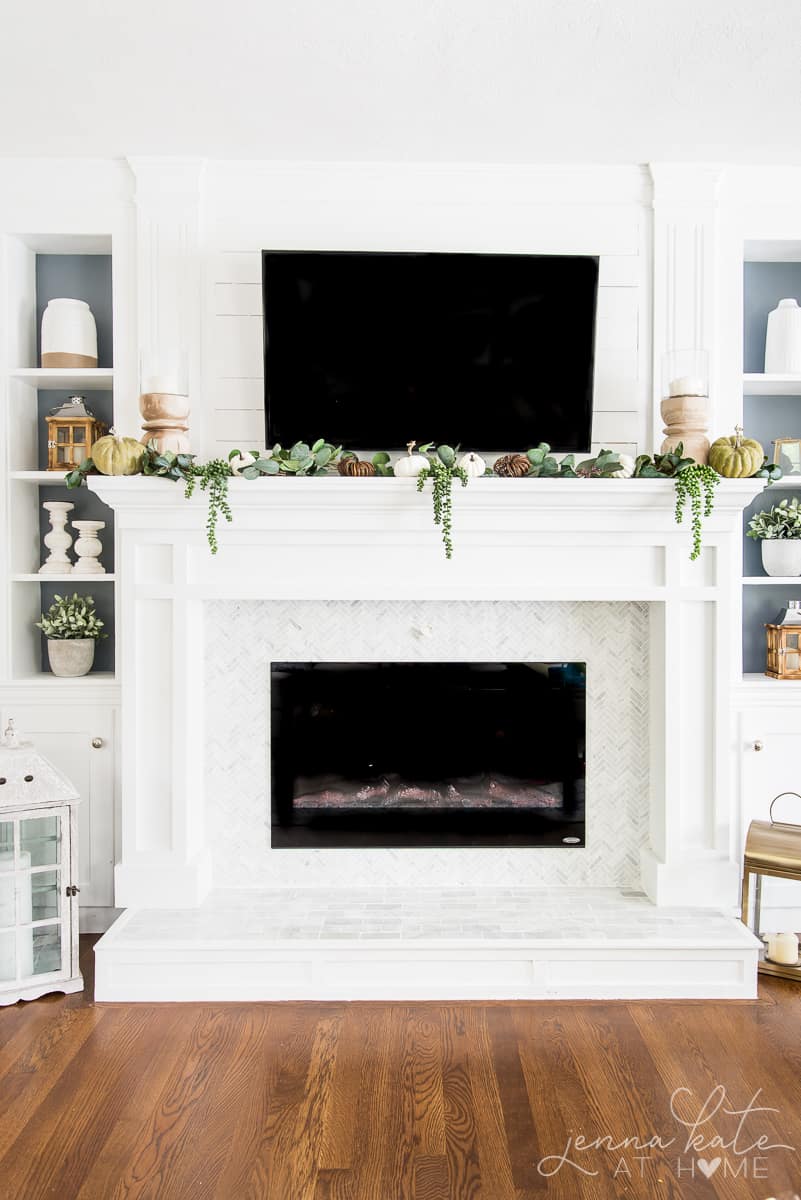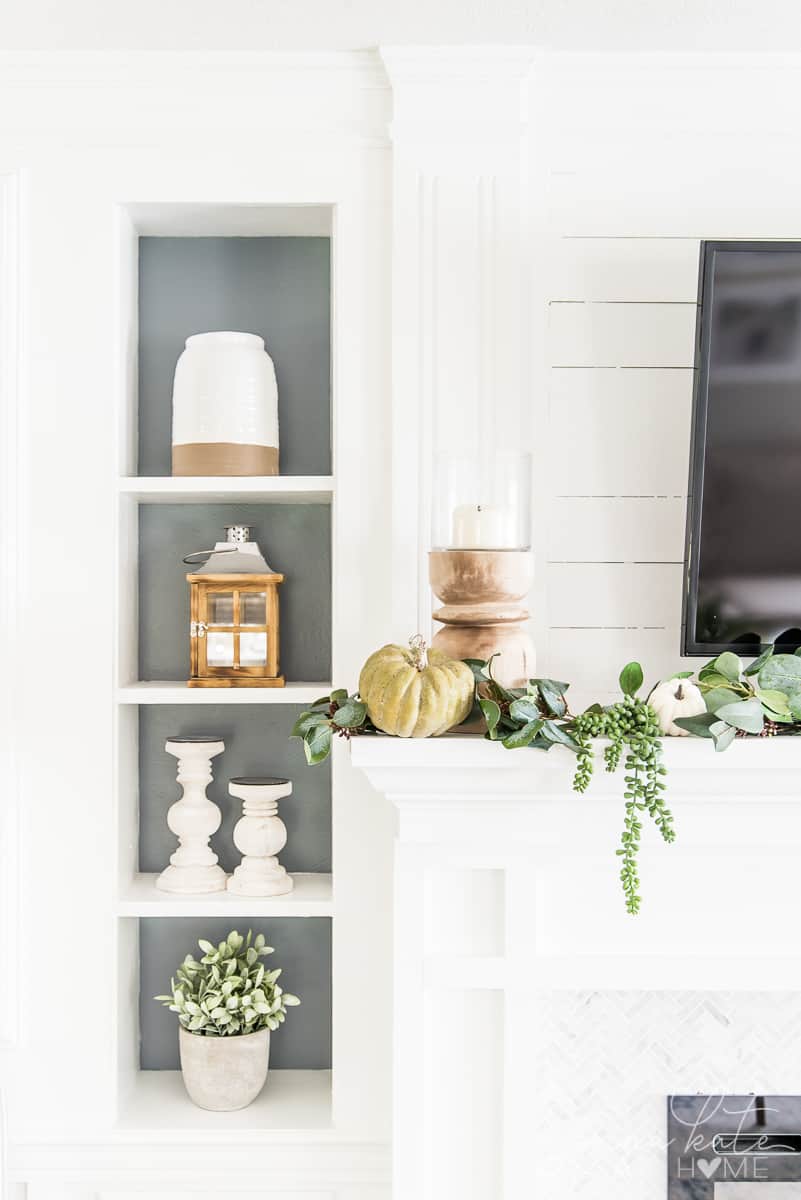 Decorate an unused fireplace by filling it with candles, some seasonal mums, stacks of birch wood or even overflowing with heirlooms pumpkins.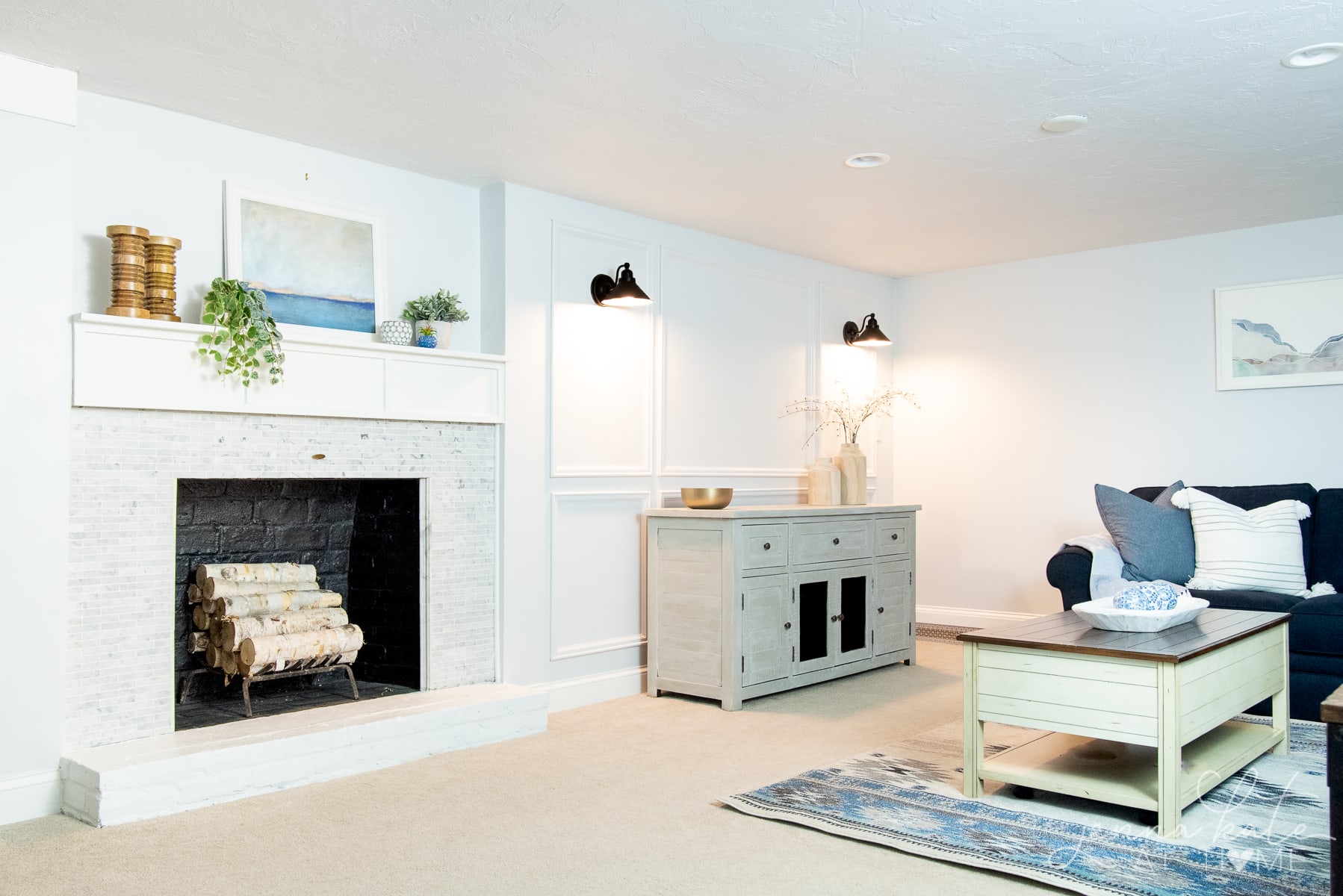 Don't forget about the hearth. I like to keep mine very minimal, since my baby will pull everything on top of himself, but baskets with blankets, a basket of mums, a planter, candle sticks, lanterns or even a stack of pumpkins would look wonderful as part of your fall fireplace decor.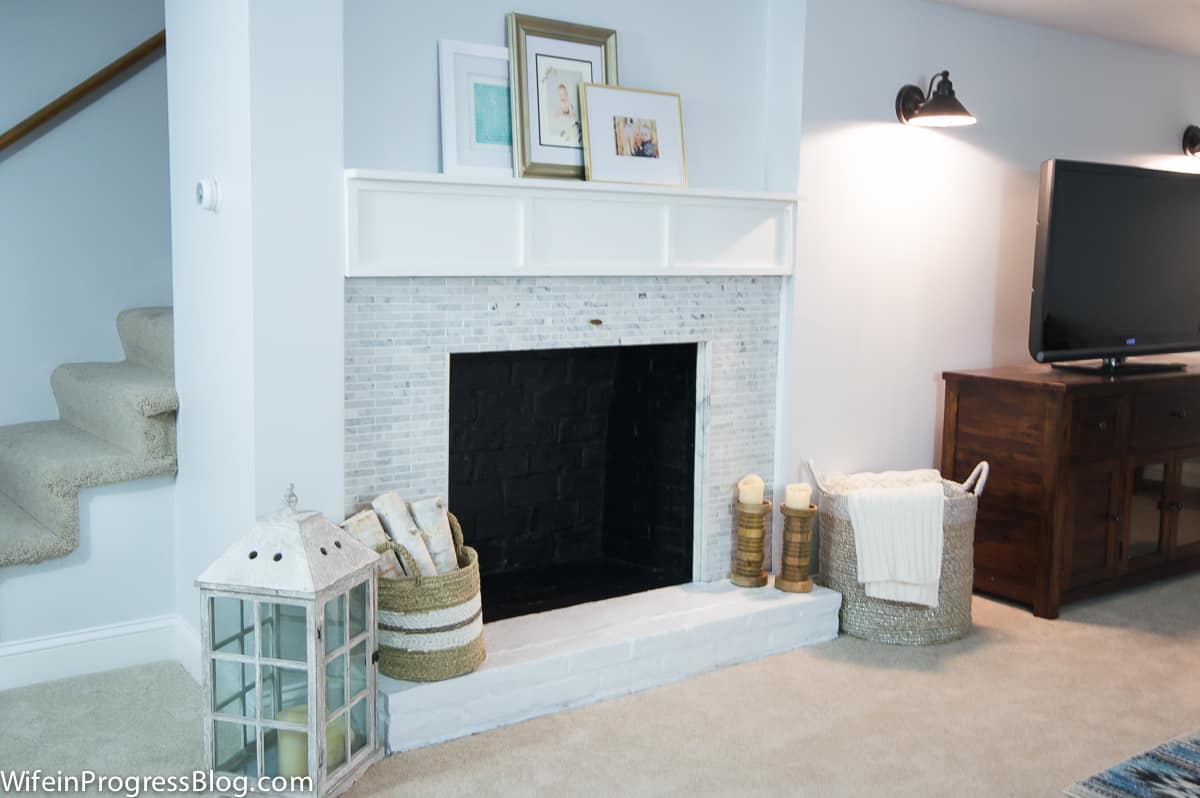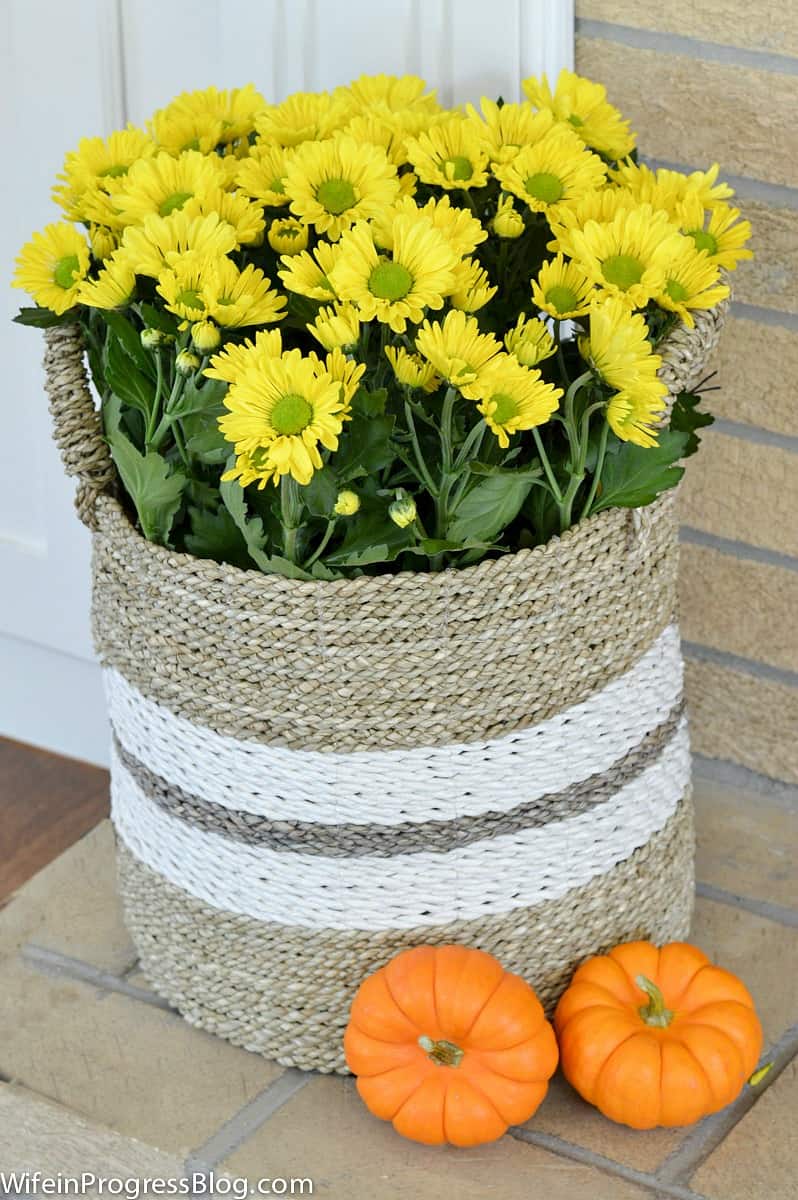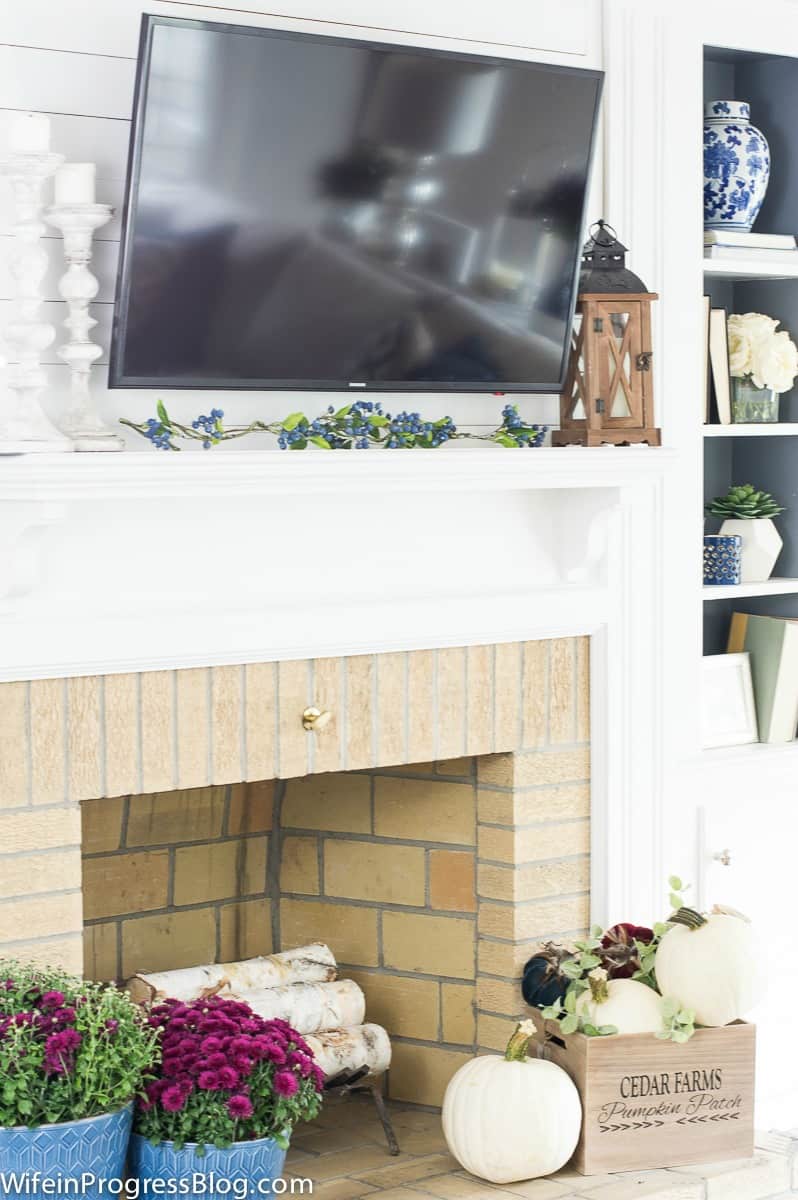 How to Keep it Cheap
Faux florals and garlands are great. Buy them once and you are set for years to come. But if you don't want to spend the money (or don't want to deal with storing them the rest of the year), using fresh greenery, fruits and vegetables is the perfect way to add a touch of fall to your fireplace.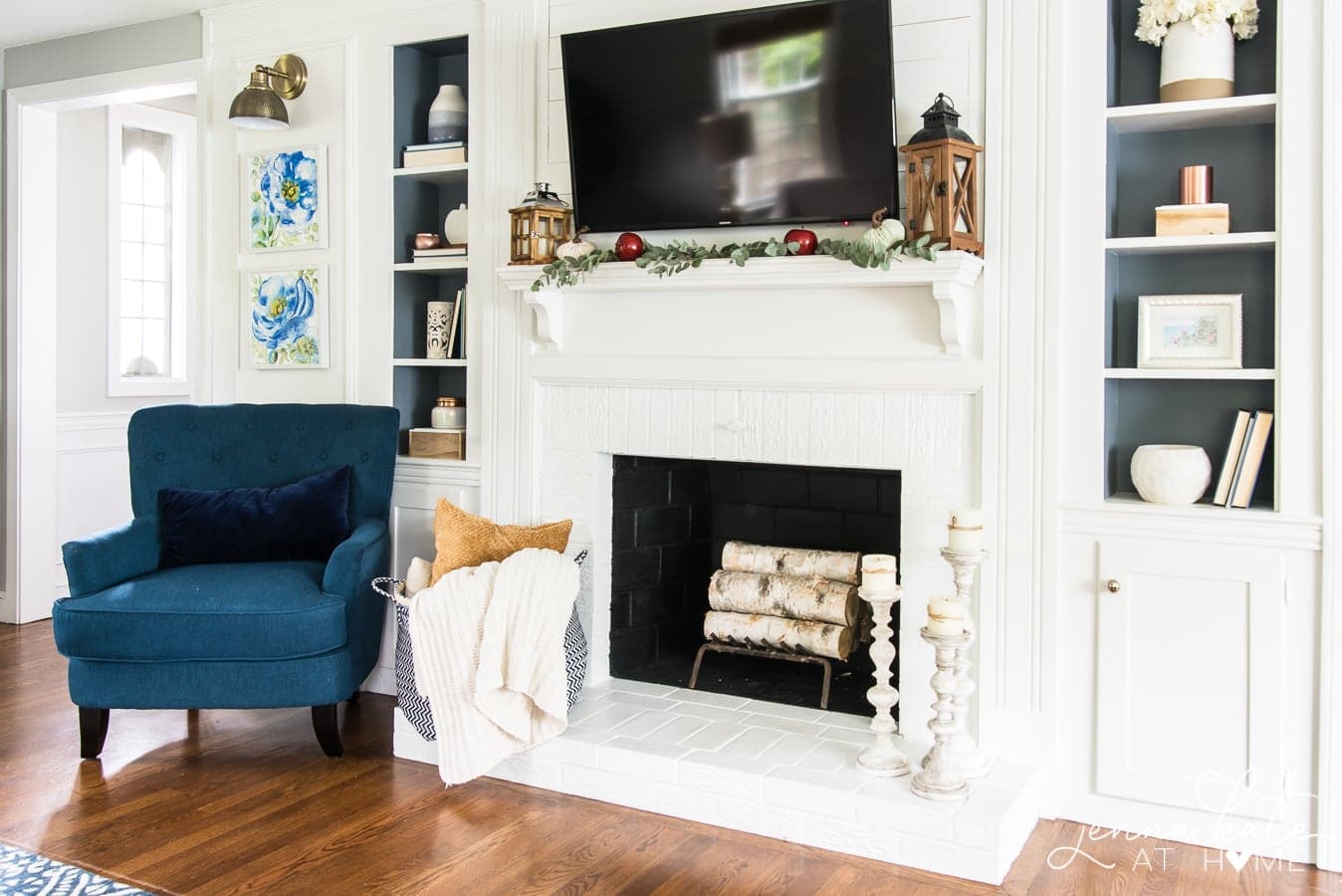 If you have a Trader Joe's nearby, you will have to stop by and get some of their eucalyptus. I use it every fall, from mantel decor, to fall centerpieces and Thanksgiving table settings, it's cheap, looks pretty and smells amazing. Layer in some mini pumpkins, different types of gourds, pinecones, or even fruits and vegetables to get that fall feeling.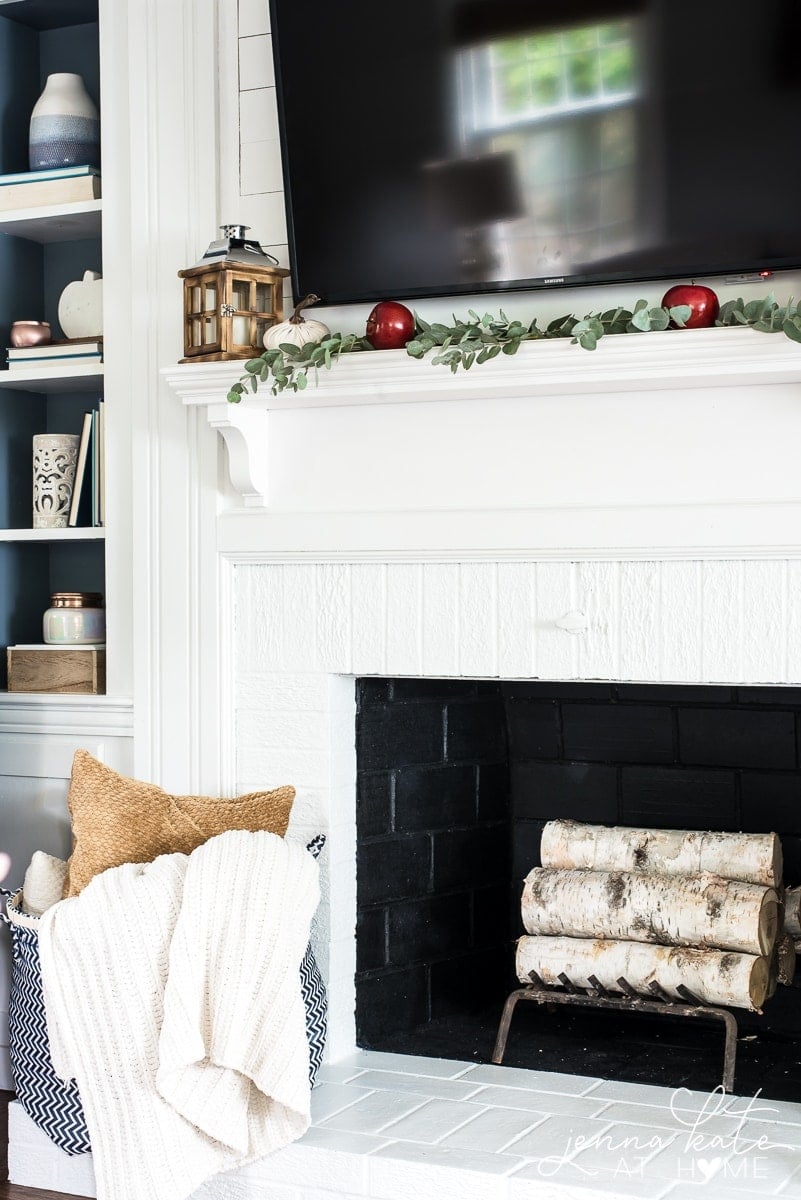 With Fall Decorating, Sometimes Less is More
Because I've decided to take a very simple and laid-back approach to decorating for fall this year, it's been quite freeing and refreshing. I don't feel like I need to buy every cute fall decoration I see (I adore fall, so it's tempting, of course). There's something about scaling back that I'm really loving these days, plus there's so much less pressure to buy all the things!
In fact, all this fall mantel décor cost was $2.99 for the bunch of eucalyptus from Trader Joe's! The faux apples are some I had on hand (from HomeGoods), and the copper accents and lanterns are all older pieces I've used in other seasonal decorating.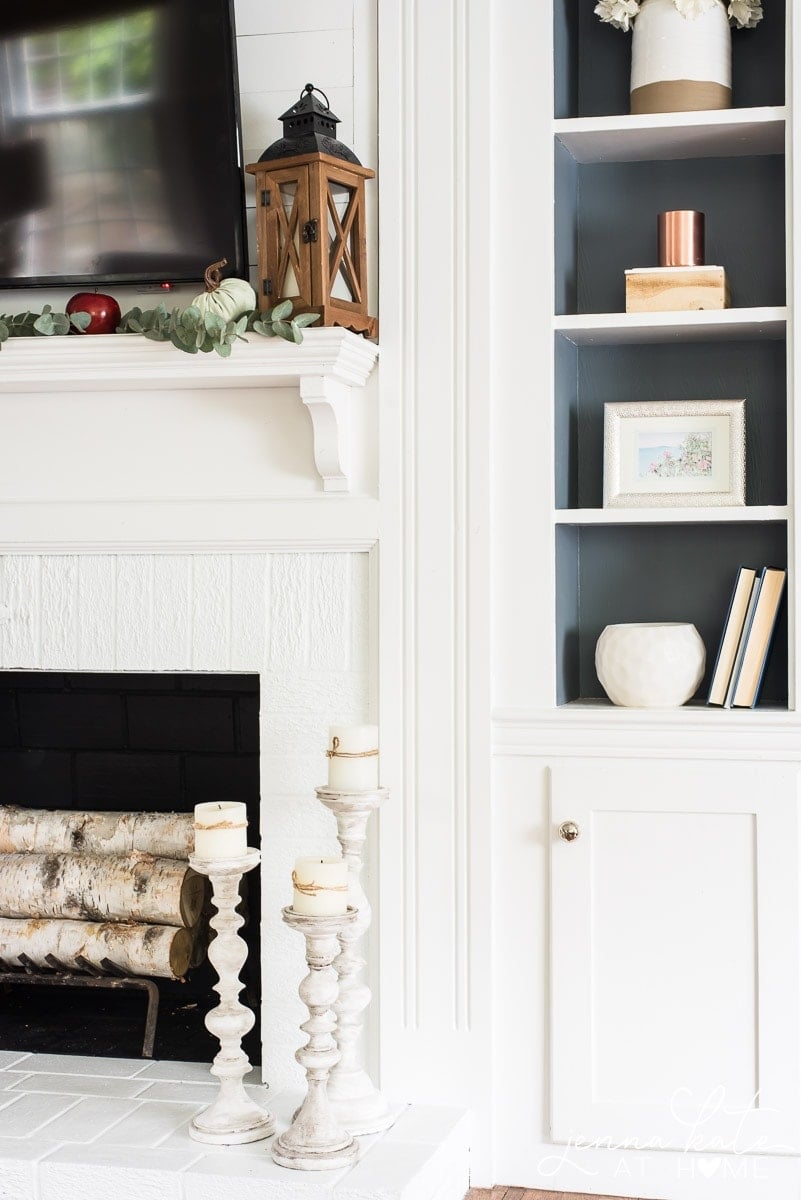 Because I've decorated my living room in neutral tones with lots of white, it doesn't take much color to really stand out. The candlesticks at the base of the fireplace were some I bought on clearance and chalk painted. They're always part of the decor, but they feel seasonally right too. I decided to keep them as part of this fall mantel-scape. Don't be afraid to DIY items in your own fall decorating either!
I love to use lots of texture in my decorating. Eucalyptus has great, eye-catching leaves in green, making it a terrific floral to use in your decor. It will stay green and fresh-looking for months!
The contrast of the shiny red apples against the greenery is very striking. The pumpkins' soft velvet and the rustic look of the copper lanterns give plenty of visual impact without going the typical route. Fall is a great season to experiment and play with your home decor.I hope you'll have fun with it this year!
Hopefully, these simple fall decorating ideas will help you find some great looks for your home to carry you through to the holidays!
I hope these fall mantel decorating ideas have given you inspiration to help you keep your own fall decorating simple, inexpensive, and stress-free this year!