Have you recently moved into a new home? If you're staring nervously at blank walls and empty rooms, this post is for you. Decorating your house from scratch doesn't have to be a daunting task. With these tips, you'll have an action plan in place in no time so the decorating fun can begin!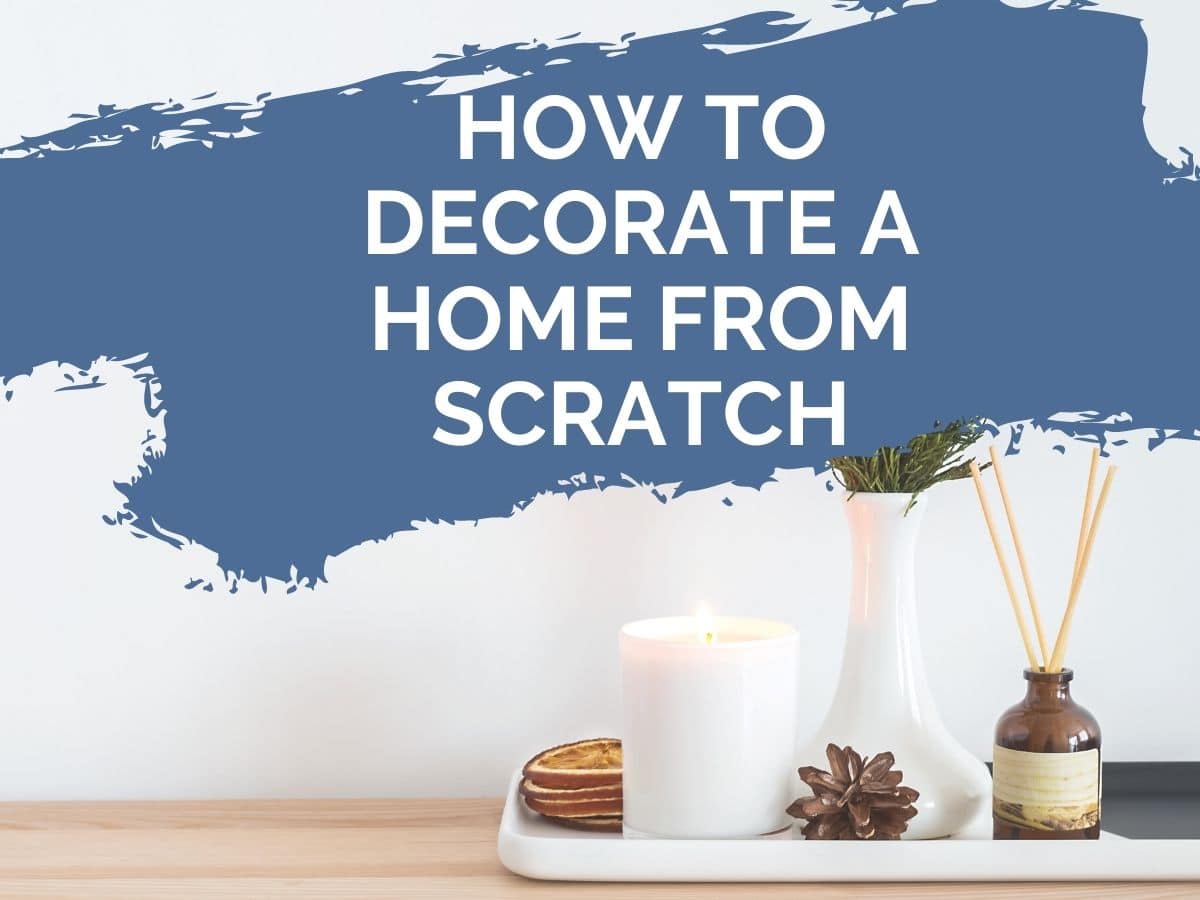 Get Past The Initial Overwhelm
From the first walk-through of your dream home to the surreal moment when you're holding brand-new house keys in your sweaty palms, one thing has lingered in the back of your mind.
How am I going to decorate ALL these rooms?
Because a 'dream' home does not look like a collection of empty spaces, with bare walls and floors. No, it looks like those designer creations in magazines that you've been staring for months, right?
The lines, the colors, the textures, and the light…they've all been swimming around in your head. The house is finally yours to decorate but you are no closer to knowing what you want, or even where to start.
And it's suddenly all a bit overwhelming.
Well, worry no longer – help is here! This should be a fun process, that you enjoy and delight in. It shouldn't cause you undue stress or worry. Also, realize that this project may take several years before you are truly done decorating each and every space in your home.
Heck. I've lived in my house for 5 years and I'm only at the point of completion now! Budget and time are real constraints for most of us, so both those things should be taken into consideration. Enjoy your decorating journey, don't rush it, and you will be happy with your home decorating choices at the end of it!
Below, I've mapped out what your decoration journey is going to be like for the next few months (or years!).
Don't skip any steps – everything plays a role in your decorating decisions. The more you plan, the less frustrating it will be.
Define Your Style
Decide on an overall vision for your home. Make sure you're clear on your personal decorating style and your design preferences so that you don't get side-tracked or confused by other styles during the process.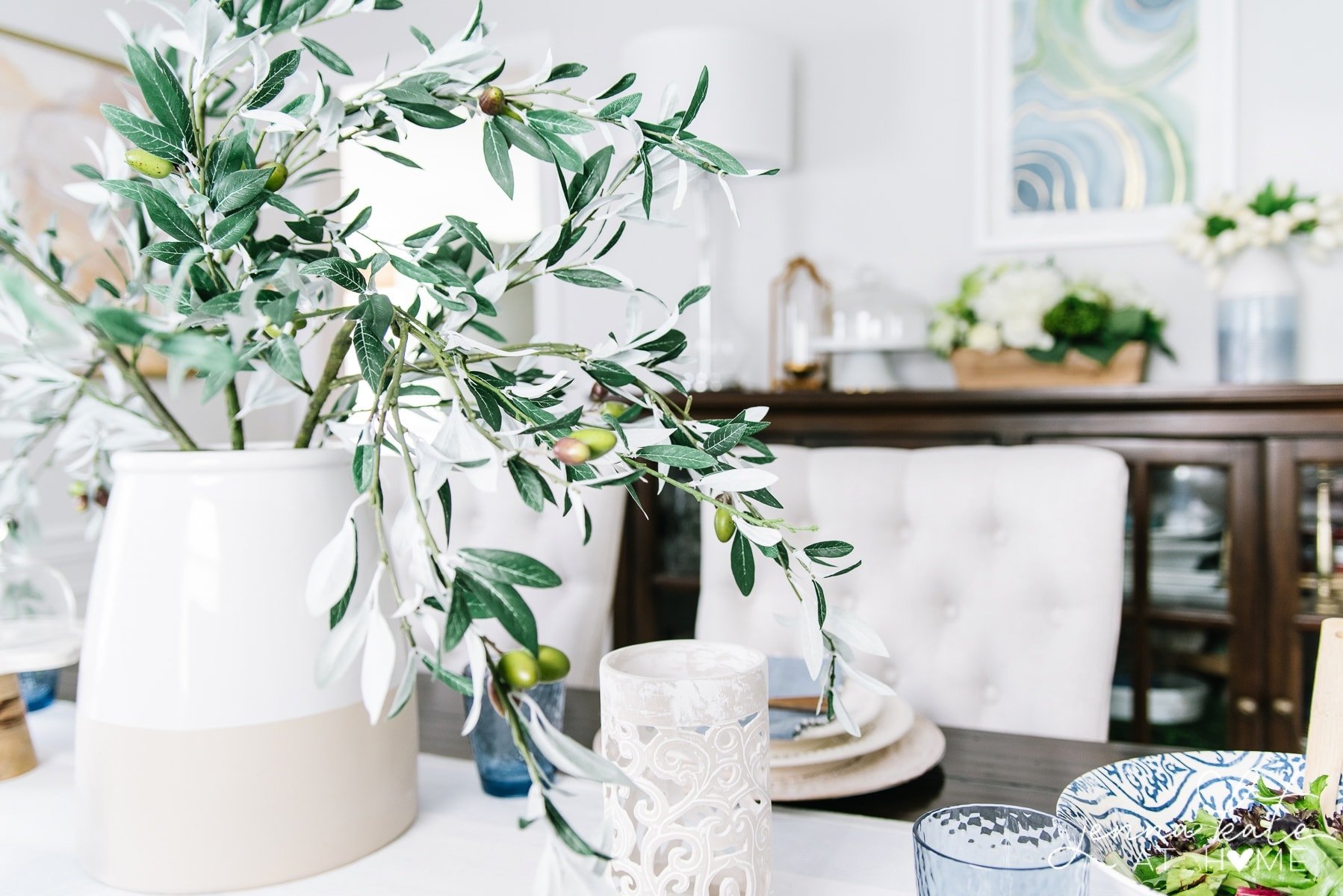 If you don't know what your decorating style is, take some time to figure it out. You don't need to box yourself into a pre-defined "style" of farmhouse, boho, etc. But it is important to understand what you like, and what you don't like, and don't let others' opinions or tastes influence how you'll decorate your home.
I know that I love a light and airy, coastal vibe with some traditional/transitional elements. I call it Pottery Barn meets Serena & Lily. Try to nail down your style with a name or a phrase, and it will help keep you focused on your decorating journey.
Set your Color Scheme
Once you're clear on the style you're planning on decorating in (boho, farmhouse, transitional, or a mixture of different styles), it's time to choose an overall color scheme.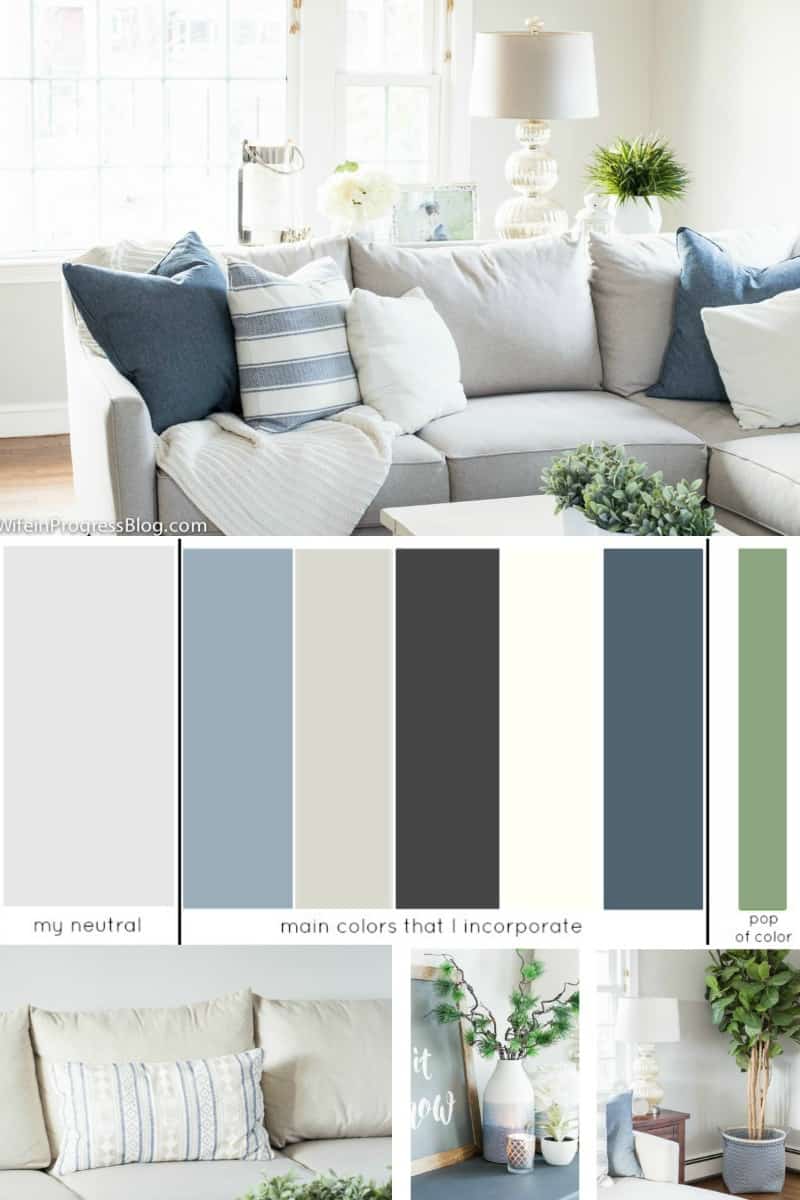 Do you want to keep things light and bright? Do you love warmer tones, cooler tones or bold colors? Choosing one color (or very similar colors) for all the walls in your home not only ensures that your color schemes flows from room to room but eliminates the headache of trying to figure out a million different paint swatches.
A whole house color palette will also help ensure that your home feels cohesive and not disjointed from the get-go.
My home for example, is all various shades of gray or white walls. You don't go from one green room, to another room that's blue and then another that's a deep red. Homes need to flow from room to room, and there shouldn't be a jarring sensation when you go from one room to then next.
When in Doubt, Keep it Neutral
I'm personally a huge fan of keeping the walls neutral. This can mean white, light to medium gray, greige or even tan.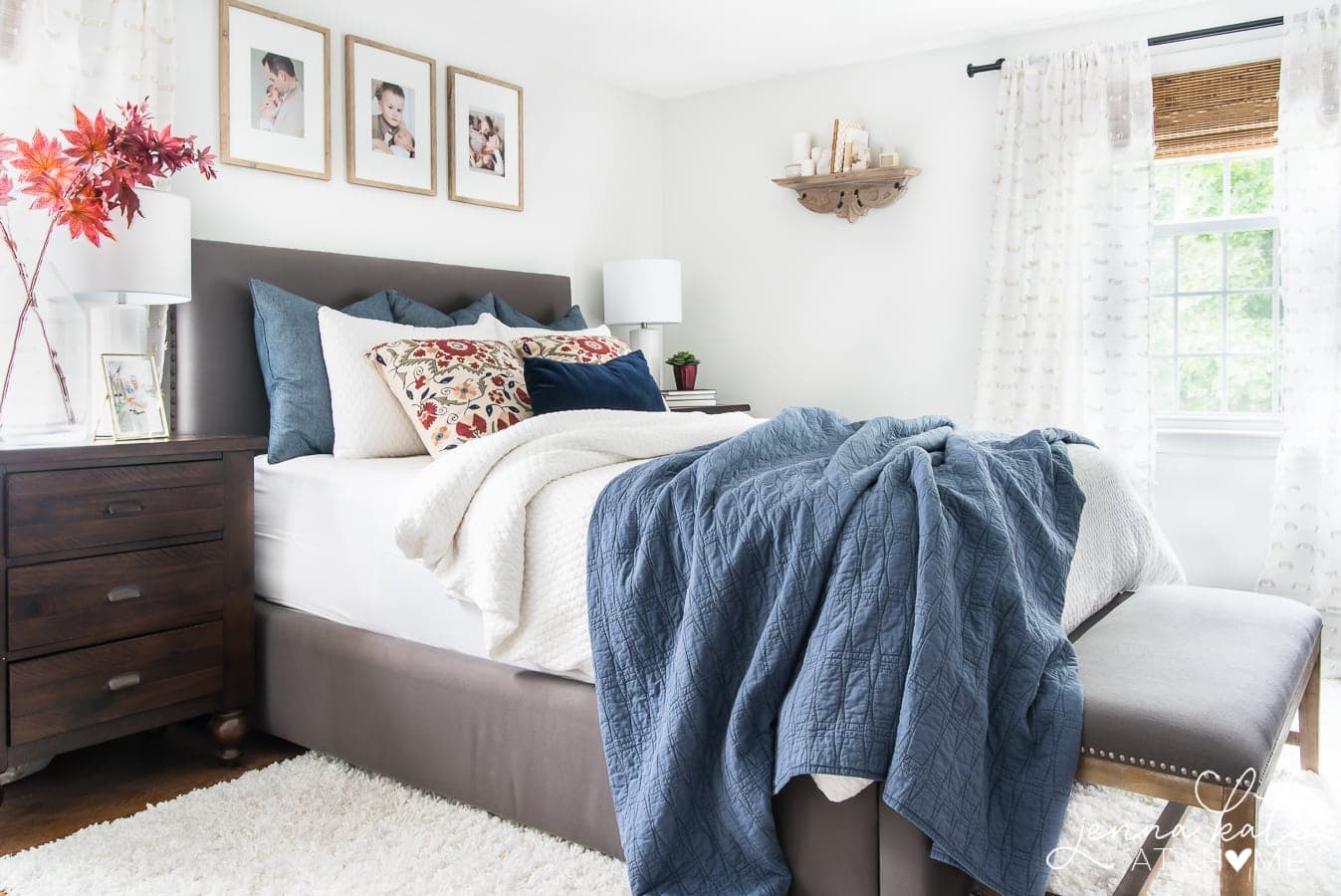 Whatever your color preference is, keeping it light and neutral means it will serve as the perfect backdrop for the other elements you will introduce to the room – furniture, rugs, art, etc.
Plus, if you like to constantly switch up your decor and accessories, its so much easier when you have a neutral backdrop that won't compete.
Take Fixed Elements into Account
Fixed elements are those that are not easily changed, such as trim, millwork and cabinets. The color of your trim and even the color of your kitchen cabinets will majorly impact your design choices.
Craving the bright, clean modern look for your new home? Then you may want a bright, crisp white trim. If your home is full of honey oak, you'll want a paint color that will work alongside that and the other furniture that you will bring into the space. On the other hand, if you have beautiful millwork, you may want to highlight that with a contrasting color.
Spice it Up with Accent Colors
You'll also want to decide on 1 -3 accent colors to use throughout your home. You may want to keep everything neutral and use various shades of white, cream, gray and accent more through the use of texture or wood tones.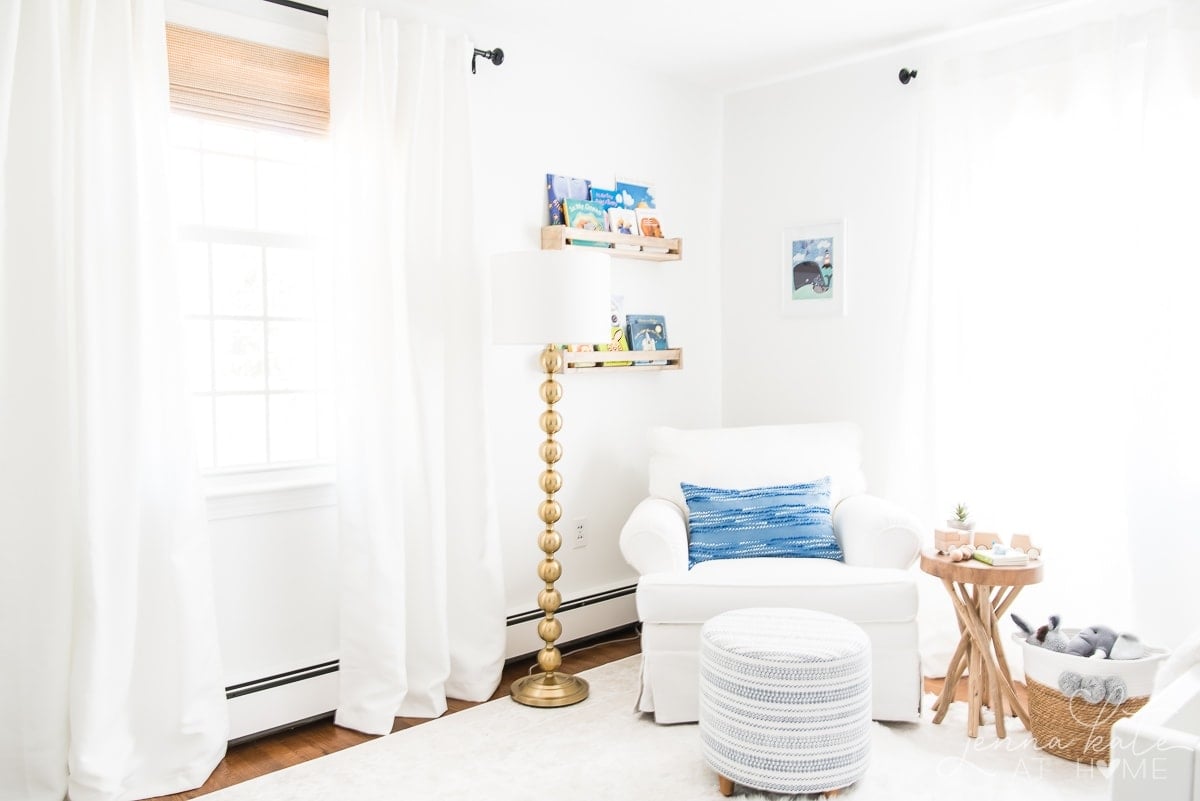 On the other hand, maybe you love gorgeous pops of color (like me!) and your accent colors may be blues, grays and greens.
Whatever you decide, don't pick more than 3 and try to use them throughout each room in your home to create that cohesive feel. They don't all need to be the same shade – vary the intensity and saturation to stop them from feeling boring and expected.
Define The Function of Each Space
It's important that you decide how each space will be used before committing to a design. Sometimes this won't be evident until you've lived in the house for a while. For example, will your living room simply be a place to relax and watch TV? Or will it also need to function as a playroom or home office? The same for your bedroom – will it just be somewhere you sleep? Will you watch TV in there? Or will you need a nook for your home office set up?
Identifying the function of each space before you start day dreaming about the design is an important first step.
Visualize with Mood Boards
Organize all your ideas by creating mood boards for each room in your home. Start with the most used rooms in your home (living room and bedrooms).
If you're the type who prefers to only focus on one room at a time, then do that. In my experience, most people like to pick away at rooms as they figure out what works and what doesn't work and this creates a more organic design in the end.
Either way, you're going to want to start with some inspiration (I love Pinterest and Instagram for this!) and an idea of what pieces of furniture you'll need.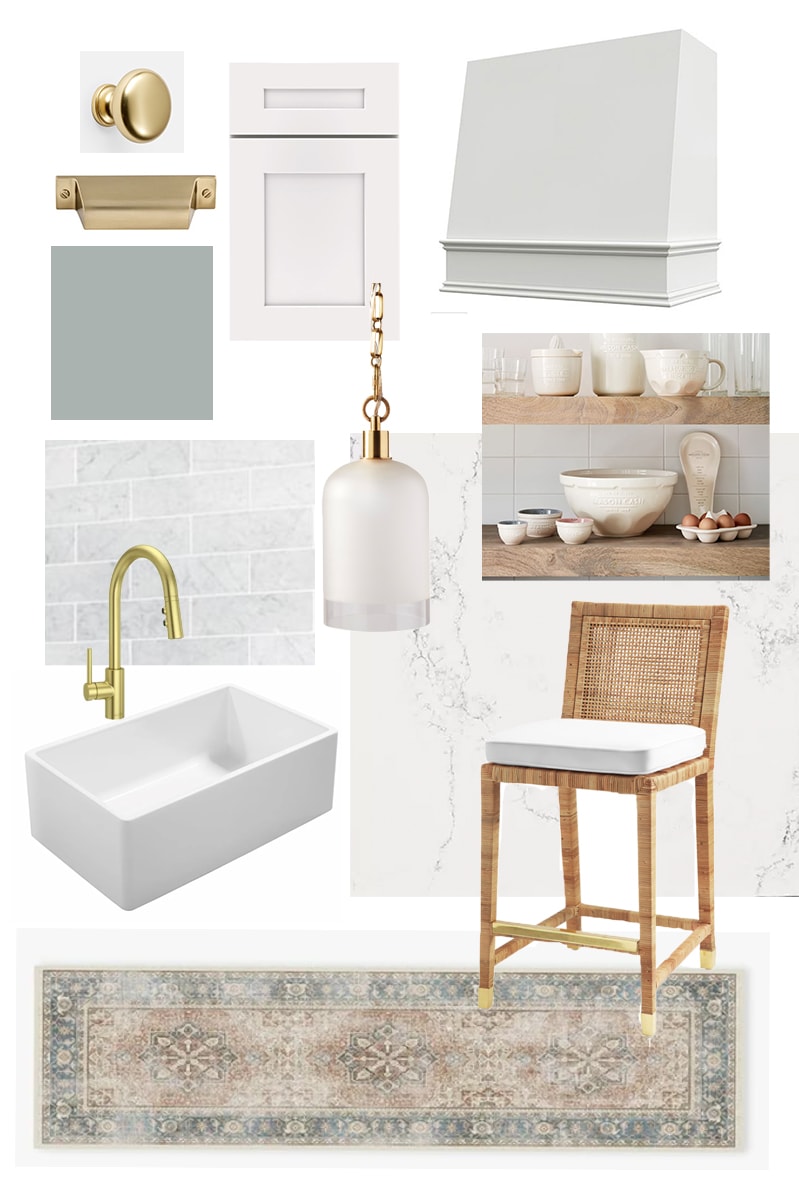 Start with one piece as your inspiration for the space – it can be furniture, a rug or even a piece of art that you love. Then, design the rest of the space around it. 
In the above kitchen mood board, my inspiration starting point was the rattan counter stools. Everything else in the design used that as a starting point.
Shop with Confidence
Take your time shopping – it often takes me months to find the perfect piece of furniture – you'll be happier in the end than if you force something that's not quite right. Or worse again, you'll have bought something and end up replacing it a year down the road. Let's not waste money! If you have an idea of what you want – wait for it.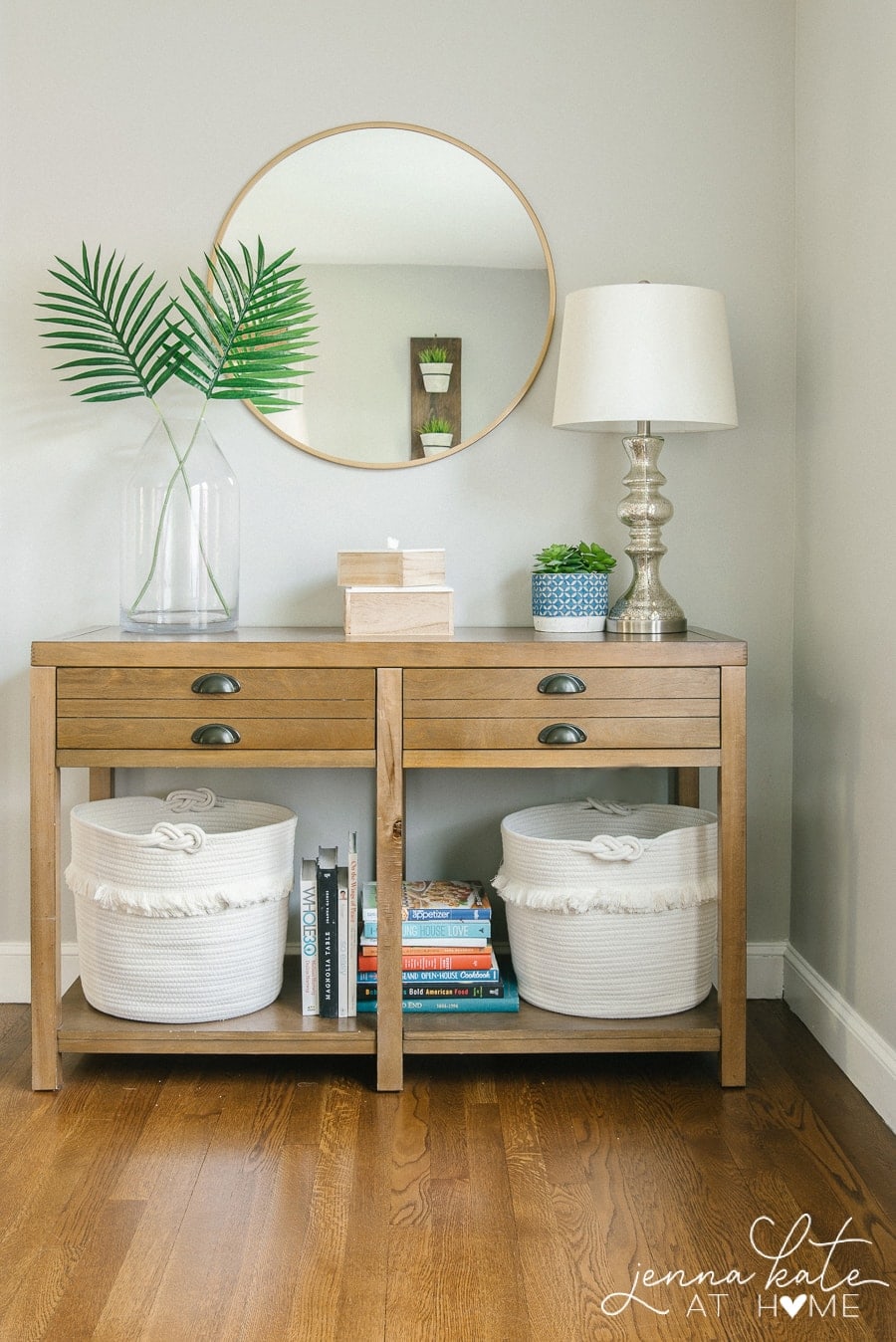 Start With Large Pieces, Then Layer in Accessories
Furniture does not all need to match. Yes, a matching bedroom set may be easier to find that figuring out nightstands that work with your upholstered bed, but the end design will look so much better when you have a "collected over time" appearance to your room.
Once you've got the big pieces in a room, you can start to layer in window treatments, art, throw pillows and accessories. Again, this will take time to achieve the look or vibe you want. Don't feel like you have to rush it!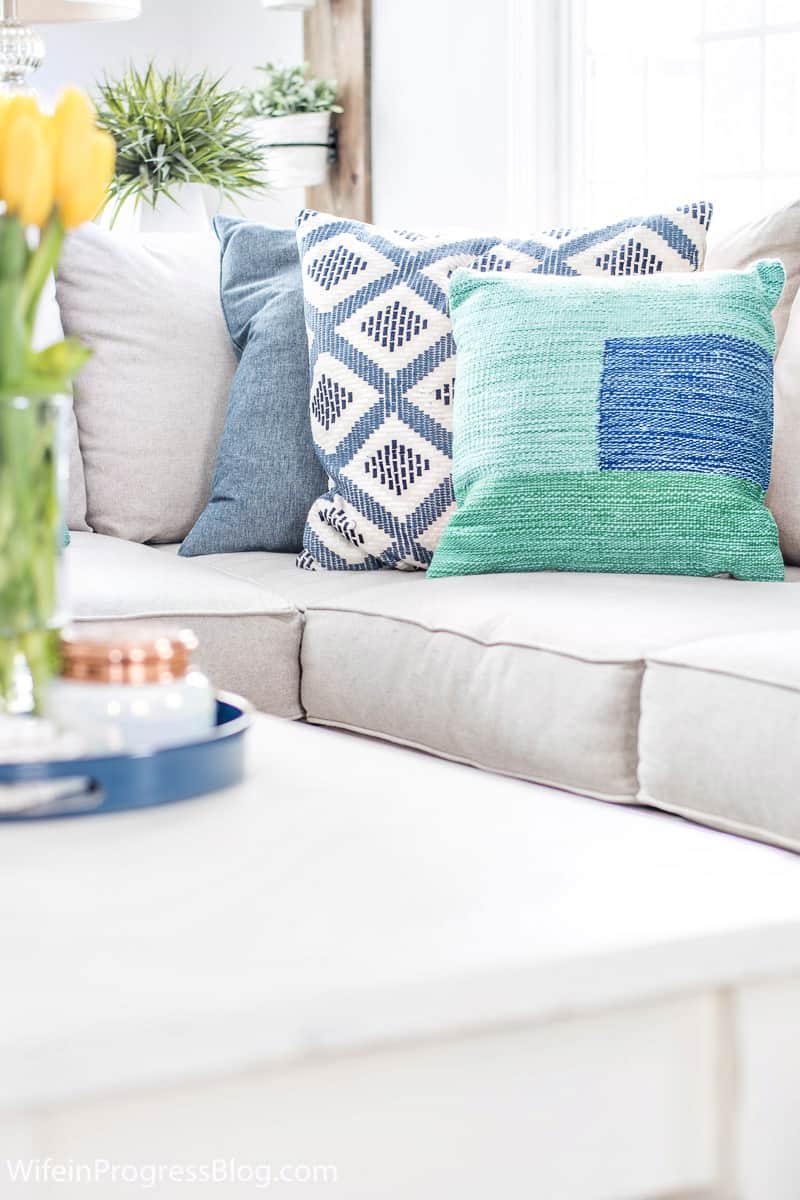 Learning simple tips like how to mix and match patterns, or how to style a coffee table or bookshelf will really take those accessories and decorative items to the next level.
Consider an Online Designer
If you're really struggling with this whole decorating thing or simply don't have the time to devote to it, consider using a service like Modsy to design the space for you.
All you have to do is provide some information as well as the dimensions – and some photos – of your space and they'll provide a 360 degree virtual rendering of you room. Best of all, you can shop the entire space they create and have it all delivered to your door!
I've used their services for my original office as well as my boys' bedroom. I had an idea of what I wanted, but didn't have time to shop for all the pieces – they did that for me and planned out the furniture so that it fit the room perfectly. It was such a great service!
Use code APRIL20 for 20% off your first design package with Modsy.
Other Decorating Posts