Decorating a console table is one of my favorite ways to add a personal touch and a sense of style to my home. Console tables are versatile pieces of furniture that can usually be found in entryways, hallways and living rooms.
While these tables offer valuable surface space, their narrow profile can present a challenge when it comes to styling them.
So today, I'm sharing my favorite tips and tricks for styling the perfect console table.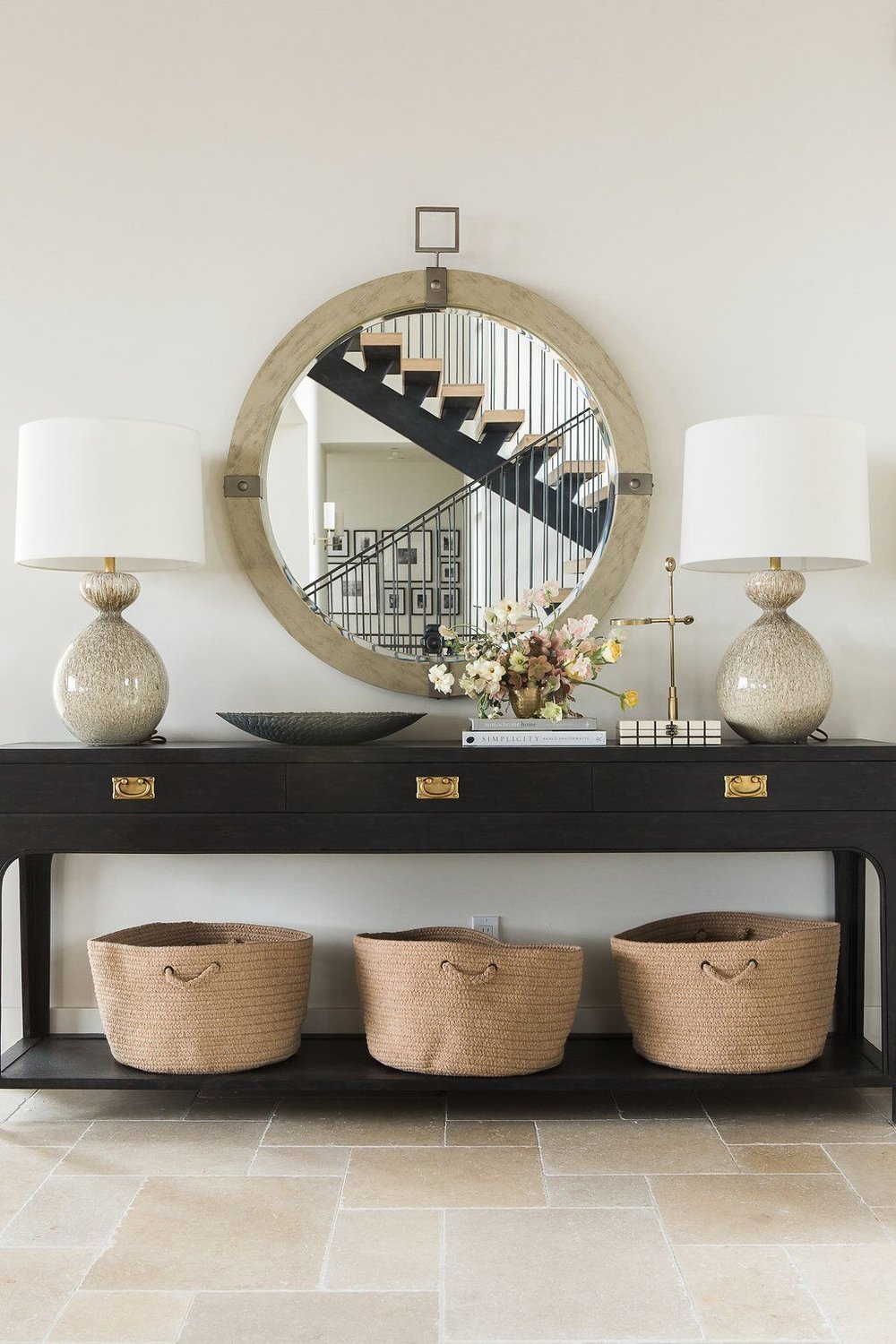 In my experience, the key to a well-styled console table is achieving a balance between functionality and aesthetics.
One effective approach that I found is creating designated drop zones for frequently-used items like keys and wallets, by placing a stylish bowl or a chic tray on the table. This helps keep the space organized while maintaining visual appeal.
Another strategy that has worked for me when decorating a console table is playing with symmetry and shapes.
For example, I like to use matching lamps, vases, or other decorative objects on both ends of the table to create a sense of balance.
To add visual interest, I incorporate pieces with various shapes, materials, and textures, in addition to layering heights for a dynamic look. A well-curated vignette can truly make a console table stand out and reflect your personal style.
Types of Console Tables
As we delve into the world of console table decorating, you may want to take some cues from the style of console table that you have. Broadly, they fall into 4 categories:
Traditional
When I think of a traditional console table, I envision a sophisticated and timeless piece of furniture. These tables often have intricate wood carvings, elegant curves, and rich finishes like cherry, mahogany, or walnut. They might feature brass or gold accents and complement a classic or vintage-style interior.
In my experience, traditional console tables look great when styled with table lamps, framed photographs, or decorative accessories like vases and sculptures.
Modern
Modern console tables, on the other hand, showcase clean lines, sleek materials, and bold design elements. They usually come in materials like glass, metal, or glossy lacquer, and have a more minimalist vibe. These tables are perfect for contemporary homes or apartments, and they often make a striking statement in a room.
When decorating a modern console table, I like incorporating artwork, unique sculptures, or warm accents like brass lamps.
Rustic
Rustic console tables are characterized by their use of natural materials and a more casual, lived-in feel. They often feature reclaimed wood, distressed finishes, and industrial-style metal accents.
Rustic console tables can bring a warm and inviting vibe to a room, and they work well in farmhouse, industrial, or country-style interiors, but can equally work well with more casual styles like California Coastal.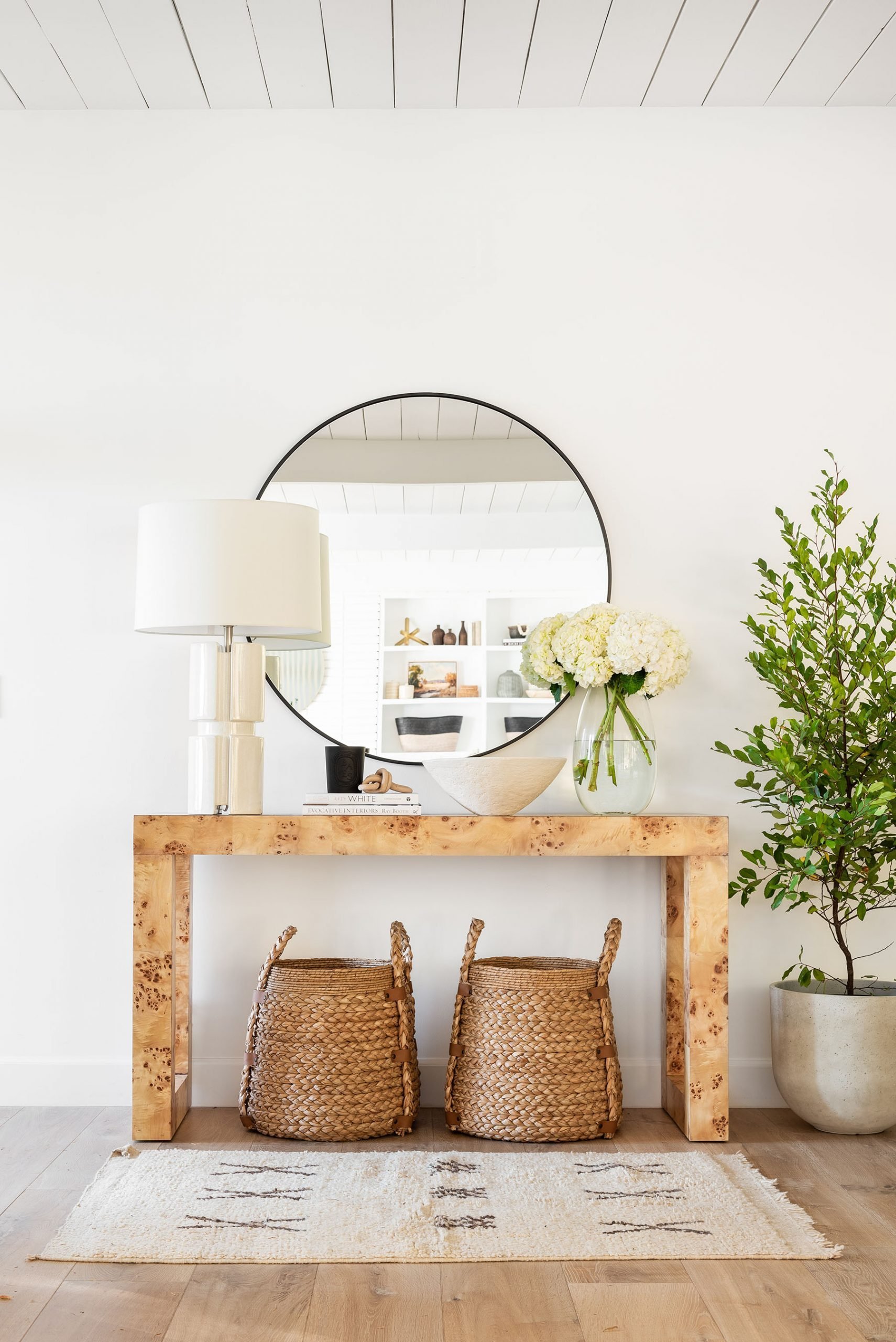 To dress up a rustic console table, I suggest adding fresh greenery, vintage books, or even a cozy throw blanket.
Minimalist
Minimalist console tables are all about simplicity and functionality. They usually have a streamlined design and limited decorative elements, making them perfect for people who prefer a clean, clutter-free look. Common materials include wood, metal, or glass. Minimalist console tables work well in Scandinavian or more minimalist, modern interiors.
When styling a minimalist console table, I love using the less-is-more approach. A single well-chosen accessory, like a simple vase or a statement piece of artwork, can create a visually appealing focal point without overwhelming the table or the surrounding space.
Choosing the Right Location
When it comes to decorating with console tables, I believe choosing the right location is crucial. A well-placed console table can create a focal point and display area while also offering functionality. Below, I'll share some popular locations to place console tables and offer suggestions for how to decorate them in each area.
Entryway
The entryway is the most popular location for a console table. Having a table near the front door provides a place to keep keys, mail, and other items when you walk in.
It also offers an opportunity to create an inviting and stylish scene for guests entering the home.
I would recommend choosing a table that complements the overall style of the entryway and play with decor items, such as table lamps, artwork, or decorative vases.
Living Room
Console tables are perfect for living rooms, where they can be placed against walls or behind sofas, creating a versatile display and storage area.
Placing a console table behind a sofa can make use of an otherwise empty space, while adding visual interest and opportunities to showcase personal style.
I'd suggest incorporating elements that tie the console table decor to the rest of the living room, such as matching the color palette, using complimentary textures, or featuring a collection of similar items.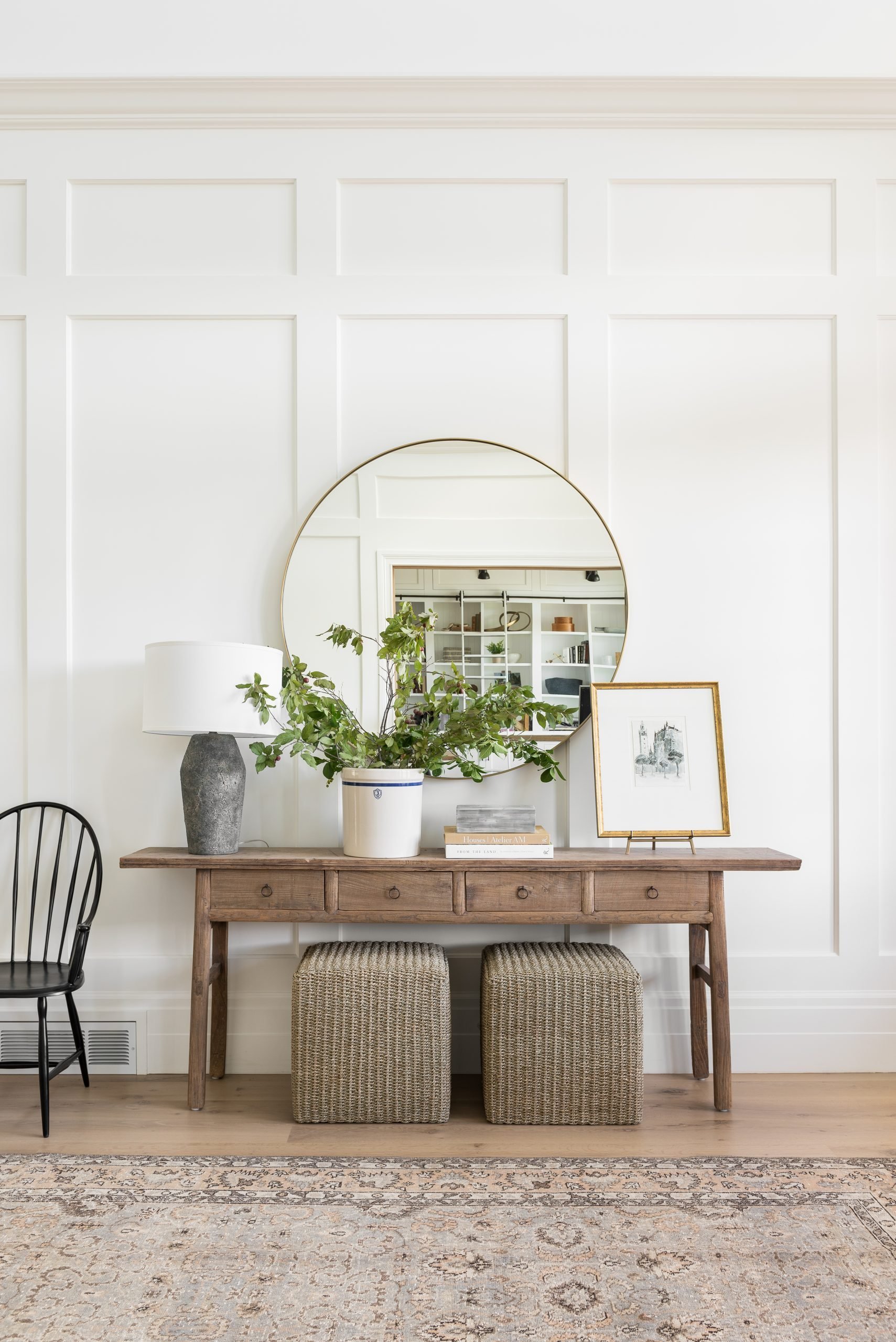 Hallway
If you have a long hallway in my home, a console table can be a nice addition. In narrow spaces like hallways, these tables can provide visual interest, break up the monotony, and offer extra storage or display opportunities.
I'd recommend selecting a table that's proportional to the hallway's width and consider using a mirror above the table to reflect light and make the space feel more open, as hallways tend to be dark.
Bedroom
A console table can also work well in a bedroom, providing elegance and functionality. For example, you could place a table in front of a window or on an empty wall, adding a sophisticated display area for decorative items, candles, or art pieces.
Additionally, you could use the table as a makeshift vanity by placing a mirror above it and setting it up with makeup, jewelry, and other essentials.
Decorating with Accessories
When it comes to decorating a console table, I love playing around with various accessories to create a unique and visually interesting space.
Table Lamps
One of the first things I consider when decorating a console table is the lighting. Table lamps are not only functional, but they can also serve as a focal point and set the tone for the entire vignette. I like to use different types of table lamps, from modern and minimalist to antique and statement-making styles. Sometimes, I even use a pair of matching lamps to create symmetry and balance.
Mirrors
A well-placed mirror can do wonders for a console table setup. I find that mirrors add depth and light to a space, making it feel more open and inviting. Mirrors come in various sizes, shapes, and styles, so I usually select one that complements the overall design of the console table and the room. For a more dramatic effect, I sometimes opt for oversized mirrors or create a gallery wall of smaller mirrors.
Artwork
Incorporating artwork into my console table decor is one of my favorite ways to express my personal style and add a touch of color and visual interest to the space. I like to mix up different types of art pieces, like paintings, prints, and sculptures, to create a cohesive yet eclectic look. When it comes to arranging artwork, I usually follow these rules:
Select a focal piece, and then build the rest of the arrangement around it
Consider the balance between the size of the artwork and the console table
Keep artwork at eye-level, so it's easy to appreciate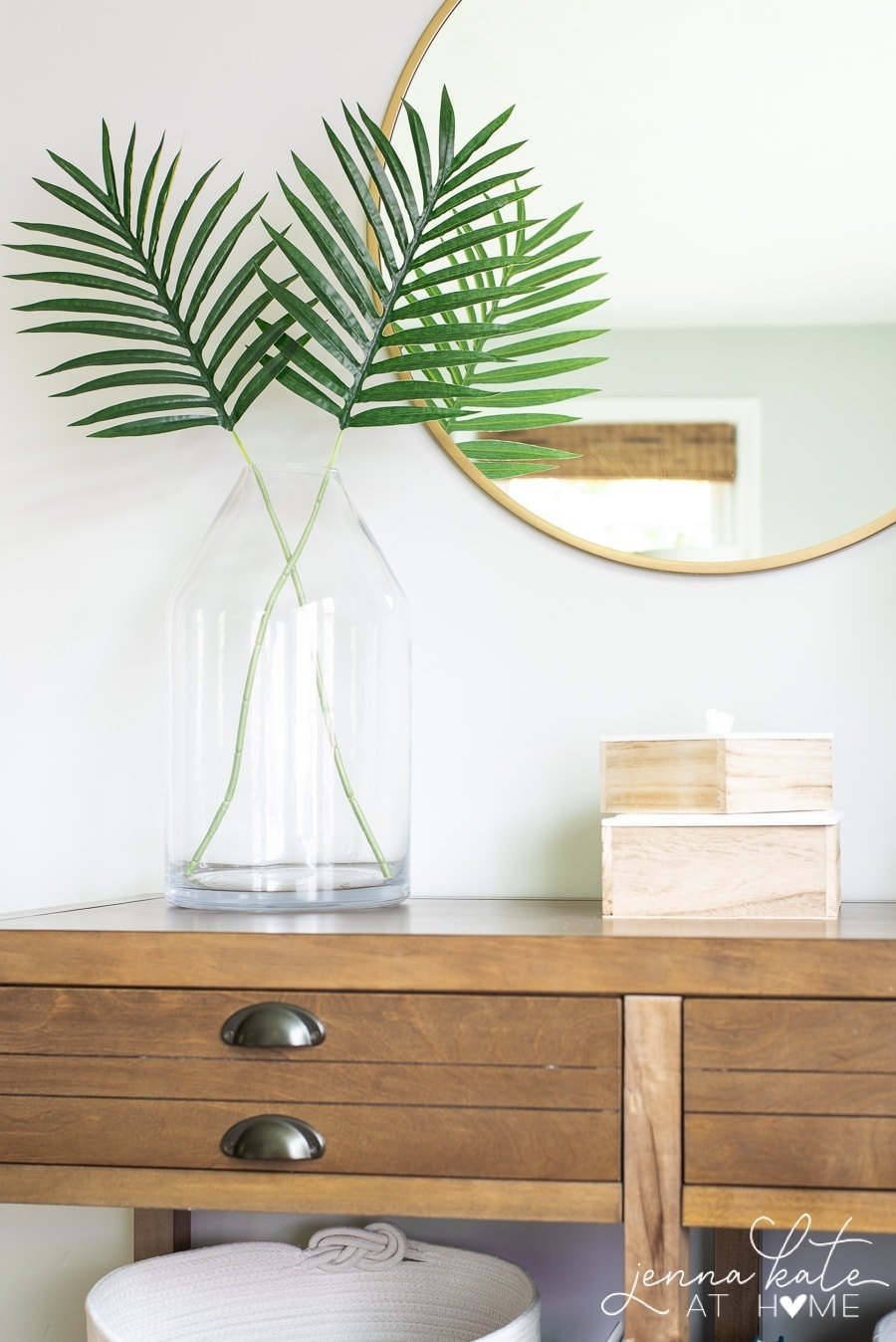 Plants
Adding plants to my console table decor instantly brings life and color to the space. I enjoy experimenting with different types of plants and pots to create unique combinations that reflect my style. Recently, I've been drawn to using:
Succulents for their low-maintenance needs and modern appeal
Tall, leafy plants for a statement effect and to fill empty vertical spaces
Trailing plants for a more relaxed, boho-chic vibe
Remember, when selecting plants for your console table, take into account the amount of light and care each plant requires to thrive. If in doubt, there's so many amazing faux stems and florals that eliminate all the guess-work.
Styling Tips and Tricks
Balance
When decorating a console table, I always aim to create a sense of balance. This can be achieved by arranging items symmetrically or asymmetrically, depending on the style and overall look I'm going for.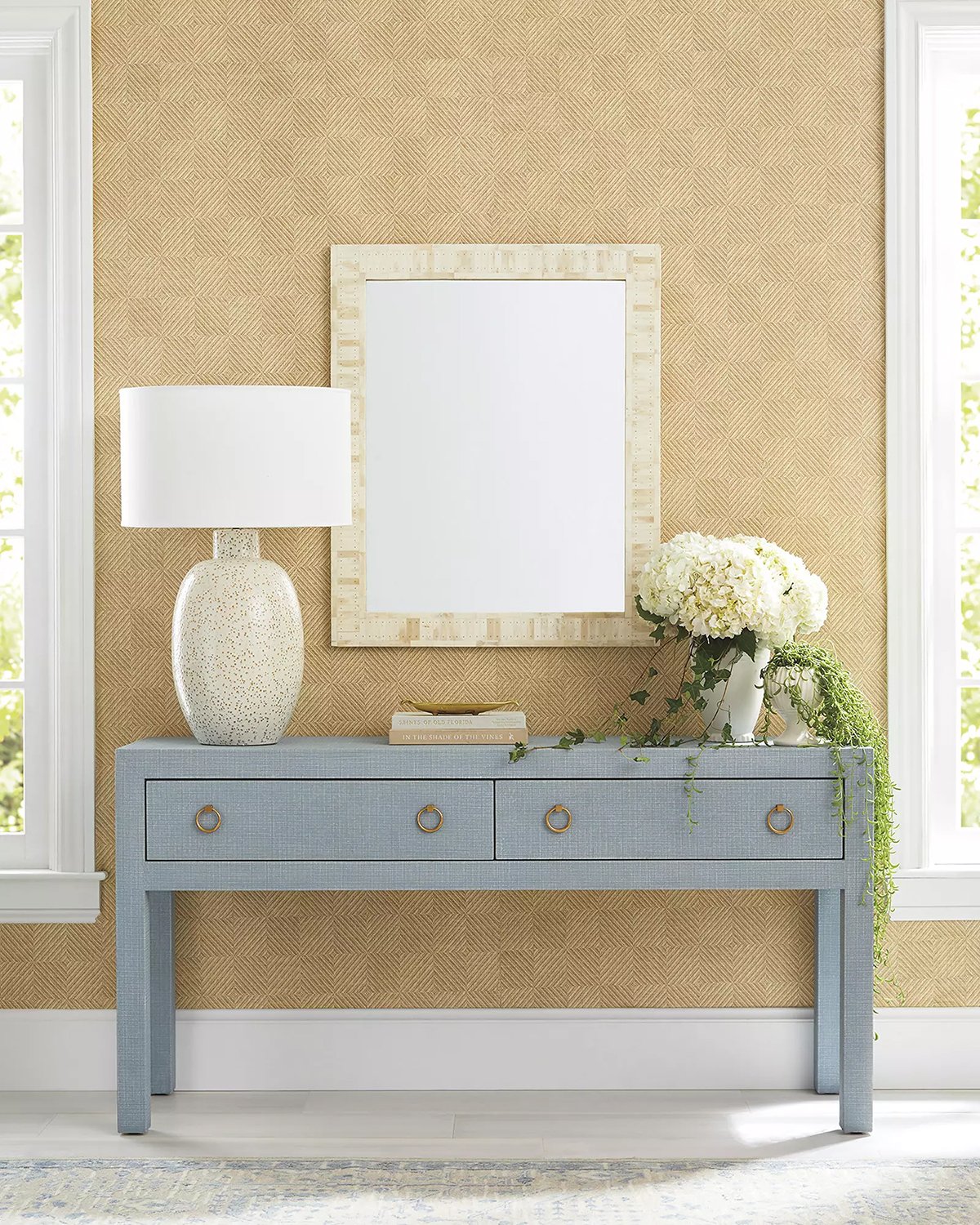 It's important to consider the visual weight of each item, making sure the composition doesn't feel too heavy on one side or the other. I like to use a combination of tall and short objects, as well as items with varying textures and shapes, to create a visually interesting and well-balanced display.
Scale
Paying attention to the scale of the items is crucial. Make sure to choose objects that are proportionate to the size of the table and the space around it.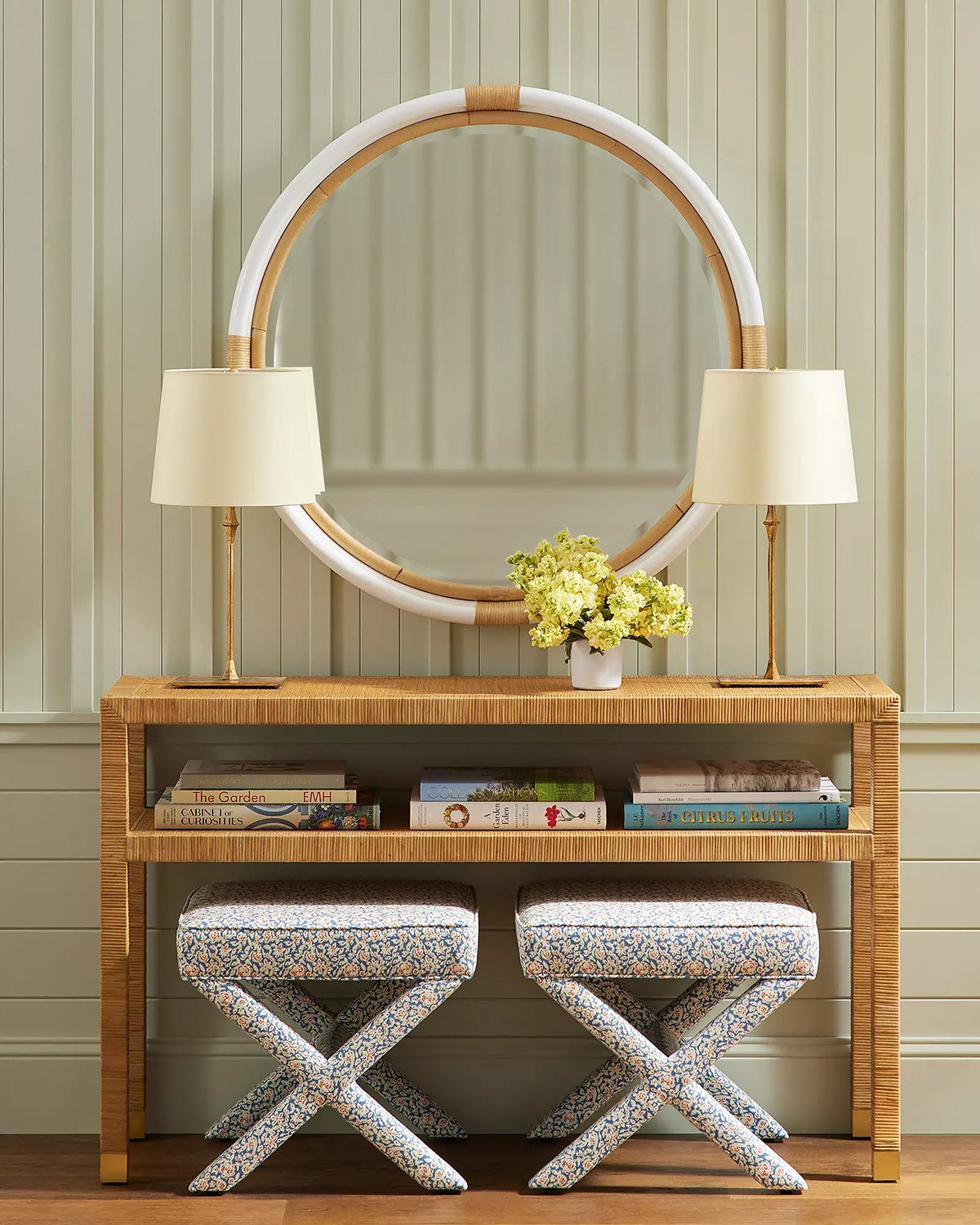 Large, oversized items can look overwhelming on a smaller table, while tiny objects might feel lost on a larger one. Studio McGee suggests grounding the bottom of open consoles with more substantial items to balance visual weight.
Color Scheme
I find that sticking to a specific color scheme can greatly enhance the overall look of a console table. This doesn't mean I have to use just one color; I can play with different shades, tones, and complementary colors to create a harmonious and cohesive display.
By using a defined color palette, I can make the console table fit seamlessly into the rest of the room's design.
Layering
Layering objects is a trick I often use to add depth and dimension to my console table displays.
Placing items in front of, behind, and beside each other creates an interesting visual flow and helps guide the viewer's eye along the display.
A key component of layering is the use of different heights, which I achieve by using objects like vases, lamps, and stacks of books.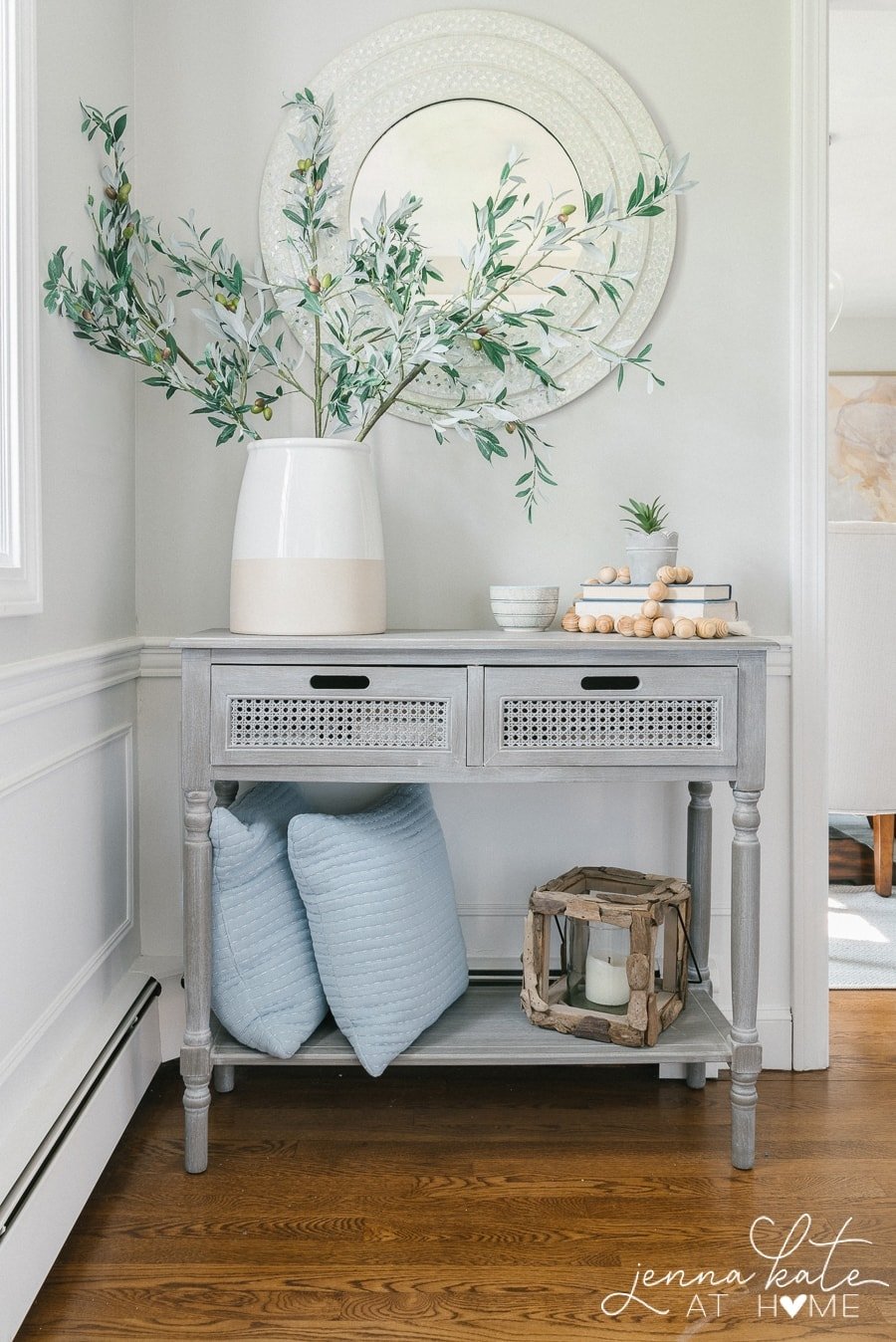 Adding a mirror behind the console table can create a sense of depth and reflect the displayed items, further enhancing the layered look.
I love experimenting with various object placements and combinations until I find the perfect balance, scale, color scheme, and layered arrangement to create a visually appealing and stylish display.
Even the pros (I'm not including myself when I say that!) have to play around to get everything to look just right.
Focus on Function as Well as Form
When I'm decorating a console table, I always try to focus on function as well as form. This means finding a balance between creating a visually appealing display and ensuring the table serves a purpose in my home.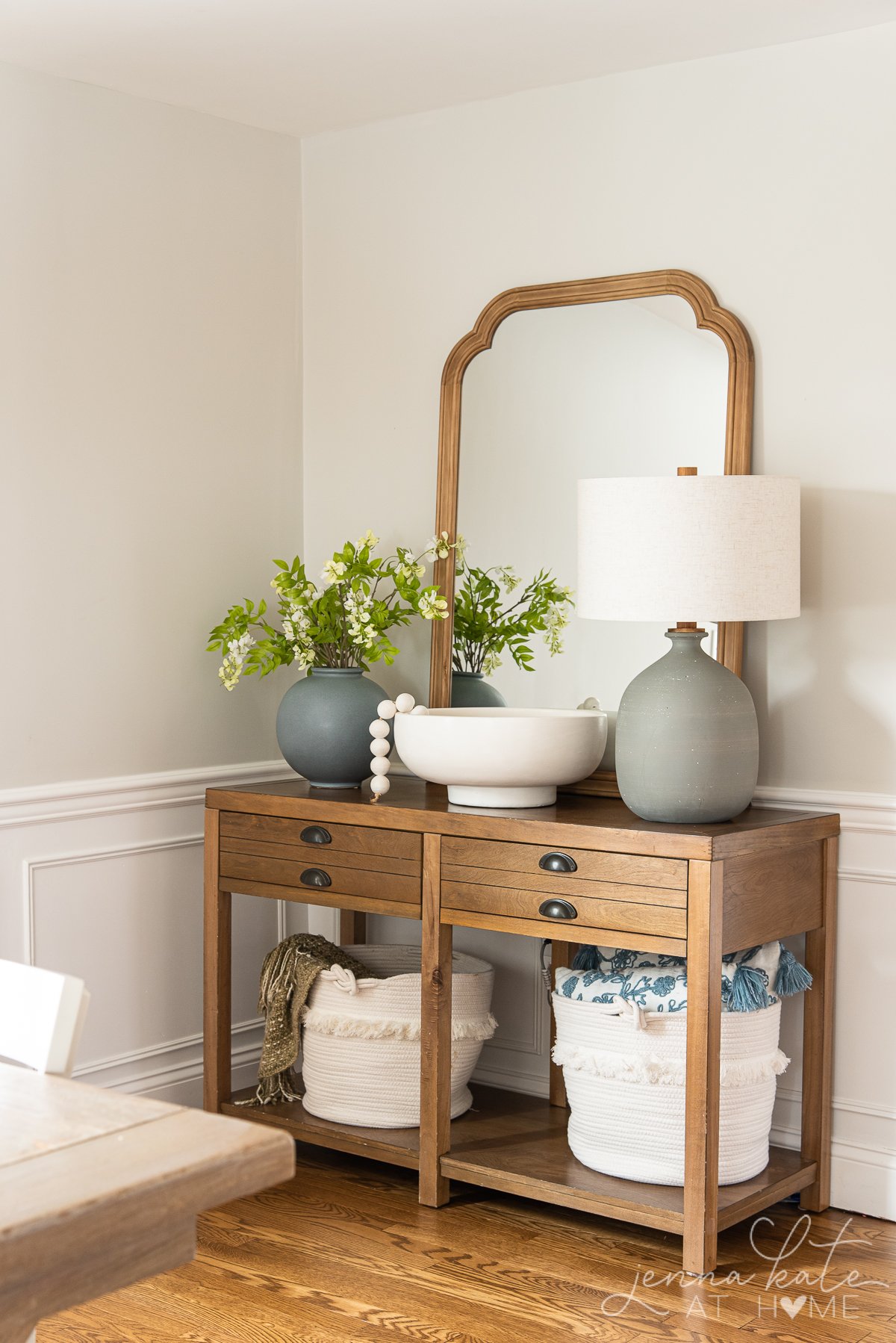 One way I do this is by incorporating storage into my console table design. For example, I might add storage baskets underneath the table to keep things like shoes, bags, and other items neatly tucked away.
This not only makes the space more organized, but it also adds visual interest to the overall design.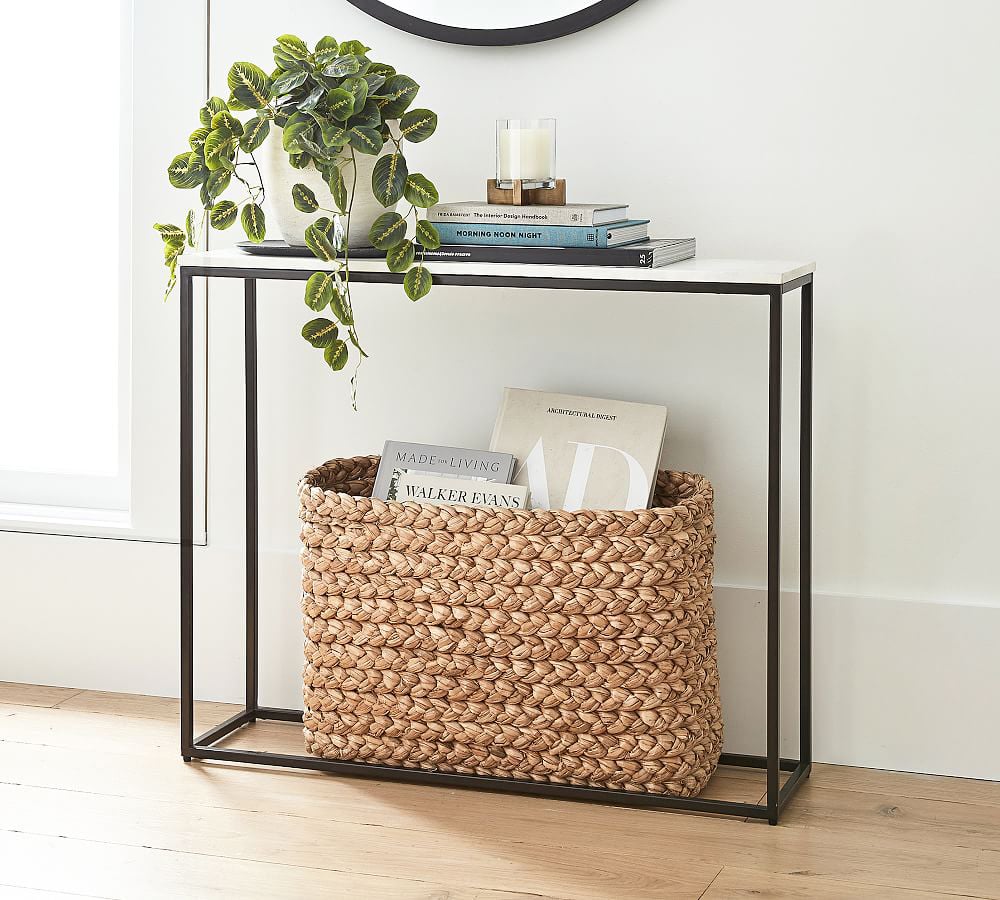 I also like to include practical items in my console table decor, such as a small dish or catchall for keys or a decorative tray for mail.
Lastly, it's important to remember that function doesn't have to mean sacrificing style. For instance, if I'm using a console table in an entryway or open-plan space, I'll make sure to choose storage options that complement the overall aesthetic. By carefully selecting these functional elements, I can create a cohesive and pleasing design that adds both style and utility to my space.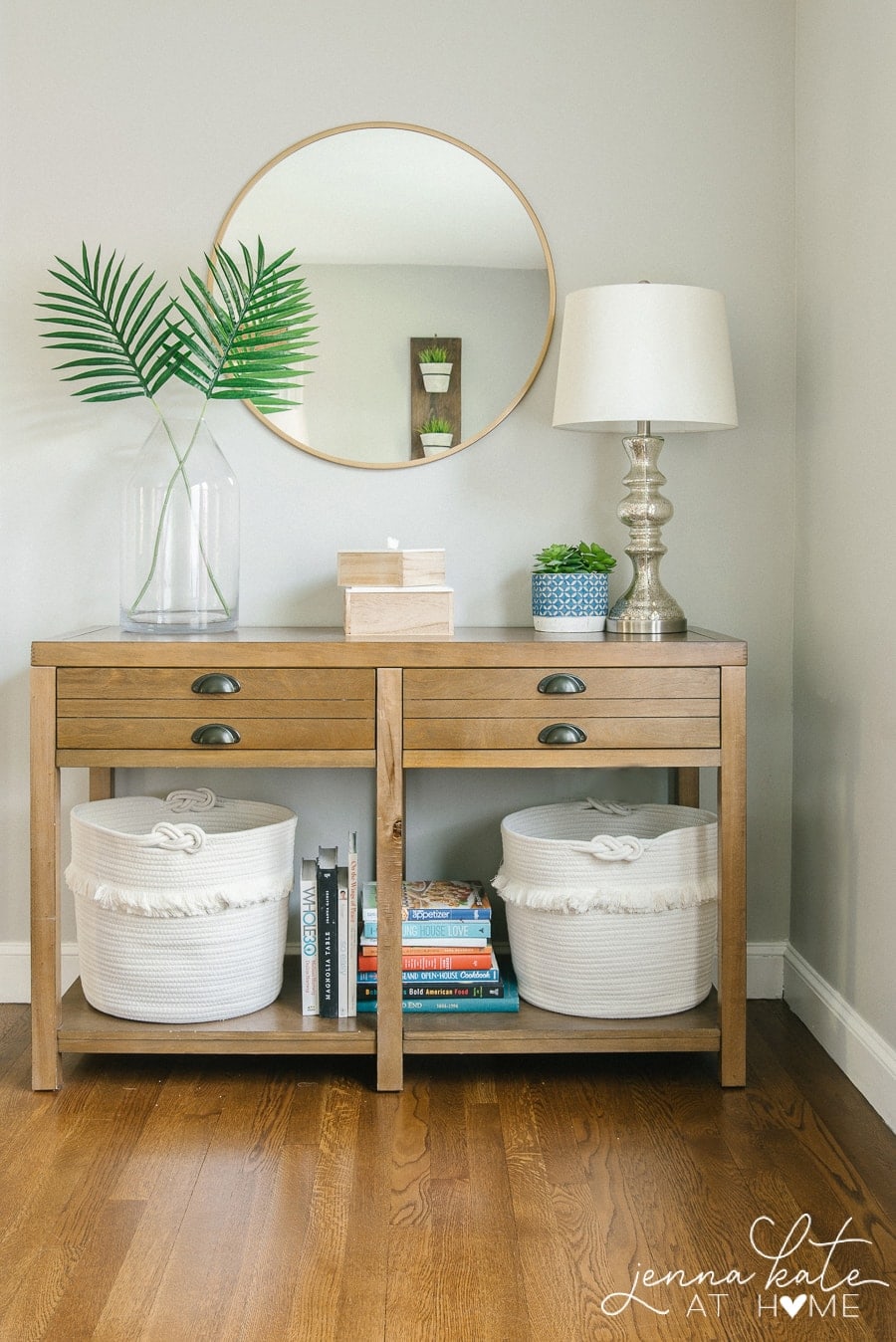 Done-For-You Console Table Pairings
I've pulled together several pairings of console tables and decorative items to make it easy for you to get a beautiful look in your own home. All items are linked directly below the image.
Pairing 1: Moody Nuetrals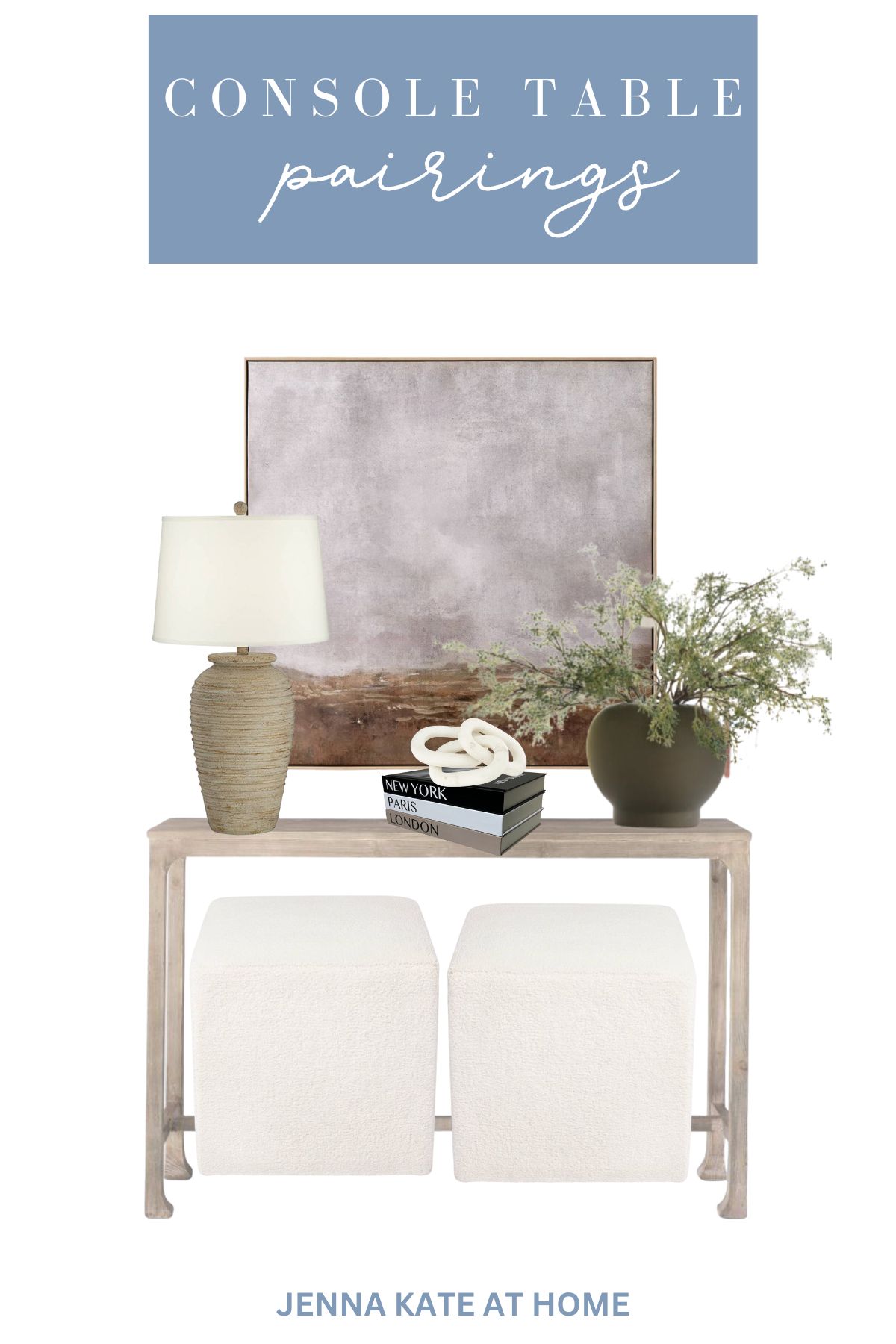 Product sources: console table // artwork // lamp // book stack // marble links // vase // faux greenery // ottomans
Pairing 2: Casual Coastal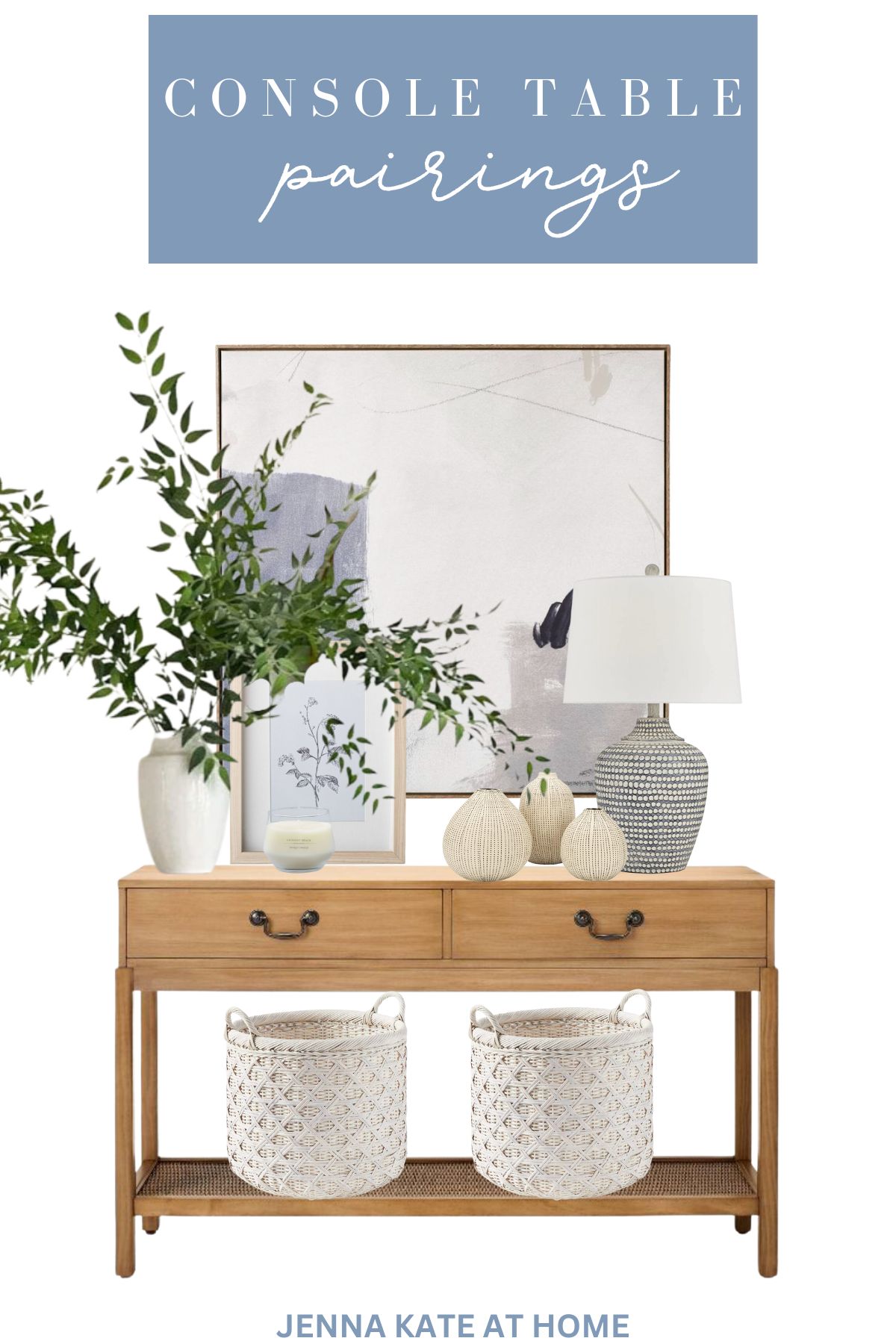 Product sources: console table // large artwork // leafy stems
small artwork // candle // decorative vases // lamp // baskets
Pairing 3: California Eclectic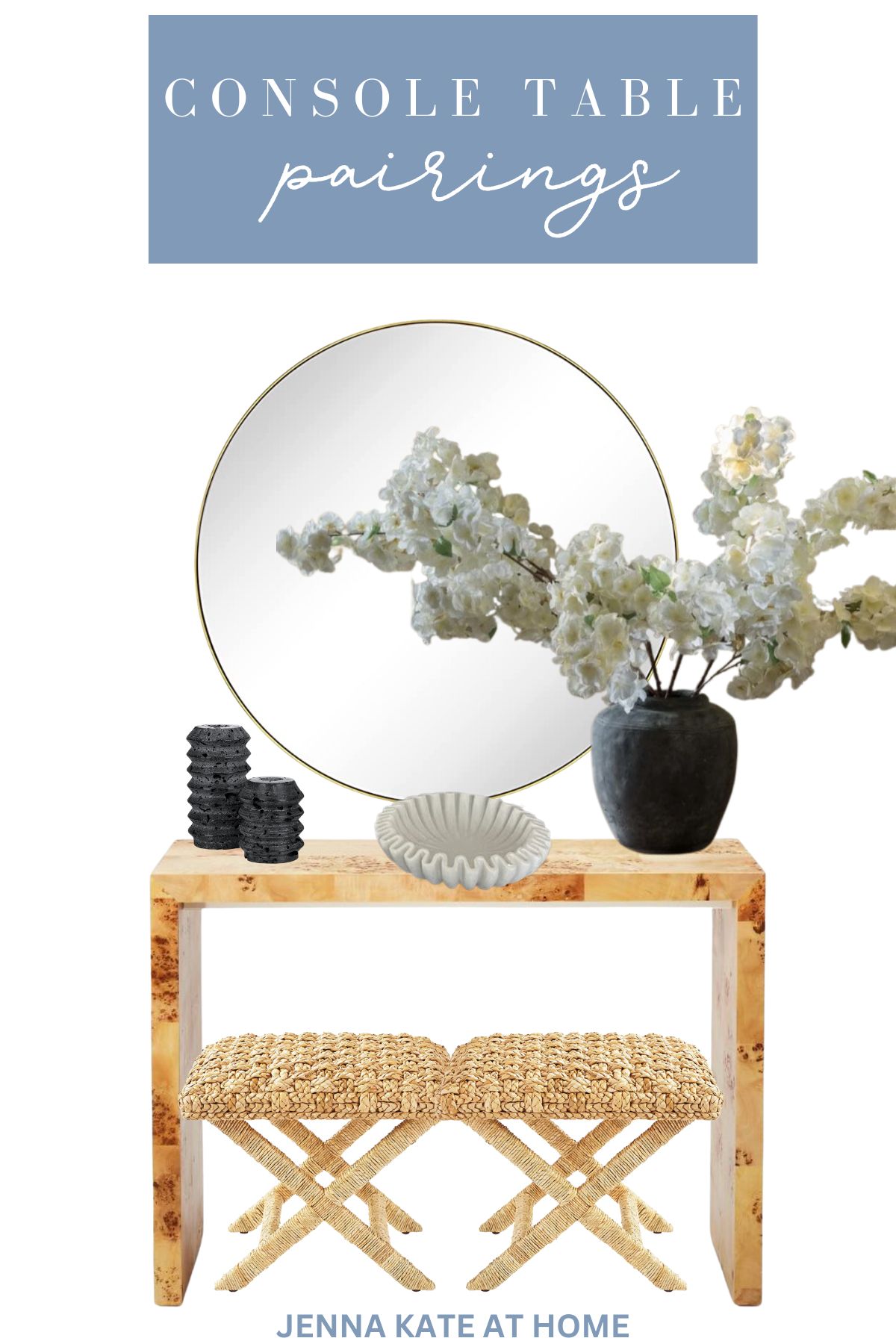 Product sources: console table // brass mirror // candle holders // ruffled marble bowl
faux cherry blossoms // x-base stools
Pairing 4: Coastal Luxe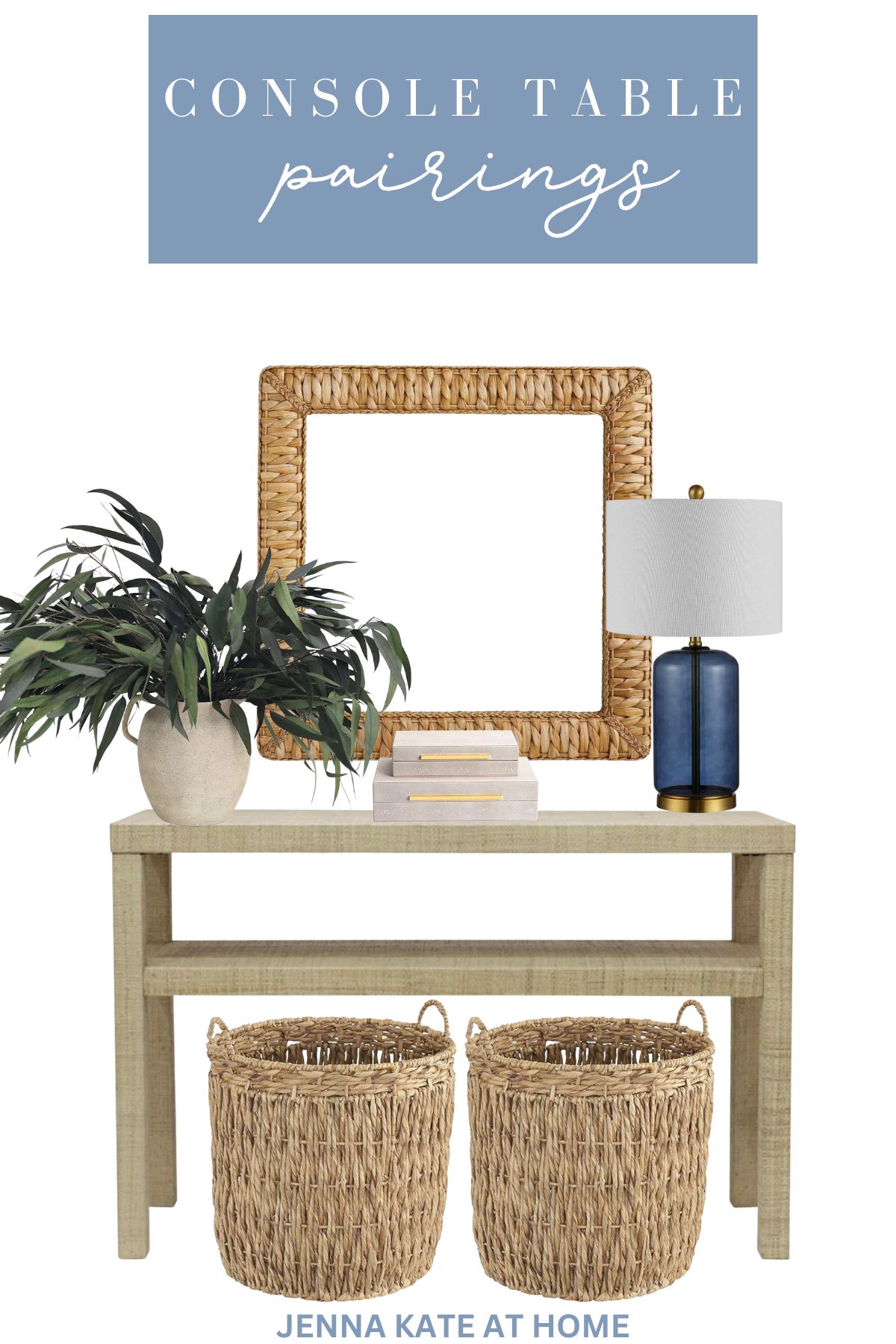 Product sources: console table // faux stems // woven mirror // decorative boxes
lamp // baskets