Unleash your inner designer with the best cream paint colors. Explore our top picks and transform your home!
Cream paint colors are versatile and timeless, adding a warm and inviting feel to your home. They can be perfect for creating a soft, neutral backdrop that pairs well with almost anything.
However, pick the wrong shade of cream and your room will scream yellow, not that lovely soft creamy vibe you're looking for.
Choosing the Right Cream Paint
Cream paint colors can transform your home into a warm and inviting space.
The best cream paint color can work in any room of your home, but really can work some magic in dark rooms with north facing light or those with flat east or west facing light that could benefit for the warmth that a cream paint color brings.
Like with any paint color, when selecting the perfect cream color paint for your walls, it's essential to consider factors such as the light reflectance value (LRV) and undertone of the color.
The LRV measures how much light a paint color reflects, with higher LRV values indicating brighter, more reflective colors, and lower values representing darker shades. Cream walls with a high LRV will make your space feel light and airy, while a lower LRV cream paint can create a cozier atmosphere.
In addition to LRV, it's essential to consider the undertones of cream paint colors. All cream paint have a yellow undertone, but how much yellow it has determines whether it's closer to an off-white or yellow hue. Additionally, you'll find cream paint colors can have orange or pink undertones, too.
A cream paint with subtle yellow undertones will give your walls a warm glow, while off-white undertones lend a more neutral appearance. Warm artificial light will makes yellow undertones apparent, too, so keep your desired outcome in mind when evaluating potential cream paint options.
To help you visualize how the cream paint will look in your space, you can order paint samples or paint swatches from various paint manufacturers. These samples allow you to test the colors on your walls to see how they will appear under different lighting conditions
Personally, I prefer to use Samplize, which provides peel-and-stick paint samples, offering an easy-to-use alternative to traditional paint swatches.
Ready To Sample?
Ready to sample these colors in your own home? Purchase all these cream colors in one easy bundle of peel-and-stick REAL paint samples, delivered overnight from Samplize.
Enough of that, let's get down to the top cream paint colors from both Benjamin Moore and Sherwin Williams…
If you're looking for a timeless, creamy white, Benjamin Moore Navajo White can serve as the perfect neutral backdrop for an entire home. It works particularly well in a more traditional home, filled with warm wood tones and it works wonderfully to make your room feel warm and inviting.
In fact, when I think of what I want in a cream, Navajo White is the perfect color choice.
Navajo White works great for those cooler north-facing rooms, and while it of course still has yellow undertones, they aren't overpowering if used in south-facing rooms. It's the type of soft creamy white that feels airy and warm at the same time.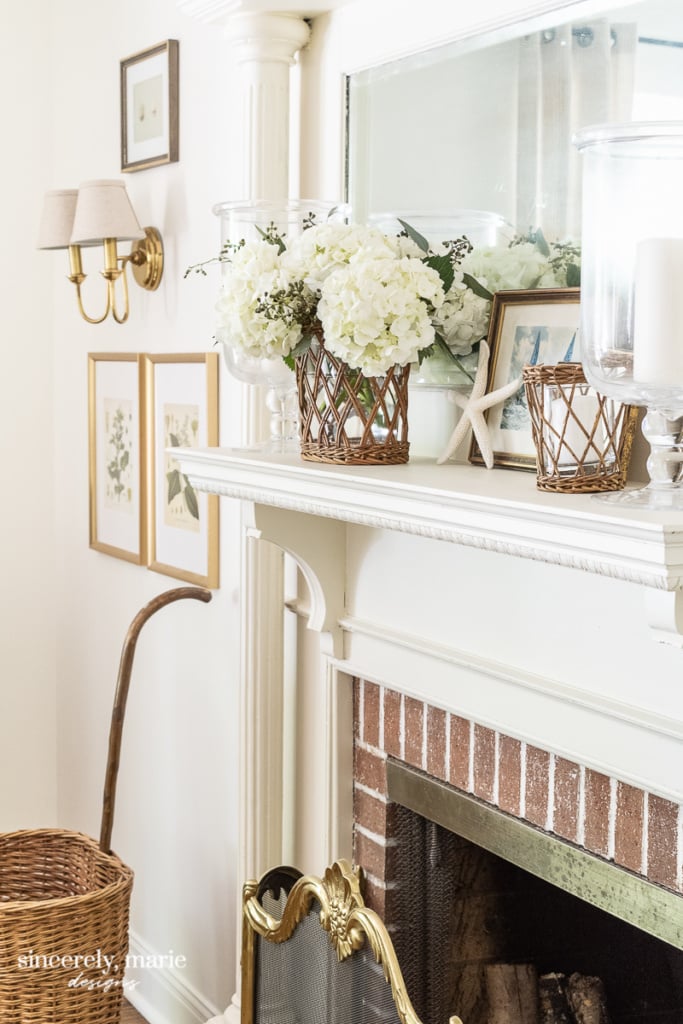 The best way to incorporate Navajo White into your home is to pair it with coordinating colors, rather than a monochrome color scheme. If you're going to use it on the walls, I would suggest painting the trim with a bright white with warm undertones such as Benjamin Moore Simply White.
If you're looking to add a touch of color to go with this dreamy cream color, try Benjamin Moore Sea Haze—a soothing gray with soft green undertones.
Benjamin Moore Gentle Cream
Benjamin Moore created a color so nice they named it twice! You'll notice that both Gentle Cream and Barely Beige are in fact the same color. If you're looking for a cream color that adds plenty of depth and warmth to your space this is the perfect choice for your home.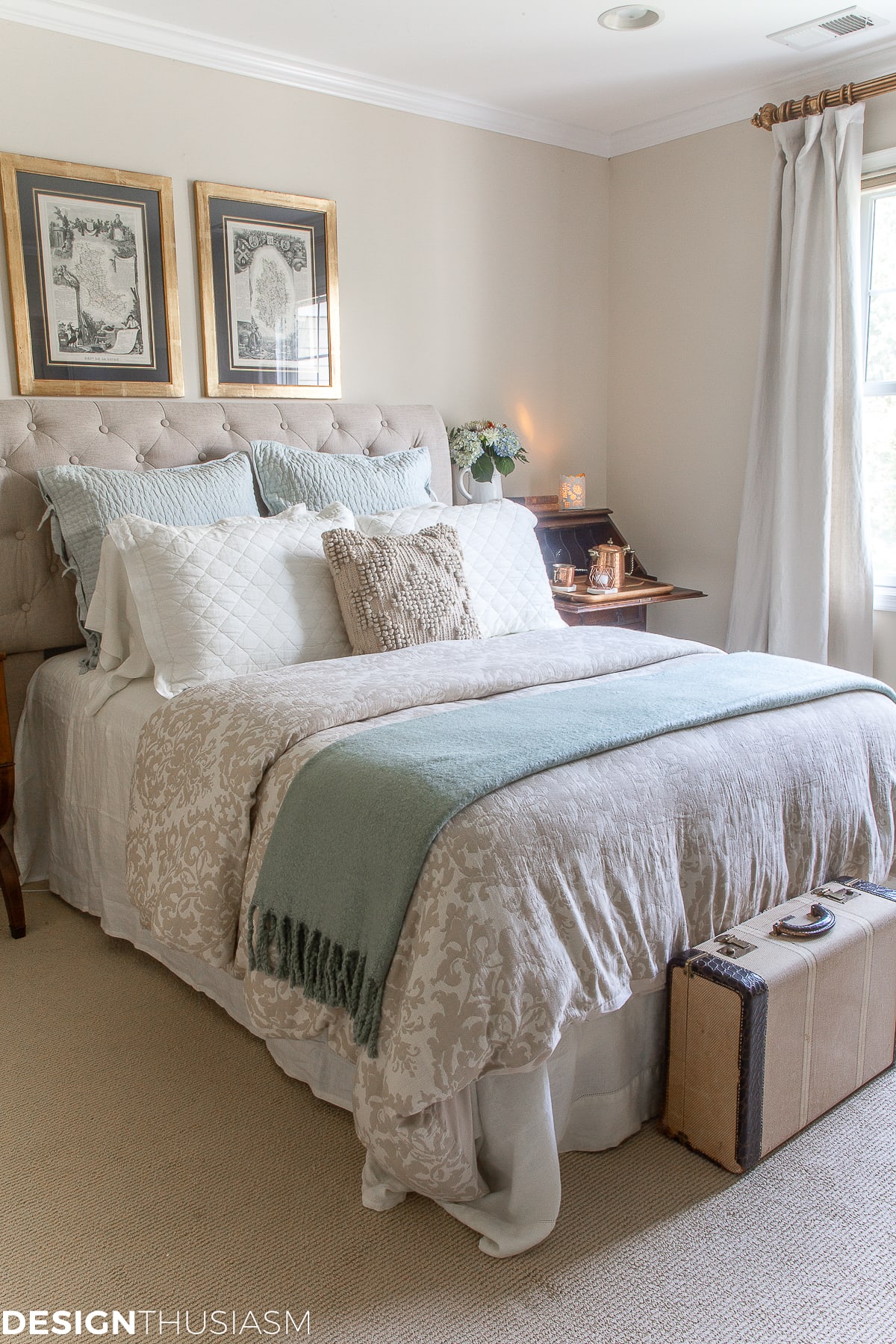 This particular cream color has the perfect balance of those yellow/orange tones as well as beige, which stops it from coming off as too yellow. The calming neutral base helps tone it down a bit, but be mindful in southern-facing rooms that it will enhance the color. But with an LRV of 71, it will lighten up with more natural light in the room.
Gentle Cream works beautifully along side wood tones like oak and maple to create an inviting and cozy space. But don't let that fool you, it can also look stunning next to soft grays, too.
Benjamin Moore Indian White
In the era of trending taupes and creamy whites, Benjamin Moore Indian White is a great neutral that is super versatile. It creates a crisp, bright, but still warm and welcoming feel to your room, especially smaller spaces.
Indian White has an orange-beige undertone, meaning it leans a bit peachy.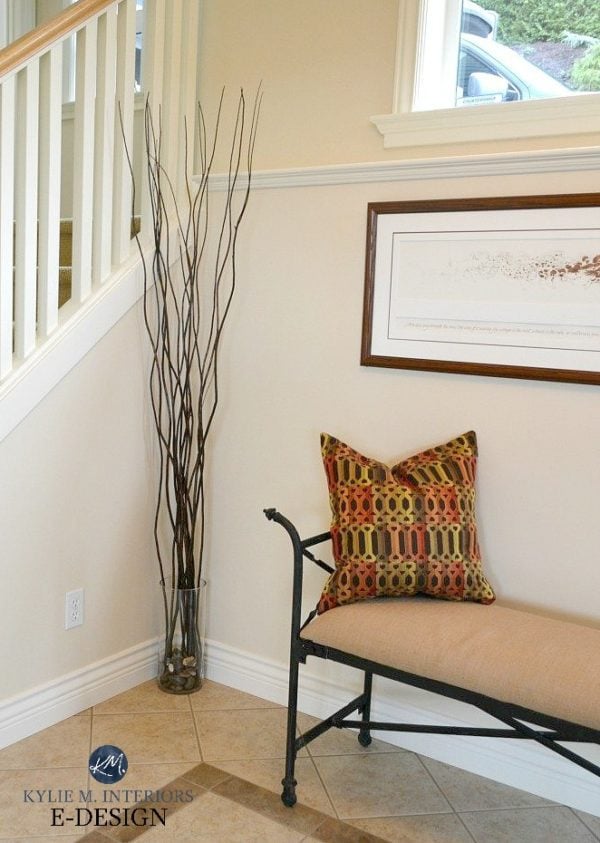 Indian White helps create a relaxing and calming mood that pairs well with other muted colors. If you're looking for a tranquil feel for your bedroom or bathroom, this color is a must. Yet, it's neutral and stunning enough to be used as a whole house paint color.
Benjamin Moore Acadia White
Acadia White is a soft, traditional cream tone is perfect for creating a warm and inviting atmosphere in any room.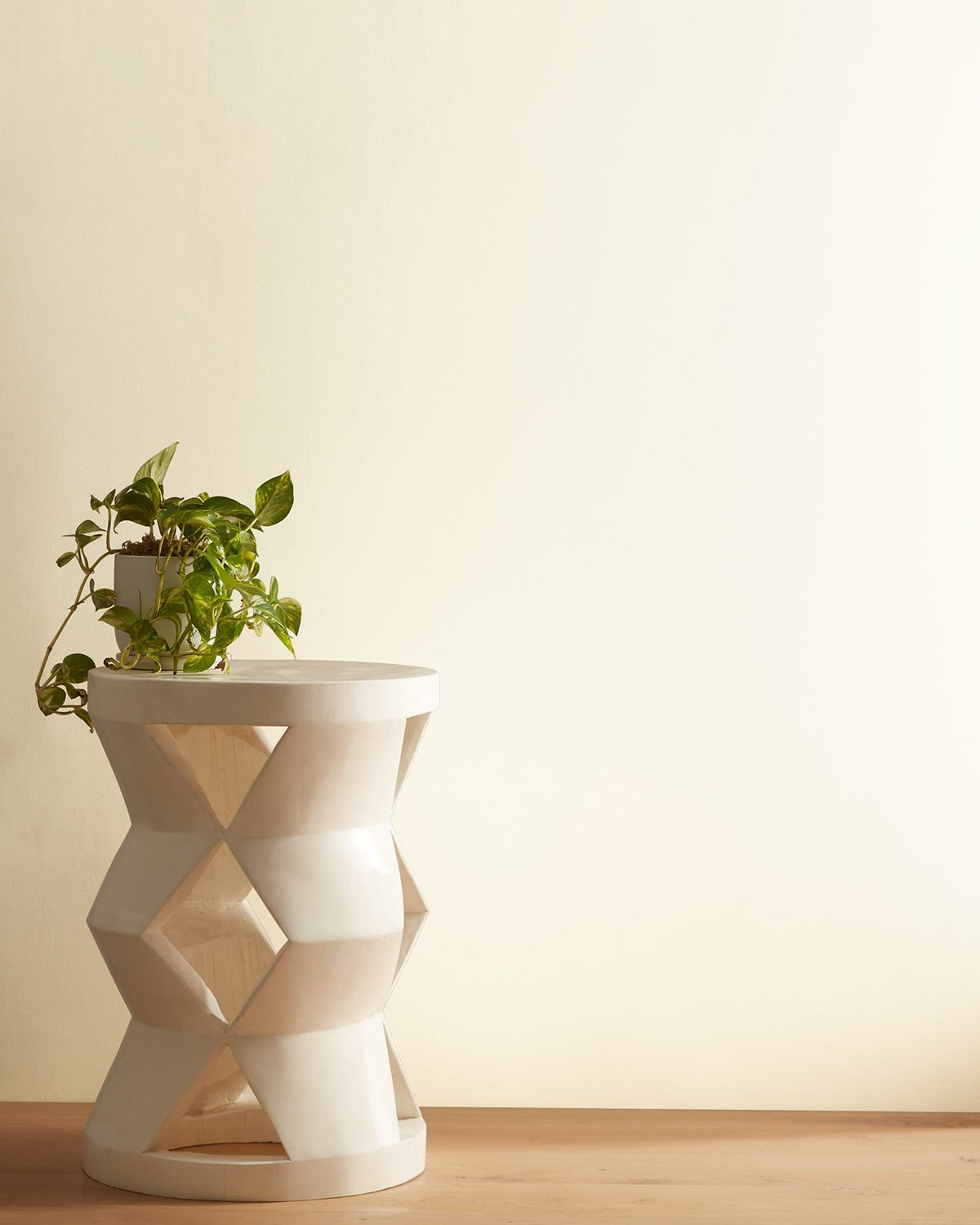 Benjamin Moore Soft Chamois
Benjamin Soft Chamois is a greige paint color with a creamy yellow undertone. It's a versatile paint that works well in various lighting situations. Its warm undertones paired with its gray base mean it works equally well alongside cool undertones as it does with warm toned colors.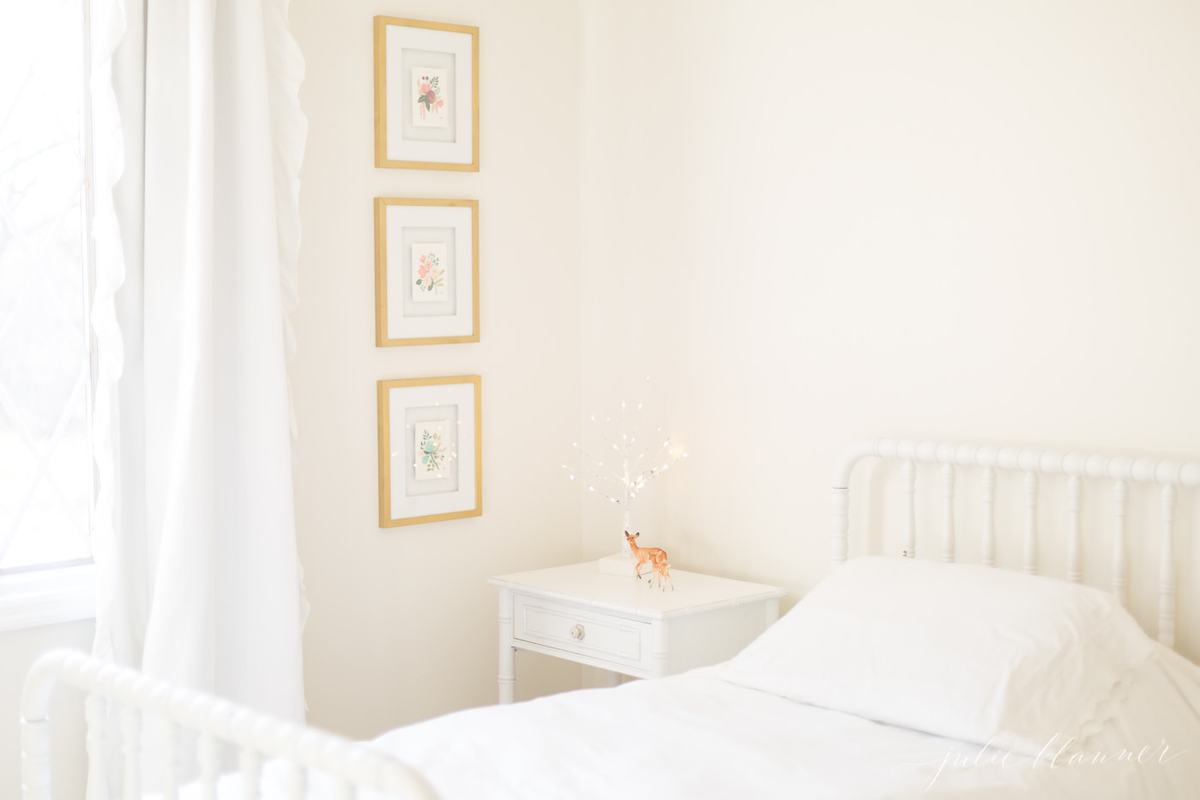 Benjamin Moore Windham Cream
Windham Cream is what I would dub the traditional creamy yellow. There's no escaping the yellow in this shade of cream, but it certainly will add a sunlit room to any space!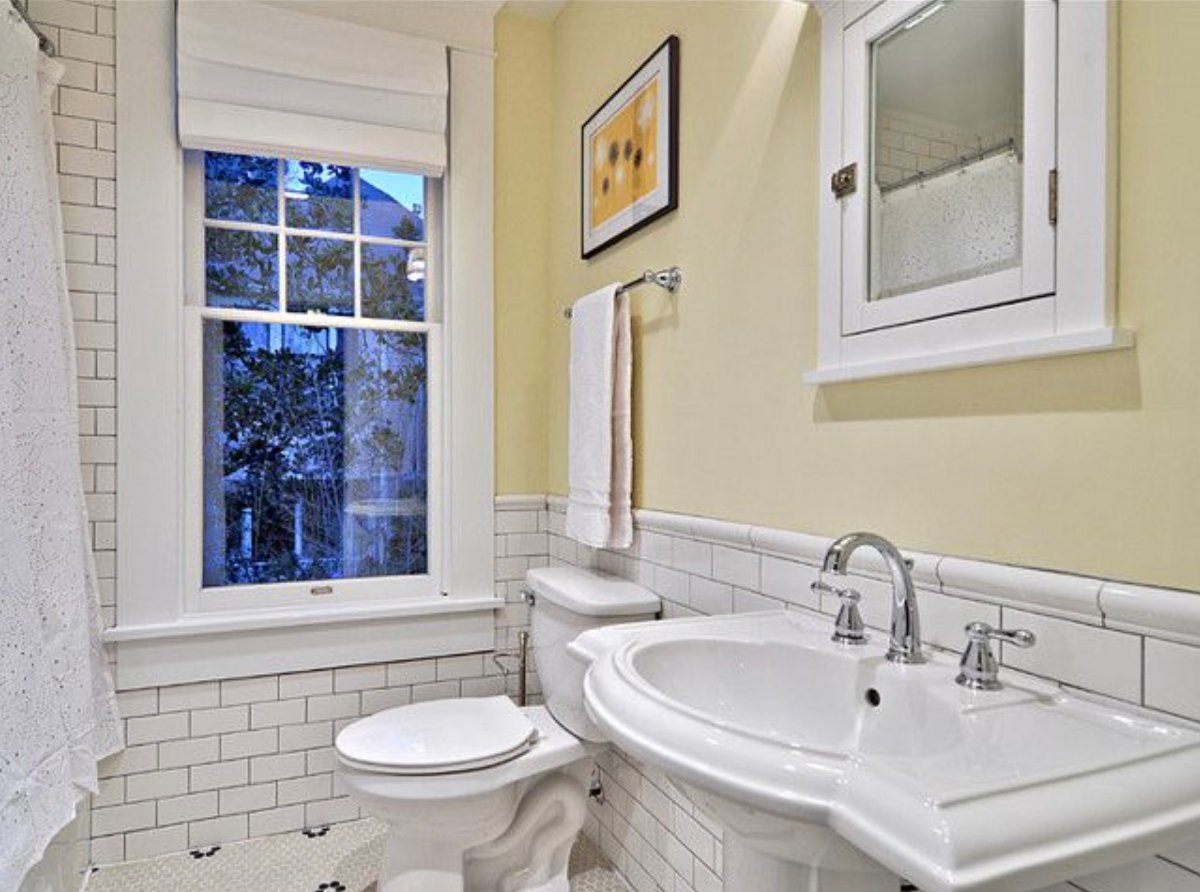 Benjamin Moore Ballet White
Ballet White is a warm, creamy paint color whose warmth is offset by a neutral. It's a popular choice for adding warmth and creamy contrast alongside white trim, while still looking bright and neutral.
I particularly love Ballet White because it's the perfect blend of cream and greige. It can look decidedly more creamy in warm light, and lean more into that grayer undertone at other times.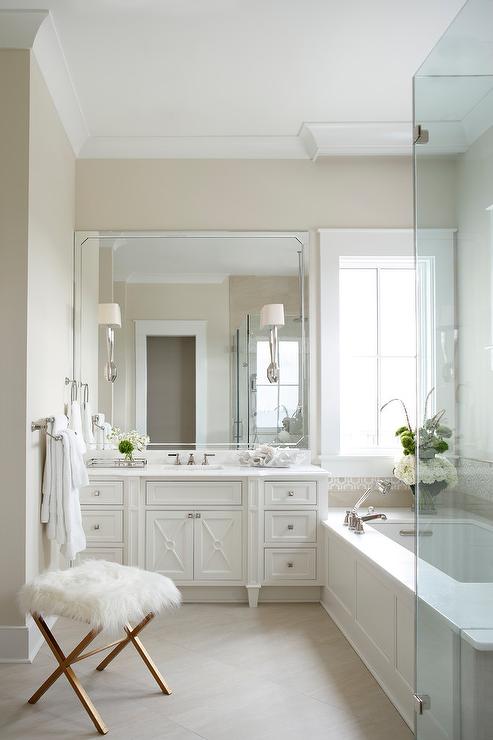 Because of its neutral undertones, Ballet White is a color that will work in a variety of rooms.
Ballet White is a great choice for interior walls, but also looks nice and soft on an exterior, too.
Benjamin Moore Ivory White
Ivory White is a classic paint color that works well for traditional or modern home design. This timeless creamy white offers up a light and airy look with just a touch of warmth that isn't too yellow.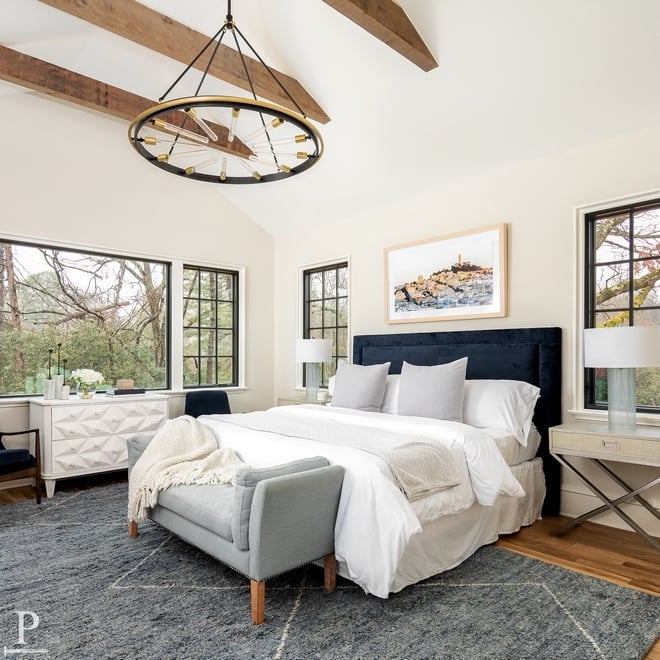 Benjamin Moore Sugar Cookie
This creamy off-white color gives off a soft buttery tones with notes of peach that is the perfect choice for warming up any room.
Sugar Cookie by Benjamin Moore brings a touch of sophistication that is quite versatile. It a great option if you're looking for a more tranquil and serene feel for your own home.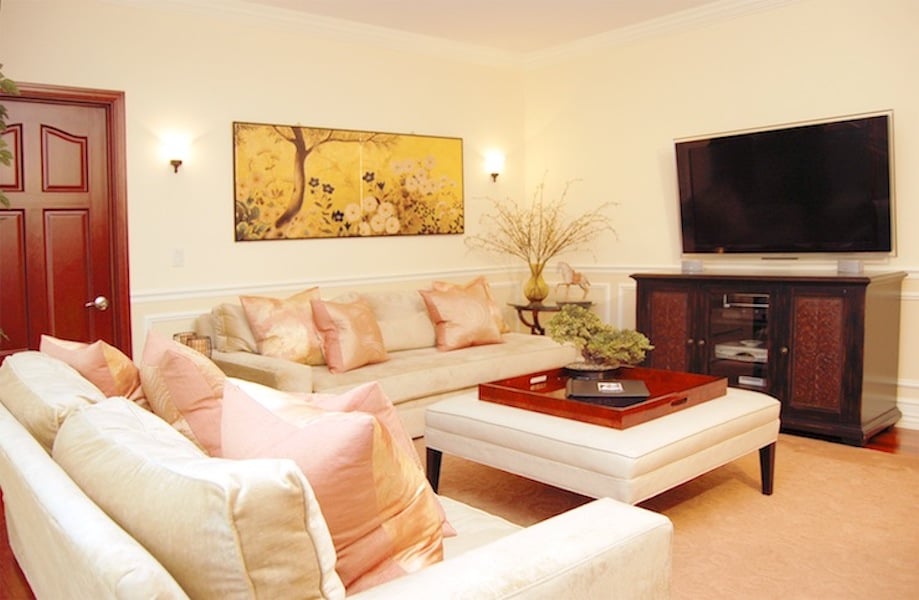 Benjamin Moore Mayonnaise
If you're looking for a bright white with a hint of yellow, Benjamin Moore Mayonnaise is the perfect option for you. It's light and airy with a touch of creamy yellow that brightens up any room. It's a versatile white that allows your furniture and decor to take center stage while presenting the perfect backdrop in any room.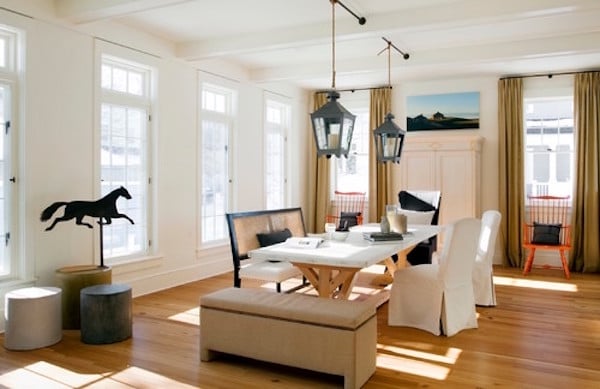 While under certain lighting conditions, this color can come off as a pale yellow, however, this light and bright paint color is great option if you want a creamy white appearance that isn't too warm.
This color pairs well with natural woods and clean, bright white trim and ceilings. It's the type of color that brightens up your room even on a rainy day.
Sherwin Williams Creamy
When I think of a modern, neutral cream paint color, Sherwin Williams Creamy checks all the boxes.
Interior designers love Creamy and for good reason. If you're over the grays and greiges of the last decade, this may be the perfect neutral paint color for your home.
SW Creamy is an excellent choice for any room in the house as it adds brightness no matter the light exposure, thanks to its LRV of 81, putting it on the high-end of off-white paint colors.
Pair with true whites for trim and ceiling colors, along with beige, taupes, and even bold hues of blues and greens for a whole house color scheme that is warm and cozy.
Sherwin Williams Antique White
This popular Sherwin Williams cream color makes a gorgeous wall color that is full of depth.
If you're looking for a creamy kitchen cabinet, however, there are better choices out there, as Antique White's LRV comes in at 72 making it not the greatest choice. The color is a lot richer than other cream colors, making it more difficult to pair it the perfect trim and wall color.
But my all means, indulge your walls in this beautiful creamy color! Pair with Alabaster or White Dove trim for the perfect cozy combination. When thinking about what look you're going for, remember, warmer colors will help soften Antique White while cooler colors will actually enhance its warmth.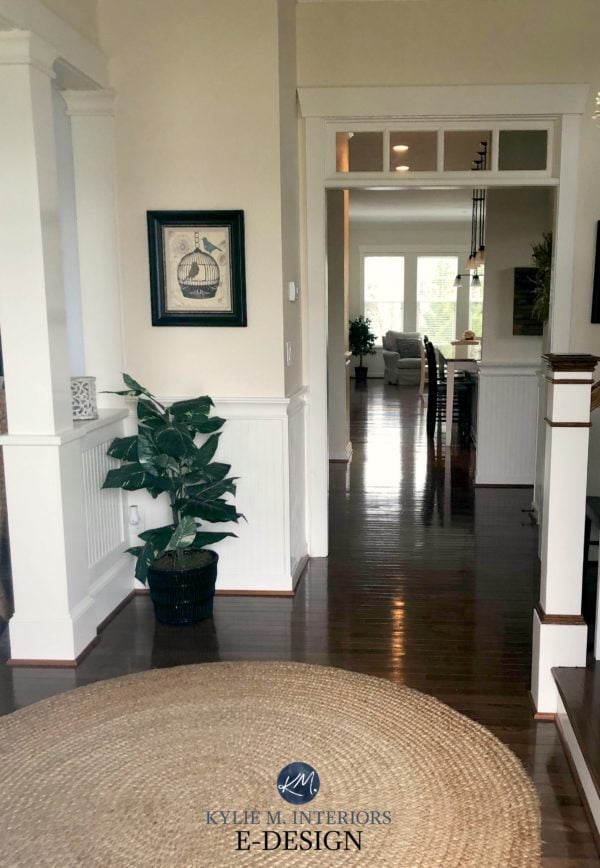 And if you're looking for a neutral exterior color with a bit of yellow in it, Antique White would look amazing outside your home, too.
Sherwin Williams Dover White
This creamy white paint color borders the line of being an off-white with it's incredible softness. When considering it for your home, be mindful of the other colors you are working with as the amount of yellow may clash with certain colors.
Sherwin Williams Dover White is the perfect creamy soft white for that country farmhouse look. The amount of warmth and creaminess lends itself to a cozy space paired well with honey oak woods, warm white lights, and black accents.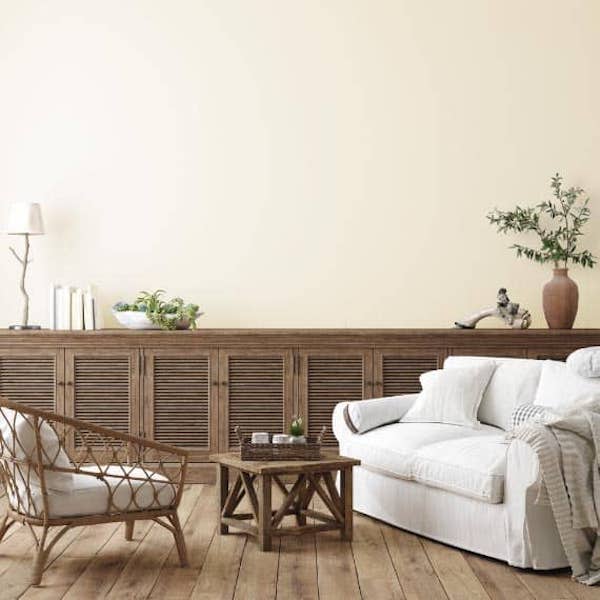 If you're looking for a cooler toned color palette, try pairing it with SW Pure White for trim, and SW Outerspace and SW Mountain Air for a more coastal look. Alternatively, create a cohesive warm palette by adding in Accessible Beige and warmer contrasting colors for a cozier space.
Sherwin Williams Steamed Milk
With an LRV of 76, Sherwin Williams Steamed Milk stands firmly in the off-white category of paint colors. It's not your typical cream, though, thanks to its peach undertone. The mix of creaminess (yellow) and peach however, make it a great choice for darker north face rooms that need an injection of warmth.
Sherwin Williams White Flour
White Flour by Sherwin Williams has become a very popular choice for creamy whites, particularly in modern farmhouse style homes. While it may be a warm white, it still shows as a cozy white without the blatant yellow undertone.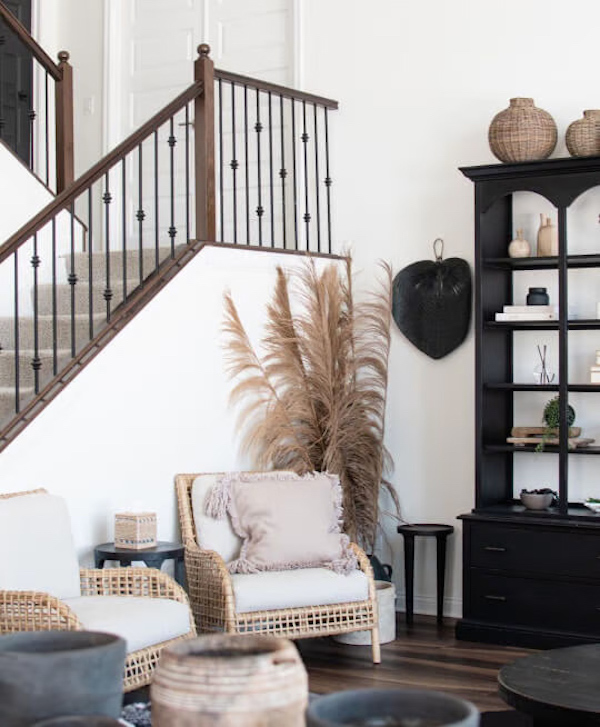 When considering White Flour for your walls I recommend using it for trim as well but with a different sheen. If you want to add a little contrast then go with SW High Reflective White as it offers just a tiny bit of warmth that will work well with White Flour.
Don't hesitate to use White Flour on more than just your walls. This color looks beautiful on kitchen cabinets for a light and airy feel. It truly is the ultimate farmhouse paint color for the whole house.
Sherwin Williams Roman Column
If you're looking for a warmer white that adds a bit more saturated color to your walls, then Sherwin Williams Roman Column is a great choice. It leans more towards the yellow-red hue family which gives it more of a peachy pink tone in certain lighting conditions— natural light is best for paint color.
Much like White Flour, Roman Column is another very popular paint color for your farmhouse homes. It gives just the right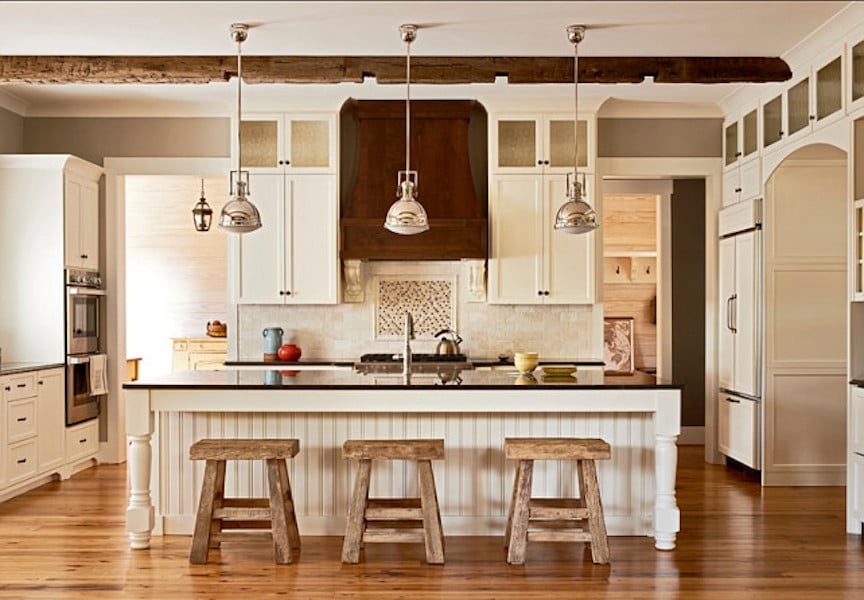 Frequently Asked Questions
Despite its names, Benjamin Moore Natural Cream is not a cream paint color. It is in fact, a greige paint color. In south-facing rooms it will look like a cool beige, while in darker rooms it will look like a warm gray.
Yes, cream is an adaptable color that can complement various living room styles. Whether your decor is modern, traditional, rustic, or eclectic, a cream wall color can provide a warm and inviting backdrop for your furnishings. Experiment with different cream shades and undertones to find the perfect match for your living room aesthetic.
Cream stands out as a highly versatile neutral color. Its warm undertones create a welcoming ambiance in any room, and it pairs well with a wide range of colors, from bold accents to other neutrals. Since cream is both light and neutral, it can help make small rooms appear larger and brighter while still offering a cozy atmosphere.
Final Thoughts
Are you ready to commit to a cream paint color as your choice for a room in your house? Or are you going to go all-out and paint your entire home?
Don't Forget…
Don't forget – no matter what you've read or photos you've seen online, it's really important to sample paint colors in your home before committing!
Samplize provides real paint samples that are easy to move around your home, and cheaper than buying a gazillion paint pots! It's the only way I buy paint samples.
Use code JENNAK10 at checkout and get 10% off your order
Coupon entitles all customers to 10% off the entire order with no minimum purchase requirement. This is a one-time use coupon and it cannot be combined with other discounts.