Sea Salt by Sherwin Williams (SW 6204) is the perfect "neutral" coastal paint color. It is described as a sift, pale blue, green, gray shade. As an iconic blue-green paint color, both soft and muted, it has green, gray, and hint of blue undertones.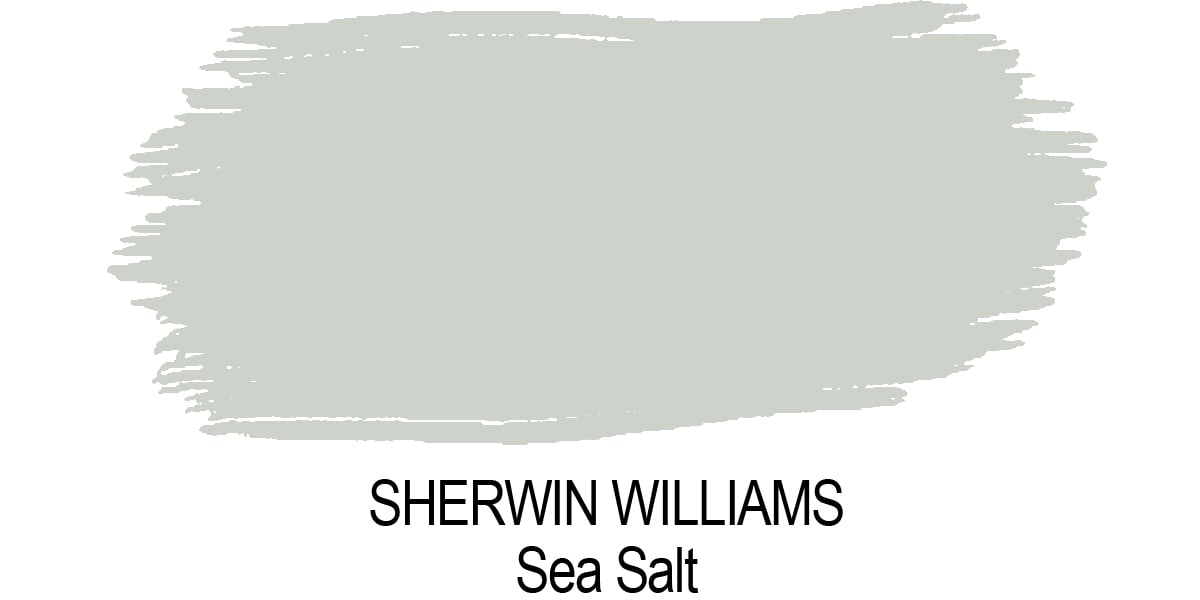 What Color is Sherwin Williams Sea Salt?
Sea Salt is a beautiful gray undertoned green, that can come across as blue under certain lighting conditions. It reminds me of a pale green sea. It is a bit of a chameleon, and the color can change depending on the lighting that surrounds it, sometimes looking more green and other times more blue.
It's a popular color particularly for bathrooms and master bedrooms as it lends itself to a serene, calm vibe.
What's The LRV of Sea Salt?
Light Reflectance Value (LRV) is an indicator of the amount of light that is reflected by a color when it is illuminated by a light source. A higher value (closer to 100) means that a color will reflect more light back at you and a lower value (closer to 0) means that a color will appear darker, or absorb more light.
Sea Salt has an LRV of 63, which means it can help a room feel brighter and lighter. It reflects both natural and artificial light back into the space.
Is It A Warm Or Cool Color?
Sea Salt falls more on the cool with hints of warmth. As a cooler color, it makes a space feel spacious, and relaxing, and will work well in many rooms of your home.
It is definitely a chameleon color, with green and gray undertones. It will present differently, depending on the lighting. The space plays a huge role in which undertones will shine through.
What Are The Undertones of Sea Salt?
Sea Salt by Sherwin Williams has mostly green and gray undertones, with a hint of blue. Depending on your lighting and space each undertones may present differently.
Real Room Examples
In the below pictures, you'll notice how Sea Salt sometimes looks distinctly gray-green, and other times leans more into the blue.
Be sure to grab a reusable peel and stick sample from Samplize for the no-mess way to sample SW Sea Salt in your own home.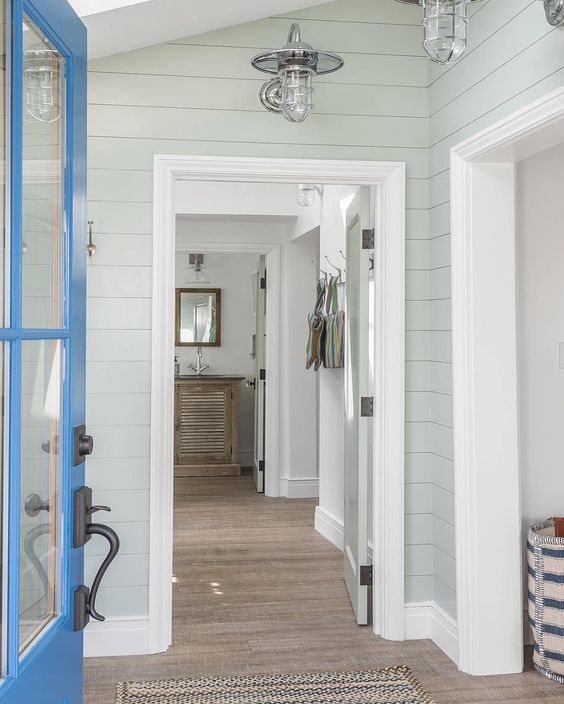 If you are not familiar with Sherwin Williams Sea Salt, it is important to know that color does change depending on your lighting conditions. Just a note it can be a huge dramatic difference in the end result of the paint color.
In this photo you can see Sea Salt looks way more blue than green, because of the lighting. This is why we refer to it as a chameleon color. Depending on the lighting, time of day, and what colors surround it, will greatly affect the color.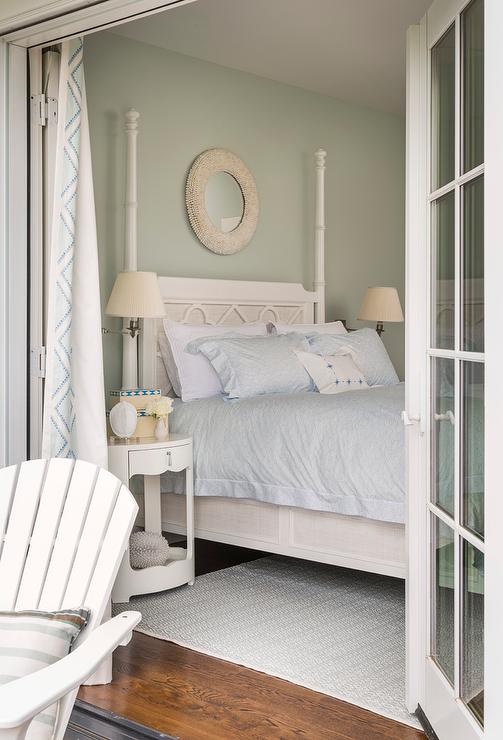 Sea Salt works perfectly in a bedroom, if you are looking for a relaxing color, this is it!
You can see if the photo above this bedroom looks more green than blue, because of the large amount of natural light.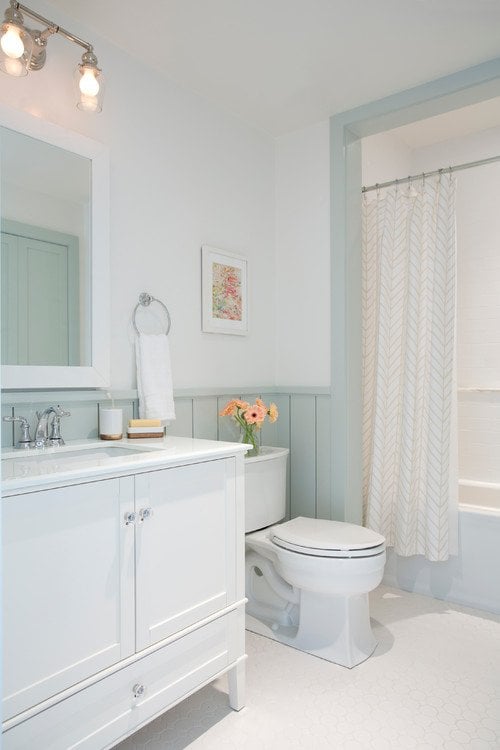 Sea Salt is the perfect addition to a bathroom. It gives off a calming, clean, and tranquil look. In a bathroom with mostly white fixtures, such as toilet, and cabinets, it can seem to make the color pop even more.
In the photo above, a bathroom with no natural light, Sea Salt leans more green, with just a bit of blue coming through.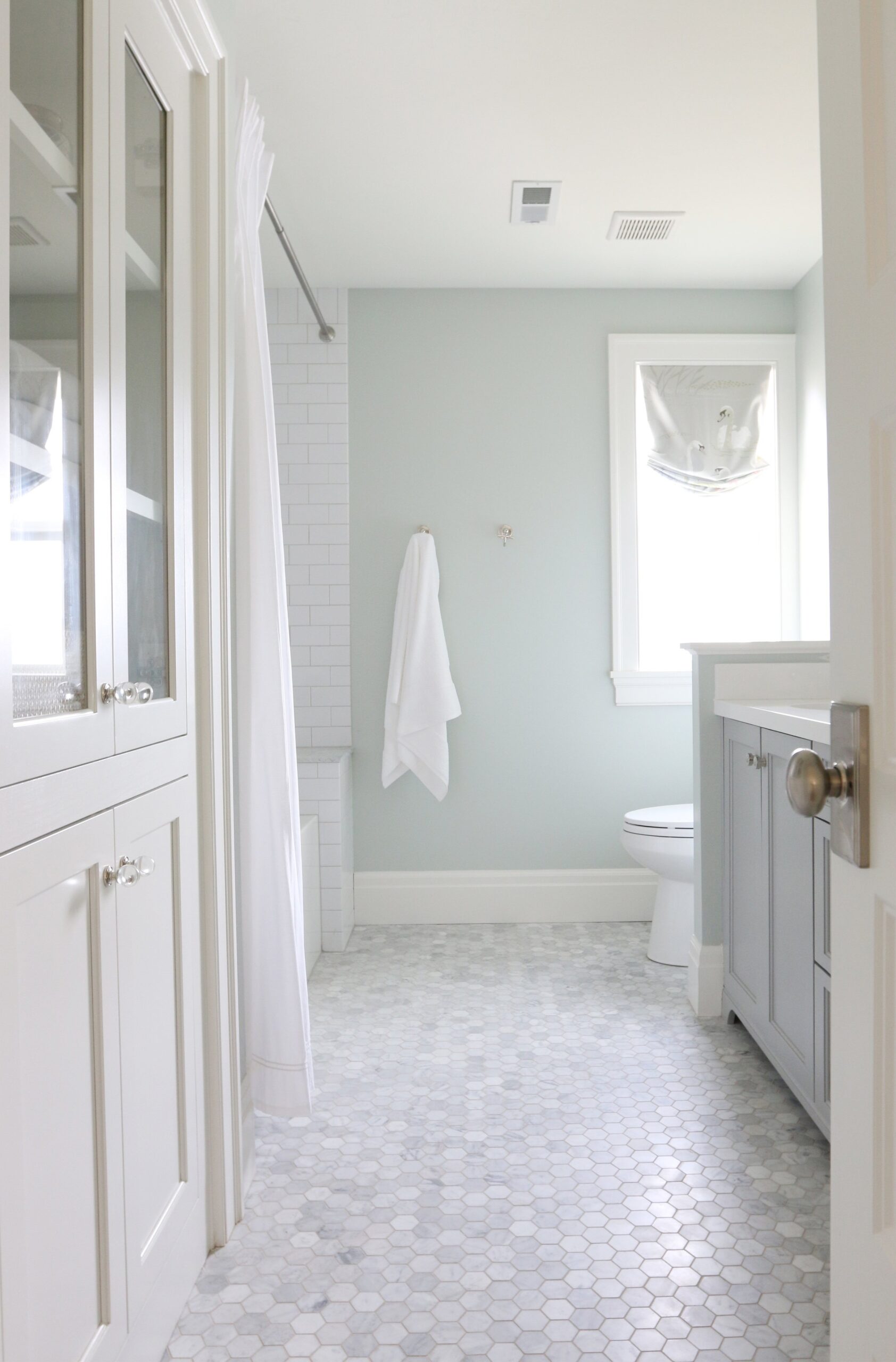 However, this bathroom has plenty of natural light and it has more blue coming through.
In this laundry room, the cabinets are painted Sea Salt. This unexpected use of the color is actually my favorite way I've seen it used. If you have a coastal style home in particular, this would be a fun choice for cabinets or a bathroom vanity.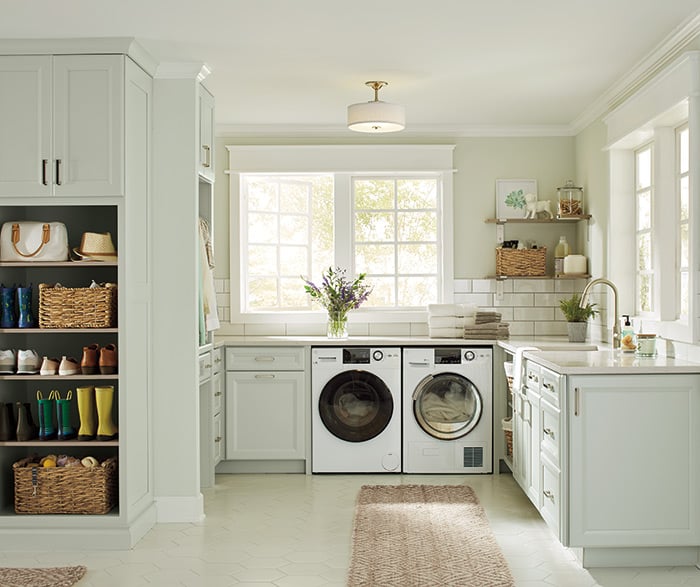 It's so important to test paint colors in your home before committing. For this reason, I always purchase paint samples from Samplize. They are real paint samples (not printed color chips!) that are peel-and-stick, repositionable and you can order as many as you want for $5 flat rate over-night delivery!
If I'm Using This Paint Color On My Walls, What White Trim Color Will Look Best?
For trim, Sherwin Williams Pure White is always a safe bet. It's a bright white with just a smidge of warmth so it never looks cold. It looks great with all wall colors, but it's especially the correct choice if the color is warm.
For a really bright crisp white, Benjamin Moore Chantilly Lace would look beautiful and really make Sea Salt pop off the wall.

What rooms does Sea Salt work best in?
Sea Salt can be a fantastic whole-house paint color if you're looking to really achieve that beachy vibe, but it also works well in specific rooms such as bedrooms, bathrooms, living rooms, kitchens and laundry rooms. Its soft and versatile nature allows it to create a calming atmosphere in any space it's used in.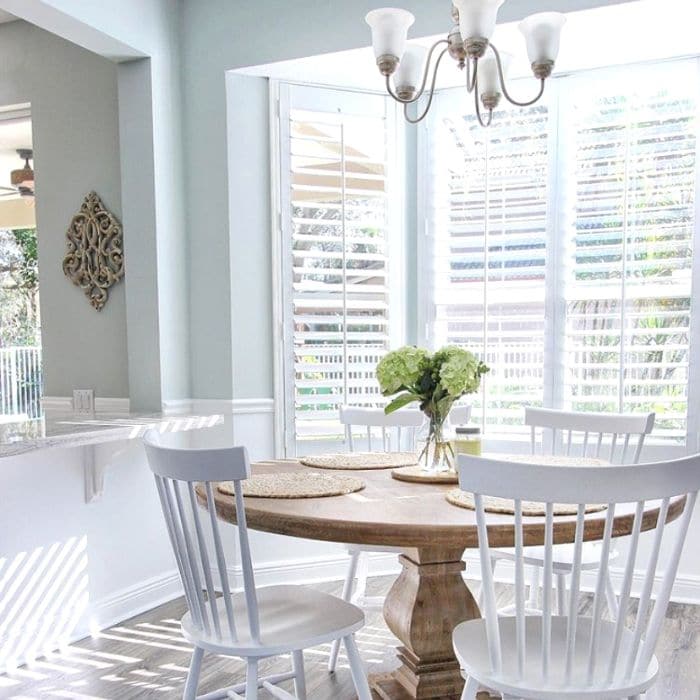 I love when SW Sea Salt is used as a pop of color – it makes for a stunning laundry room cabinet color, kitchen island color or bathroom vanity color.
Can You Use Sea Salt In Darker Spaces?
Yes you can! Just keep in mind you will see more blue tones in darker spaces or northern facing light, than green tones.
Is SW Sea Salt a Good Color for Living Rooms?
SW Sea Salt wouldn't be my first choice for a living room paint color. However, that's to say it wouldn't be perfect for your home. If you are leaning into the beach house vibe, it's really beautiful paired with bright white trim or wainscoting. Also, if you have a lot of honey oak or orange-toned trim, it's Sea Salt pairs quite beautifully to make your woodwork stand out.
Is Sherwin Williams Sea Salt Blue Or Green?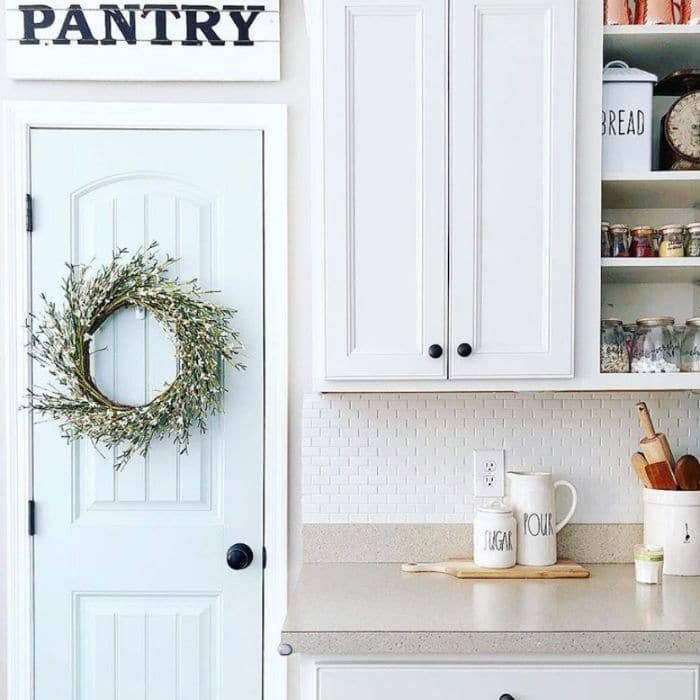 SW Sea Salt is a beautiful blend of both blue and green. It has a muted and soft appearance, making it a versatile color for various spaces in your home. Your perception of its color might change depending on the lighting conditions, with hints of both colors becoming more or less noticeable at different times of the day.
SW Sea Salt vs. SW Rainwashed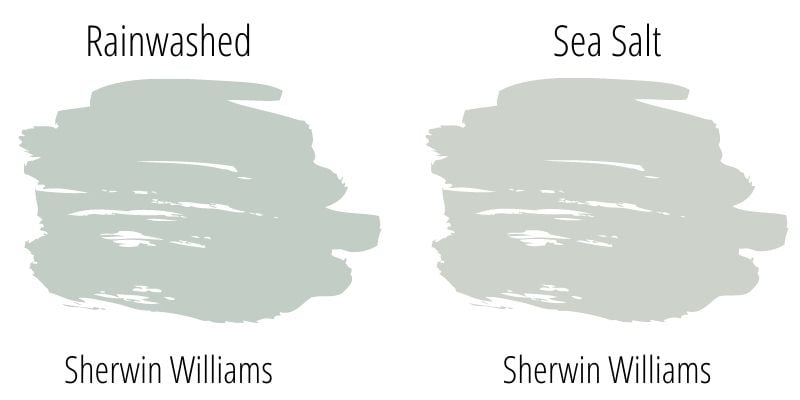 Rainwashed and Sea Salt are similar colors. Rainwashed leans blue with hint of green, while Sea Salt is green with hint of blue.
If you are wanting to lean more blue, Rainwashed would be a great choice. Both are amazing color choices that offer both a relaxing and calming effect on a space.
Sherwin Williams Sea Salt vs Benjamin Moore Sea Salt
While SW Sea Salt is a blue green paint color, Benjamin Moore's paint color of the same name is a greige paint that reads like a warm gray. With a light reflectance value of 61, it's just slightly darker than SW Sea Salt with an LRV of 63.
Intrigued? Grab peel and stick samples for both colors and compare them in your home.
What Colors Coordinate With Sea Salt?
Sherwin Williams Sea Salt pairs perfectly with whites, beiges, and grays tones. Here are some other examples of coordinating colors.
SW Repose Gray – A light gray shade that tends toward a warmer tone. This color is a great neutral option that pairs well with a variety of accent colors.
SW Comfort Gray – A soothing blue-gray color, evoking the serenity of a calm ocean or sky.
SW Silver Strand – Another Sherwin Williams alternative, Silver Strand is a gentle blend of gray and blue with a hint of green, often compared to Sea Salt.
SW Alabaster – A creamy and warm white, Alabaster provides a perfect backdrop for Sea Salt or other light colors in your home.
SW Fleur de Sel – A soft blue hue with subtle gray undertones, ideal for creating a peaceful and inviting atmosphere.
SW Rainwashed – A color that leans slightly more toward blue-green, Rainwashed is reminiscent of the sky after a refreshing rain and pairs well with Sea Salt for a coastal vibe.
SW Accessible Beige – A warm, neutral beige, Accessible Beige is an excellent option if you're seeking a more earthy and grounding alternative to Sea Salt.
SW Naval – A rich navy blue, Naval is a bold cold choice that ties together the perfect coastal color palette.
SW Extra White – A clean, crisp white, Extra White is perfect for creating contrast with Sea Salt and other darker shades.
Need help visualizing color schemes? Below you will see how well Sea Salt plays with shades of greige, gray, off white and even navy blue.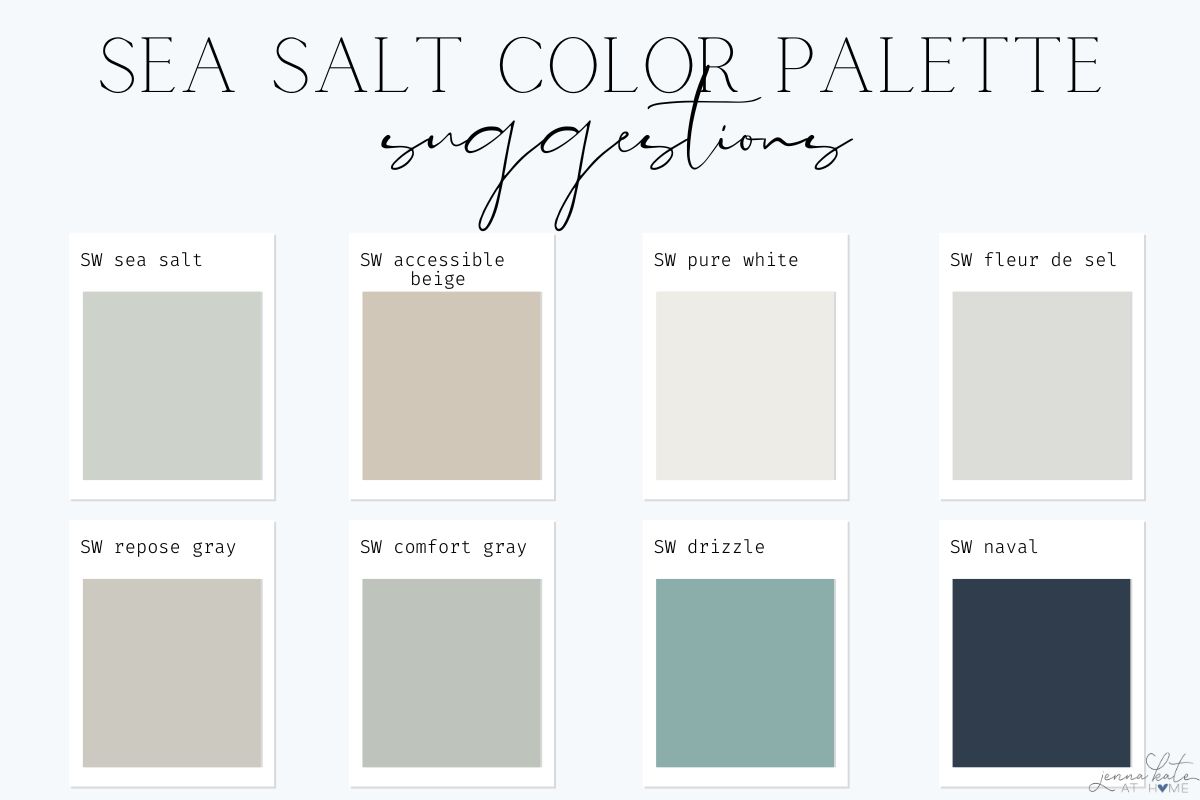 By exploring these similar and alternative paint colors, you can find the perfect hue to complement your space and create a friendly, welcoming environment with your paint choices. Remember to test out samples and consider how each color will work with your existing furnishings and lighting conditions to achieve the best results.
What Trim Colors Work Best with SW Sea Salt?
Sea Salt is versatile in that it can work beautifully with a variety of shades of white, from cool whites like SW Extra White or BM Chantilly Lace to more neutral whites like SW High Reflective White and SW Pure White. It even pairs nicely with warmer whites such as SW Alabaster.
Frequently Asked Questions
Yes, Sea Salt can be a popular choice for exteriors, especially if you are going for a coastal or beachy vibe. Its calm and soothing tones work well with a variety of exterior materials and can be easily complemented by other colors for accents and trim.
Sea Salt is a fantastic whole-house paint color if you're looking for a beachy vibe, but it also works well in specific rooms such as bedrooms, bathrooms, living rooms, and even kitchens. Its soft and versatile nature allows it to create a calming atmosphere in any space it's used in.
Yes, it's possible to have Sherwin Williams Sea Salt lightened by 50%. If you want a lighter version of the color, simply ask your paint supplier to adjust the formula for you. Keep in mind that altering a paint color this way may affect the overall balance of the hues, so it's a good idea to test a sample on your wall before committing to the final paint job.
There are several bedding colors that can complement Sea Salt beautifully. Some options include crisp white, soft grays, and muted blues or greens. Additionally, you can also try gentle pastel shades like blush pink or light lavender. The key is to choose colors that maintain the calming and soothing atmosphere that Sea Salt creates in your bedroom.
Final Thoughts
We can see why it is as been listed as one of Sherwin Williams top paint colors. It is chosen again and again by both designers and homeowners.
You can use Sea Salt, by Sherwin Williams, in any room of your home. It is a beautiful blue-green color that doesn't disappoint.
Remember with a chameleon color like Sea Salt, you will need to see it in your space. The color will change with your given lighting, you want to be sure to be happy with your end result.
Don't Forget To Always Use Real Paint Samples!
Don't forget – no matter what you've read or photos you've seen online, it's really important to sample paint colors in your home before committing!
Samplize provides real paint samples that are easy to move around your home, and cheaper than buying a gazillion paint pots! It's the only way I buy paint samples.
Use code JENNAK10 at checkout and get 10% off your order
Coupon entitles all customers to 10% off the entire order with no minimum purchase requirement. This is a one-time use coupon and it cannot be combined with other discounts.