Sherwin Williams Accessible Beige
Accessible Beige is a neutral beige with a hint of gray. It is a wonderfully versatile shade and used correctly will add a beautiful classic touch to any home.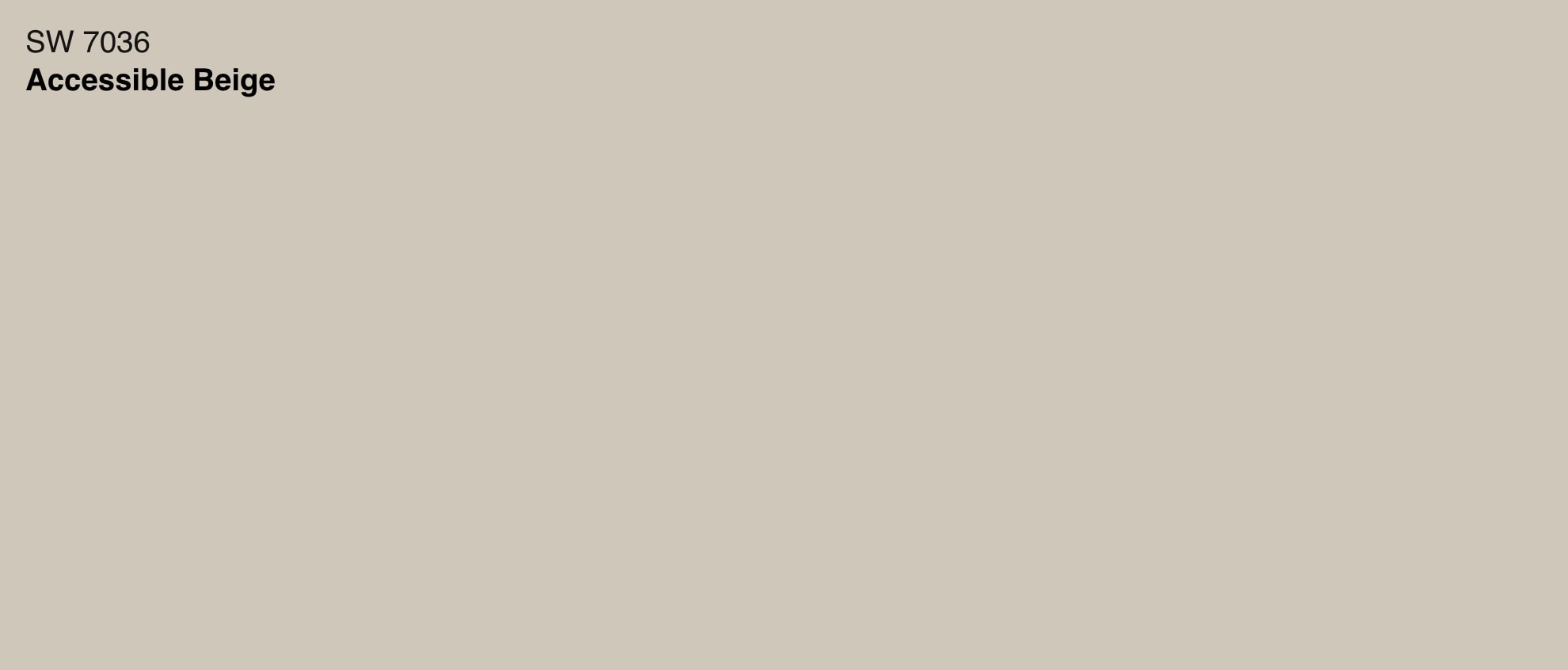 What Color is Accessible Beige?
Accessible Beige is a greige paint color, meaning it's a mix of gray and beige. While some greige paint colors lean more gray, this one leans slightly more beige.
However, this beige is a million steps above the builder grade neutrals that were all the rage in the early 2000's thanks to that gray undertone, making it a modern and functional shade choice.
Similarly to Agreeable Gray, Accessible Beige can be quite the chameleon. It can sometimes have a slight green undertone in some lights, but also tends to wash out beautifully in direct light. Even though it's technically greige, the warmth in this color is certainly more obvious than in a lot of the other greige paint colors.
It's a wonderful paint color for any style, modern or traditional, and it really pops off the wall when paired with white trim or natural wood.
It also works beautifully as a trim, door and kitchen cabinet color. White walls and greige trim has really become popular over the past year and it's such a beautiful look that's a fresh, modern take on the traditional white trim and doors that we're used to.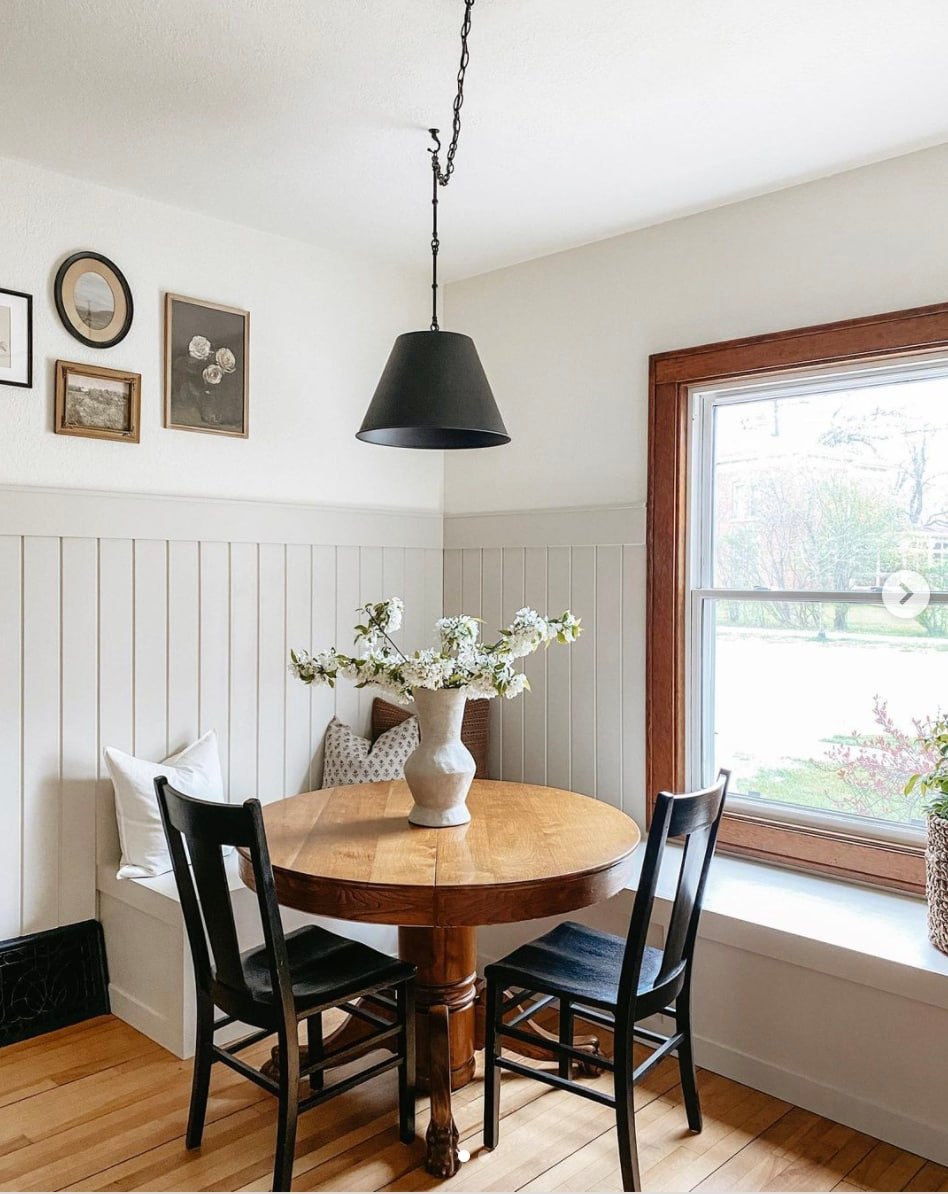 Is Accessible Beige warm or cool?
Accessible Beige is a warm greige paint color. Even though it does have an undertone of grey, that slight hint of green helps it lean towards the warmer side without being too warm.
What is the LRV of Accessible Beige?
Light reflectance value (LRV) is an indicator of the amount of light that is reflected by a color when illuminated from a light source. A higher value (closer to 100) means that a color will reflect more light back at you and a lower value (closer to 0) means that a color will appear darker (or in other terms absorb more light). Pure white has a value of 100, whereas pure black is 0.
Accessible Beige has an LRV of 58. This makes it a lighter shade, however definitely on the darker side of the lighter colors in terms of LRV.
Revere Pewter vs Accessible Beige
Both Accessible Beige and Revere Pewter (Banjamin Moore) have green undertones. However, looking at the side-by-side comparison of the two colors below, you can clearly see that Accessible Beige is definitely leans warmer Revere Pewter which is a slightly cooler shade.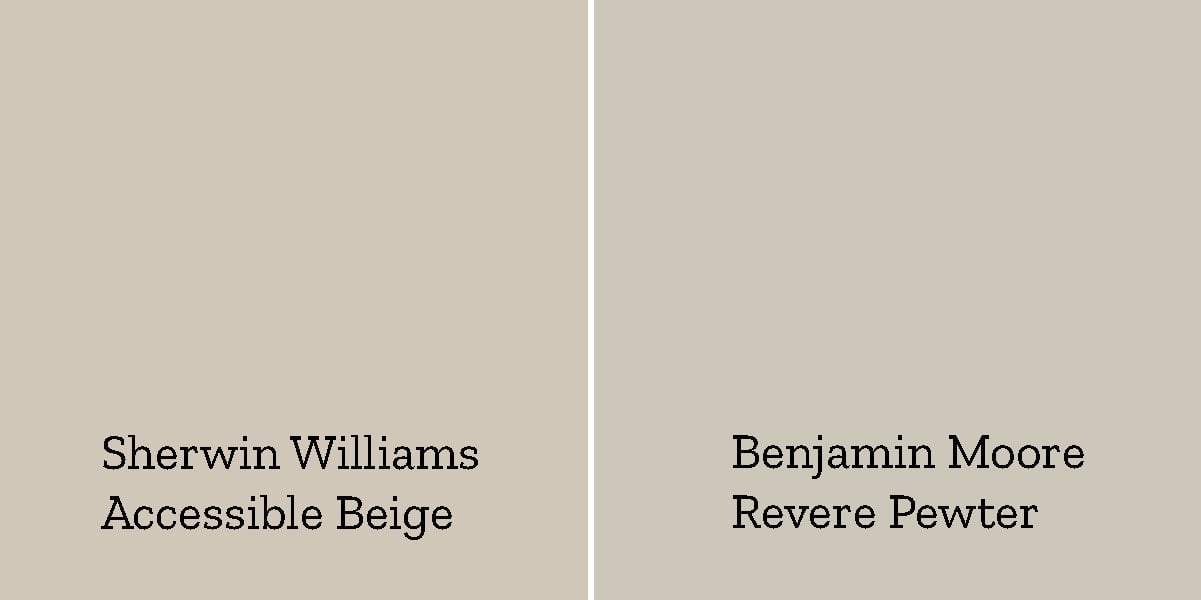 Of course, this should all be compared in relation to the textiles and colors of the room you are planning on painting – Accessible Beige tends to enjoy being paired with more earthy warm tones whilst Revere Pewter tends to favor being paired with cooler gray tones.
What White Trim Works Best With Accessible Beige?
When dealing with warmer paint colors, it's best to err on the side of a slightly warm white, too. Taking a warm color and pairing it with a cold white can cause unwanted undertones to become more apparent.
I particularly like Accessible Beige paired alongside Sherwin Williams Pure White, which is my go-to white because it's pretty neutral with the tiniest touch of warmth, meaning it actually works pretty well with all colors. Benjamin Moore White Dove or Simply White are both warmer choices that would also work well.
Final Thoughts
Accessible Beige won't look great in every room – if you have an aversion for that slight undertone green it may be worth staying clear.
It is however a wonderful earth tone and works well in a space where it can stay within this family. Pairing it with warm tones of wood and cream/brown textiles will bring out the true beauty of this paint color.
I personally think it's a wonderful shade if you are looking for a beige that is both modern and versatile – but like I always recommend, it is extremely important to first try a swatch to make sure it pairs well with your furnishings and other finishings.
However, no matter what you have read or photos you have seen online, it's SO important that you always sample paint colors in your own home before committing.
Instead of purchasing a ton of sample paint pots, my friends at Samplize have made it really easy with their amazing peel and stick paint samples.
These samples are made with real paint, are easy to store and move around your house as you need! They are the only paint samples I buy and they ship quickly, too!
Other Posts You'll Like