Do you love the boho decor look? Are you on a budget but want some bohemian style in your home? I'm sharing some of my favorite Amazon products today so that you can finally get the look you want on the cheap!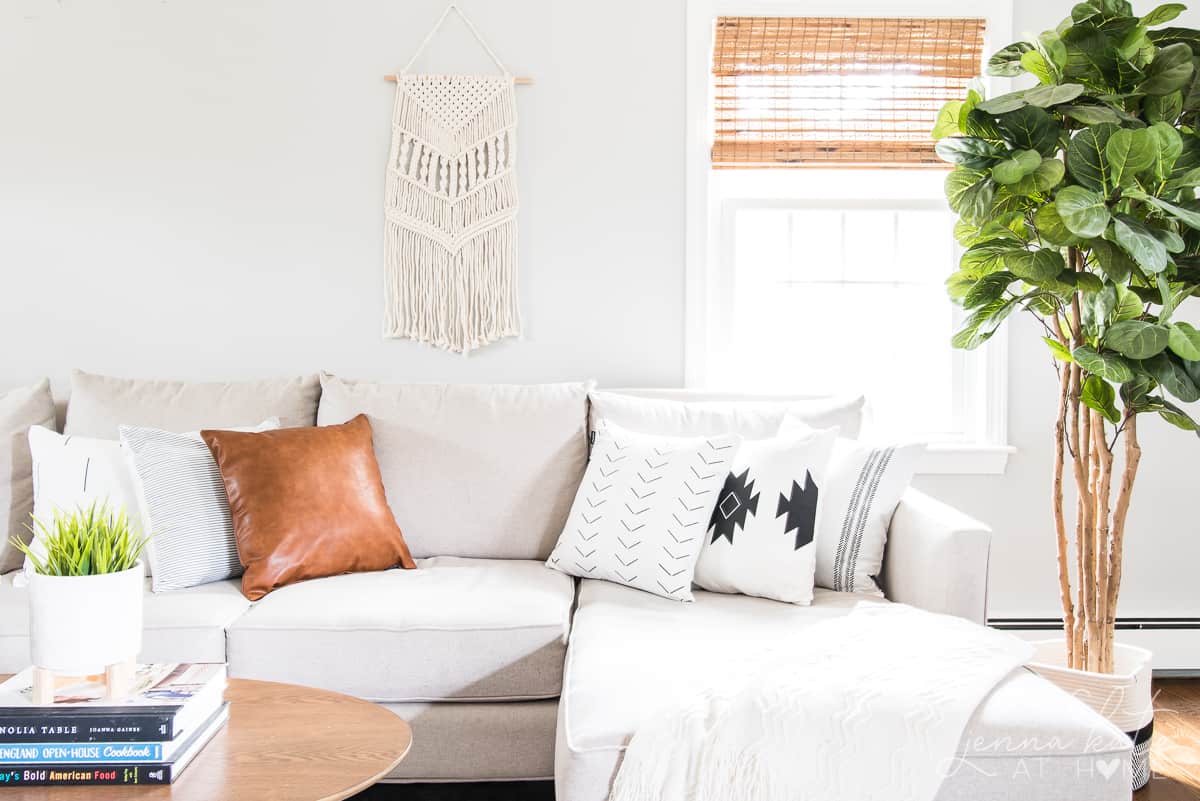 Boho Decor
I was recently asked by a reader for some budget friendly places to buy Boho Home Decor. After some research, I was pleasantly surprised to see what was available to purchase on Amazon!
If you like to embrace trends but want to stay within a budget or are worried that you'll tire of the look in a few months, then simply adding a few of these typical Boho Style elements may just be the way to get the look you want.
Cheap Items To Help You Get the Boho Look in Your Home
A variety of throw pillows in different textures, favoring black and white, macrame and faux leather.
Macrame wall hangings or planters
Lots of greenery for texture (faux or real!)
More texture in the way of baskets and throw blankets.
I'm including links to the actual items I've purchased as well as other similar items in each category that are also available on Amazon for a great price.
Included links are affiliate links. While these links do not affect the price you pay, if you make a purchase, I'll earn a small commission. Thank you for supporting Jenna Kate at Home!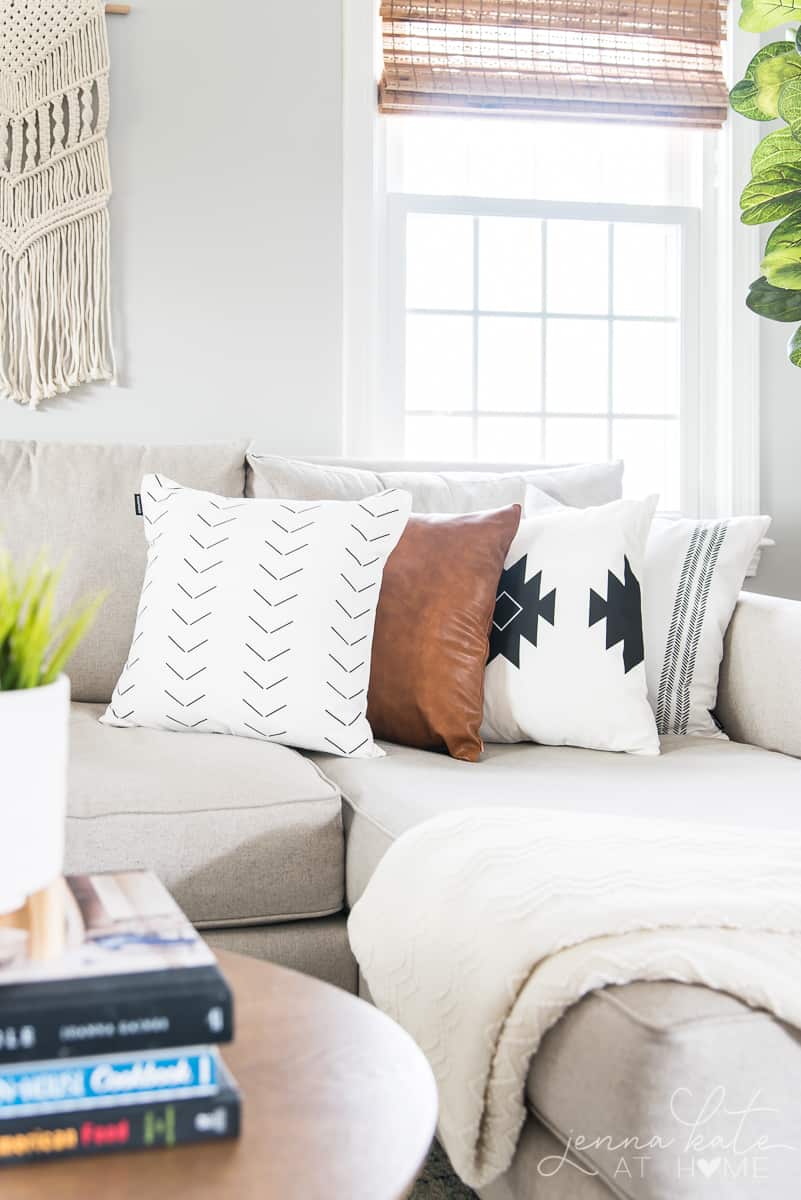 Let's talk about these throw pillows, first. When I think of Boho Style, the pillows totally epitomize it for me. And the best thing about these covers that I purchased on Amazon is that they come as a set and are only $39.99 for all 6!
---
Looking For More Budget Friendly Home Decor?
Get The Look with Walmart: Contemporary Coastal Bedroom
---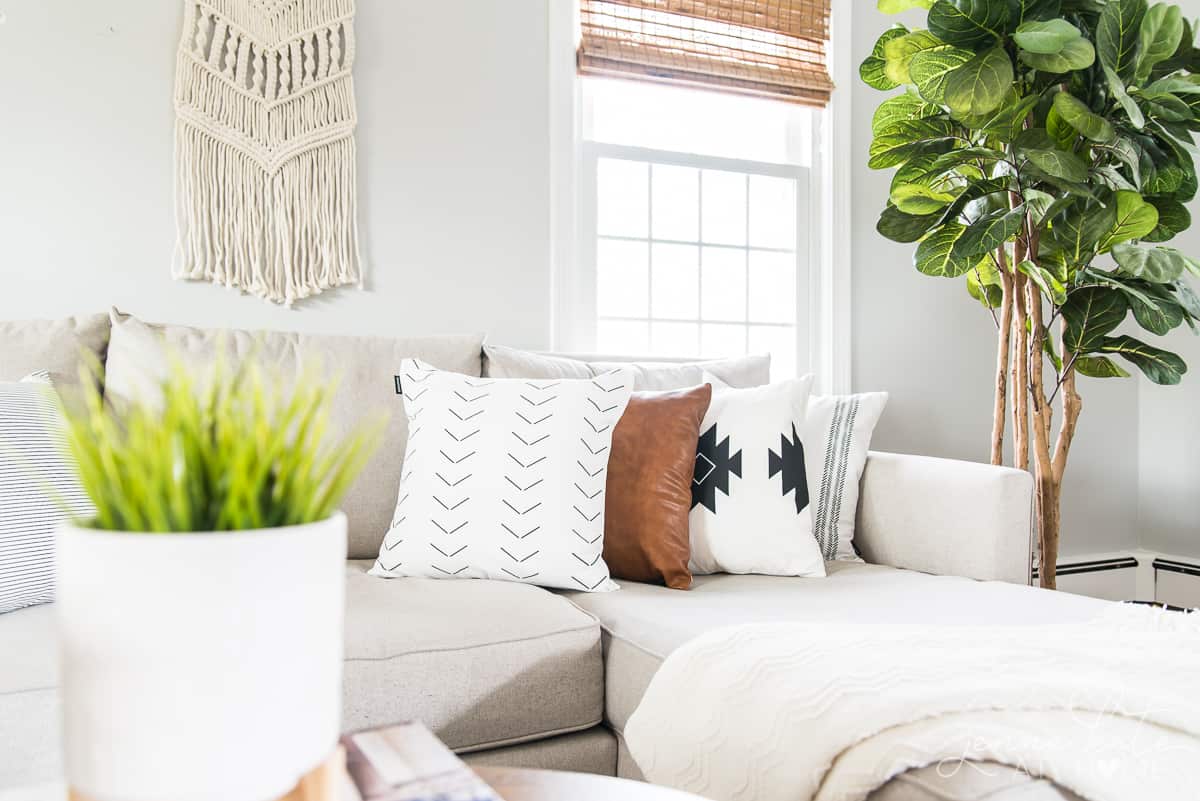 The quality is great, they are 100% cotton and the zippers function well. Because they are just covers (no inserts), if I get bored of them, they are easy to store, too. I love the pattern variation and that one faux leather pillow is the perfect finishing touch to the set. Put them on your couch or on your bed for an instant boho chic vibe!
Of course, when we think of the Bohemian style of home decor, I think a lot of us think of macrame. Whether it be wall hangings like this one, throw pillows or even hanging baskets, I think a piece of macrame is pretty essential to get the right look.
Again, it adds more texture to the space – its neutral color will work anywhere and you can buy them in sizes both tiny and extremely large. This one from Amazon is again super budget friendly, the quality is great and I love how it looks on my wall!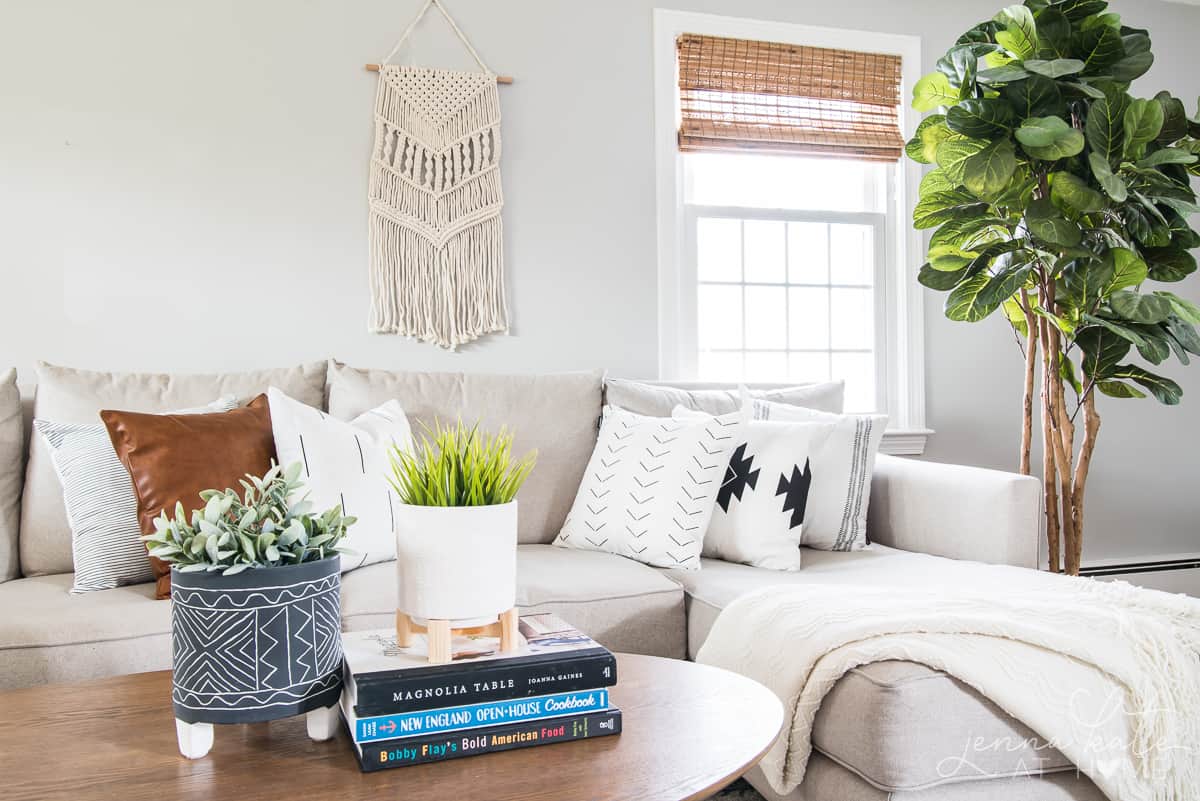 Speaking of texture, incorporate as much as you can. This throw blanket will work with any style of decor, it's very soft and the subtle pattern is fun. Plants add texture too. From the big leaves of a fiddle leaf fig to smaller spikier plants like my faux grass (pictured) or even a snake plant. And don't forget baskets. They can be used for your plants and of course to store blankets and extra throw pillows (or even toys!).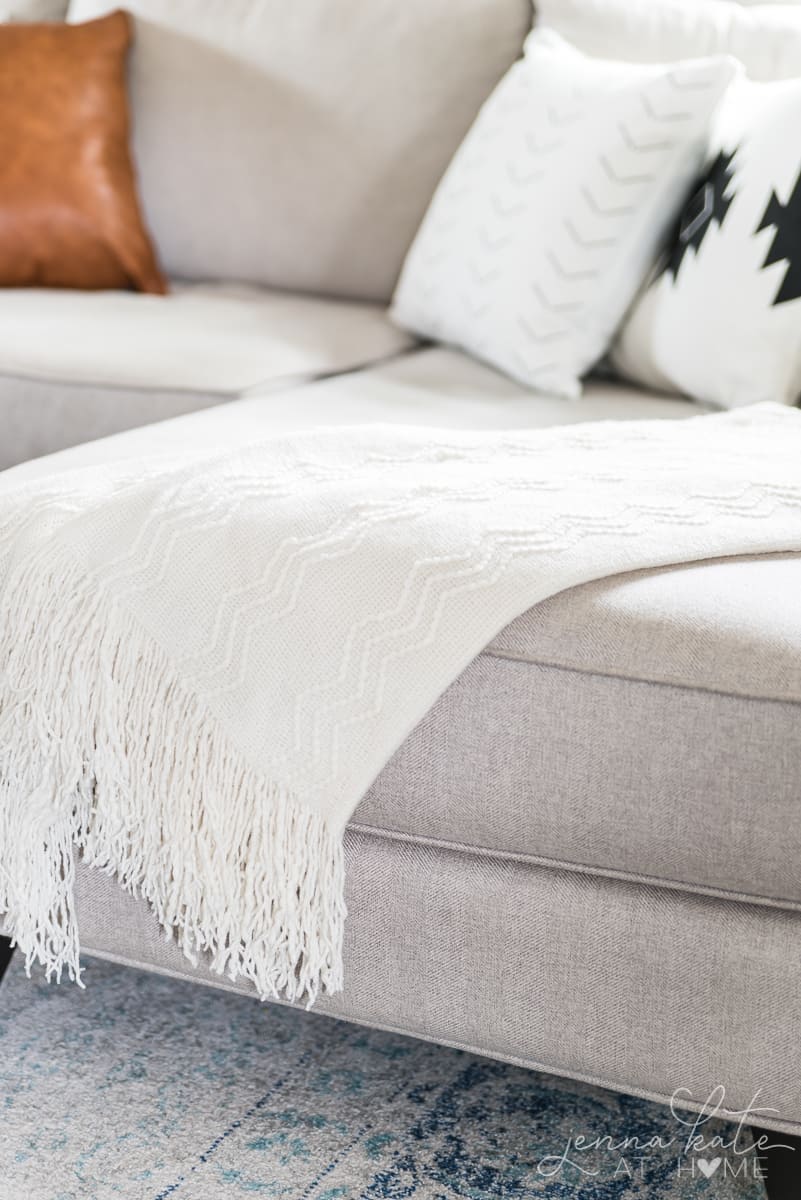 This woven jute basket has the perfect black and white touch to complement the pillows, don't you think?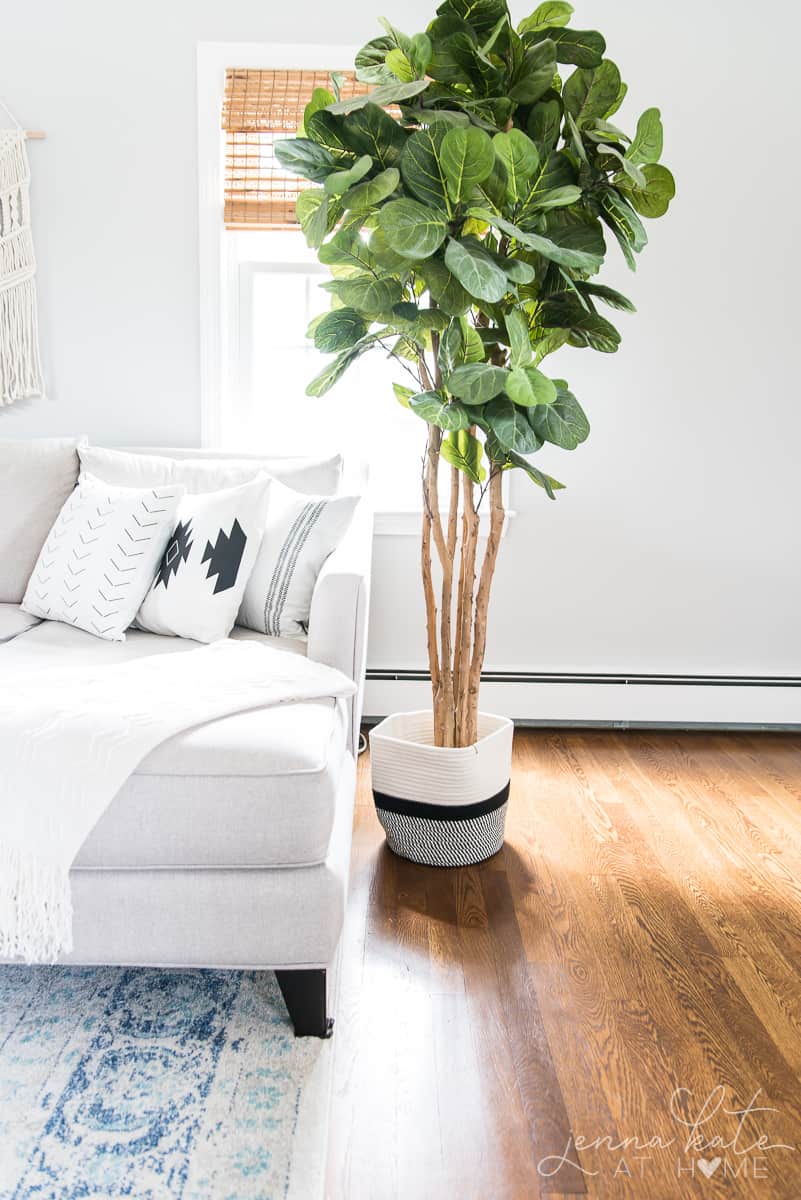 Are you ready to get that Boho Chic style in your home? Next time you're shopping for home decor, don't forget to check out Amazon. As you can see, these have some really great finds at such a budget-friendly price point!