Learn how to build and install interior board and batten for less than $100. It's a beautiful wall treatment that's a great weekend project for any level of DIYer!
If you've seen my Fall Home Tour, then you'll have seen my newly made over mudroom. The transformation is quite astonishing and was cheap, too!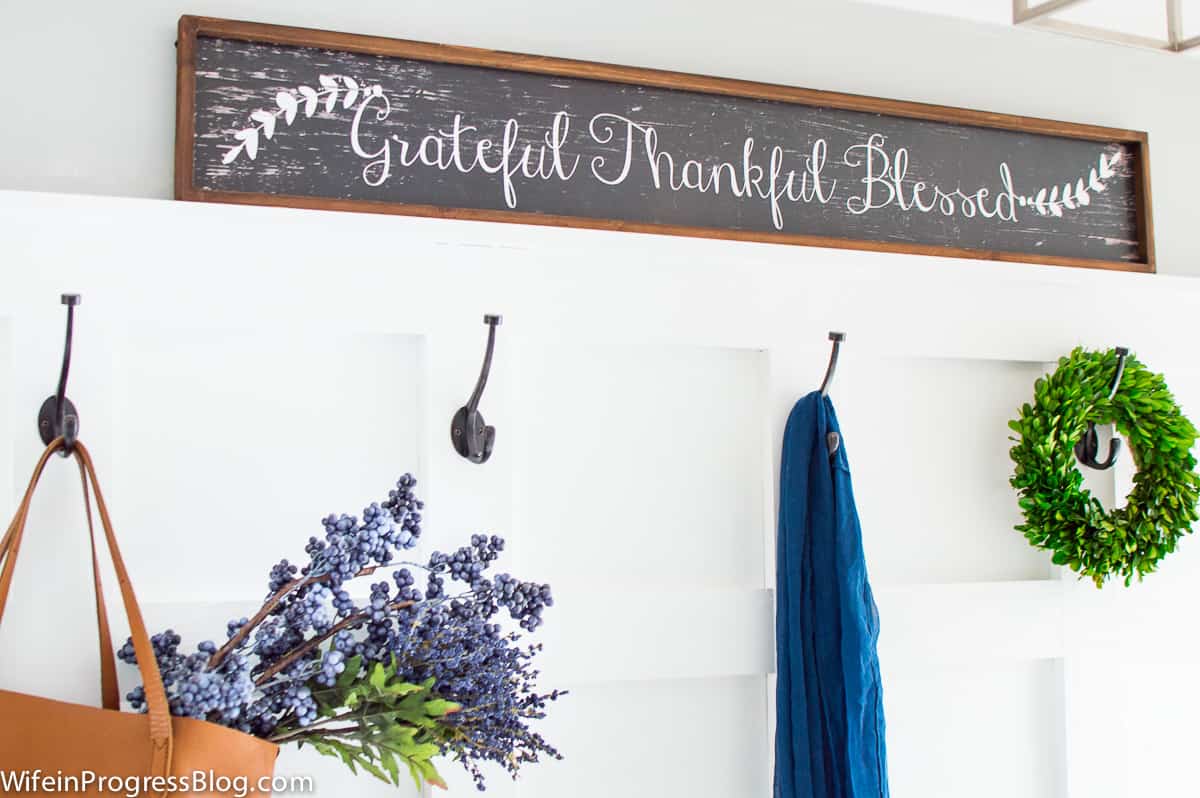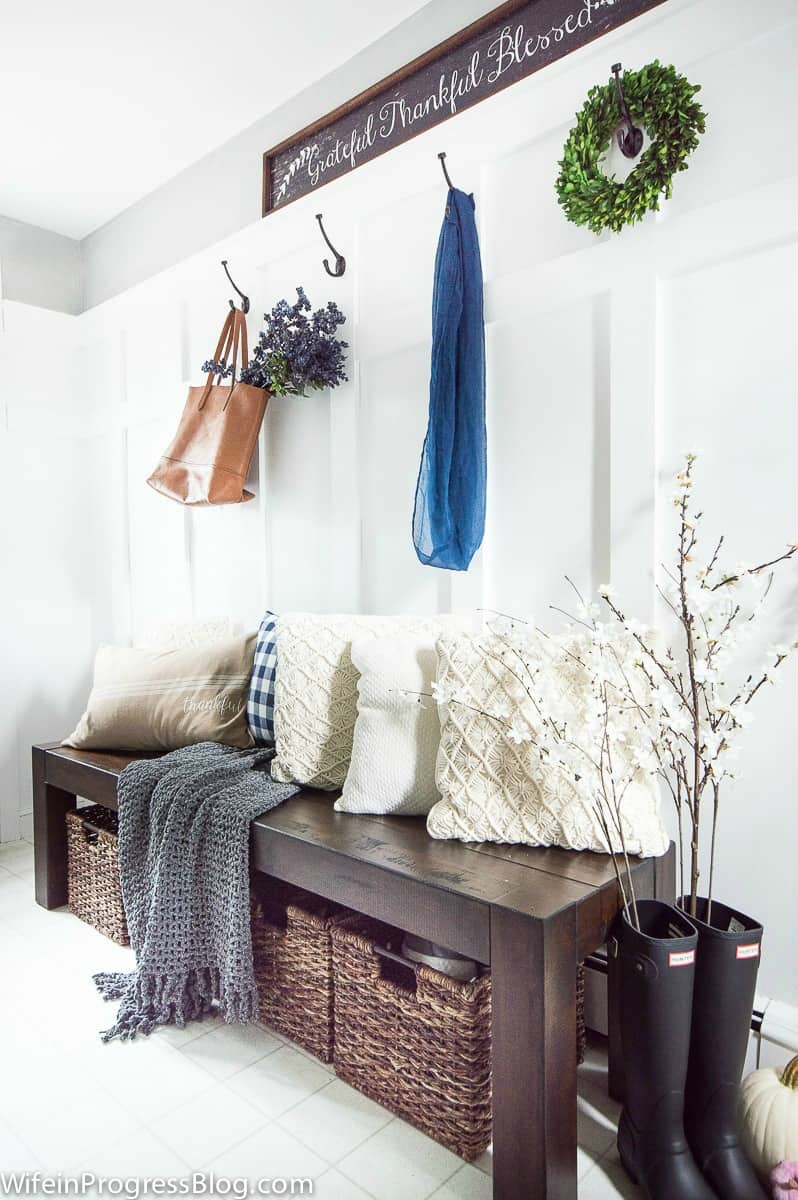 I love adding architectural detail to walls. The majority of our home has beautiful custom wainscoting that adds so much character. But our mudroom, where we enter our home, lacked a single ounce of that character that the rest of our home has.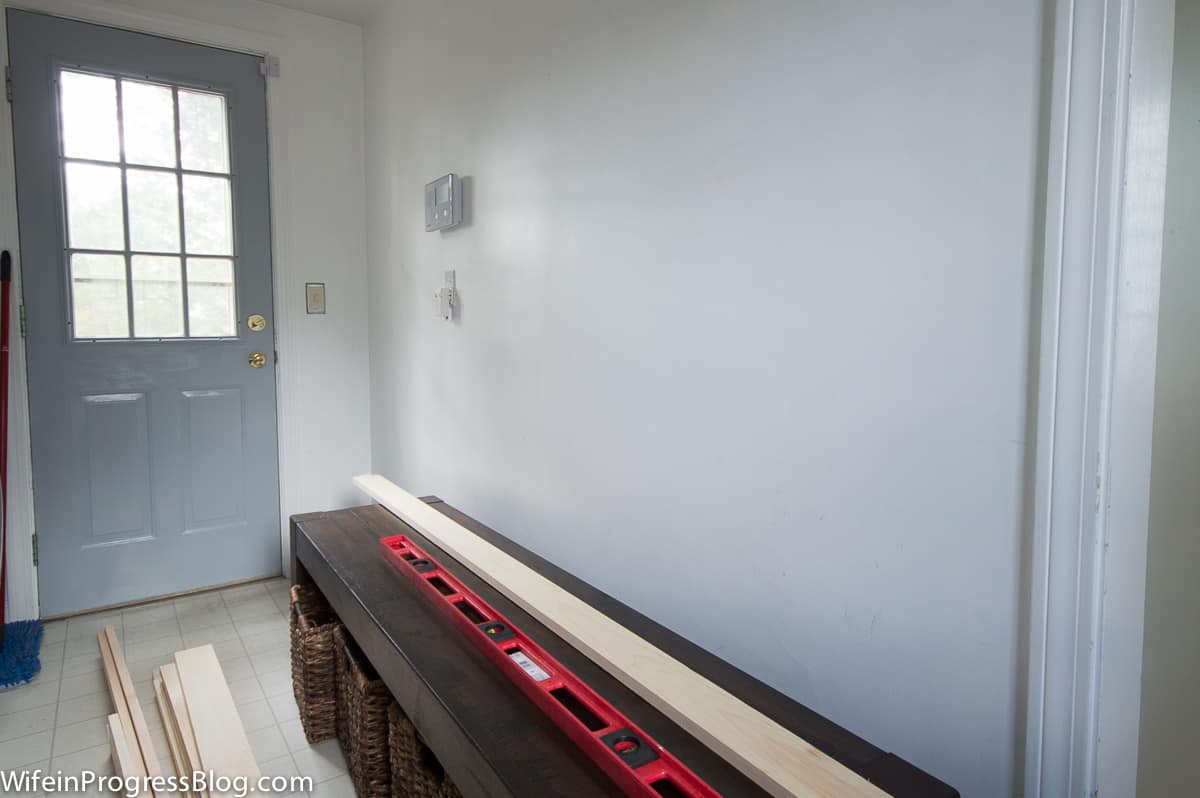 I've wanted to create a more functional mudroom with storage for shoes and sturdy hooks for coats for some time, now. With my home tour approaching, several weeks ago we bit the bullet and completed our mini-makeover in just one weekend.
I decided to add a DIY board and batten treatment to the walls because it complements the existing moldings and details throughout the house. Plus, the vertical batten boards lend themselves nicely to attaching hooks! Our walls are nice and smooth, but this can also be done on textured walls. You might just want to downplay the texture by painting the wall with a flat (or at least eggshell) sheen of paint.
Materials Needed for Board and Batten
You will have to figure out the total length of boards you need for your own space.
1 x 4 boards for both the horizontal and vertical batten boards*
1 x 2 to to add as a trim piece to the very top horizontal batten
Nail gun (or an old fashioned hammer and nails – it will just take longer)
Brad nails for the nail gun
Saw (we use one of these but a regular hand saw and miter box will work too)
Level
Caulk and spackle
White paint & paintbrush/roller
*Note: We chose to purchase cheap pine boards. We selected boards that had no warping and few knots. If this is a concern to you, purchase a higher grade wood or MDF – just know that it will increase the cost of the project.
How to Install Your DIY Board and Batten Treatment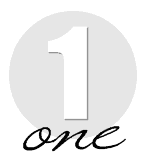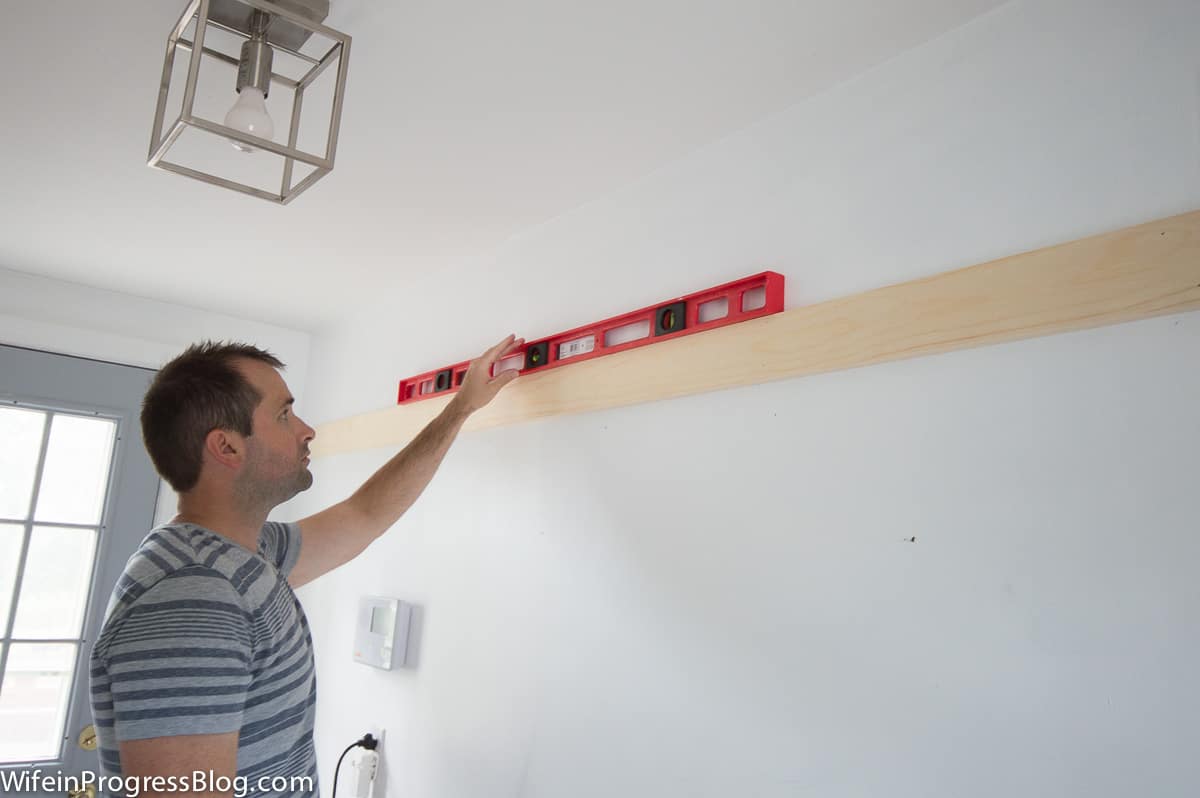 Decide how high you want the top horizontal batten to go. Mark your studs using the stud finder. Checking first for level, secure the batten to the wall using the brad nailer, nailing into the studs.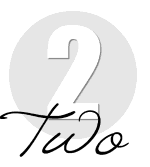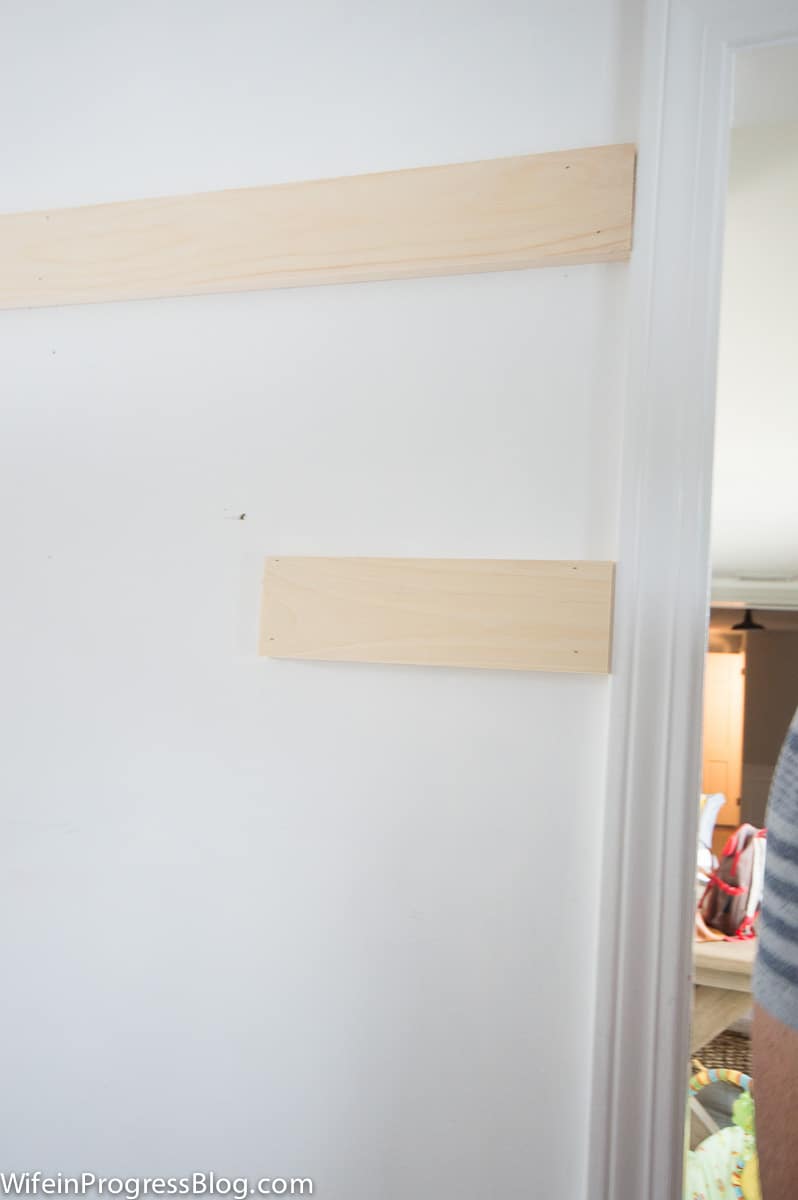 To create the box effect, another horizontal batten is nailed 12 inches below the top one. You could do all the vertical boards first if you wanted to, but then your horizontal "box" cuts would have to be really perfect to avoid gaps, so this is a better way to do it.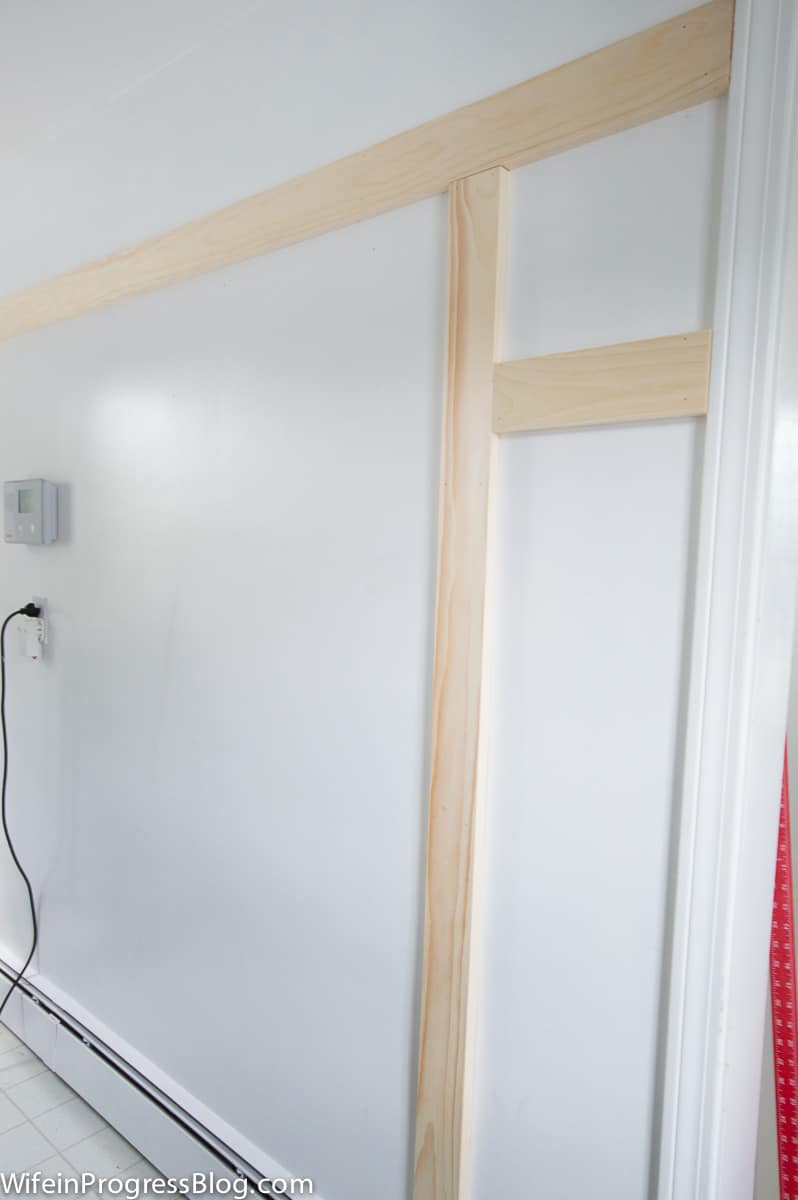 By doing horizontal first, then the vertical and repeating until the end, you get a much tighter fit, which means less gaps to try to hide with caulk!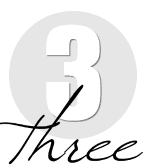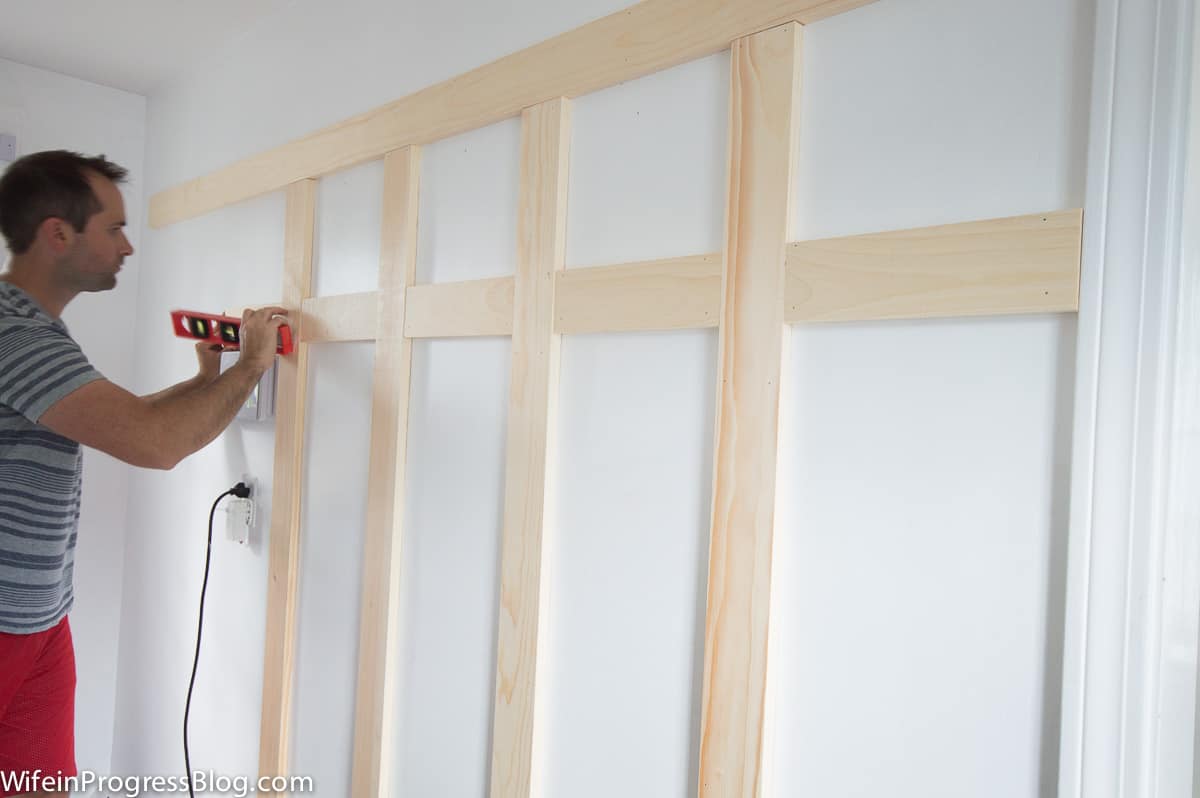 We repeated the process for the entire wall, spacing the vertical battens every foot. When trying to figure out how far apart to space the vertical pieces, we first measured the width of the wall. Taking the width of each board into account, we divided the space up as equally as we could. The result 4 sections that were 12 inches apart with the last section being an inch smaller (but that's ok!).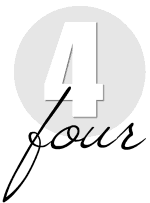 If you just have a one wall, you can butt the edges right up against the end of the wall or door trim. However, we decided to wrap it around so that it met the door frame.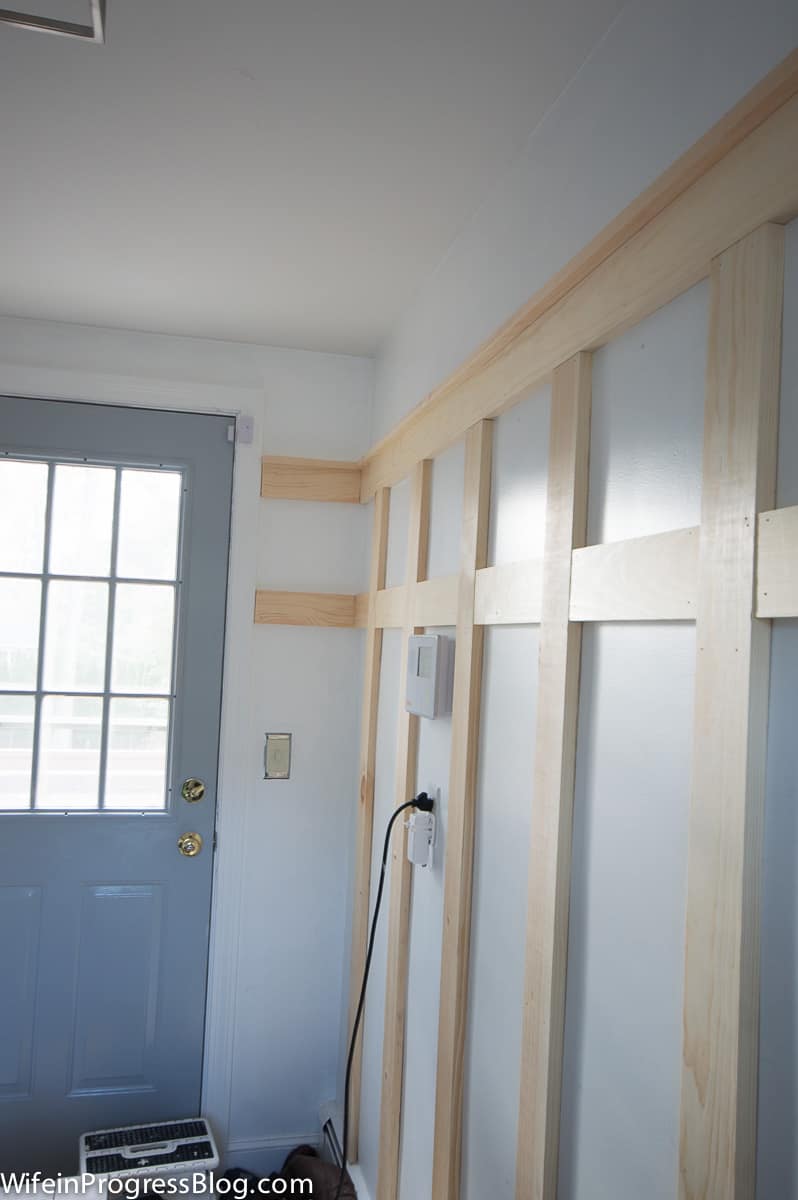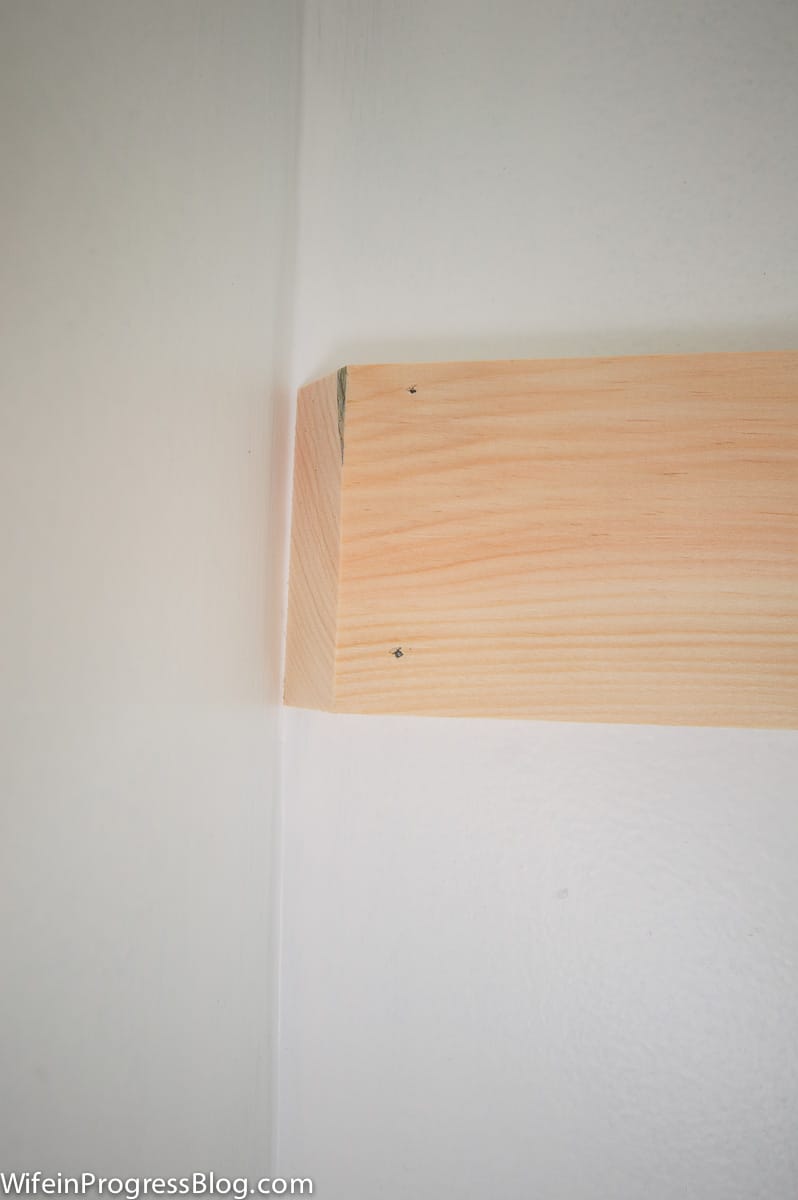 We cut the end piece at a 45 degree angle to create a mitered edge. If you don't have a miter saw or miter box, you could also just butt the edges of the wood.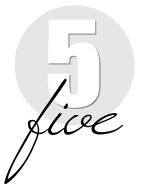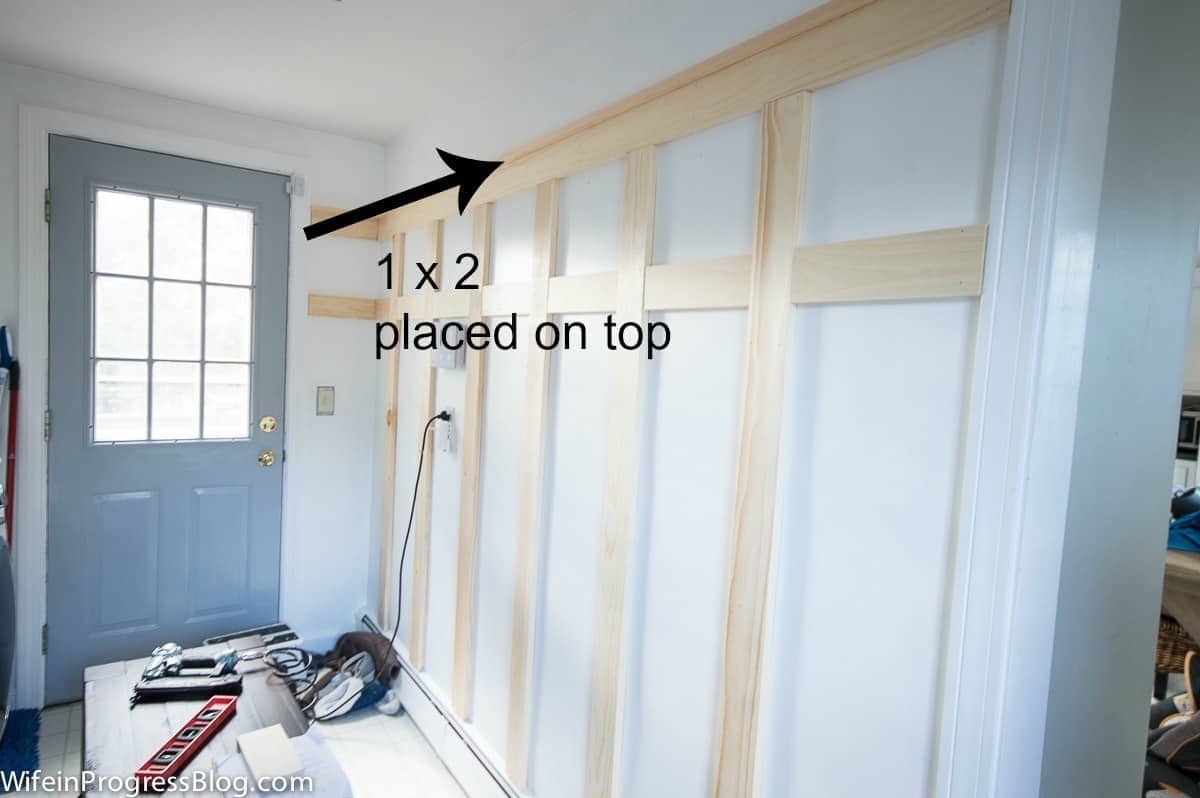 Finally, to create a finished look, add the 1 x 2 board to the top batten.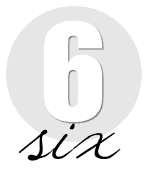 Once all the wood has been installed, fixing all the gaps and nail holes commences. Caulk should be used to fill the seams between the wood and the wall and spackle (since it's sandable and paintable) to fill the nail holes. (Being real for a second – I still have a few gaps to caulk since I chose to paint it all first in the name of getting it photographed on time!!)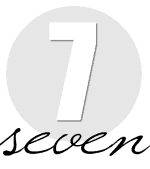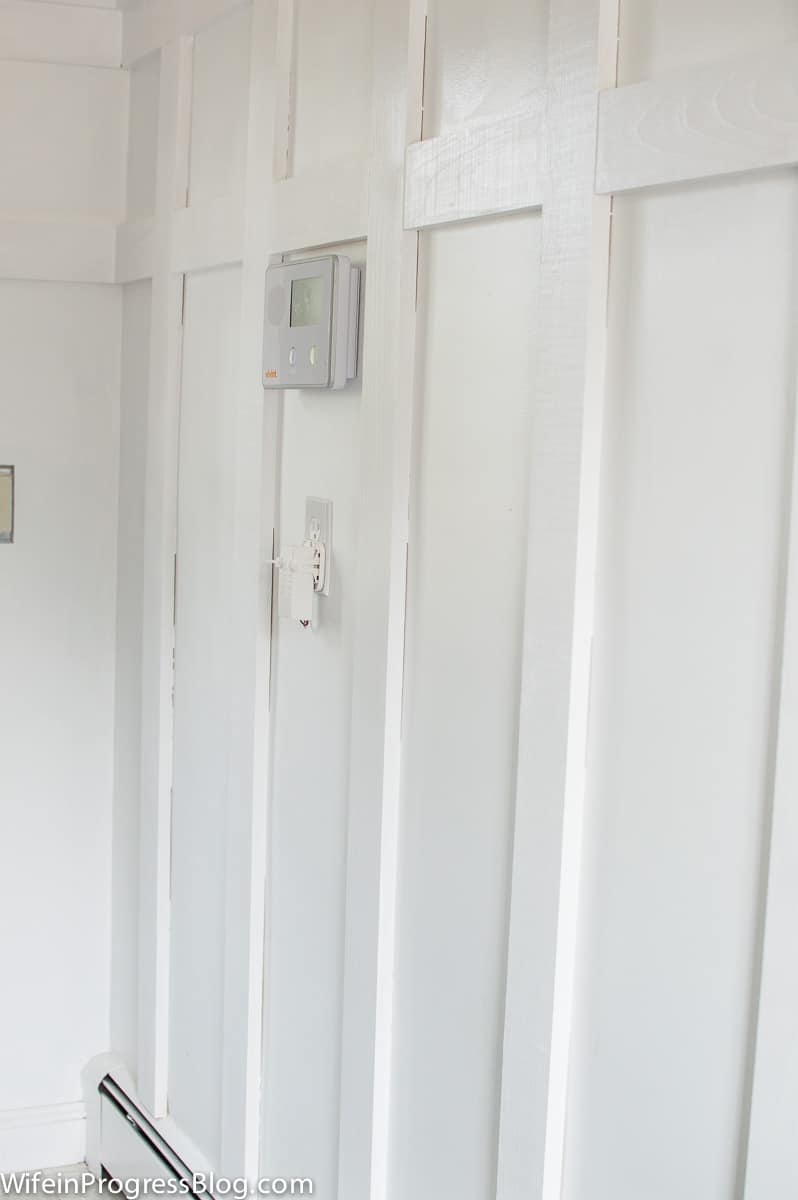 If you didn't sand the wood prior to installation, now is a good time to use some fine grit sandpaper to smooth out any imperfections. Seal the wood and get it ready for paint with a coat of primer, then apply two coats of white satin paint.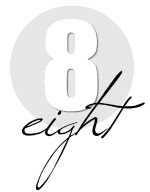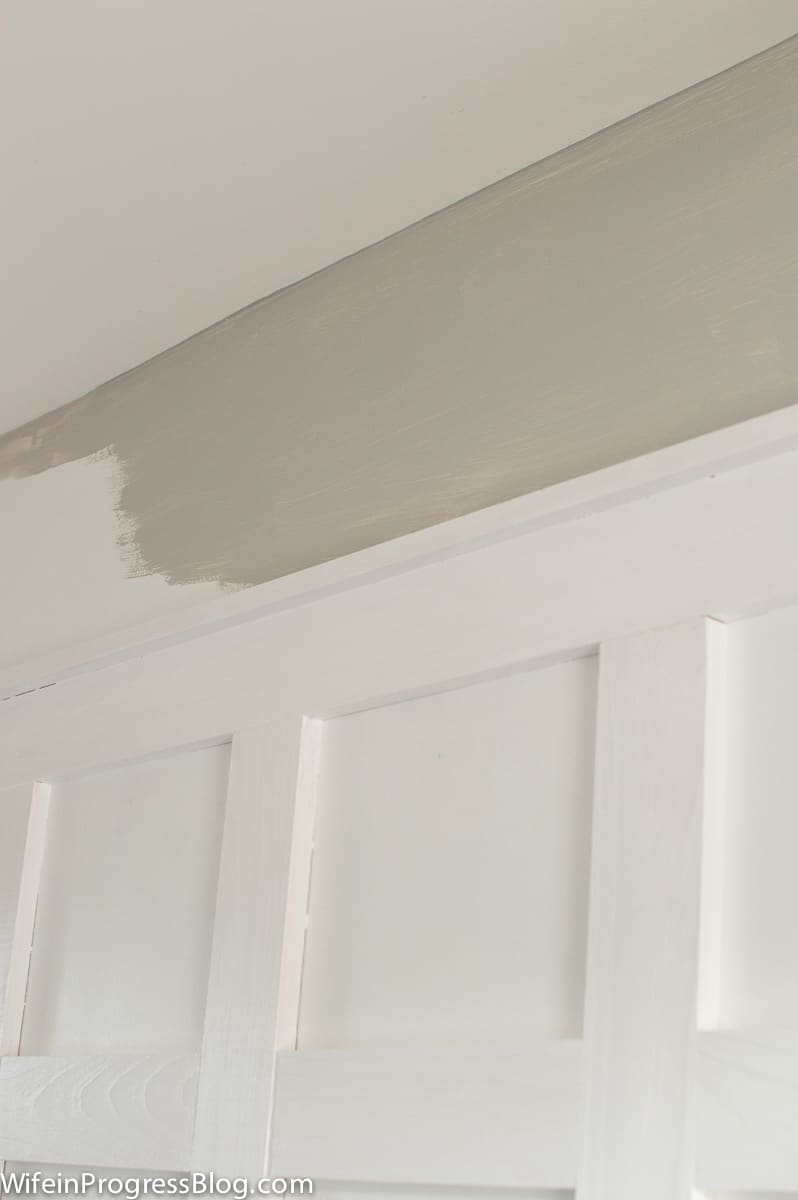 To really make the white board and batten pop, paint the wall above it and contrasting color. We had an unused gallon of Sherwin Williams Light French Gray paint in our basement that we cracked open…and it proved to be the perfect color!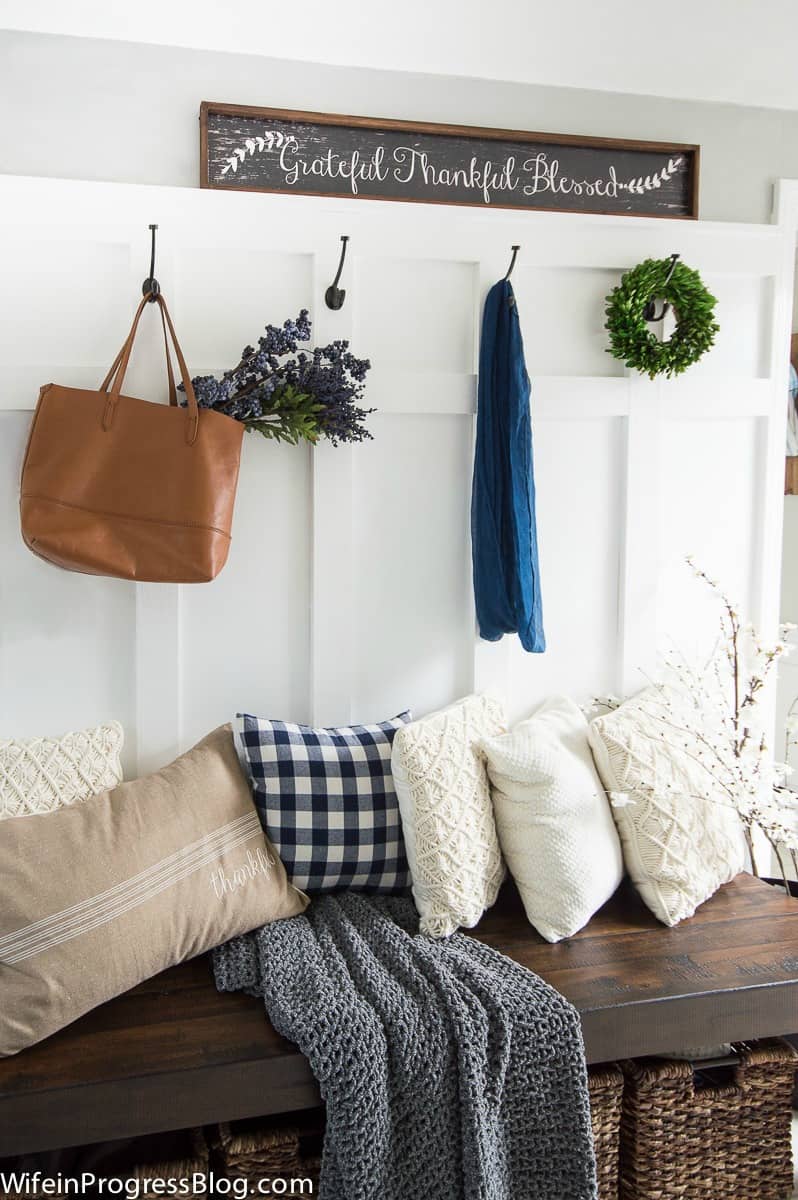 A simple weekend project, right? I promise you, you can do this. In fact, a similar (lower height) board and batten wall was one of the first ever DIY projects we completed in our first home. Check out that dining room board and batten tutorial here.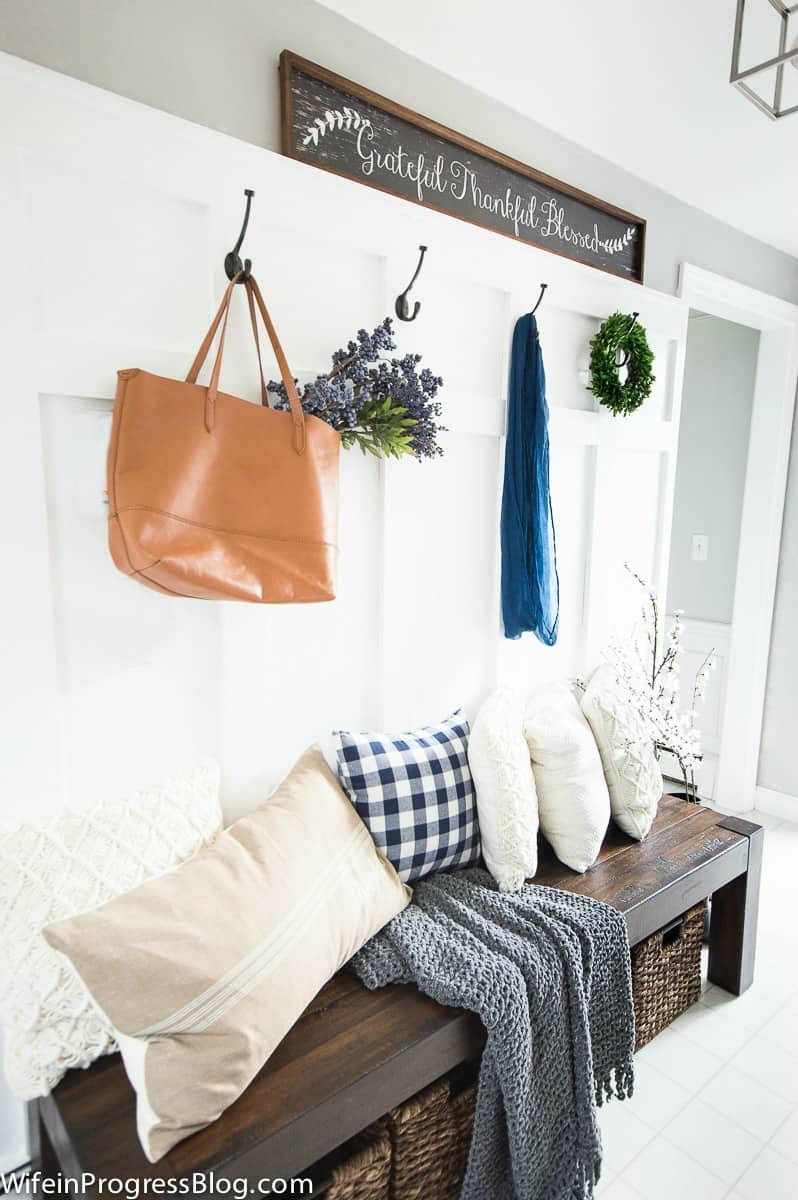 *affiliate links included for your convenience*
We screwed in some oil rubbed bronze pilltop coat hooks, situated our new bench ($124!) and some rattan baskets and we had a fully functional mudroom!
Total Time
Installing board and batten: 3 hours
Caulking/spackling/painting: 4 hours total
Cost Breakdown
Wood: $70
Bench: $124 (I actually used a gift card for this, so technically it didn't cost me anything)
Baskets: $60 (HomeGoods – similar at Target)
Hooks: $5 each x 4 = $20
Paint: Already owned – Sherwin Williams Light French Gray
Painting Supplies: Already owned
Nail gun/caulk/spackle: Already owned
Total Cost of Mudroom Makeover: $150
More DIY Tutorials