This post may contain affiliate links | For further details, please read our privacy policy
These are some of the best color choices to paint your primary bedroom to create a relaxing, calm space that you'll love retiring to at the end of the day.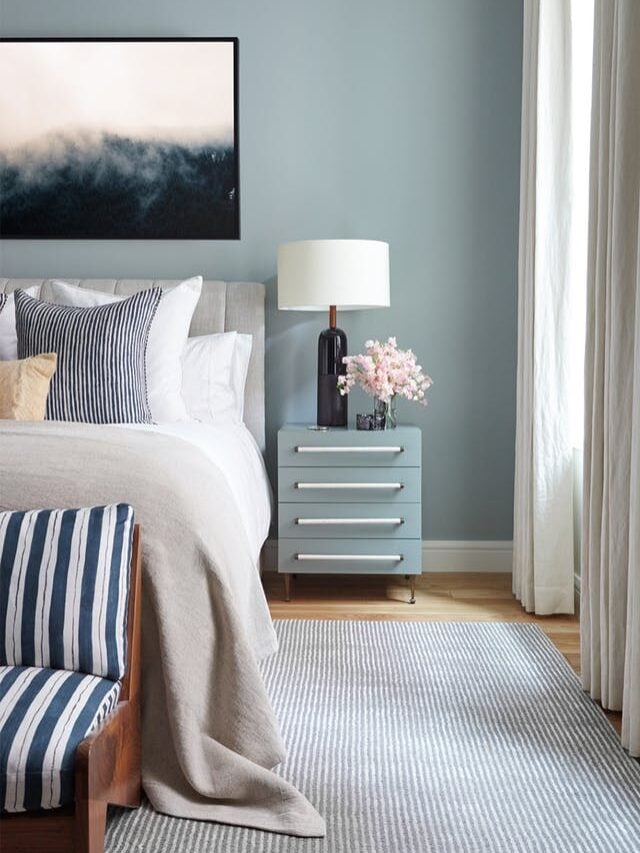 Personally, I want my bedroom to be a serene space free from the distractions of the outside world. And I'm guessing you do, too.
If this is in fact your goal, you need to have the right paint color on your bedroom wall!
What is the best paint color for a bedroom?
The best bedroom paint colors are those that have a calming effect, make you feel relaxed, and help promote sleep.
How do I pick a paint color for my bedroom?
Determine the overall feeling you want in your bedroom. Most people want their bedroom to be a retreat from the world; somewhere to relax and of course, somewhere to get a good night's sleep.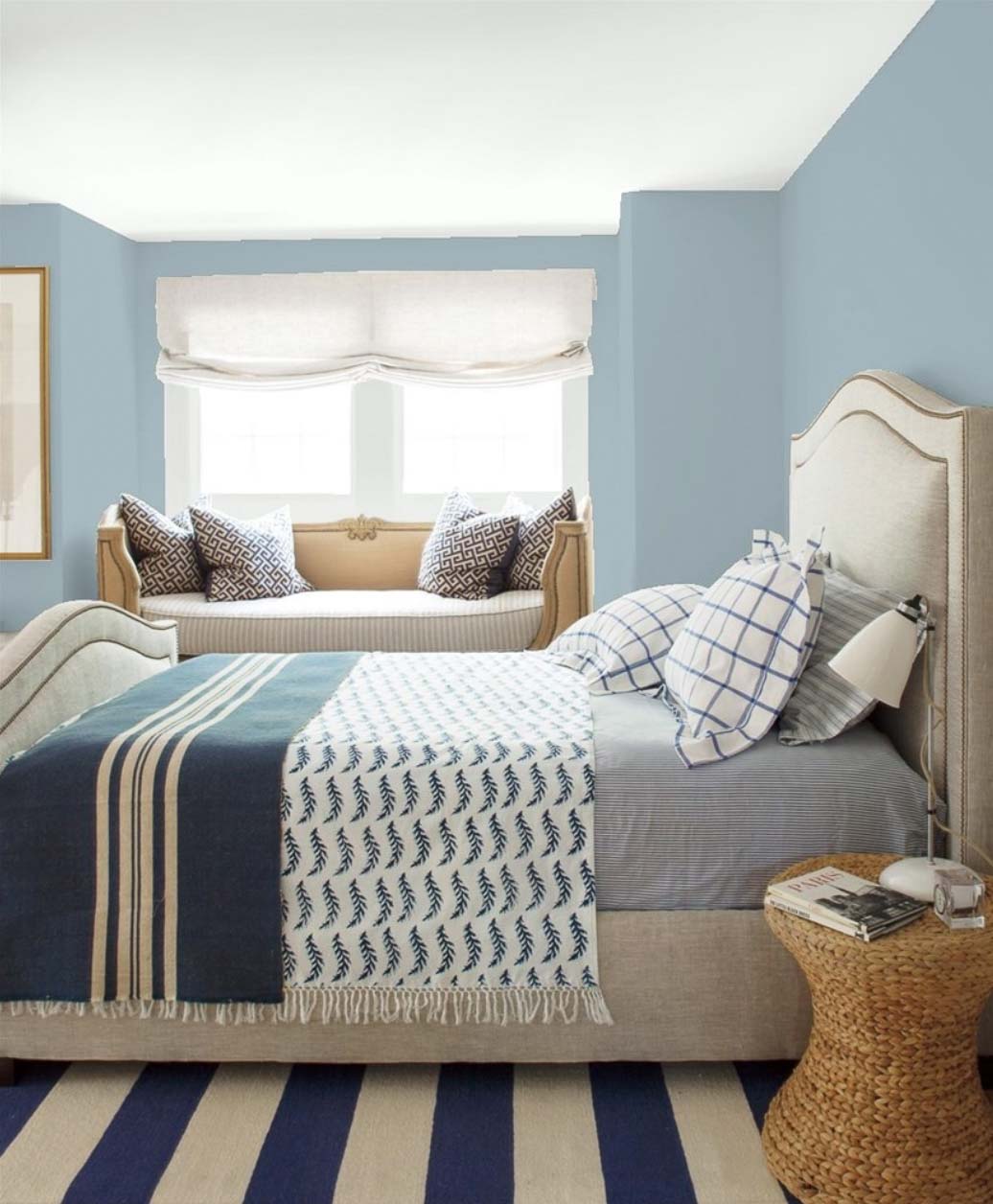 Picking a paint color for your bedroom is no different than picking the right paint color for the rest of your home.
Take cues from the rest of the colors in your home, as well as the fixtures and furnishing you already have.
If you have dark furniture, you may want to brighten the space with a lighter paint color. If you already have light-colored furniture, you can choose to keep things bright or add a more saturated color to your walls.
The light that comes into your room also plays an important role in which paint color you ultimately decide on. The perfect gray in your friend's bedroom may look baby blue in your room, because of the cold northern light it receives.
Conversely, the "perfect white" for your kitchen might suddenly appear too creamy in your south-facing bedroom.
What are good wall colors for a bedroom?
Softer shades of blue, blue-gray, blue-green, and soft gray are perfect colors for a bedroom. Blue is associated with a sense of calm and relaxation, so it makes sense that these colors would work well.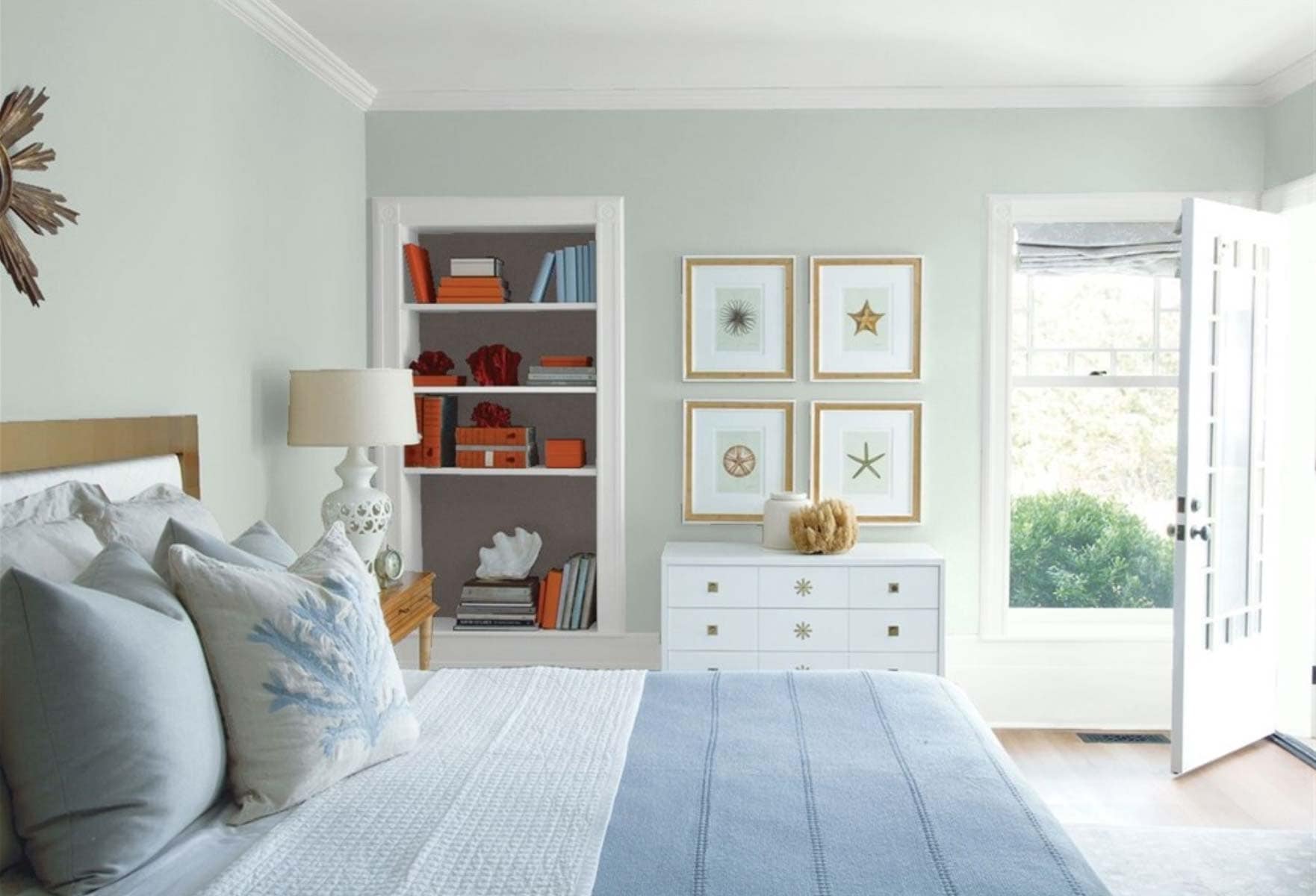 My favorite blue or blue-toned paint colors for bedrooms are:
Benjamin Moore Healing Aloe
Benjamin Moore Quiet Moments
Behr Light French Gray
Behr Reflecting Pool
Benjamin Moore Silver Marlin
Benjamin Moore Nantucket Fog
Benjamin Moore Silver Half Dollar
Benjamin Moore Winter Lake
Benjamin Moore Seattle Gray
Sherwin Williams Misty
Sherwin Williams Upward
Any of the other blue-gray paint colors I've mentioned in previous posts would be a good choice, too, unless you're dealing with a dark room where you may need something a little warmer.
Gray and Greige Bedroom Paint Color Ideas
If blue walls are not your thing, then maybe a gray or greige paint color would be perfect for your bedroom.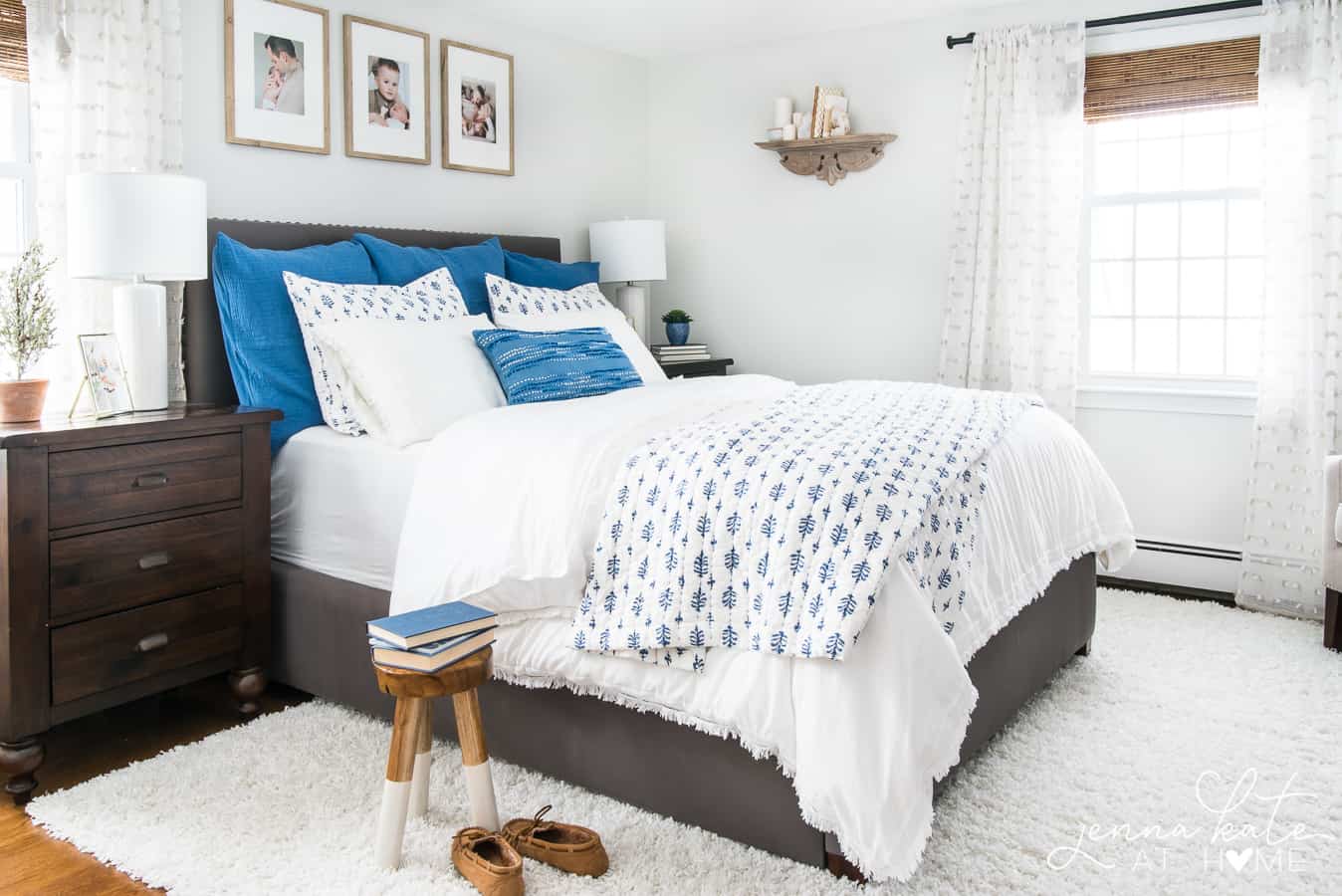 If this case, keep it on the lighter side to still maintain that relaxing vibe, without making it feel like a dark cave. If your room is north facing or on the darker side, stick to a warmer gray that won't feel cold and blue.
Benjamin Moore Gray Cashmere
White and Off-White Bedroom Paint Colors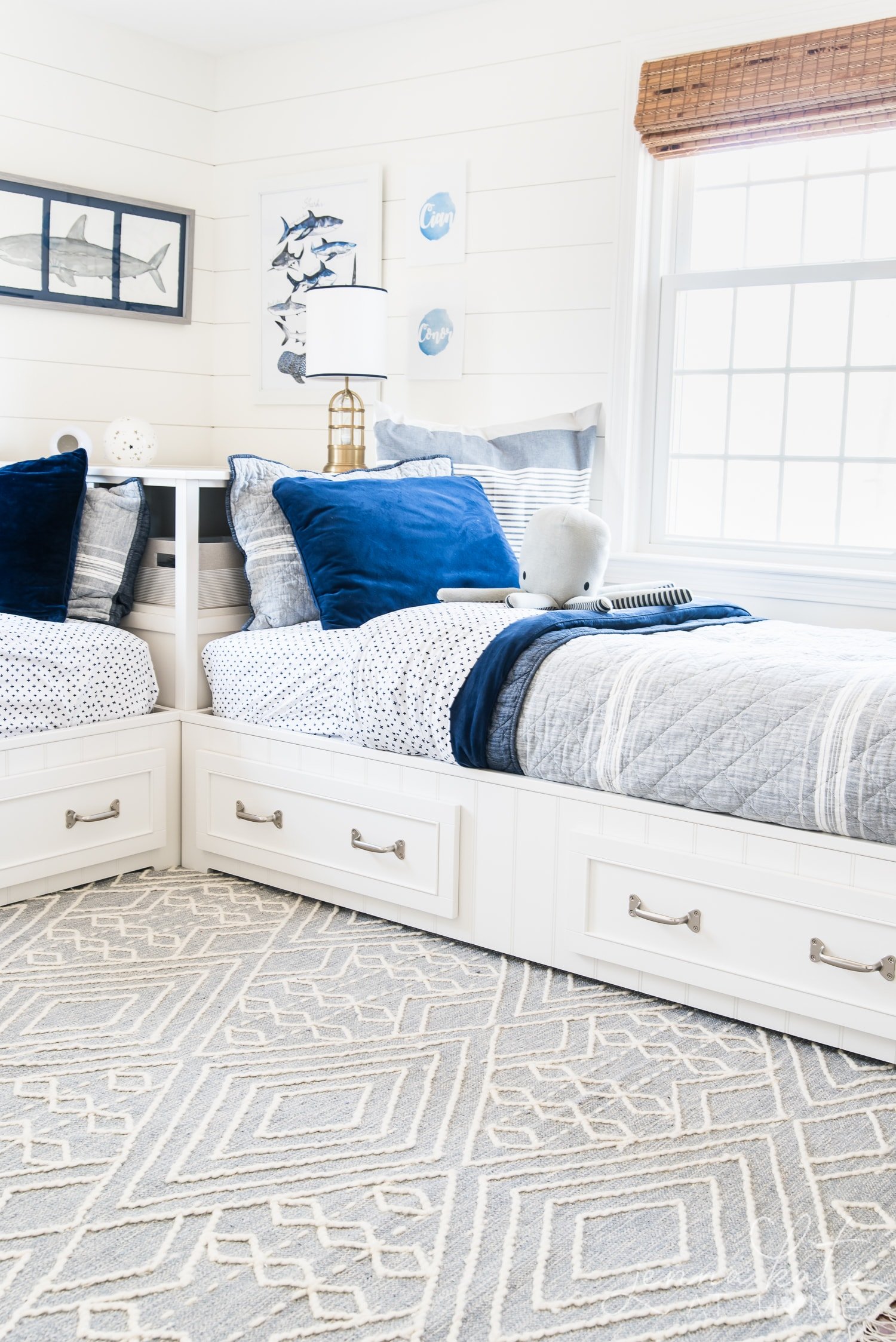 Picking the right shade of white for your bedroom walls is not as simple as asking for the most popular shade of white at the paint store. Unfortunately, white paint colors have all sorts of undertones so it's important to understand what you're getting yourself into so your walls don't look stark and cold, or on the opposite spectrum – you end up with a yellow bedroom.
Sherwin Williams Egret
Benjamin Moore Lily White
Benjamin Moore Simply White
The Best Colors For Sleep
The paint colors you choose can have an effect on the quality of sleep you get as well as how quickly you actually fall asleep.
I'm all for color and personality throughout your home, and heck, if your personal preference is to want bright red walls then by all means go for it, but did you know that there's actually some real color psychology behind why certain colors are better for your bedroom?
Color psychology teaches us that the colors which surround us have differing impacts on our behavior and mood. We already have an innate sense of this.
Think about the color red. What mood or feeling does it evoke? Anger, war, danger, strength, passion, desire, and love.
It attracts attention more than any other on the color wheel. But did you know that the color red also is known to raise blood pressure and increase your heart rate?
Not exactly ideal when you're trying to get your 8 hours! Therefore, it's best to stay clear of bold colors, especially when painting the entire room.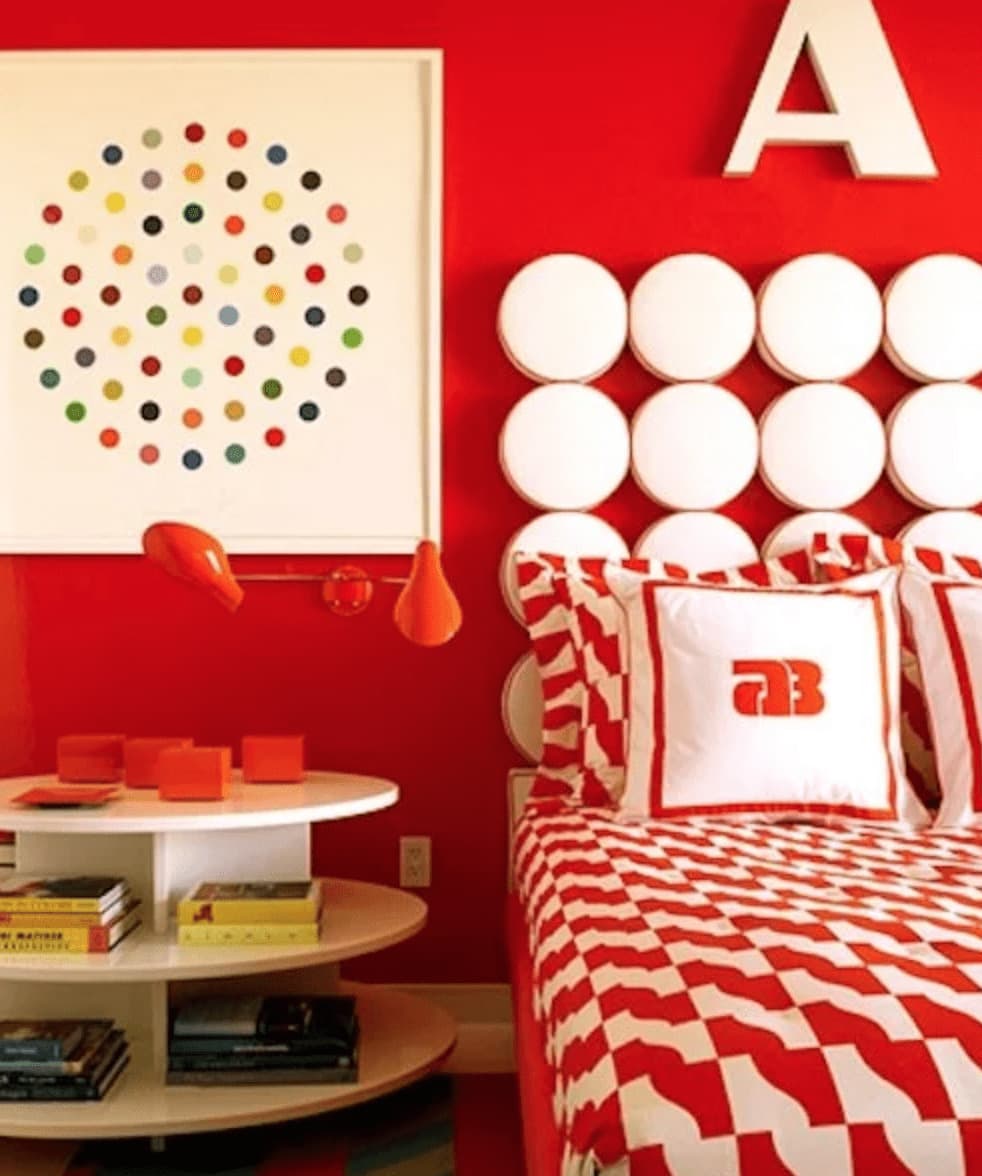 On the other hand, blue is seen as a calm, serene color. It'll be no surprise then, that blue is considered to be the best paint color for your bedroom in order to maximize your sleep potential.
What other colors are considered good for sleep?
Soft yellow
green,
silver
and surprisingly, orange!
On the flip side, colors to avoid are:
Any bright primary colors
Purple
Brown
Black
Red
Dark Gray
The Best Paint Colors For a Master Bedroom 2023
Personally, if I'm picking master bedroom paint colors and I want to make my room as relaxing as possible, I would steer clear of warm colors like yellow and orange and instead focus more on the different shades of blue.
One of my all-time favorite paint colors for both bedrooms and bathrooms to achieve that relaxing feeling is Reflecting Pool by Behr.
It's a very pale blue-gray and it looks amazing in every room I've ever seen it in, especially when paired with lots of white.
If I had to pick the best paint color for bedrooms, I would choose this color every single time.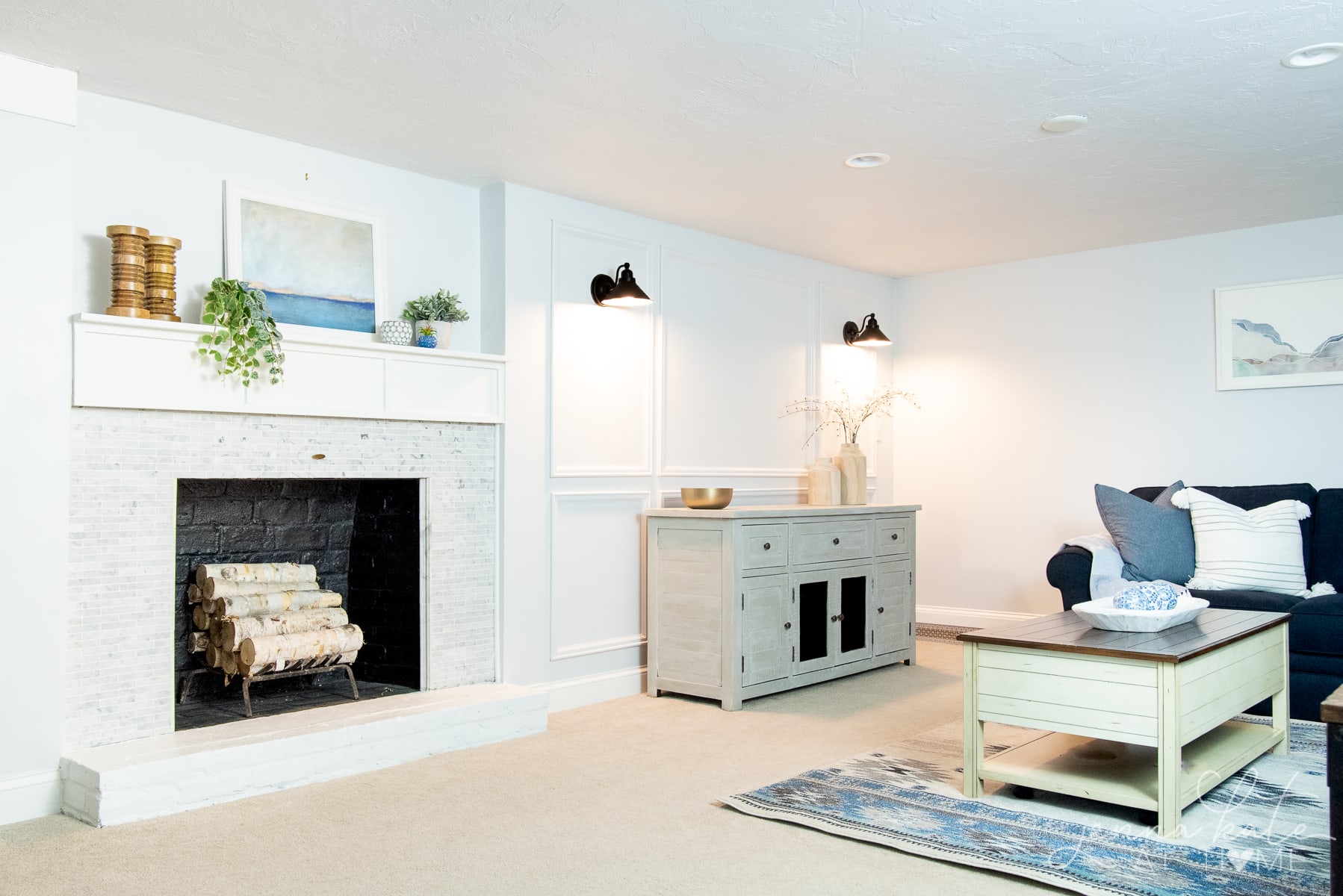 The next color on the same color card as Reflecting Pool is Behr Light French Gray. This is also a really nice color but the blue is a lot more evident. If you have a room with a lot of cool light (like my bedroom) just keep that in mind, as it can feel a little cold.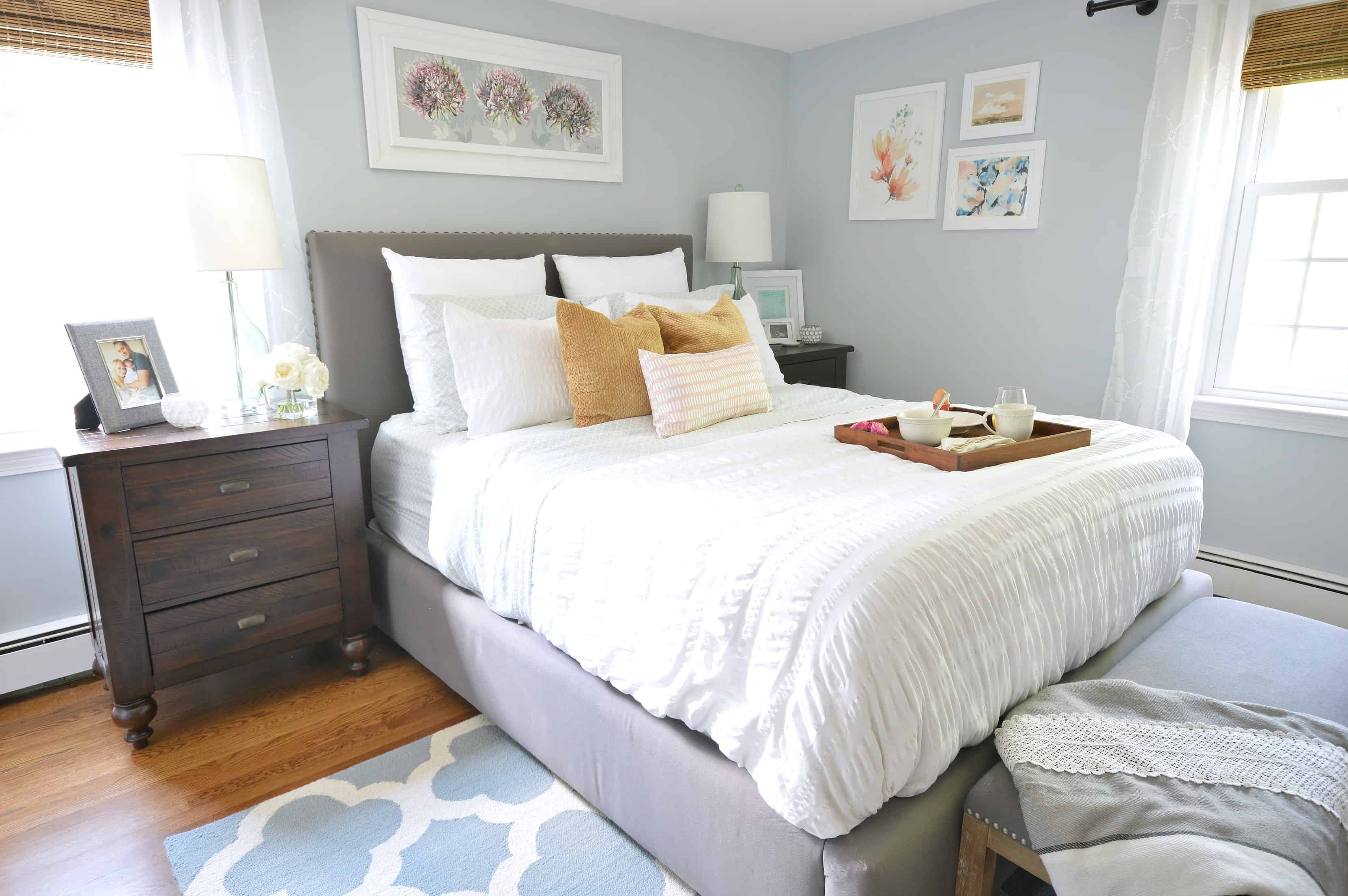 Of course, just because blue may be the perfect bedroom paint color for sleep doesn't mean there aren't a myriad of other paint colors that will work just as well for you. Here are some more of my favorite colors:
My Other Favorite Master Bedroom Paint Colors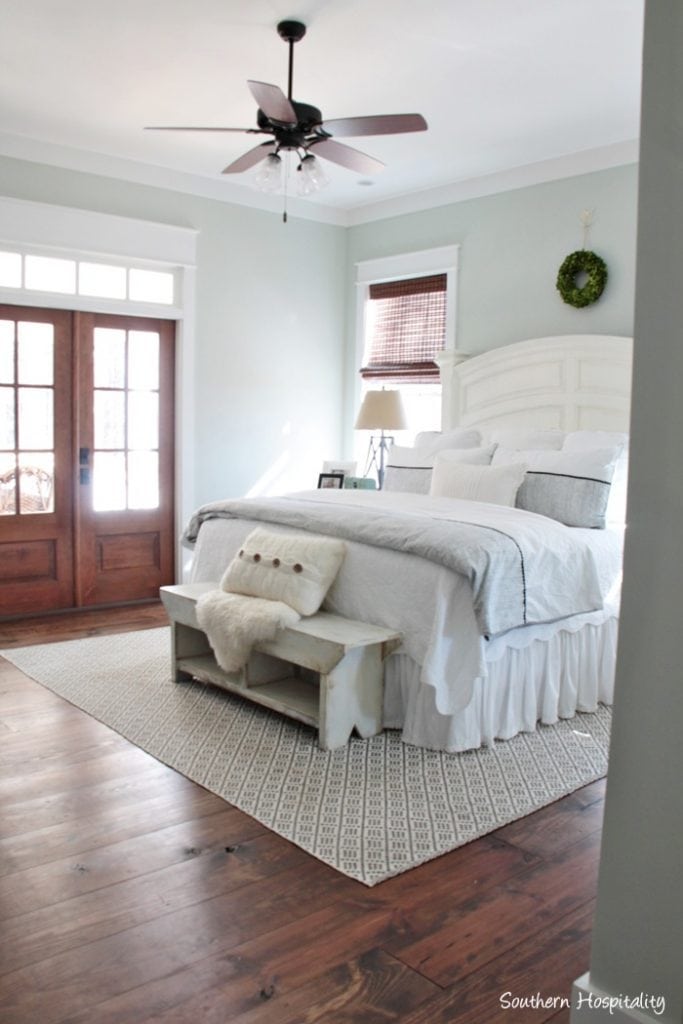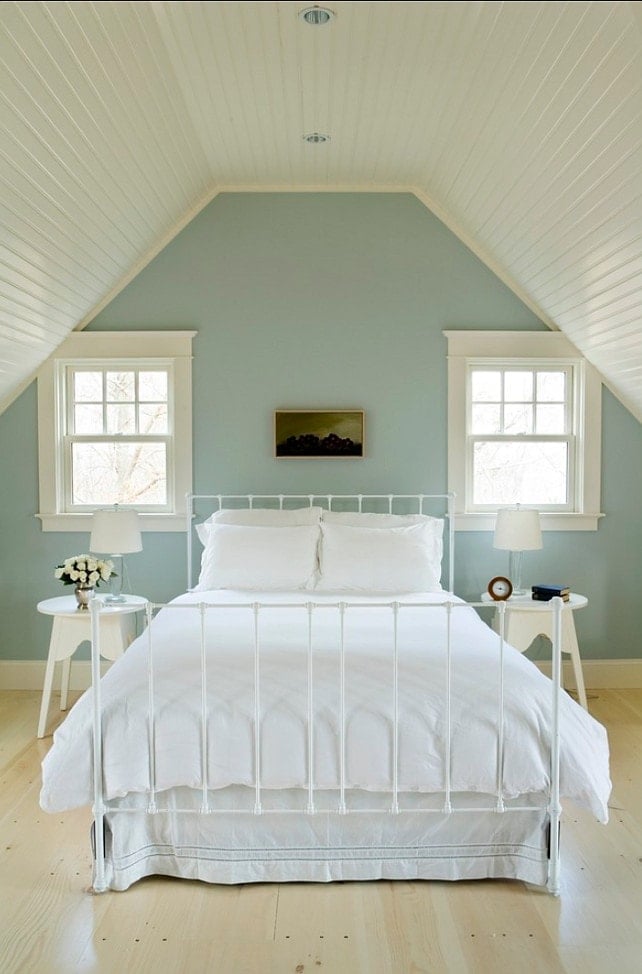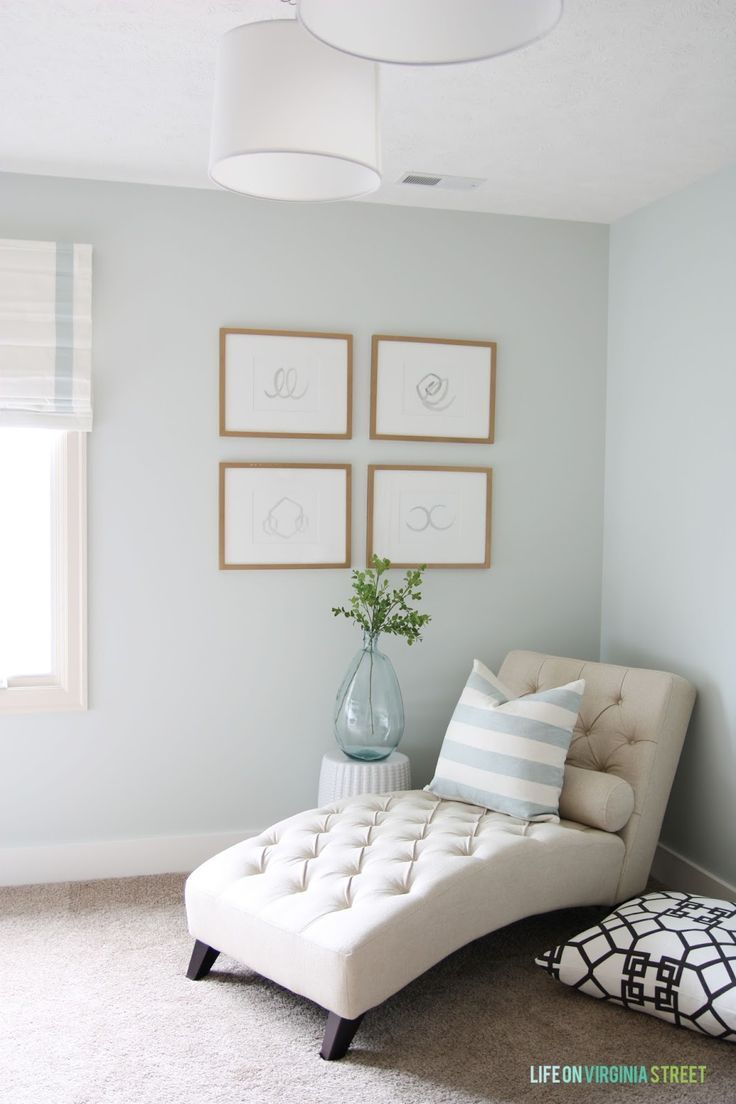 Small Bedroom Paint Ideas
So we know you want to get a good night's sleep but maybe you also need to make your master bedroom look larger and brighter than it is.
In this case, you want to avoid dark colors like moss greens and oranges, which will only draw the walls towards you, making the room appear smaller.
By keeping the walls a lighter tone of blue, gray, or even white, you'll make the bedroom appear bigger and brighter.
If you have low ceilings, a great trick for making the ceilings appear taller is the paint the ceiling and wall the same shade of white.
This has the effect of continuing the color up, thus not creating a harsh line where one color ends and the other starts.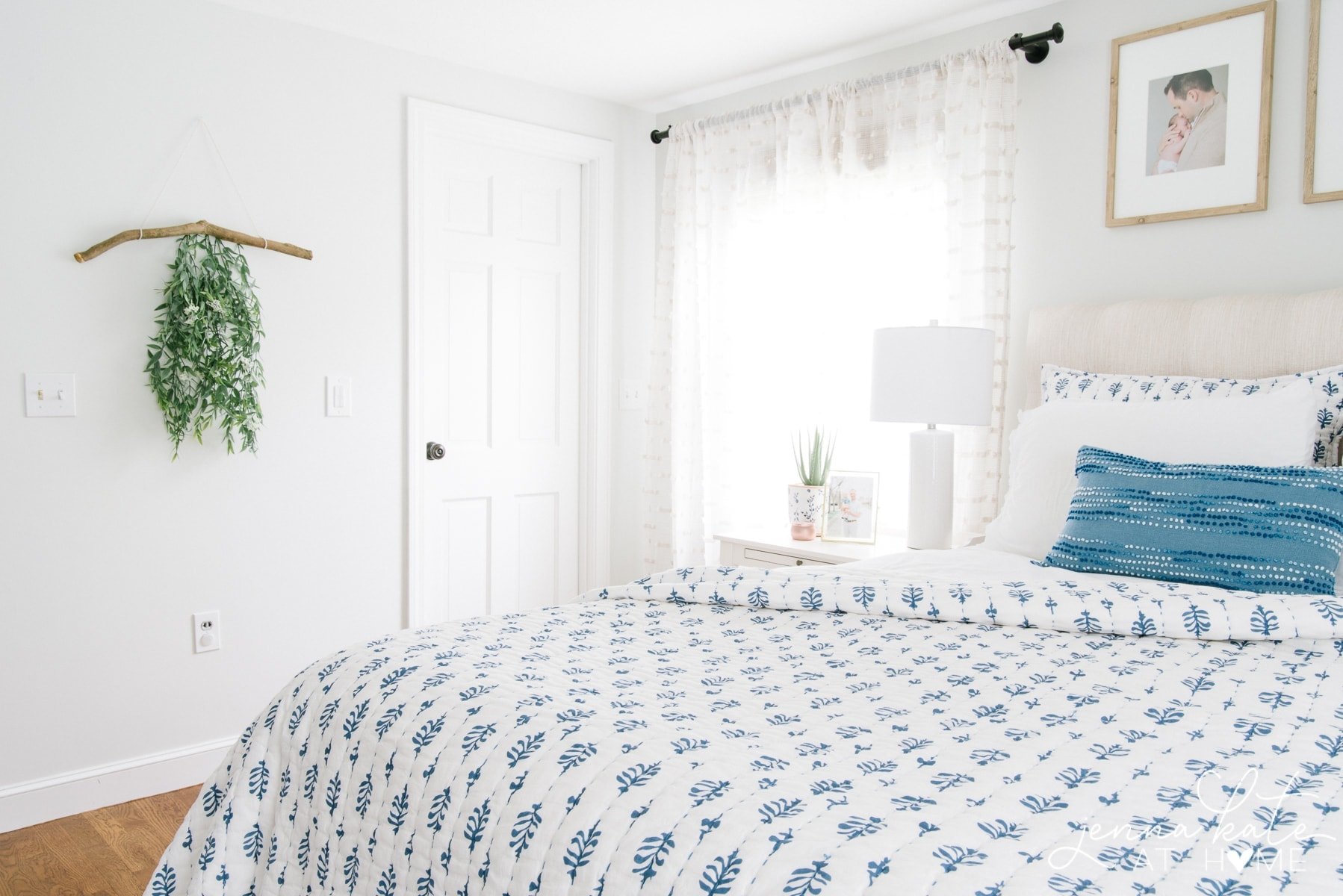 Remember the earlier photo of my master bedroom painted Behr Light French Gray?
Well, that paint color was far too blue for the cold light my bedroom receives. So the space was repainted with Benjamin Moore Paper White, which is a very pale gray with just a touch of warmth.
It made the space feel much bigger and brighter and far less cold.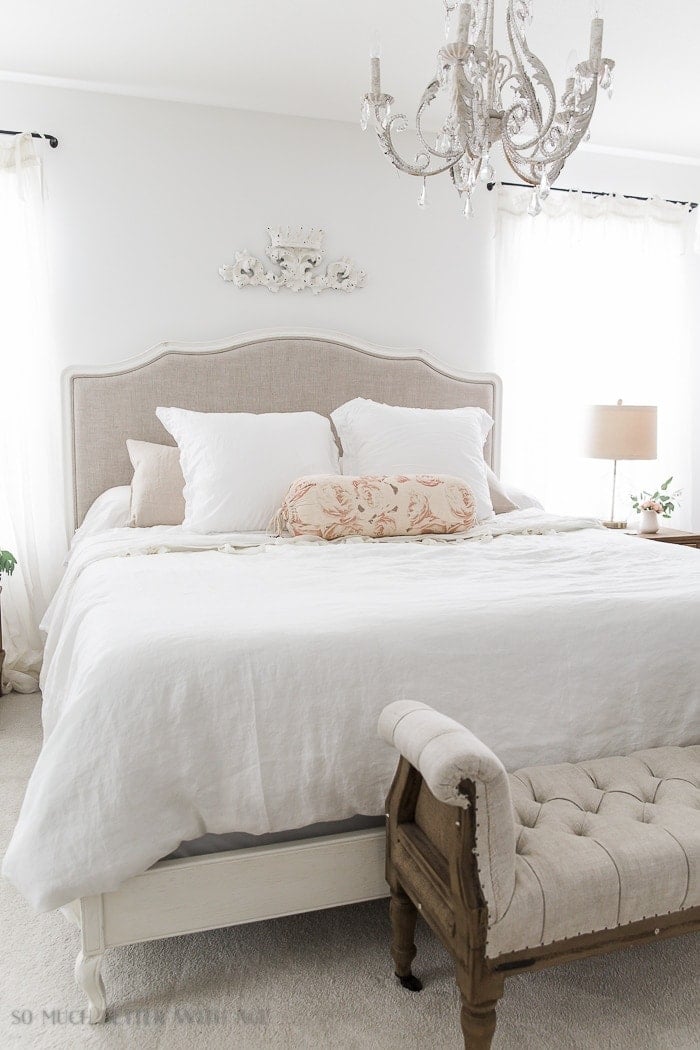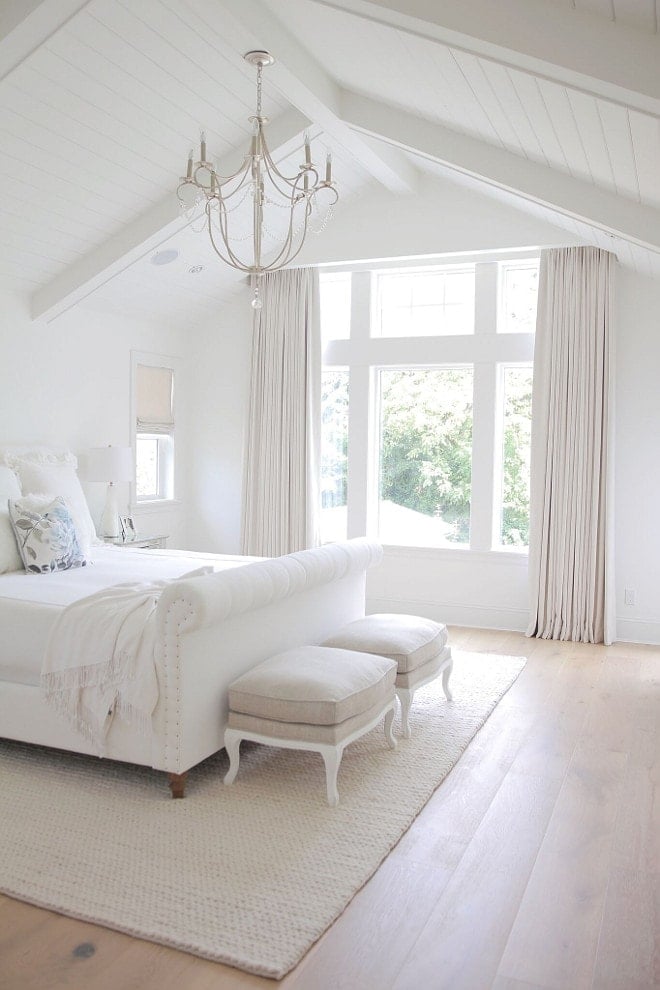 Final Thoughts
If your bedroom is big or small, filled with natural light or more of a dark space, it's a room that's meant to be calming and relaxing so that you sleep well after a long day.
Be sure to steer clear of the wrong colors such as those with darker tones, vibrant colors, and especially red.
Whether you decide to choose a blue, green, gray, or white paint color is totally up to you. I don't think you can go wrong with any of the choices!
Don't Forget To Always Use Real Paint Samples!
Don't forget – no matter what you've read or photos you've seen online, it's really important to sample paint colors in your home before committing!
Samplize provides real paint samples that are easy to move around your home, and cheaper than buying a gazillion paint pots! It's the only way I buy paint samples.
Use code JENNAK10 at checkout and get 10% off your order
Coupon entitles all customers to 10% off the entire order with no minimum purchase requirement. This is a one-time use coupon and it cannot be combined with other discounts.