Living in a small house or apartment can certainly have its perks, but having enough places to store everything may not be one of them. But don't worry!
That just means you have to get a little creative with your organizing, and these brilliant ideas will certainly help!
Pegboard Organizers
Living in a small space means that you're going to be short on floor space. The solution? Go vertical.
Pegboards are a great way to create a functional use of wall space. And if you think they have to be the run of the mill pegboards that you can get from a big box tool store, you're wrong.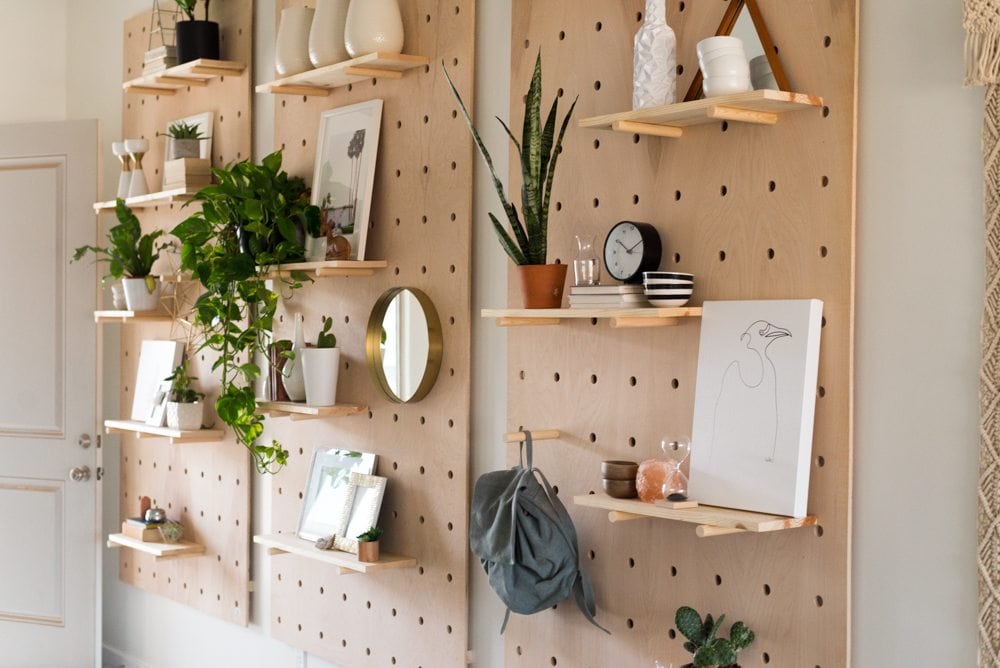 Here is a great example of how you can make a modern version of pegboards for your own home. Functional storage that's also pretty? That's a win in my book!
Utilize Binder Clips For Hanging or Organizing Small Things
A quick search on Google or Pinterest, and you'll see the amazing small space organization hacks that you would never have thought of by using … what? Binder clips!
This little hack is what happens when a command hook and a binder clip have a baby. It's so darn smart and cheap, too!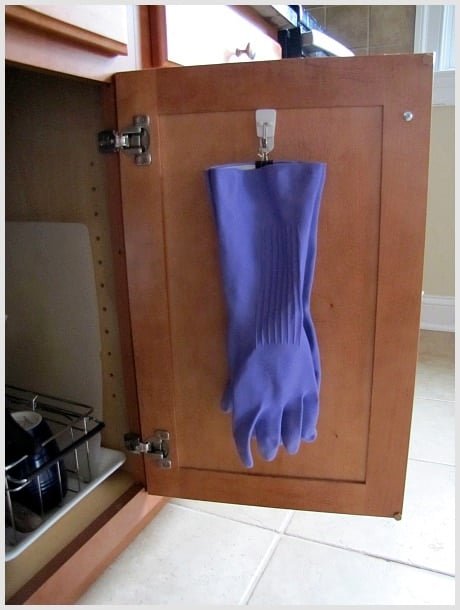 Hopefully by now you know how much I love an organized kitchen but this is a super budget friendly hack that you can do to give yourself some more storage in your kitchen, laundry room or bathroom.
Always to try to think outside the box when it comes to organizing your rooms. Keep items close to where you need them and find areas like the backs of cabinets or doors to hang items where possible.
Again, utilizing this idea of vertical storage space.
Use Corner Shelves
If you're using other wall space for something like pegboards, don't forget about your corners! Even small shelves in corners can give you some storage options to help organize things like books or items in a bedroom, office or kid's room.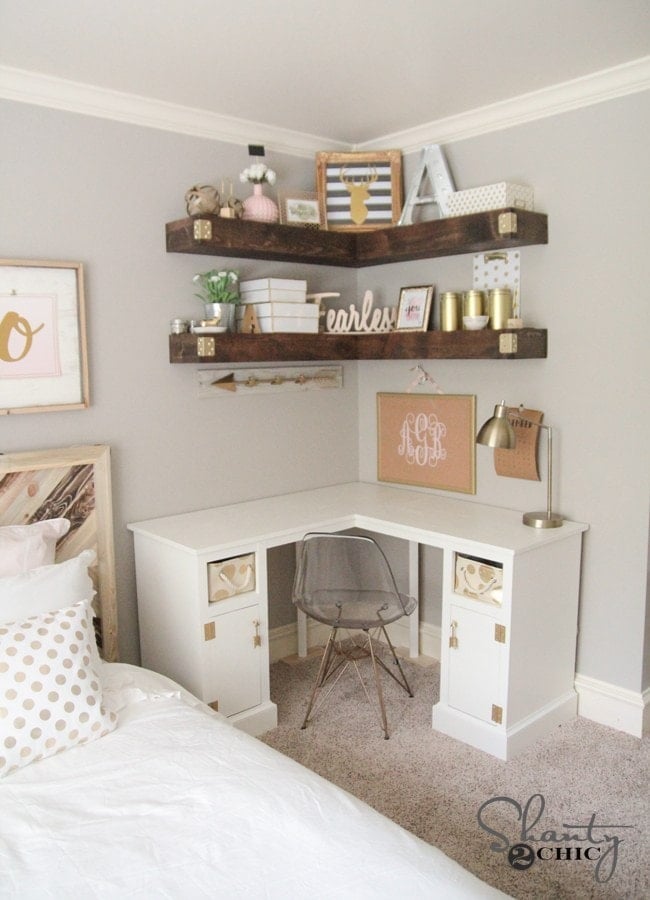 In this example of floating shelves, you can see this is a bedroom and office all in one space, so this goes to show you that you don't have to have a giant office to be functional!
Giving one room multiple purposes is always a good idea when you're short on space. Especially in the case of a guest room that rarely gets used, make sure it's doing double duty!
Add A Utility Cart
This is another one of those genius ideas that can help you with maximizing organization space in just about any room of your house! A nursery, craft space, bedroom, kitchen, or even bathroom will benefit from one of these handy dandy rolling carts.
The great thing about it is that you don't have to keep your craft supplies (or whatever supplies) in the middle of your dining room if that's where you craft. You can just wheel the cart in and when you're done, go pop it back into the corner of the guest room/closet/office.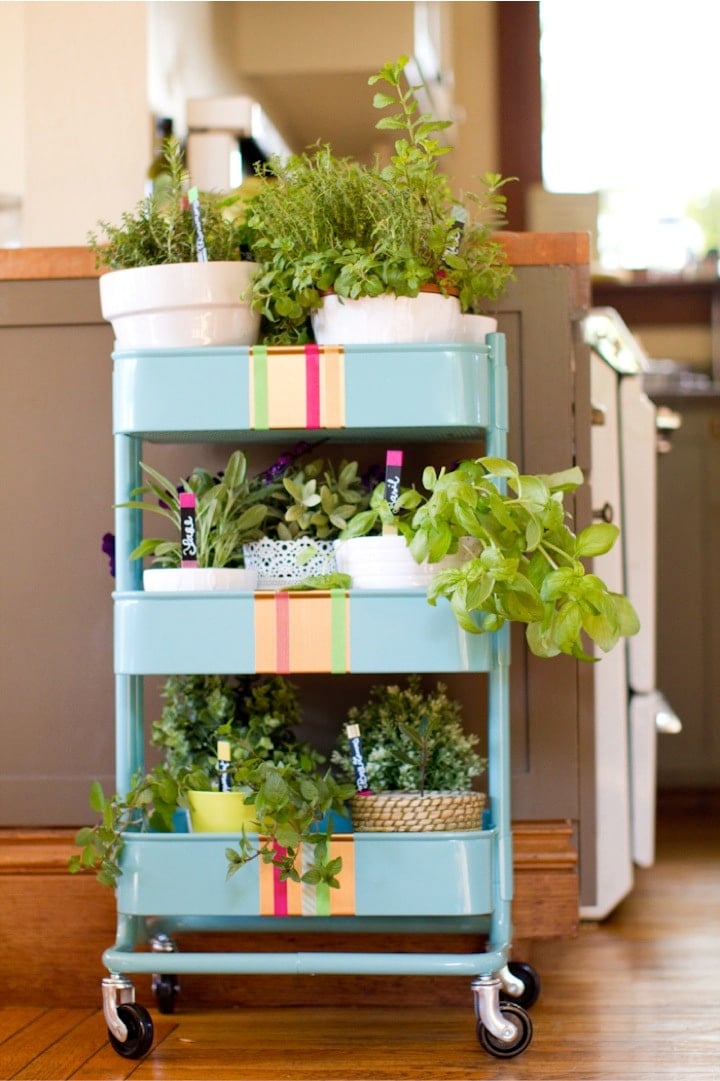 Or how about this fun little idea of a rolling herb garden? Brilliant and SO cute!
Invest in Some Packing Cubes
I love using packing cubes, not only for organizing my suitcase while traveling but for corralling items inside my dresser or organizing seasonal items inside a tote bin.
This set of packing cubes has been used extensively in my home. Right now, my kids' summer clothes are packed away in the closet in labeled packing cubes. My bathing suits that won't be coming out for another few months also have the same treatment.
After four boys, I have a lot of baby clothes to keep organized for my youngest. By organizing everything by size in these packing cubes, it makes it so much easier to swap in and out clothes every few months.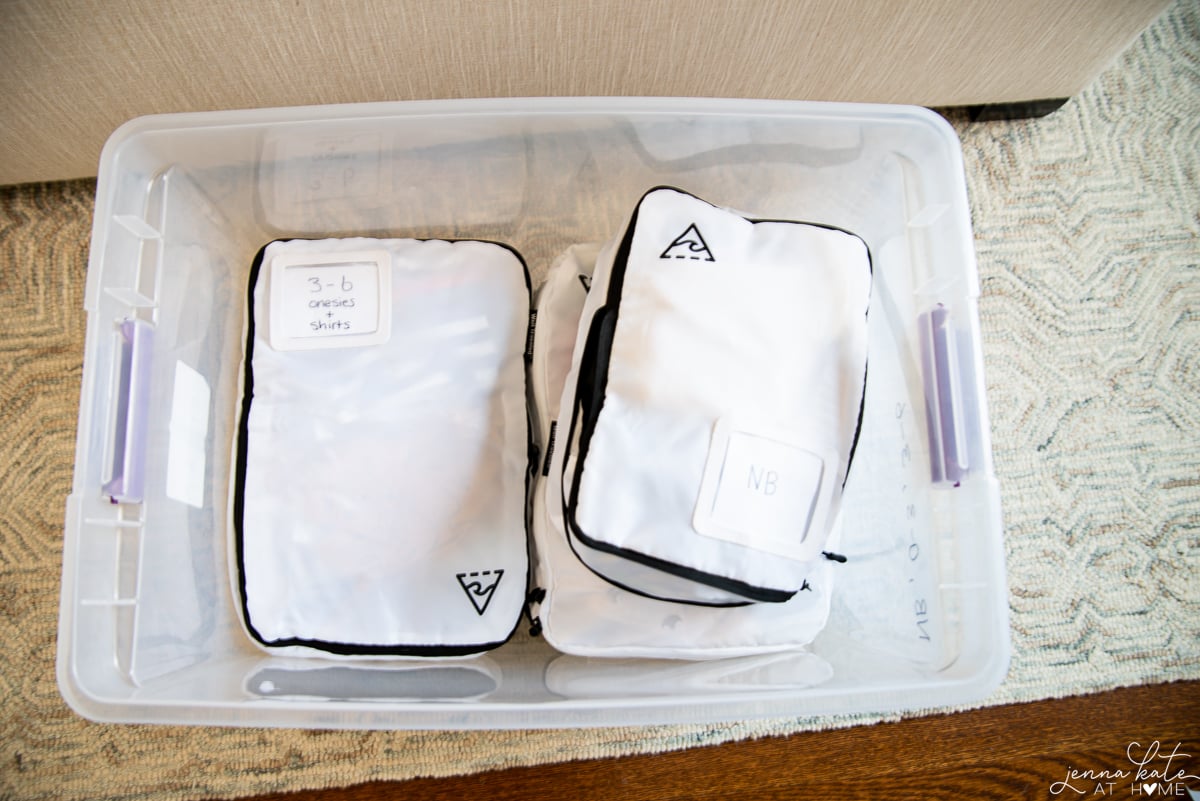 I particularly like to use the compression version, as I can just press out the air and have the packing cube take up very little space.
Add Wall Hooks For Jewelry Organization
Wall hooks are another way to get in that vertical storage and use extra wall space to organize your jewelry.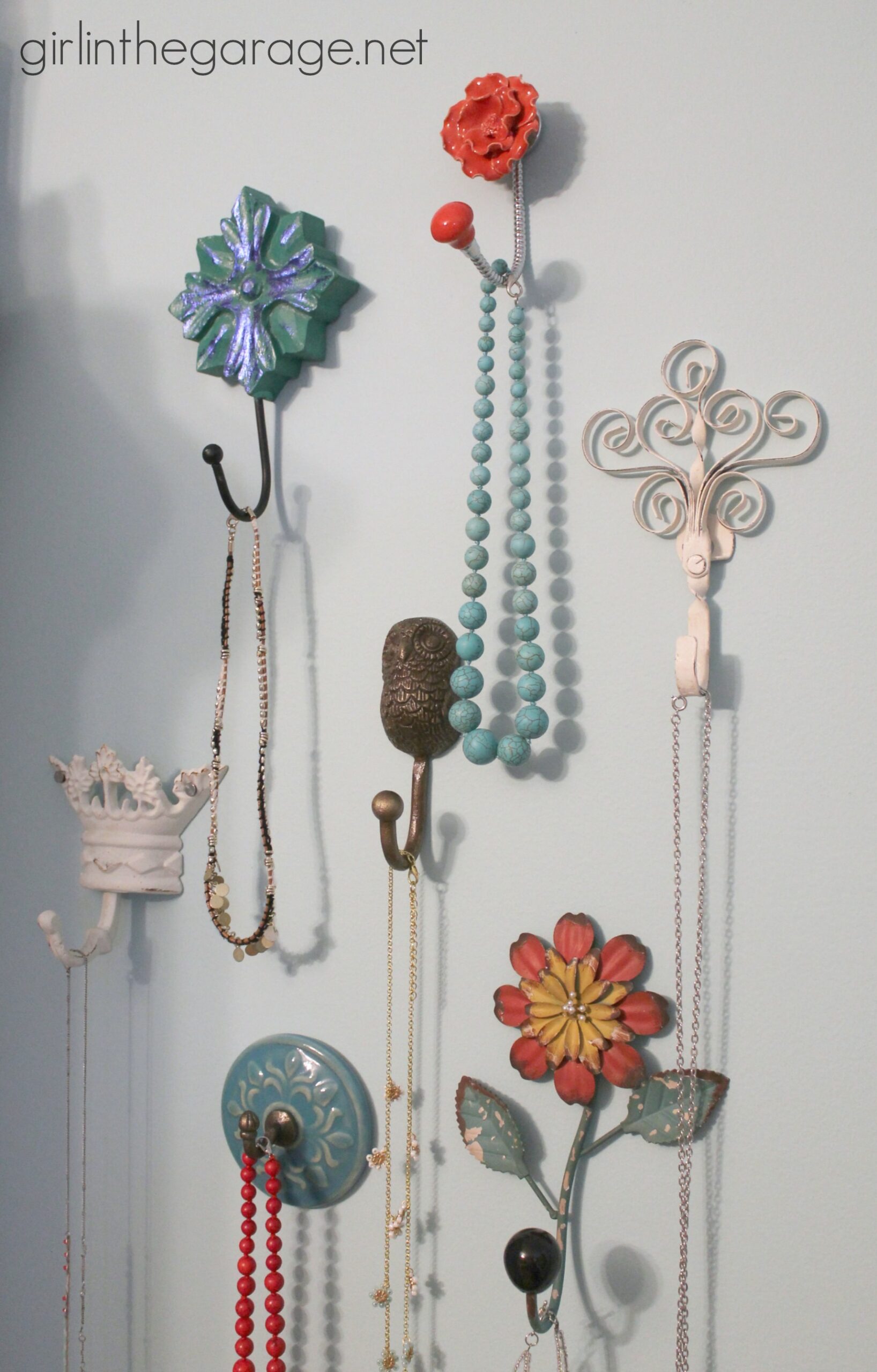 I love this idea because with all the different options that are available for purchasing hooks, you can make this fit into any type of decor style you have in your home.
Plus, I think this may be my teenage dream. So if your teenage daughter is looking for a fun way to spruce up her room but ALSO needs some jewelry storage, this might be the perfect solution!
I've also seen strong 3M command hooks used on a kitchen backsplash to hold utensils, which means one more thing off the kitchen counters and more space for food prep.
Use Doors For Added Vertical Storage Space
Whether you build it or DIY it, using the doors of closets for storage space is so helpful. Closet door storage has come a long way from just the over the door hanging shoe pockets.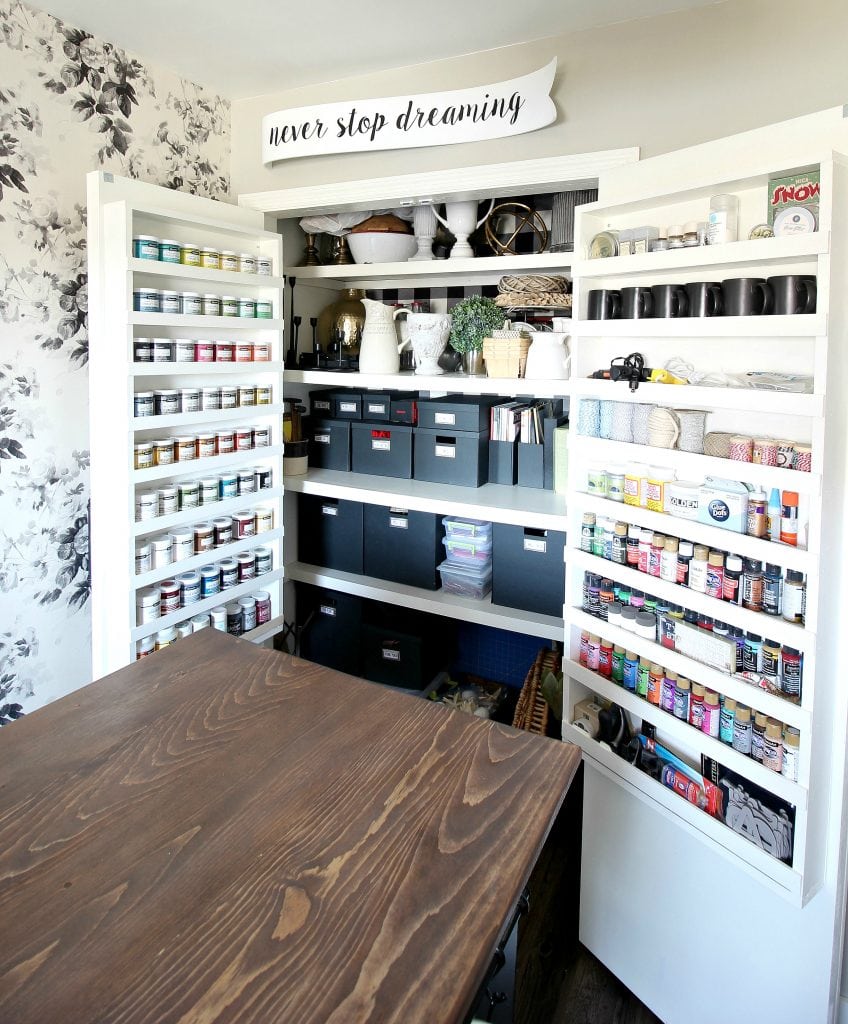 Talk about stunning! This craft organization is just one of the many ideas that can hopefully spark inspiration for you when it comes to closet door organization solutions.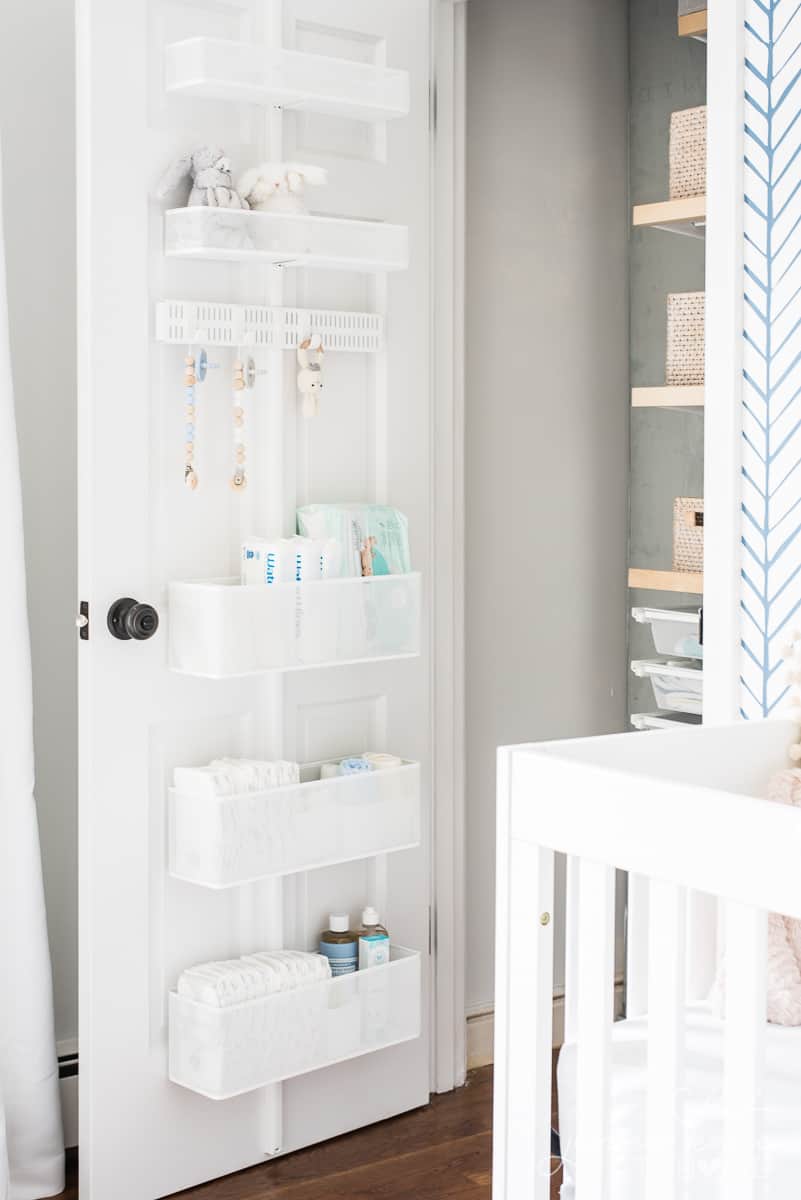 We've installed storage racks on the backs of all our closet doors, too. From storing extra diapers in the nursery, to office supplies and even books, they have been one of the best organizational items we've added in our home!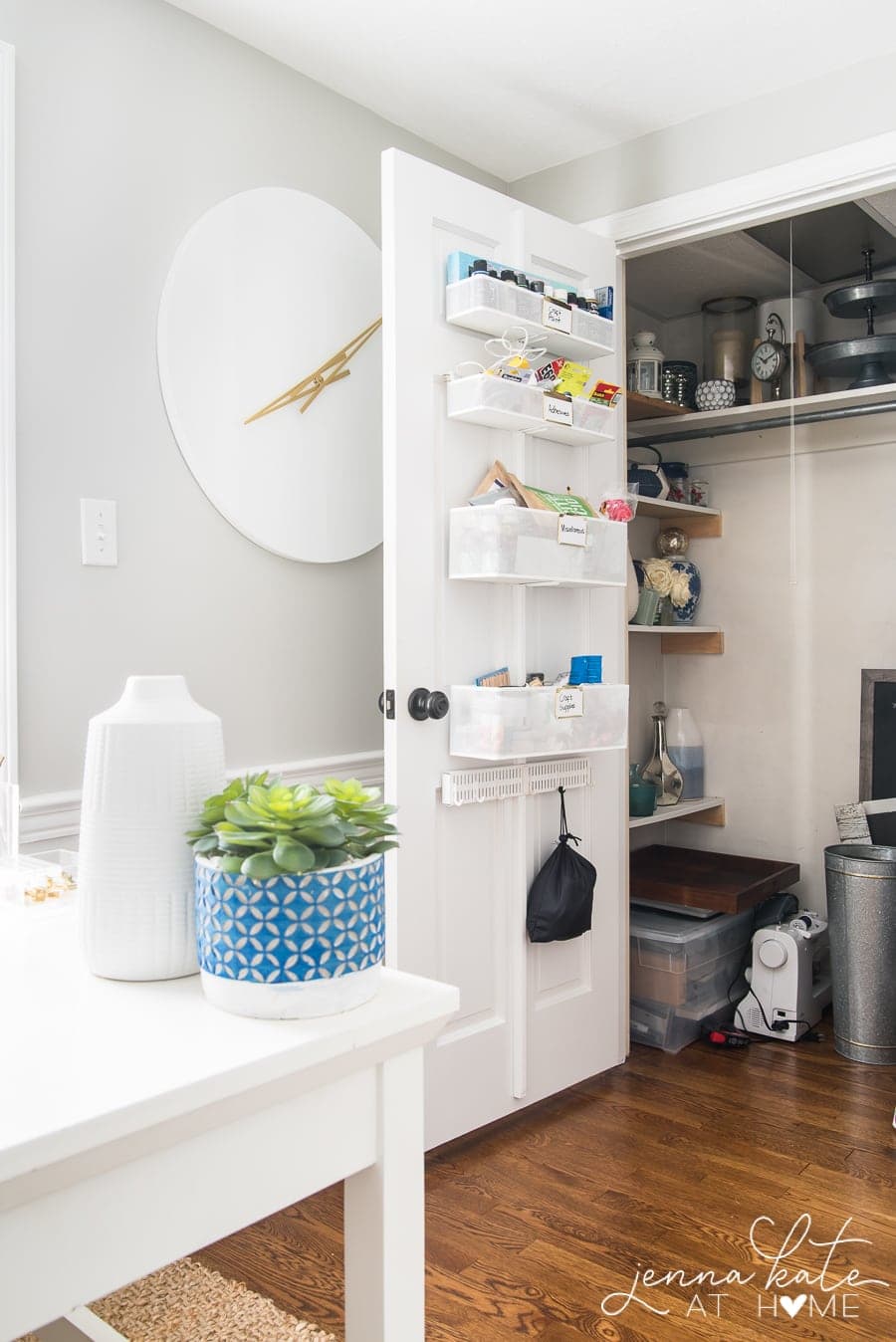 Create A Tool Closet If You Don't Have A Garage
Many times, smaller homes mean no garage. But what do you do if you're a crafter or a DIYer and don't have room for tools? Get creative!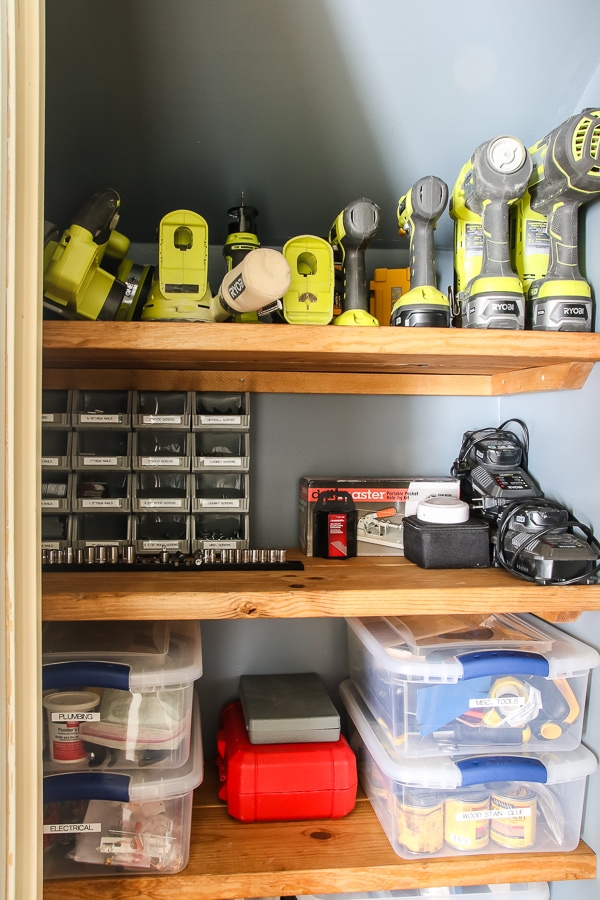 Making room in a small closet can really help when it comes to having organized tools in a small space. Don't be afraid to DIY some simple closet shelves too. They are easy to make and don't cost much, but give you a lot more storage options in a closet.
Hang Blankets And Heavy Bed Linens
Even in the smallest of houses, most times you will have a linen closet of sorts. This is a great place to hang your blankets or heavy bed linens instead of having them out and rolled in a basket.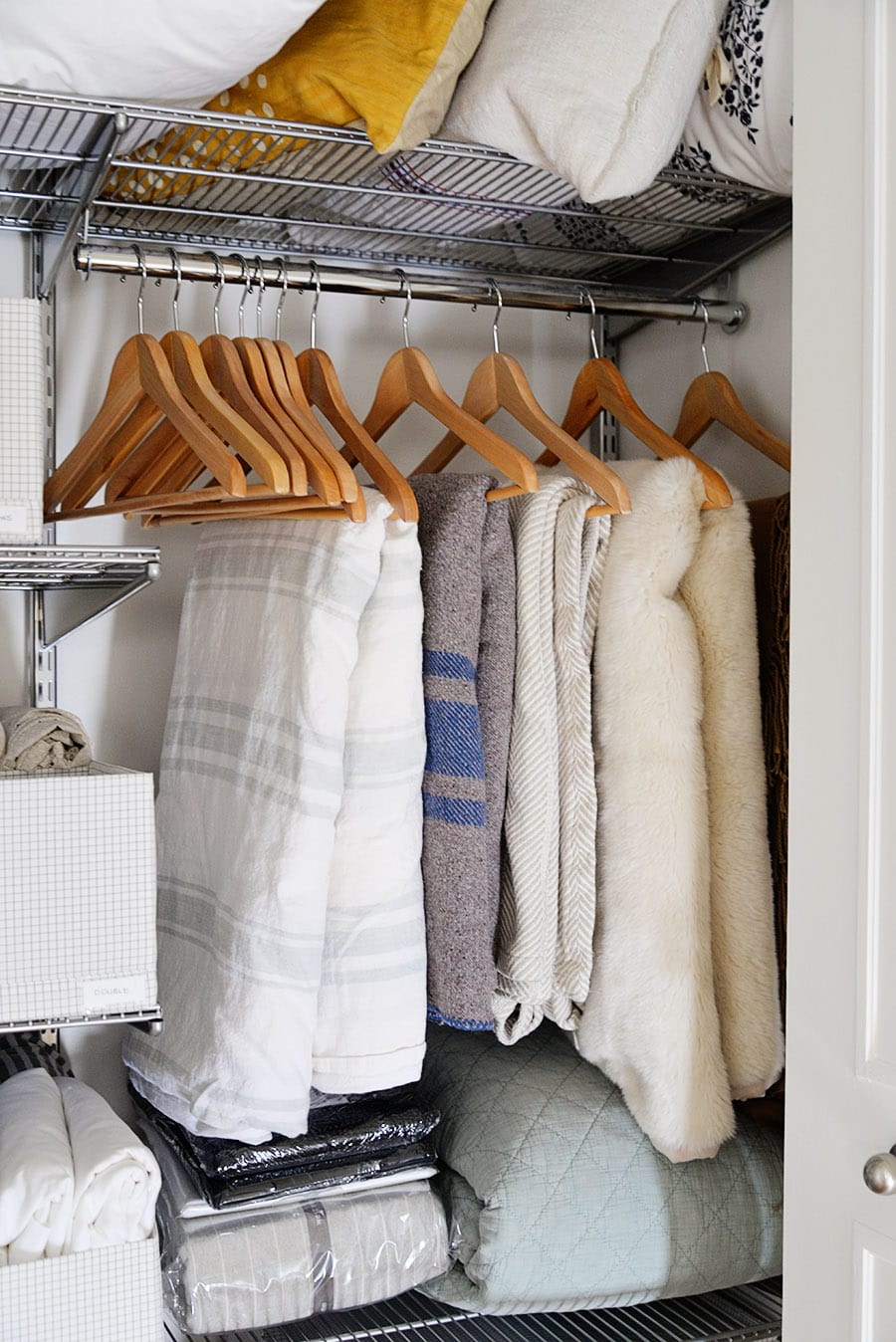 In my house, we rarely have guests, but when we do we have my entire family. I don't have the space to have comforters and duvets in my closets, so instead I use vacuum bags and have them stored in the attic until I actually need them.
Clear containers for vanity/bathroom drawer storage
Having things in clear containers removes the need of having to dig through things to find stuff because you can see it all through the container itself.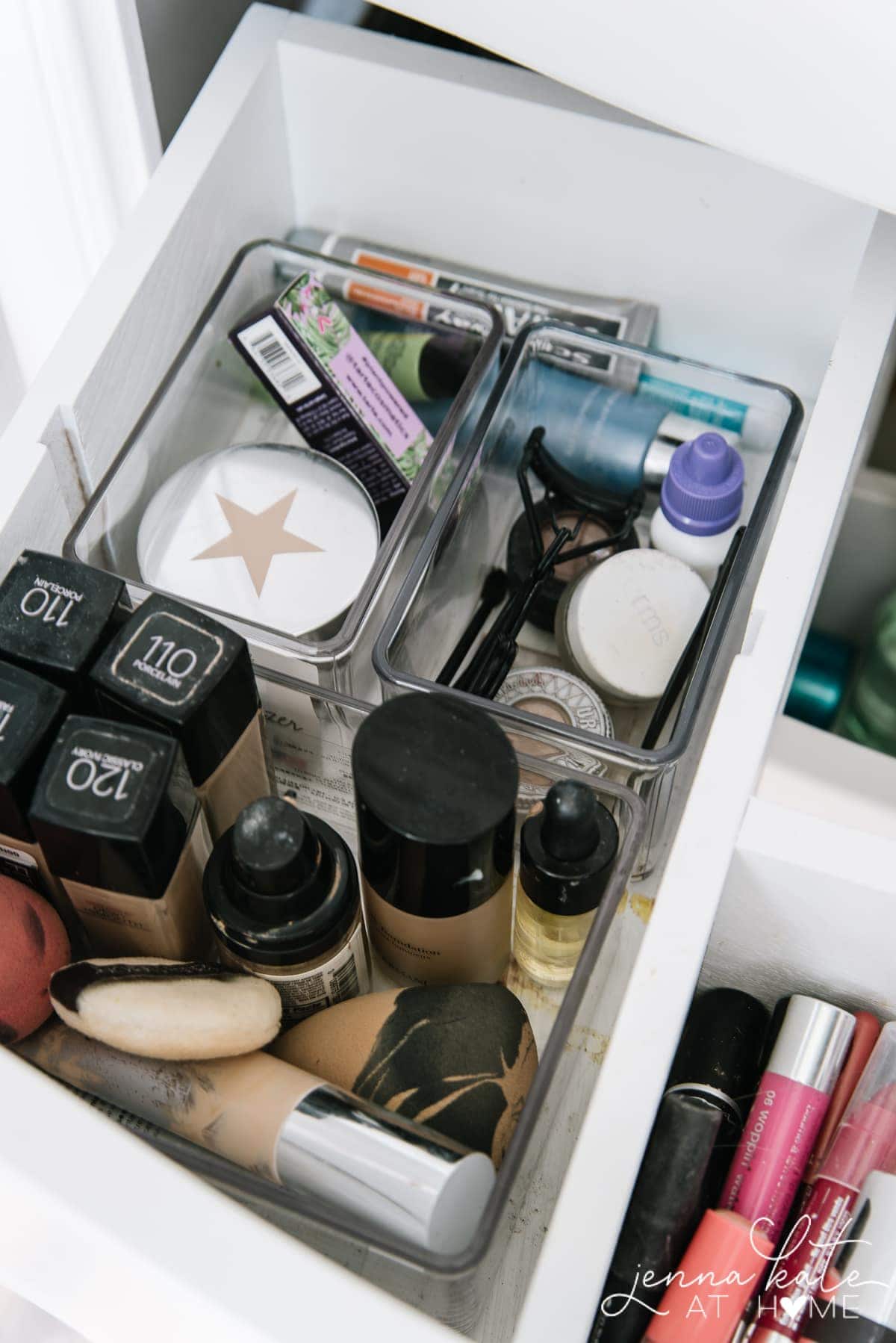 Just like we did in our small vanity bathroom organization, these clear containers have come in handy more times than I can count.
Use Small Stacking Containers For Vertical Storage
Even if all you have is a small space under a sink or kitchen cabinet, you can still use vertical storage by doing clear stackable bins.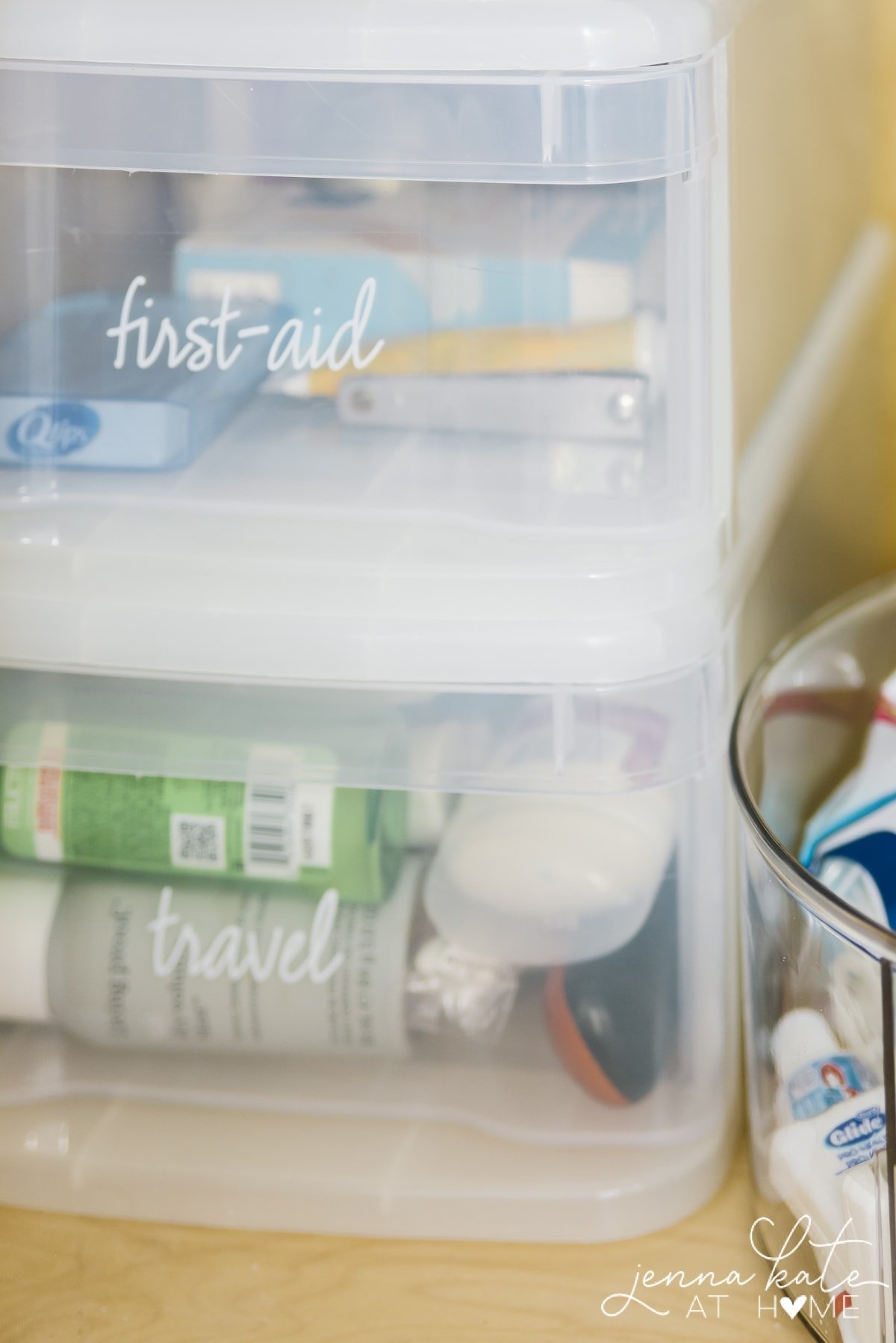 A pro tip especially if you're doing this under a sink, make sure you use clear storage bins and use labels. Again, this prevents you from having to dig for things and make an even bigger mess.
Have A Closet Organization System
We have severeal of these in our home and I can't say enough about how much I love them!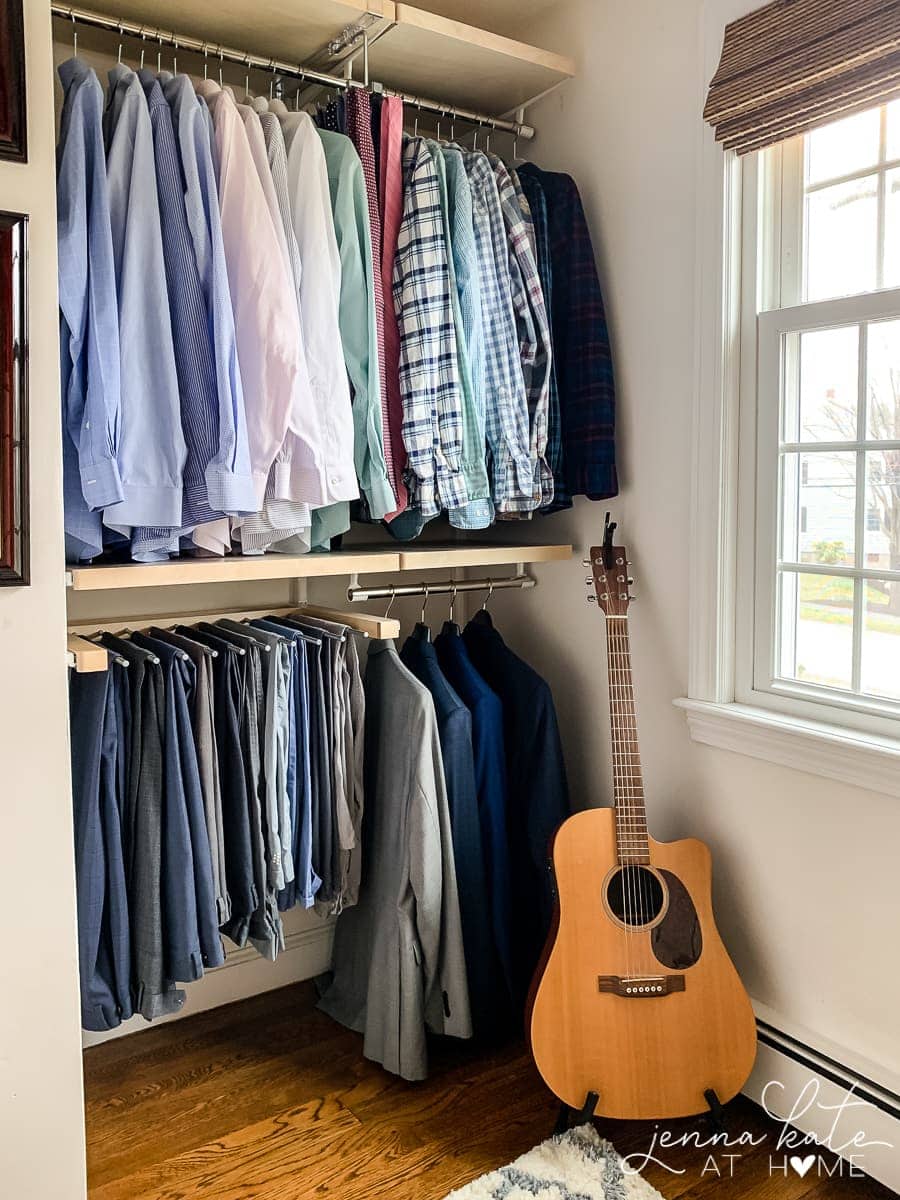 I can't say enough good things about how much this closet organization system changed our lives!
Even if you have a small closet, you can maximize the space by making sure the space is organized to its full capacity and every inch is used the way it should be.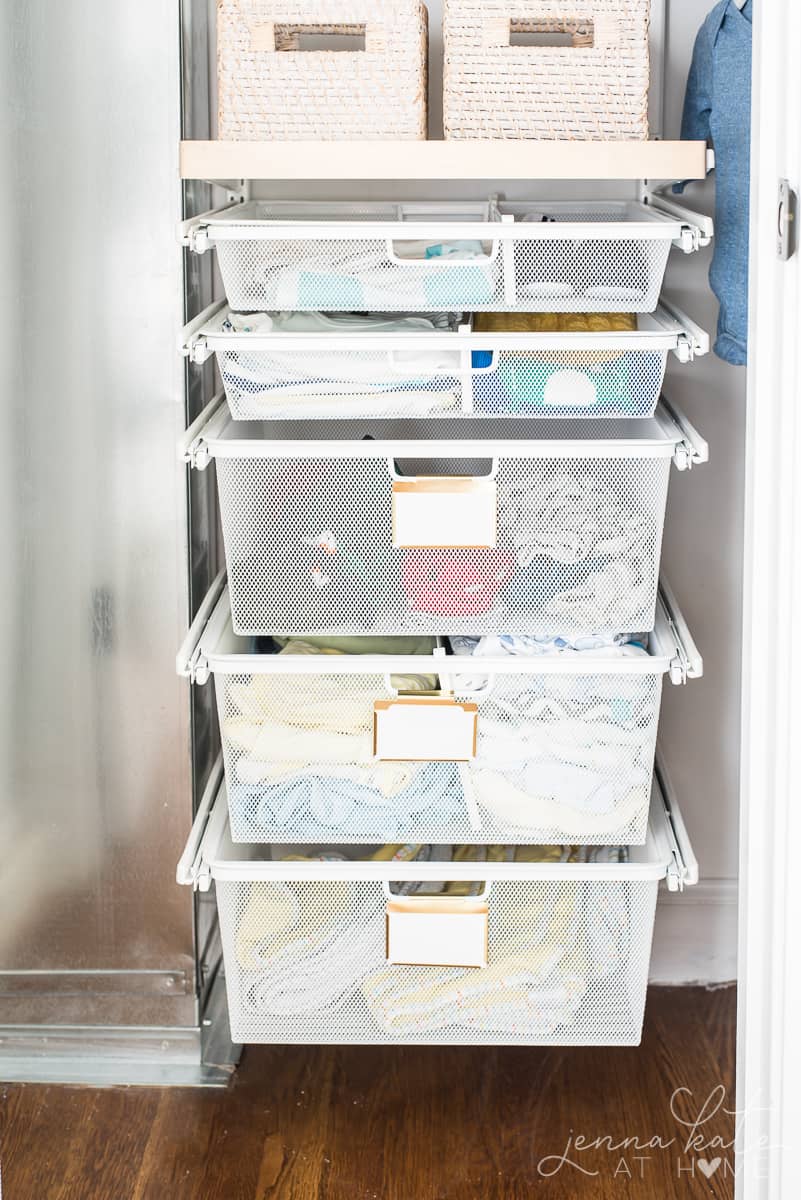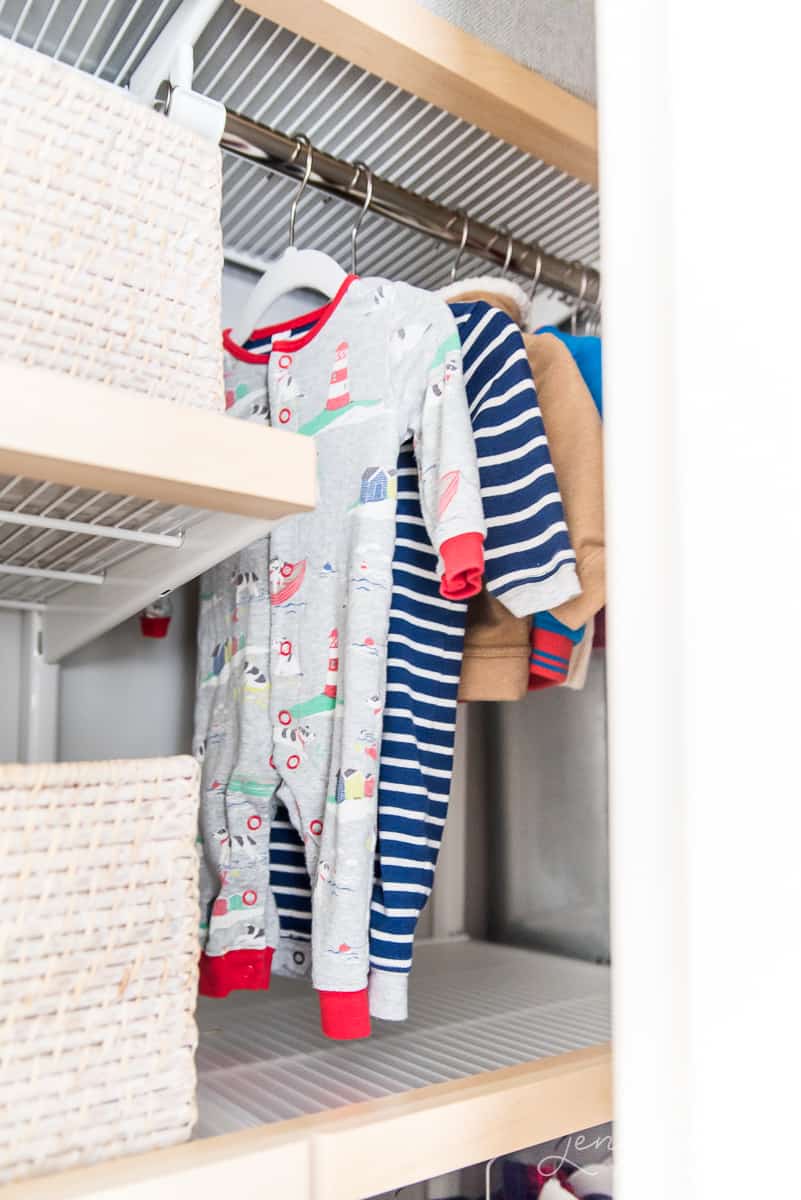 Our nursery closet is teeny tiny but the system we installed has allowed us to maximize the space we do have.
Organize Your Refrigerator
It doesn't matter how big or small your fridge space is, nobody likes to throw away old or expired food. If you organize your fridge, it will be way easier to see things you need, but also make sure you're eating the food you have before it goes bad.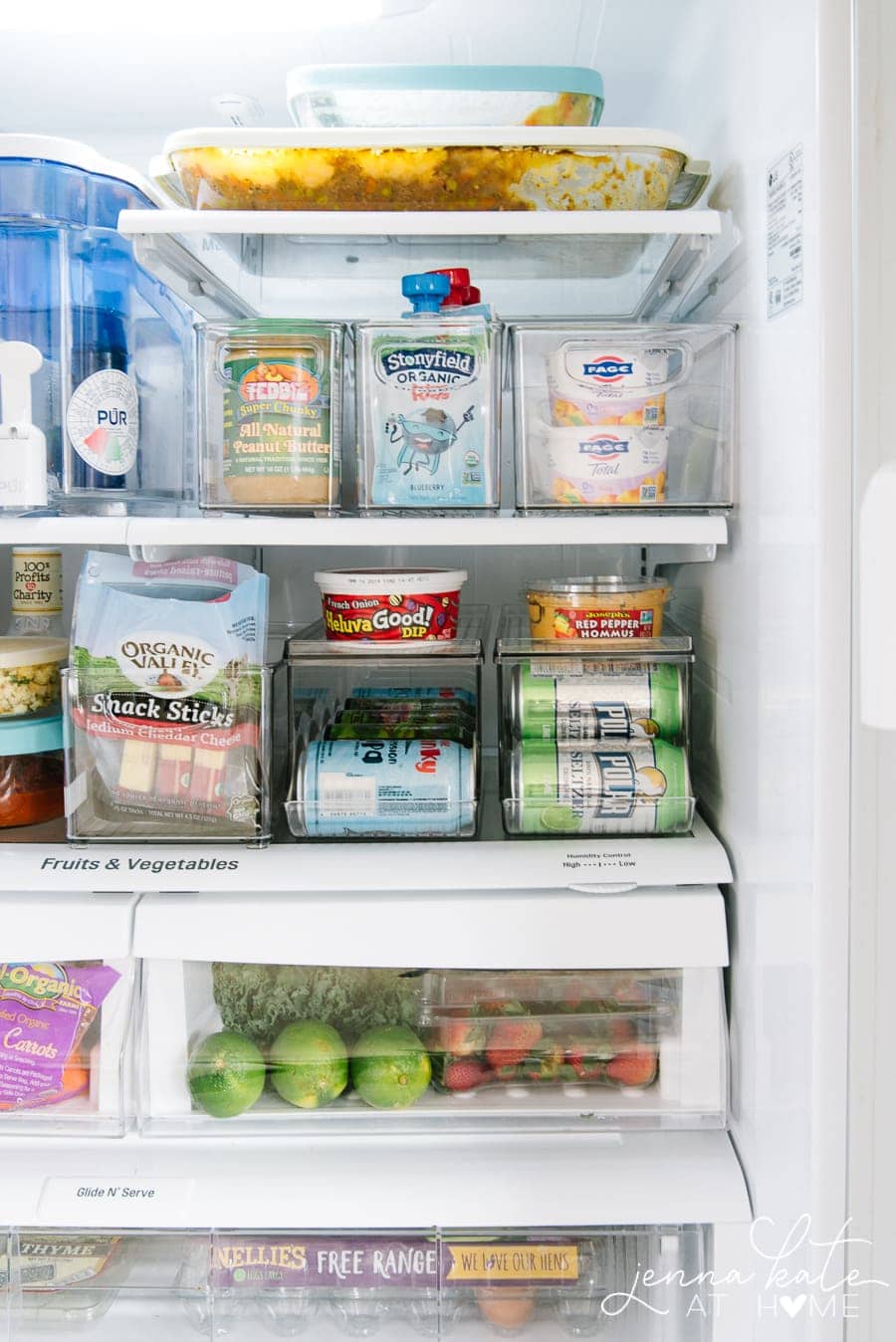 Get Creative in Kids' Spaces
As a little added bonus small space organization tip, get creative for the little ones. We recently just redid our sons' bedroom and just changing the layout alone made the space feel almost twice as big.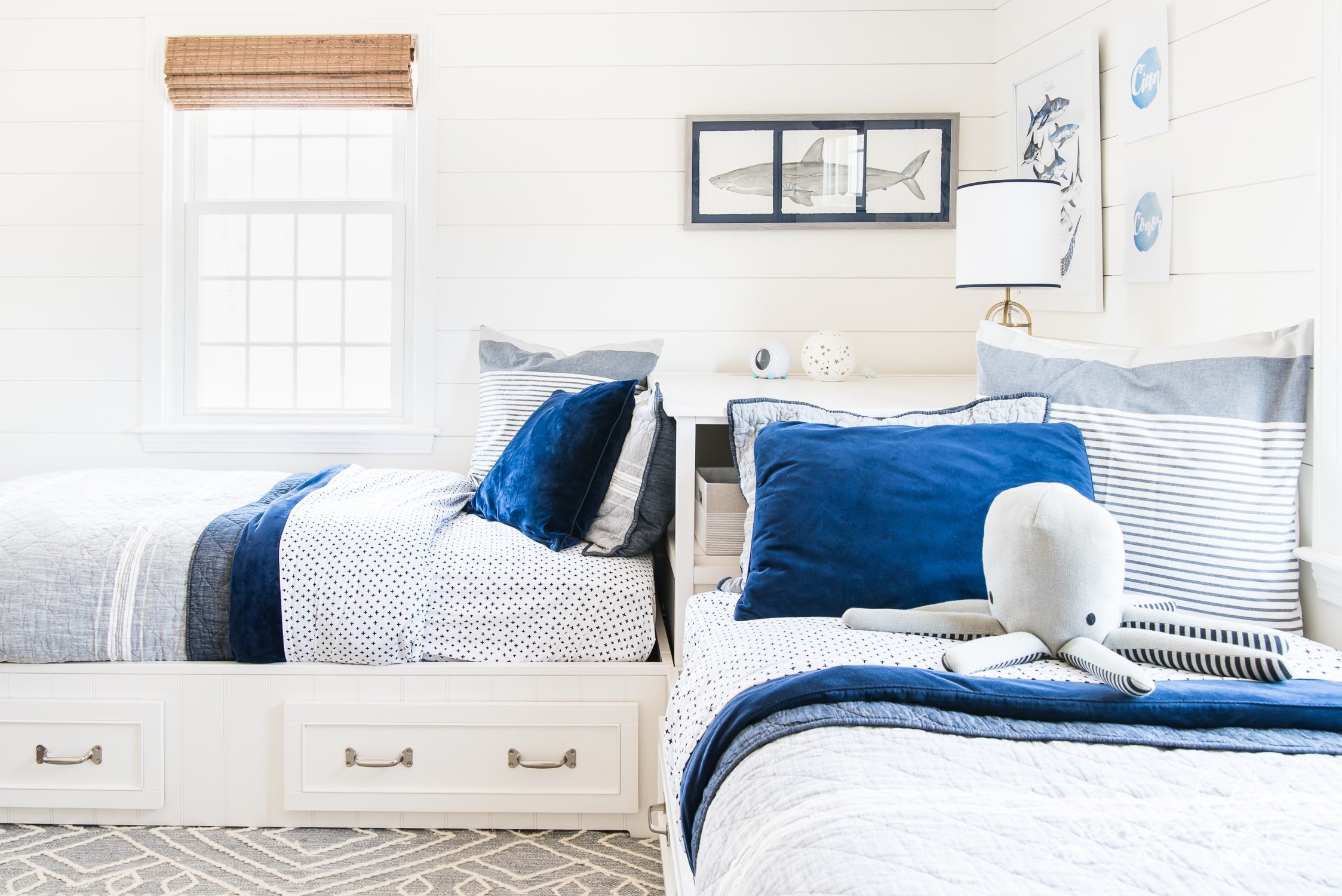 My favorite part? These corner beds have a storage unit behind them where we can hide all the "stuff" that my son likes to bring up to his room. It's a win-win situation – I don't have to keep complaining about toys in his room cluttering the place up and he still gets to have them!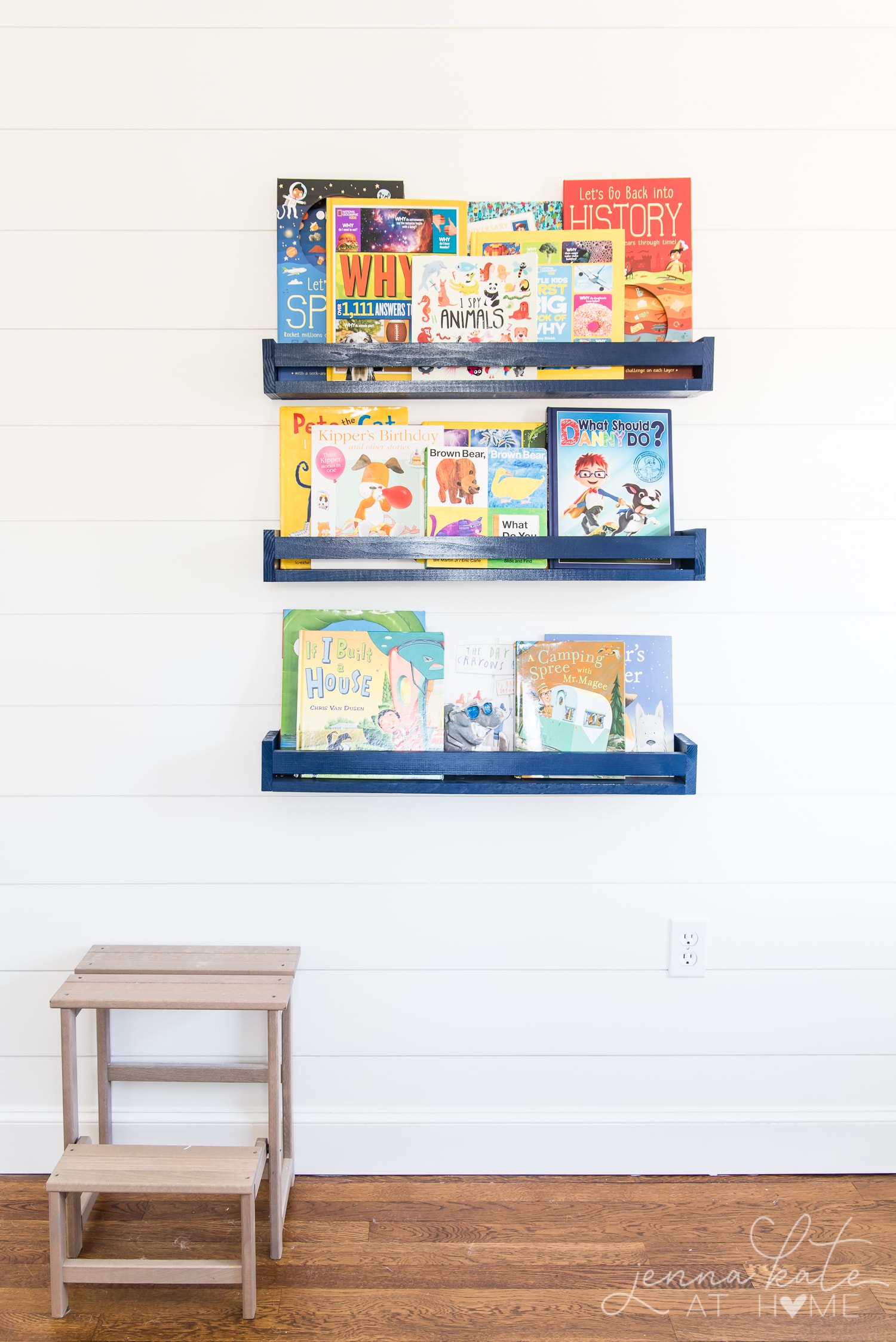 Trying to keep as much clutter at bay with minimal floor space? Get the books off the clunky bookshelves and up on the walls. These book ledges are a really easy beginner DIY project and you can make them any color or size you like.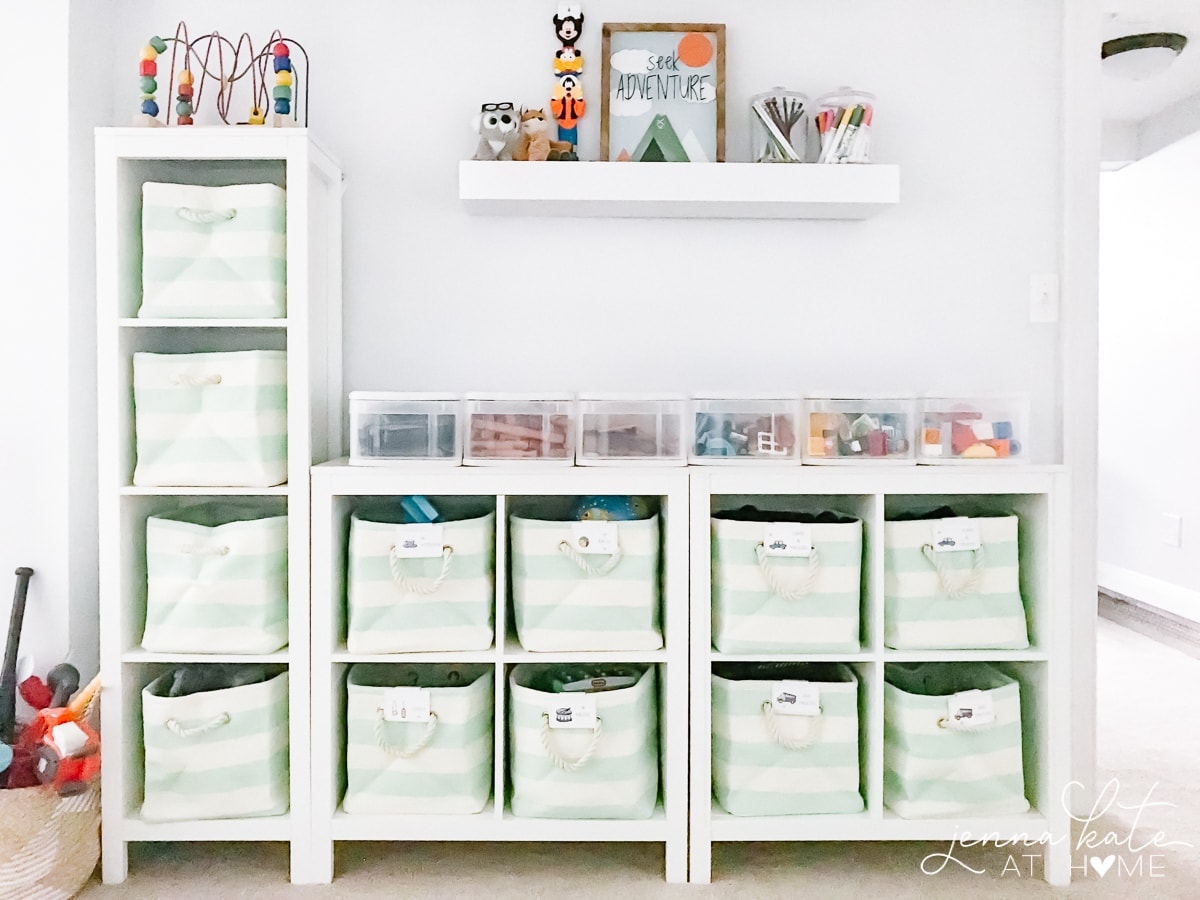 Toy storage can be a hassle, especially when you are short on space. I love cubbies and baskets labelled with what's inside to not only organize the toys but keep everything visually appealing.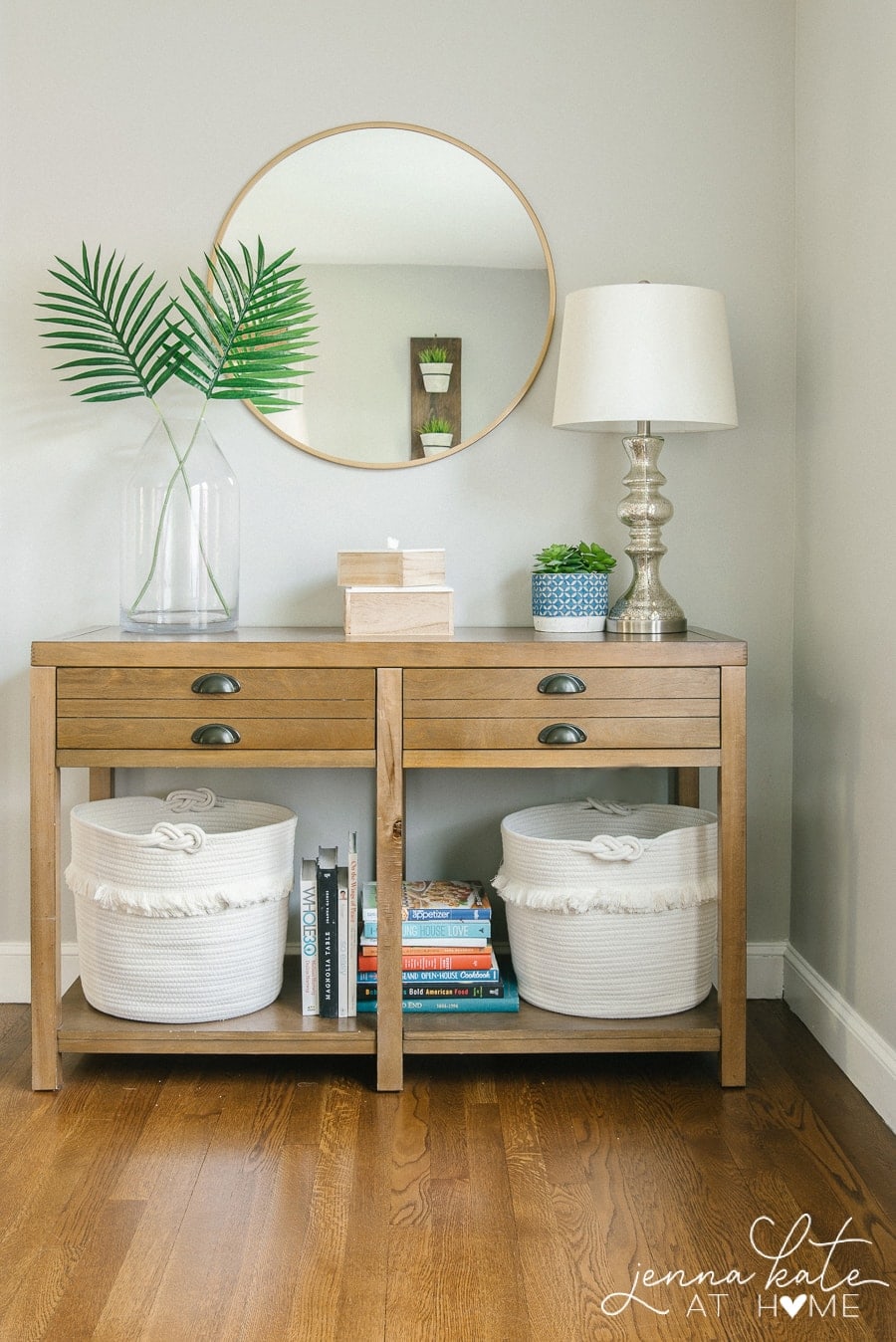 If you don't have a dedicated toy room, this same idea can apply to your living room. Just grab some pretty baskets and get those toys hidden! As part of my daily routine for keeping a clean house, several times a day I will walk around the house and grab any toys that are lying around.
Final Thoughts
If you've wondered how people keep small spaces organized, now you know! I can't wait to see how you get your house, apartment, or condo organized using these ideas!
Other Organizing Posts You'll Enjoy