Freshen up your table for the season with these quick, easy, and inexpensive spring table decorating ideas!
When I think of spring, I think of new beginnings, and the sun finally breaking through after a long cold winter. And tulips, daffodils, crocuses, and everything fresh and new. And of course lighter, fresher foods and drinks. Spring decor is all about bringing fresh and natural elements inside, like flower buds, green stems, and moss.
How to Create a Beautiful Spring Table Setting
Here are my favorite tips to create a gorgeous table setting for your next spring gathering- whether it's Easter brunch, a Mother's Day tea, or just to add little beauty to your home to shake off the winter blues!
1. Add a Runner or Tablecloth
Spring is a great time to lighten things up. I like to use a table runner or a tablecloth to make the space feel light and airy.
This particular tablescape is actually one of my favorites to date. It feels very coastal and fresh and the perfect nod to warmer weather to come. The simplicity and airy feeling is such a breath of fresh air.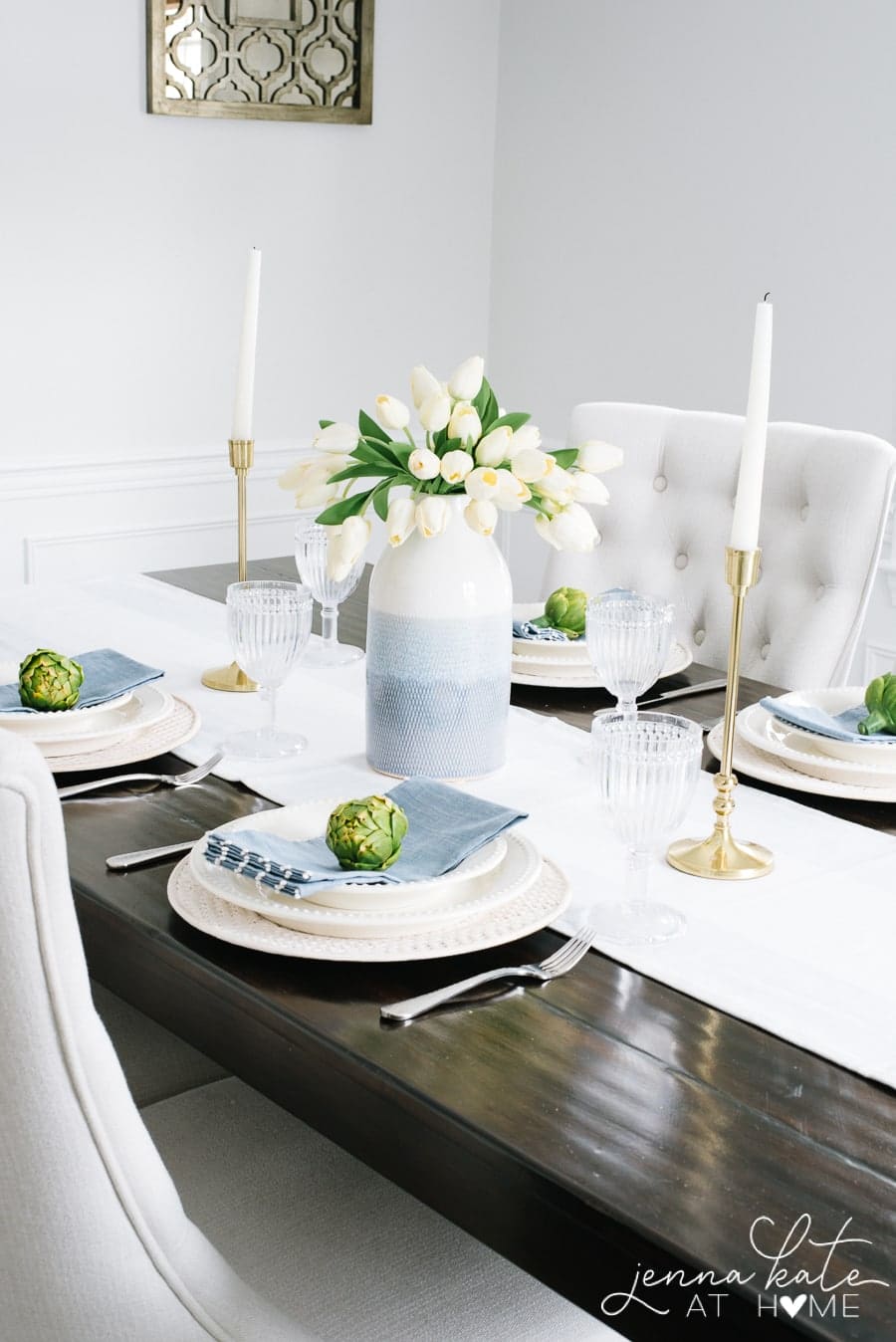 2. Incorporate Color in Your Linens
I love to bring in fresh linens for spring, like the light blue linen napkins above, or these bright floral ones below from my vintage chic tablescape. Think pastels and light, bright colors.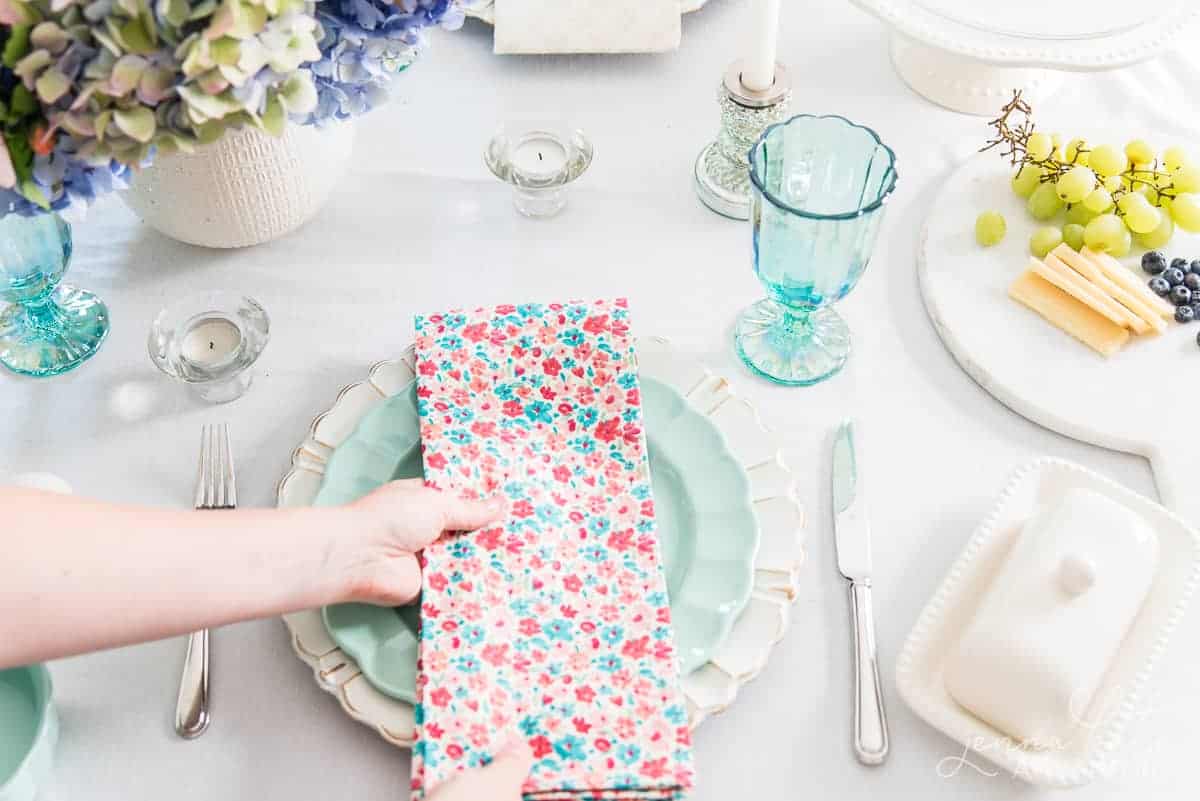 3. If In Doubt, Start With White Dinnerware
I almost always use my favorite white dinnerware set. White is classic, and will work with any and all other elements of your table setting. Simply by having a different color napkin, charger or runner on the table, you'll change how everything looks.
I do own glasses in a variety of colors, because they are an inexpensive way to add some drama, color and texture. I have picked them up at various places over the years; HomeGoods, Target, Tuesday Morning and even online.
4. Bring in Greenery and Fresh Flowers.
It wouldn't be spring without plenty of green. Bright greenery and spring flowers make the perfect centerpiece. Whenever possible, I like to bring in fresh flowers, especially bulb flowers like tulips and daffodils that really symbolize spring. It's totally fine to use some faux greens when necessary, but interspersing some grocery store flowers will really enhance the look.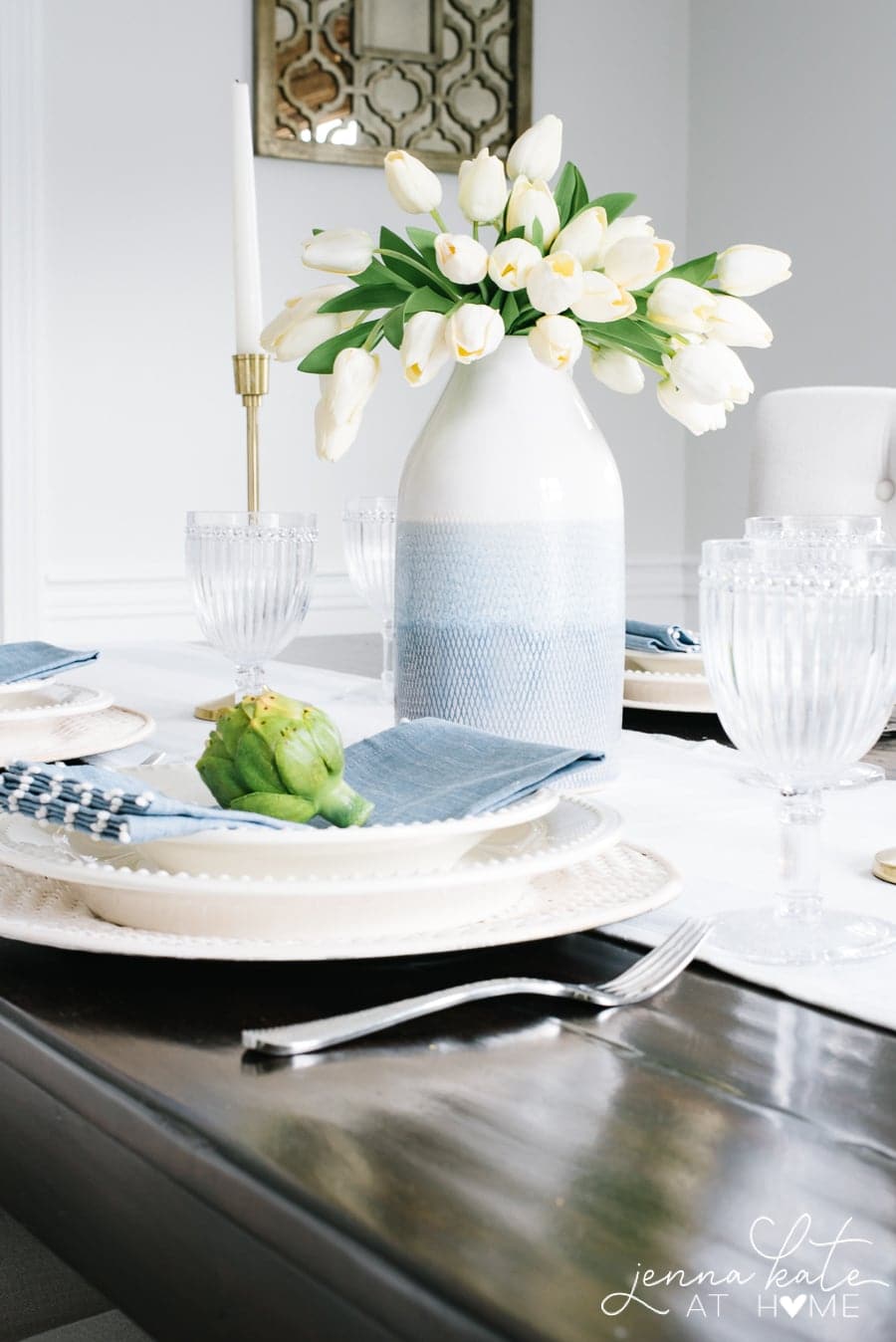 Personaly, I don't think it's spring decor without some vibrant green so my favorite white tulips almost always make an appearance as part of my spring tablescapes, as well as my other favorite, these little faux artichokes.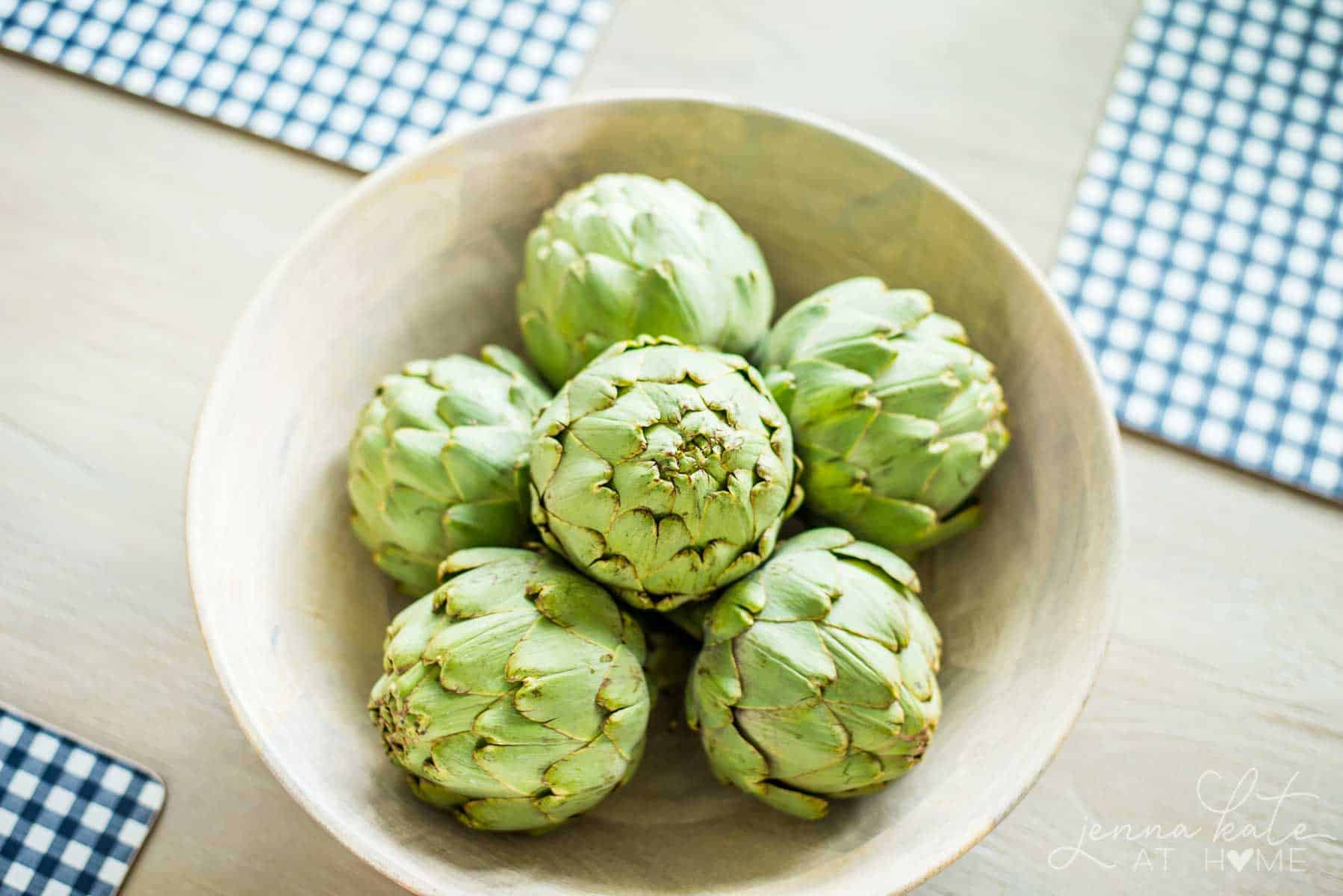 I've also been known to pop a whole bunch of real artichokes in a bowl and call it a day. They look beautiful any time of the year, but don't keep for very long.
5. Incorporate Seasonal Fruit
Fruit makes a beautiful addition to the table, whether it's part of the decor, a drink garnish, or part of the meal. Think fresh strawberries and bright lemons and oranges. I particularly like the mandarin oranges that still have their leaves attached. It adds an extra bit of wow to an otherwise simplistic place setting. If you're really able to plan ahead, guests could also use them to eat with dessert!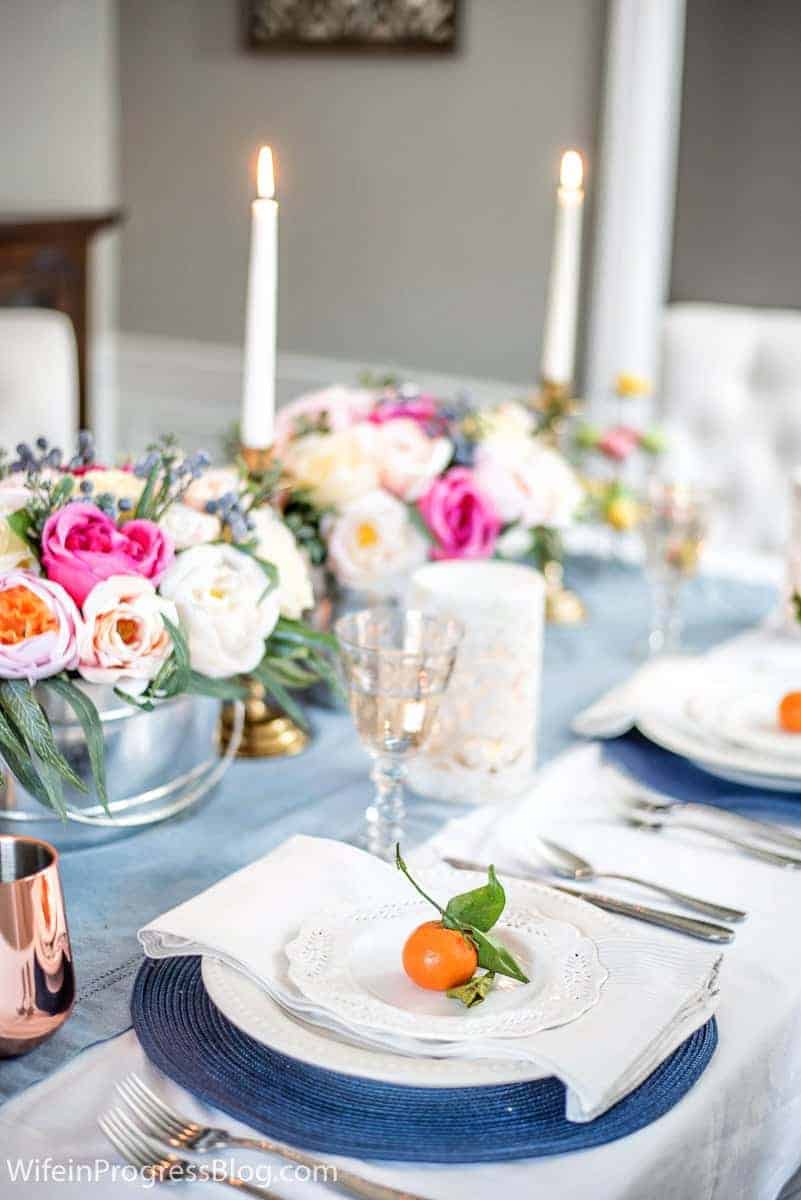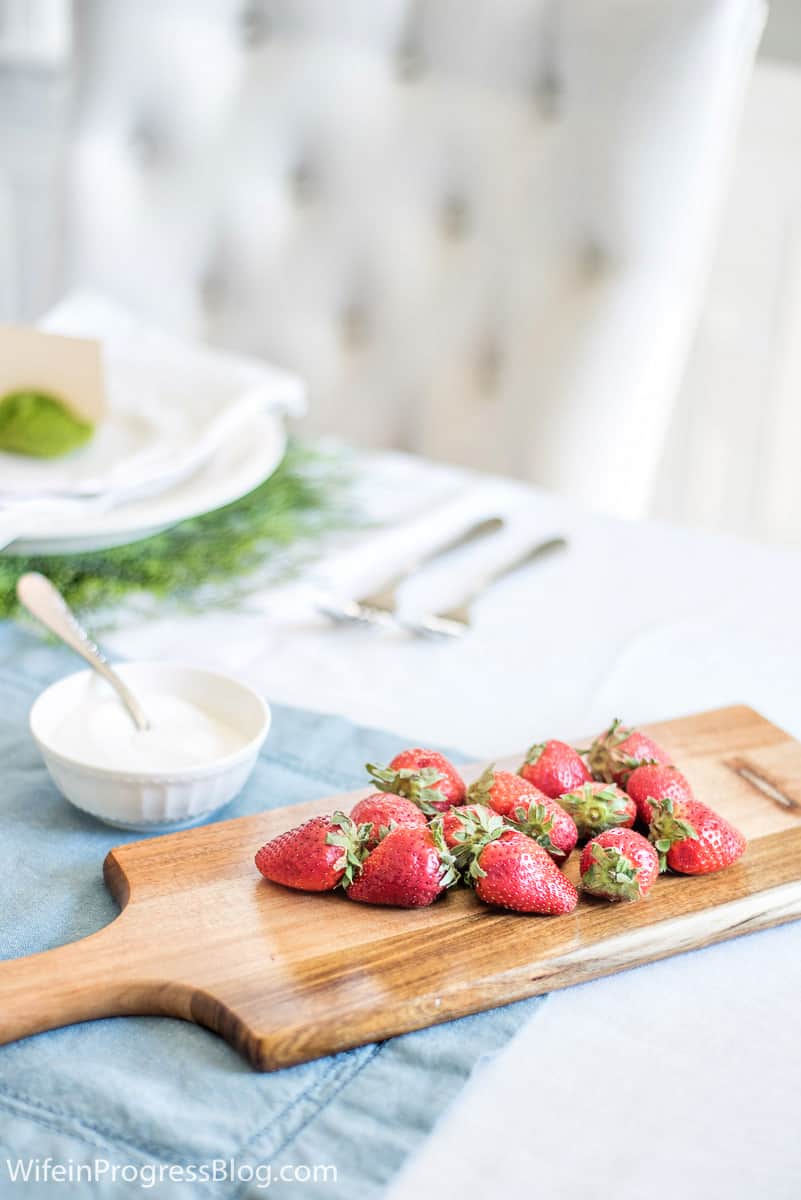 6. Make Each Place Setting Special
I like to add a little something special to each place setting when I'm hosting a holiday or party. Whether it's a place card, a unique napkin ring, piece of fruit (like the oranges above). If it's just for looks, my faux artichokes or faux moss rocks add a nice pop of color on each plate.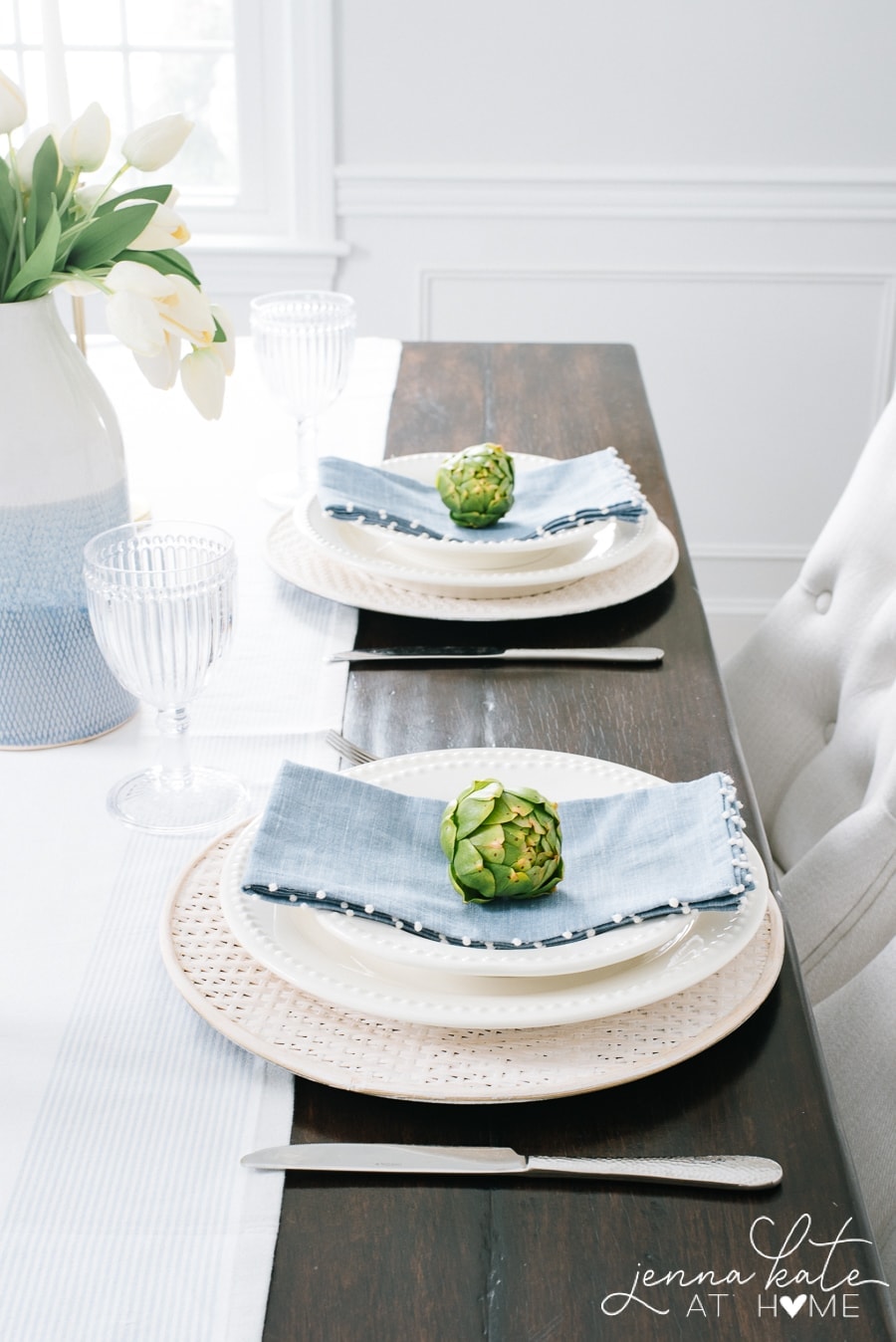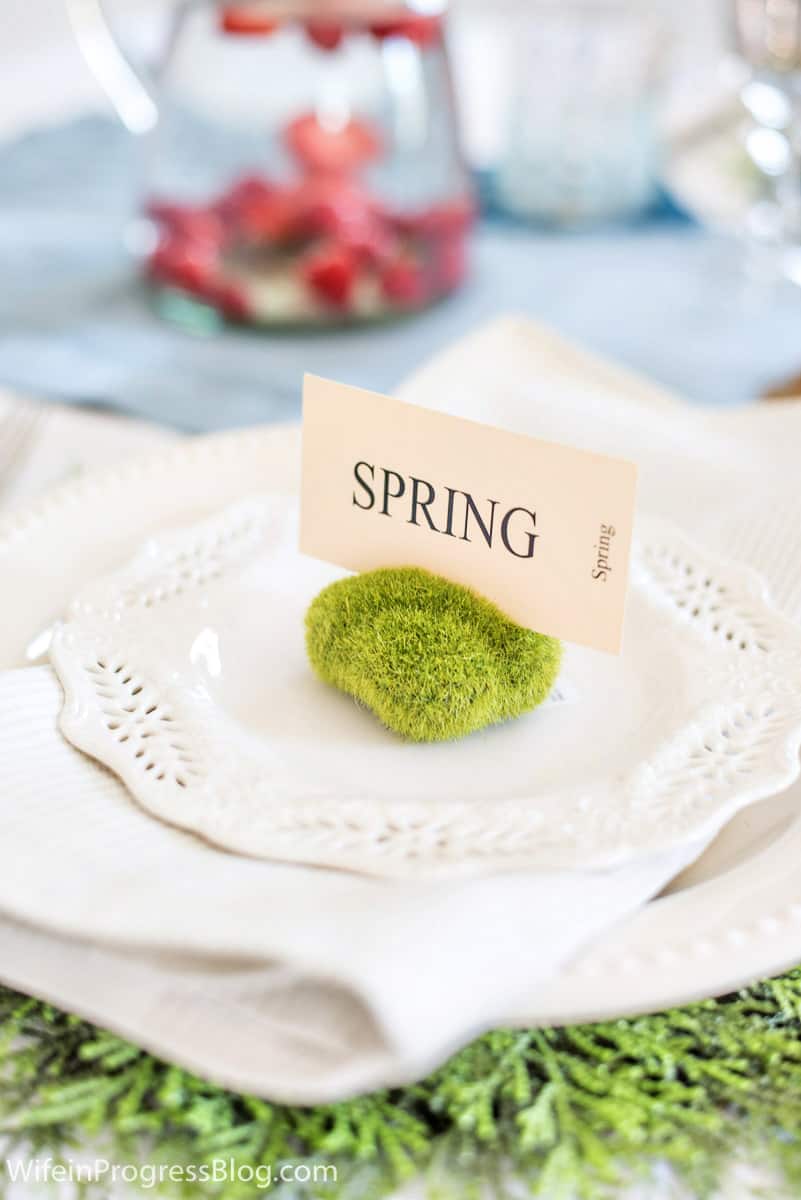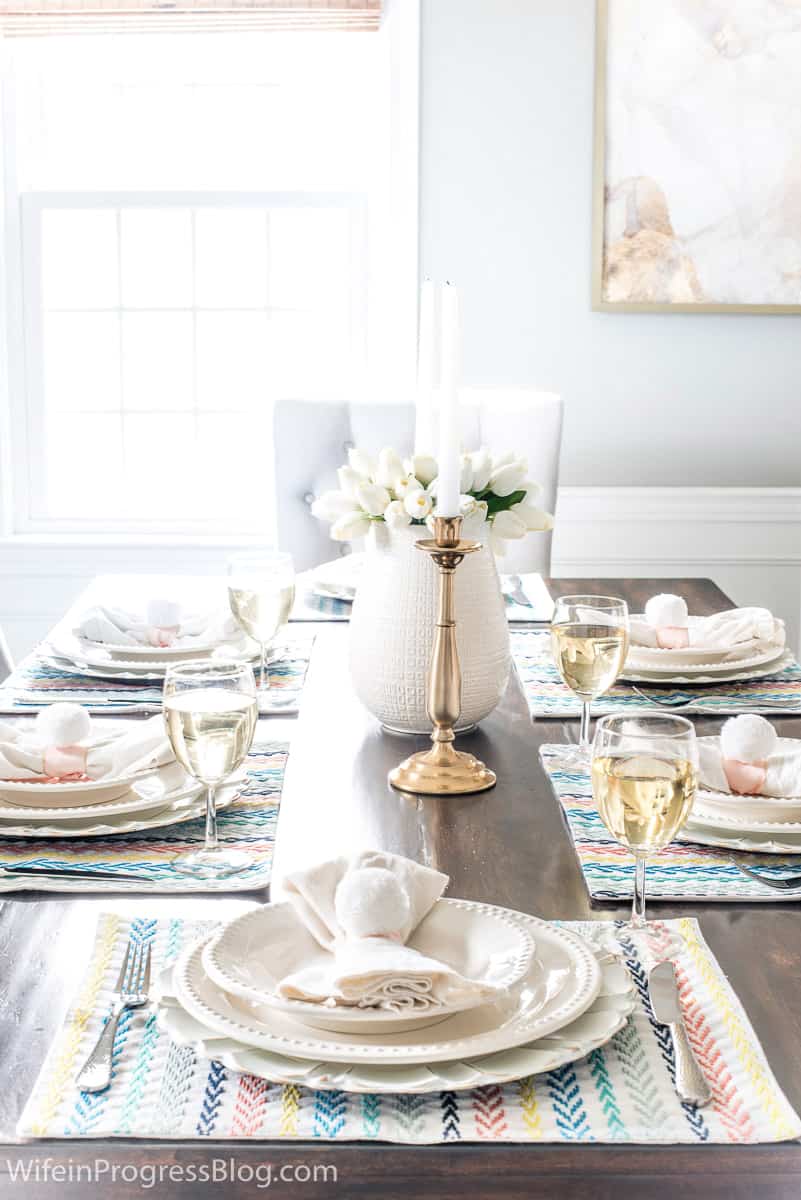 These Easter bunny nail napkin rings were quickly made by hot gluing a pom pom to a piece of ribbon. Simple but effective, right?
7. Bring In Natural and Organic Elements
Natural elements are always the finishing touch. In this example, rattan chargers and the silverware with wood handles help to bring a sense of the outdoors in. A cheeseboard, wooden tray, wooden pillar candle holders or even a wooden serving bowl or dough bowl would work equally well.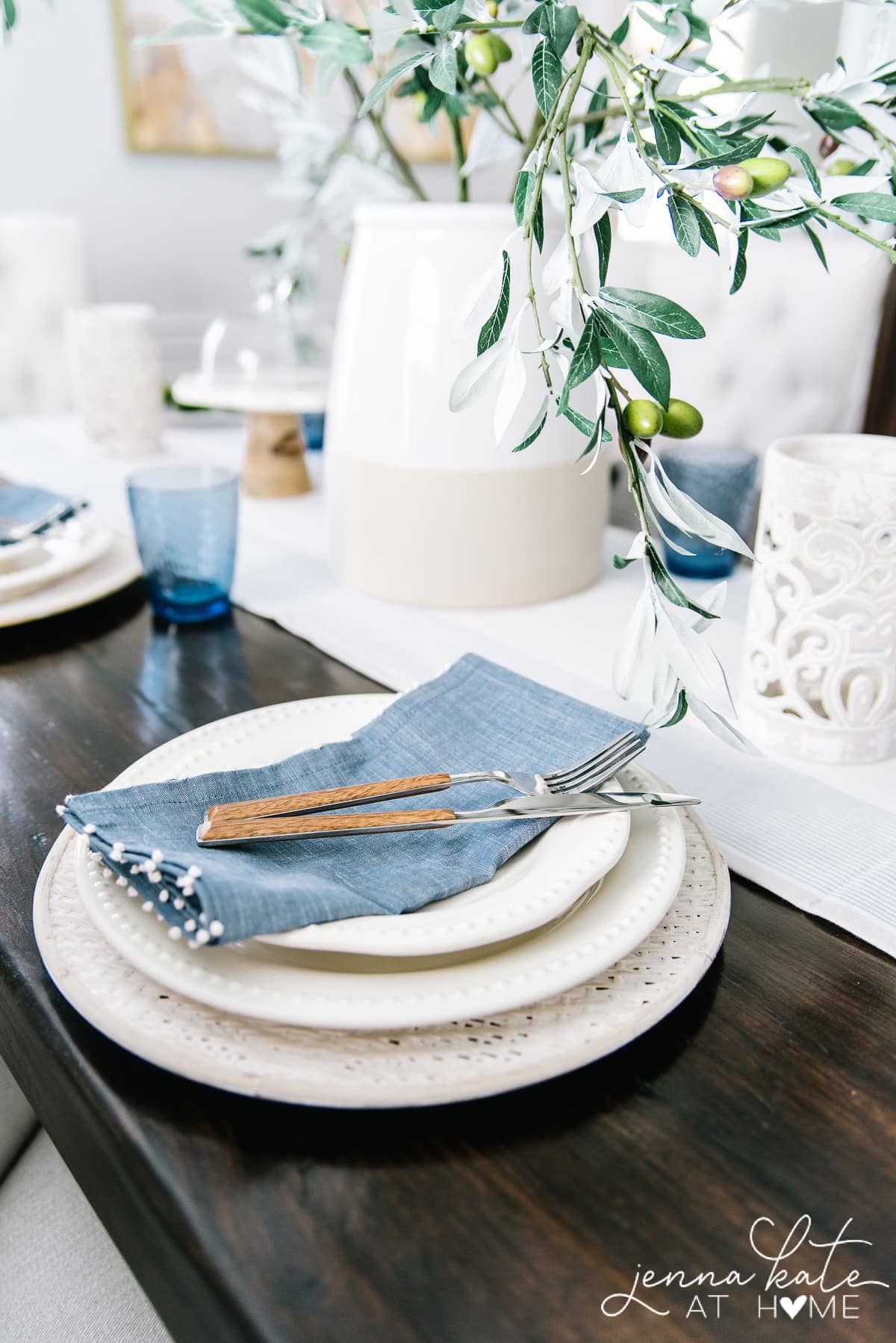 Other Thoughts
If you feel like you can't get that light and bright vibe that you're after (and this may seem drastic) painting the walls can be such a great way to refresh a space. Since I painted the dining room Paper White (Benjamin Moore) a few months back, I've fallen in love with this room again. It's feels so light, bright and airy! I wanted to keep that same vibe with my tablescape, albeit obviously with a nod to the season.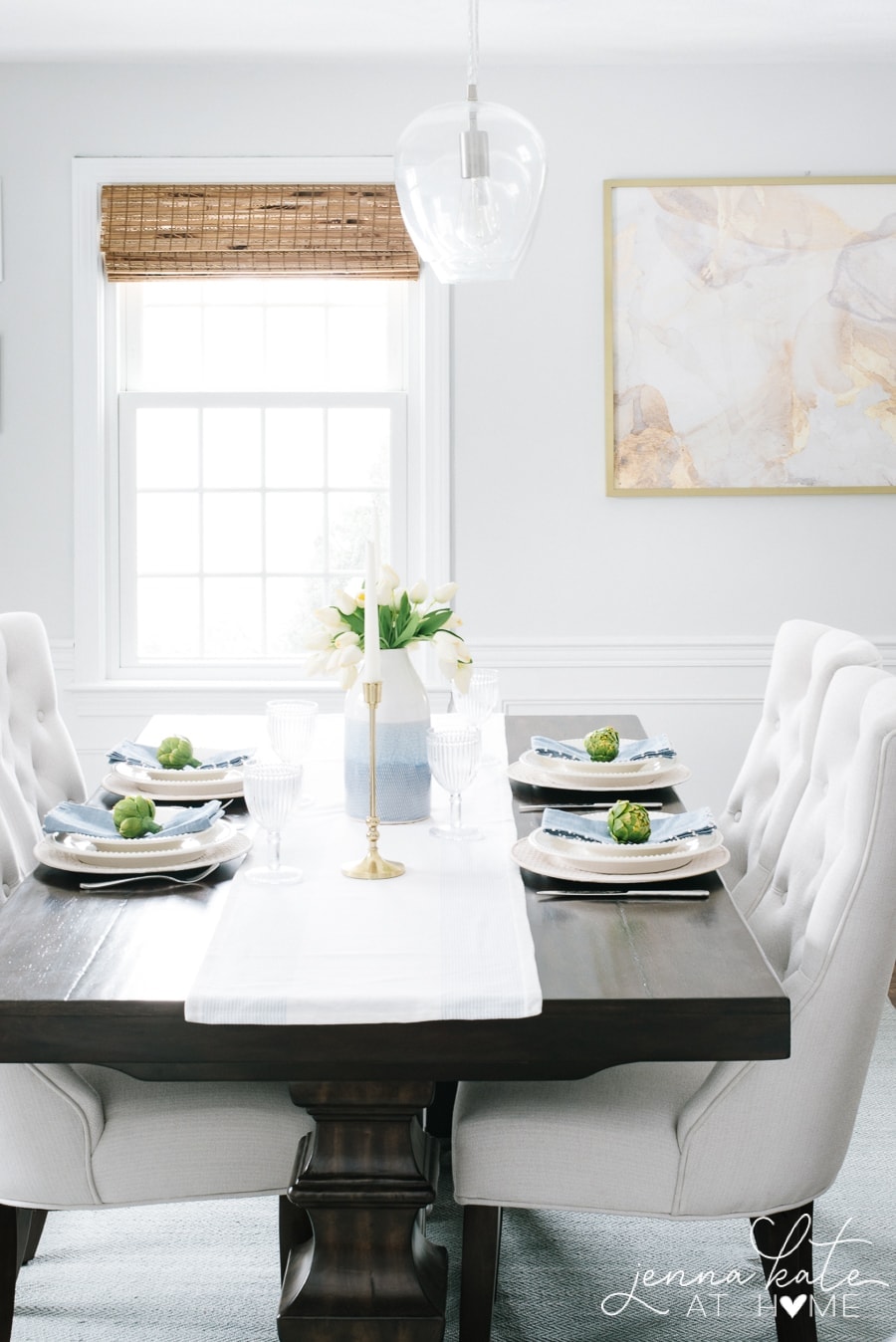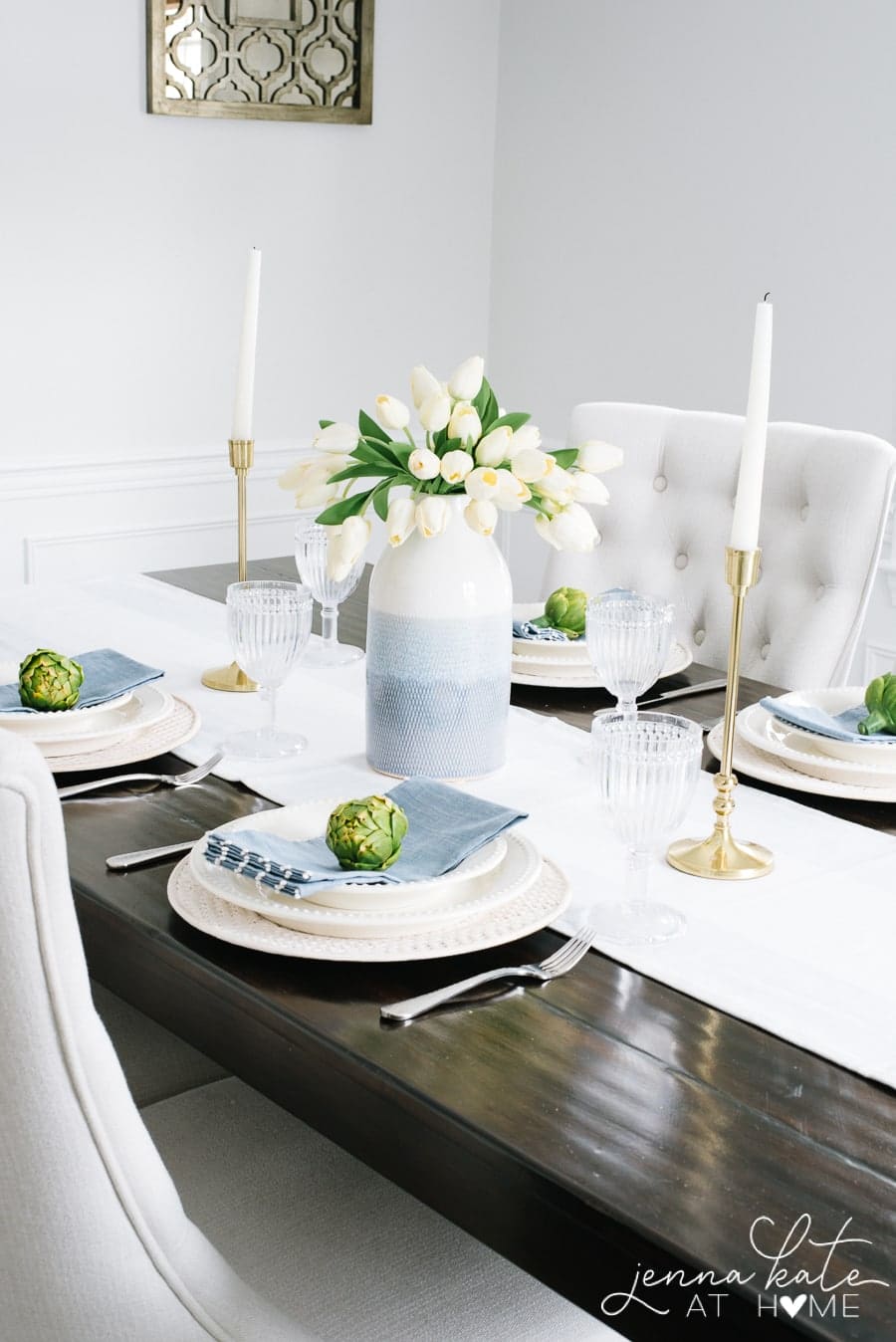 Do you feel ready to tackle your own spring table setting this season? Keep it light, bright and fuss-free and you can't go wrong!
Looking For More Simple Spring Decorating Ideas?