The best paint colors for walls that will compliment your new or existing dark hardwood floors.
While light oak flooring is on trend right now, dark or medium stained hardwood floors are classic, and have a traditional vibe that's equally appealing in its own right.
Assuming that you have a hardwoods with a neutral brown stain like Provincial or Dark Walnut, choosing a wall color won't be all that difficult.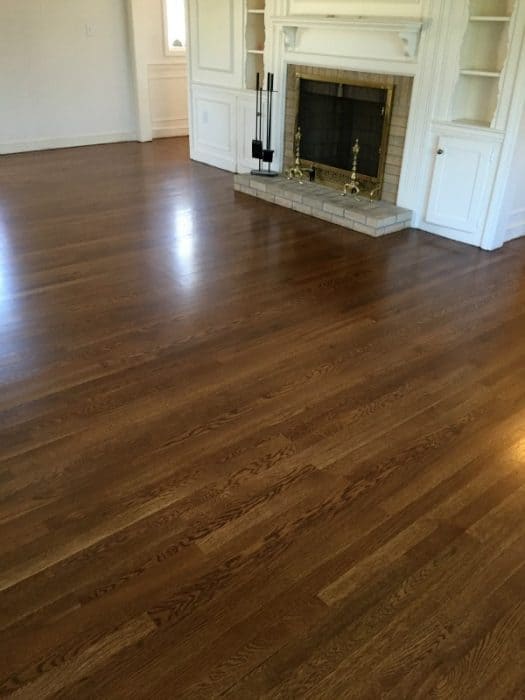 Of course, if you have hardwoods stained with a more red or orange tinted stain, they can look more outdated and you have to be a lot more careful and considerate when choosing the right paint colors for your walls, so as not to accentuate those tones.
For any room, it's important to first assess the spaces around it, the furniture and fixtures that have to stay, and also the mood or feeling you want to create in the room.
If you haven't previously read it, my post on how to choose a color scheme for your whole house has some good advice on selecting paint colors that work in your home as a whole.
Lighter colors, particularly in shades of blue, create a calming effect. Whereas darker colors add drama and intrigue. Brighter colors like yellows feel warm and happy.
Don't Overthink The Color of Your Wood Floors
While your floors do play a large part in your overall interior design, they are not nearly as important in terms of the overall look as wall colors are.
Since walls are directly in front of you, and always in your line of sight, any "off" color will stick out like a sore thumb.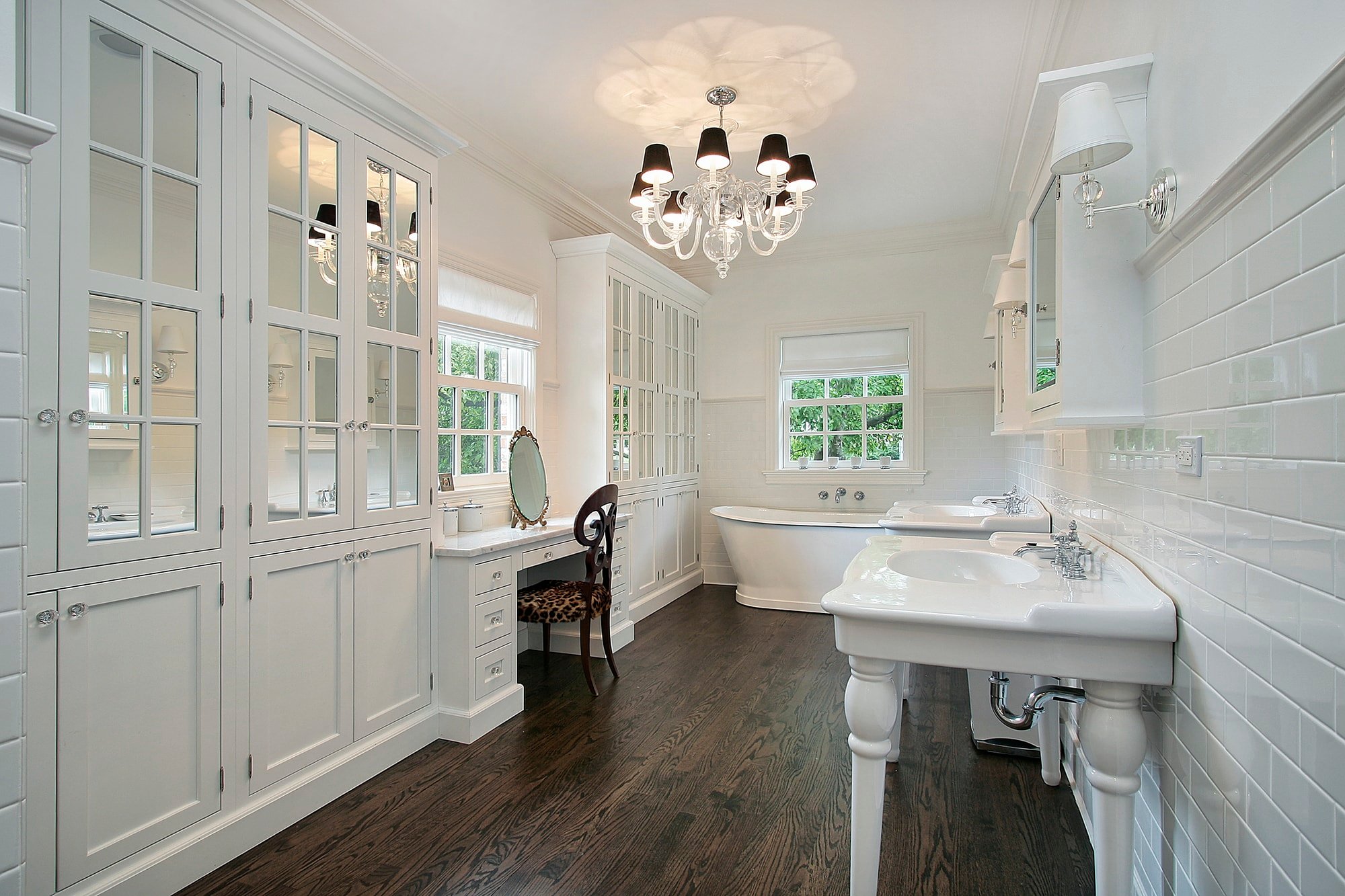 Since floors are on the horizontal plain (i.e. on the floor), your eye is not directly drawn to them, since we usually don't walk around with our heads hanging down.
Hardwoods are also usually softened with area rugs so in most rooms, there won't just be a mass expanse brown.
Light Walls or Dark Walls With Hardwood Floors? That is The Question!
I love contrast. Dark hardwood floors and lighter walls offer a beautiful contrast. I'm not saying your walls need to be white, but you don't want them to be as dark as your floors (unless it's an accent wall).
If you prefer darker colors, I highly suggest using a crisp white trim color to add contrast and a differentiating color between the walls and wood floors.
Choosing Cool vs Warm Wall Colors
A good rule of thumb to remember is that you should choose a paint color with undertones that matches or compliment your floors.
If you have the right undertone, it doesn't matter or how or dark the shade is – that factors more into what mood you want to create in your room, whether your want it to feel bigger or if you mind it feel smaller (but perhaps cozier!).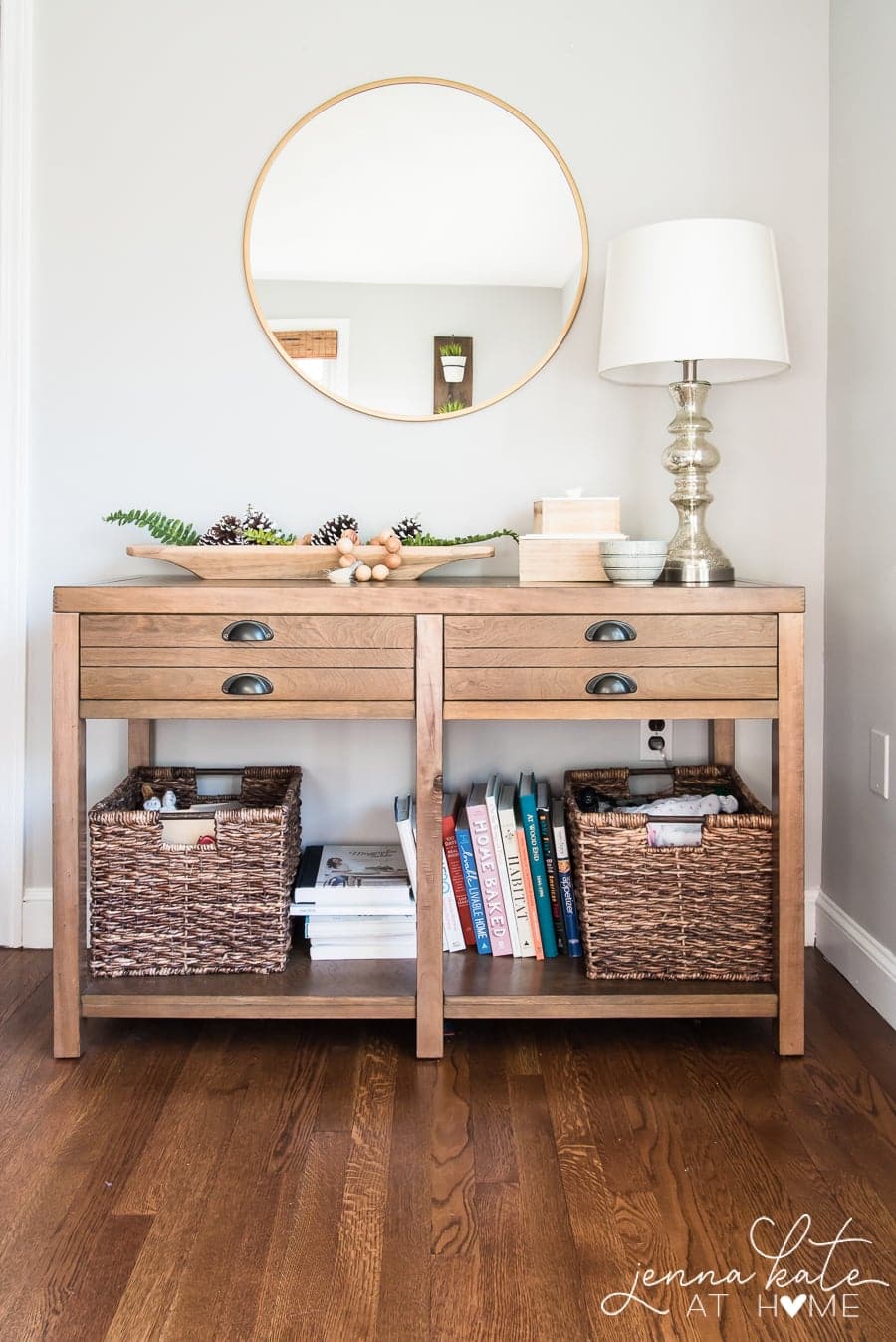 Complementary colors are those that are opposite each other on the color wheel. If your hardwood floors have a cool grayish undertone, or a warm orange undertone, blue would be a good choice.
Blue is a cool color so it works with gray, but it's opposite orange on the color wheel so it works as a complimentary color.
If your wood floors are a warm brown, then warmer wall colors will match nicely. However, you can also up the contrast by pairing them with a cooler wall color, which will in turn help decrease some of the warmth in the floors.
With that being said, you really don't need to overthink wall colors this as long as your floors are not glaringly orange or red toned.
Most dark hardwoods are quite neutral and will work with a variety of paint colors, particularly when there's white trim to bridge the gap between floors and walls.
Popular Gray and Greige Paint Colors for Dark Wood Floors
Taking floors out of the equation, choosing a gray paint color can be tricky because of the myriad of possible undertones. For this reason, I almost always suggest a greige paint color.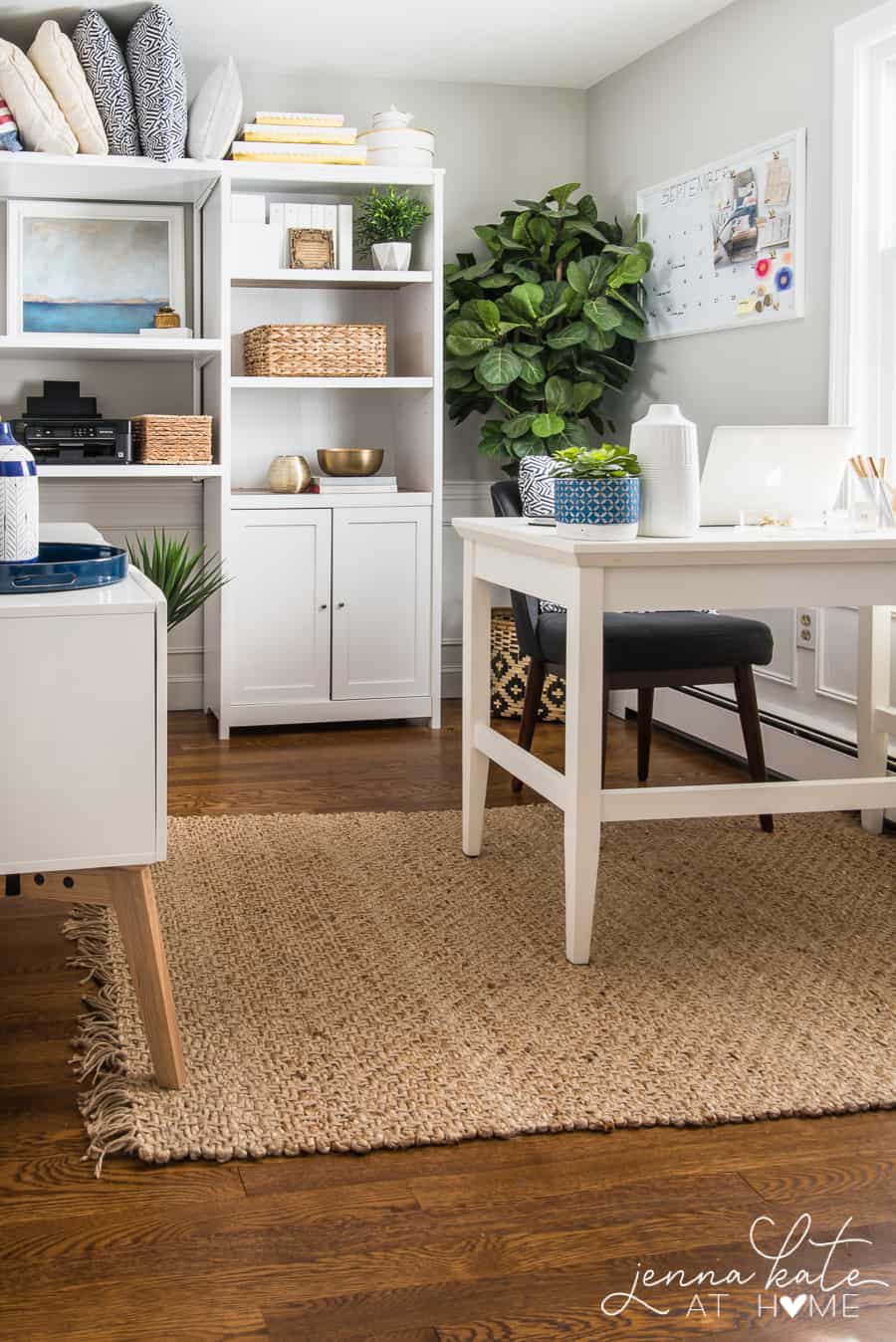 These colors are grays mixed with beige, but they mostly err on the gray side with just enough warmth that they will work almost anywhere.
My two personal favorites are Sherwin Williams Repose Gray and Sherwin William Agreeable Gray, but Benjamin Moore Revere Pewter has been a popular choice in the past, too.
Other Colors Like Blues and Greens
While gray and greige paint colors continue to be the most popular, blue is a close second, especially in bedrooms and bathrooms. I love blue-gray paint colors, (again the gray!) because they are fresh and modern, without being "childish" or "babyish".
Similarly, green-gray paint colors are really fresh and can add a wonderful sense of warmth to your room.
Darker, more dramatic green paint colors have been growing in popularity recently and can really look quite stunning with paired with medium to dark toned wood floors.
Add an Area Rug
I mentioned this previously, but I think it warrants mentioning again. If you're dealing with a large space with a whole lot of dark wood floors, don't be afraid to lighten things up with an area rug or runner.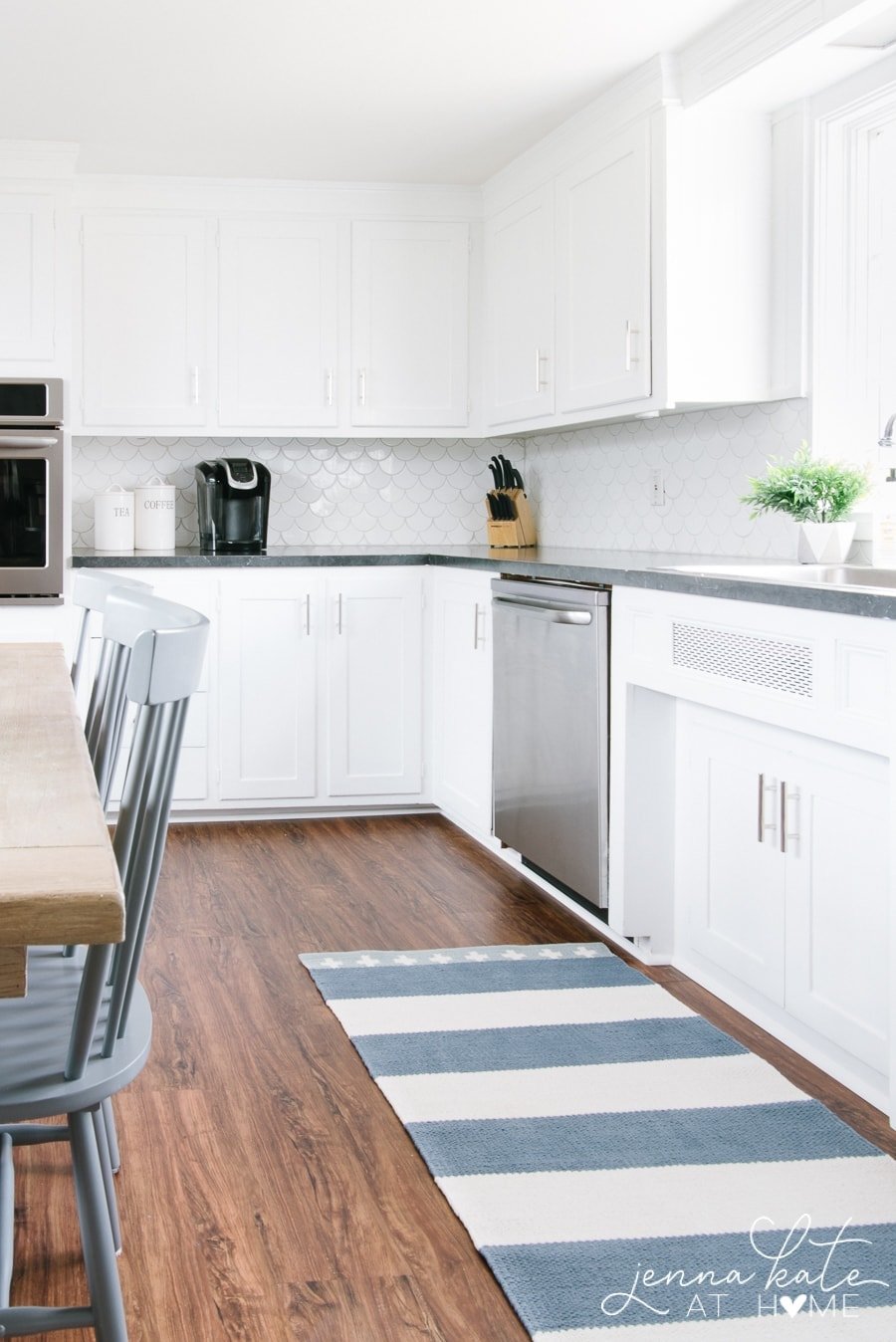 The rug will create a visual break from all the dark flooring, and help create a brighter room. It will also help your furniture stand alone and not blend into the wood tones of the flooring.
Final Thoughts
I hope you found my tips helpful! As with selecting any paint color, always be sure to narrow it down to a few you love and then test them in your home!
Curious as to what paint colors are best for light wood floors? The same color theory applies!
Don't Forget To Always Use Real Paint Samples!
Don't forget – no matter what you've read or photos you've seen online, it's really important to sample paint colors in your home before committing!
Samplize provides real paint samples that are easy to move around your home, and cheaper than buying a gazillion paint pots! It's the only way I buy paint samples.
Use code JENNAK10 at checkout and get 10% off your order
Coupon entitles all customers to 10% off the entire order with no minimum purchase requirement. This is a one-time use coupon and it cannot be combined with other discounts.