With Mother's Day less than two weeks away, today I have the opportunity to share a pretty Mother's Day Luncheon tablescape with you.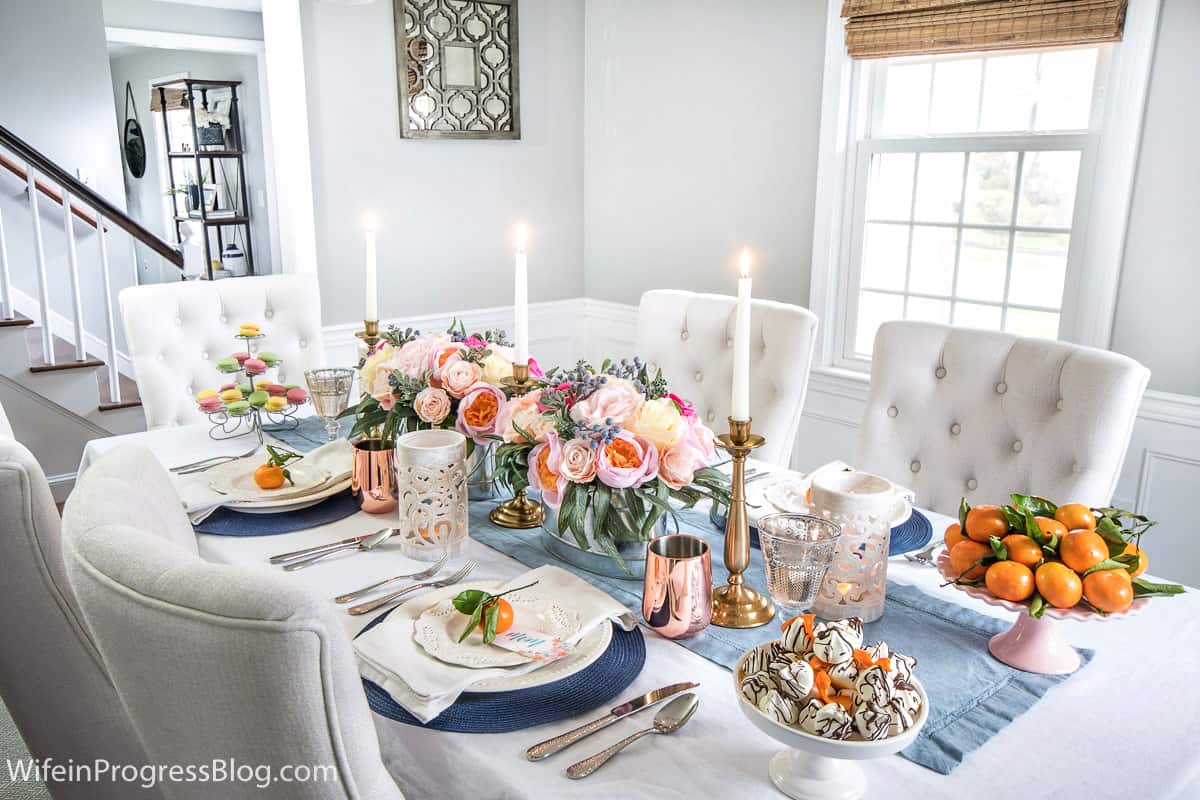 I love having the opportunity through this blog to share inspiration like this with you, but unfortunately this is one tablescape that won't get put to use in my home. My mama lives across the ocean in Ireland so I won't get to be with her this Mother's Day but she will be here in June to celebrate Conor's Christening.
Of course, I'm a mother too—to four amazing little boys. My husband is the most loving and supportive man I know (alongside my Dad, of course!), and I know he will plan something special for me. Usually, it's a spa day or something similar that allows me to get out of the house and have some "me" time, which is always very much appreciated!
Whether you're celebrating or remembering your own mom or being celebrated yourself, I think this pretty table setting will be one you'll love.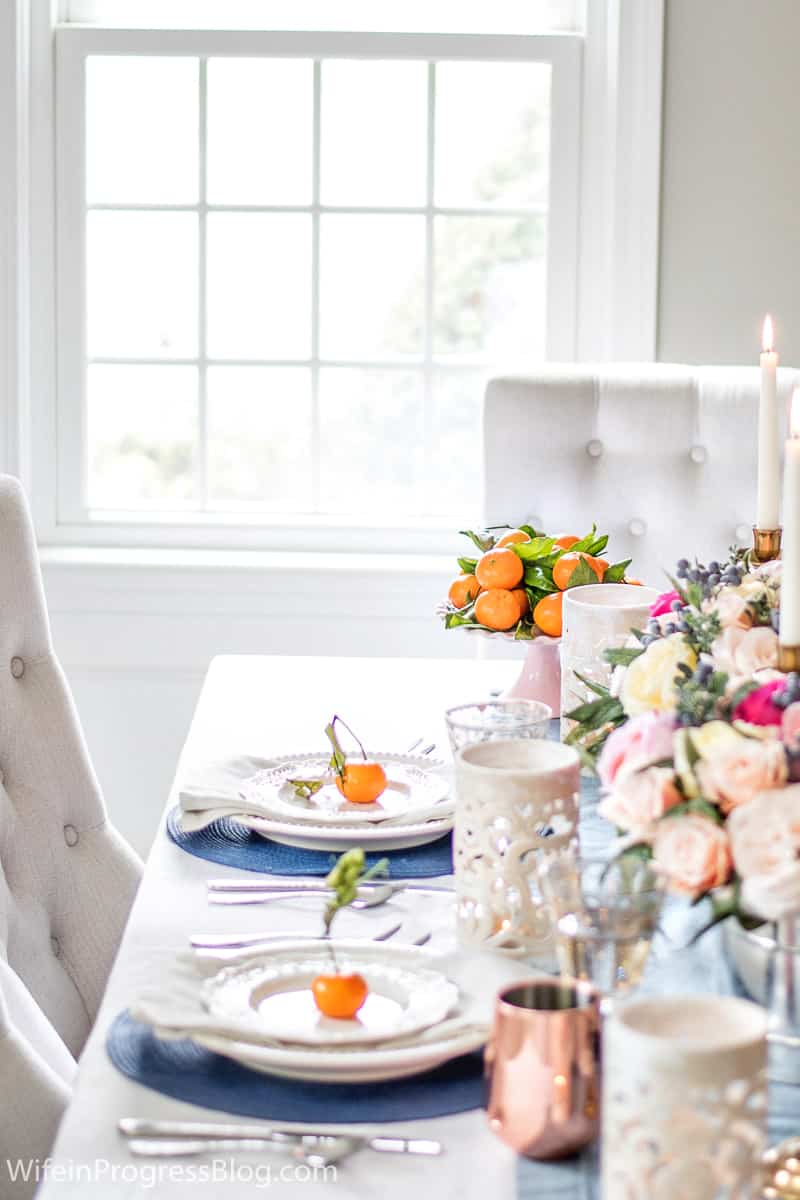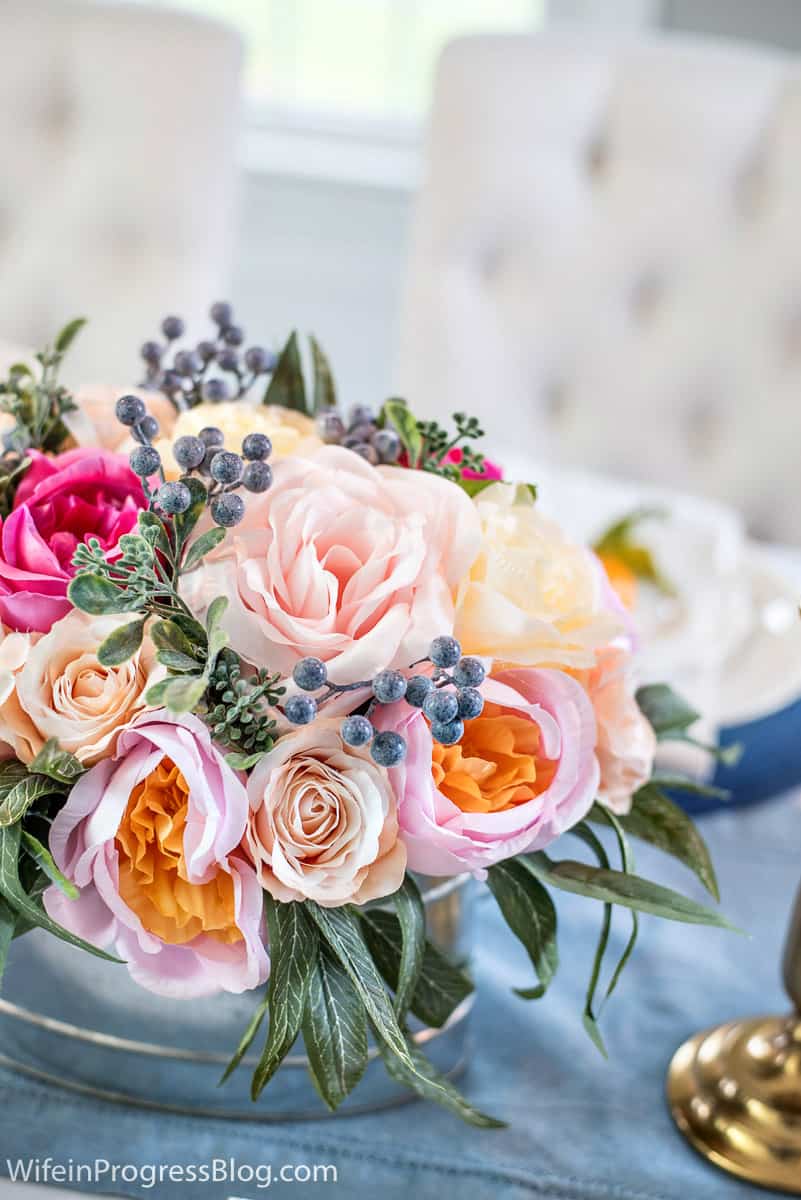 Spring Color Palette
The beginning of my vision started with two of these pretty faux floral arrangements alongside my favorite tapered candlestick holders.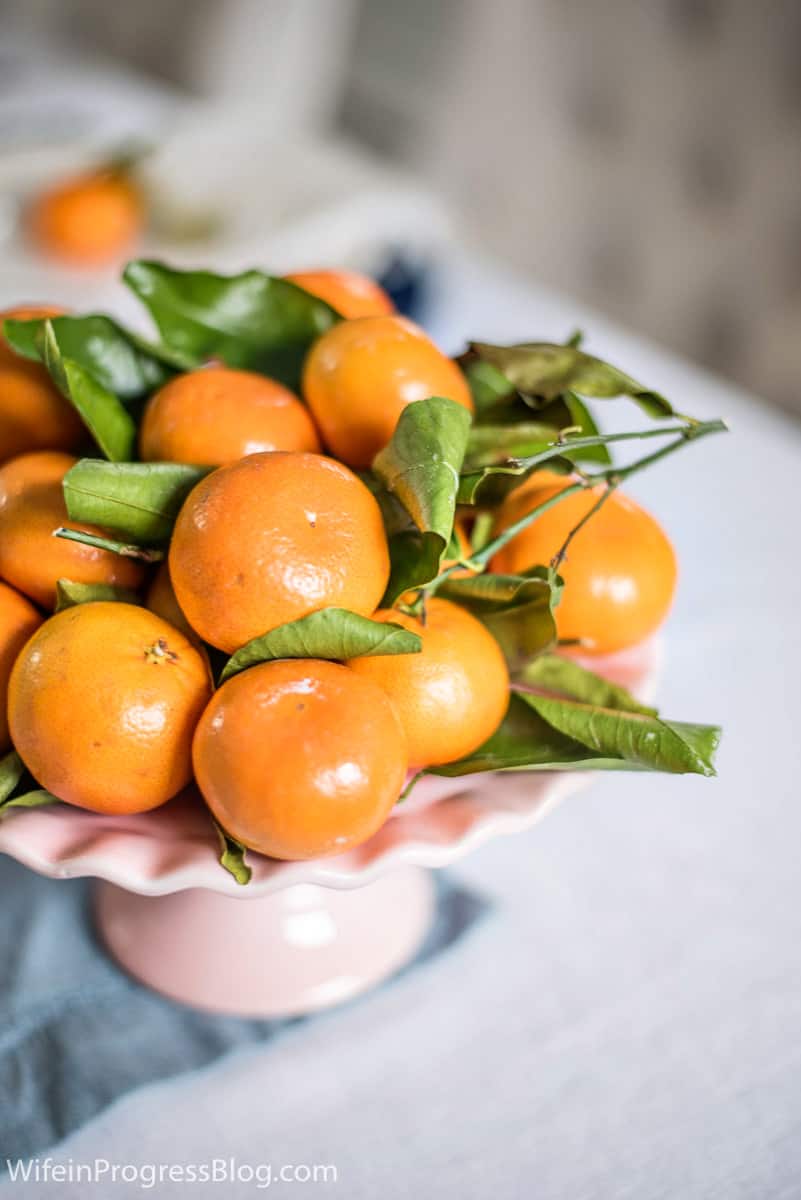 Instead of going for the obvious and using pink as the primary color for this arrangement, I instead chose to focus on the small bits of vibrant orange in the arrangements.
Remember, you don't always have to go with the most obvious color scheme for your Mother's Day brunch table deco; thinkk out side the box a little to make it your own! Or choose your mom's favorite colors to make it extra special.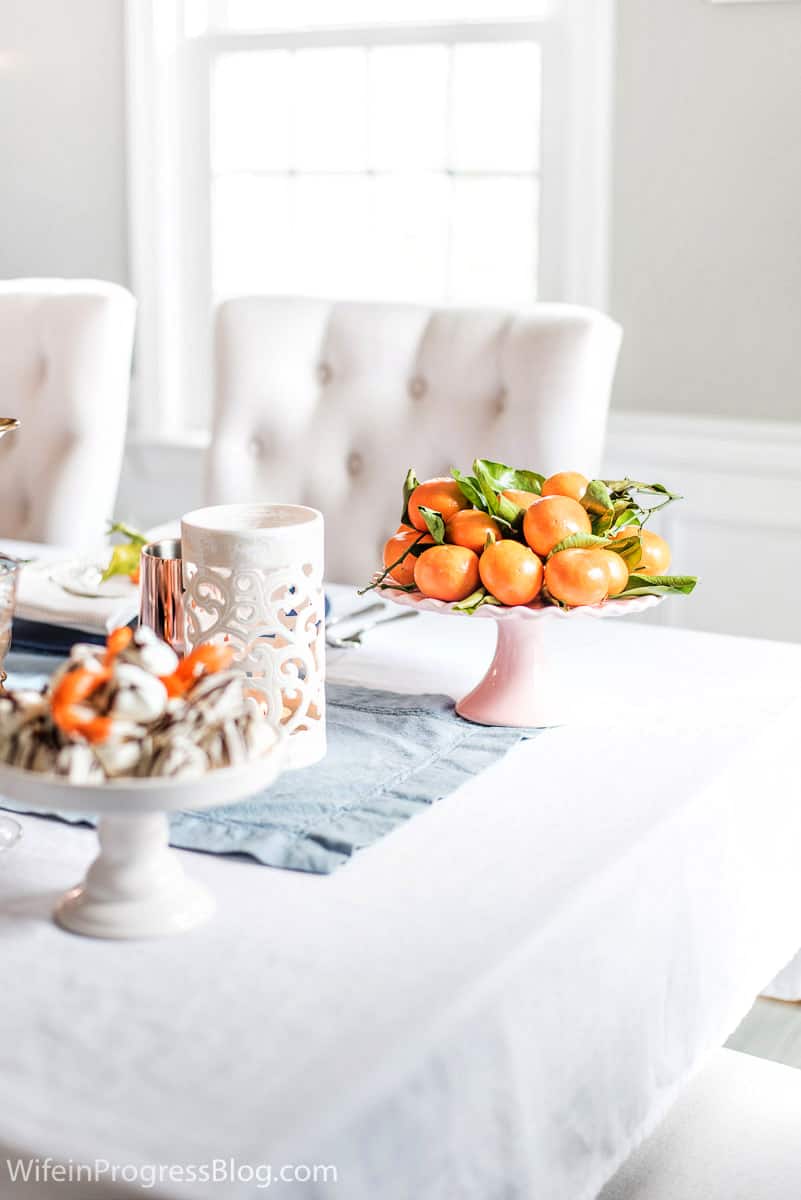 When I came across these stemmed mandarins in the grocery store, I knew they would be the perfect (inexpensive!) accent. Using fresh fruit and flower arrangements helps create a simple centerpiece.
You may even be able to pull some things from your kitchen and garden at no additional cost!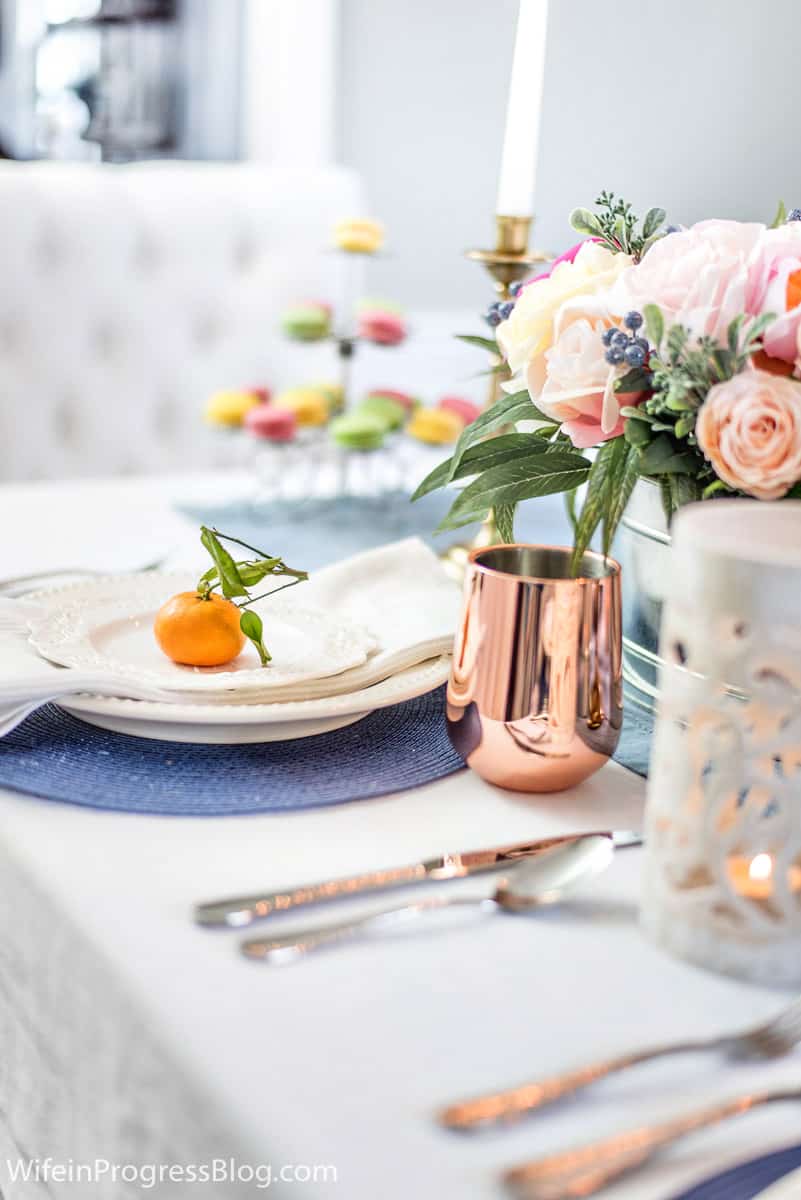 I also layered in the Mediterranean Scroll Garden Hurricanes and my new double-walled copper tumblers for another bit of color contrast.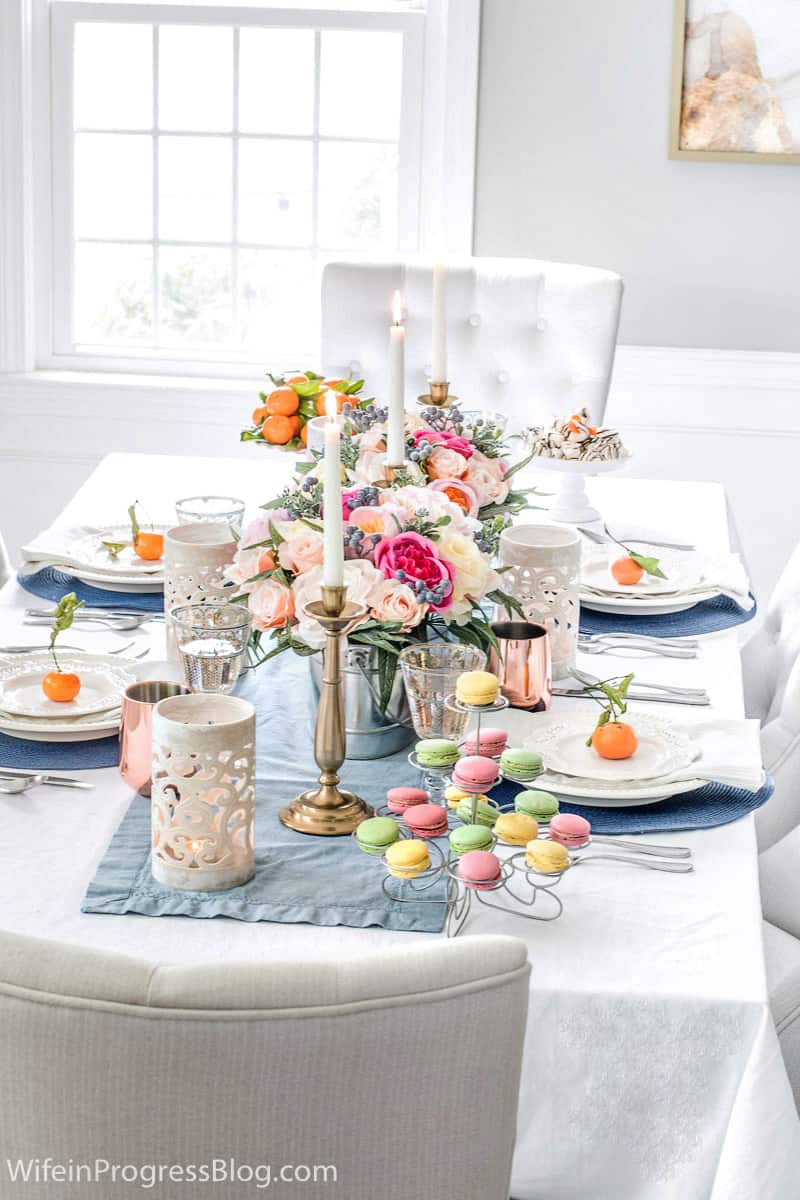 Decadent Food
I was originally thinking of doing a brunch for this post but then I made these semi-homemade chocolate orange meringues and THEN added some colorful macarons…and realized the sugar content was probably a bit much for a brunch. But if we call it a luncheon, it's a little bit more acceptable, right?!
I love the added orange zest which plays perfectly off of the oranges sitting on the table.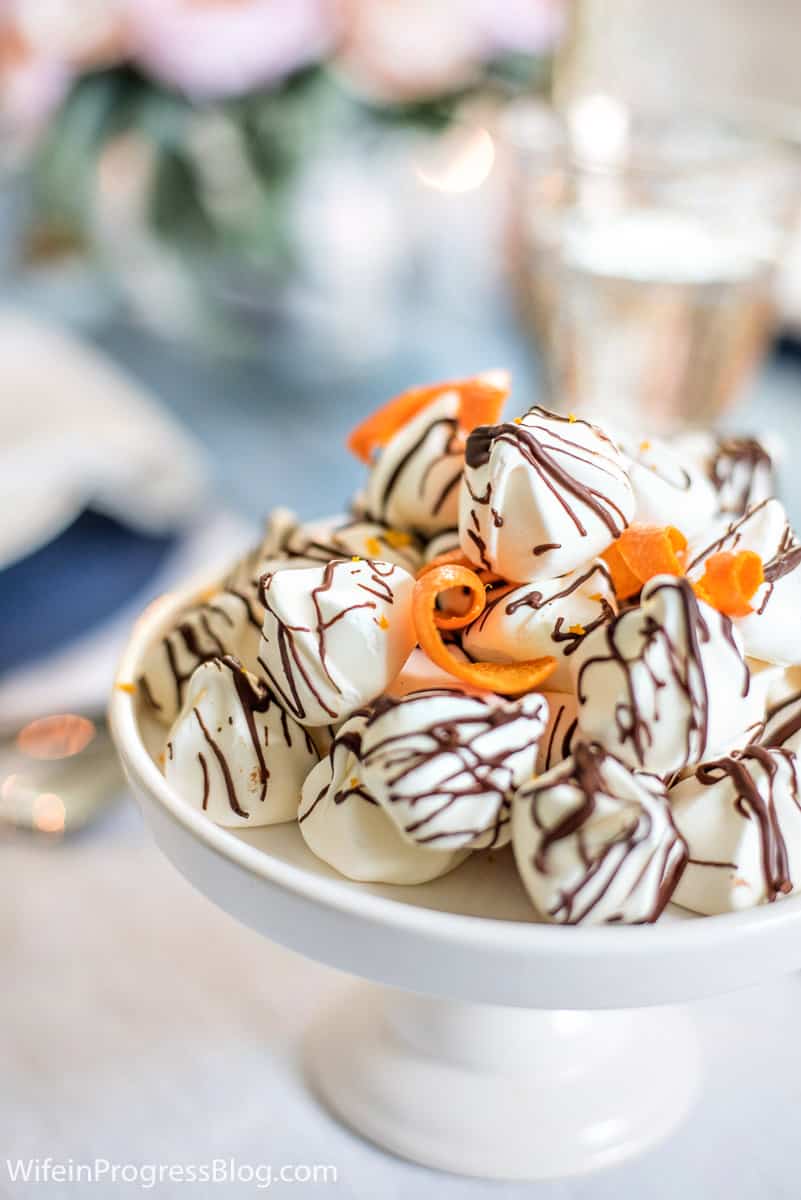 I know what you're thinking. What are semi-homemade meringues? Well, they're simply store-bought meringues drizzled with melted chocolate and then sprinkled with some orange zest. I dare you only to eat one of these and have the will power to stop at that. I'm not ashamed to say that I ate the majority of the props after these photos were taken :-)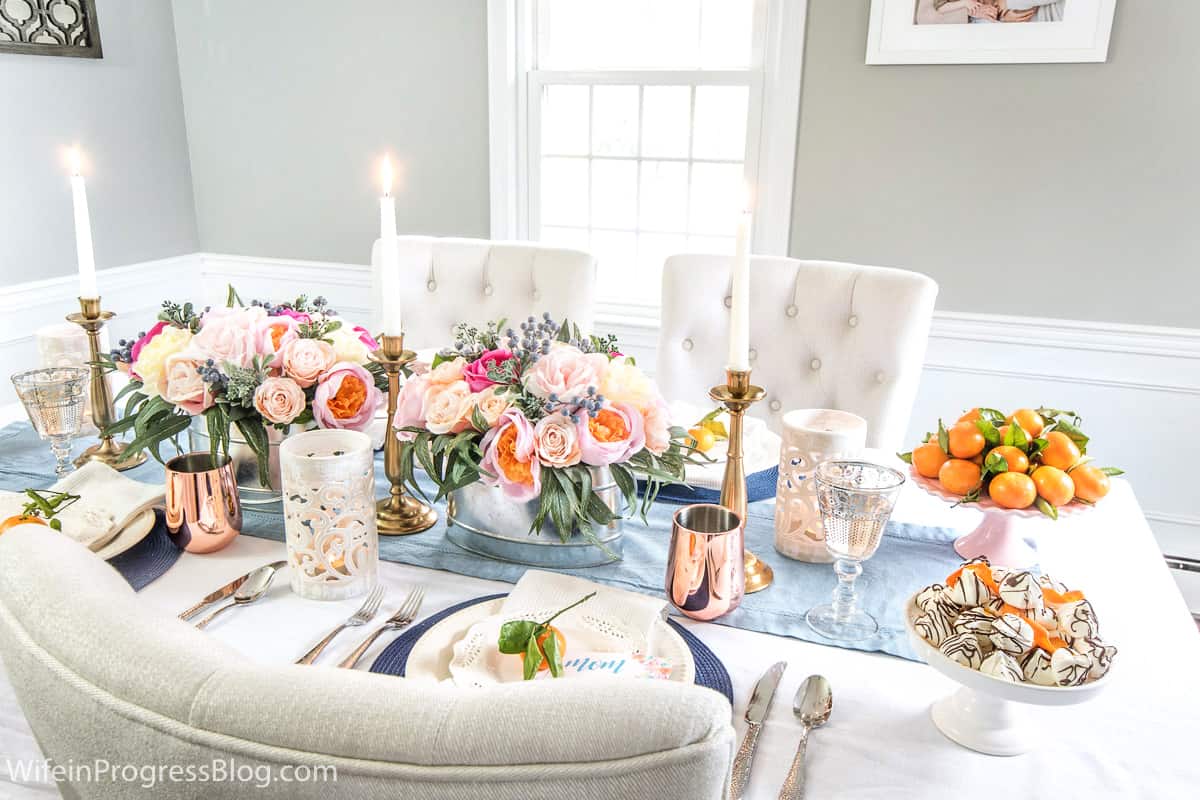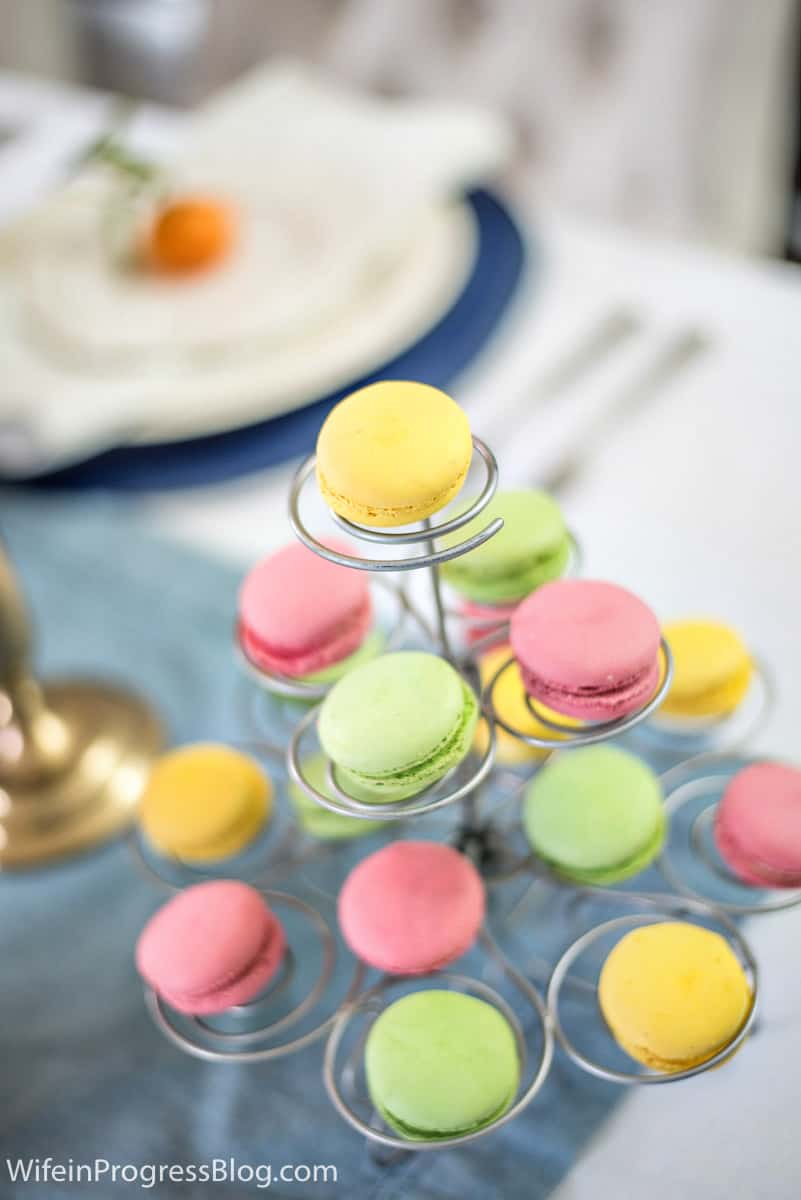 More Mother's Day Recipes
Whether you're having a brunch, luncheon, or even a girls tea party to celebrate this special occasion, these recipes are a great way to add a special touch to your Mother's Day tablescape. Just like those macaroons and meringues, the food on the table can also become part of the table decorations.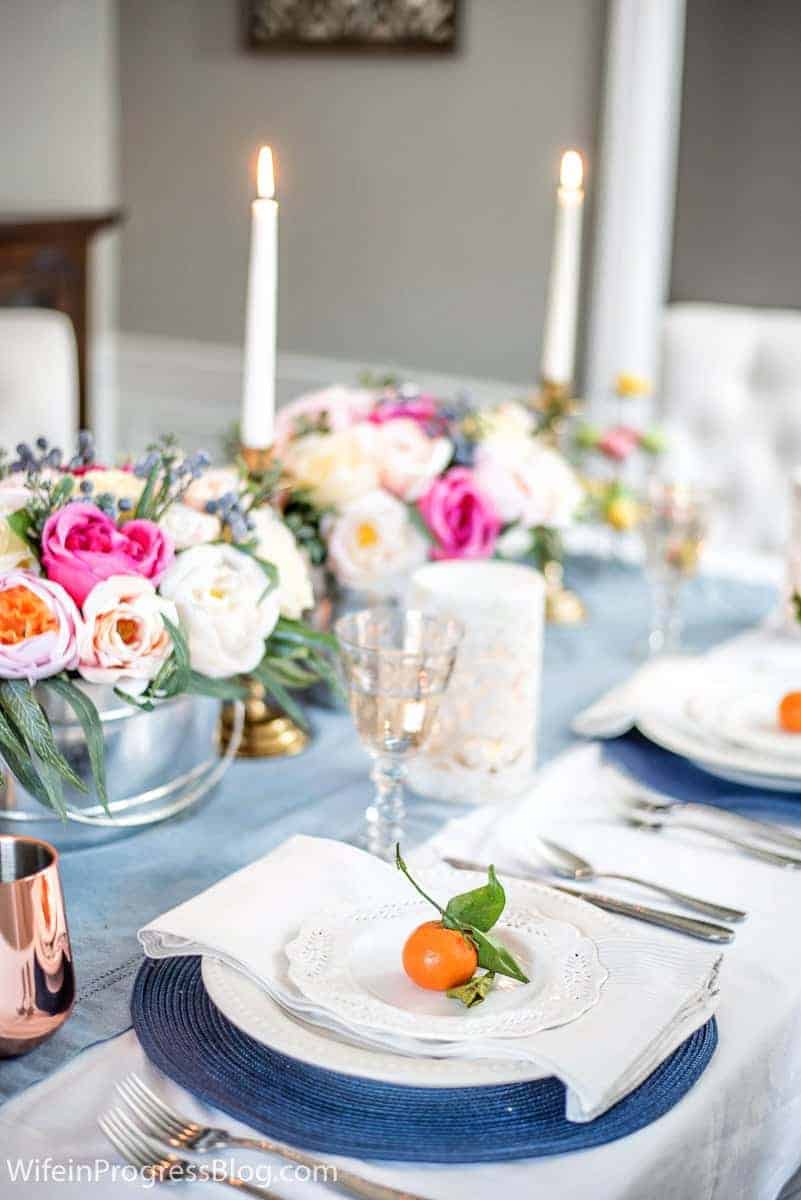 Place Settings
I love the blue and orange together. Complementary colors on the color wheel will always work for you if you're stuck trying to come up with a color combo!
With such bright colors in the flowers and oranges, I decided to keep the rest of the table a neutral as possible to not clash. I opted for a white tablecloth as the perfect backdrop, and then started layering on a chambray blue table runner, darker blue placemats, and then these white plates with a delicate detail around the edges.
The intricate cutout designs on the candles along with the details on the plates, could create the perfect opportunity for a vintage tablescape when paired with the right florals and color scheme!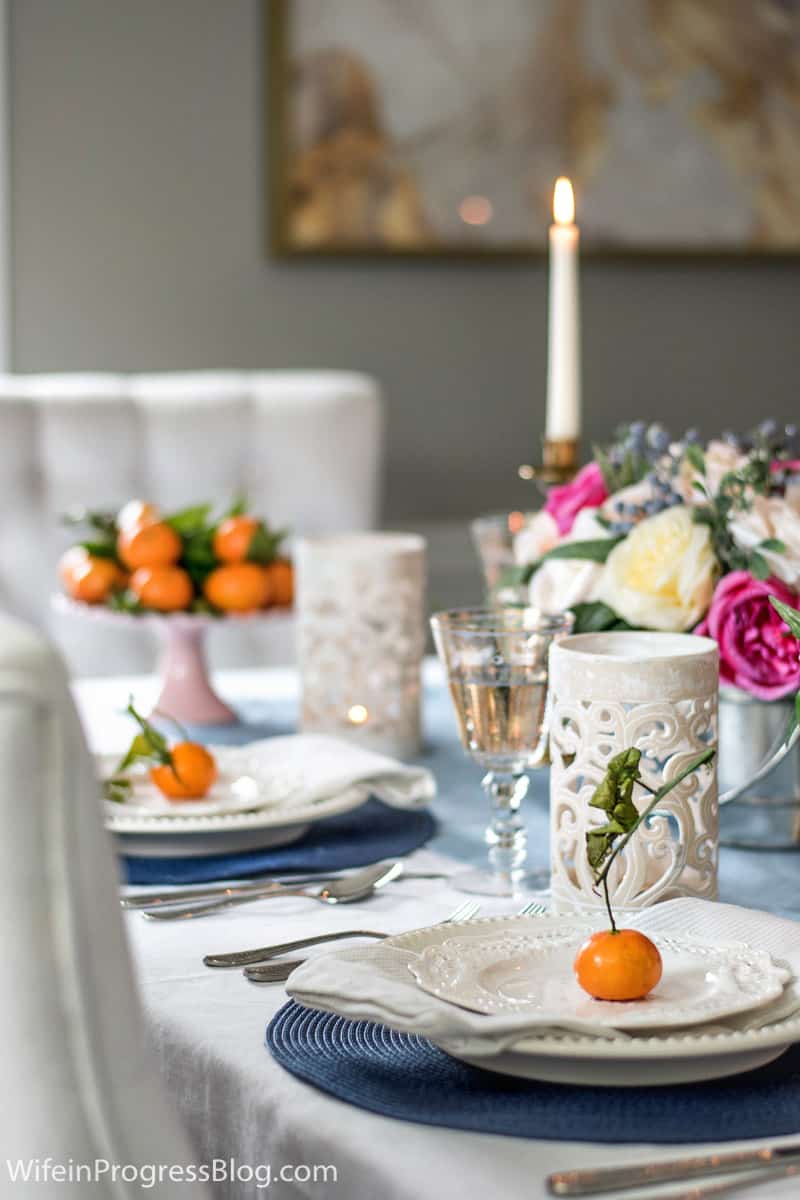 I finished off this beautiful table setting by placing one small orange and a custom place card at each seat. It's a fun way to to add a little extra love to your Mother's Day celebration. These little touches will go a long way for your special day.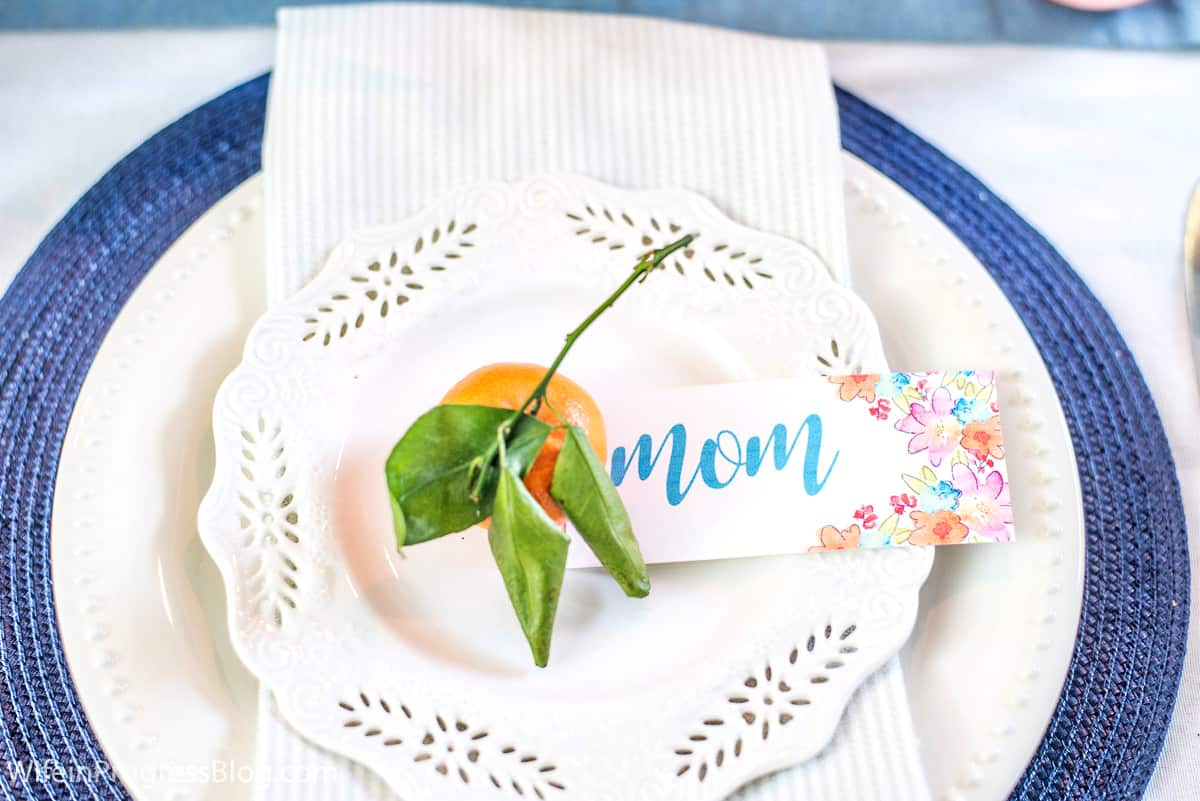 By the way, you can download this "Mom" place card setting HERE or the blank version HERE. For the blank one, just insert into MS Word or Powerpoint, add some text over it and print.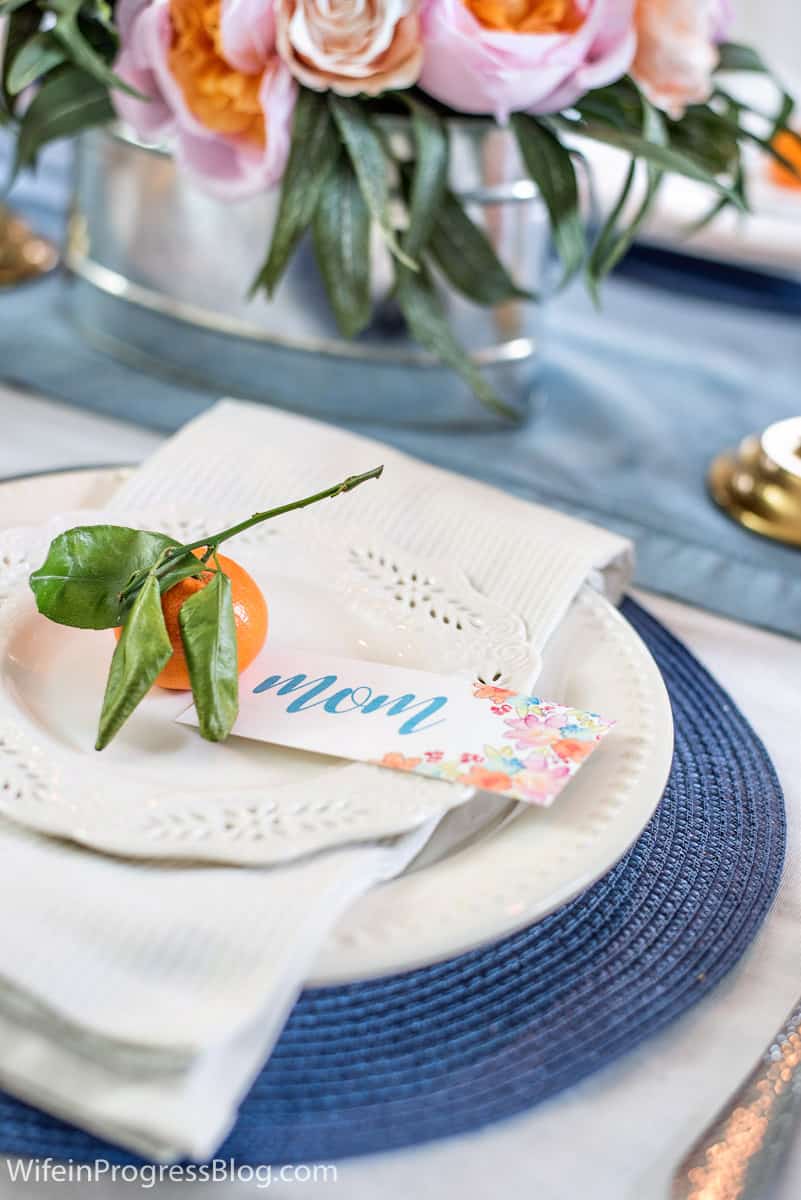 Whatever your plans are this Mother's Day, I hope you'll take the time to celebrate and remember all the amazing mothers out there. It can be a thankless and exhausting job at times, but I certainly wouldn't trade it for the world!