This post may contain affiliate links | For further details, please read our privacy policy
A fresh and elegant take on the traditional red and green Christmas tree is on tap for this look! These great ideas will hopefully inspire you as you decorate your living room for the holiday season.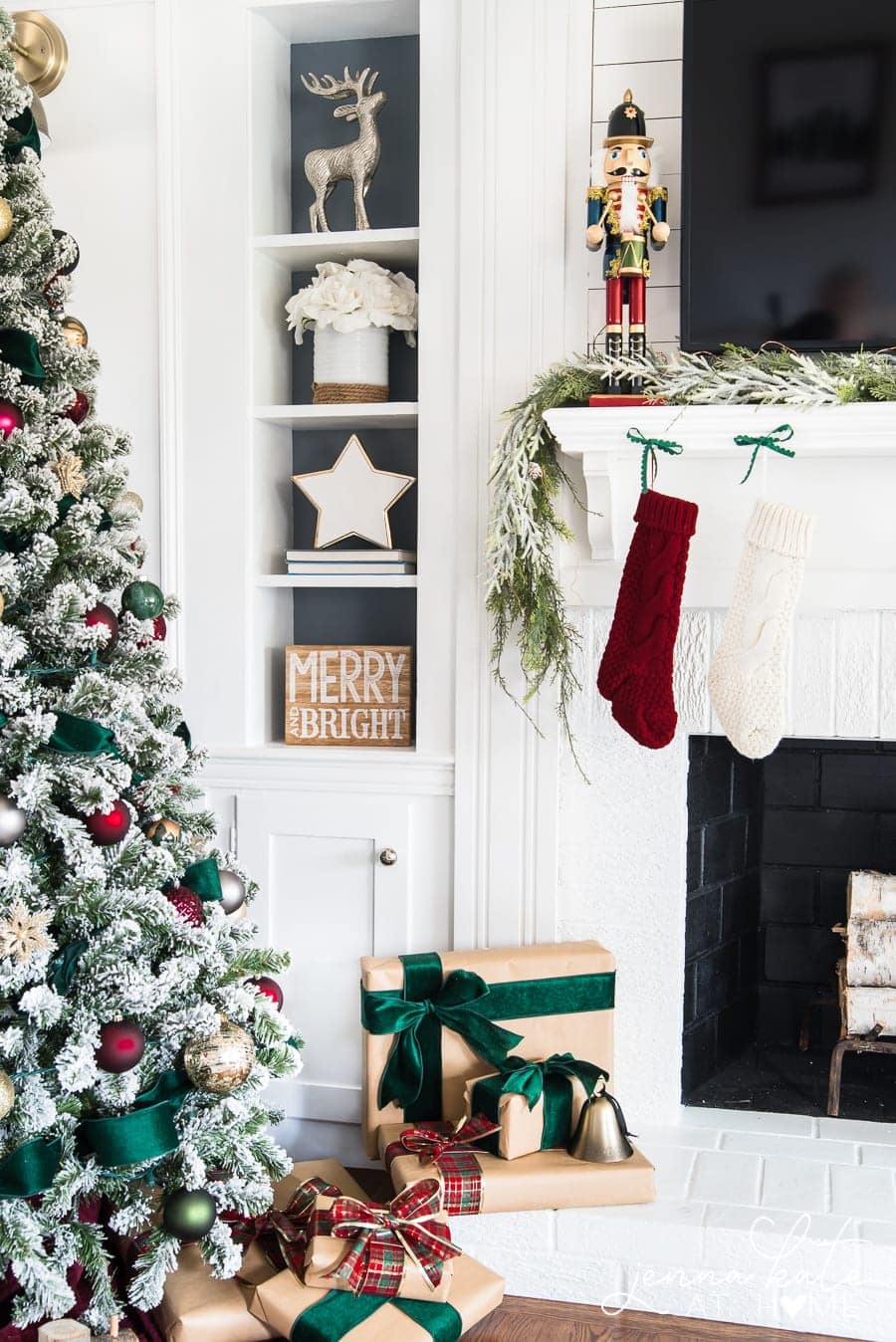 As the winter months approach we all start thinking about holiday decor! I know it's a little bit early for some but my job is to offer inspiration and ideas for you for when you're in the holiday spirit and ready to decorate.
If you're hoping to create a more elegant display, try switching the traditional red and green Christmas colors for rich deep red and greens. I love how they are a bit more muted than pure red and green, but still epitomize Christmas!
Related: Christmas Tree Collar Ideas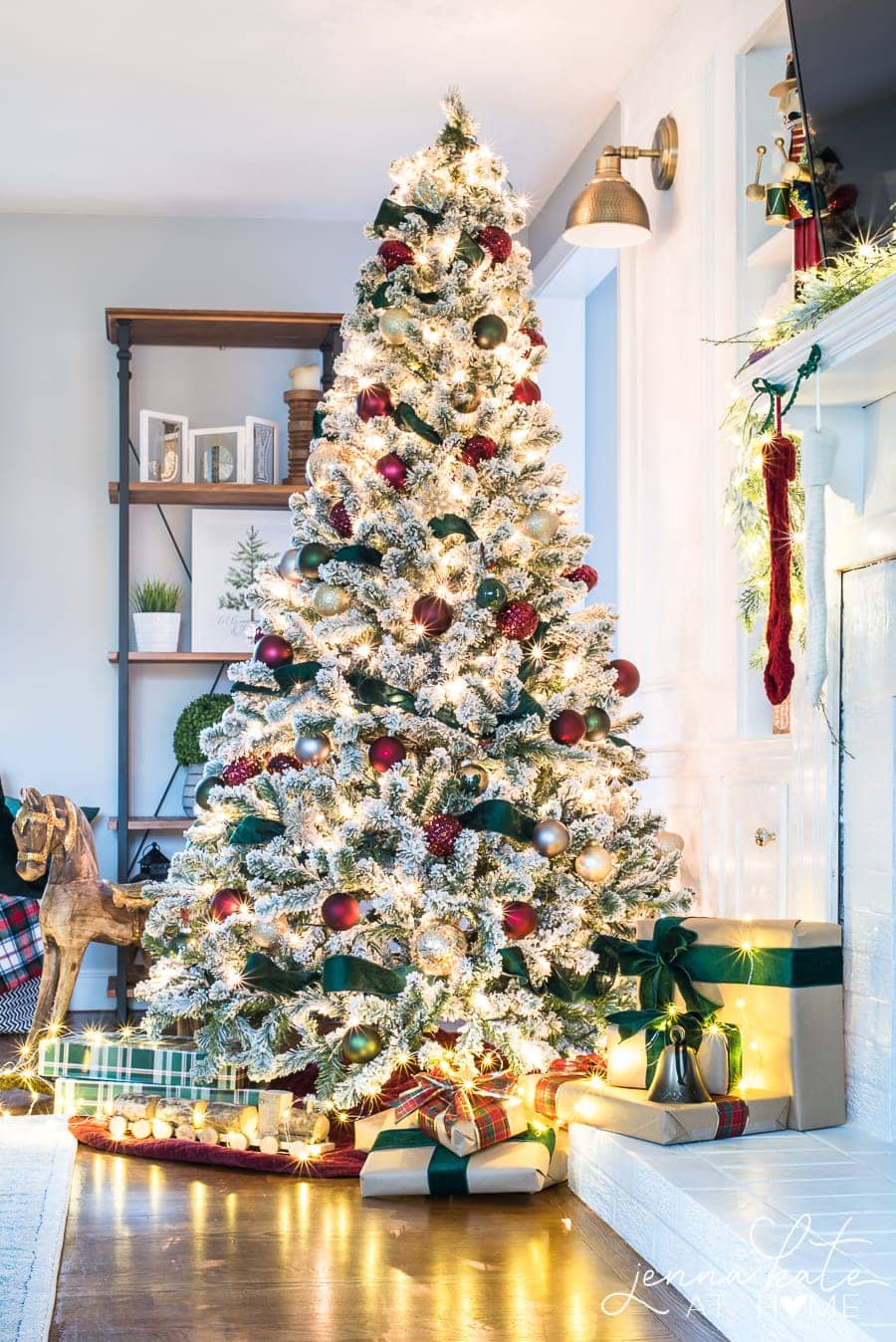 The Tree
If you're opting for a real Christmas tree, amazing! If that is not in the cards for you, a flocked faux tree will work perfectly for this.
This particular tree is the 6ft Prince Flocked Tree from King of Christmas. This is the third Christmas we've put this artificial tree up and the flocking is still holding up great. My favorite thing about this tree is that it's so thick and full. I can put the three sections together and have the entire thing fluffed in about thirty minutes.
If you've ever had an artificial Christmas tree before, you know that fluffing and primping the branches is essential to making it look realistic . The best part about this tree is that it doesn't require much!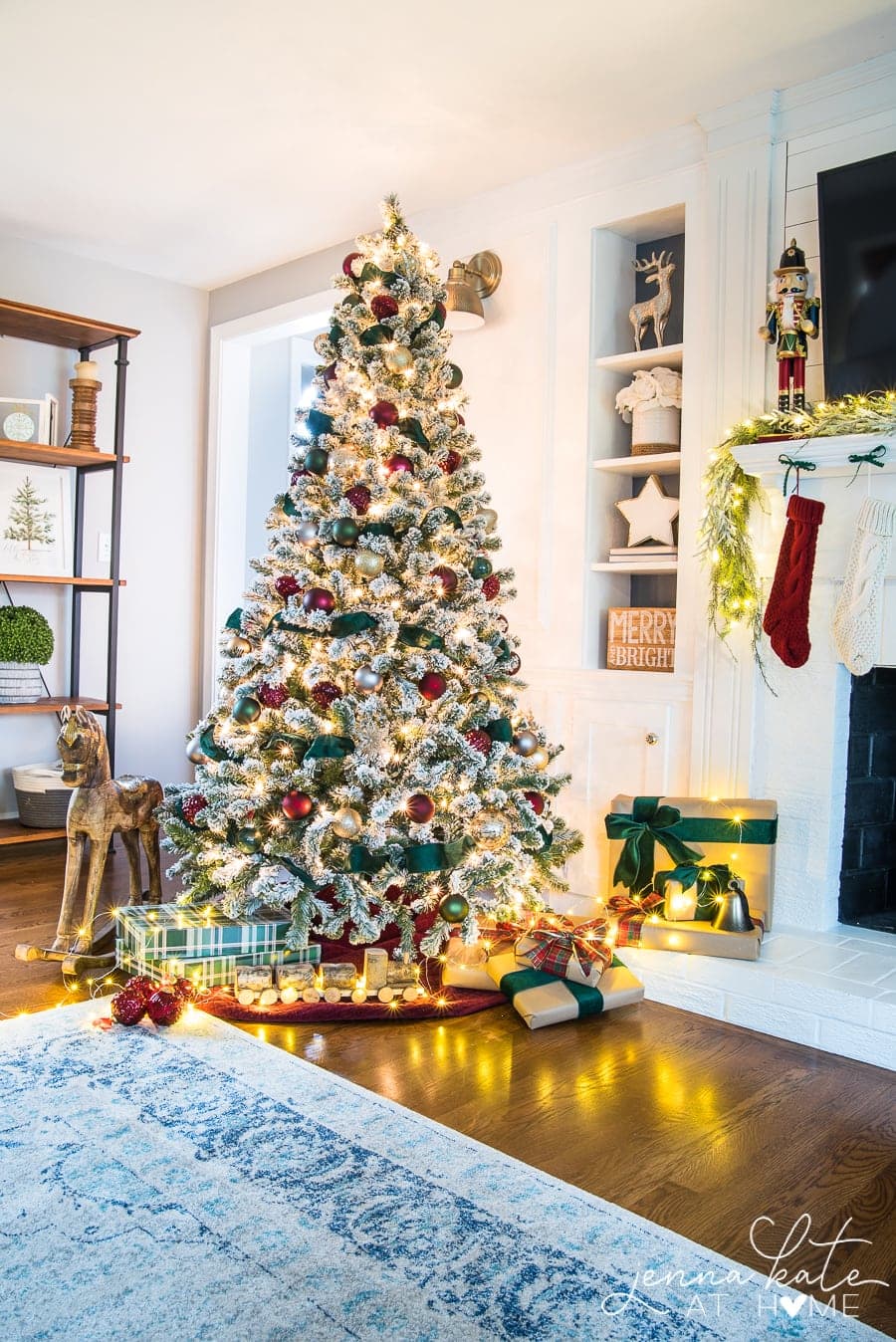 Ambient Lighting
Of course, every tree looks its very best when it's all lit up. The glisten coming off those shiny silver ornaments is unmatched! There's nothing better than the warm glow of a Christmas tree in the evenings when you're cuddled up on the couch.
For a soft atmosphere, pair your Christmas tree lights with a few extra strands of light draping the mantel's gorgeous garland, over a window seal, or cascading off some gifts as shown below.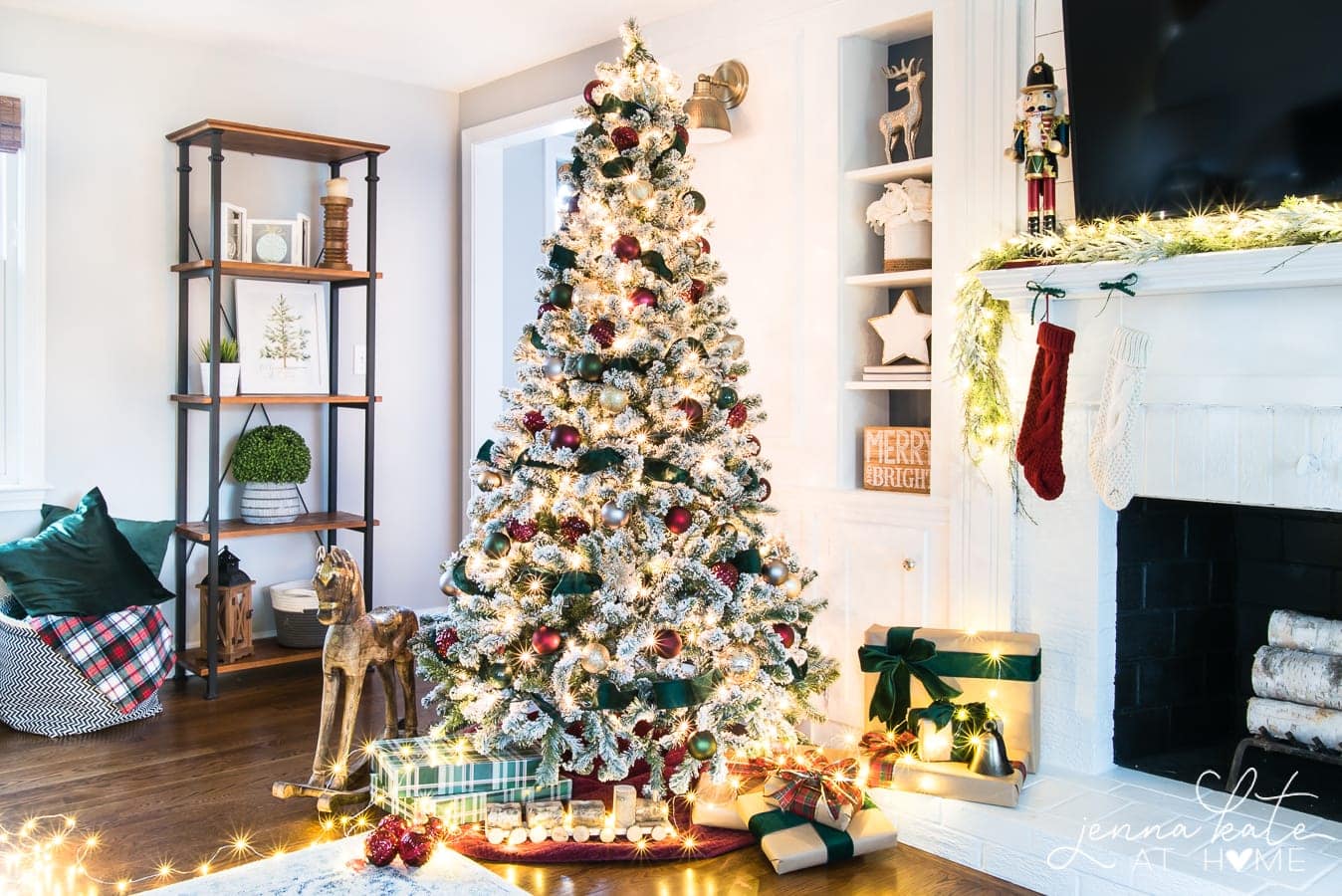 One of my favorite things this time of year is catching a glimpse of soft candles in the windows as I drive by neighboring homes, so that would be another splendid way to bring in more light if you feel you need it!
Stockings and Accents
When incorporating a new color scheme into a room, it can be helpful to start small by just adding in a few easy elements in the shade.
I didn't want to take too much focus off the tree, so decided a couple stockings in the dark red shade and a paired neutral would be just perfect.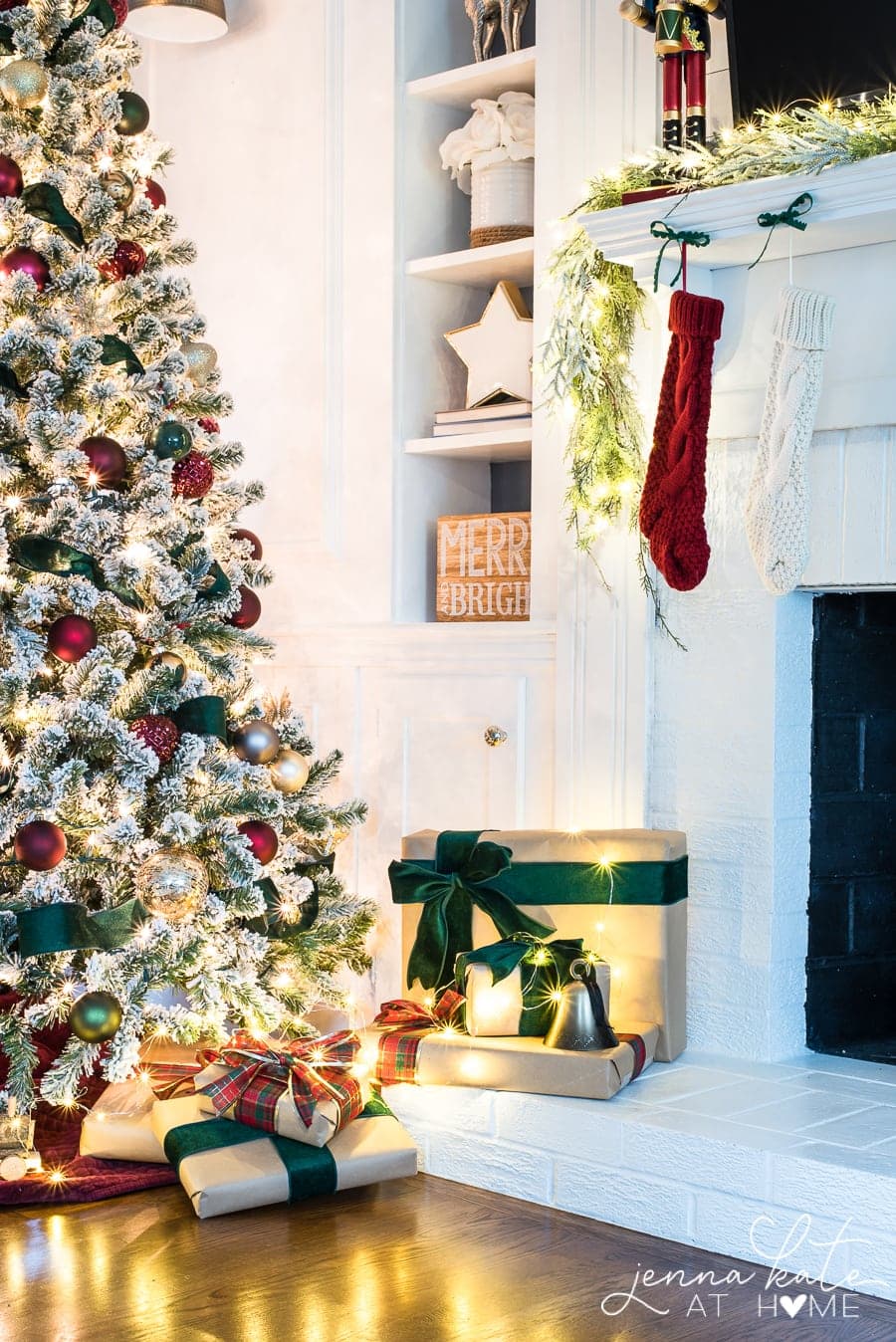 A nutcracker and a charming tree skirt, both using that rustic dark red, add that little something to draw out the emphasis of the color.
As you can see, you don't have to coat the entire room in your desired color scheme. Just tiny bits of ornamentation bring out the sparkle!
Velvet Ribbon
Isn't the green velvet ribbon the best? It was my inspiration for the whole color combination and I knew it would look magnificent this Christmas season.
As I clothed the tree in the velvet beauty, I was careful to let it hang naturally and then tuck parts of the ribbon in as I made my spiral for the cascading effect you see. The rest of the tree I wanted to make sure was left available for the ornaments!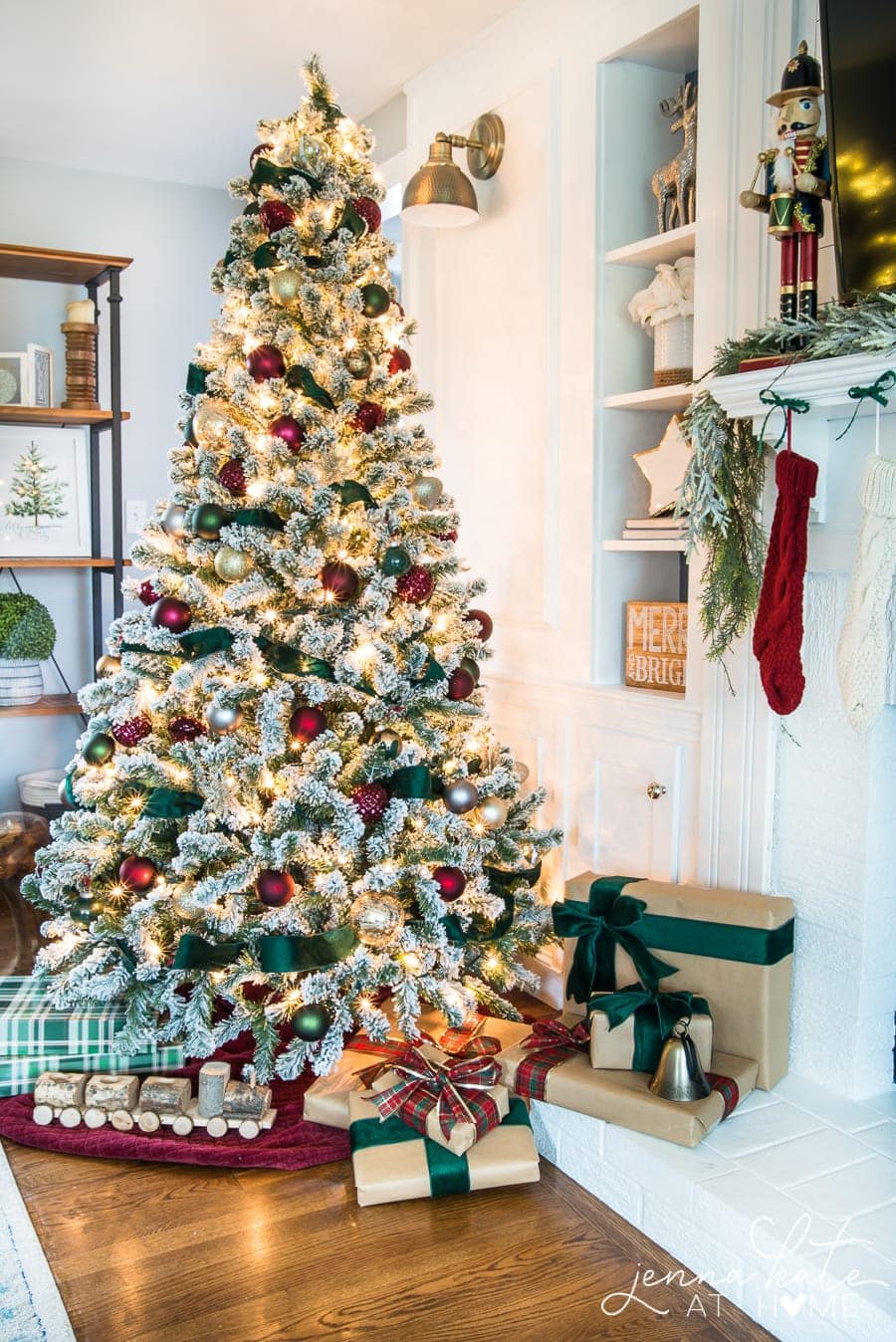 Using the same velvet ribbon, you can add bows to the top of your stockings and wrap your Christmas presents with it. For variation, I also used some plaid ribbons for a few of the gifts.
Any chance I got to bring more of that velvety goodness into the space, I did! While I kept it simple and omitted a tree topper, you could definitely use any leftover ribbon to form a bow to add as a finishing touch.
I'm sure you will think of other creative ways to incorporate the ribbon into your Christmas tree display, too!
Ornaments
This is the most obvious one of all the Christmas tree ideas, but the best way to bring this color scheme to life is through your ornaments. After all, next to the tree itself, they are the star of the show!
Purchase a set or two of new ornaments in dark red and green (you might can find some at the dollar store!). You can arrange them nicely on the tree sprinkled in with various shades of neutrals like silver or gold ornaments. The touches of gold help modernize it while the silver to me is just such a pretty classic.
I'm also a fan of white ornaments and think those would work wonders with dark red and green, too!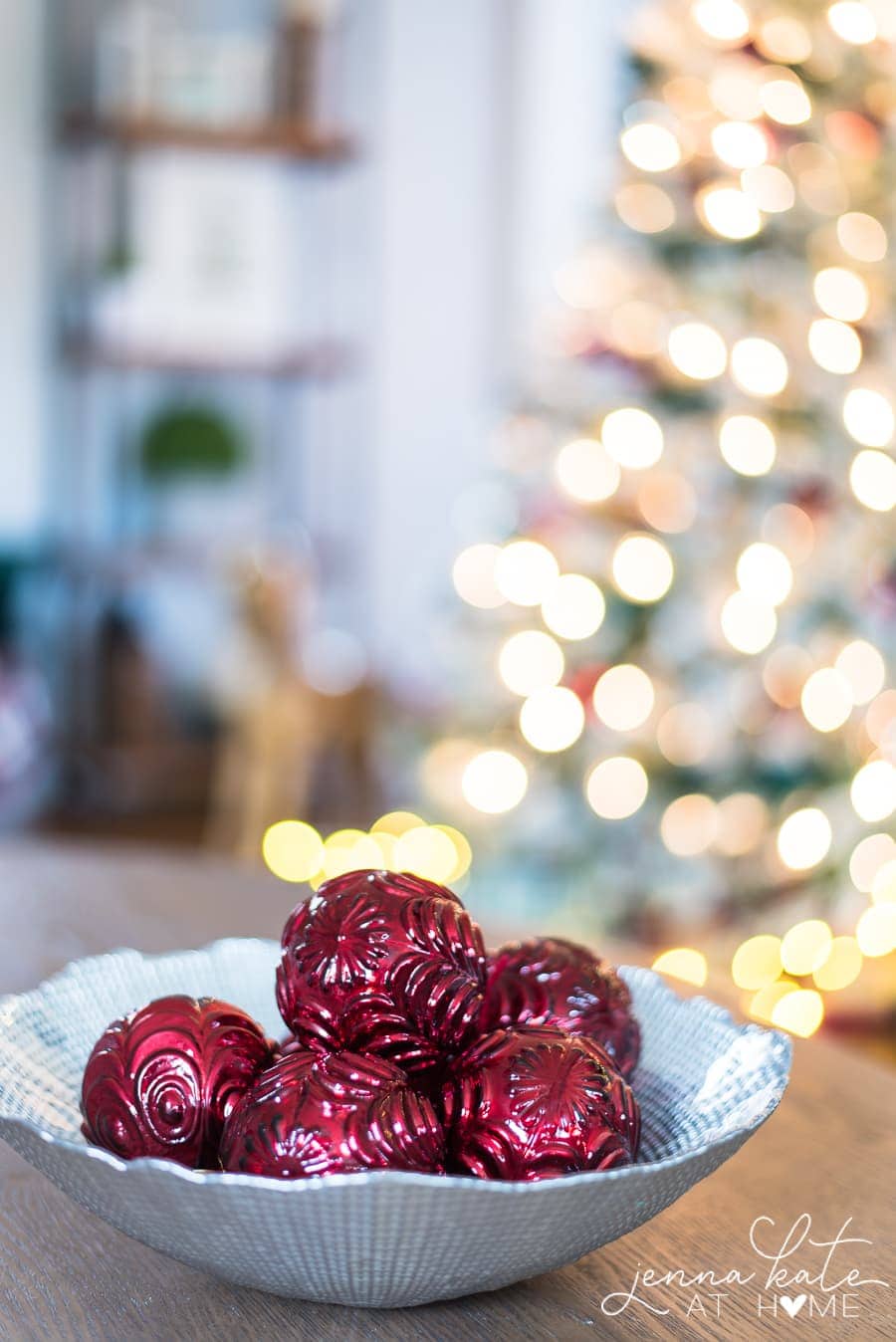 Flocked Wreath
One reason why I really feel like our flocked Christmas tree and flocked wreath stand out so nicely with this color palette is how the lightness of the flocking contrasts against the dark shades. While I'm sure a traditional Christmas tree would also look great, if you have the option to choose flocking, I'd go for it!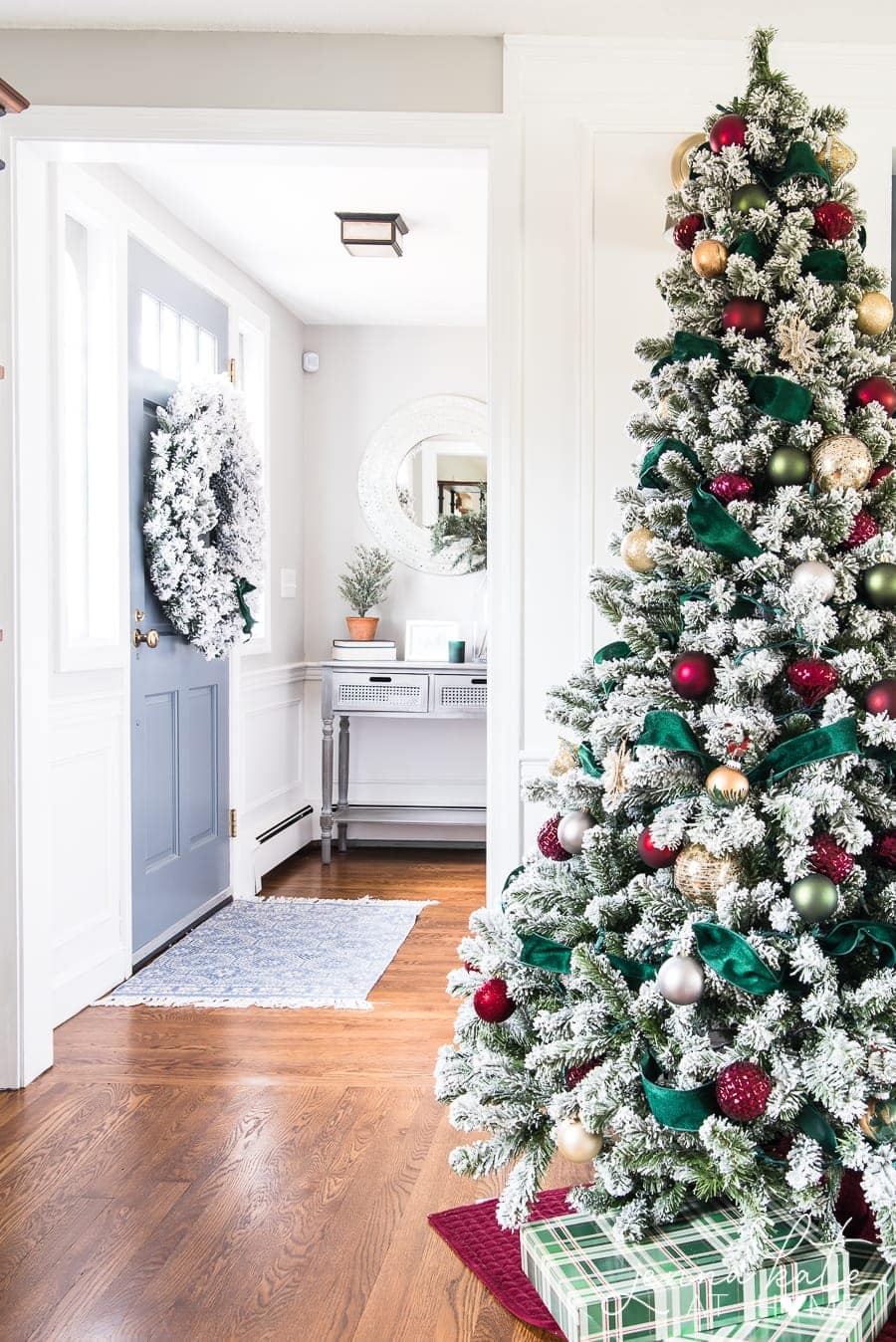 While this wreath is currently in the little corner of the entryway on our front door, it will eventually go outside – when there's less chance of my neighbors thinking I've really gone crazy. Decorating inside in November is one thing, but outside will be left until after Thanksgiving!
Final Thoughts
While non-traditional colors can be fun at Christmas time, there is something to be said about the way red and green instantly bring to life the holiday. If you're in the mood for a different look but still want that classic appeal, give a dark red and green theme a try!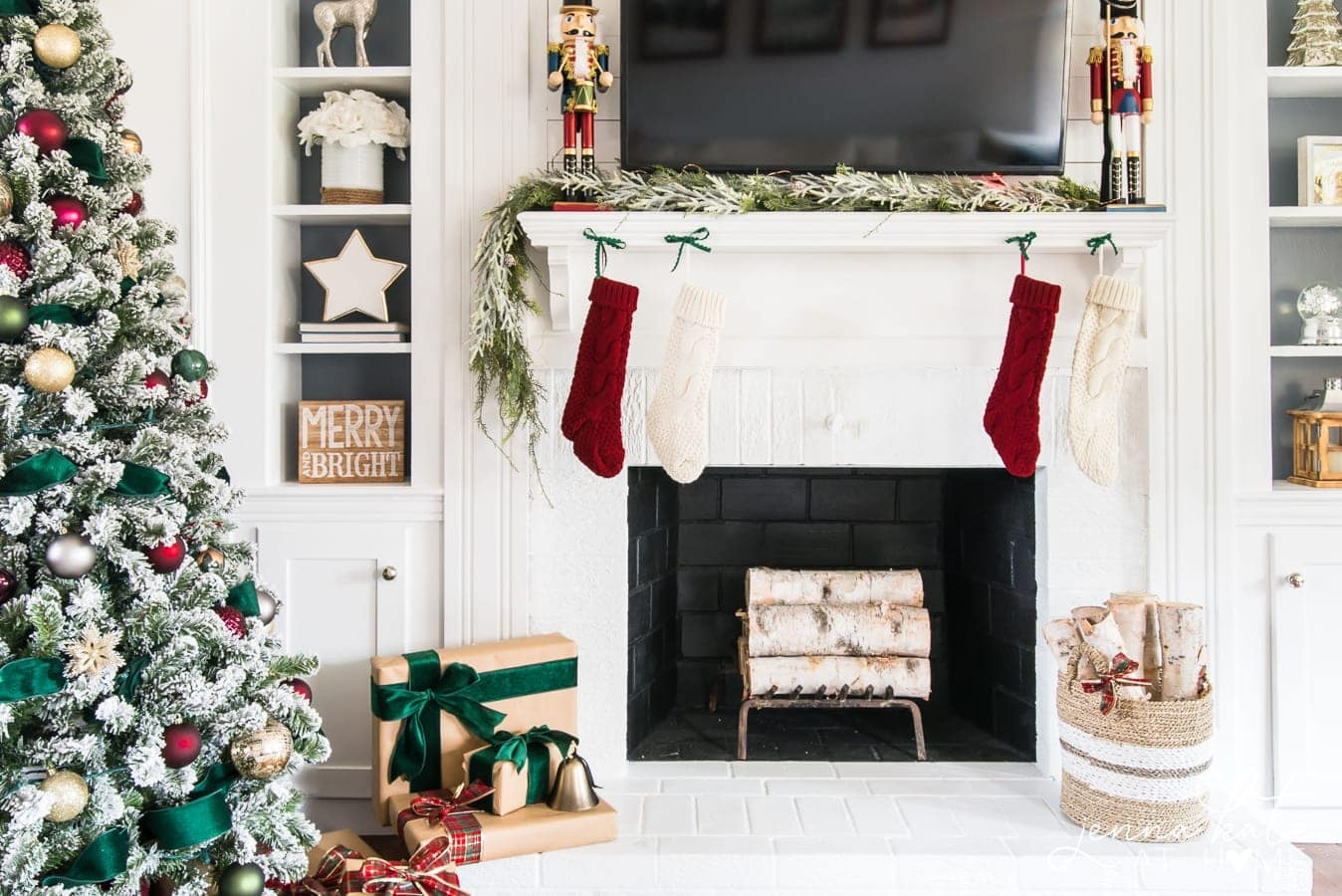 You can easily transform your family room into a rustic holiday escape with a pop of color, velvet ribbon, festive ornaments, and a stunning tree to admire throughout the season.