It doesn't have to take much to make your bedroom into a winter wonderland. These Christmas bedroom ideas will help you cozy up your bedroom right in time for the holiday season!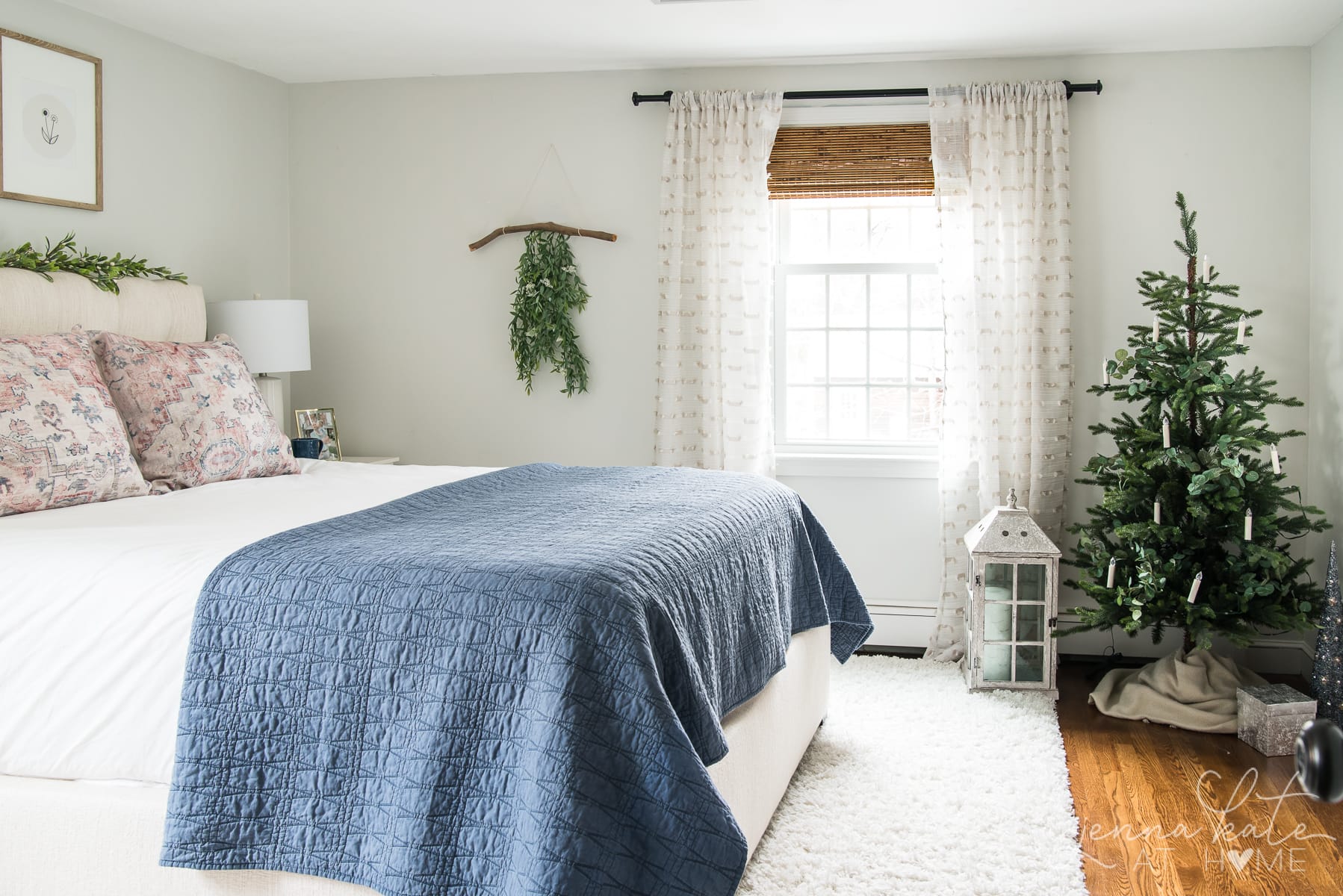 Christmas is my favorite holiday for decorating. For it's also one of the busiest times of the year.
Between running errands, taking kids to do fun Christmas-themed things, or even just cleaning up the house for friends and family that may be coming into town, sometimes there's barely a spare minute to decorate the Christmas tree!
With so much going on, you not give a second thought to decorating your bedroom. But since we spend so many hours in here, why not use these simple ideas to decorate your bedroom and make it perfectly festive for the holiday season!
Add Greenery
No matter what theme or color scheme you're decorating with for Christmas, greenery is always a good idea. Whether it's real or faux, bringing greenery into your bedroom is a quick way to add that special holiday touch.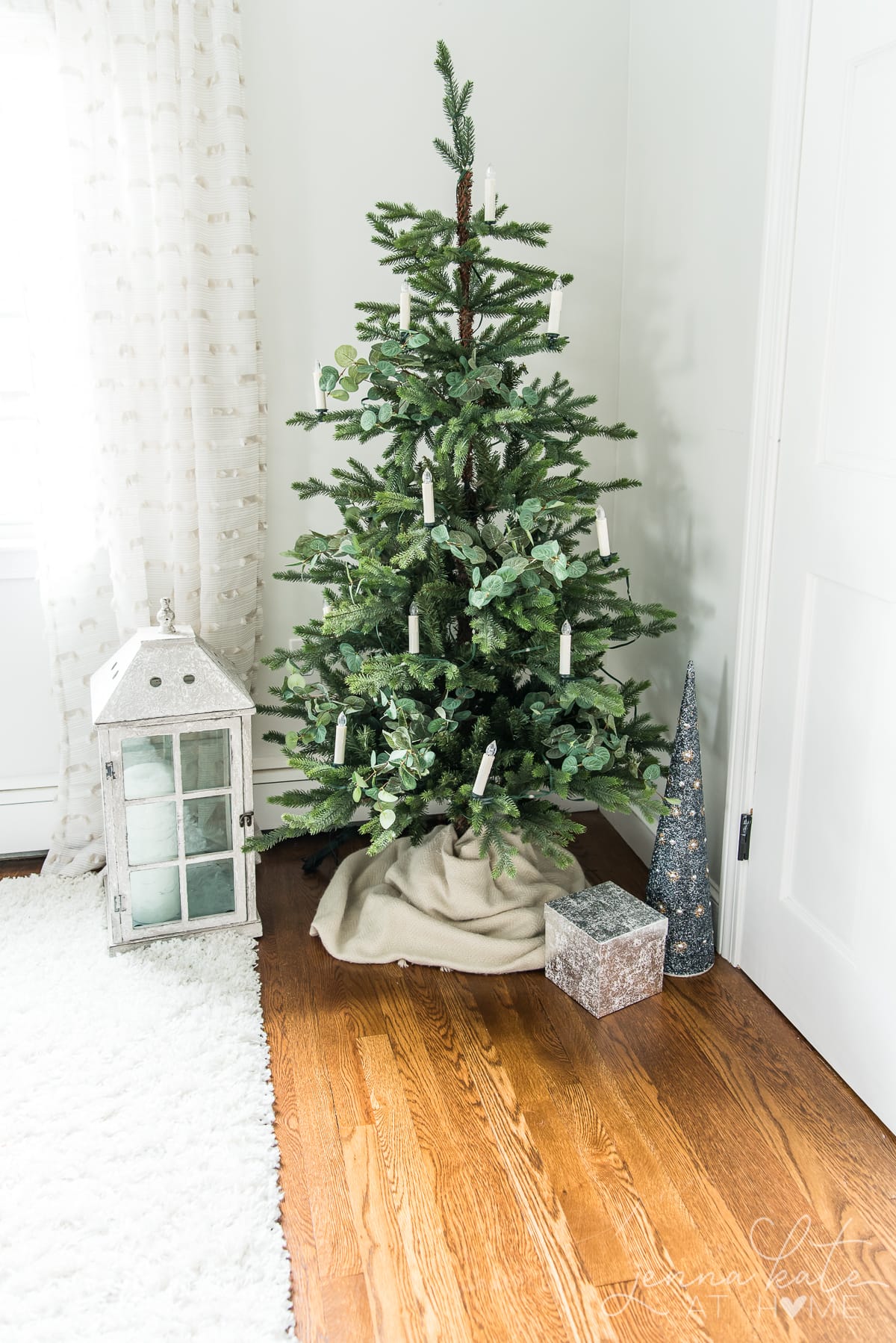 If the space in your bedroom allows, having a Christmas tree in the corner is a no-brainer. My bedroom is quite small, but a slim tree fits nicely in the corner. You can choose to decorate it, or just add some simple lights to ambience at night.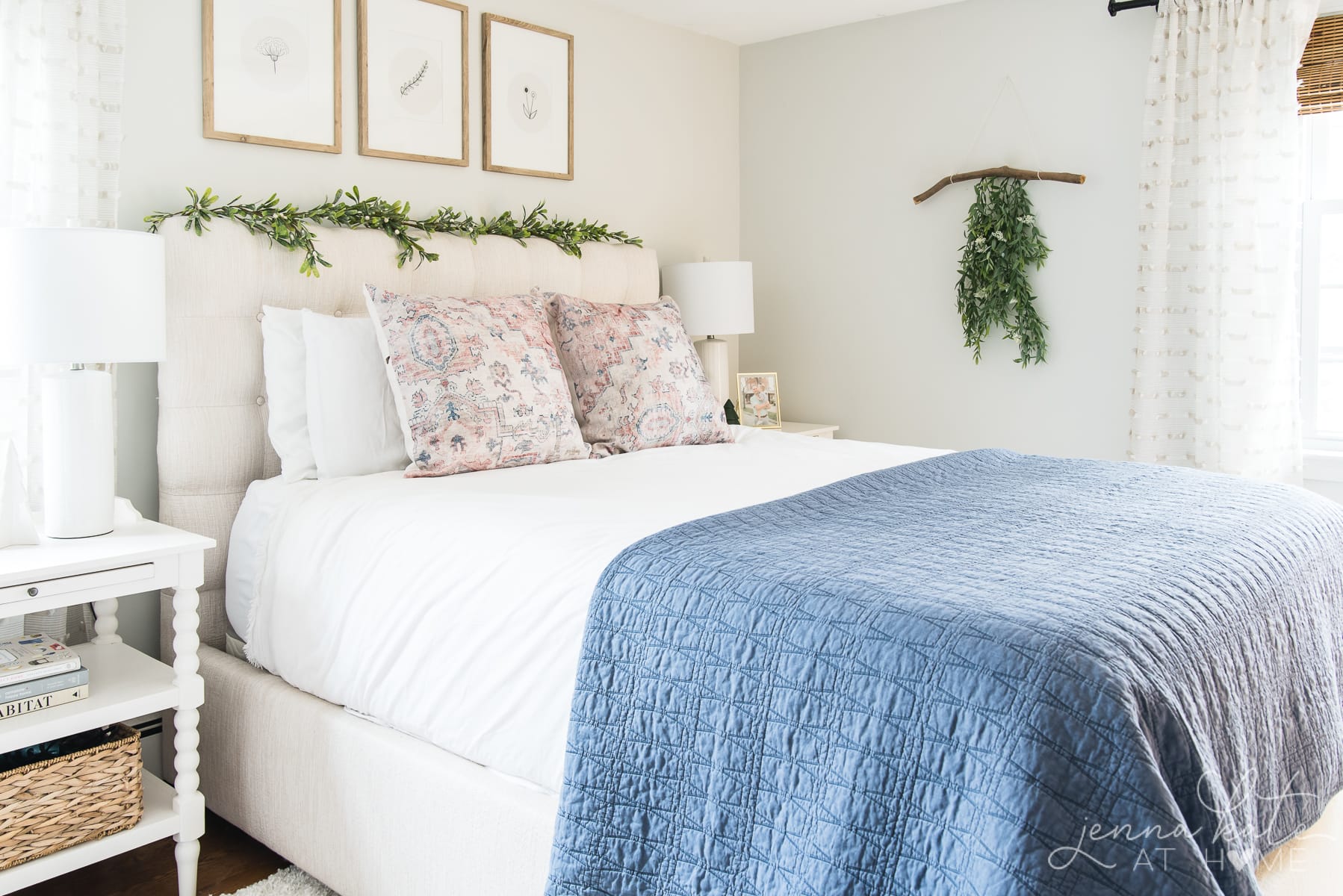 If you don't have room for a real tree, adding a garland over your headboard, or even wall art, is a simple idea that has a minimalistic look, yet it's still classy and festive.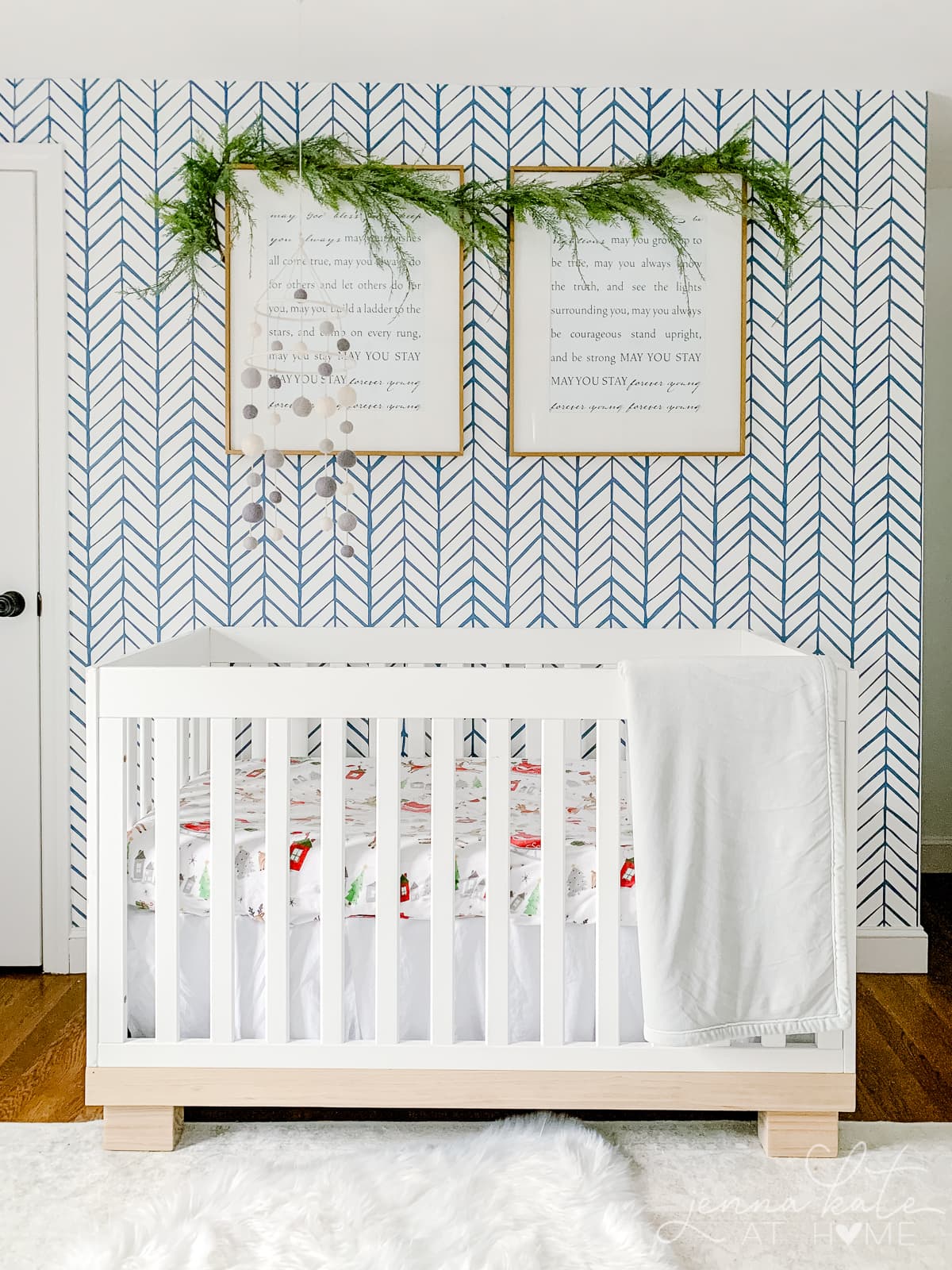 One year, I even made a DIY evergreen green wreath with some foraged cedar and a wire hanger. It was a simple but beautiful addition to my Christmas decor!
Add Ambience With String Lights
I am a sucker for twinkly Christmas string lights – they really put me in the Christmas spirit.
Lights can of course be put on your tree, draped across your bed with some garland, wrapped around a bed post or even hung to frame out a window.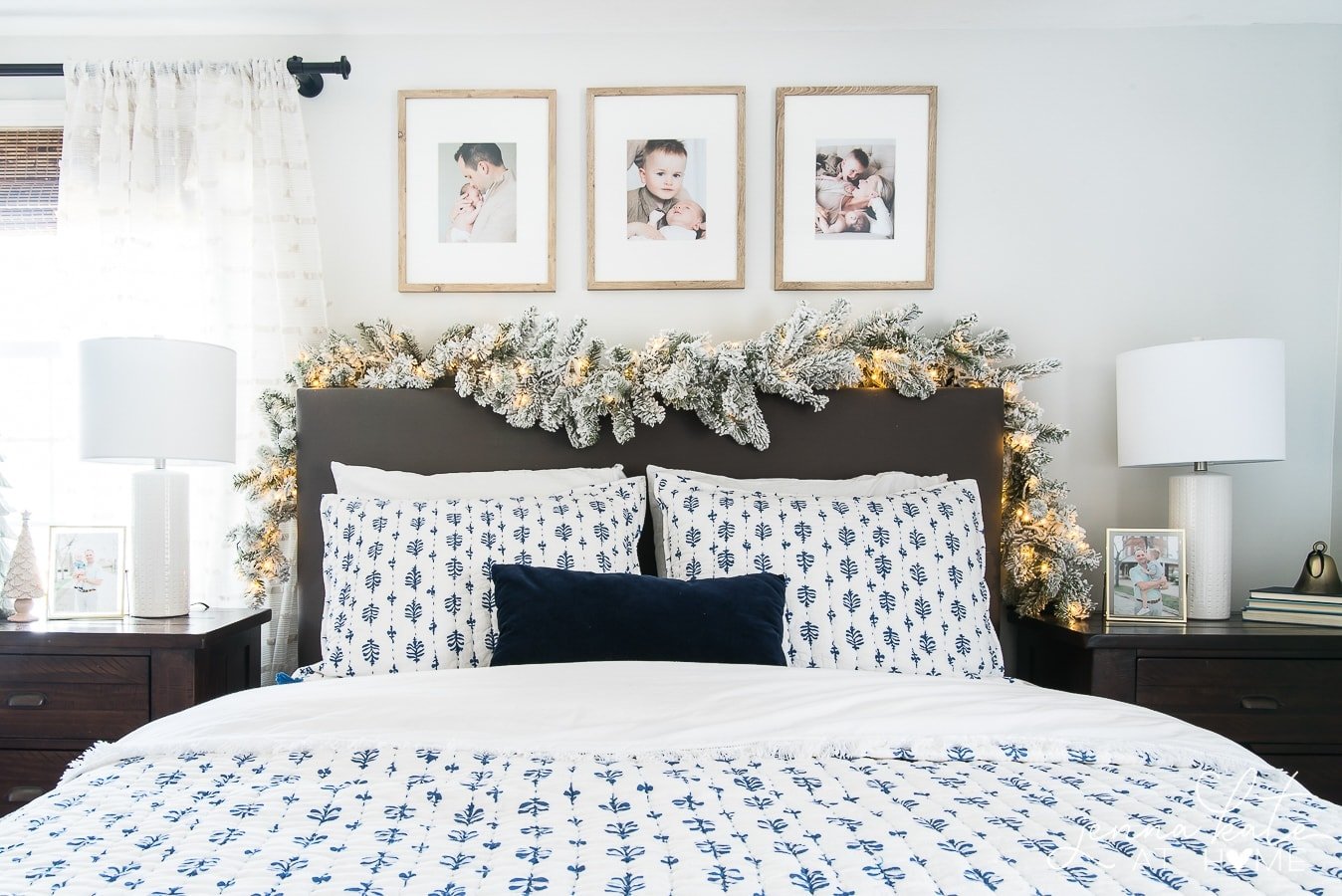 For safety, make sure your Christmas lights have LED bulbs. They give a pretty glow, but they don't get warm to the touch which means you won't run the risk of anything catching on fire if your garland or your Christmas tree gets dry.
Decorate Your Nightstands and Dressers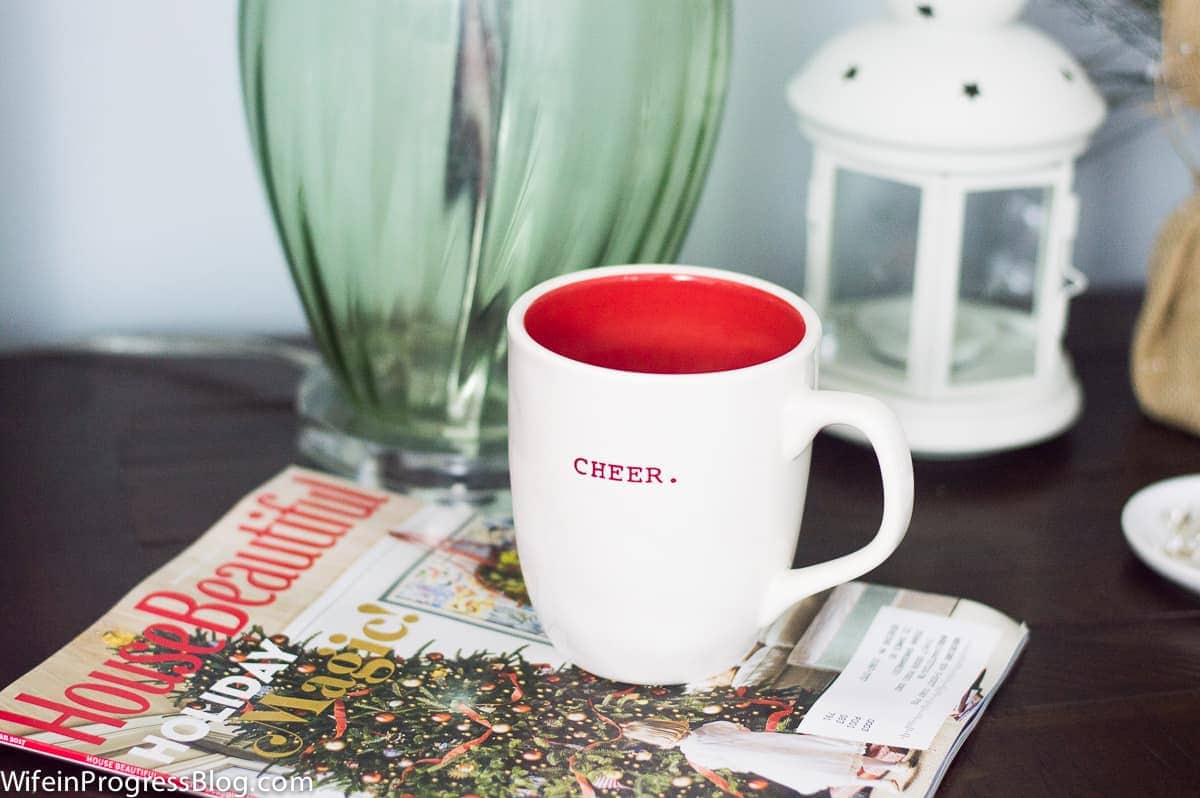 Christmas ornaments are a great decorating staple – and not just for your tree!
Gather simple dollar store ball ornaments and some greenery (foraged from your back yard!) and put them in a large bowl for a simple decorative accent that's perfect placed on a nightstand or dressing table.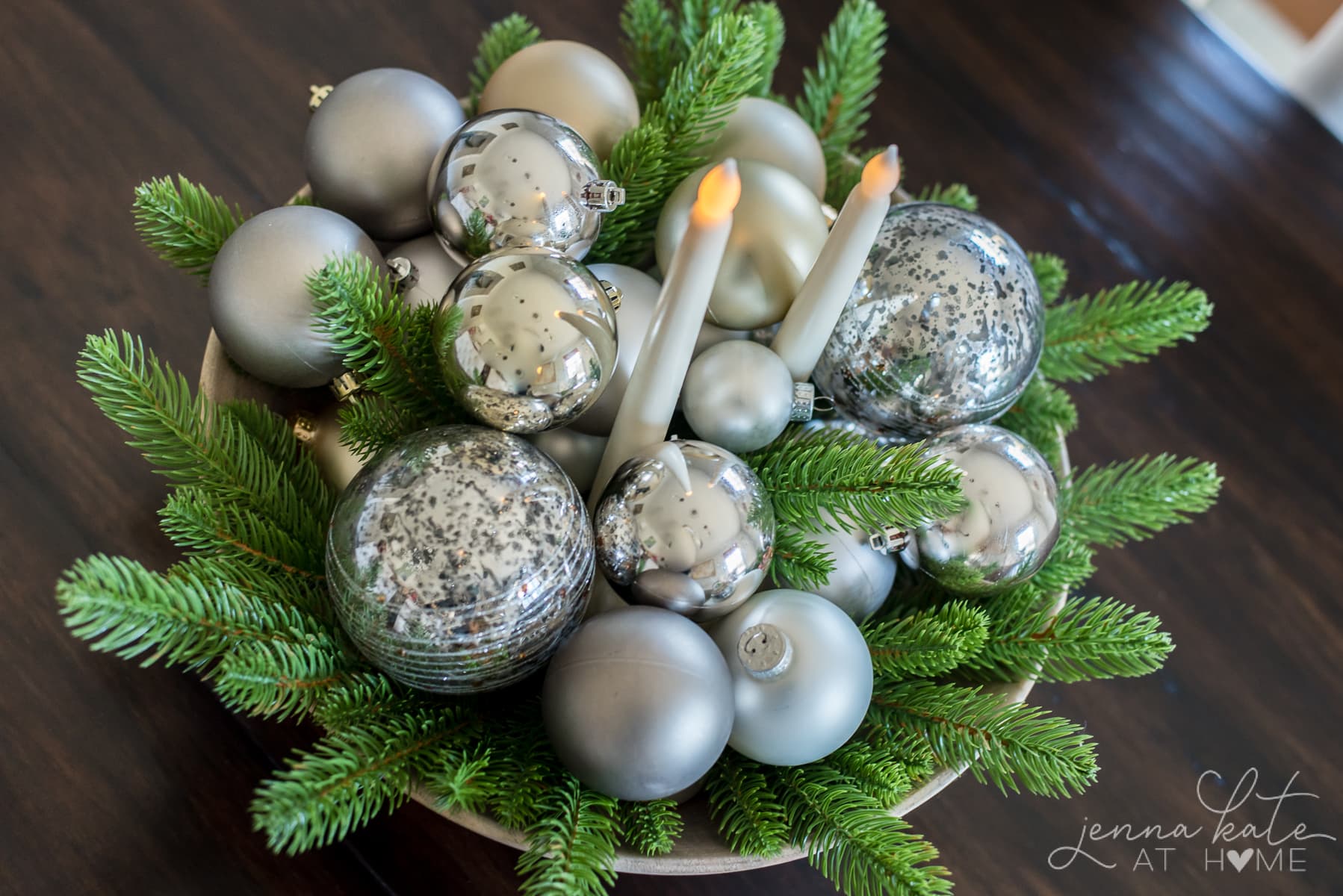 I like to keep my bedroom furniture uncluttered, since I need them to be functional, so having items corralled in a bowl works great for me.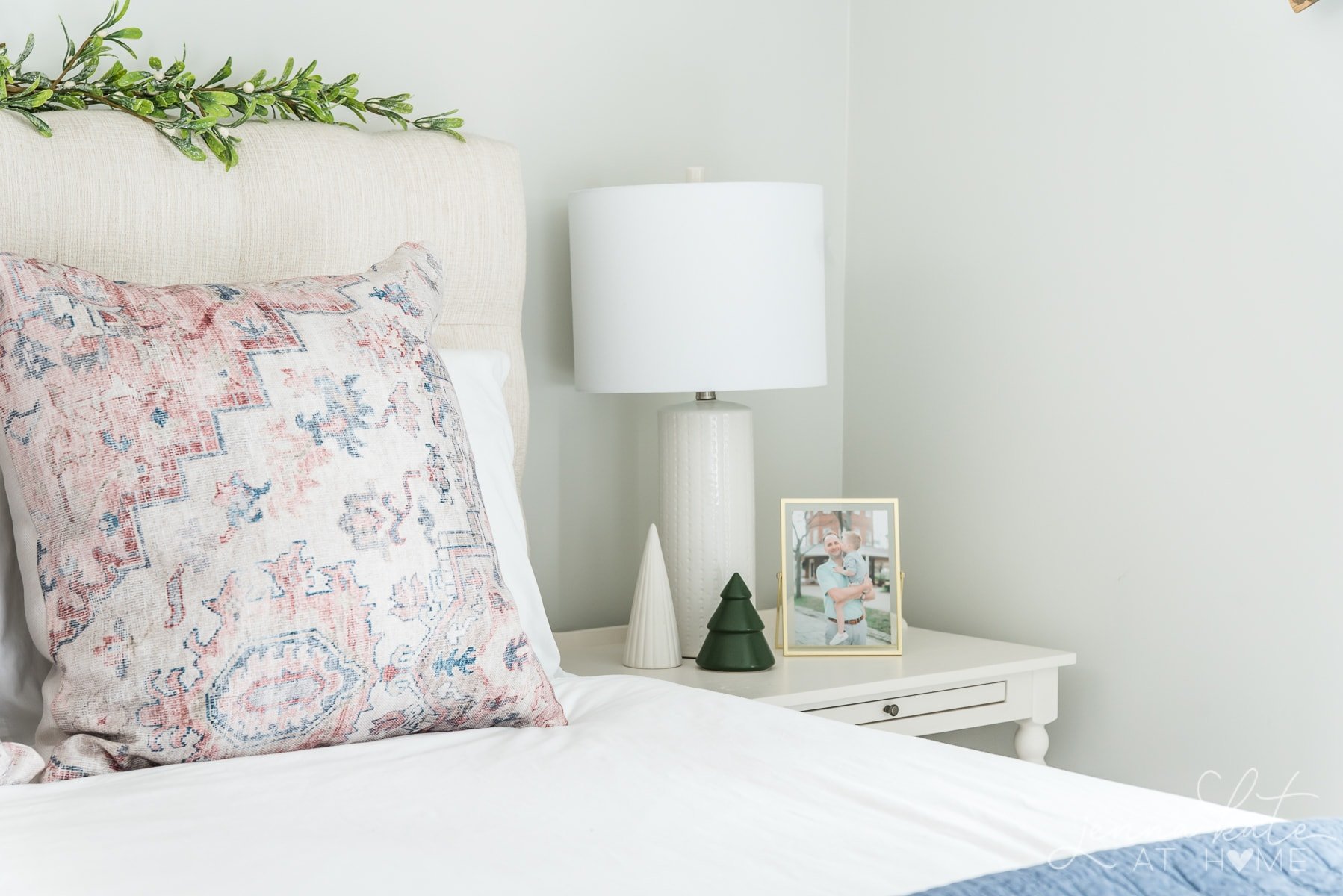 Another way I love to add a simple festive touch is with small ceramic, wooden or bottle brush trees. Bells and lanterns also had that festive touch.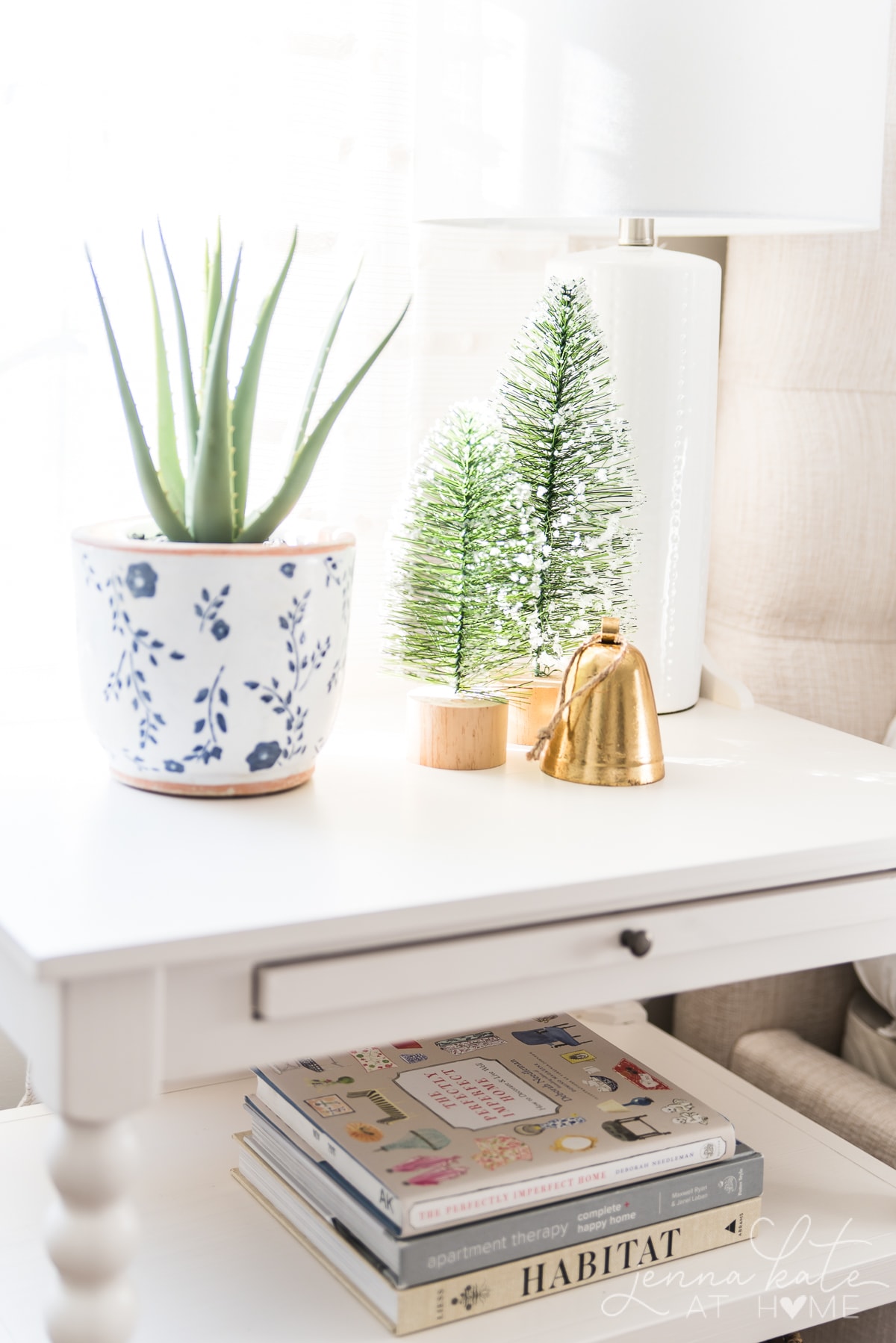 The Target dollar spot has these every year and I frequently stock up on different varieties.
If you're adding decor to bedside tables in your guest room, adding a special tray with Christmas themed decor is a nice and easy way to make your guests feel welcome, and have them get into the holiday spirit!
Layer in Throw Pillows and Blankets
Similar to decorating your living room for the season, bringing in seasonally-themed throw pillows and lots of cozy blankets is a great idea.
Not only do they look the part, but the make the bedroom nice and cozy – and the perfect spot to snuggle up with some tea and a good book!
Plus, even if you don't use them for warmth, they can create visual warmth and a sense of coziness just by being an addition to your decor.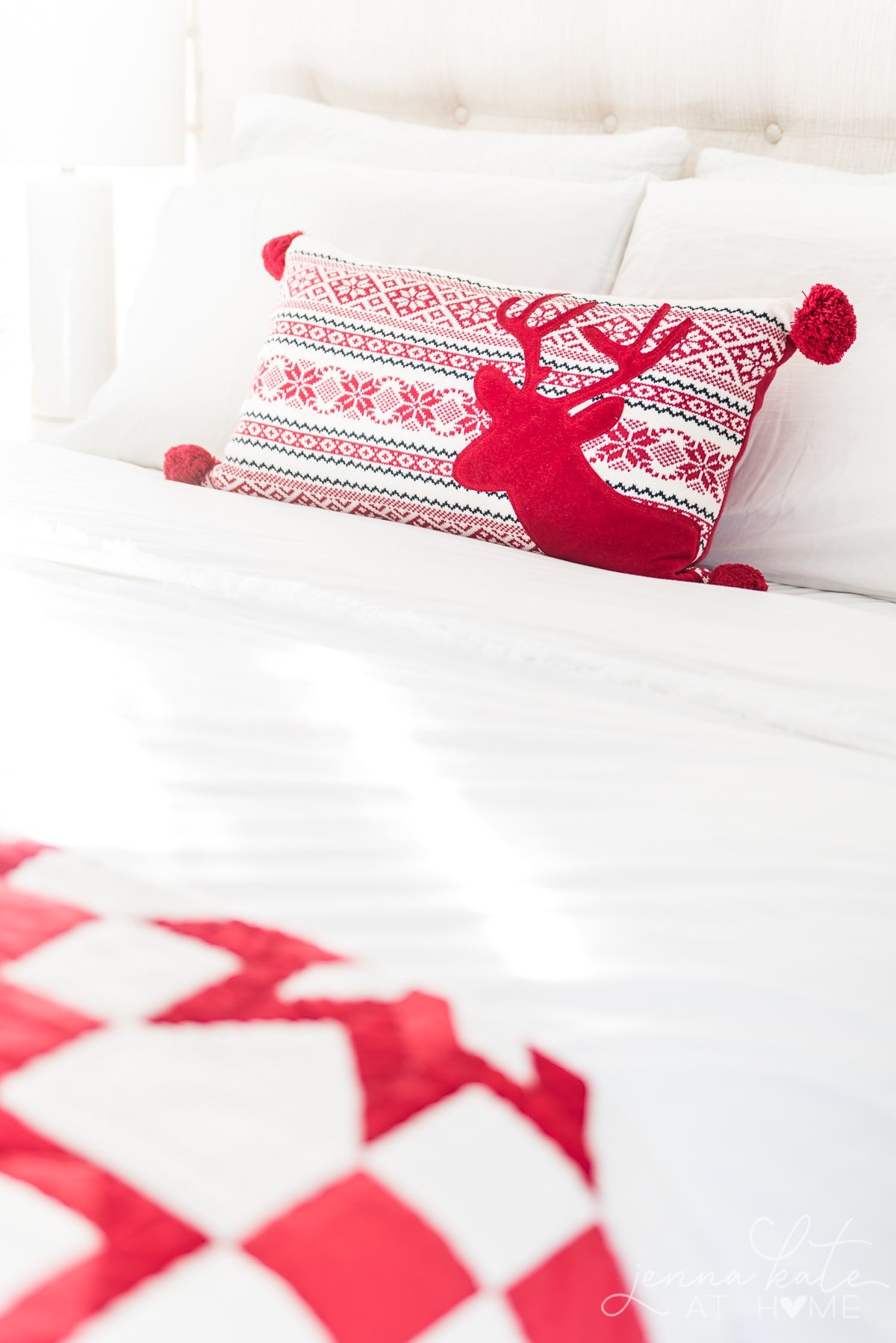 If you're a hot sleeper and don't want that extra quilt or blanket on your bed, consider draping it on the bottom or hanging them on a blanket ladder.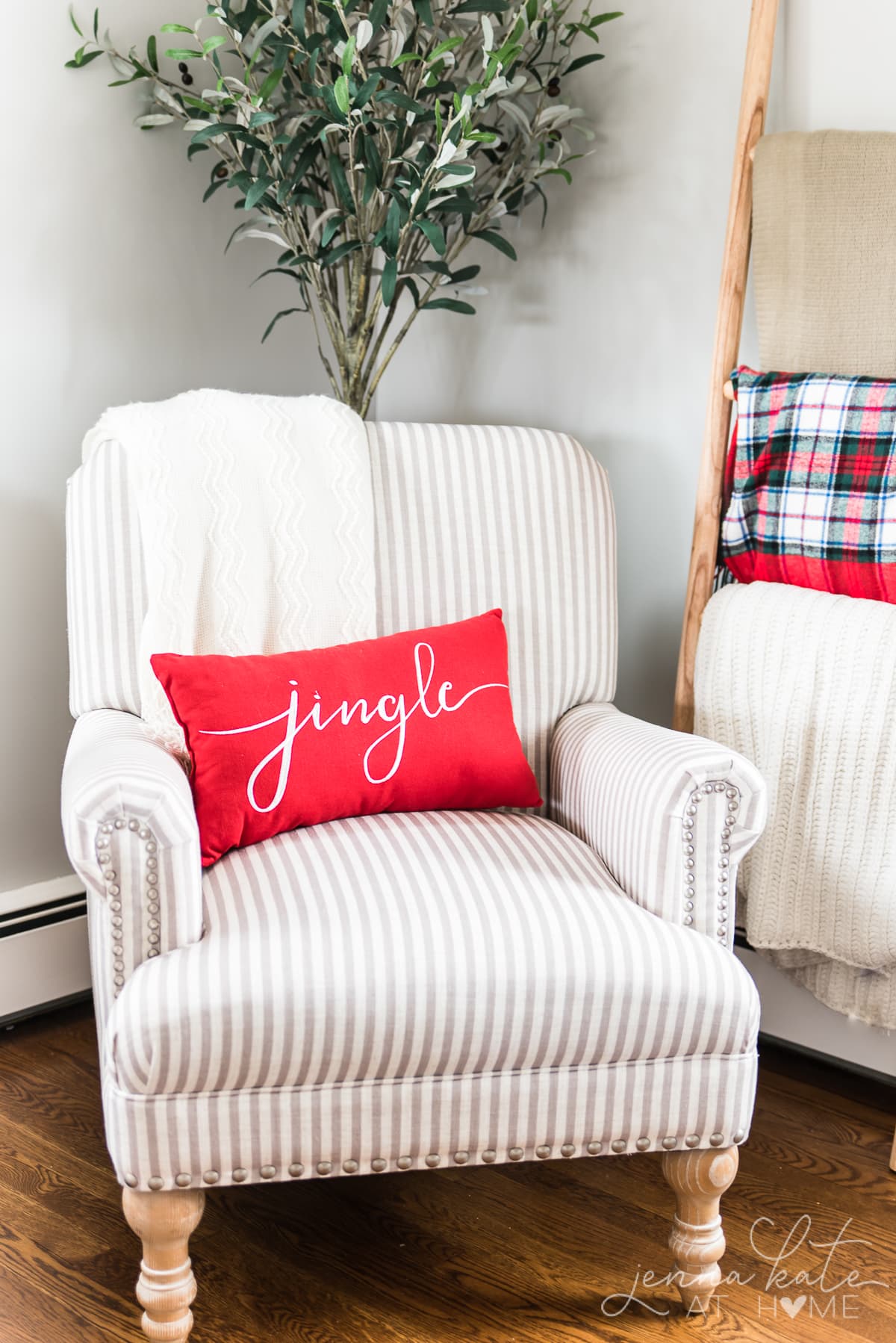 By the way, while red and green are traditional Christmas colors to decorate with, don't feel like you have to embrace them.
In fact, more often than not, I don't decorate with red at Christmas.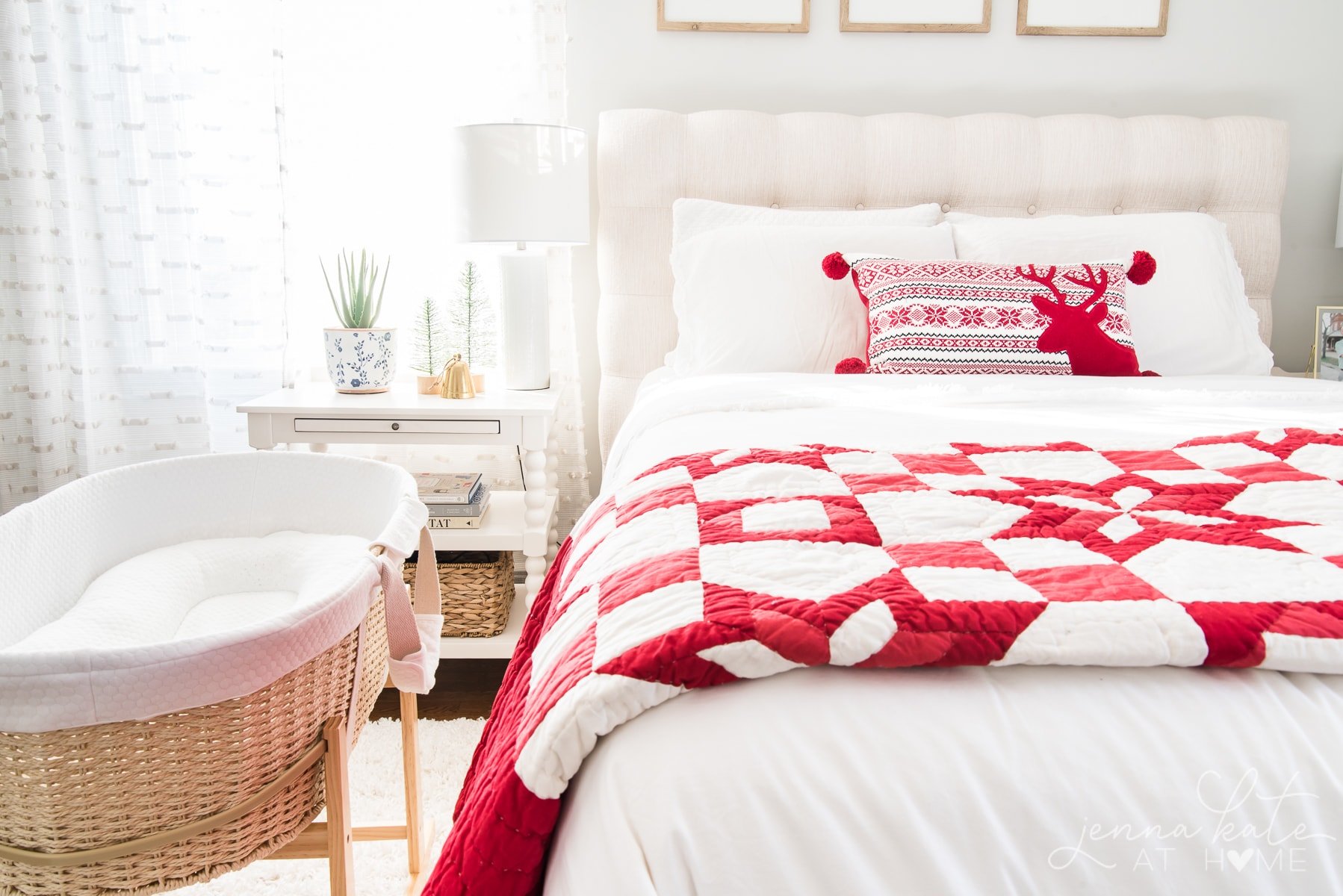 Keep a Cohesive Color Palette
Just because it's December doesn't mean that you should automatically switch out your bedding and pillow cases for traditional holiday colors.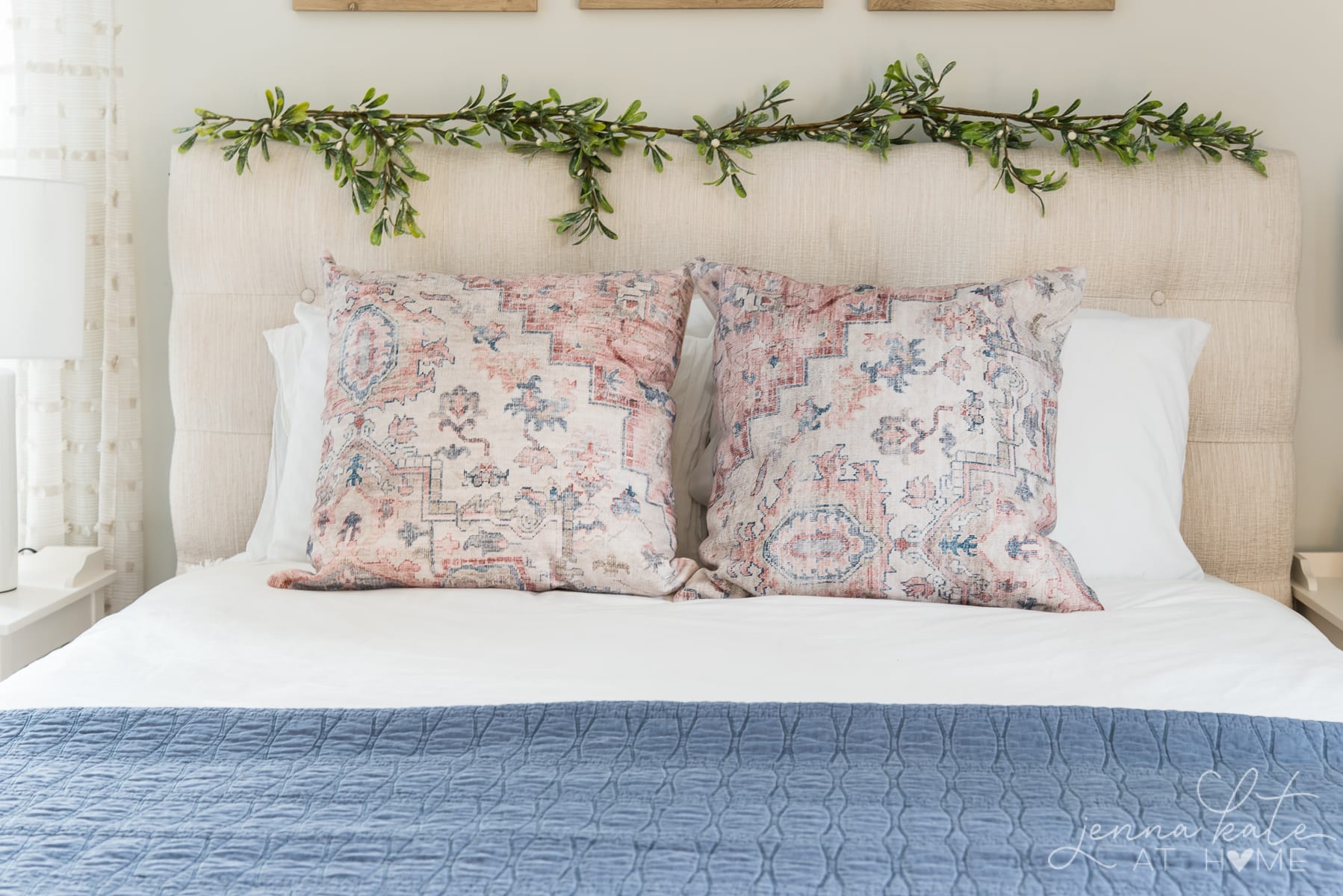 Every few years I feel the need to embrace all things red and Christmassy, but not every year!
You can follow my lead from last year when I did my blue and white Christmas decor. Keep some or all of your bedroom looking neutral while adding pops of Christmas color with decor items or ornaments on your tree in your room.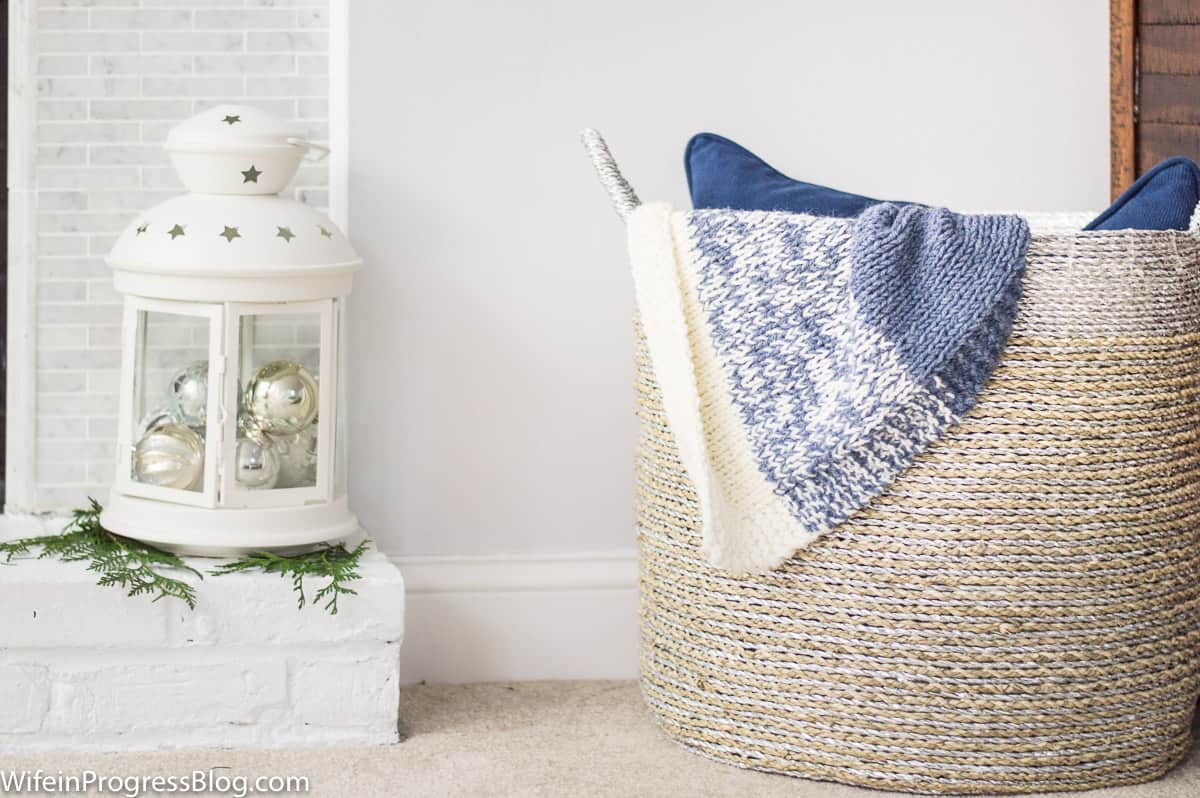 Final Thoughts
As with anything during the Christmas period, don't overwhelm yourself with the frenzy of decorating. Take your time and enjoy the process. Sometimes simple is more, and in this case, maybe even merrier!
Other Christmas Posts You'll Like