Iron Ore is a rich and indulgent dark charcoal gray worthy of a feature wall or even a kitchen cabinet. It is sure to make a statement and add a touch of elegance and sophistication to any home.
What Color is Iron Ore?
Iron Ore by Sherwin Williams is a lush dark charcoal gray paint color. It is intense, pure, and very rich in color. It is one shade lighter than Sherwin Williams Tricorn Black and a few shades darker than SW's Peppercorn. It's also very comparable to Benjamin Moore Wrought Iron, another great option if you're looking for a dark gray and like the look of Iron Ore.
Iron Ore is the perfect choice for doors, both interior and exterior as well as exterior accents such as siding trim or shutters.
It can certainly be used also as an island accent color, and in particularly open and well-lit homes, it makes for a striking cabinet color or accent wall.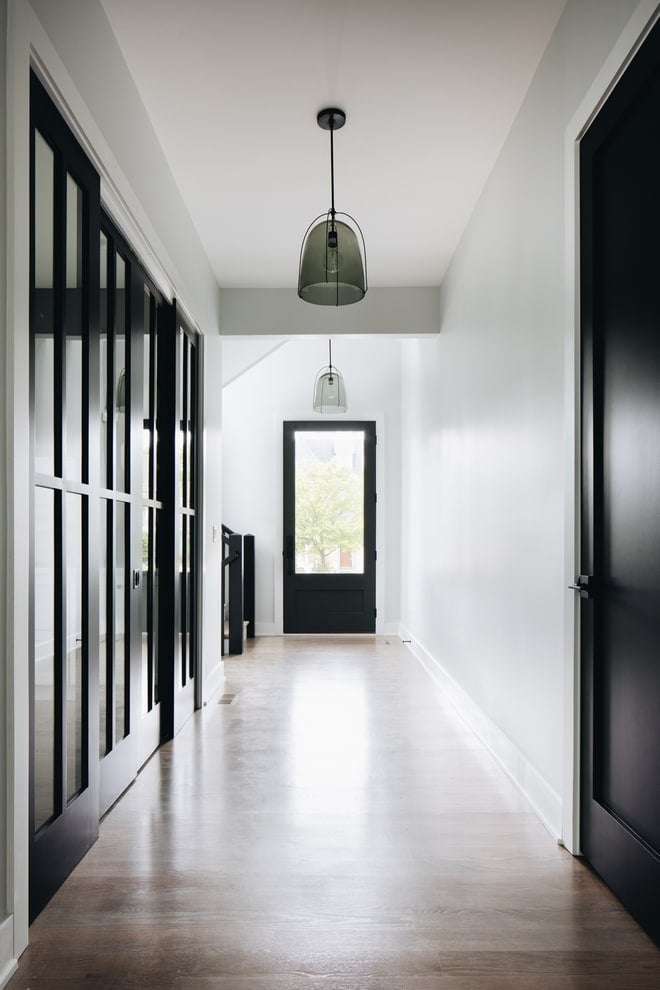 What is Iron Ore's LRV?
As a reminder, LRV stands for Light Reflectance Value, that is, the amount of light that is reflected back from a surface which is illuminated by a light source.
A higher value (closer to 100) means that a color will reflect back more light, while a lower value (closer to 0) means that a color will absorb more light, or appear darker. Pure white is 100, while pure black is 0.
The LRV of Iron Ore is 6.15, meaning while it is extremely dark it is not a true black. Nearly there, but not quite.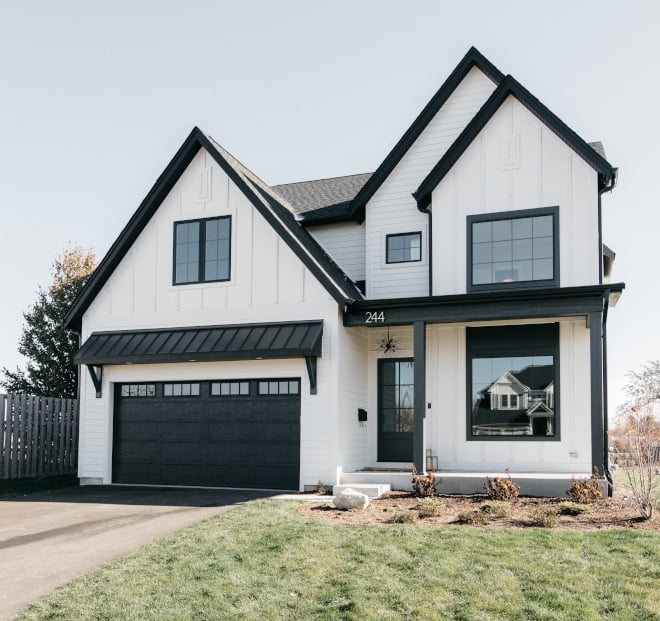 Is Iron Ore warm or cool?
Iron Ore is definitely on the cooler side of life. This is not a color to warm up your home – but it is definitely a color to make a bold statement and dramatic look in your home.
Paired with the right furnishings – there is no need for this color to make your room feel frosty. It looks wonderful paired with a crisp white trim and natural wood tones. As you can see from the photo below, when accompanied by gold hardware and a modern white backsplash in a kitchen, this soft black paint color is a stunning choice.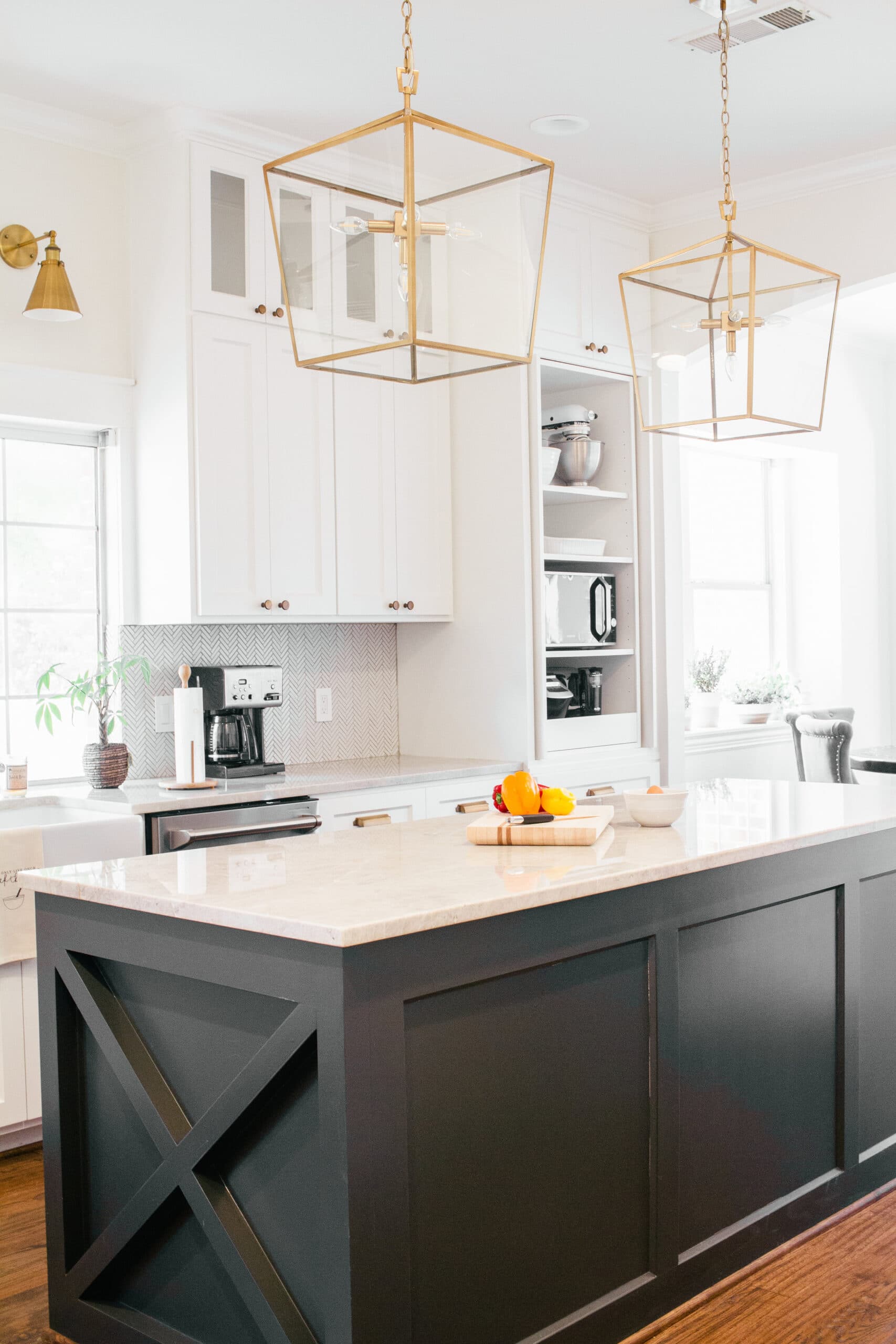 What are Iron Ore's undertones?
Iron Ore boasts blue and gray undertones, however, ever so often it will flash a tiny bit of purple. It all depends on the light, so as I always advise, get a sample and try this beauty out in the space you are thinking of using it in!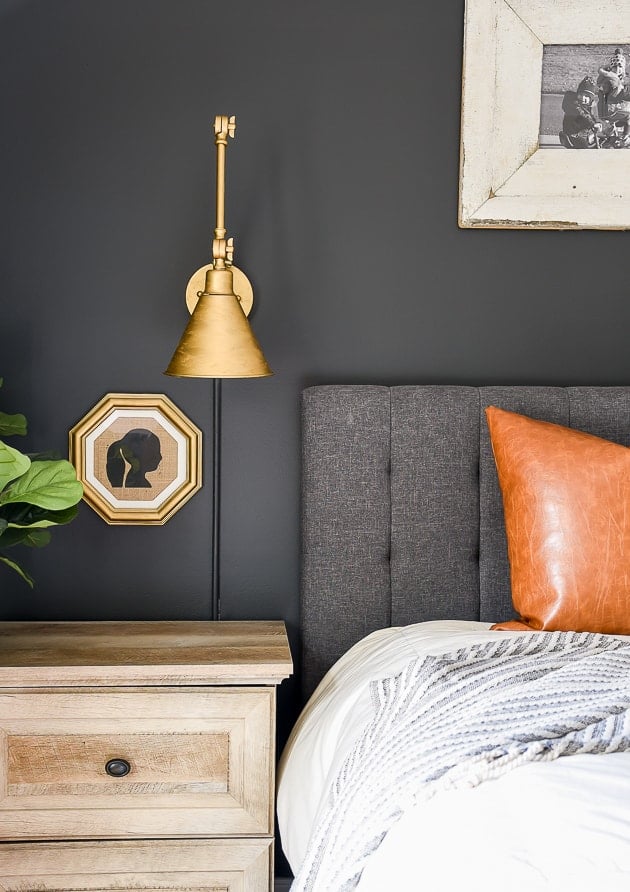 How can I use Iron Ore?
Iron Ore looks wonderful on kitchen or bathroom vanity cabinets, as a super sophisticated accent wall, front door, or even as a trim color on the exterior of your home.
The trick is to pair it with a crisp white trim to really show off that beautiful smoky charcoal gray.
Another wonderful way of using Iron Ore is to make a feature of your fireplace, and painting it this shade will bring character and drama to your space.
Iron Ore and White Paint
If you are thinking of using this dark paint color as a feature wall color and wondering what color to paint the rest of your room to compliment, consider using a neutral white like Sherwin Williams Pure White.
On the exterior of your house, Iron Ore also looks beautiful paired with Alabaster by Sherwin Williams. Alabaster is a beautiful off-white with warm undertones which nicely complement the coolness of that majestic charcoal gray.
Iron Ore vs Peppercorn
Iron Ore is a couple shades darker than Peppercorn whose LRV is 10.07. Peppercorn is a perfect soft charcoal black if you are wanting to go in that darker direction but are too scared to really commit.
I've seen Peppercorn sway quite blue in certain light, so if that puts you off, stay away from it! If you're thinking of going in the direction of an almost black paint color, just bite the bullet, be brave and go for it!
The Takeaway
Iron Ore is a sumptuous dark (nearly black) gray. It looks its absolute best paired with crisp white trim and can make such a wonderful shade choice for a feature wall or lower cabinets in your kitchen. Just remember, a shade this dark is going to absorb a lot of light.
Iron Ore is best suited to a room that receives a lot of natural light, or at the very least, one with good artificial lighting sources. It's also the perfect paint color for home exteriors if you're looking to make a big impact.
Don't Forget To Always Use Real Paint Samples!
Don't forget – no matter what you've read or photos you've seen online, it's really important to sample paint colors in your home before committing!
Samplize provides real paint samples that are easy to move around your home, and cheaper than buying a gazillion paint pots! It's the only way I buy paint samples.