This post may contain affiliate links | For further details, please read our privacy policy
Sherwin Williams Tricorn Black (SW 6258) is a timeless black paint color that can work to add drama in many areas of your home. Black paint can be intimidating, but this color is an excellent choice if you're ready to go bold with your design.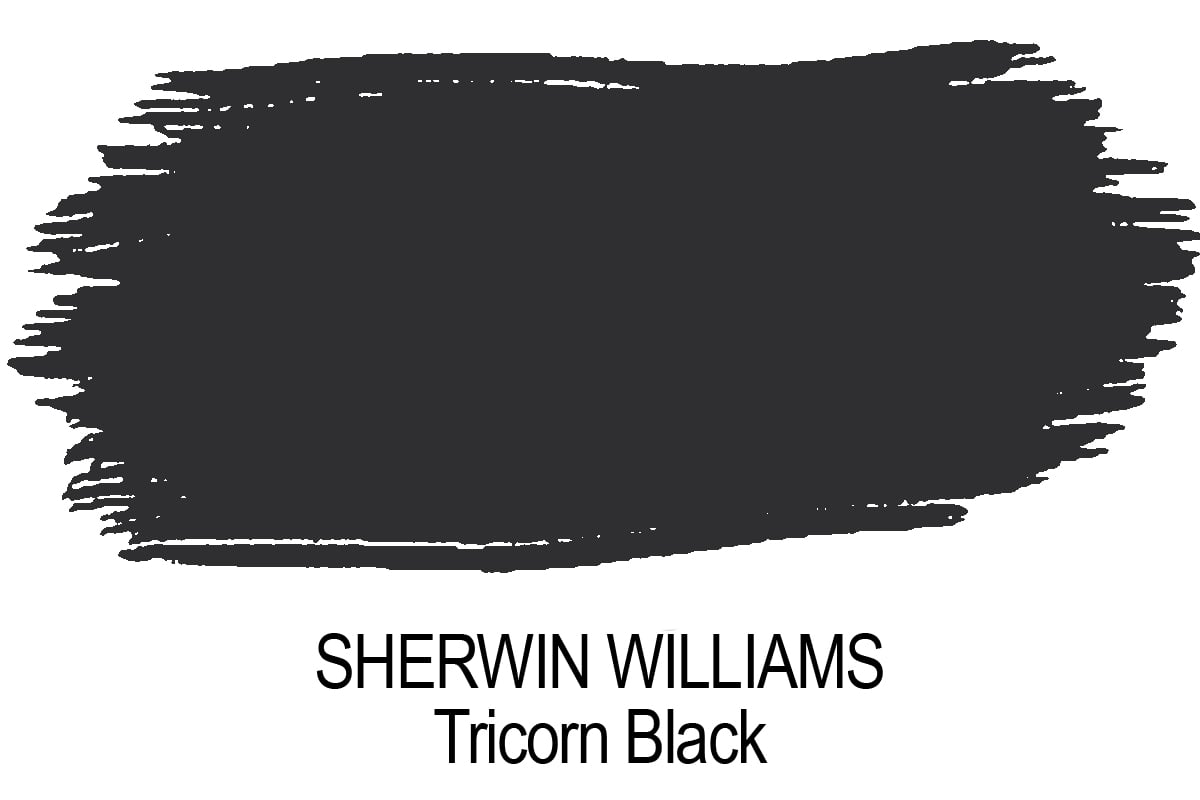 If you're looking for the perfect black that will work in any lighting situation you may have in your home, Sherwin Williams Tricorn Black will impress you. If you're worried about black seeming too cold or eerie, learning more about this color may just change your mind.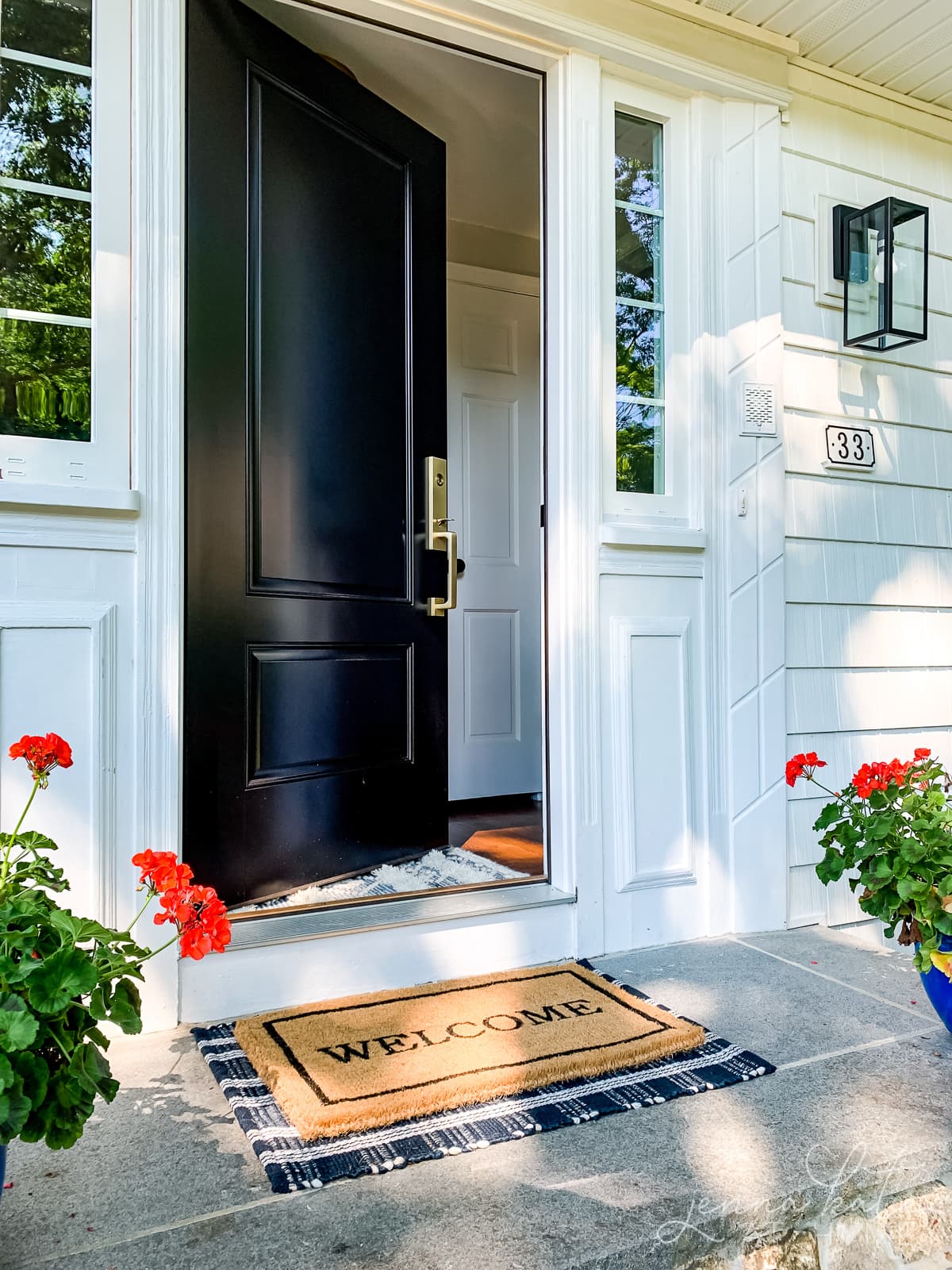 What Color is Sherwin Williams Tricorn Black?
Sherwin Williams Tricorn Black is obviously black, but what you may not know is some black paint colors still have undertones that show up in certain light.
I love Tricorn Black because it doesn't have any undertones, unlike other blacks such as Wrought Iron. You will always get a true black. This is why it looks so elegant when paired with other colors and materials in your home.
Sherwin Williams Tricorn Black allows for great flexibility in color palettes and other decor elements and can add drama to low-light spaces. It's a color that works well with just about any other paint color.
What is The LRV of Tricorn Black?
This paint color has an LRV of 3, meaning it's almost pure black.
Light Reflectance Value (LRV) is an indicator of the amount of light that is reflected by a color when it is illuminated by a light source. A higher value (closer to 100) means that a color will reflect more light back at you and a lower value (closer to 0) means that a color will appear darker, or absorb more light.
Is Tricorn Black a Warm or Cool Color?
Sherwin Williams Tricorn Black is neither a warm or cool paint color. You shouldn't see any hint of red/brown like you would if it were warm paint color, and you shouldn't see any indication of blue/purple like you would if it were cool.
Is Tricorn Black Sherwin Williams' Blackest Black?
Yes, Tricorn Black is a true black and Sherwin Williams' blackest black.
What Are The Undertones?
Tricorn Black has no obvious undertones, which makes it a very neutral black paint color.
Real Room Examples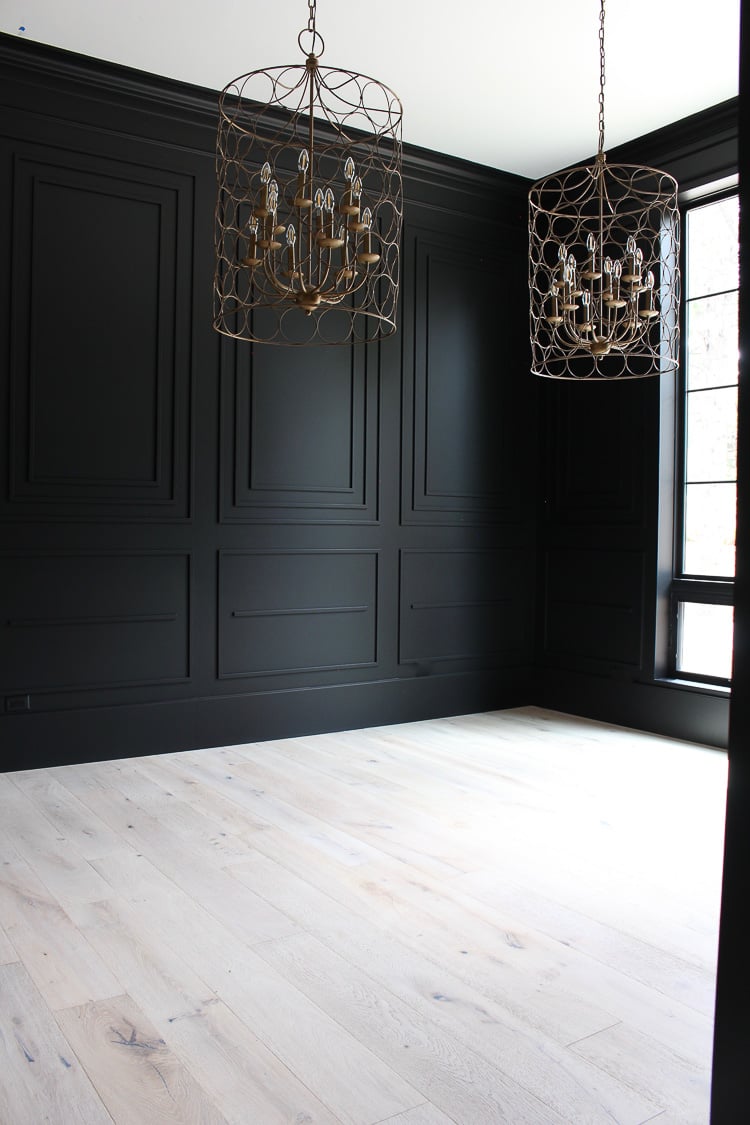 In this example, the entire room is painted with Tricorn Black, including all the baseboards and window casings. What stops this color from possibly making the room look dark is a few things:
The room has plenty of light entering from the window
The light colored floors help bounce light back into the room
The moulding detail on the walls breaks up the sea of black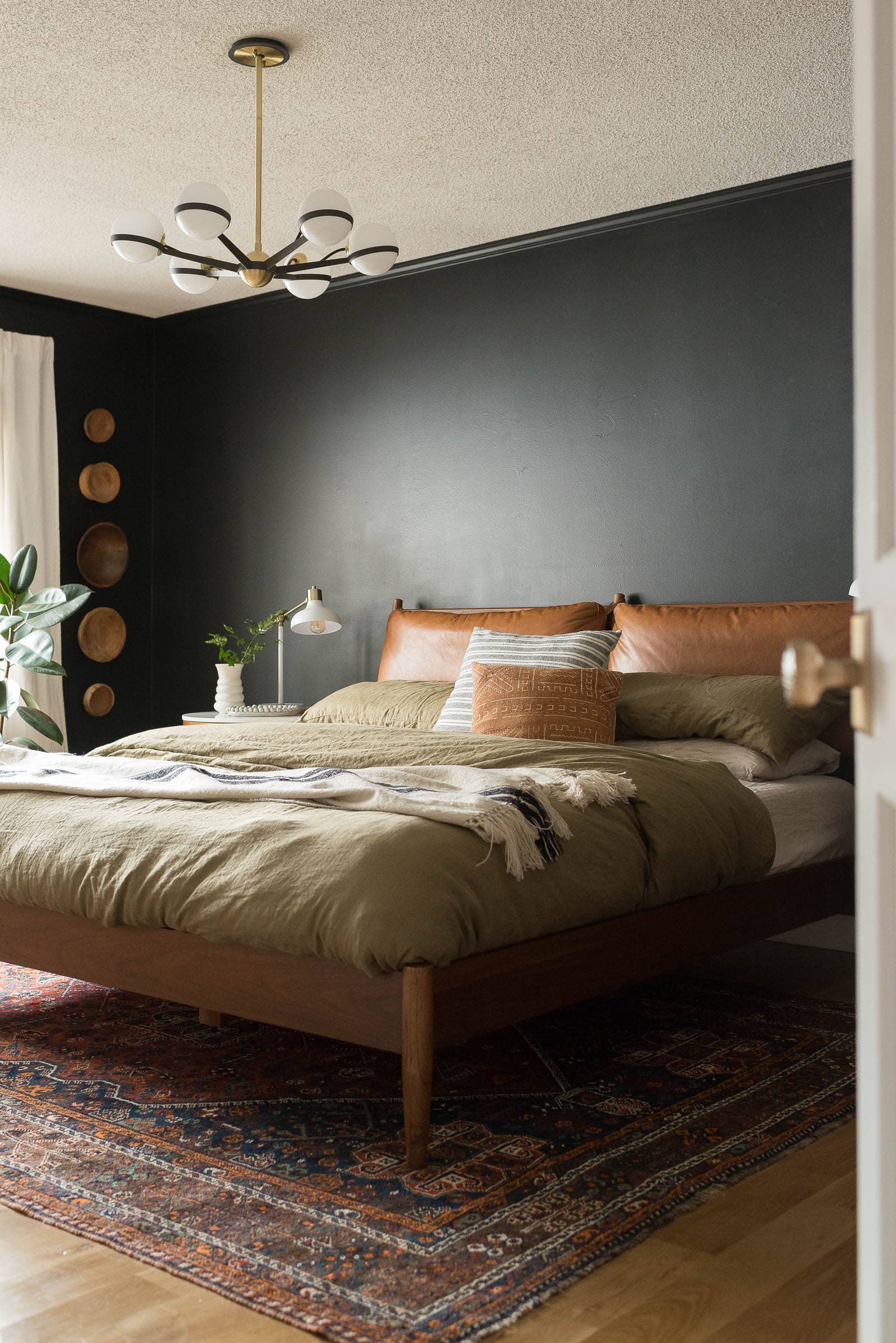 If you want to incorporate black in your home, but painting the walls isn't for you, then using it as a kitchen island paint color or for your interior doors, a piece of furniture, etc. is a great way to use it.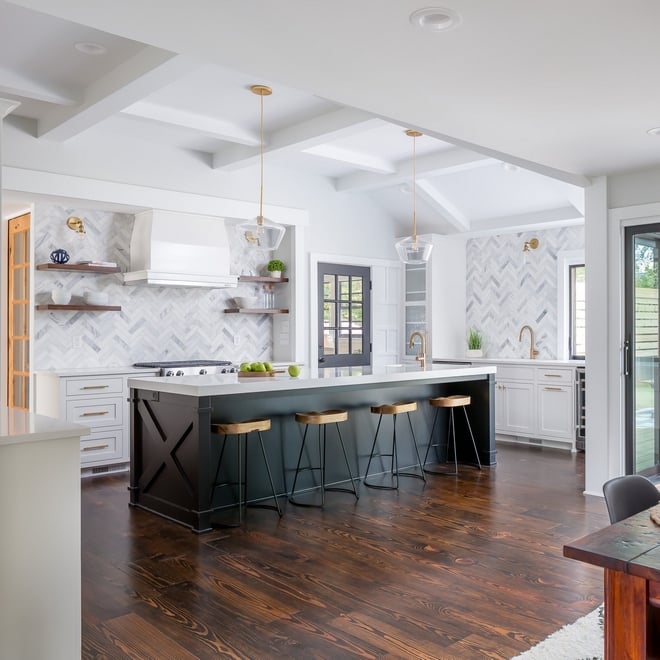 I particularly love Tricorn Black on a kitchen island when surrounded with lots of bright white cabinets and countertops. Adding in some warmer tones such as wood or brass accents stops the whole design from feeling cold.
If I'm using Tricorn Black on my walls, what white trim color will look best?
To balance out the black, I like to use a bright white that doesn't feel cold. Sherwin Williams Pure White is always my safe go-to white, as it's pretty neutral with just a smidge of warmth to stop it from ever feeling cold.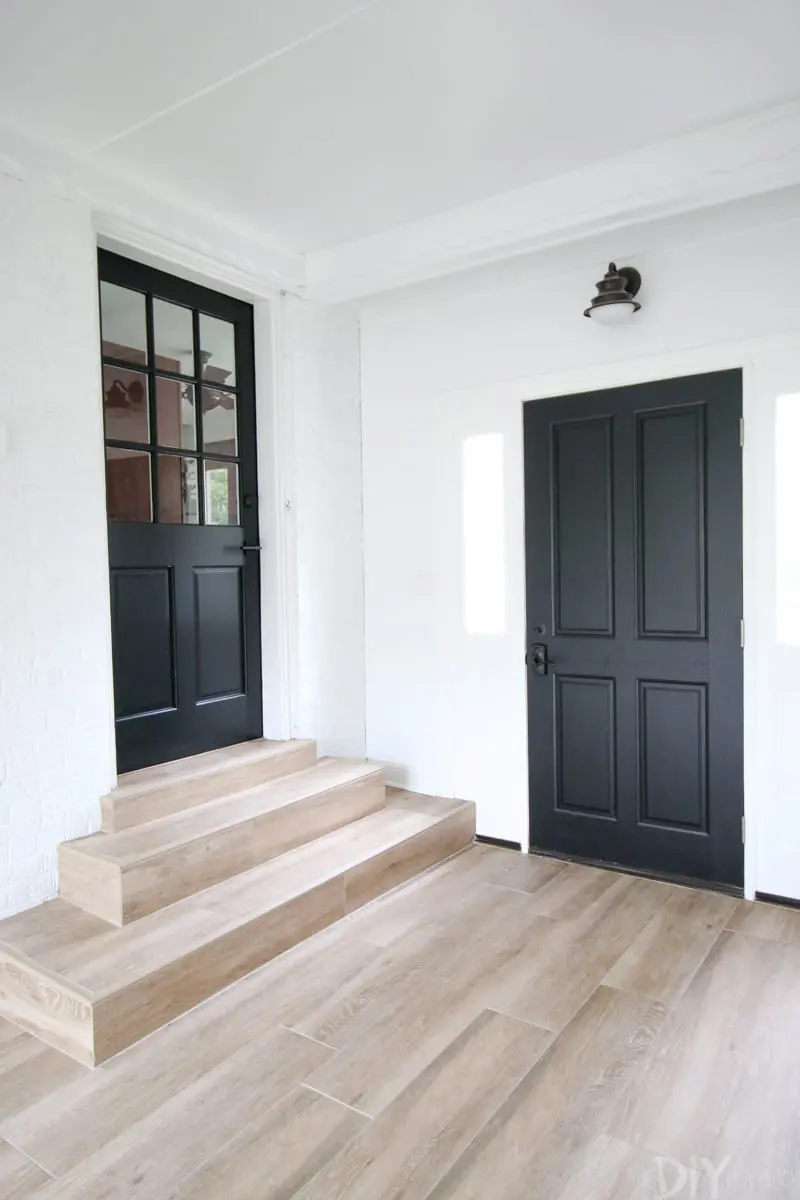 However, if you really want to embrace contrast and aren't afraid of your white feeling a little stark, Sherwin Williams Extra White and High Reflective White are also great choices.
Tricorn Black Exterior
Because the LRV of Sherwin Williams Tricorn Black is so low, it won't reflect a lot of light in even the best lighting situations. That means if you have a larger, stately home, it may not be in your best interest to paint it Tricorn Black because it will feel overwhelming.
There are other paint colors, including more muted shades of black, that would be a better paint color for the exterior of a home.
Tricorn Black is however an excellent color for accents on the exterior of a home, such as shutters or a as a front door color.
On the other hand, Tricorn Black works well with natural wood tones to bring architectural features to the forefront when utilized on the exterior of something like a small cottage or even a mountain cabin.
Tricorn Black Coordinating Colors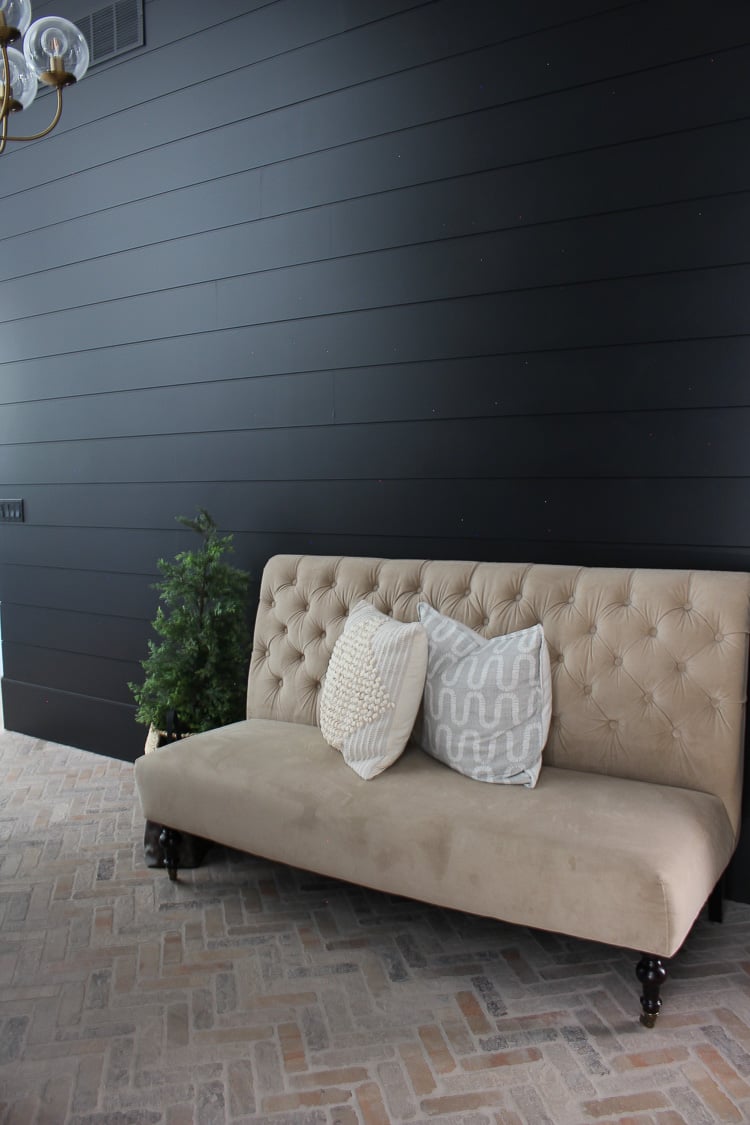 There's both good news and bad news with this paint color.
The good news is that since this color is so neutral, you can pair this with any other paint color without it looking bad.
The bad news is this can be overwhelming because there are so many excellent color choice options depending on the look you're going for.
I personally love pairing black with a clean white and lots of warmer wood tones. This really allows the black to become the star of the show, and lets the other colors form the background.
A few other options for coordinating colors might be:
Sherwin Williams Ice Cube
Sherwin Williams Tricorn Black vs. Sherwin Williams Black Magic
Tricorn Black and Black Magic both have the same LRV of 3, but Black Magic doesn't feel quite as black when looking at the samples.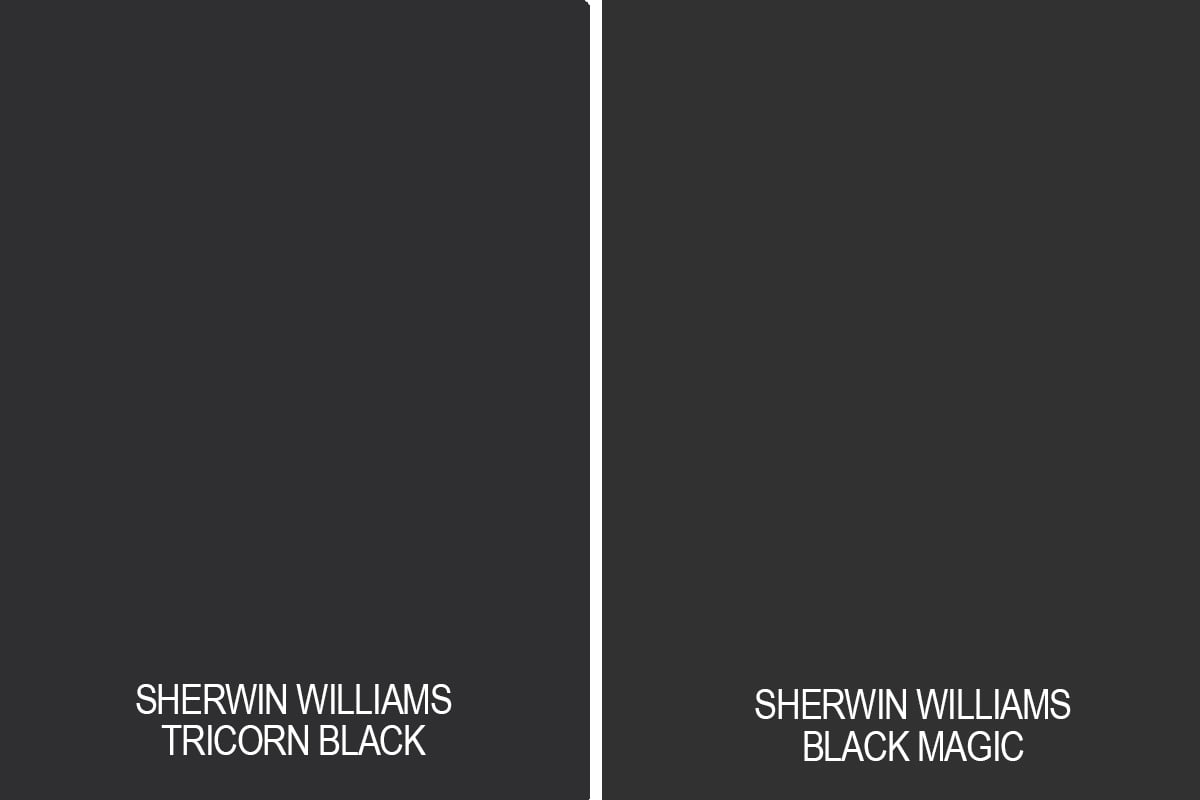 Black Magic has almost a touch of red which makes it warmer than the true black of Tricorn Black. Black Magic is essentially a very, very dark blue that could work in your space, but if you have a lot of natural light, that may come through.
Most likely, unless compared side to side you will not notice the difference in undertone but in certain lighting conditions, it may become apparent.
Sherwin Williams Tricorn Black vs. Iron Ore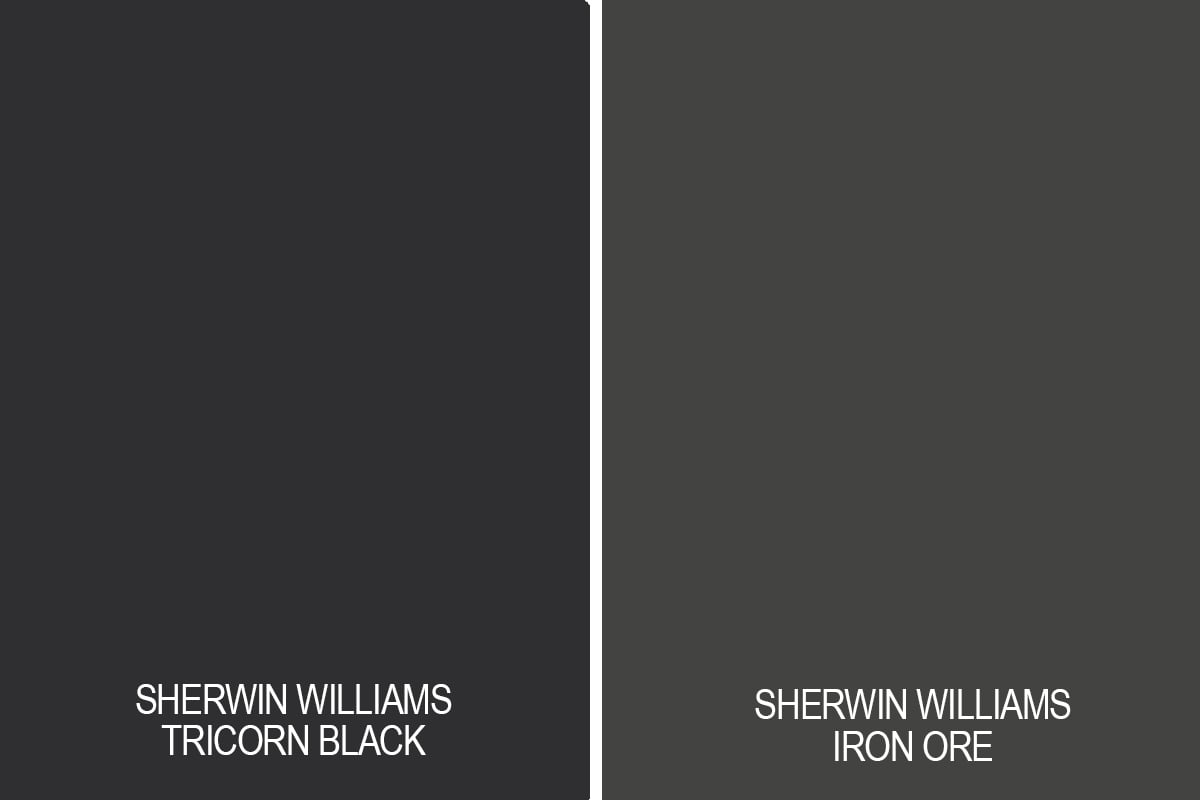 Looking at Tricorn Black and Iron Ore side by side, you can instantly see that Iron Ore is not in fact black, but a deep shade of charcoal.
Iron Ore is a stunning color in its own right. If you're looking for something a little softer than straight up black, Iron Ore would be a better choice for you.
While Tricorn Black doesn't have any obvious undertones, Iron Ore has a slight blue/gray base that can at times flash slightly purple.
If you're looking for something even a bit lighter, Sherwin Williams Peppercorn, or Benjamin Moore Kendall Charcoal are other popular shades of charcoal.
Don't Forget To Always Use Real Paint Samples!
Don't forget – no matter what you've read or photos you've seen online, it's really important to sample paint colors in your home before committing!
Samplize provides real paint samples that are easy to move around your home, and cheaper than buying a gazillion paint pots! It's the only way I buy paint samples.
Use code JENNAK10 at checkout and get 10% off your order
Coupon entitles all customers to 10% off the entire order with no minimum purchase requirement. This is a one-time use coupon and it cannot be combined with other discounts.
Final Thoughts
If you are looking for a solid black paint color that will always read like a true black, Tricorn Black is the right color for you.