This post may contain affiliate links | For further details, please read our privacy policy
Are you looking for the perfect dark paint color? Iron Ore is a rich and indulgent dark charcoal gray worthy of a feature wall or even a kitchen cabinet. It is sure to make a statement and add a touch of elegance and sophistication to any home.
Is Iron Ore Black or Gray?
Sherwin Williams Iron Ore paint color is a rich, dark shade that brings sophistication and drama to any space. This versatile hue straddles the line between black and dark gray, making it a perfect choice for both interior and exterior applications.
The unique undertones of Iron Ore allow it to complement a wide variety of design styles and color palettes, creating stunning effects that can truly elevate your home's aesthetic.
As a softer black, Iron Ore pairs beautifully with complementary and contrasting colors, breathing new life into your living spaces. When applied as an exterior color, it has the ability to turn your home into a statement piece that stands out in your neighborhood.
Inside, it can be just as impactful, setting the stage for bold accents and striking contrasts. Whether it is used on feature walls, cabinetry, or doors, Sherwin Williams Iron Ore is a great choice for capturing current design trends and making them your own.
Iron Ore is one shade lighter than Sherwin Williams Tricorn Black and a few shades darker than SW's Peppercorn. It's also very comparable to Benjamin Moore Wrought Iron, another great option if you're looking for a dark gray and like the look of Iron Ore.
It can certainly be used also as an island accent color, and in particularly open and well-lit homes, it makes for a striking cabinet color or accent wall.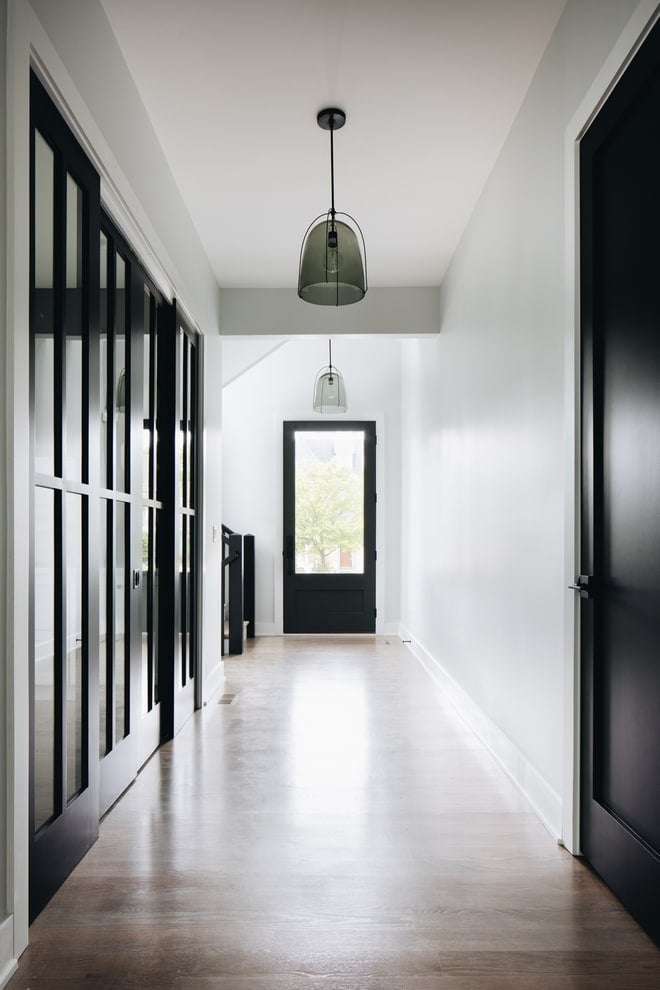 What's the LRV of Iron Ore?
When it comes to choosing the right paint color, considering the Light Reflectance Value (LRV) is essential for understanding how a color will interact with light.
On a scale of 0 to 100, with 0 being pure black and 100 being pure white, a lower LRV indicates a darker color that doesn't reflect much light.
The LRV of Iron Ore is 6.15, meaning while it is extremely dark it is not a true black. Nearly there, but not quite.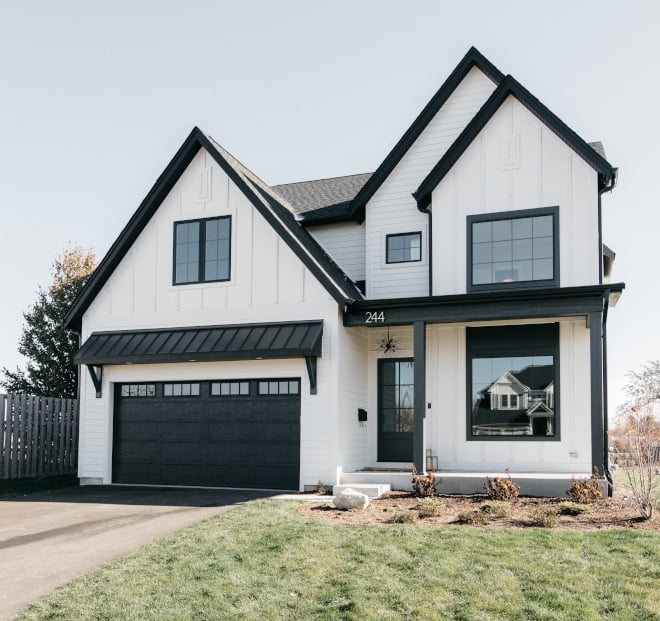 Is Iron Ore Warm or Cool?
Iron Ore also has charcoal or gray undertones, but in a warm-toned way. This means it is not a stark black and gives off a sense of depth and richness, making it an excellent choice for accent walls, cabinets, and doors.
Its warm, soft black appearance can also look like a dark charcoal or gray, further adding to your design possibilities.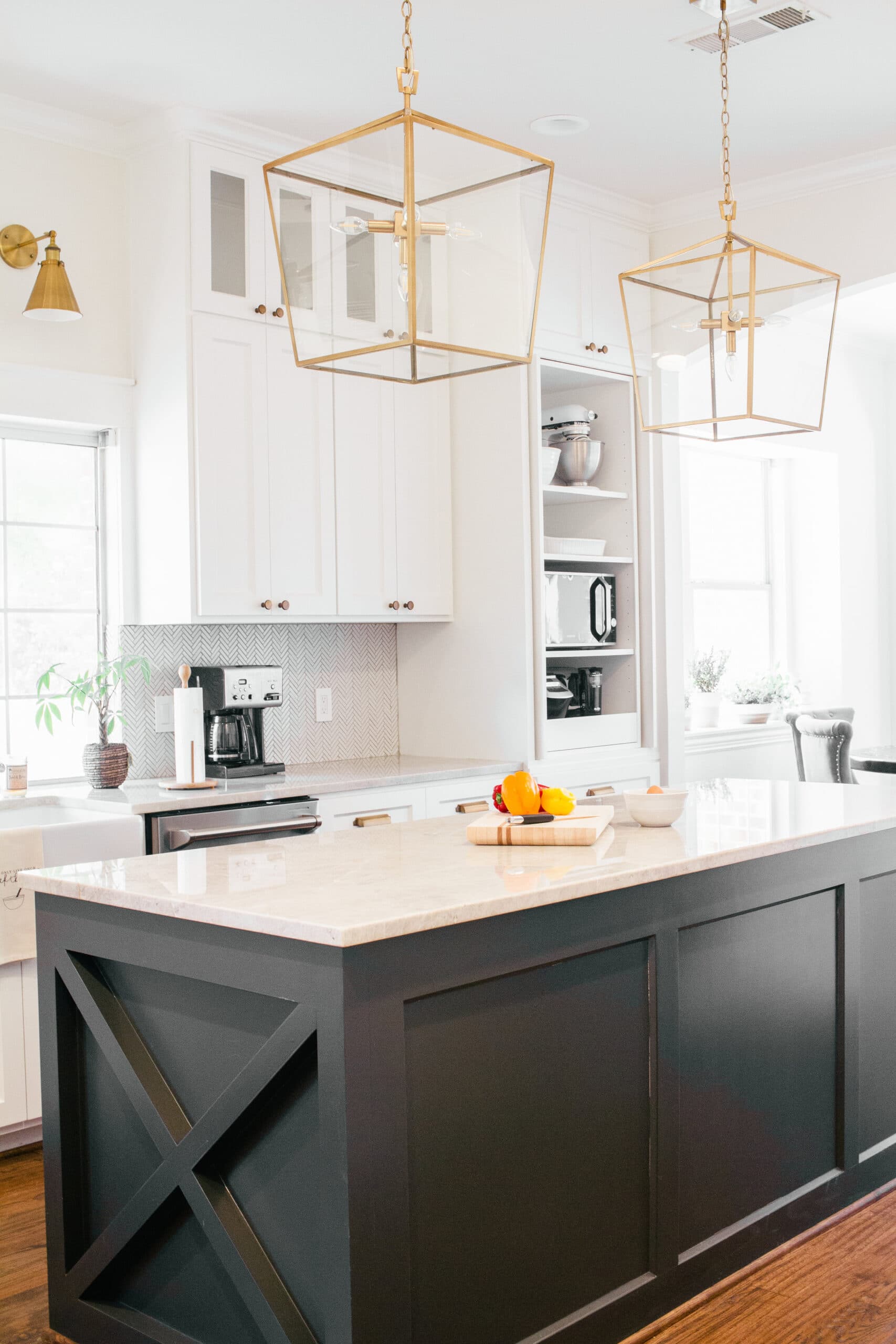 What Undertones Does Iron Ore Have?
Sherwin Williams Iron Ore paint is an intriguing color with a variety of undertones, making it a versatile choice for many design projects. In this section, we'll explore some characteristics of this shade that can help you decide if it's the right fit for your home.
When exposed to natural light, Iron Ore can reveal a subtle green undertone. This nuance adds a touch of sophistication and personality to the color, making it stand out from your typical gray or black shades.
If your room has plenty of natural light streaming in, you might enjoy the unique quality this undertone brings.
In other lighting situations, you may notice faint hints of brown, blue, or even purple in the Iron Ore color. These undertones can add depth and dimension to your space, giving it a one-of-a-kind atmosphere.
Keep in mind that factors like your room's light sources, wall materials, and design elements will influence how these undertones appear.
To ensure you're happy with Iron Ore in your home, it's a good idea to test the color in various locations and observe how it interacts with the lighting.
These repositionable peel and stick paint samples are my favorite way to sample paint, making it easy to examine the paint in different areas under various lighting conditions. Plus, you can move it around to get a feel for how the color will look in your specific space.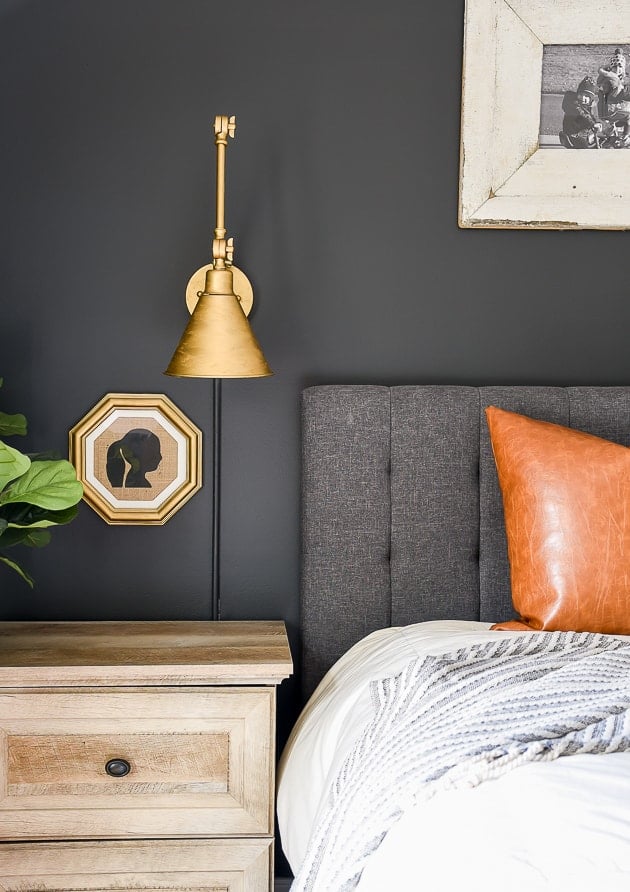 Where to Use SW Iron Ore
Iron Ore is a versatile paint color that can be used in various areas of your home. Its deep, inky charcoal gray hue provides a sophisticated and moody touch to any space.
In your kitchen, Iron Ore can be a stunning choice for cabinets, especially when paired with lighter countertops and backsplash. The bold contrast creates a modern and sleek look that will elevate your culinary space.
Considering updating your living room? Try an Iron Ore accent wall to add depth and visual interest. A feature wall in this dark color can make your furnishings and décor pop. Just remember to balance the moody hue with lighter elements, such as light-colored furniture or artwork.
Iron Ore isn't just for common areas – it can also make a statement in your bedroom. Painting an entire room in this nearly black shade will create a cozy and intimate ambiance, perfect for winding down after a long day. Be sure to use lighter bedding and accessories to keep the space from feeling too dark.
For a touch of elegance in your bathroom, use Iron Ore paint on your vanity or accent trim. This deep color looks especially striking against white or light-colored tiles and fixtures.
Your dining room can also benefit from Iron Ore's sophisticated vibe. Consider using it on your bar or built-in shelving for a dramatic, high-end look. Match it with a complementing tablecloth, placemats, or wall art to tie the whole space together.
If you're looking to create a focused and professional atmosphere in your home office, Iron Ore can be an excellent choice. Apply it to built-in bookcases or even the entire room to give your workspace a sleek, modern edge.
Iron Ore's versatility makes it a fantastic option for nearly any room in your home. Its dark, moody tones can be strategically used to enhance the overall aesthetic of your space. Just remember to balance it with lighter elements to ensure an inviting and cozy atmosphere.
What's the Best White Trim Color With Iron Ore?
For a classic crisp white, pair Iron Ore with SW Extra White. If you want a slightly softer and warmer white without the coolness associated with Extra White, then SW Pure White is an excellent choice for trim, too.
Complementary and Coordinating Colors
When considering what colors go with Iron Ore, think about selecting hues that will enhance its soft black properties and add visual interest to your space.
To create a balanced look, consider using a neutral color like greige for your walls. This warm grayish-beige hue works well as a backdrop, allowing Iron Ore accents to stand out.
When it comes to coordinating colors for your space, you can never go wrong with the classic combination of Iron Ore and Extra White. This crisp, clean white complements the dark tones of Iron Ore, creating a timeless color combination to elevate your design.
Alternatively, you can use Pure White as a coordinating color. This warmer white option blends seamlessly with the slightly green undertones of Iron Ore, creating an inviting atmosphere in your home.
Here's some more paint colors that pair well with Iron Ore: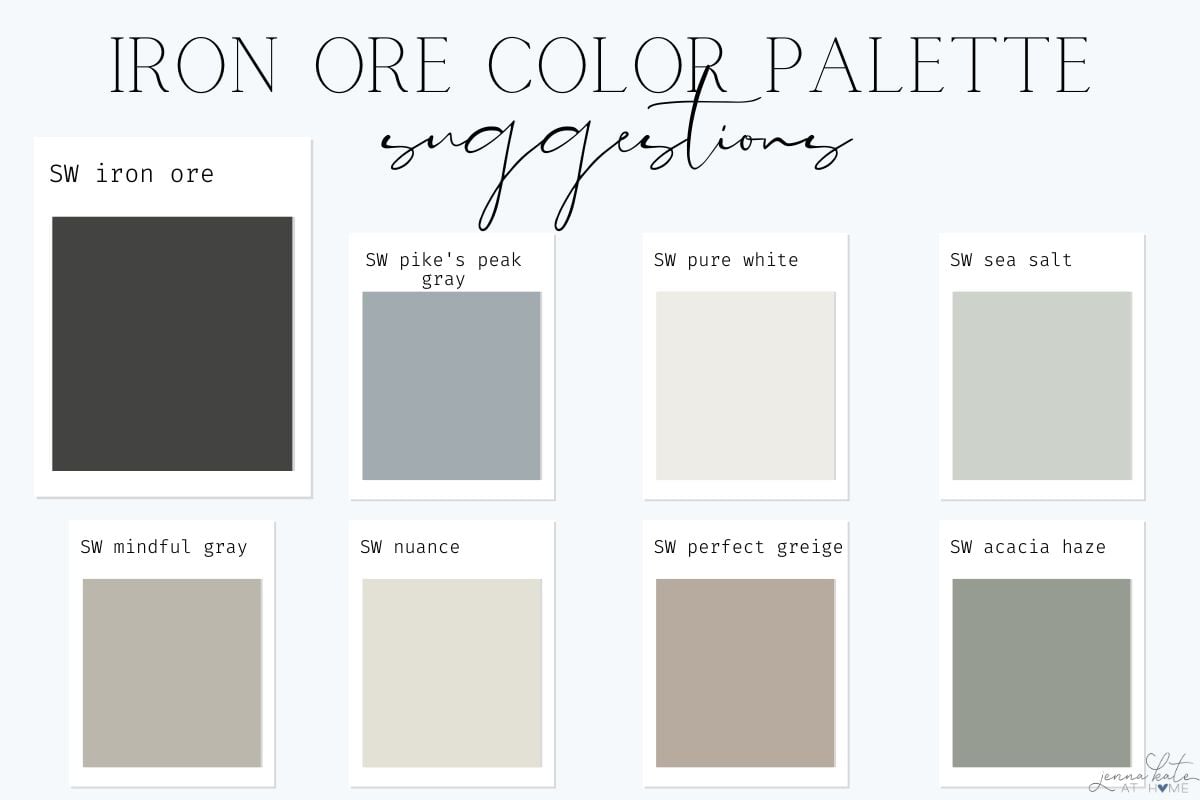 These color were chosen as ones that will pair well due to their warm, green or gray undertones, which coordinate with the undertones in Iron Ore. The variety of colors that Iron Ore works with (even SW Sea Salt, which may not be an obvious choice!) just goes to show how versatile it actually is.
Iron Ore as an Exterior Color
Sherwin Williams Iron Ore is an excellent choice for your home's exterior. The deep, cool, and sophisticated charcoal color adds an air of elegance to your home and works well on various exterior surfaces, such as siding and shutters.
It's versatile enough to coordinate beautifully with a range of exterior paint color palettes, whether you prefer warm or cool undertones.
When using Iron Ore for siding, you'll notice that it has a slightly green undertone in natural sunlight, giving this dark shade warmth and depth. The warm undertone ensures it does not overpower other colors but blends in seamlessly with its surroundings.
Additionally, this soft black paint color pairs exceptionally well with red brick or both warm and cool stone exteriors, which can help bring a touch of sophistication and drama to your home.
Using Iron Ore on your shutters will add an element of contrast, creating a visually intriguing look. This striking paint color offers a nice alternative to the usual stark black shutters while still complementing various exterior color schemes.
When choosing an exterior paint color like Sherwin Williams Iron Ore, keep in mind that it may appear softer and more natural than a true black, which generally works in its favor.
Comparing Iron Ore to Other Black Paint Colors
As you explore Sherwin Williams Iron Ore paint color, it's always helpful to compare it with other popular black paint colors. This will give you a better understanding of how it stacks up against these other similar colors.
Iron Ore (SW 7069) is a rich, very dark gray color that has become widely popular for home exteriors, accent walls, and cabinets. It has a light reflective value (LRV) of 6, indicating that it is significantly dark. However, it's important to note that Iron Ore is not quite as dark as some other black paint colors.
Iron Ore vs Tricorn Black
For example, when compared to Tricorn Black (SW 6258), which is one of Sherwin Williams' darkest black paint colors with an LRV of 3, Iron Ore appears slightly lighter and softer. Tricorn Black is an excellent alternative if you're searching for a more true black color for your project.
Iron Ore vs Peppercorn
Another option to consider is Peppercorn (SW 7674), a dark gray with a hint of blue undertone. This color has a similar hue to Iron Ore but is a bit lighter (LRV of 10.07) and more subdued. Both colors work great for creating sophisticated and modern spaces.
Iron Ore vs Urbane Bronze
Moving on to Urbane Bronze (SW 7048), you'll find a warm, dark gray paint color with a subtle bronze undertone. It is a fantastic choice if you're looking for a black paint color with warm undertones, providing a different look and feel than Iron Ore.
Iron Ore vs Benjamin Moore Wrought Iron
Lastly, Benjamin Moore Wrought Iron (2124-10) is a soft black color that shares similarities with Sherwin Williams Iron Ore. It's often used on exteriors and doors, as well as for accent walls. Wrought Iron is a versatile color that works well in various settings and is worth considering when comparing black paint colors.
Final Thoughts
It's hard not to be drawn to Sherwin Williams Iron Ore. This versatile color is far from a true black, yet not exactly a dark gray or dark charcoal either. Its unique hue strikes a balance that brings warmth and richness to any space it graces.
One of the distinct characteristics of Iron Ore is its soft black tone. This gives your room an elegant and timeless look while being comfortably approachable. Its friendliness makes it an excellent choice for various applications, from doors to accent walls, cabinetry, and more.
Don't Forget To Always Use Real Paint Samples!
Don't forget – no matter what you've read or photos you've seen online, it's really important to sample paint colors in your home before committing!
Samplize provides real paint samples that are easy to move around your home, and cheaper than buying a gazillion paint pots! It's the only way I buy paint samples.
Use code JENNAK10 at checkout and get 10% off your order
Coupon entitles all customers to 10% off the entire order with no minimum purchase requirement. This is a one-time use coupon and it cannot be combined with other discounts.