This post may contain affiliate links | For further details, please read our privacy policy
What are the kitchen hardware trends for 2023? From cabinet and drawer pulls and knobs, to sinks and faucets, these are the must-have kitchen cabinet hardware ideas and accessories you need to know to about when planning your kitchen design.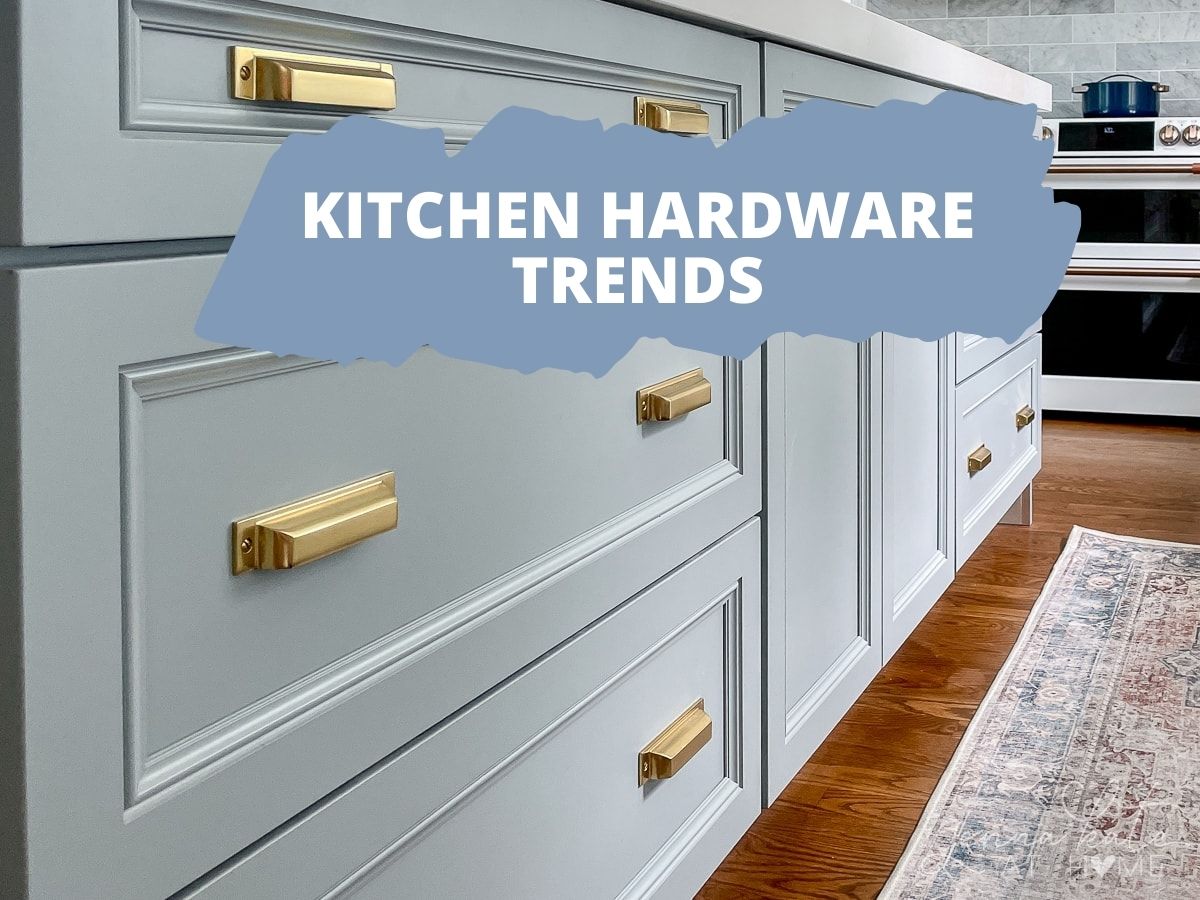 Whether you're in the process of designing your kitchen or planning on a budget-friendly refresh, the kitchen hardware you choose should not be rash decision you make right at the end.
Think of the hardware like the jewelry to your outfit. The earrings or necklace can make or break your outfit, right? Similarly, choosing the right cabinet hardware, sink and faucet can take your kitchen from builder basic to a high-end look.
If you leave these choices until the last second, I guarantee it will stress you out. There's so many choices, especially when it comes to kitchen cabinet hardware.
This article is designed to help you narrow down your choices, so that you are more informed and ready to choose when the time comes!
Trends For Kitchen Cabinet Hardware
Some of the current cabinet hardware trends include:
Polished and and aged brass finishes
Matte black finishes
Latches instead of knobs
Mixing and matching knobs and pulls
1. Polished and Aged Brass Finishes
In recent years, brass is by far the most popular choice, both in terms of cabinet door hardware, kitchen faucets and lighting. This is not a new trend for 2023, but is one that is proving to have some real staying power.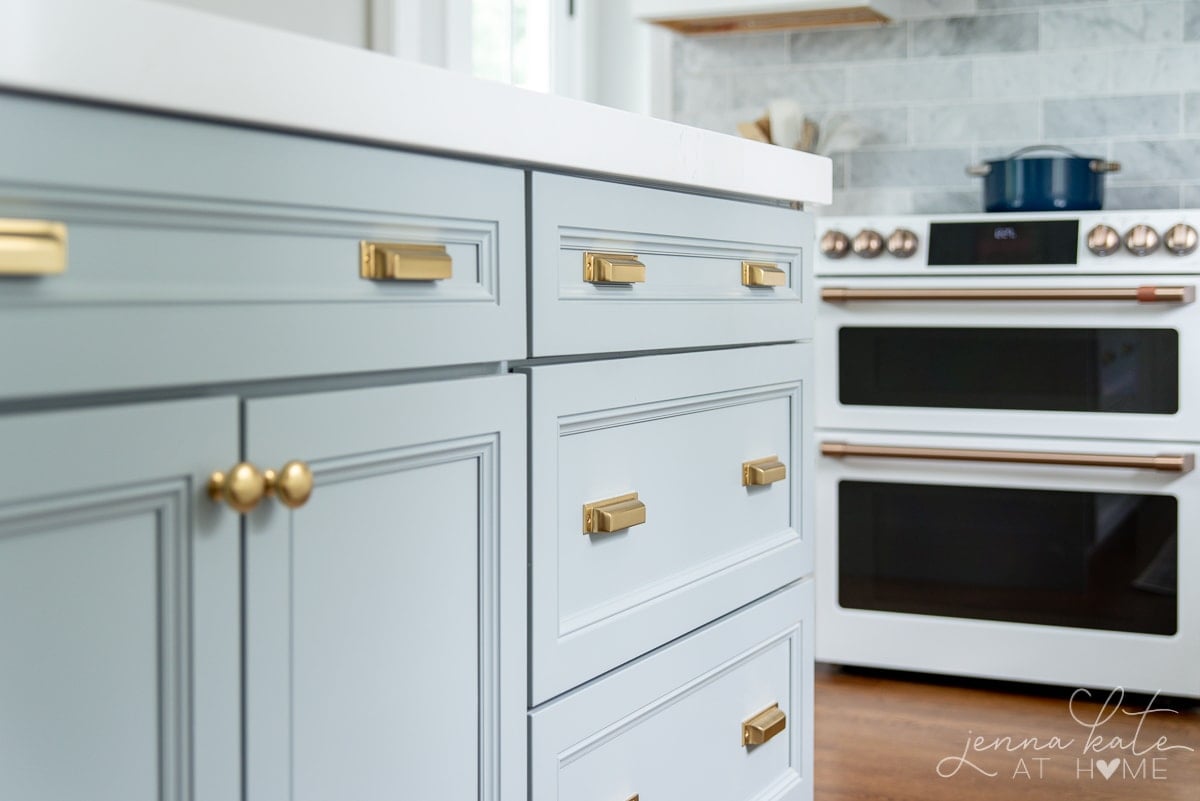 Isn't it funny how brass was shunned for so long? Of course, the shiny, tarnished brass that was in our childhood homes looks a lightyears different from the antique and satin finishes available today.
Brass and gold hardware is here to stay for the foreseeable future and I can see why. Brass is a great option to add warmth to balance out cool-toned cabinet colors such a blue, gray or white cabinets. Plus, it works with all design styles!
Brass hardware comes in so many different colors and different styles. There's matte or satin brass, aged and antique brass (which itself can mean dozens of different variations but usually has a brushed finish), champagne brass, the more traditional polished or lacquered brass and finally unlacquered brass.
2. Matte Black
Matte black hardware is trending in all forms of hardware – from cabinets to door knobs and light fixtures. It's hardware a more sleek and modern look than the oil-rubbed bronze trend of the past, and one that adds wonderful contrast to a lot of the all-white spaces we've been seeing lately.
New hardware is a great way to update old kitchen cabinets, and you do not need a degree in DIY to do it! In fact, this is one of the easiest new homeowner projects you can do.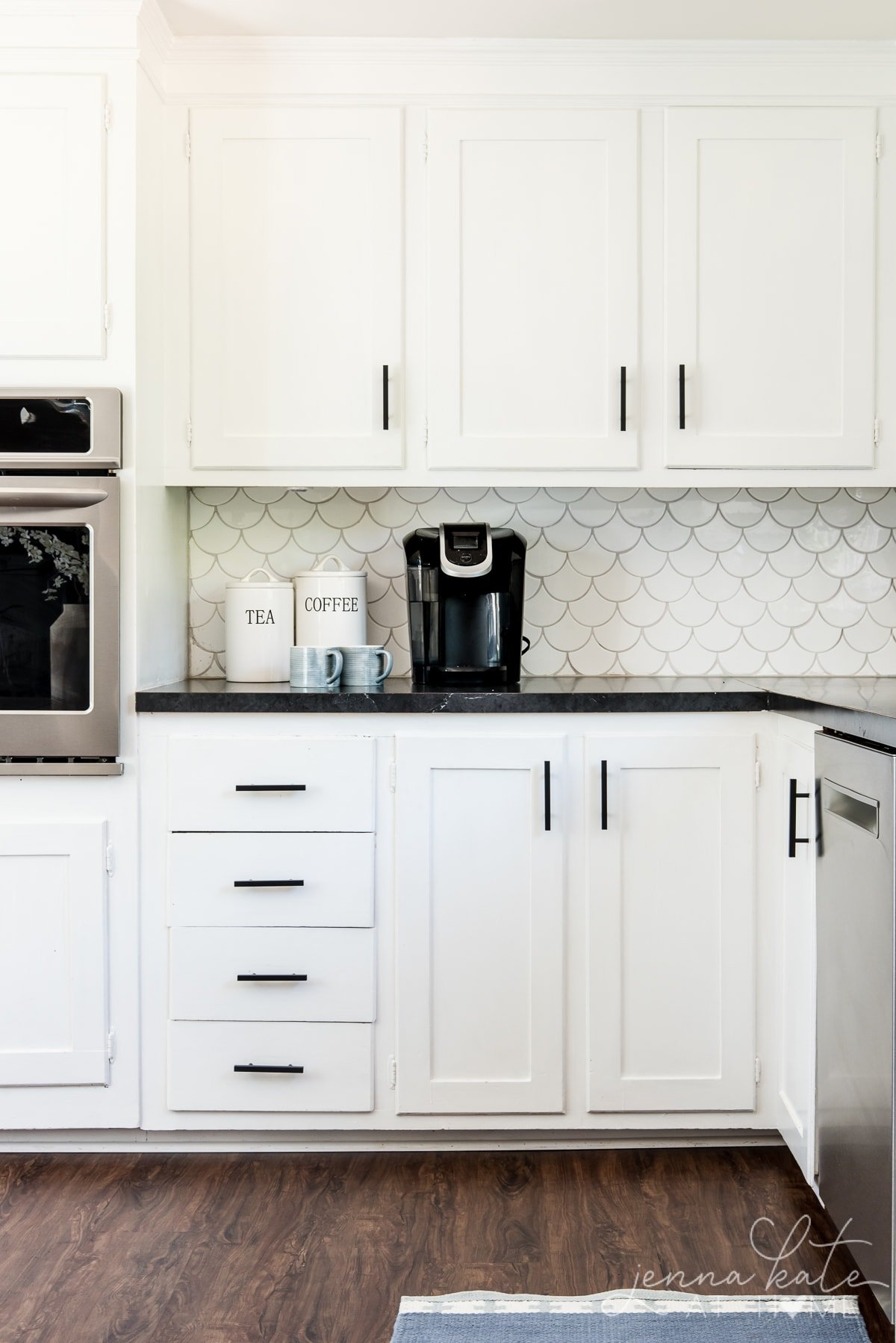 When we did our phase 1 kitchen makeover, I switched out my chrome kitchen pulls for matte black and I loved the high contrast look it gave. Kitchen cabinet hardware is such an easy way to bring new life to your kitchen in only a matter of hours, and it doesn't have to cost a fortune.
RELATED: 11 Ways to Update Your Kitchen Without Remodeling
3. Latches
While different varieties of the ubiquitous bar pull have surfaced – think more square and less tubular – one type of cabinet hardware in particular has been gaining momentum: the latch.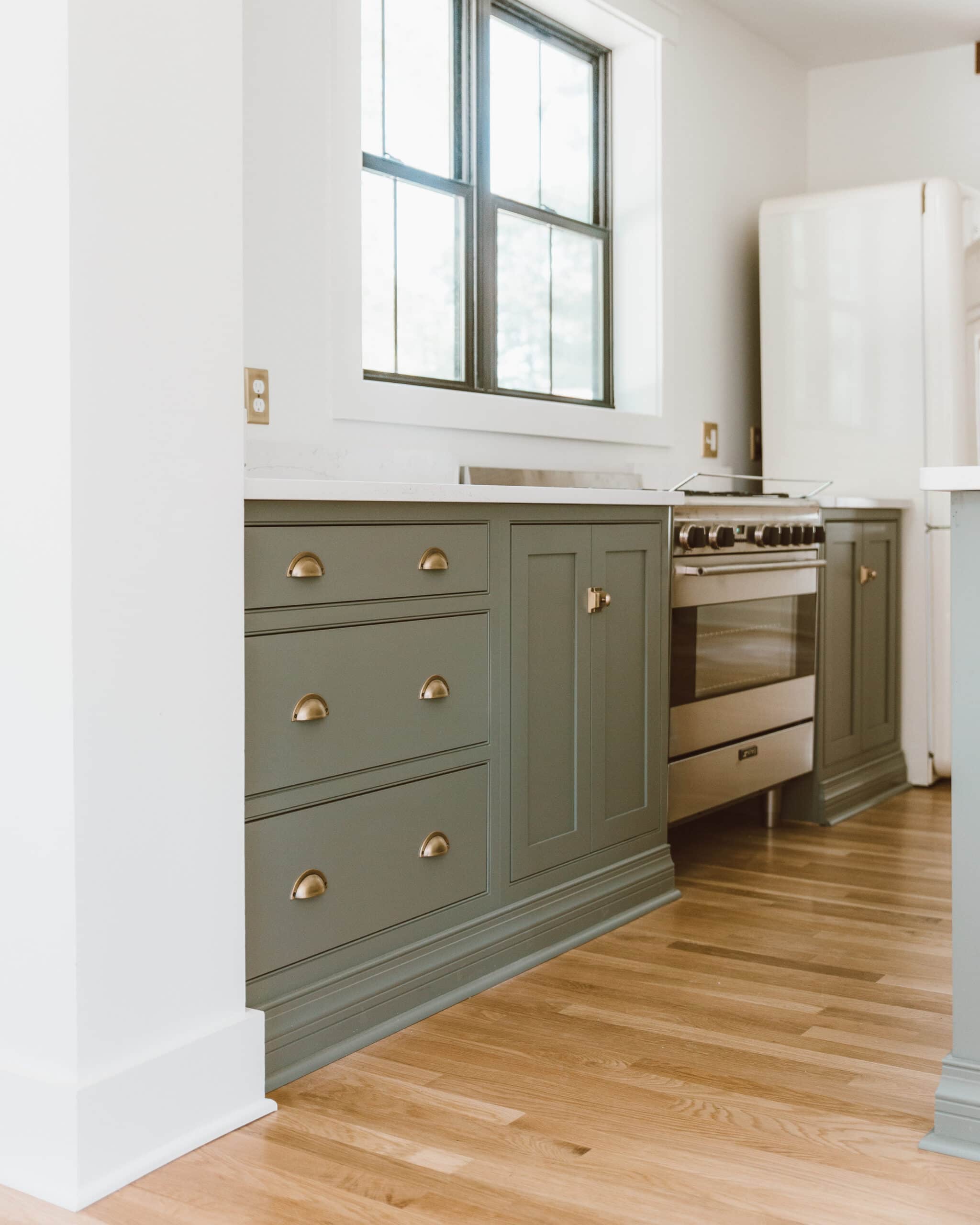 While I don't personally think the latch is the most practical option for everyday cabinets, it sure is beautiful and really gives off a European farmhouse sort of look.
If you have stacked upper cabinets or a cabinet that mostly has decorative items, that might be the place to use one of these pretty latches.
I particularly like them in an aged or antique brass, but the polished nickel or chrome versions have an old world meets new world vibe to them that's really pretty, too.
4. Mixing and Matching Knobs and Pulls
You've probably already noticed this in the photos I've been sharing, but the trend now is not to pick one style of hardware and use it for cabinet doors and drawers, but instead to mix and match.
This may mean knobs on upper cabinets, bar pulls or bin pulls on drawers and extra long bar pulls for built-in appliances or floor to ceiling pantry doors.
Should I Use Knobs or Pulls on Kitchen Cabinets?
The general consensus is that most people prefer knobs on cabinets and pulls on drawers or large pantry doors. And yes, you can definitely mix and match!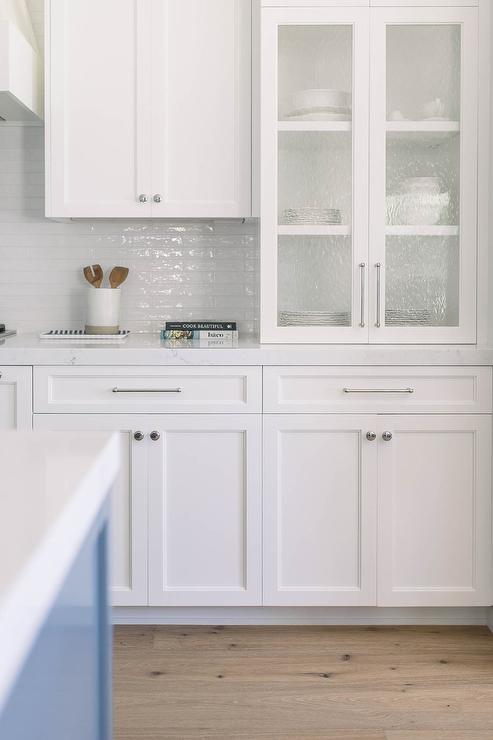 That's not to say that's the only way to do it, though. It's really a personal preference and the overall look you want to achieve.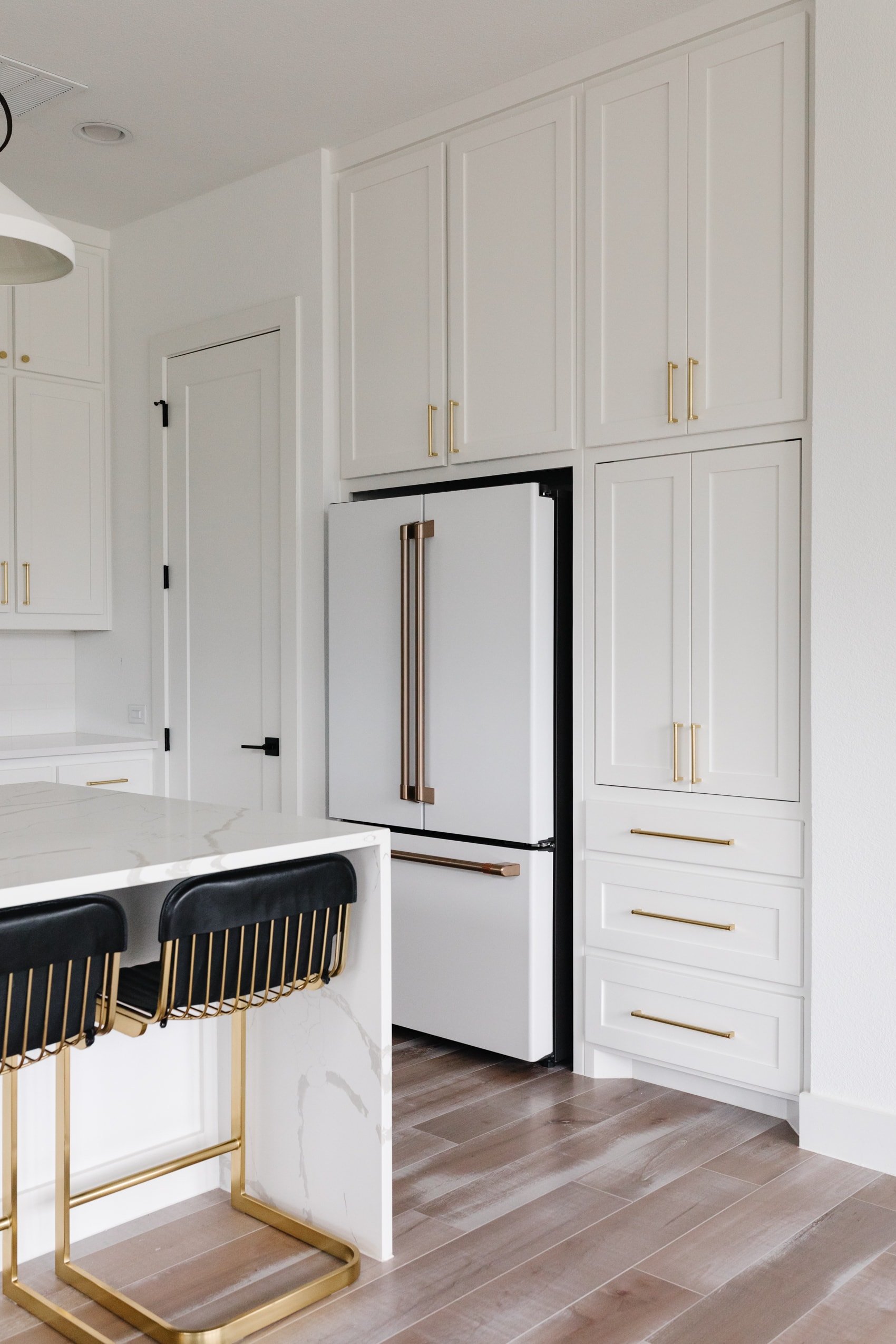 If you are replacing the hardware on existing cabinets, it's much easier to stick with the style (or size really) of what's already there.
If you want to replace existing pulls with knobs, just know that you're going to have to fill all the old holes and they may still be slightly visible afterwards.
What are The Most Popular Kitchen Cabinet Pulls?
Bar pulls remain the most popular kitchen cabinet hardware. They look classic, come in a variety of finishes and are usually quite affordable when purchased in bulk.


Trends For Kitchen Sinks
Long gone are the days of the standard stainless steel sink. In 2023, trends for kitchen sinks include fireclay, composite granite, hammered copper as well as composite materials.
1. Fireclay Farmhouse Style Sinks
Farmhouse, or apron-front sinks, continue to be popular both within the farmhouse decorating community and other design styles. Traditional porcelain varieties chip easily and are require some effort to clean and maintain. Additionally, because they are made from cast iron, they are incredibly heavy and can be difficult to retrofit into existing cabinets.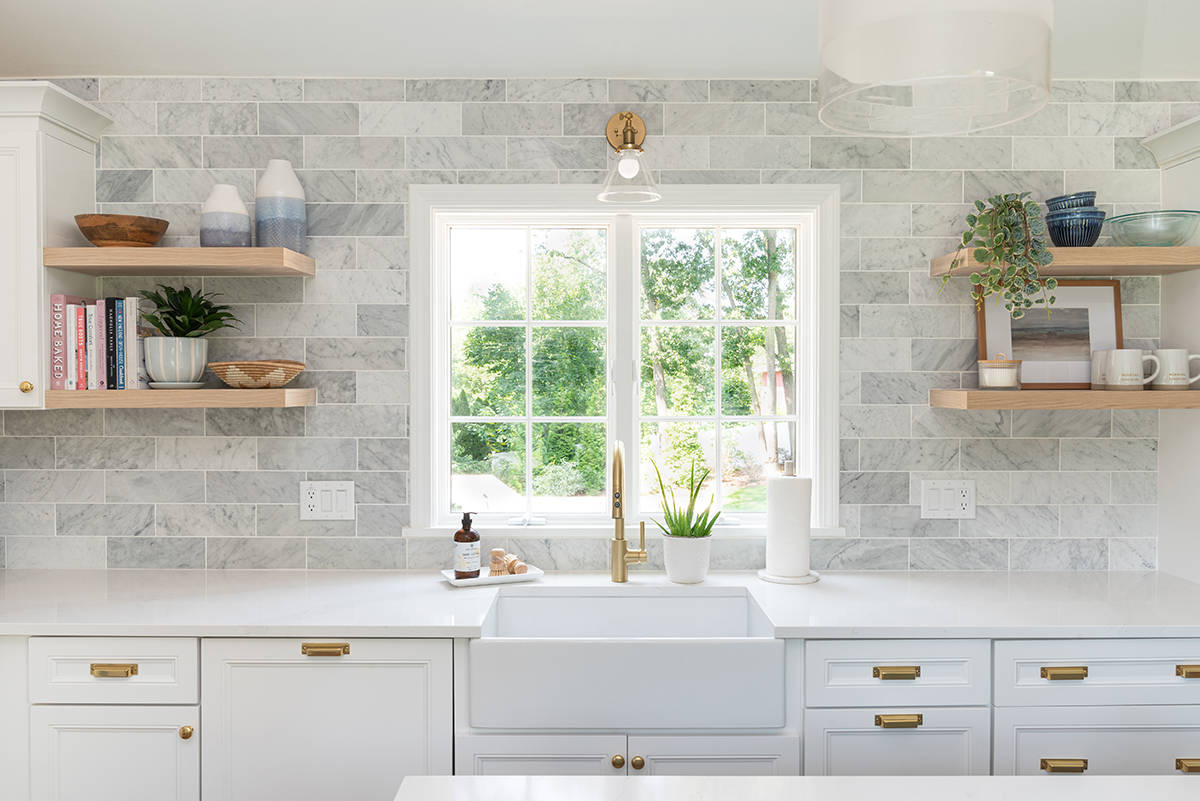 Fireclay sinks on the other hand are much harder to scratch or chip and are much more lightweight, making them a much better candidate for installing into existing cabinets.
2. Composite Granite Sinks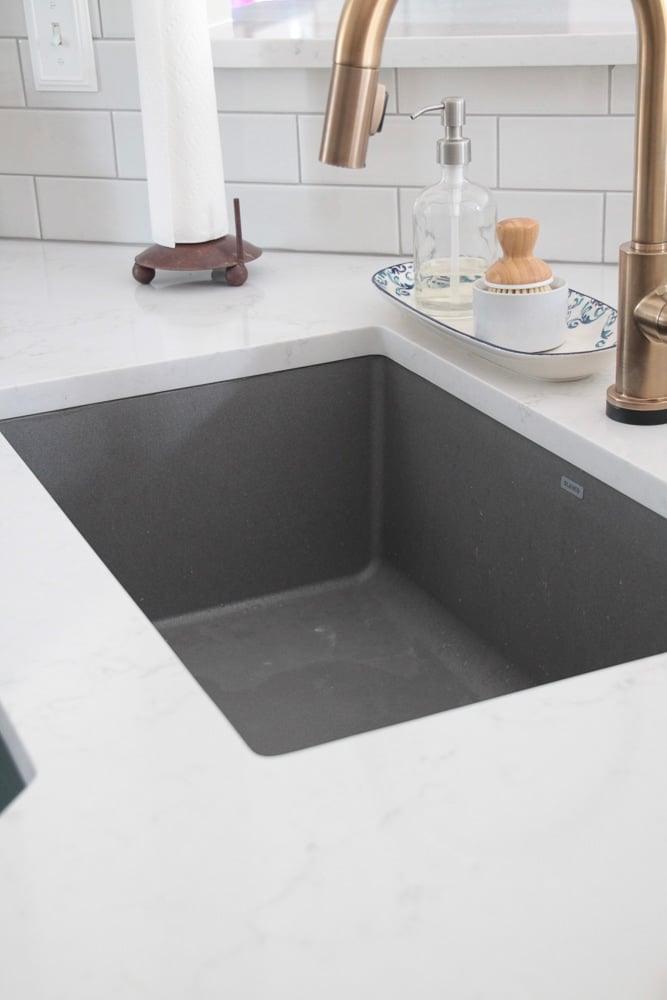 Quality composite granite sinks are formed under high pressure, making them nonporous, hygienic, and resistant to heat, stains, scratches, and chips.
Composite granite comes in a variety of colors as well as undermount or drop-in installations.
3. Copper Sinks
Copper sinks are HOT this year when it comes to kitchen hardware, and for good reason. They are quite the style statement! While copper sinks and other copper kitchen hardware may not everyone's taste, they will certainly add the wow factor to any kitchen.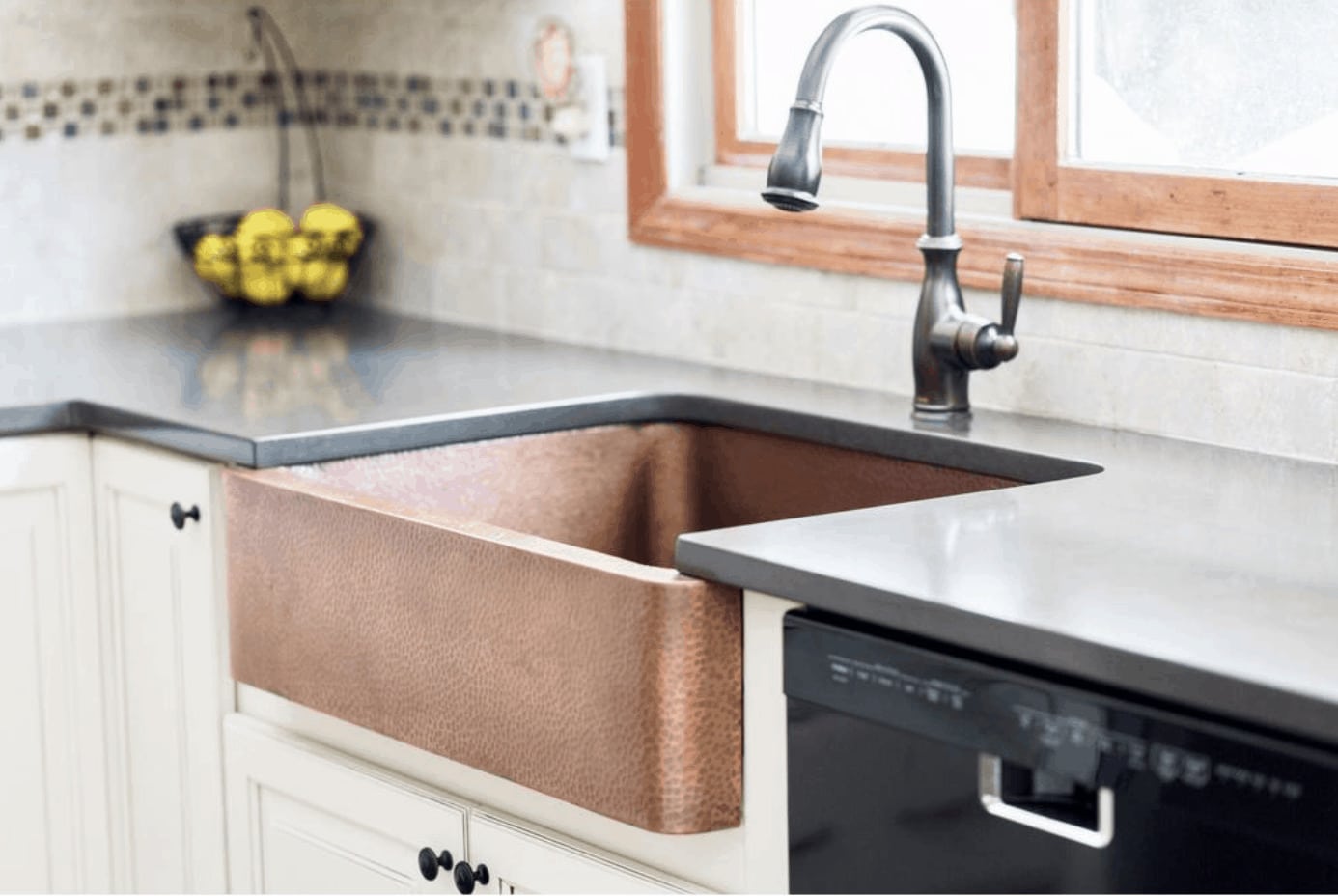 Are Copper Sinks Durable?
In a word, yes! Copper is durable and easy to maintain. It can be recycled over and over without ever compromising its structural integrity! While a copper sink may be prone to dings and scratches,
The beauty of copper is the patina, or the finish of the metal. Copper sinks come in a variety of patinas, from aged and antique or the the "naked" shiny copper.
The patina of copper will naturally change the longer you have the sink, but waxing it occasionally will help you maintain a consistent level of patina if that's would you would prefer.
Plus, Copper has natural antimicrobial properties, making it ideal for use in the kitchen.
Sinkology has a great article all about copper sinks that you should read if you're interested in purchasing one. I've seen theirs in person and they are truly stunning.


Trends For Kitchen Faucets
Similarly to cabinet hardware, the main finish trends for kitchen faucets are matte black and satin brass.
Of course, both satin and polished nickel as well as chrome are still popular when it comes to kitchen faucets.
Does the kitchen faucet have to match the cabinet hardware?
No! Feel free to mix and match as you see fit. In fact, mixing metals is very trendy! Black cabinet hardware and a chrome faucet is perfectly acceptable. Long gone are the days of everything having to match.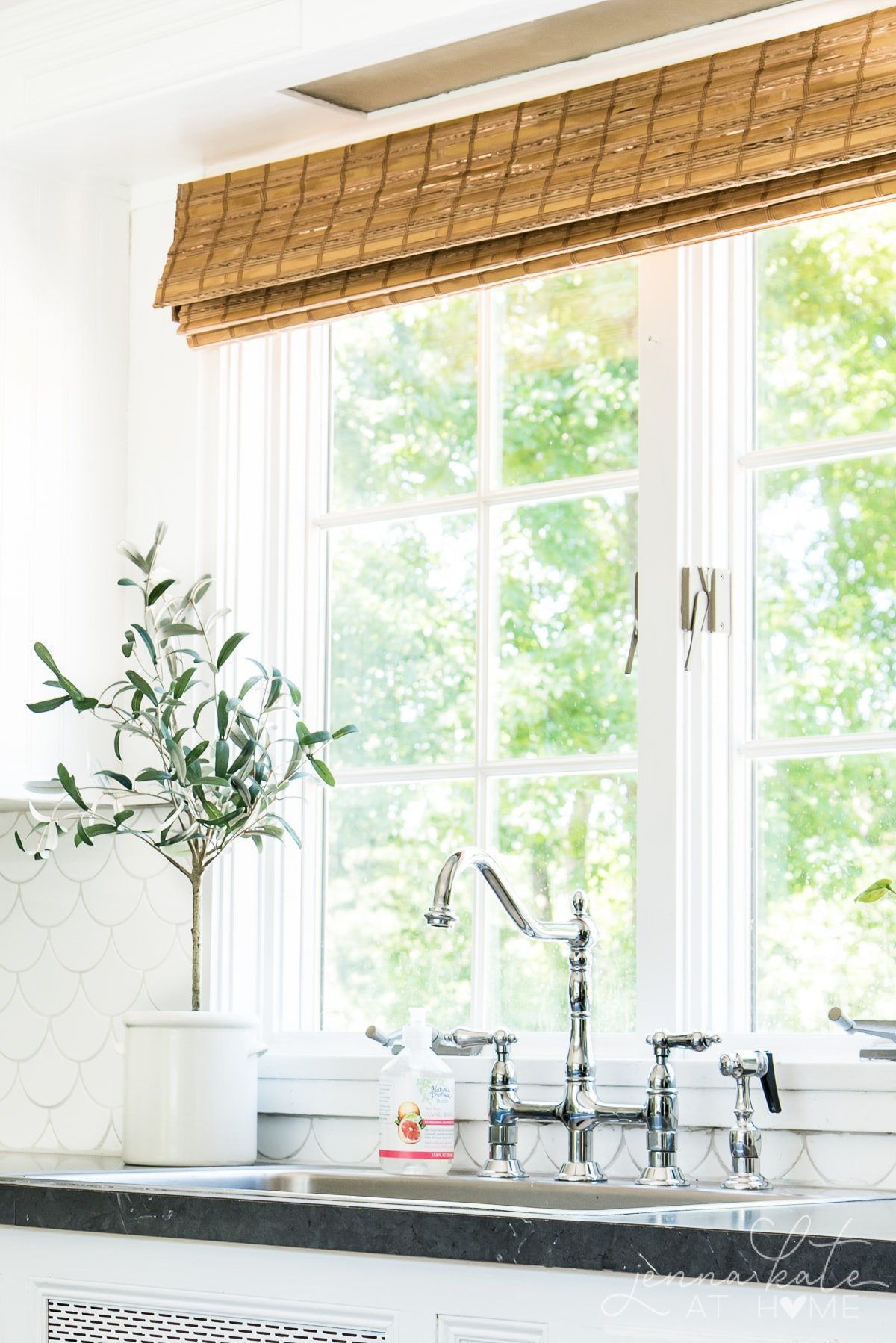 Of course, if you chose to have them matching, that's perfectly fine! Just don't stress over it if your dream faucet doesn't come in the same finish as the perfect hardware you've chosen for your kitchen cabinets.
You may be wondering if brushed nickel is going out of style. While it's not considered trendy anymore, it is a hardware finish that looks good in most spaces, is affordable and widely available. There's nothing wrong with it, so if you like it, ignore what the trends say!
Faucet Styles
Large, commercial-style faucets
These professional-style faucets blend performance and style to give you the kitchen of your dreams. Their large size is a statement in itself!


Bridge Style Faucets
These farmhouse-style faucets have been popular for several years and continue to be for good reason. They blend old world charm with modern features that works with any style of kitchen.


Touchless Technology
You've probably seen the ads on TV for touchless technology faucets. You wave you hand to turn the water on, and wave again to turn it off. If you're a total germaphobe or hate dirtying up your shiny faucet then these might be worth it. However, they generally run about twice to three times to price of a normal faucet.
Final Thoughts on Kitchen Hardware Trends in 2023
Remember, the hardware in your kitchen is like the jewelry to your outfit. Putting some effort into selecting the right cabinet hardware, sink and faucet will completely elevate the look of your kitchen.
If you're still struggling with what to choose, especially when it comes to cabinet knobs and pulls, buy a few samples and see them in person. It will give you a much better idea of how they look against your cabinets and with the other aspects of the room!