This post may contain affiliate links | For further details, please read our privacy policy
Light wood floors are a popular choice in many homes, offering warmth and natural beauty to any space. To enhance the look of your light wood floors, it's crucial to select the right wall colors that complement their tones to create to look and feel you want in your living space.
Key Factors to Consider
Firstly, think about the amount of natural light in your space, as it can significantly impact how paint colors appear on your walls. Light colors tend to make a room feel brighter and more spacious, so if your room lacks natural light, you may want to consider shades such as Sherwin Williams Alabaster or Benjamin Moore Chantilly Lace.
Additionally, the lighting conditions in the room play a crucial role. Pay attention to the type and temperature of any artificial light sources, such as LED or incandescent bulbs, as they may alter how colors appear in the space. It's helpful to test swatches of your chosen paint colors in the room's lighting conditions to make an informed decision.
Types of Light Wood Flooring
The type of flooring you have impacts the colors you choose for your walls because of the inherent undertones. Some light wood flooring can have stronger yellow or orange tones than others, so it's important to understand that before deciding on a color scheme.
Some examples of light wood are:
White oak (neutral undertone)
Red oak (slightly pink undertone)
Maple (lightest colored wood, very smooth grain)
Hickory (more rustic looking with a heavy grain)
Ash (similar to oak but has a more pronounced grain)
Douglas fir (looks similar to pine)
Oak is the industry standard for hardwood floors, so chances are that's probably what you have.
What Colors Go Well With Light Wood?
Whether you're choosing a color scheme to go with your light wood floors, cabinets, or trim, the same principles apply.
Light-colored floors have a lighter, more neutral color, making them highly versatile when it comes to wall colors.
You can choose bold colors like dark blues, deep greens, or even black for a striking contrast, or stick to soft hues like pastels and light grays for a subtle, soothing ambiance.
Neutral shades like beige or off-white also work well with light flooring, enhancing the natural beauty of the wood.
Learning more about finding the undertones in paint colors and never choose the wrong paint color again!
Don't Forget…
Don't forget – no matter what you've read or photos you've seen online, it's really important to sample paint colors in your home before committing!
Samplize provides real paint samples that are easy to move around your home, and cheaper than buying a gazillion paint pots! It's the only way I buy paint samples.
Use code JENNAK10 at checkout and get 10% off your order
Coupon entitles all customers to 10% off the entire order with no minimum purchase requirement. This is a one-time use coupon and it cannot be combined with other discounts.
A Note on Floors vs Cabinets
Because floors are on the horizontal plane versus vertical on a wall at direct eye level, choosing the perfect paint color is less challenging than trying to find one that works with your light wood cabinets.
This is for 2 primary reasons:
Floors and walls are separated by trim (usually white) which visually breaks up the colors.
2. Often, a portion of your floor will be covered with a rug, which also breaks up the expanse of color.
Popular Wall Paint Colors for Rooms with Light Wood Floors
Here are some of the best paint colors from Benjamin Moore and Sherwin Williams that work with light wood floors. Whether you choose to keep your space light and bright, or opt for contrast with a darker color, one of these colors is sure to be perfect!
1. Benjamin Moore Beautiful in My Eyes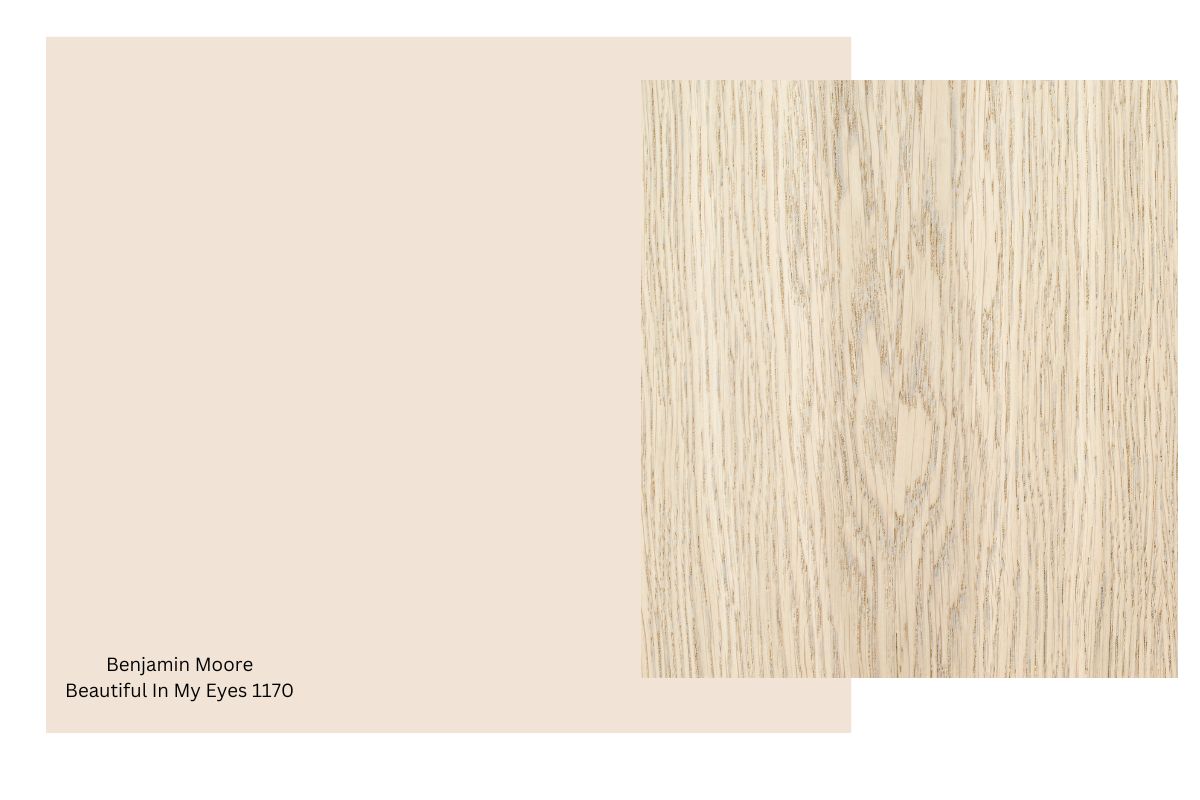 This soft pink-beige goes beautifully with light flooring, in particular oak. This color is perfect for a little girl's room, but equally works as part of a coastal color palette filled with soft pastel colors.
2. Benjamin Moore Berber White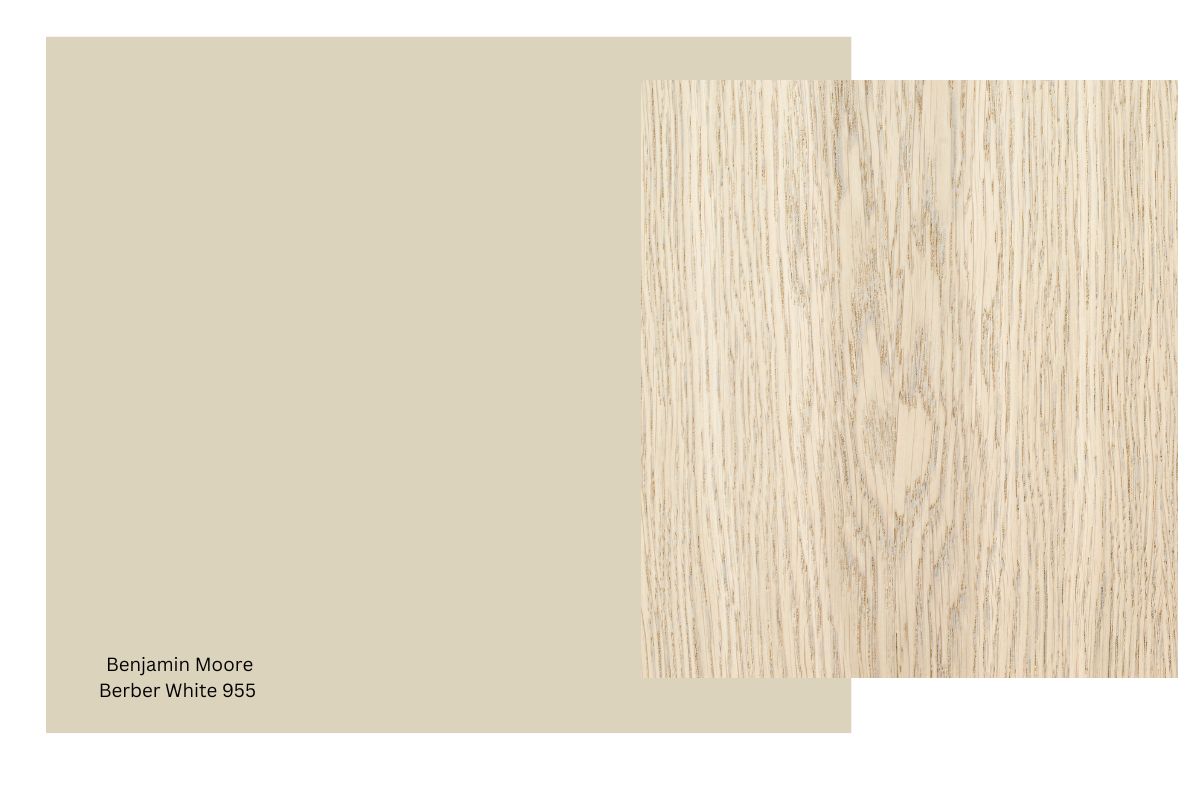 Berber White has an LRV of 62, making it a light paint color, and certainly not a white color like that name suggests. White paint colors have an LRV of 82 and above, while off-white paint colors range from 73-81.
Berber White is a beautiful warm neutral that works in a color scheme filled with warm colors or cool tones like blues or even grayish blues.
3. Benjamin Moore Chantilly Lace
If you're looking for a bright white to keep that light and airy look that works so well with light-toned floors, then BM Chantilly Lace is a great choice. With minimal undertones, this right white is perfect if you want white walls, cabinets, and trim. It's the perfect neutral white.
4. Benjamin Moore Gray Owl
If you're looking for a gray with cool undertones that works with light colored hardwoods, BM Gray Owl is a great choice. It has an LRV of 64.5, which means it's a light color. It has cool blue-green undertones that work really well with the slightly yellow undertones that light wood has.
5. Benjamin Moore Smoke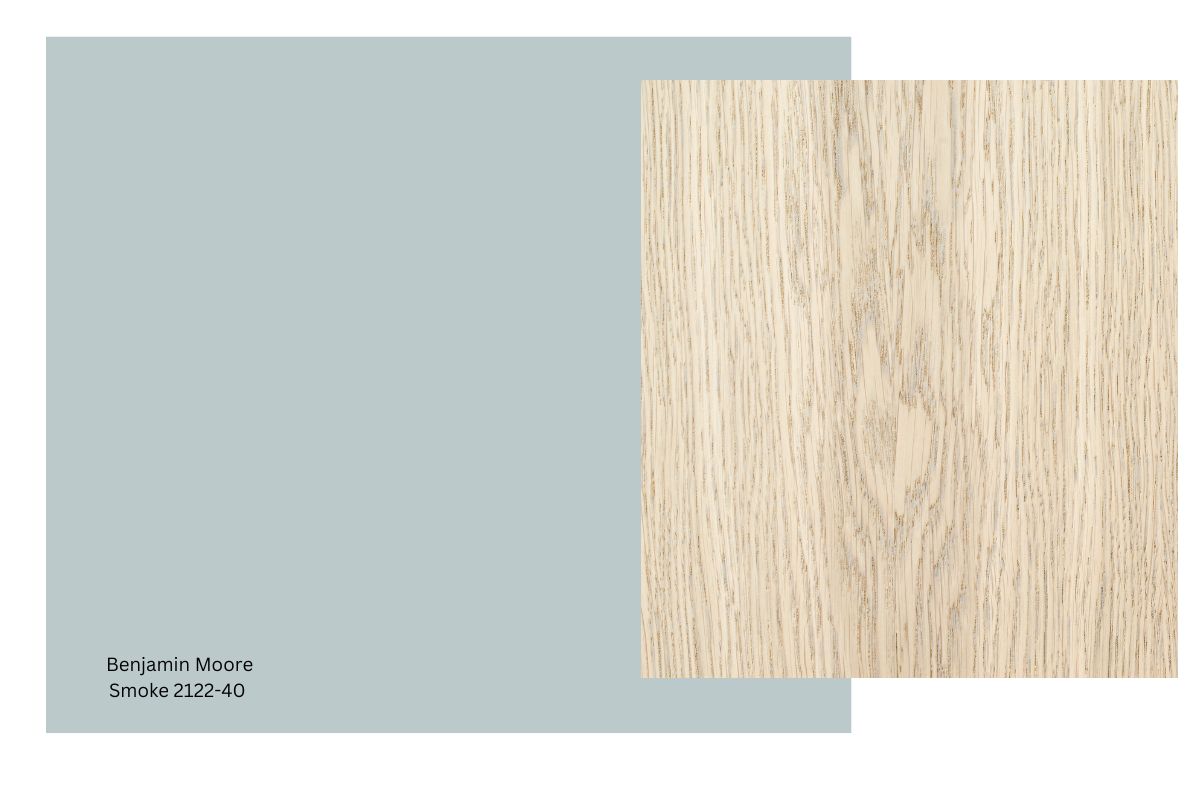 Benjamin Moore Smoke is quickly becoming one of my favorite blue paint colors. It looks stunning against light wood tones like oak and can be used as a wall color, cabinet color, or accent color for a kitchen island or bathroom vanity. It has an LRV of 56, barely putting it into the light paint color category.
6. Benjamin Moore Snow White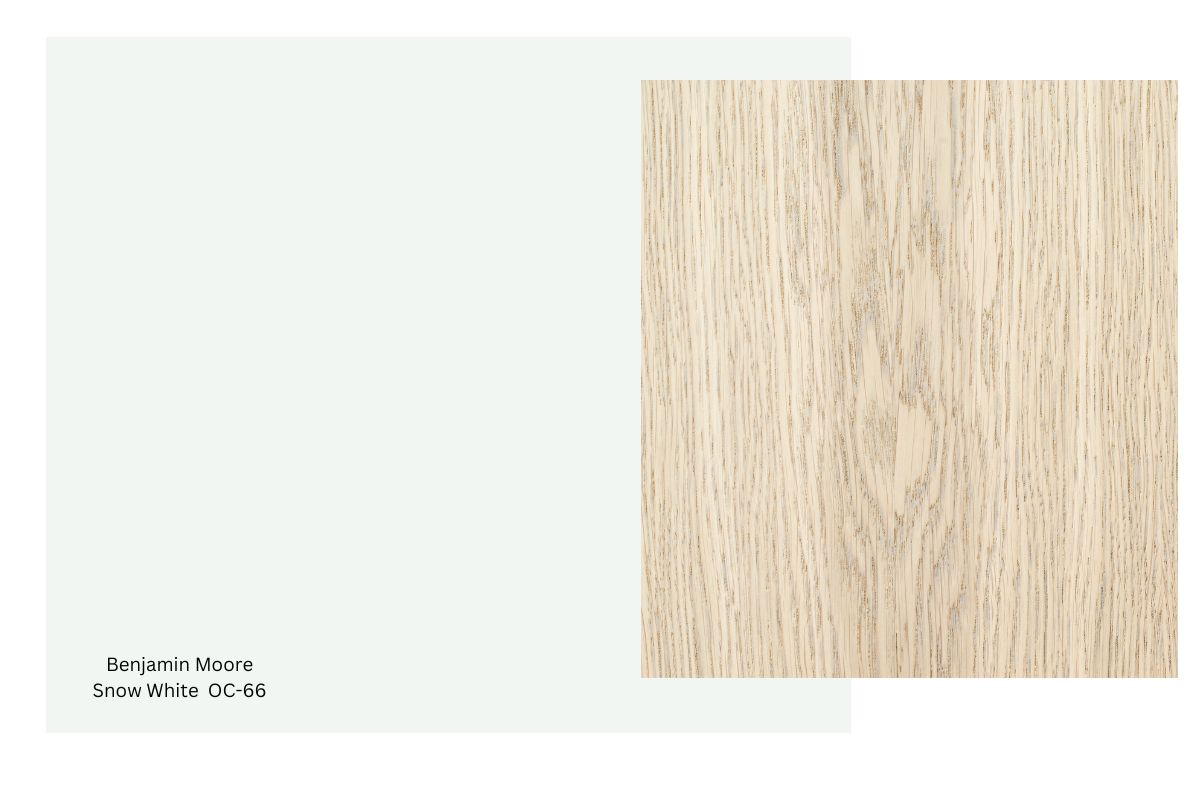 Snow White is not a color that I reference a lot, but it's a beautiful cool-toned bright white with a blue undertone. It has an LRV of 87, making it a bright white.
7. Benjamin Moore Soft Chamois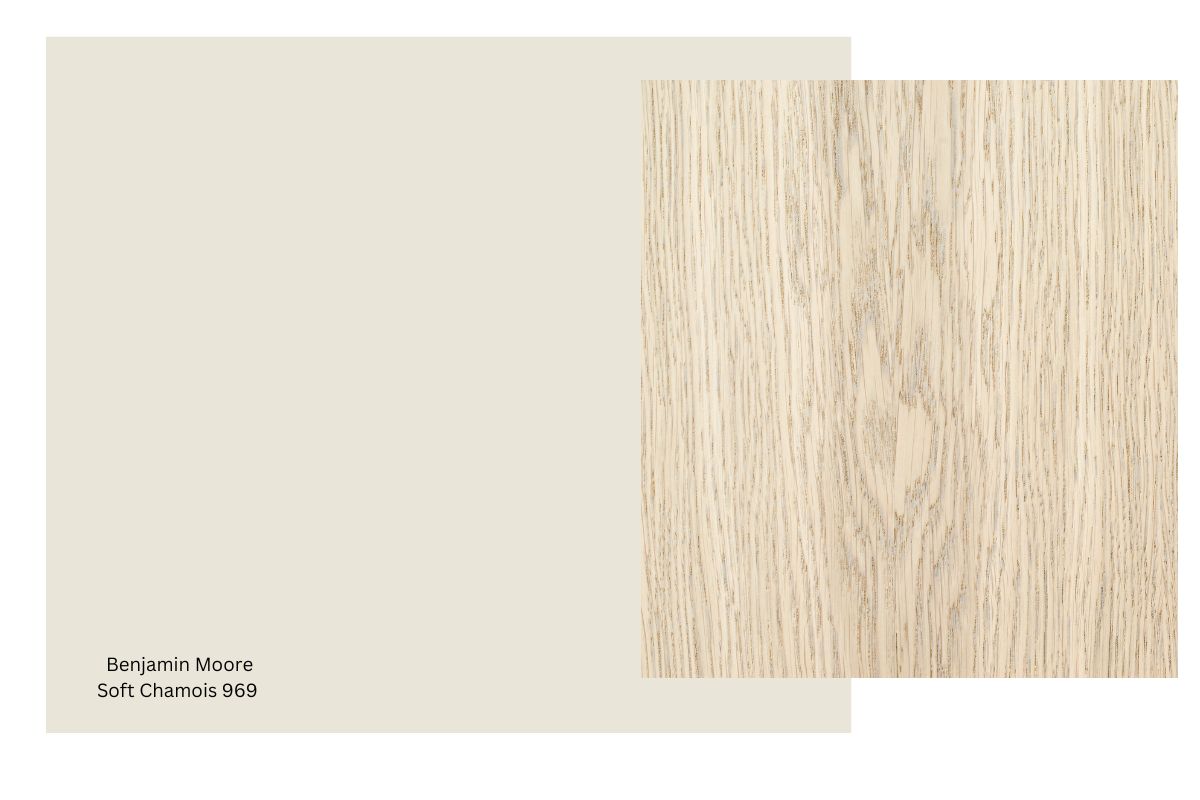 BM Soft Chamois is a beautifully warm off-white paint color. It has an LRV of 77.4, putting right in the middle of the off-white range. It has a slightly greige undertone which stops it from feeling too warm, but still gives the look of a nice creamy, bright color on walls.
8. Benjamin Moore Newburyport Blue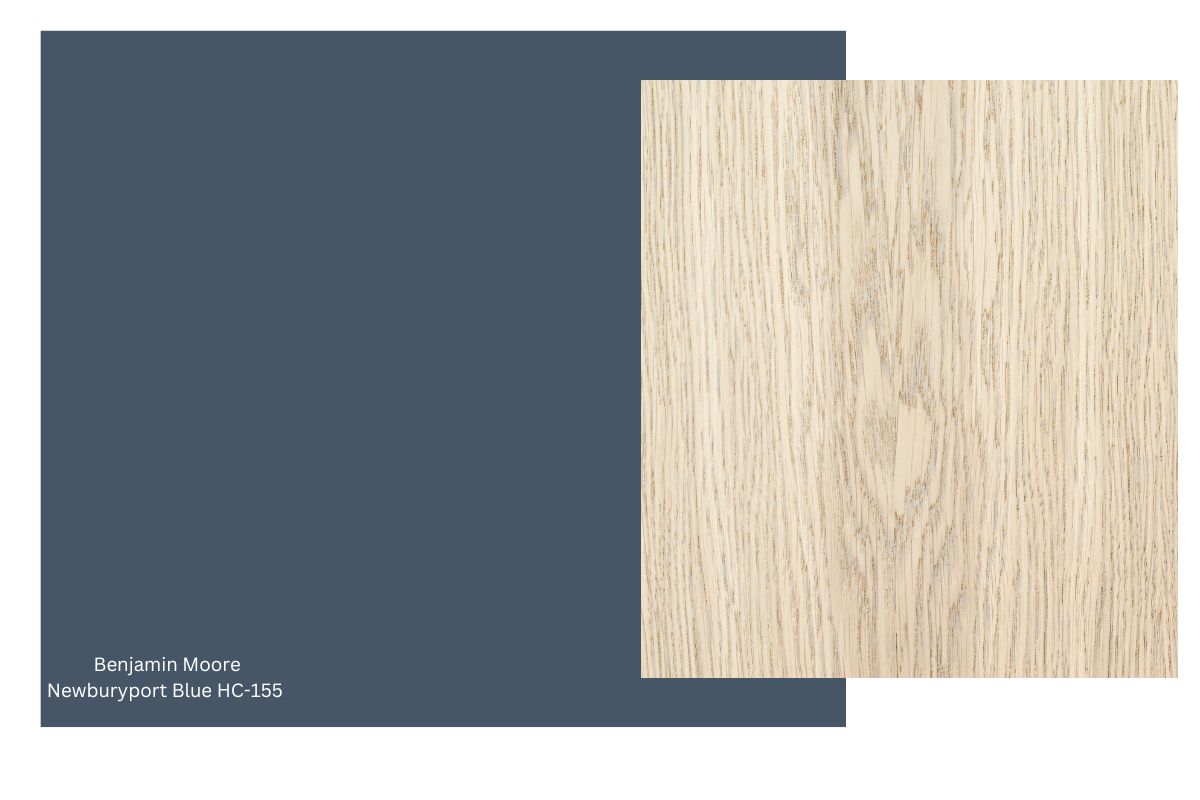 If you're looking to add a punch of color and some major contrast to your coastal color scheme, complementary colors like Benjamin Moore's Newburyport Blue are a stunning choice. Pair with it with a crisp white like BM Chantilly Lace.
A bold color like this can be a great choice for rooms that are not part of an open plan; a dining room, bathroom or bedroom.
9. Sherwin Williams City Loft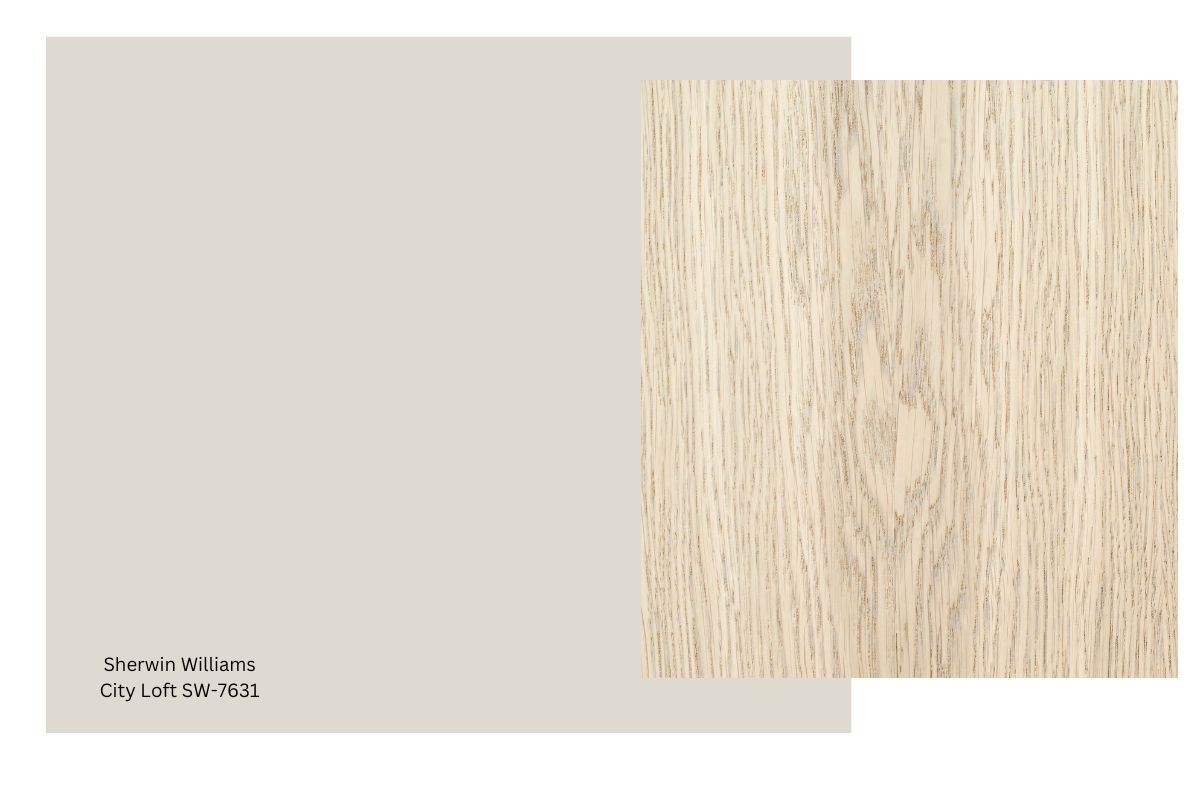 SW City Loft is a pretty green-gray greige paint color that's a popular neutral choice for homeowners. It can swing slightly pink-purple in certain lighting conditions, but not overly so. It works well with a variety of other neutral colors, too.
10. Sherwin Williams Greek Villa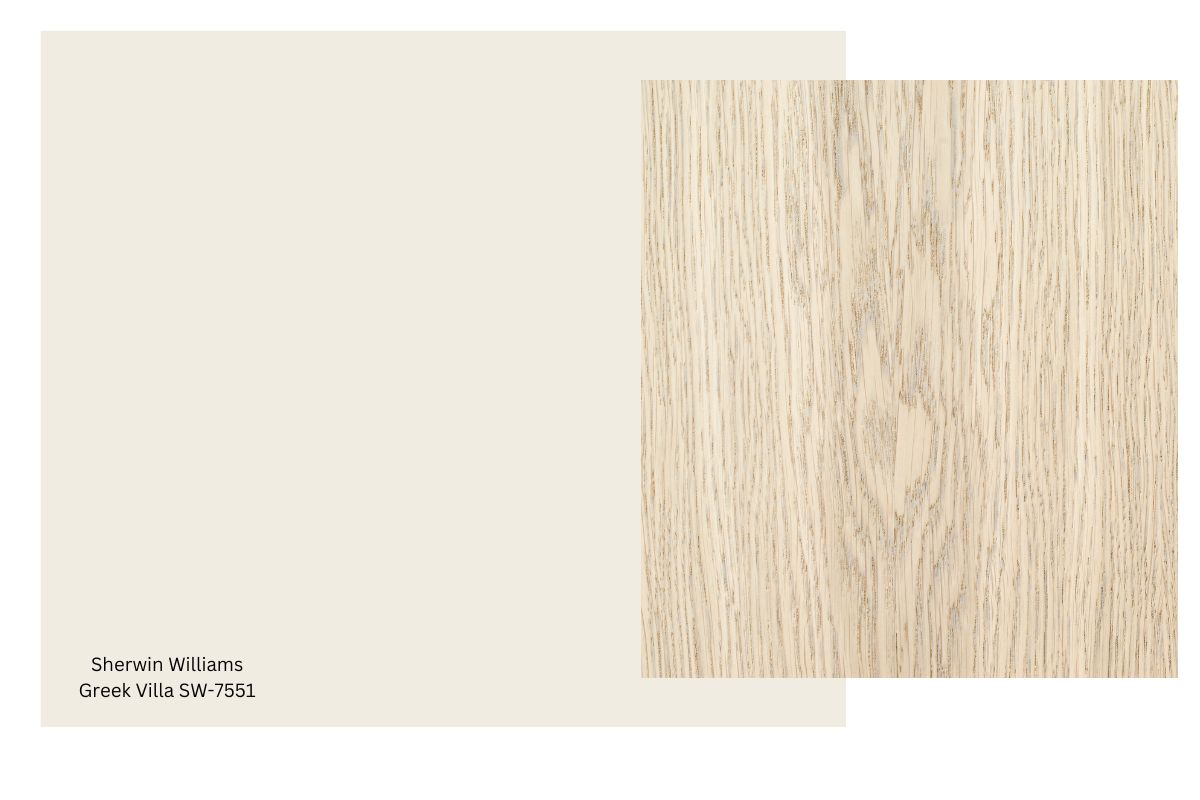 SW Greek Villa is an off-white paint color with a beautiful beige undertone. It's a popular choice for walls and cabinets.
11. Sherwin Williams Incredible White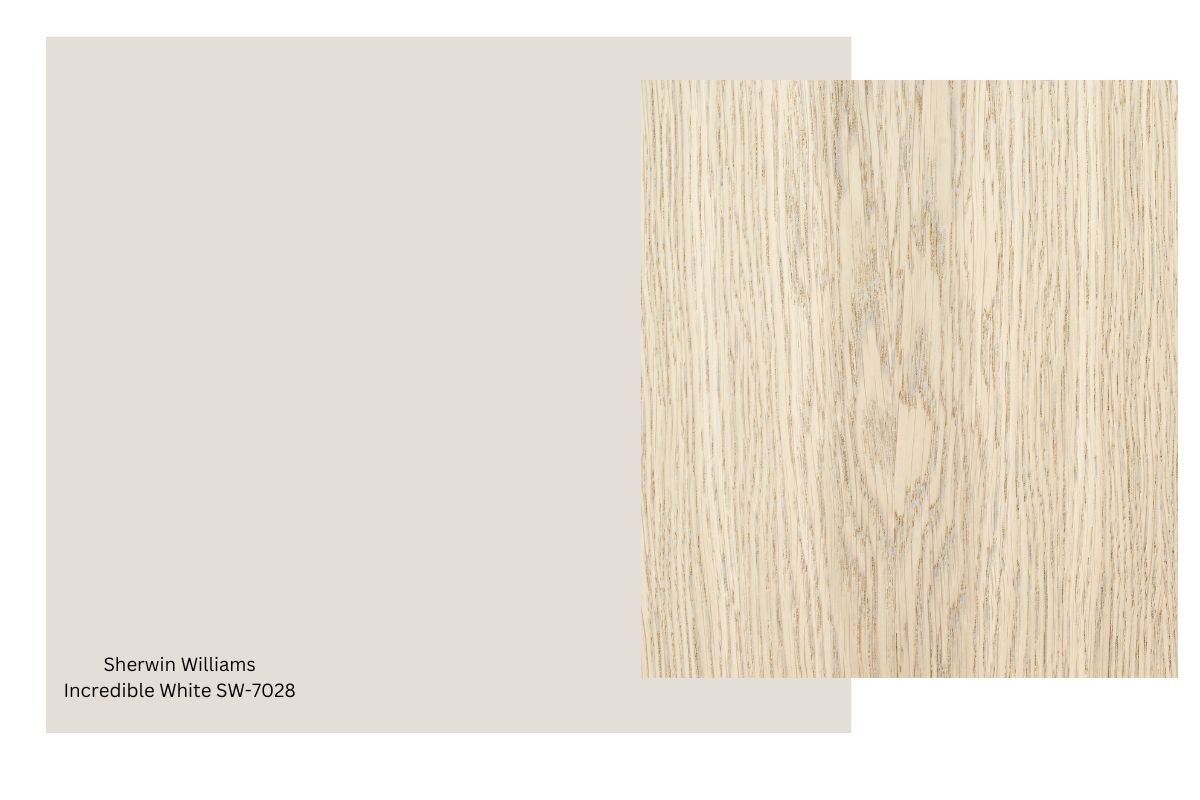 SW Incredible White is a light gray with warm undertones, and a LRV of 74. It has a slightly pink undertone that can become apparent in warmer light, but overall it's a great choice to brighten up a room. I have it in my living room and I love how fresh it looks. It pairs great with SW Pure White trim and light oak floors.
12. Sherwin Williams Krypton
SW Krypton is a blue-gray paint color that's a popular choice not only for walls, but for cabinets and vanities, too. Its cool undertone is a beautiful counterbalance to the warmth in light hardwood floors.
13. Sherwin Williams Pure White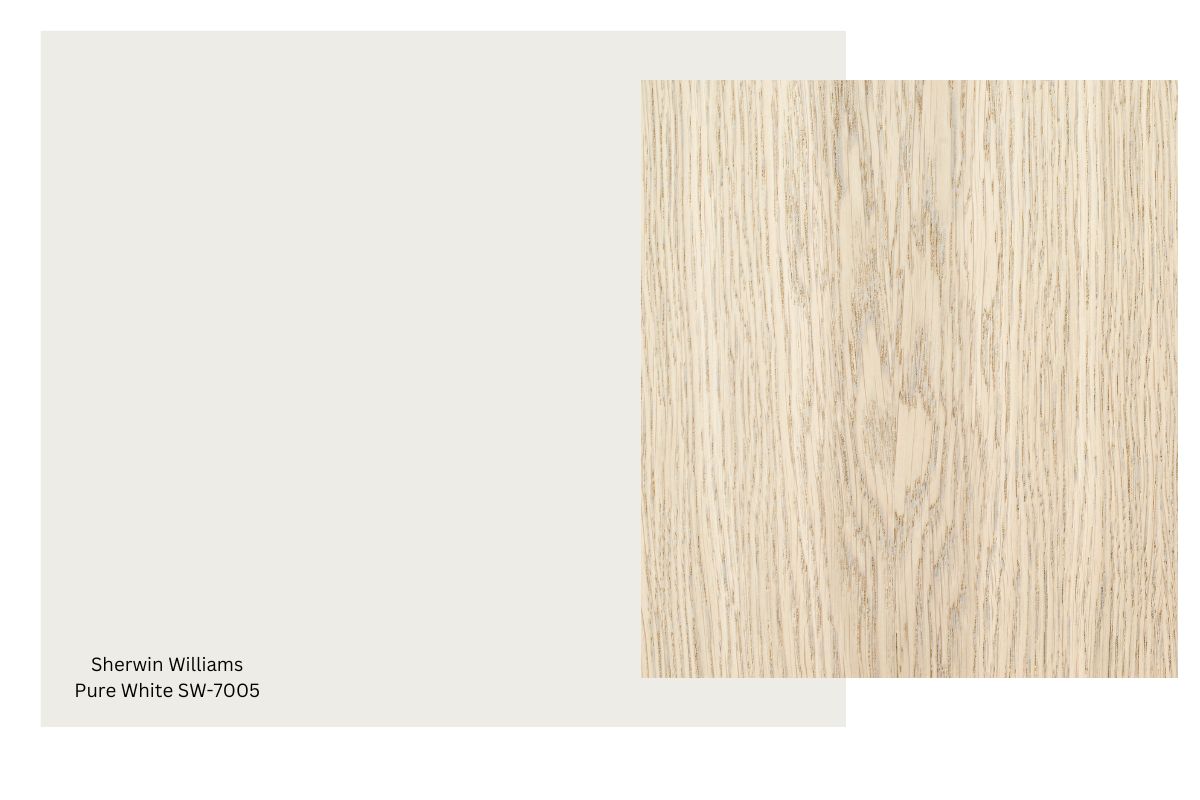 SW Pure White is a soft bright white with both a warm undertone and a drop of gray. In warm light you will see that warmth become apparent, but in cooler light that drop of gray can also come out. Pure White is a perfect choice for a shade of white that works alongside both warm and cool colors, and it's my favorite shade of white for trim.
14. Sherwin Williams Sea Salt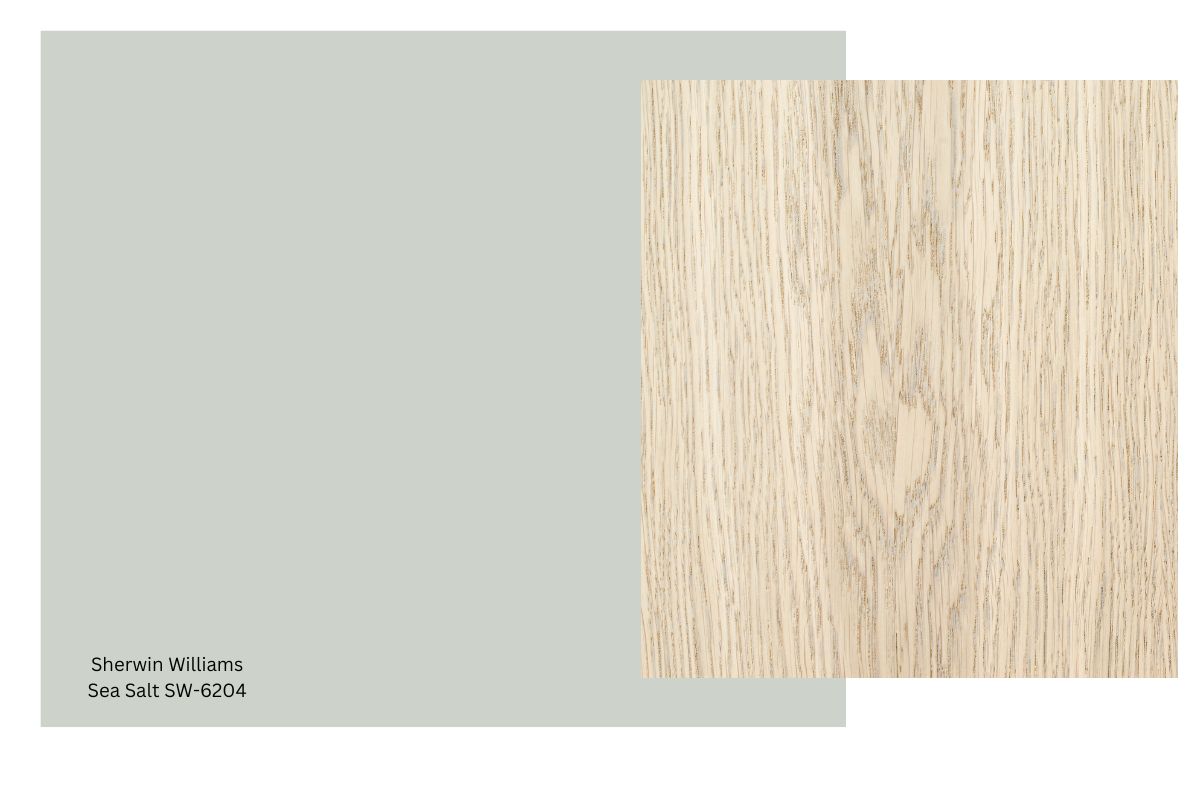 SW Sea Salt has been a long-time favorite for those preferring a coastal color palette. It is a soft blue-green-gray that looks stunning with light hardwood flooring.
15. Sherwin Williams Shoji White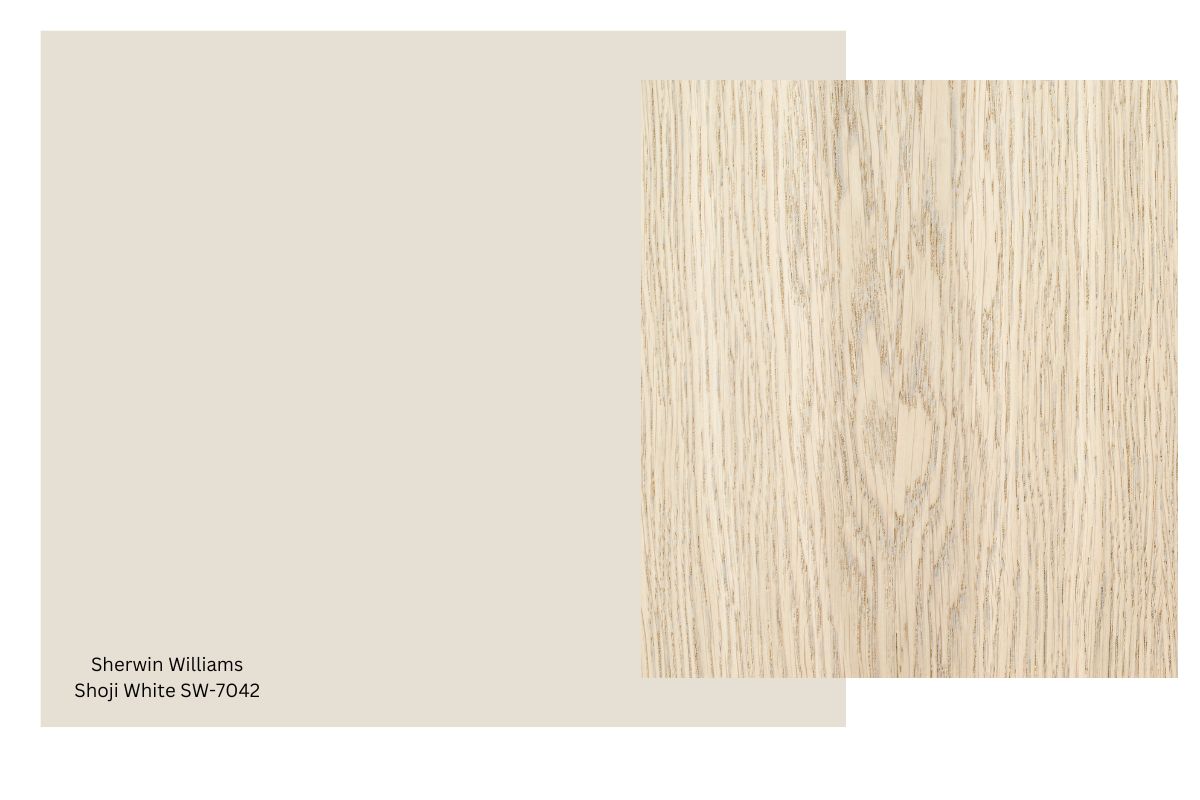 If greige and cream had a baby, it would be named SW Shoji White. It has an LRV of 74, making it an off-white color. It works well with many other colors, including blues, greens, and grays, as well as many warm tones.
16. Sherwin Williams Iron Ore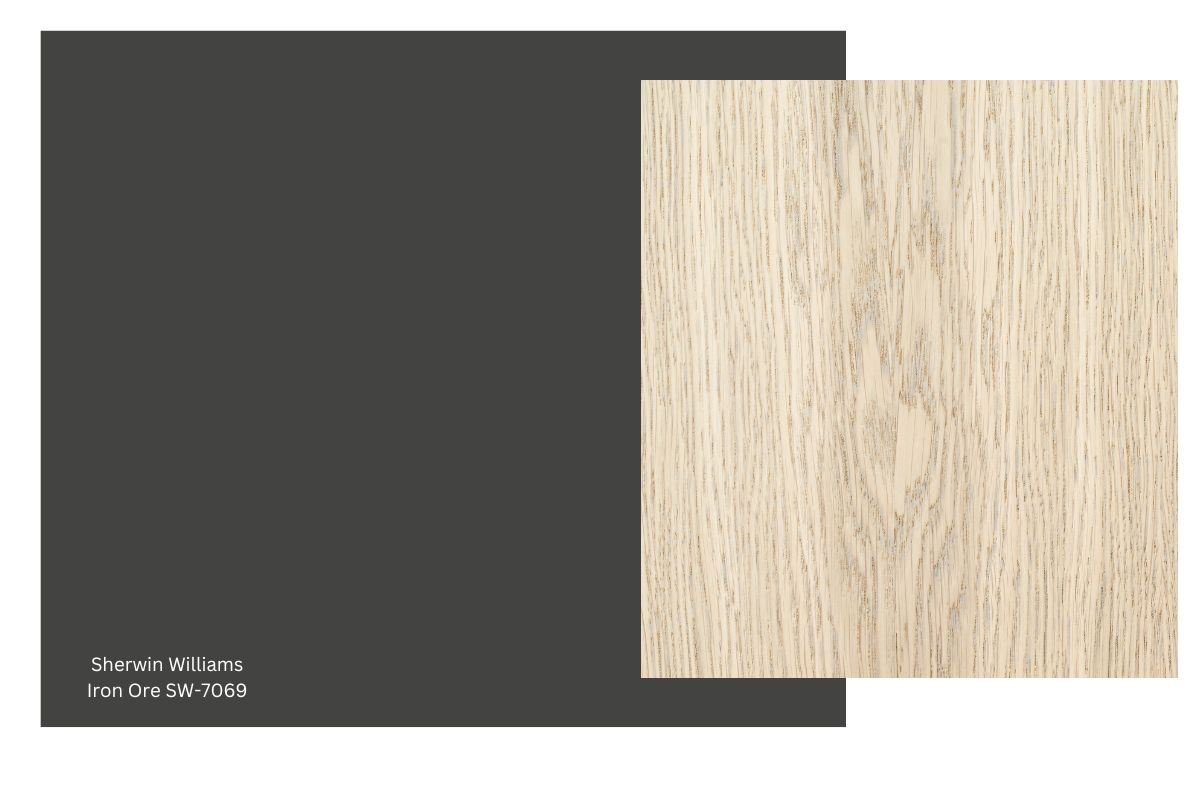 SW Iron Ore is a soft black that brings a stunning contrast when paired with soft whites and light wood floors.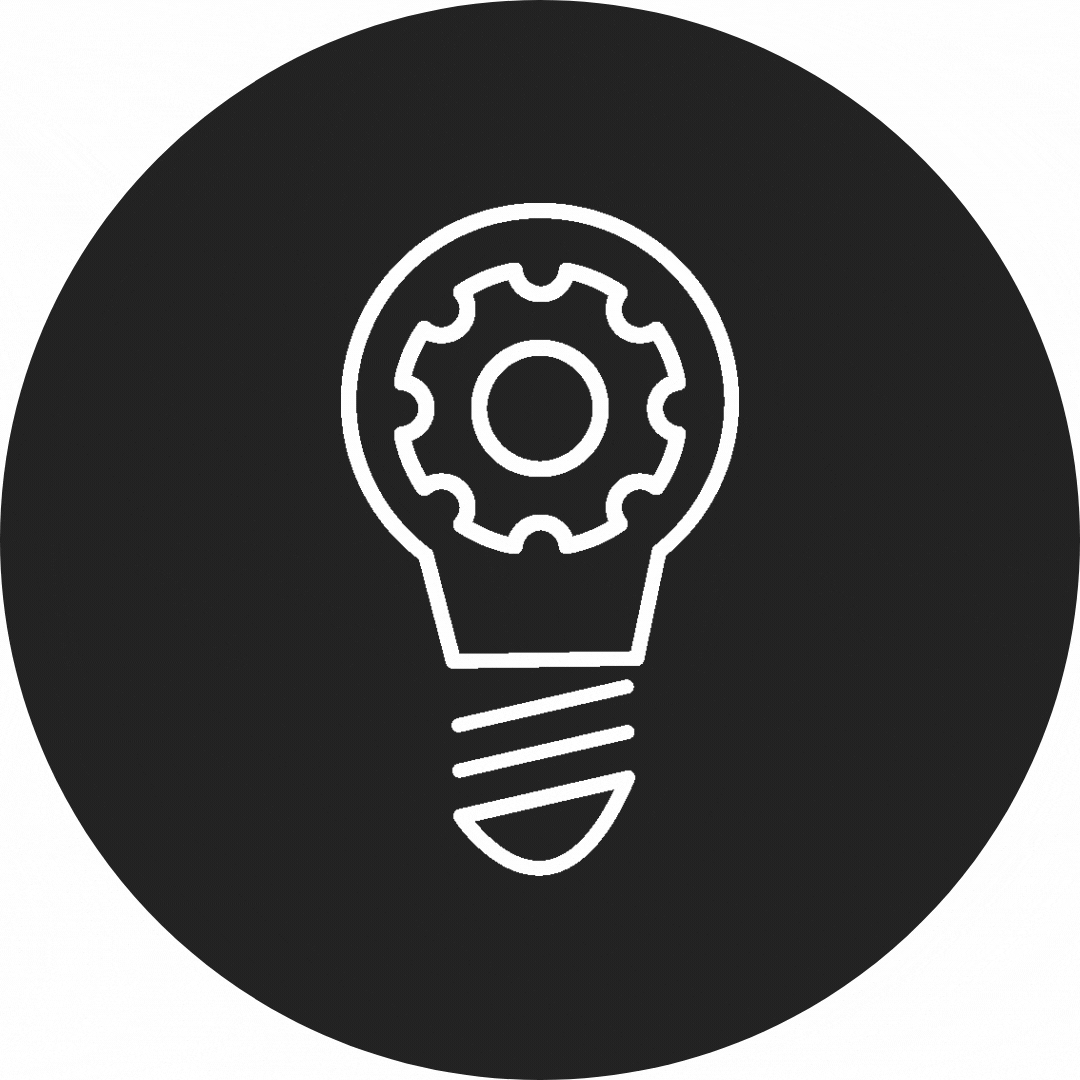 Frequently Asked Questions
Final Thoughts
Now that you have a better understanding of what types of colors work well with light wood tones, your only decision is whether you choose a light color palette or go bold and add some contrast.