Naval by Sherwin Williams is the perfect navy blue paint color for any room in your home, the exterior of your house, or even your cabinets and kitchen islands.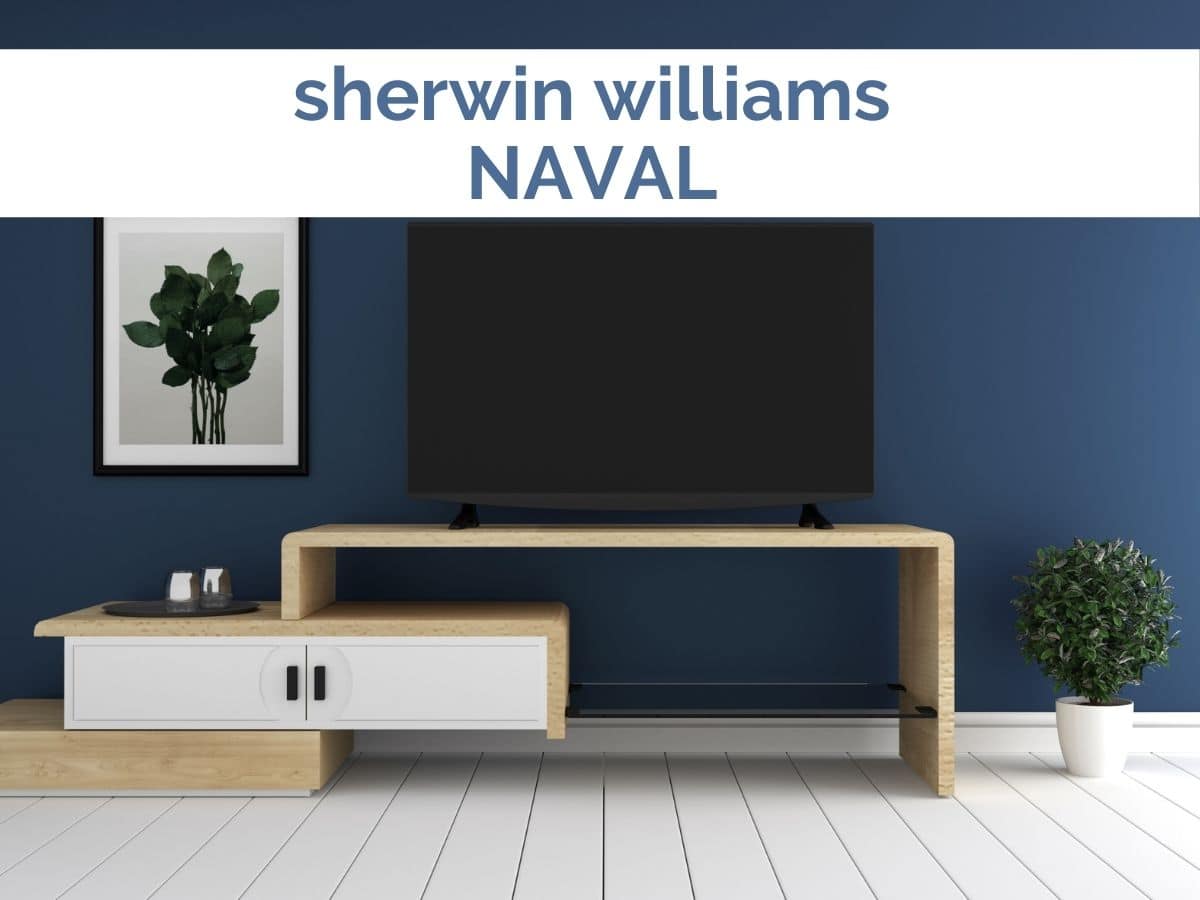 If you've been following this blog for any length of time, you'll already know that my favorite color is blue. And when it comes to blue colors, I think a good navy blue is pretty darn perfect in my book. My all-time favorite navy paint is Naval by Sherwin Williams. I've used it several times now and it never fails to impress me.
I've rounded up several beautiful spaces that use this stunning navy paint so if you're inclined to go to the dark side, hopefully, these will persuade you!
The best way to describe this stunning color is a dark blue hue that gives a calming oasis feel when paired with bright whites, cool grays, or similar colors.
If you want to give Naval the starring role in your home, pair it with crisp whites for a timeless look that will not disappoint. If your interior design style leans more toward making a bold statement, Sherwin Williams recommends pairing it with Tarnished Trumpet, Midday, and Kale Green. I personally love how Naval looks with whites and grays, so here are some of my top choices that Naval pairs well with:
Just like any dark paint color, the lack of light can cause Naval to look like a very dark navy blue almost black. To make the most out of this stunning classic navy consider using it in north-facing rooms that get consistent light throughout the day.
While Naval can look very similar to BM Hale Navy and are two of the most popular blues on the market, there are some slight differences. Hale Navy has more gray undertones while Naval comes off as a true blue color, especially when surrounded by a lot of natural light. If you're looking for a navy paint color that is more vibrant, Naval is the one for you.
Examples of This Paint Color in Real Homes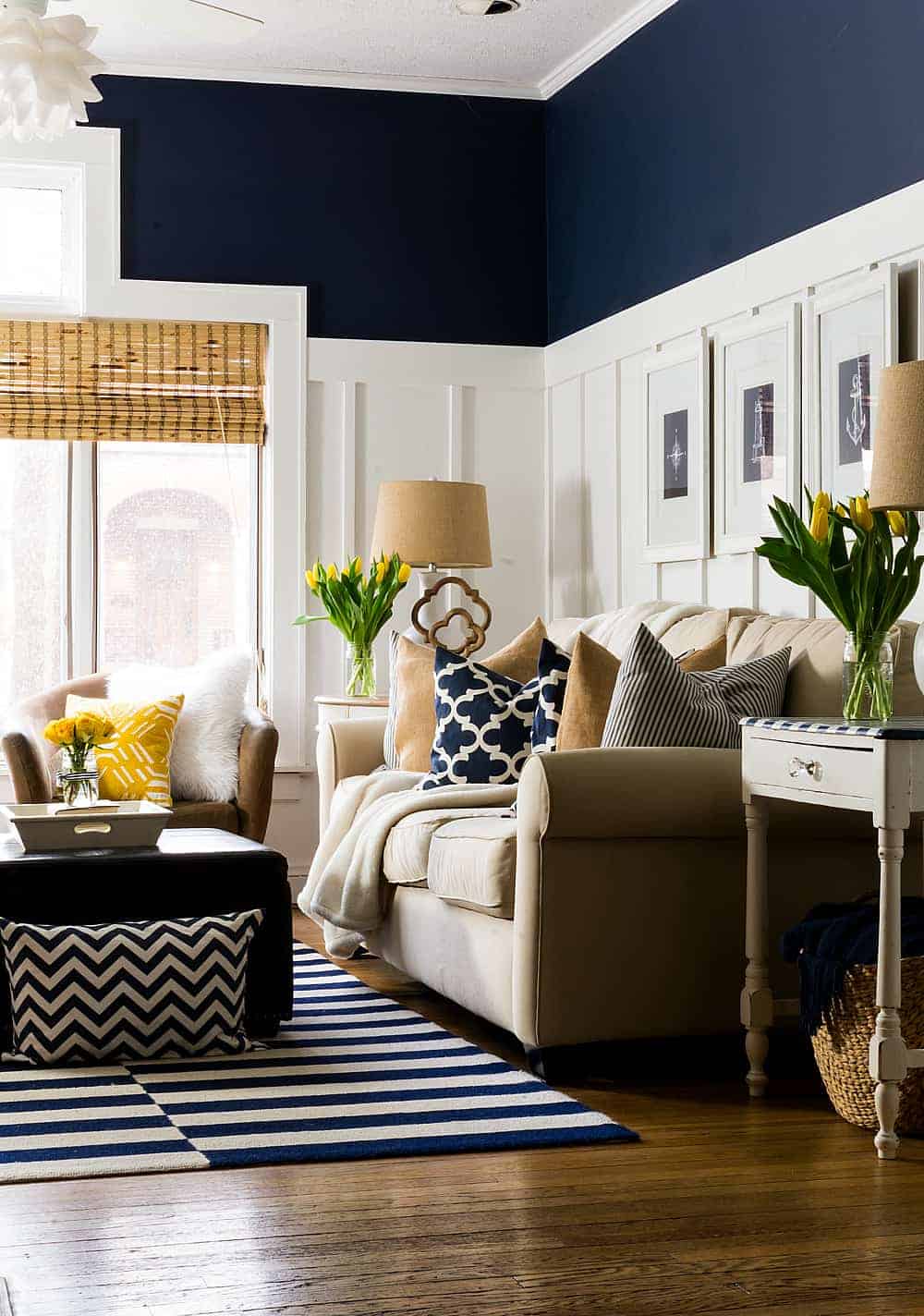 This living room uses Naval on the top portion of the walls paired with crisp white board and batten. Other navy elements are pulled in through the rug and throw pillows to create a beautiful nautical look. So pretty!
---
My eldest son's room has a Naval accent wall because it was the only place in our house that my husband would agree to navy. I originally wanted to paint our dining room navy but it was nixed. But hey, we got a pretty fun accent wall here instead! I think with the gray paint (Stonington Gray by BM) and the navy and white striped curtains, it looks pretty cool and masculine.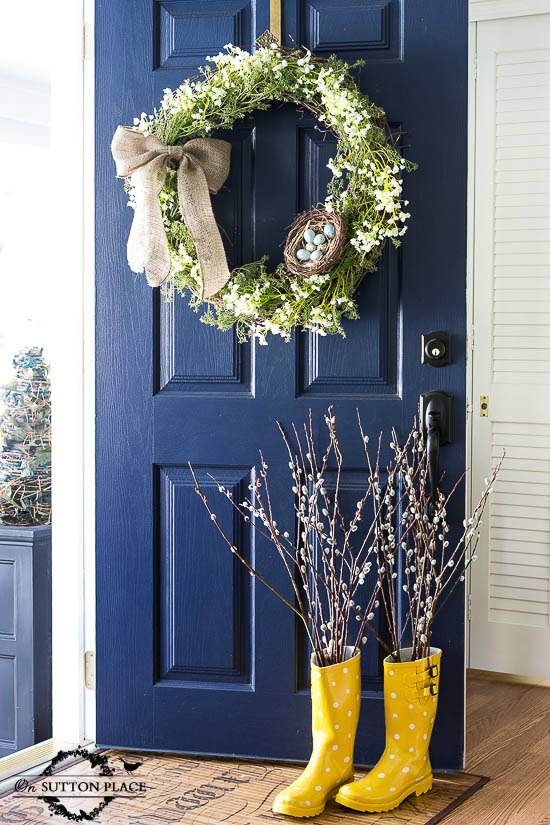 My love affair with Naval first began after seeing Ann from On Sutton Place's front door. I instantly went out and purchased a quart of paint and painted my front door too…and then all the shutters on my house. I've found that when used on an exterior, the paint is a bit inkier – very true to the color above. And once again, I'm considering this same color for the front door of our new house. It's just so classy don't you think?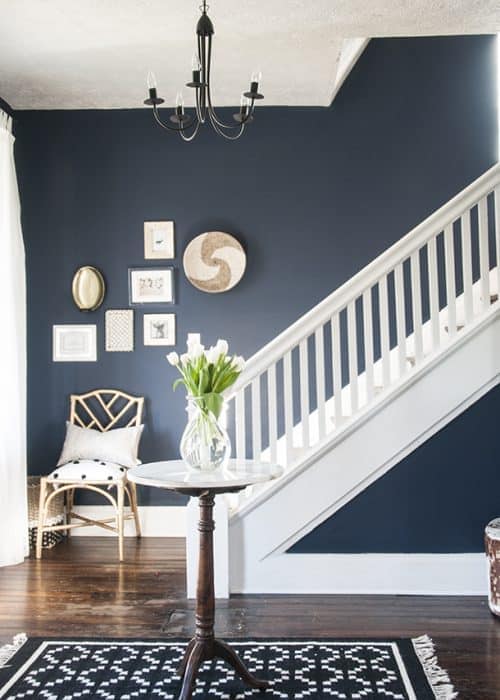 Navy and crisp white is such a classic look. There's something so sophisticated and elegant about the contrast between these two colors, and Earnest Home Co. has really nailed it in her foyer. Sheer rich navy perfection!
Kitchen Cabinets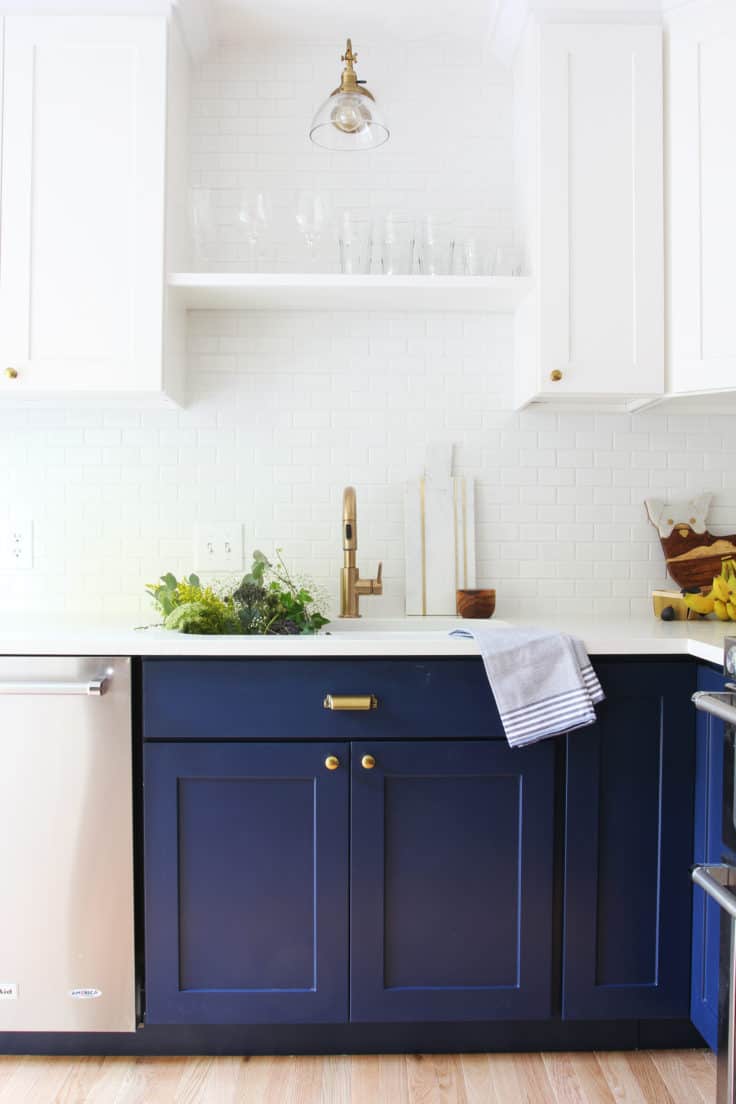 Naval isn't just a great paint color for walls and doors but for your kitchen's lower cabinets, too. Paired with gold hardware, it's a navy dream!
Ceilings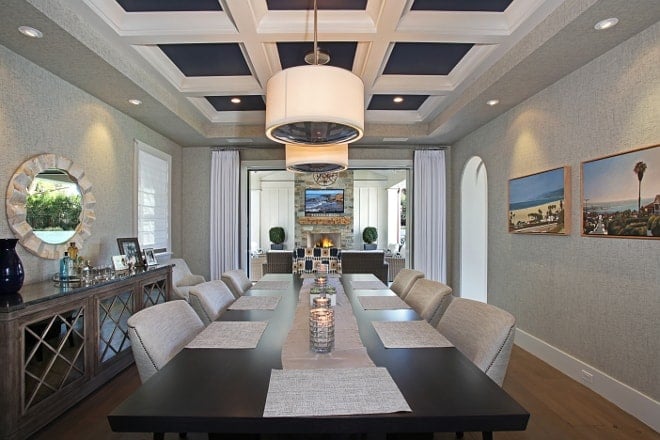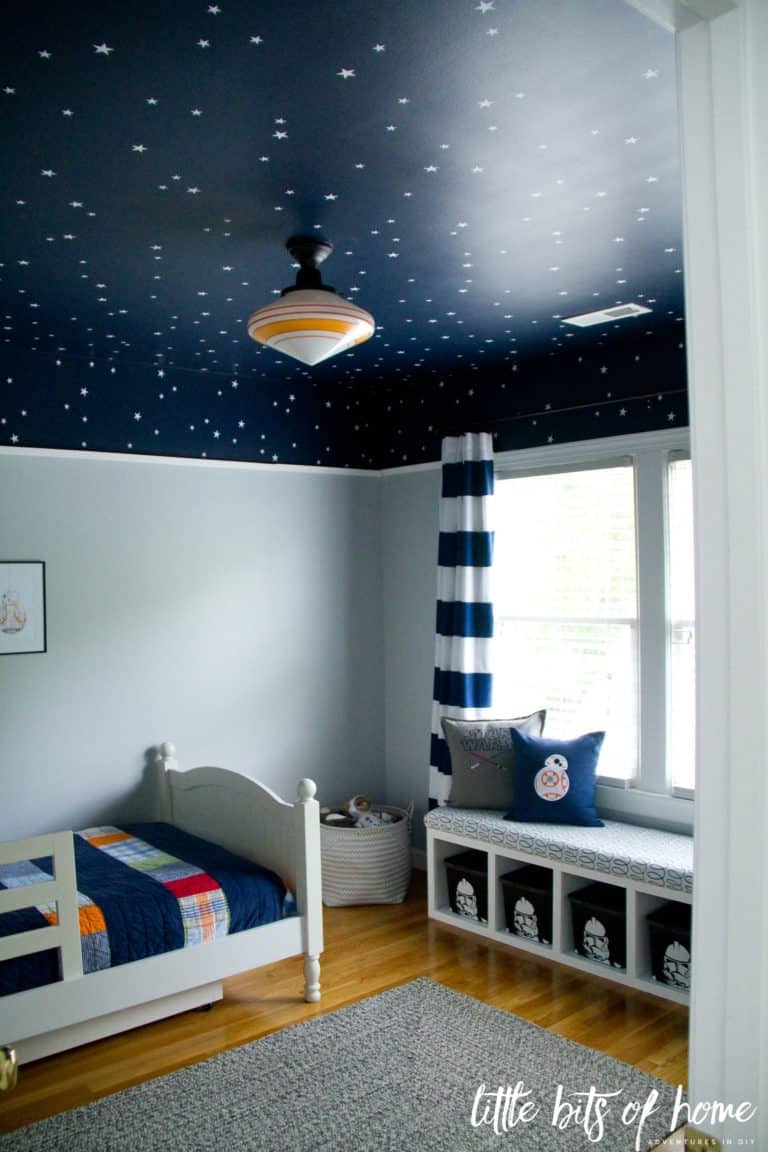 How about switching it up and painting your ceiling navy? While I don't suggest doing this in every room of your room, it's pretty special in a bedroom or even a bathroom. Don't want to commit to a full ceiling of color? Partially painting the inserts on a tray ceiling brings the room to a whole new level and gives a sense of depth.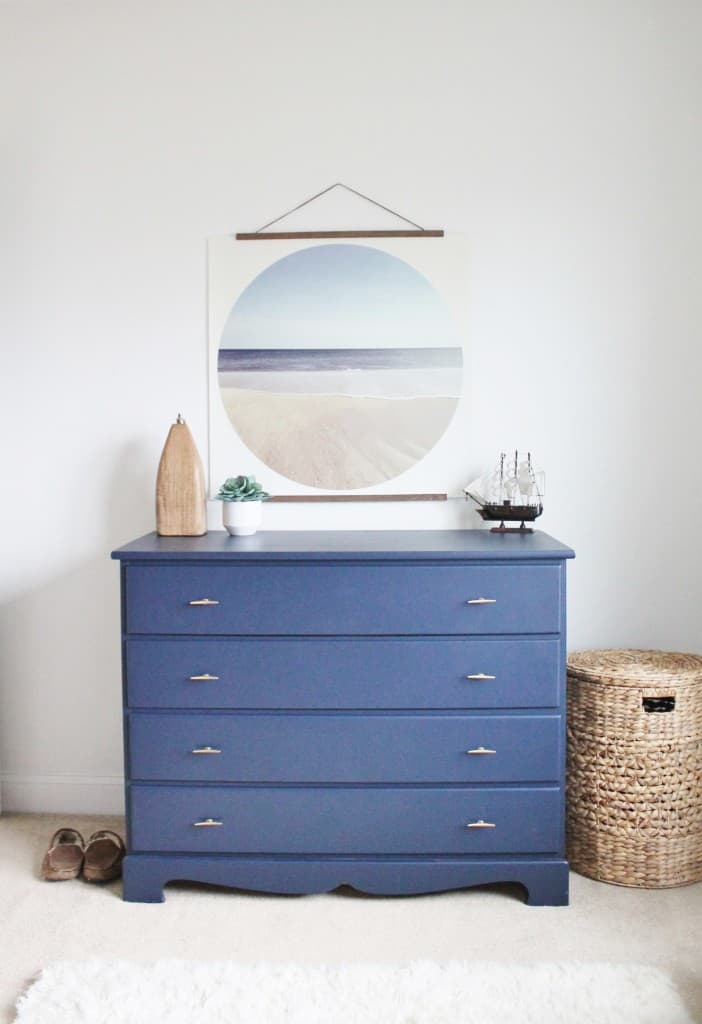 Last but not least, Naval is the perfect color if you're looking to spiff up a piece of furniture, just like Jen from City Farmhouse did with this dresser. It's the perfect way to add that navy touch to a space without having to commit to a whole wall of color!
Final Thoughts
If you're looking for the perfect navy blue for your home, I think Sherwin Williams Naval is a really great choice. From walls to cabinets and furniture, it's a stunning color that's sure to wow. It can also up your home's curb appeal when used on your front door for all to see. While I wouldn't suggest painting a whole room in this color, it's a great way to add a statement to your own home.
Don't Forget To Always Use Real Paint Samples!
Don't forget – no matter what you've read or photos you've seen online, it's really important to sample paint colors in your home before committing!
Samplize provides real paint samples that are easy to move around your home, and cheaper than buying a gazillion paint pots! It's the only way I buy paint samples.
Use code JENNAK10 at checkout and get 10% off your order
Coupon entitles all customers to 10% off the entire order with no minimum purchase requirement. This is a one-time use coupon and it cannot be combined with other discounts.
Looking For More Interior Paint Colors?