City Loft by Sherwin Williams (SW 7631) is the perfect light-toned, soft hue color that feels very warm and cozy!
This is a light interior paint color in the Sherwin Williams White and pastel collection.
On first glance you would never know it is in a pastel collection. Its fun green-gray-greige undertones make it the perfect color in the right lighting.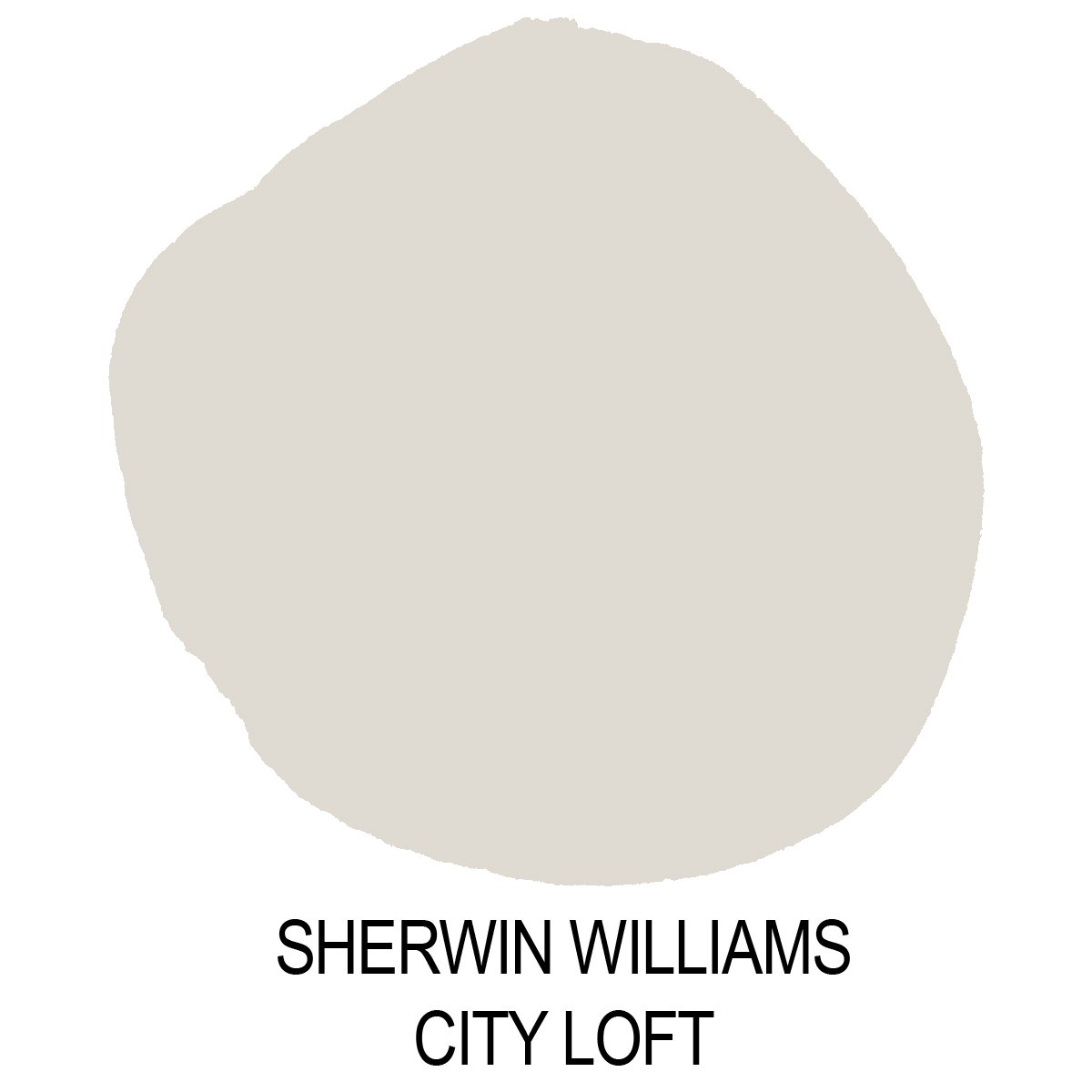 Let's see if this popular color is the ideal paint for your home!
What Color is City Loft?
City Loft is what we would call a chameleon color. Meaning surroundings and lighting play a huge role in how the color will play out in your space. Changing the natural lighting (depending on the time of day) will affect how the color will look.
Sherwin Williams City Loft is a beautiful soft, neutral greige paint color. This means it has both a gray and beige undertone.
What is The LRV?
Light Reflectance Value (LRV) is an indicator of the amount of light that is reflected by a color when it is illuminated by a light source. A higher value (closer to 100) means that a color will reflect more light back at you and a lower value (closer to 0) means that a color will appear darker, or absorb more light.
This paint color has an LRV of 70 meaning City Loft falls on the lighter end of the scale, pretty close to being an off-white, but still just on the higher end of being a light paint color.
If you're looking for a similar paint color that's lighter and firmly in the off-white range, then Benjamin Moore Classic Gray would be a good alternative.
Is it a Warm or Cool Color?
Because of its strong beige undertones, Sherwin Williams City Loft is a warm paint color, but it does have enough gray to stop it from being too warm.
What Are The Undertones?
City Loft has undertones that are gray, beige, and taupe. Taupe means that is has a soft pink/purple undertone, which is very common in greige paint colors. Don't let that scare you!
This is true of many greige paint colors, such as Repose Gray, Alpaca and Eider White, so it's always important to test them in your space before committing. I like to compare my Samplize paint swatches against a bright white surface and that really helps me to see the underlying colors.
Again lighting will play a huge role in how this color will look in your space. So it is important to try a paint sample in the space at different times of the day to see what undertones come through.
City Loft can get washed out in really bright rooms, and can look a little dull and dingy if you're dealing with a dark room.
Real Room Examples
City Loft is one of those soft neutral paint colors that really will work well in any space, provided it has the right lighting conditions. It works great in a room that is full of neutral tones and bright whites to really make it pop.
This color works great with both light and dark floors, which makes it easy to place in almost any space. It truly will cozy up any of your spaces.
In the real room examples below, pay attention to how the paint color will change depending on where the light and shadows fall.
Dining Room
Here is when that chameleon color we referred to really shines through.
This room is getting nice bright light coming in from the left, which is really lifting the paint color. However, the dark accent pieces (photo frames and ceiling light) help pull out some of the warmer tones.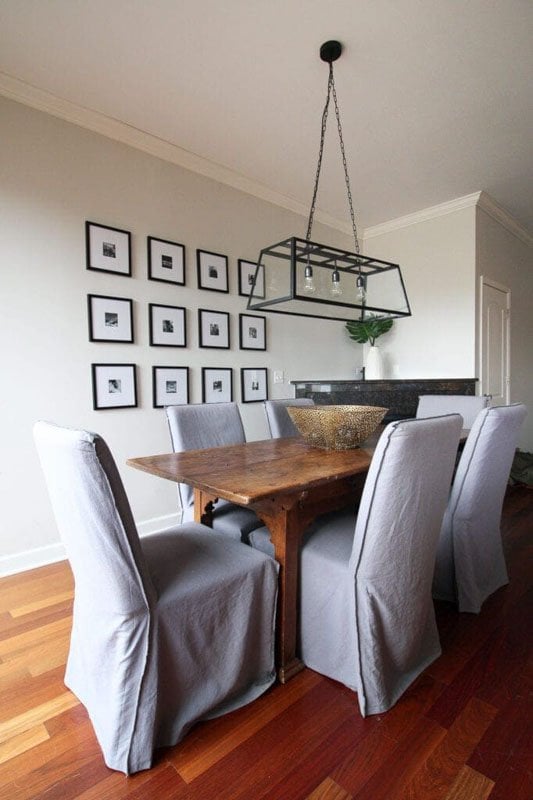 The trim paint color is a bright crisp white, which helps showcase the color on the walls. Using a softer, creamier white on the trim would not help to make the wall color pop.
Living Room
In this living room, you can see how City Loft can pull considerably more gray when the light coming into the room is north facing.
It still has just enough warmth to keep it a warm gray, but it definitely loses some of that real warmth that we can see when artificial light or warmer southern light is introduced.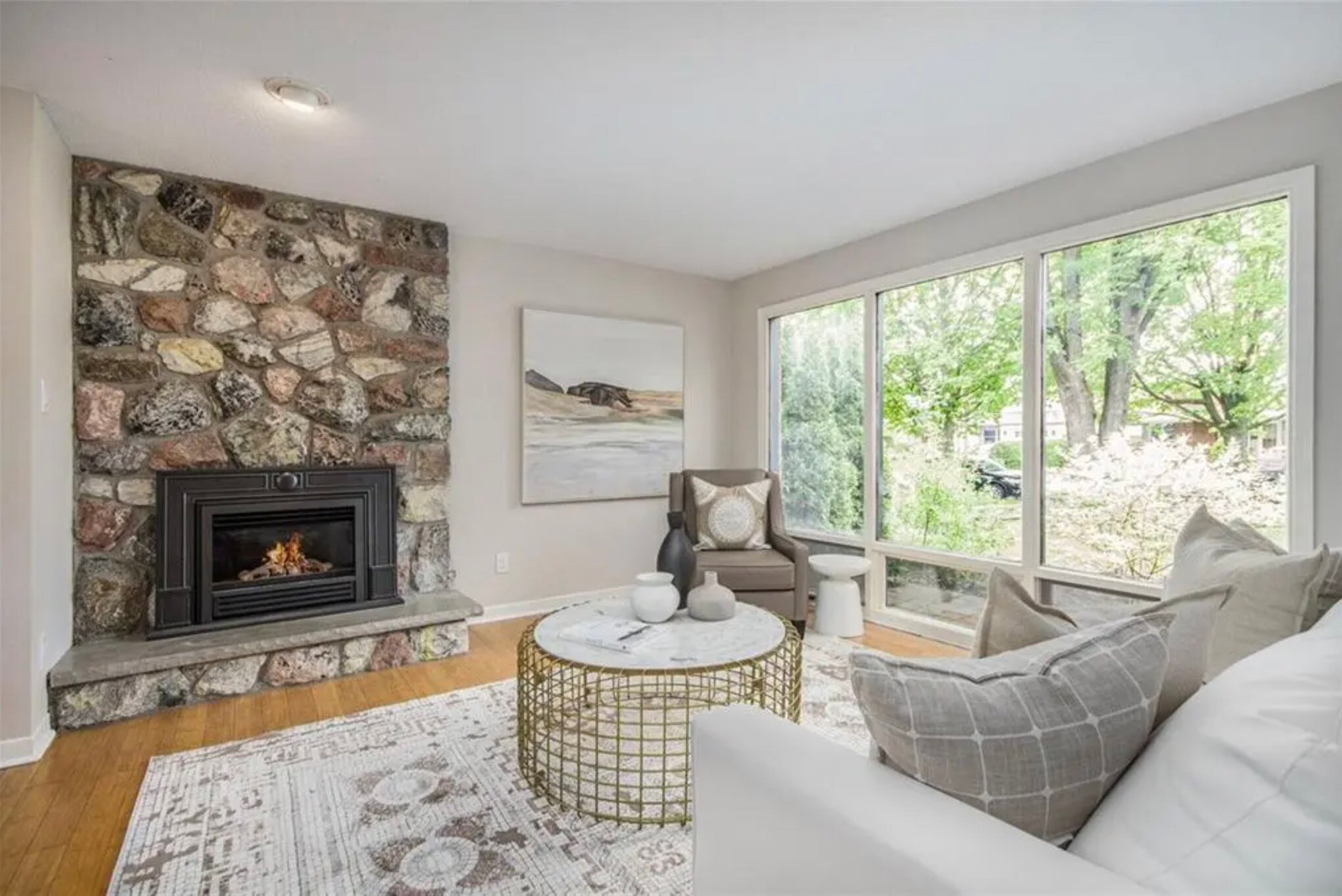 Kitchen Cabinets
All of this natural light washes most of the color out of City Loft in this space. The cabinets look more of a soft white than a warm gray in this space. You'll have to look carefully where the cabinets meet the ceiling to see the differentiation in color.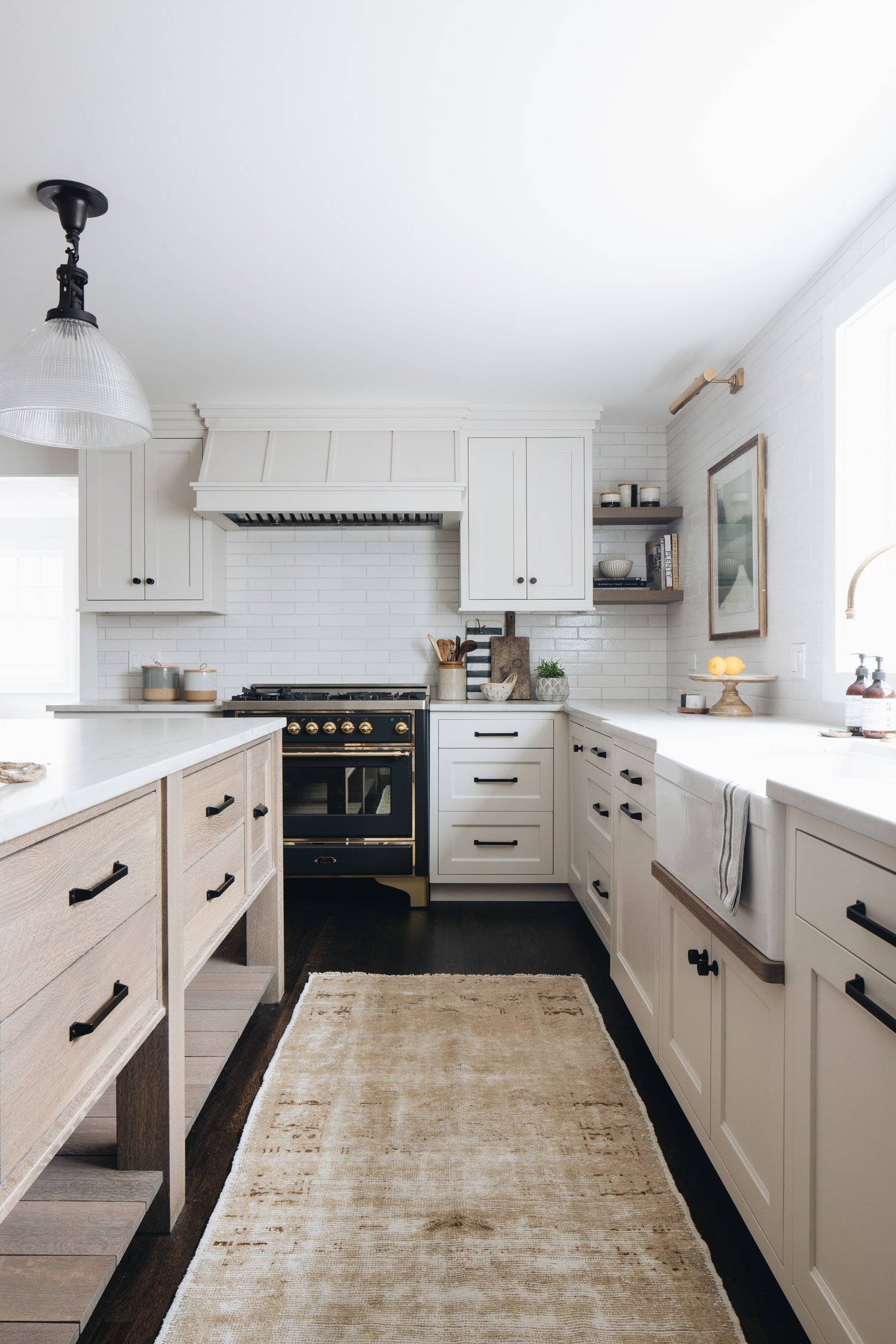 However, I absolutely love City Loft as a kitchen cabinet color in this space, and I think if you have a similarly well lit kitchen and want a really soft warm off-white, then it would be a wonderful choice.
Bedroom
City Loft in this bedroom reads as a soft pastel especially with yellow tones added by artificial light. You can see the difference in color between the lighted areas and the shadows.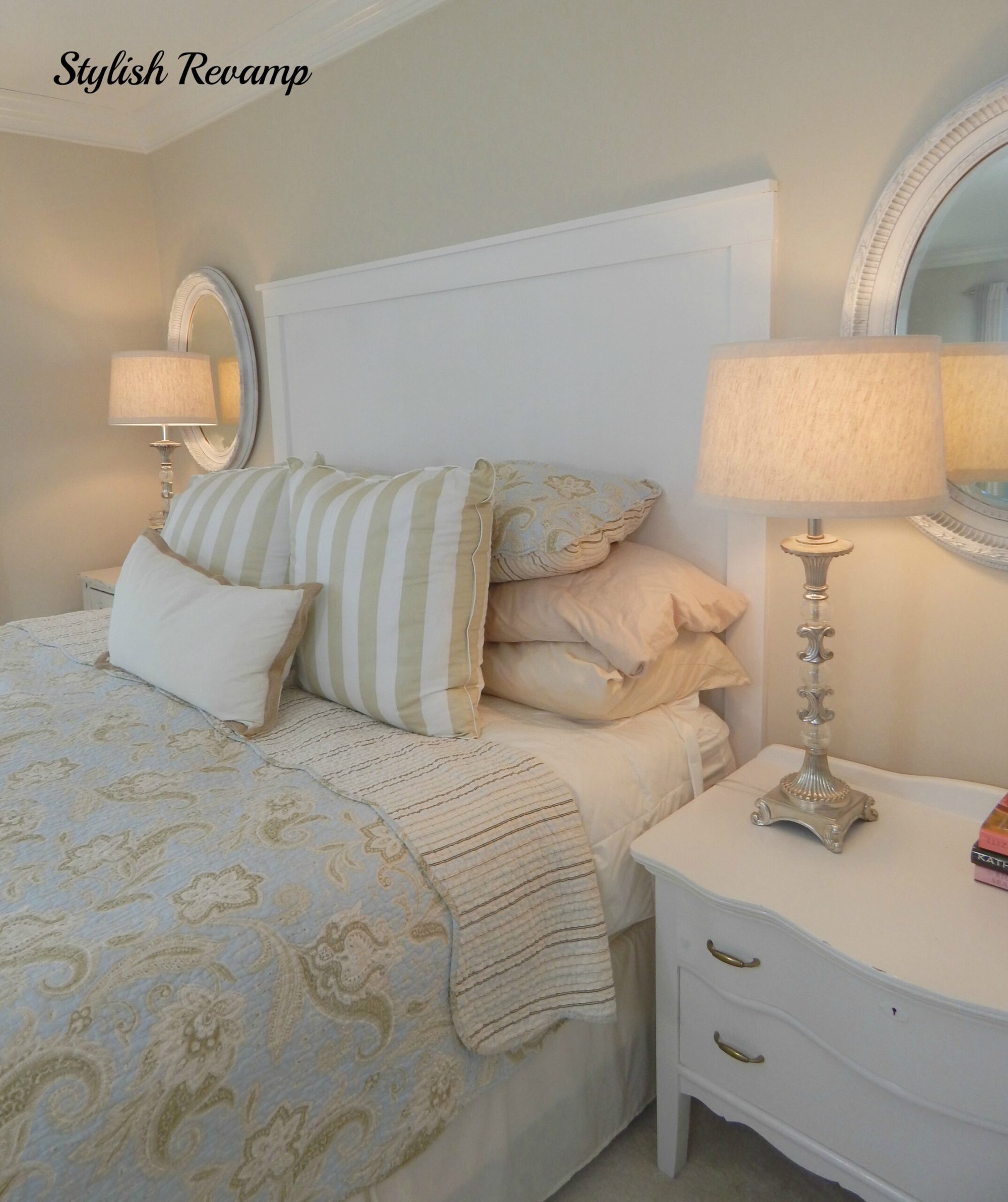 Again, pay attention to where the crown moulding and ceiling meet the walls. Here is where you can really tell how warm City Loft can get when the lighting conditions are darker and that yellow-toned artificial light is brought in.
When you glance above the bed it looks like a warm gray, yet the lighted areas it comes across very beige, because of the lamps on either side.
Plus, the beige surrounding decor gives it a strong push toward that beige undertone.
Exterior
What a gorgeous statement are these shutters painted with SW City Loft?
They look amazing against the creamy white exterior of the home without making too much of a bold statement.
This type of tone-on-tone looks has become very popular recently. It also works really well if you're looking to paint your interior walls white and add a contrasting color to the trim. City Loft would make for a stunning trim color!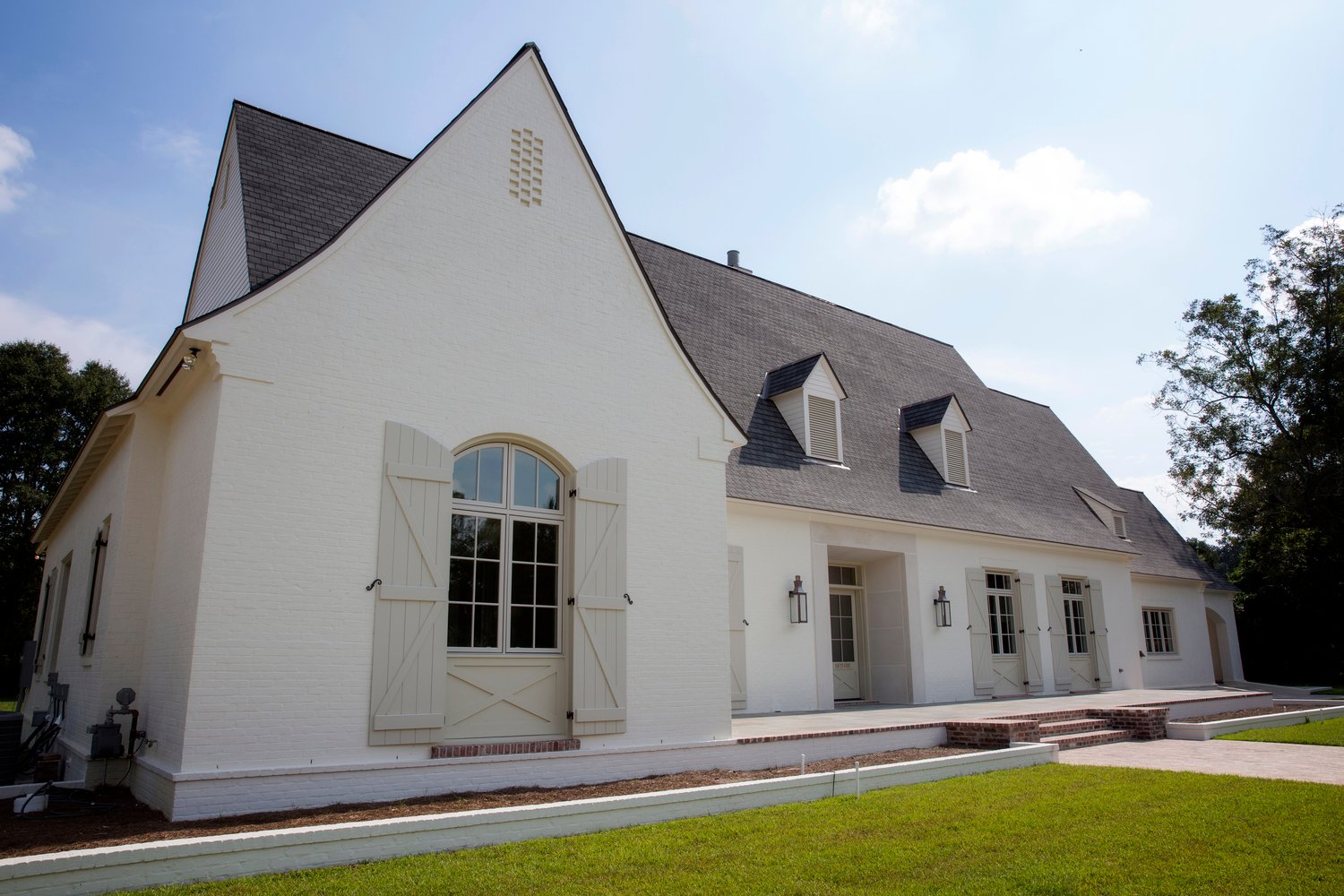 How Does Lighting Affect This Paint Color?
Light tends to make a paint color look brighter and lighter.
Sherwin Williams City Loft will tend to look lighter in a room with a ton of natural light, reducing some of the warmth and washing it out a little.
In a room with less natural light this color will not look dull or dark, but the warmth in the color will become much more apparent.
So even though you do not need a ton of natural light to make this color work, lighting does play a huge role in whether you will like this paint color once in your space.
Coordinating Colors
This is the perfect color to pair with other neutrals like cream, bright white, brown, wood tones, or beige. it is also versatile enough to be paired with bolder colors like black, dark gray, or even navy. It can work in a transitional color scheme with neutral shades, or even as part of a coastal/beachy color scheme with cooler colors like SW Sea Salt.
Here are a few examples of coordinating colors: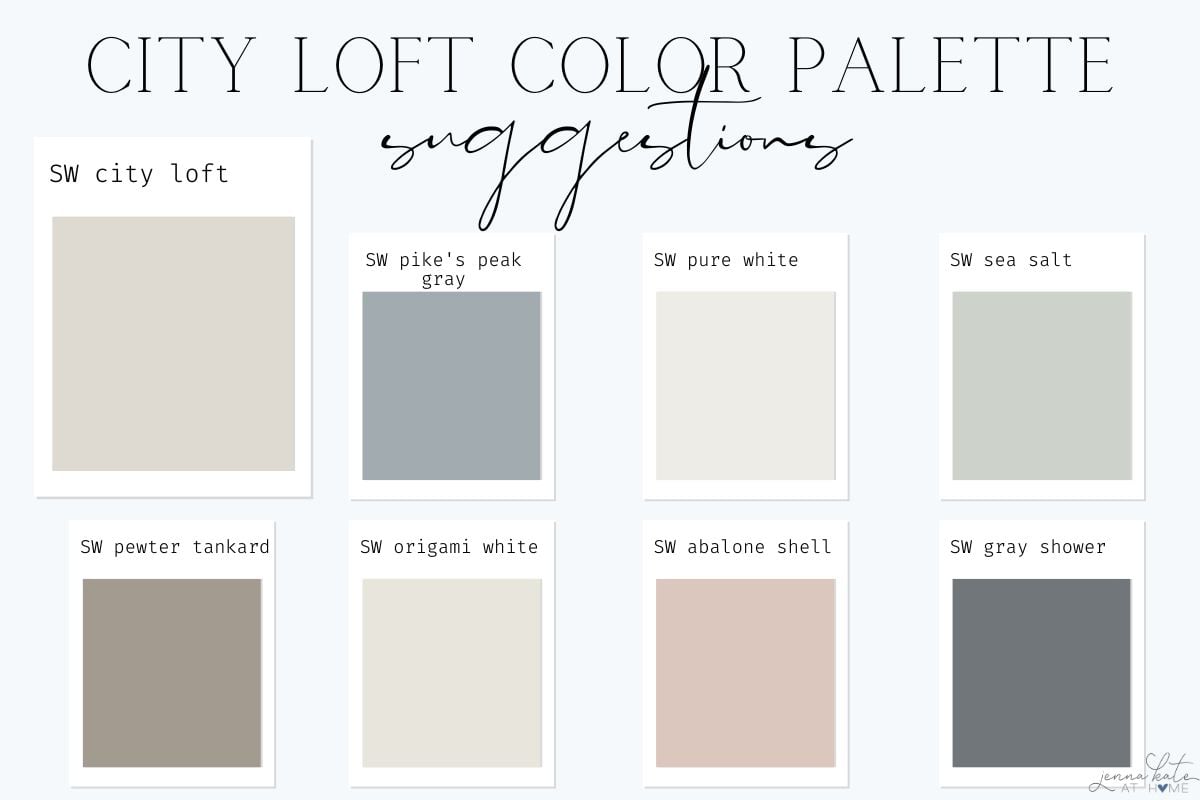 If I'm using this paint color on my walls, what white trim color will look best?
For trim Sherwin Williams Pure White is always a safe bet. It's a bright white with just a smidge of warmth so it never looks cold. It looks great with all wall colors, but it's especially the correct choice if the color is warm.
For a really bright, crisp white you could also pair this color with SW High Reflective White, which would really make the City Loft pop. Benjamin Moore Chantilly Lace would also be a great choice.
On the other hand, I would avoid pairing City Loft with yellow-based whites like SW Alabaster.
Is City Loft Gray or Beige?
When you compare Sherwin Williams City Loft to a beige, it looks gray. But, when you compare it to a gray, it looks much more beige or even taupe. The surroundings and lighting will determine the color that will come across in your space.
Sherwin Williams City Loft vs Agreeable Gray
When you compare the LRV of the Sherwin Williams City Loft with Sherwin Williams Agreeable Gray both colors have strong beige and gray undertones.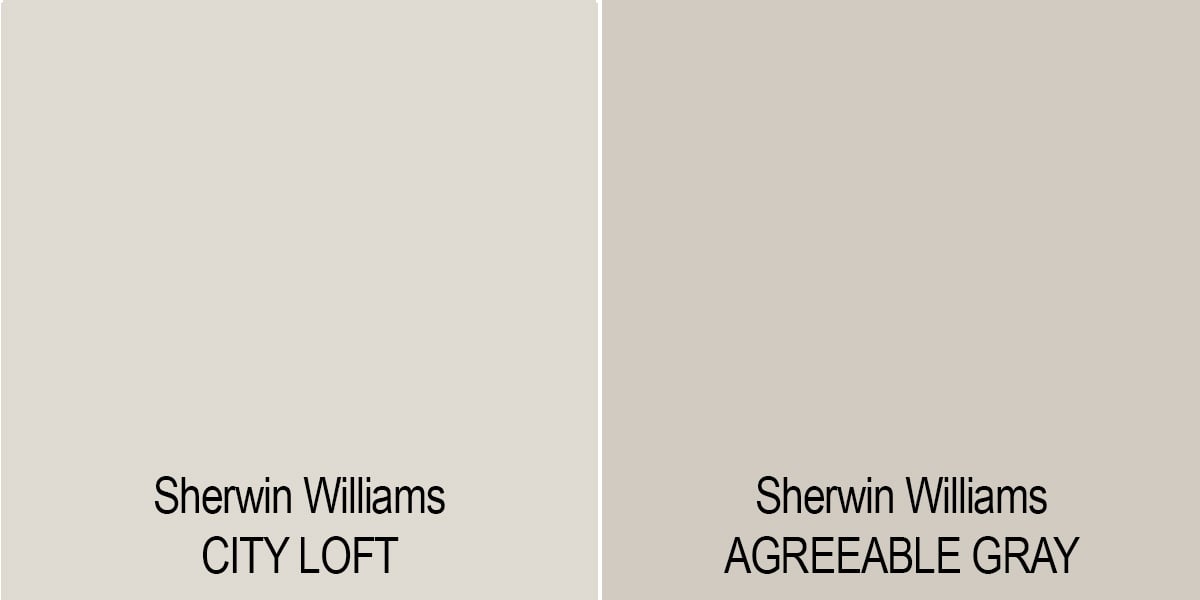 When placed next to each other you can see they are both warmer colors. Agreeable Gray does come across more gray when side by side.
However, City Loft gives a much lighter and brighter feeling than Agreeable Gray, since it has an LRV of 70, compared to Agreeable Gray's LRV of 60/which can come off as quite dark and heavy in darker rooms.
Final Thoughts
Remember this is a chameleon color and if you are thinking about using Sherwin Williams City Loft, it is very important to make sure you get a sample of it first.
Don't Forget…
Don't forget – no matter what you've read or photos you've seen online, it's really important to sample paint colors in your home before committing!
Samplize provides real paint samples that are easy to move around your home, and cheaper than buying a gazillion paint pots! It's the only way I buy paint samples.
Use code JENNAK10 at checkout and get 10% off your order
Coupon entitles all customers to 10% off the entire order with no minimum purchase requirement. This is a one-time use coupon and it cannot be combined with other discounts.