As the weather begins to cool down and the leaves start to change color, it's the perfect time to update your home decor for fall. One easy way to do this is by finding cheap throw pillows to instantly update your fall decor.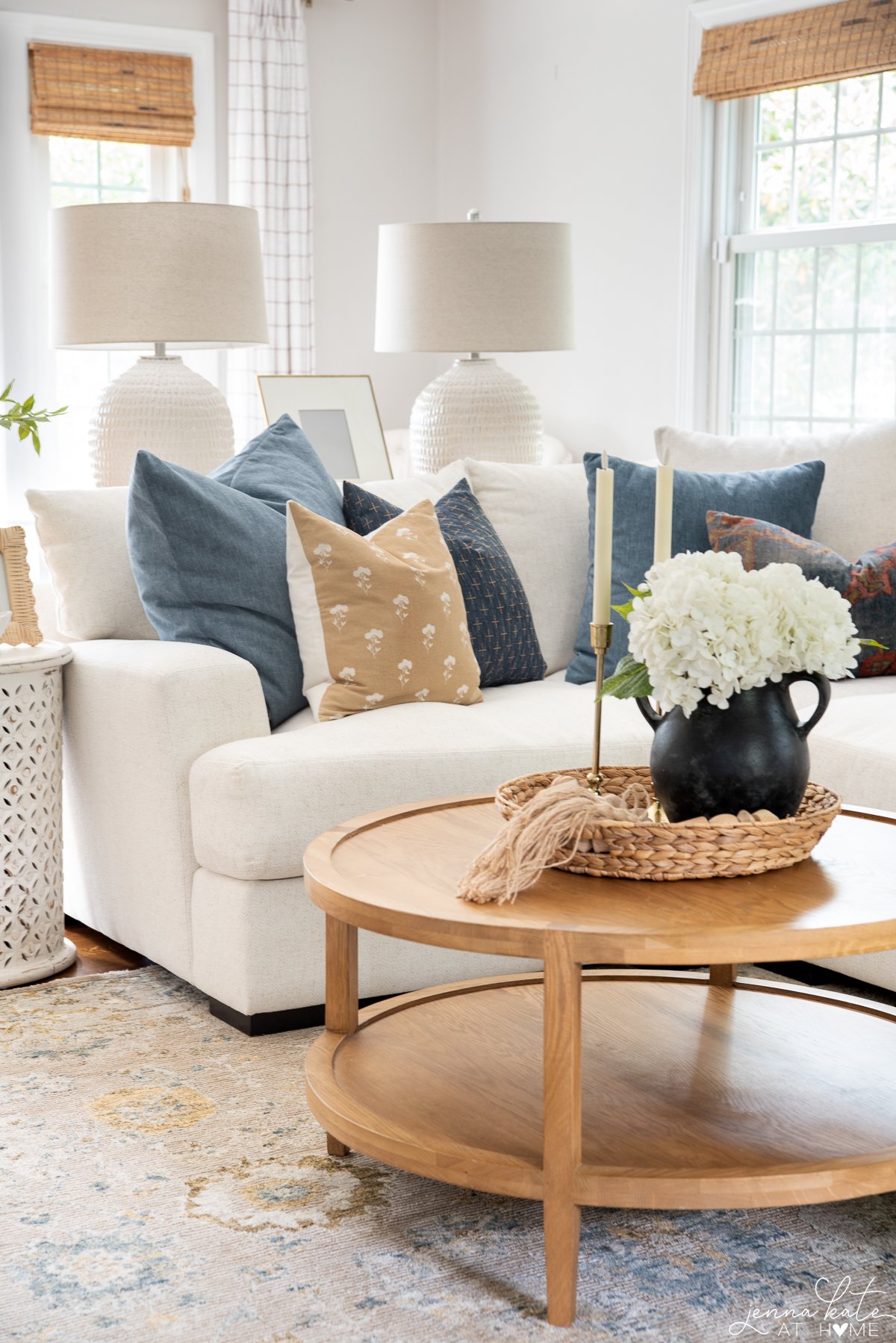 However, finding affordable options can be a challenge unless you know what to look for and where. That is where I am going to help you!
I've compiled my best tips for finding cheap throw pillows for fall and how to use them in your home. From fall colors to playful patterns, there are plenty of options to choose from when it comes to fall throw pillows.
Whether you're looking for something to add to your couch in your living room, bed, or accent chair, there are plenty of budget-friendly options available.
Plus, with the right mix of textures and colors, you can create a cozy and inviting atmosphere in your home that's perfect for the fall season.
Why Choose Cheap Throw Pillows for Fall
Fall is a season that makes us want a pumpkin spice latte, curl up and read a good book, and is the ultimate sweater weather season. One way to make your home cozy during this time is by adding some throw pillows.
It's also a quick and affordable way to switch up your decor for a new season!
While there are many high-end options available, choosing cheap fall throw pillows can be a great way to save money while still going all out for your fall decorations.
One of the main reasons I choose to update my fall decor with seasonal throw pillows is with the wide range of options available, you can easily find pillows that fit your budget without sacrificing quality.
Additionally, you can easily swap out your pillows for different seasons or occasions, allowing you to update your decor without breaking the bank each new season.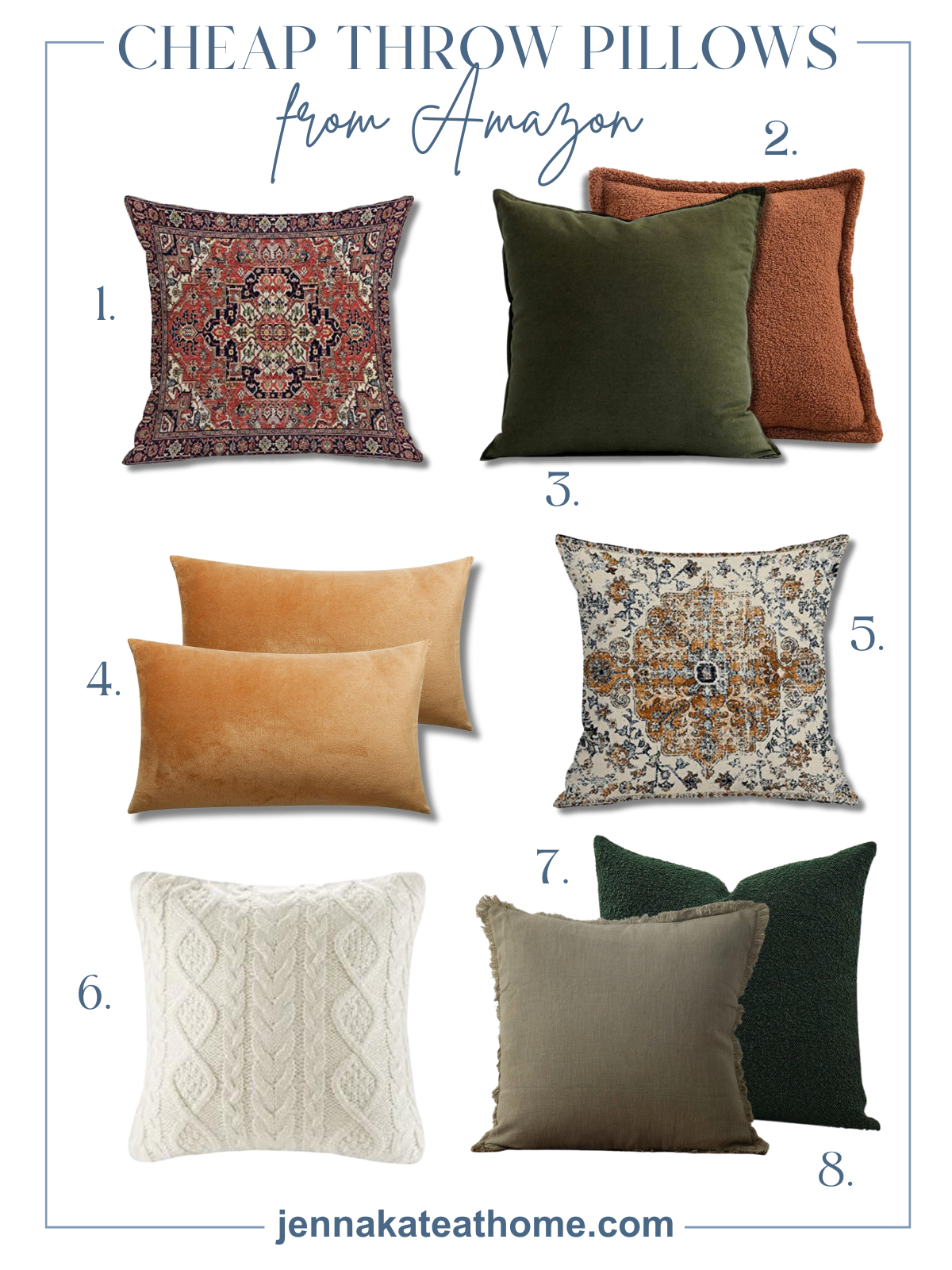 Sources: 1 // 2 // 3 // 4 // 5 // 6 // 7 // 8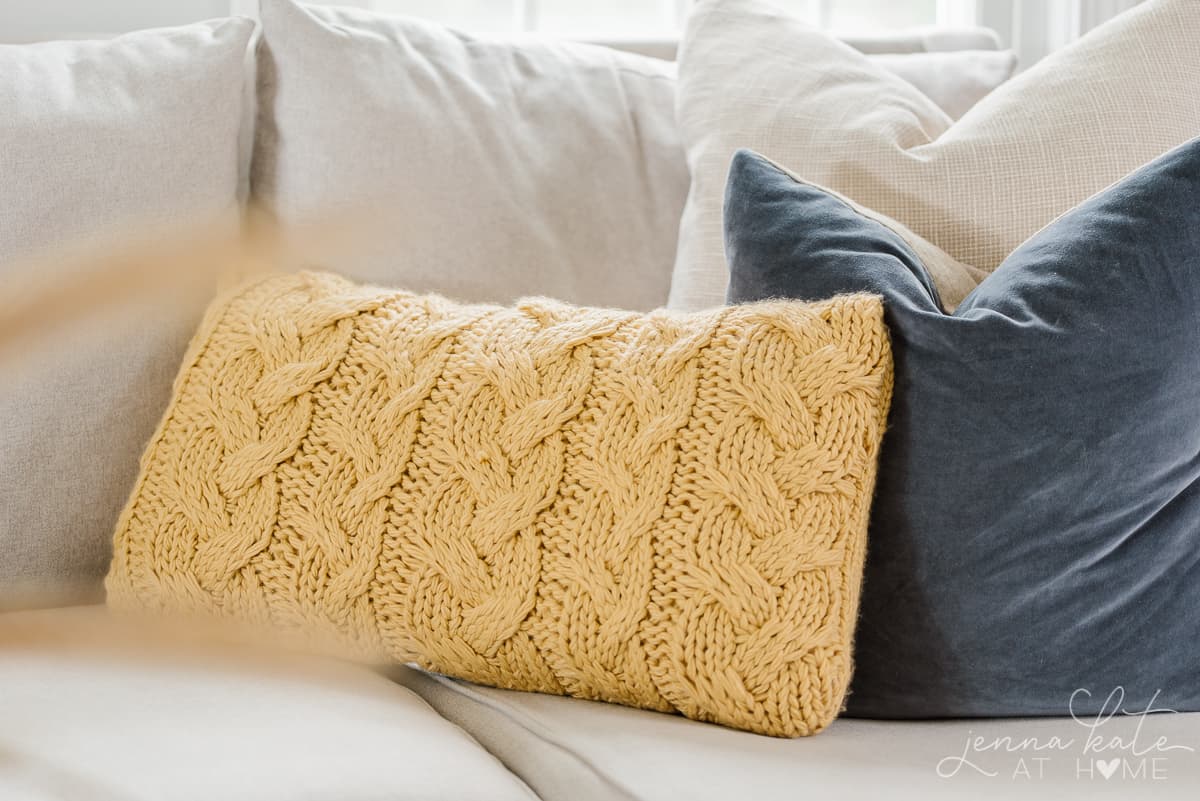 Another benefit of choosing cheap throw pillows for fall is versatility. With a wide range of colors, patterns, and textures available, you can easily find pillows that complement your existing decor while adding a touch of warmth and comfort to any room.
Finally, cheap throw pillows can be a great way to experiment with new styles and trends without committing to a larger investment.
You can try out different colors, patterns, and textures to find what works best for your home without worrying about the cost.
Types of Cheap Throw Pillows for Fall
Fabric Choices
When it comes to fabric choices for cheap throw pillows, there are a few options to consider. You want to be sure the fabric you choose feels and looks luxurious without spending a lot.
One popular choice is cotton, which is soft and durable. Another option is polyester, which is easy to clean and maintain. For a more luxurious feel, velvet throw pillows can add a touch of elegance to any room.
Faux fur throw pillows are also a great option for adding texture and warmth just be sure you can feel the faux fur before buying to be sure it's great quality. A beautiful faux leather can be the perfect way to add a subtle fall feel.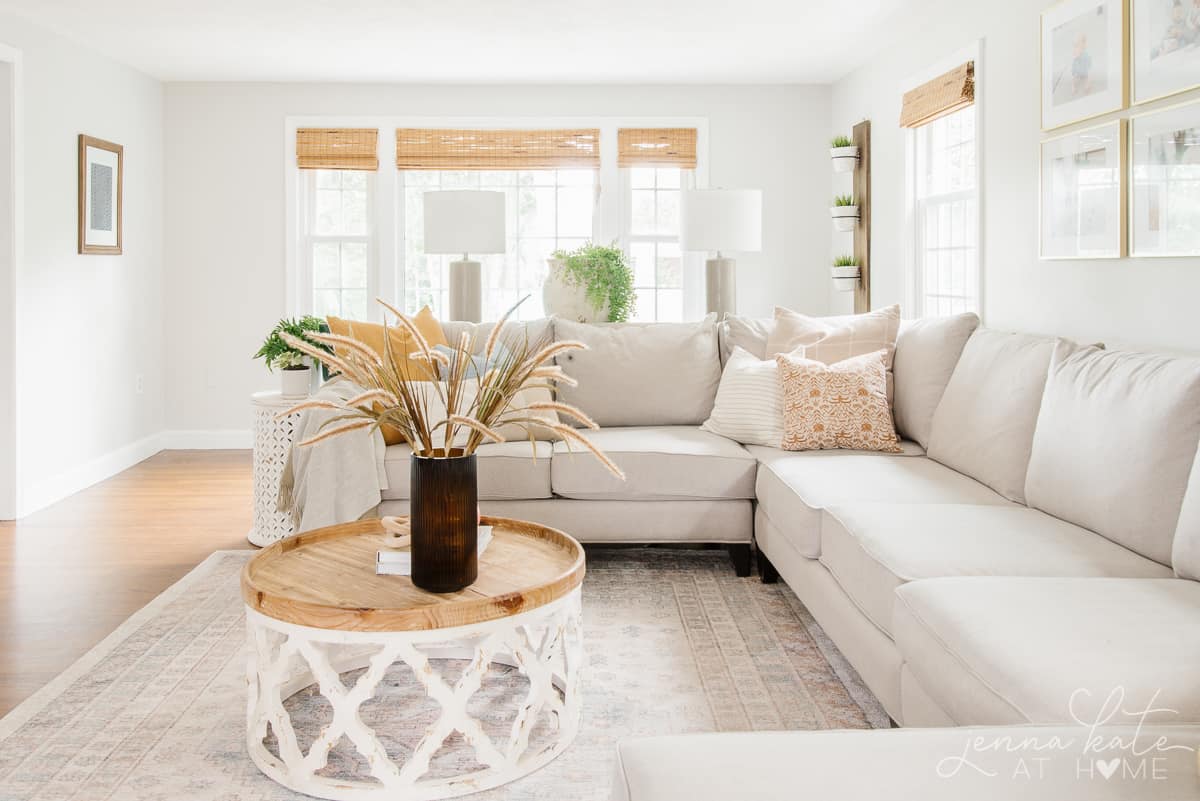 Color and Pattern Selections
When selecting accent colors and patterns for fall throw pillows, consider warm, earthy tones such as burnt orange, deep red, and mustard yellow.
Plaid patterns are also a popular choice for fall decor, as they add a cozy and rustic feel. For a more modern look, a geometric print and abstract designs can add a pop of color and visual interest.
Also, don't forget about cream colors, these will add warmth to your space if you are not into the more bold colors.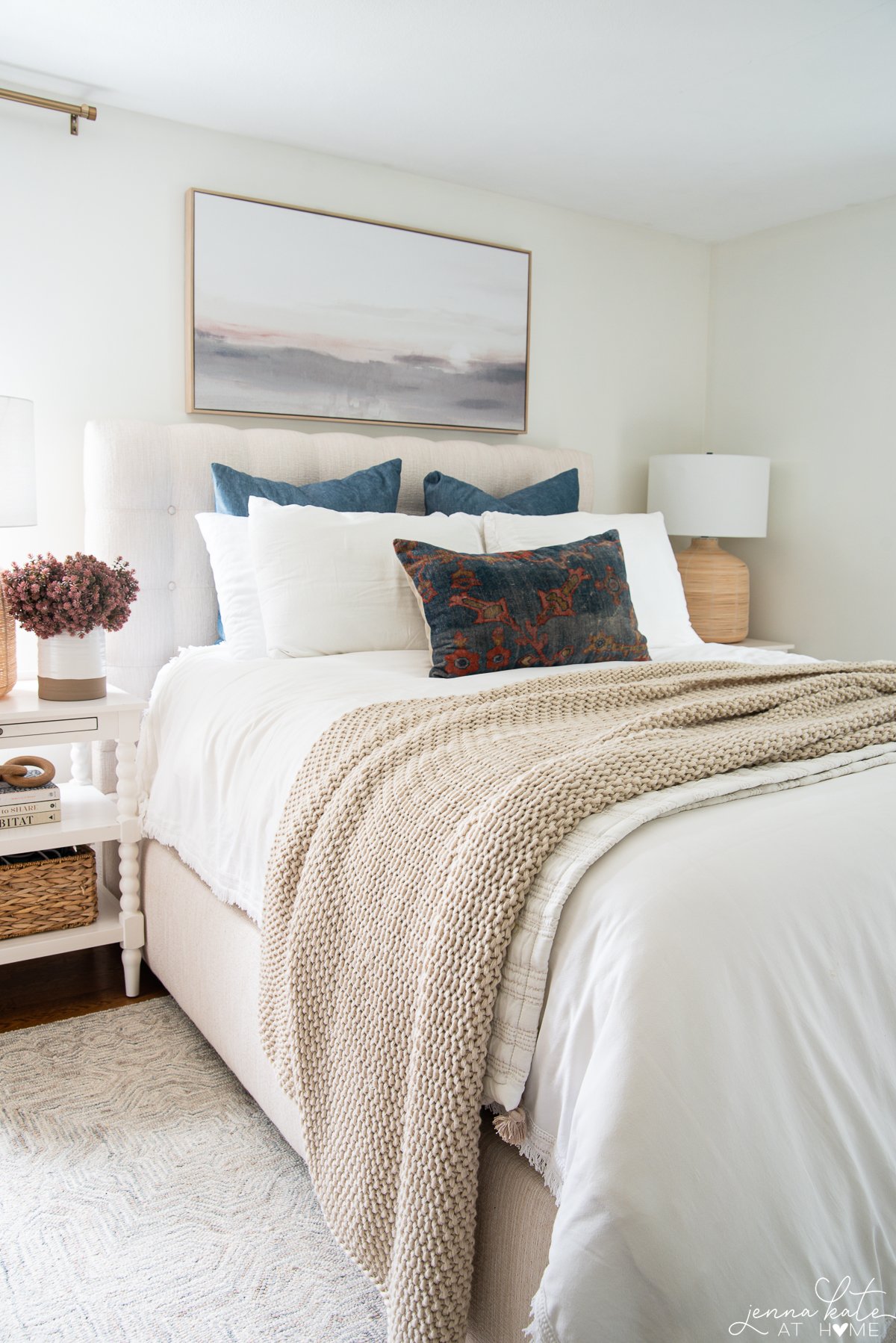 Shape and Size Variations
Throw pillows come in a variety of shapes and sizes, allowing for endless possibilities when it comes to styling and decorating.
Square throw pillows are a classic choice, while lumbar pillows can add extra support and comfort. Round throw pillows can add a playful touch to any room, while oversized floor pillows can create a cozy and inviting atmosphere.
When picking your decorative pillows, think about size variety to keep your decor exciting. Adding throw blankets in with your decorative throw pillows is a great way to also get size variation!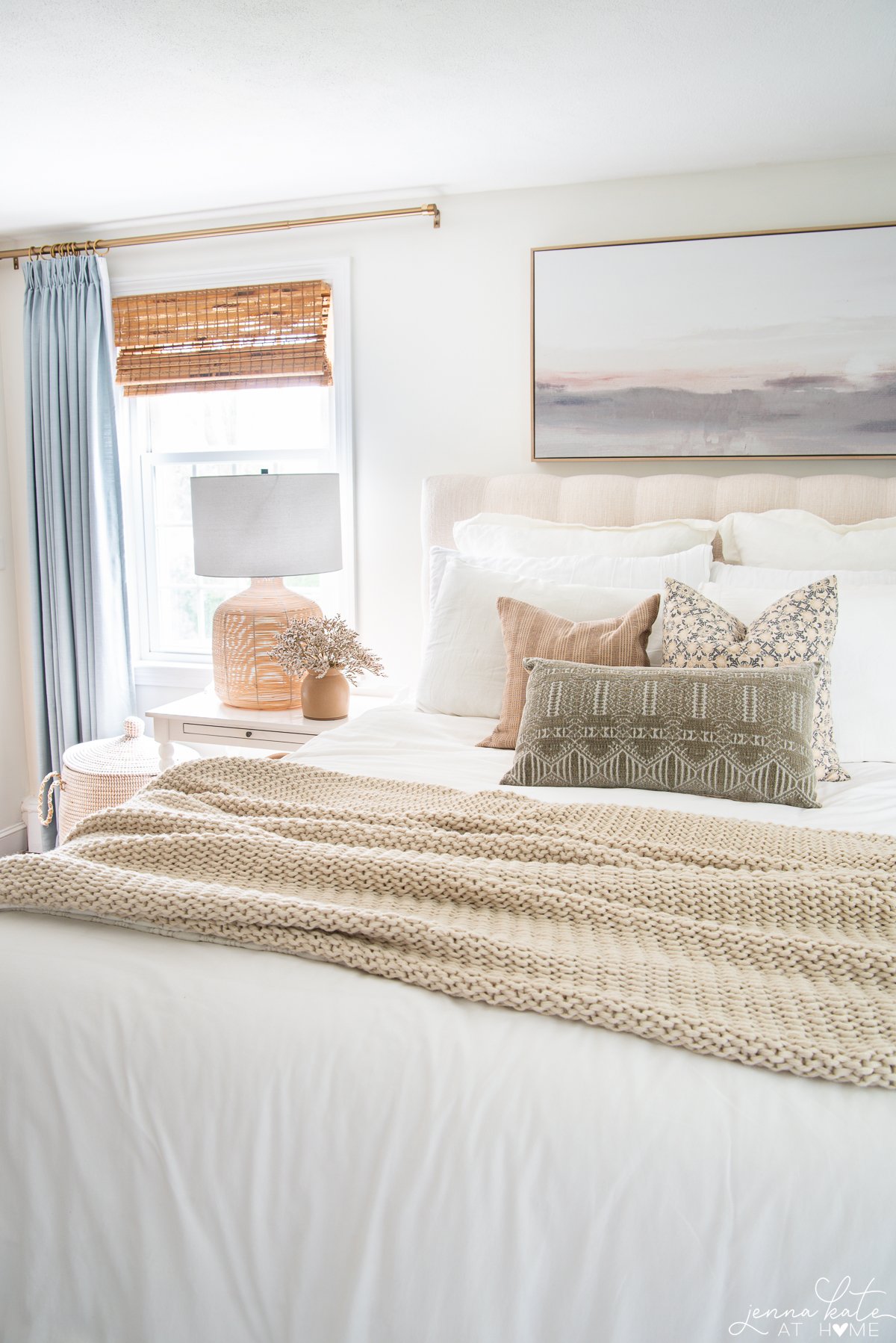 Style Options
You don't have to buy new pillows each year, sometimes just buying new fall pillow covers is all you need to do to refresh your throw pillows in an inexpensive way.
Just look for pillow covers with an easy-access zipper closure or buttons to easily change out the pillow insert.
If you don't have pillow inserts yet, IKEA and Amazon both have great options for cheap.
The best part is once you buy a pillow insert, you can not only use it for the current season but for the rest of the year just by changing out your pillow cover.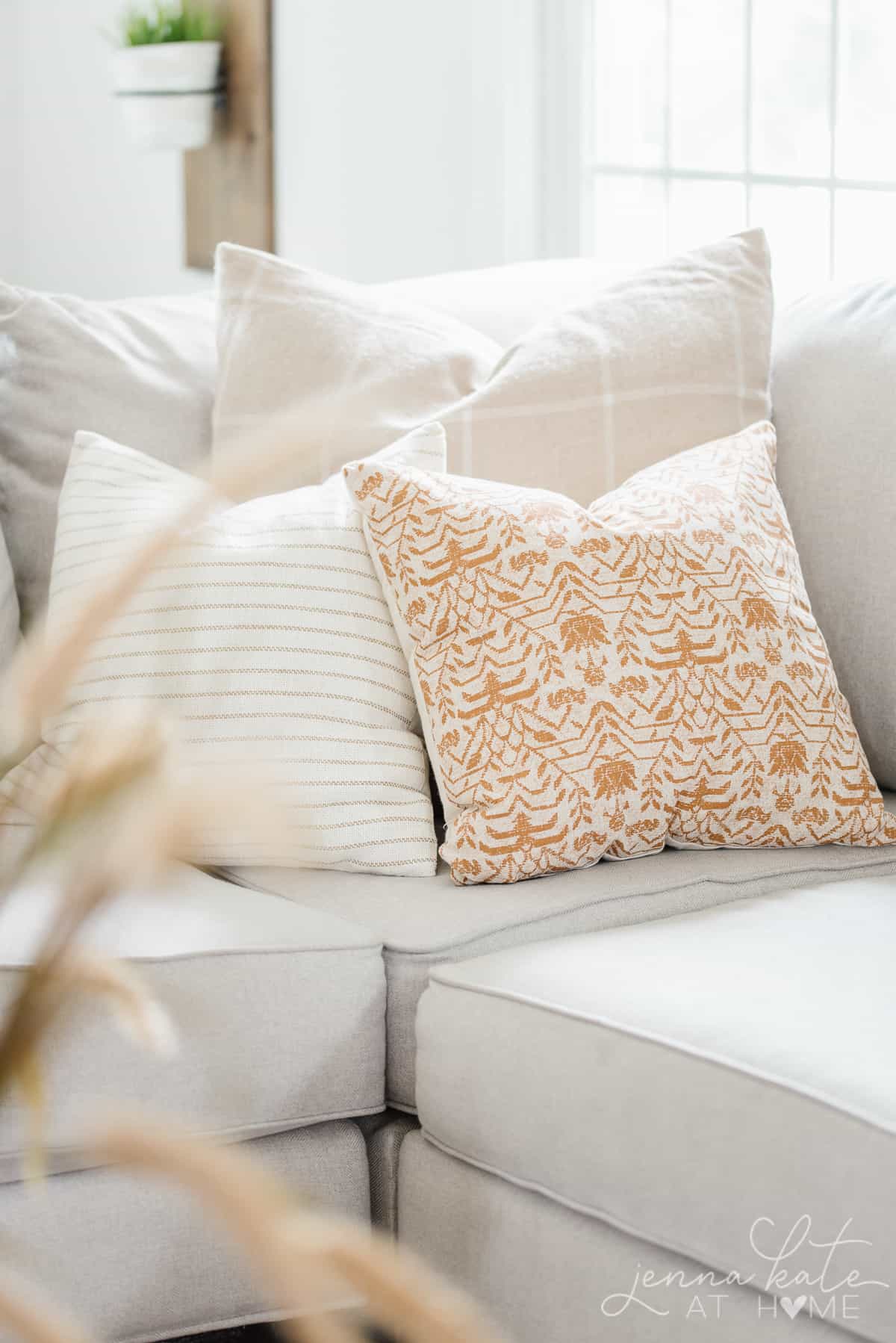 Where to Buy Cheap Throw Pillows for Fall
Amazon: There are a ton of pillows for amazing prices on Amazon. If you're a Prime member you cannot beat the free shipping option.
Pottery Barn: Keep an eye out for weekend sales, this is a great way to grab a high-quality throw pillow for a good deal.
Etsy: when picking out your throw pillows, consider supporting some small businesses. There are amazing artisans on Etsy that sell pillow covers that are incredibly unique.
Walmart: They offer a variety of cheap throw pillows for fall in different styles and colors. You can find pillows for as low as $5.
Target: Target is another store that offers a variety of cheap throw pillows for fall. They have a wide range of styles and colors to choose from in your favorite decor line.
HomeGoods: HomeGoods is a great option for those looking for unique and affordable throw pillows for fall. They offer a variety of styles and colors at discounted prices. Keep in mind that their inventory changes frequently, so it's best to check back often.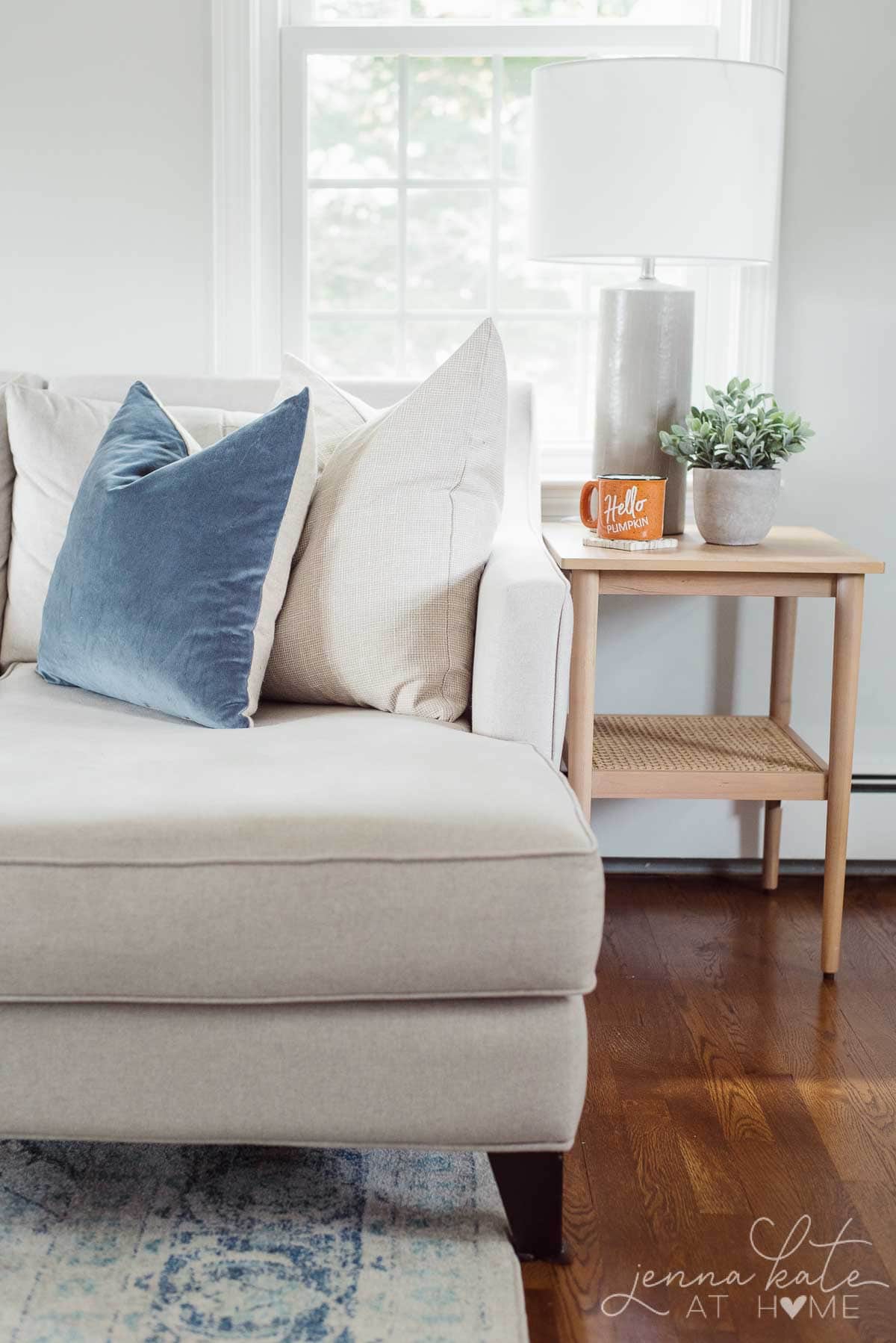 How to Choose the Right Throw Pillows for Your Living Space
Throw pillows are an easy and affordable way to update your home decor for the fall season. However, with so many options available, it can be overwhelming to choose the right ones for your space. Here are some tips to help you make the best decision.
Consider Your Existing Decor
First, take a look at your home decor. Look for spots on your furniture, beds, and benches. What areas have blank spaces and need a touch of happy fall vibes?
This can even be at the legs of a side table or legs of a bench depending on your home life (if you have dogs you may want to skip this trend).
When you have a neutral color scheme, you can easily add a pop of color with bold pillows. If you have a lot of patterns in your home, choose solid-colored pillows to balance it out.
When planning out what to add, consider staying within your current decor style so that the throw pillows you add look like they belong vs. looking out of place.
If you have a modern or minimalist space, you may want to choose pillows with clean lines and simple patterns. If you have a traditional or eclectic space, you can be more playful with your pillow choices.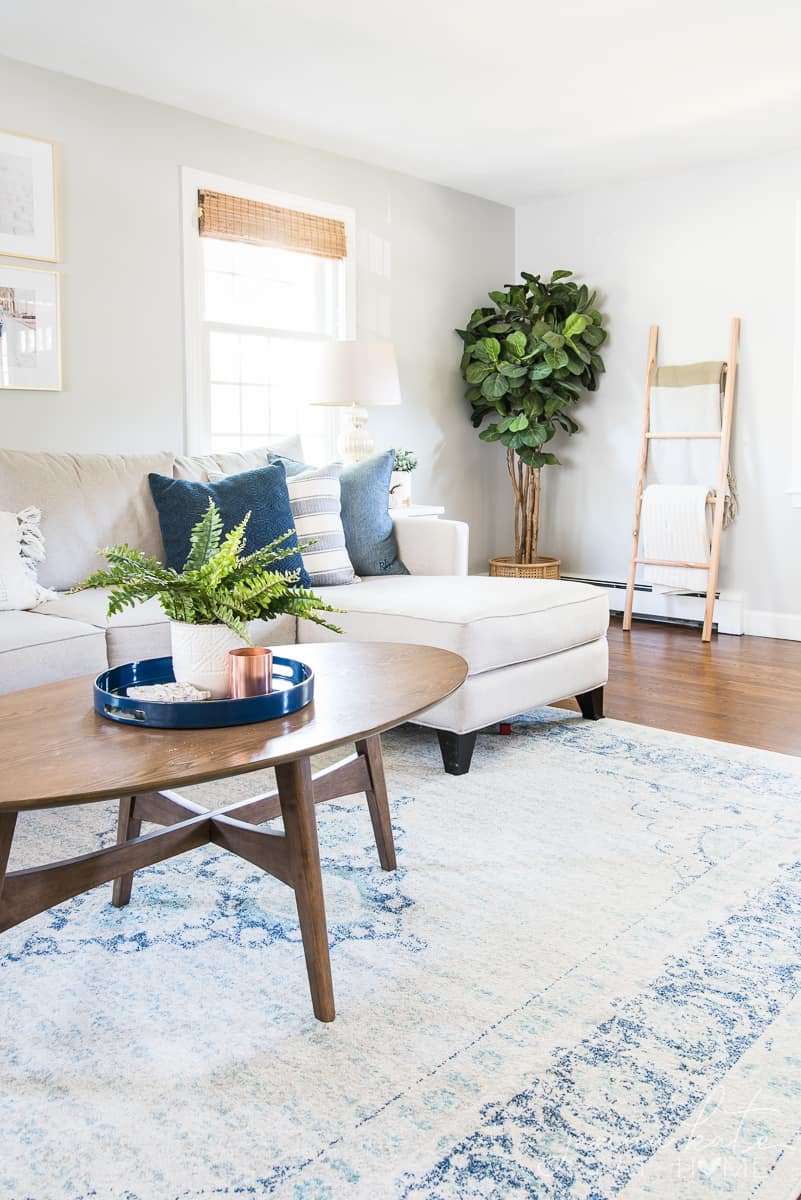 Think About Comfort and Functionality
While the aesthetic appeal of throw pillows is important, don't forget about comfort and functionality. Choose pillows that are soft and comfortable to the touch, and that provide adequate support when you're sitting or lounging.
Down is a great option for quality inserts that hold their shape while still being soft. If you have kids or pets, consider choosing pillows that are easy to clean and maintain.
Another thing to think about is the size and shape of your pillows. Standard square pillows are versatile and can be used on sofas, chairs, and beds. However, if you have a sectional or a chaise lounge, you may want to choose larger or longer pillows to provide more support.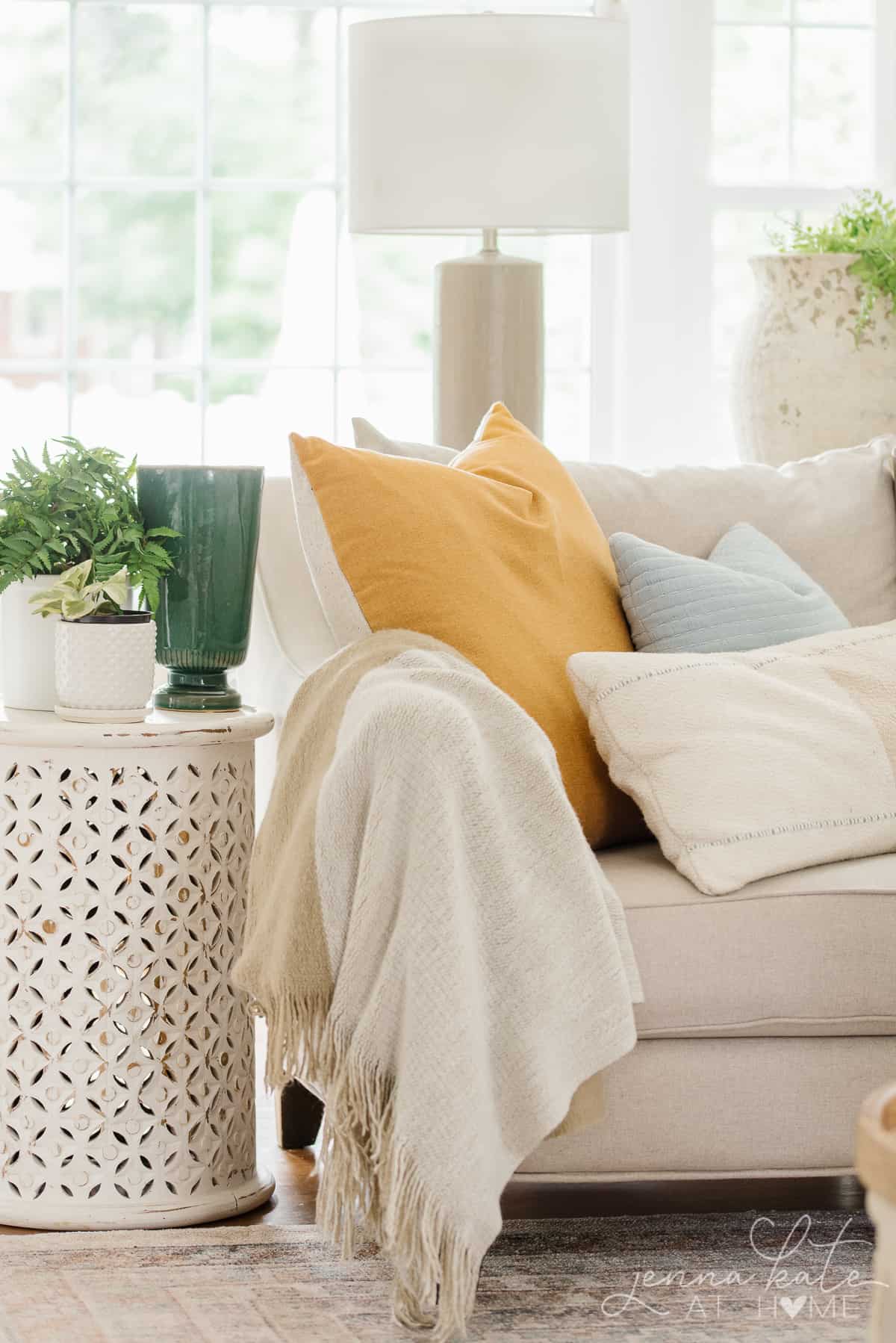 Final Thoughts
Finding cheap throw pillows for fall is definitely possible with a little bit of thought and shopping. Knowing what you want to add to your space will save you time, once you find what you are looking for, snag it quickly. Don't be afraid to slowly build your collection as well. Adding a throw pillow to your decor every couple of weeks throughout the season is also ok!
When searching for cheap throw pillows, it's important to keep in mind the materials used, as well as the overall quality of the product. While it may be tempting to opt for the cheapest option available, it's often worth spending a bit more for a higher-quality pillow that will last longer and provide better support.
The biggest takeaway is to create a space that you want to spend time in and have people over to enjoy the fall weather together.