Repose Gray by Sherwin Williams (SW 7015) is the perfect warm gray neutral paint color for every room in your home. With slight green and taupe undertones, it looks gray without ever feeling cold and it's my go-to paint color!
Repose Gray is my go-to neutral gray paint color choice for my e-design clients. I love it so much that I've used this warm gray paint color all over my own home!
If you've been looking for the perfect gray that never reads cold, you're going to love this post. I'm sharing all the must-know details about this paint color, including its undertones, LRV, comparisons, and lots of photos to help you decide if it's the one for you.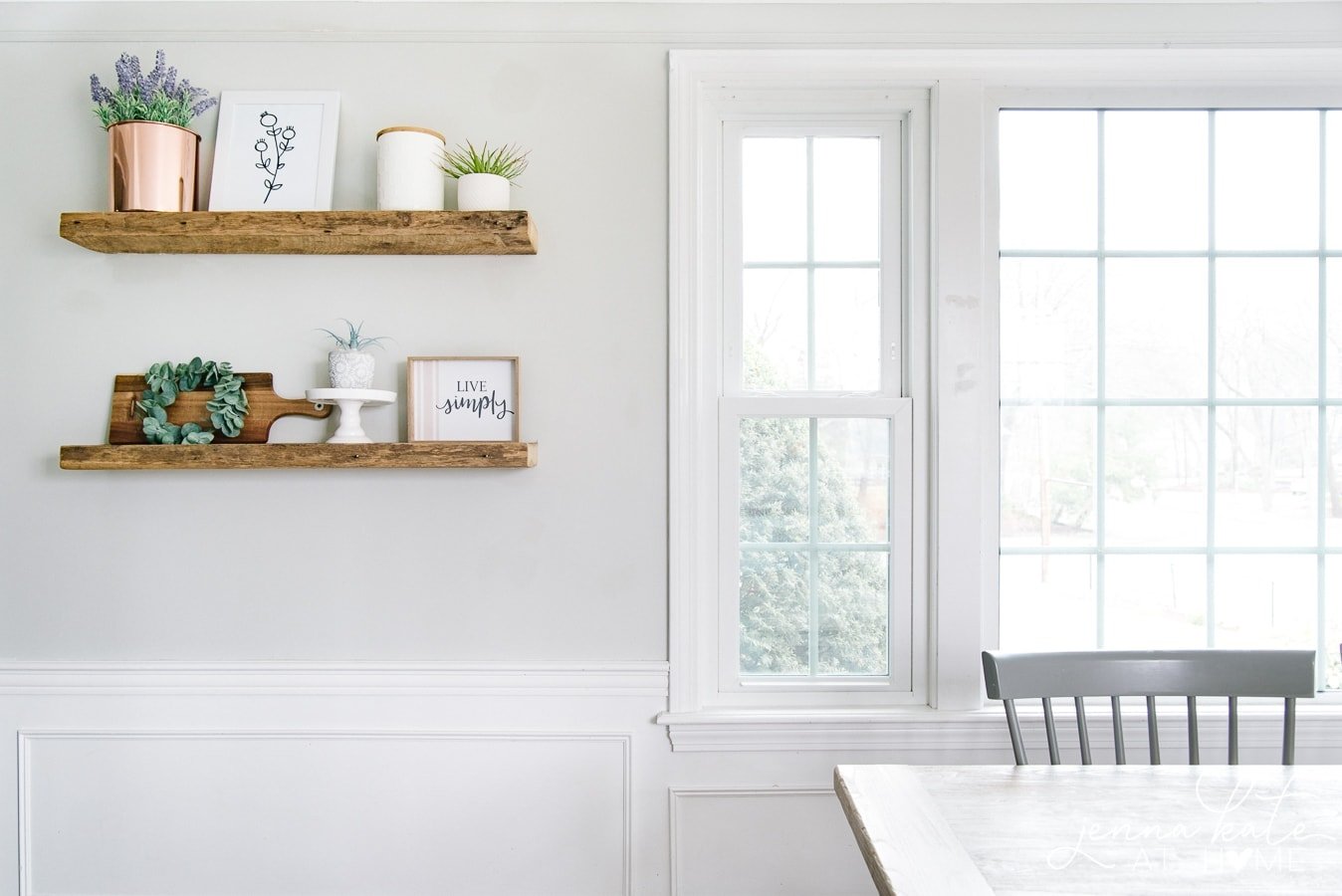 Is Repose Gray a Warm or Cool Color?
It's a little closer to warm gray than a true "greige" but is still warm enough for me to consider it under that category. The warmth it has makes it perfect for any room in your home, be it a living space, kitchen, bathroom or bedroom.
If you've been wanting to add gray paint to a room in your home but you're worried about cool light that tends to bring out blue undertones in everything, then I think Repose Gray will be perfect for you. It will never feel like a cold gray, which is why it is so incredibly versatile.
That's the exact reason I stumbled upon it! All the other grays I was trying looked distinctly baby blue in our kitchen but this paint color had just enough hint of warmth to still look medium gray and never at all cold.
If you want to minimize the beige undertone for a cleaner gray, I would stick to keeping it in bright spaces as the beige really comes out in darker spaces. Not that I don't like that, I actually really love how this gray never feels cold.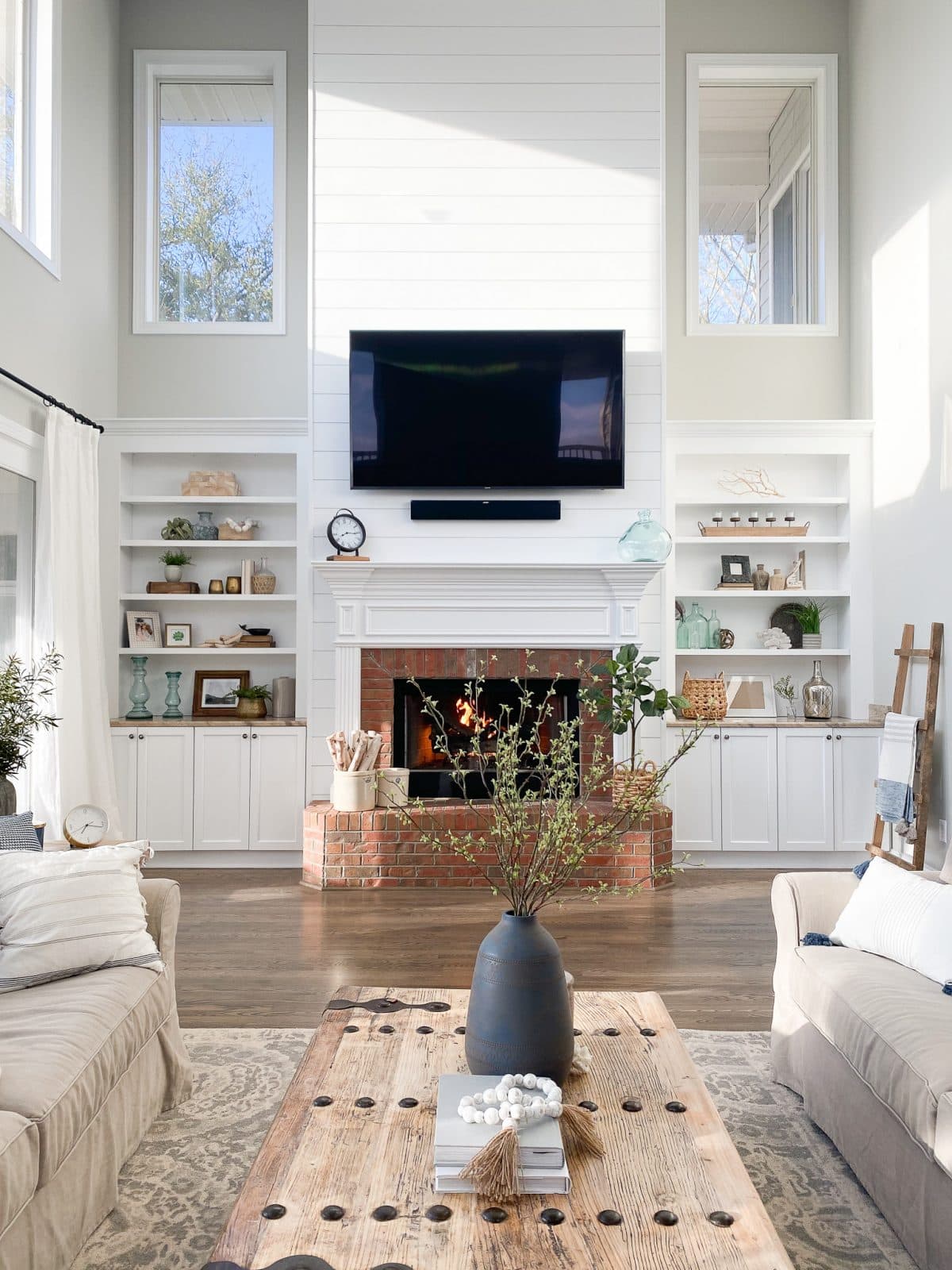 On the other hand, if you're reading this and now realize you don't want a warm gray, then a cooler gray like Gray Owl or Stonington Gray may be more what you're looking for.
Is It a True Gray?
Sorry to burst your bubble, but there's really no such thing as a true gray. Every gray has some sort of undertone - whether it's brown, blue, purple, or taupe. Of course, some grays are more closer to a neutral, "true" gray than others.
Undertones
Repose Gray technically has a beige/taupe undertone. It has some warmth to it and could possibly flash slightly pinkish due to those taupe tones. It can also have the slightest green undertone in darker rooms, or in shadowy corners.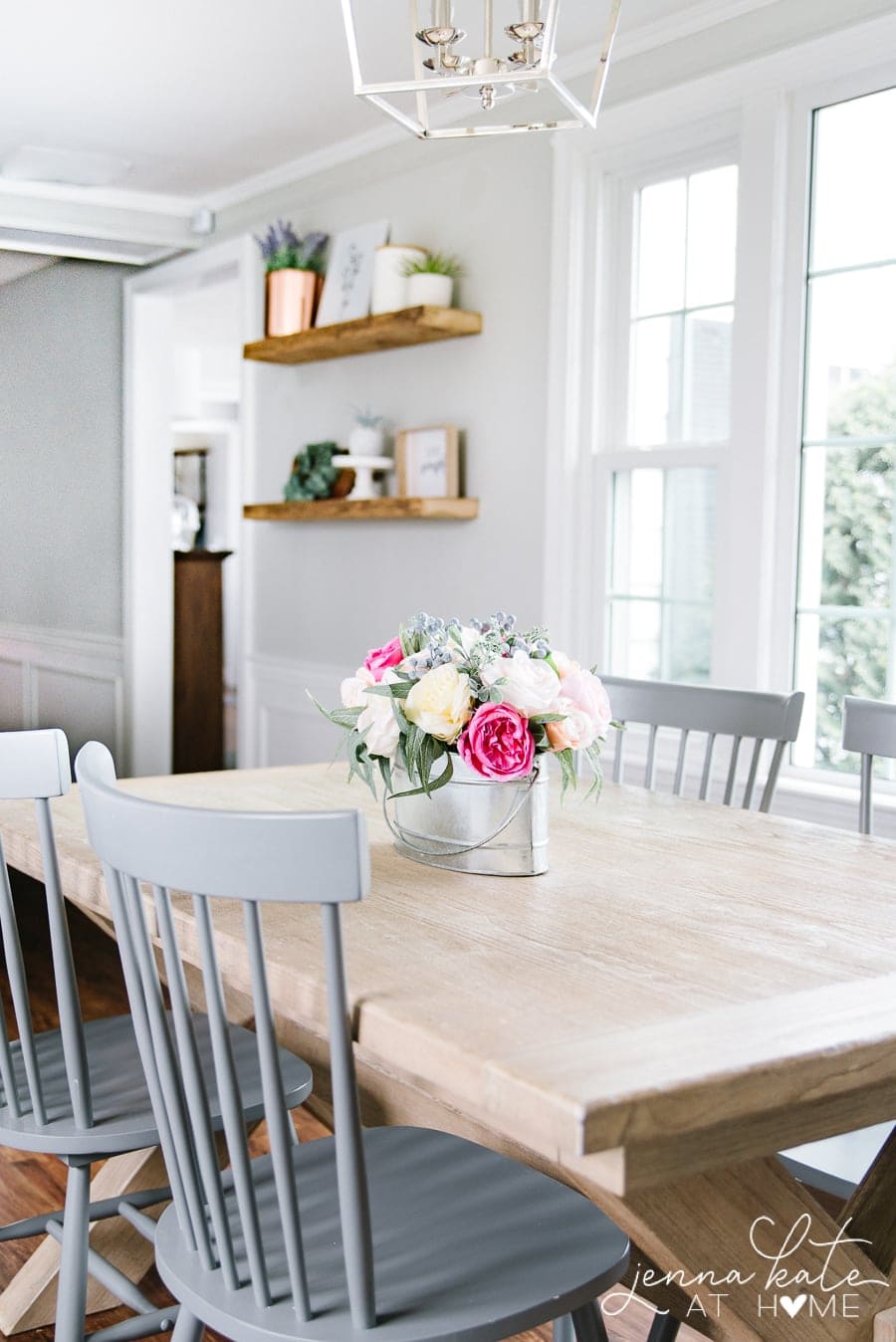 Don't be scared, though! These undertones make it a unicorn paint color that works equally well when paired with both cool and warm colors in your home! Woohoo!
If your only experience of warm grays or greiges is the ever popular Benjamin Moore Revere Pewter - you'll be surprised at how much more gray Repose Gray is. Revere Pewter can be quite muddy, whereas Repose Gray never looks that way.
This also means that it will work with a variety of finishes throughout your home AND it's also one of the best paint colors for resale value.
---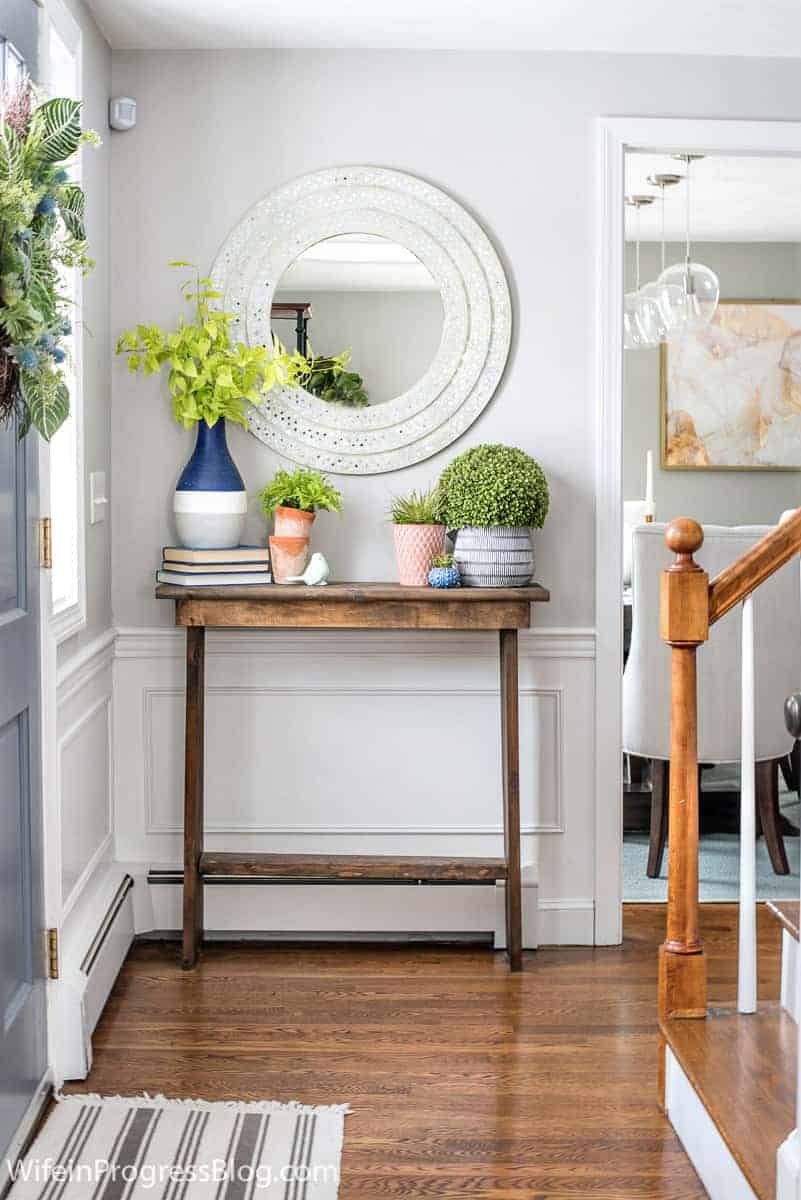 The picture above was taken right inside my front door. While the light is much warmer here than in the kitchen, Repose Gray still just has that touch of warmth to it. It's really the perfect undertone for a gray that you will want to use throughout your home because regardless of the type of light, it will work.
What is a Good Accent Color For Repose Gray?
One of the colors that goes really well with it is this lovely gray-toned blue (Serious Gray by Sherwin Williams). Something about the gray-blue tone really complements it so well! (read more about my favorite blue-gray paint colors here).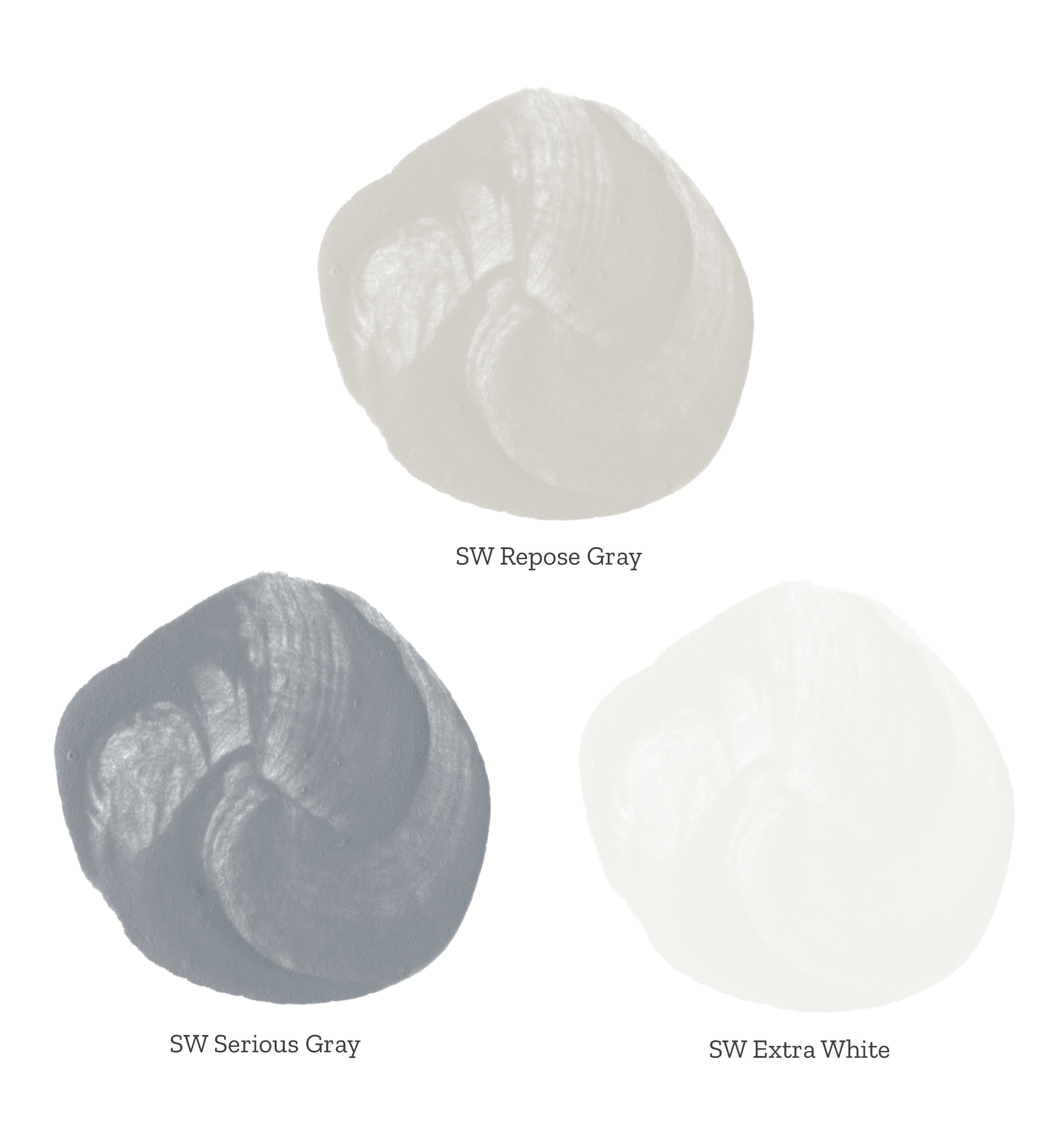 If you want to accent it with a similar color but one that's a bit darker for contrast, then Dorian Gray makes for a nice bold accent color.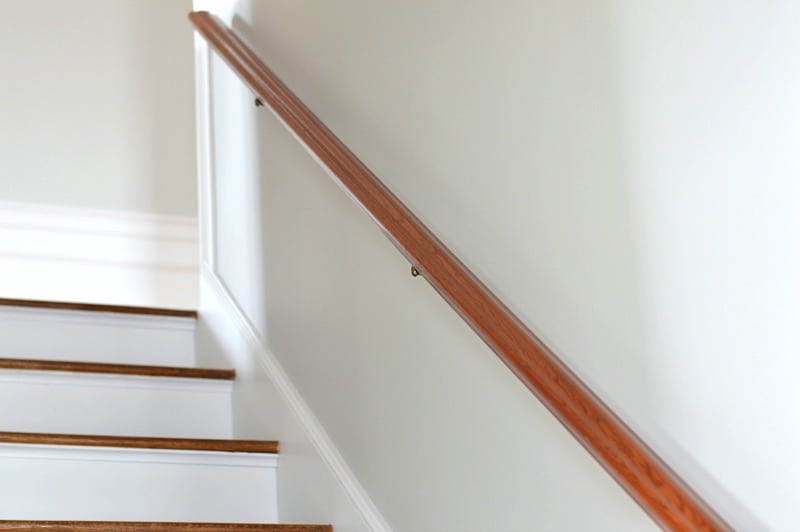 If you love how it look, but want a slightly lighter and brighter color, it looks equally amazing when lightened by 50%. I recently repainted my living room using it at 50% strength and I really wish I had done it sooner!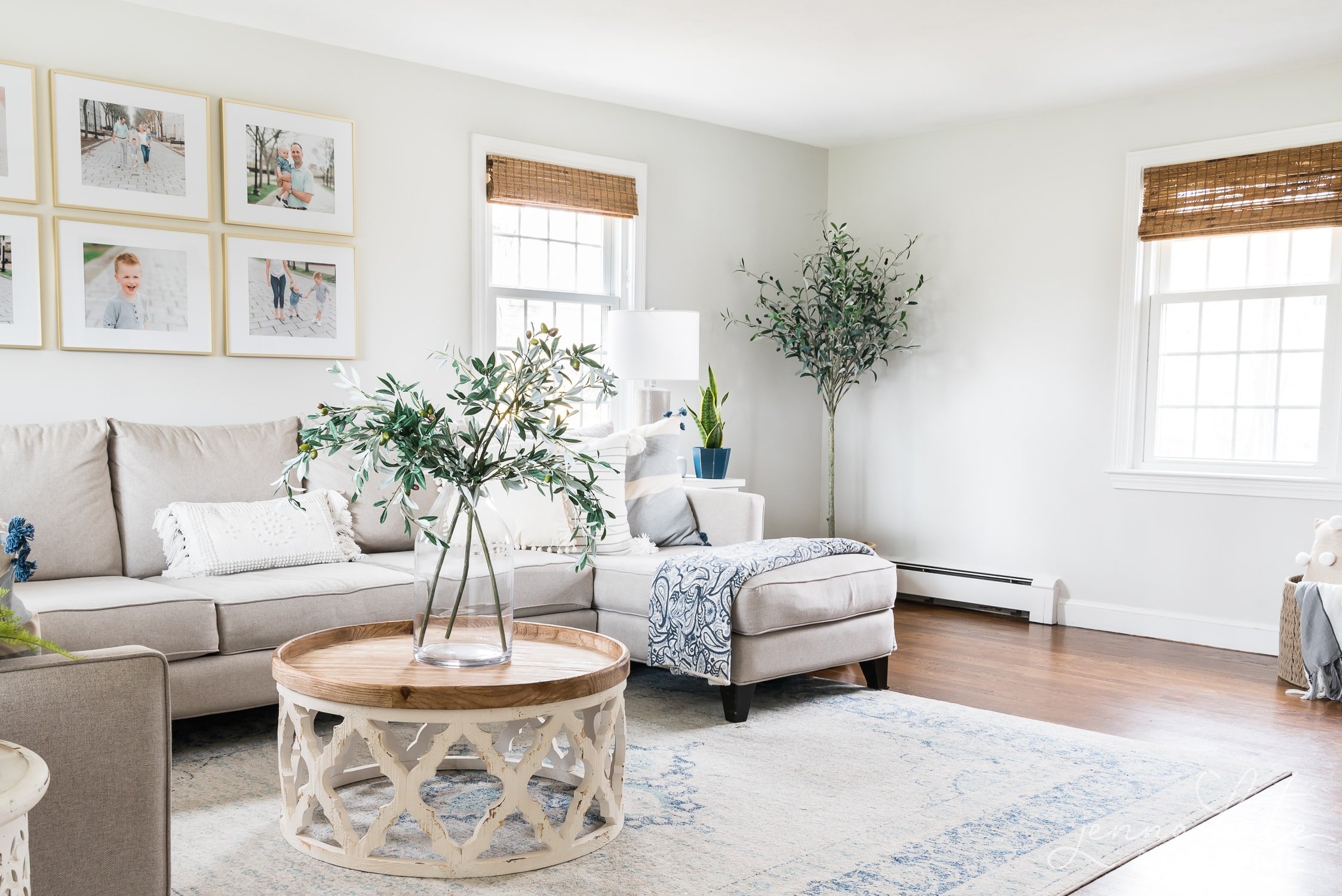 Additionally, paired with crisp white trim, Repose Gray gives a really fresh modern feel to any room.
Repose Gray vs Agreeable Gray
Agreeable Gray is another very popular warm gray or greige paint color.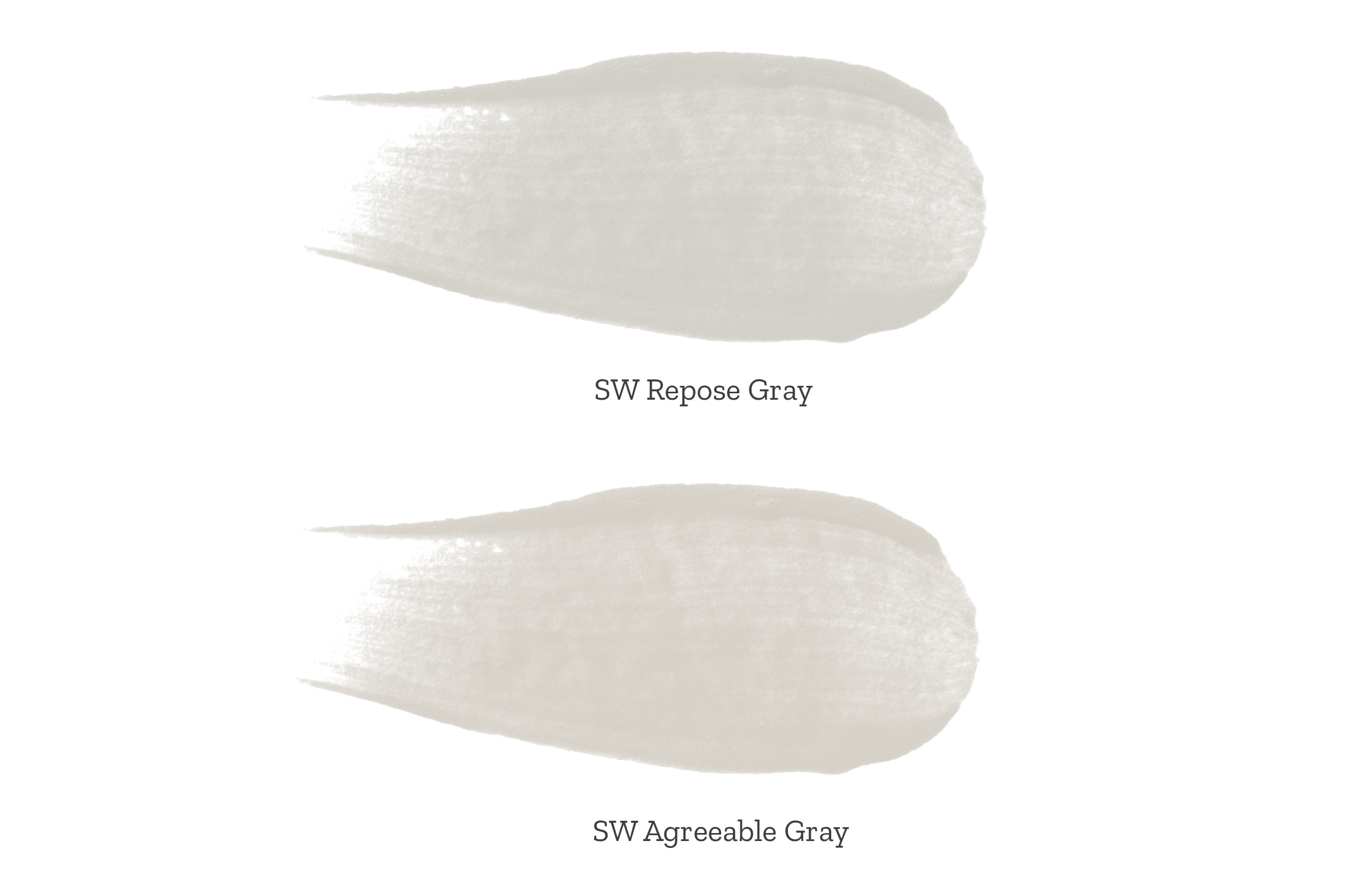 Repose Gray is a bit more gray than Agreeable Gray, which has a stronger beige undertone, making it more of a greige. So Repose Gray is cooler, but it's still a warm gray. It's also just a smidge darker than Agreeable Gray, but the difference is barely noticeable.
If you're deciding between the two, my main question for you would be whether you want more of a gray paint color or something warmer. If you want a color that's warmer, then Agreeable Gray would be the way to go.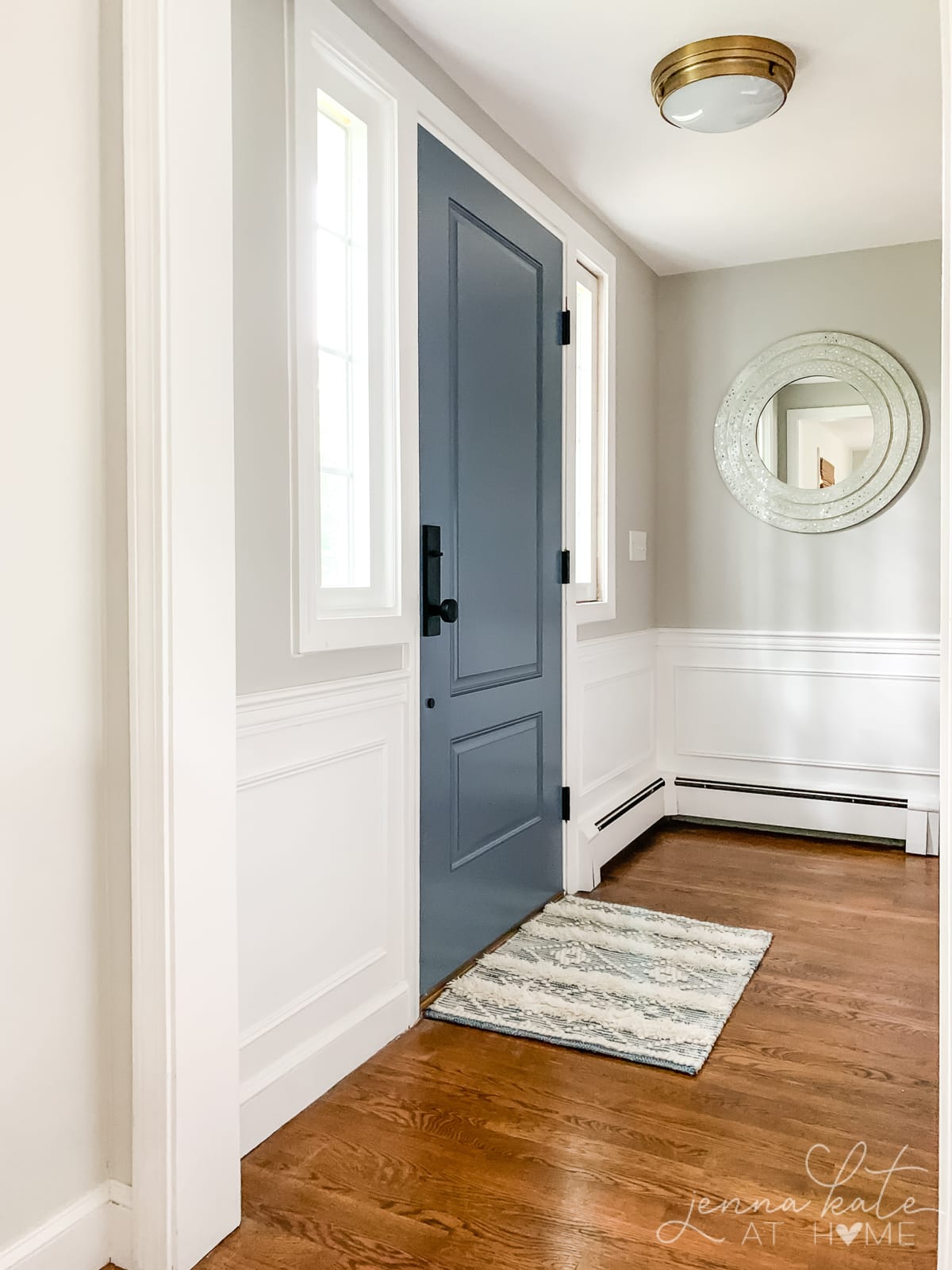 Real Room Examples
I want to share with you some other spaces that have used this wonderful color. If you have cooler light or a north facing room and cannot find the right gray, definitely try Repose Gray.
Kitchens
Not only is it a lovely wall color, but Repose Gray is one of my favorite colors for cabinets. Whether you prefer brass, black or silver hardware, it will work with all of them!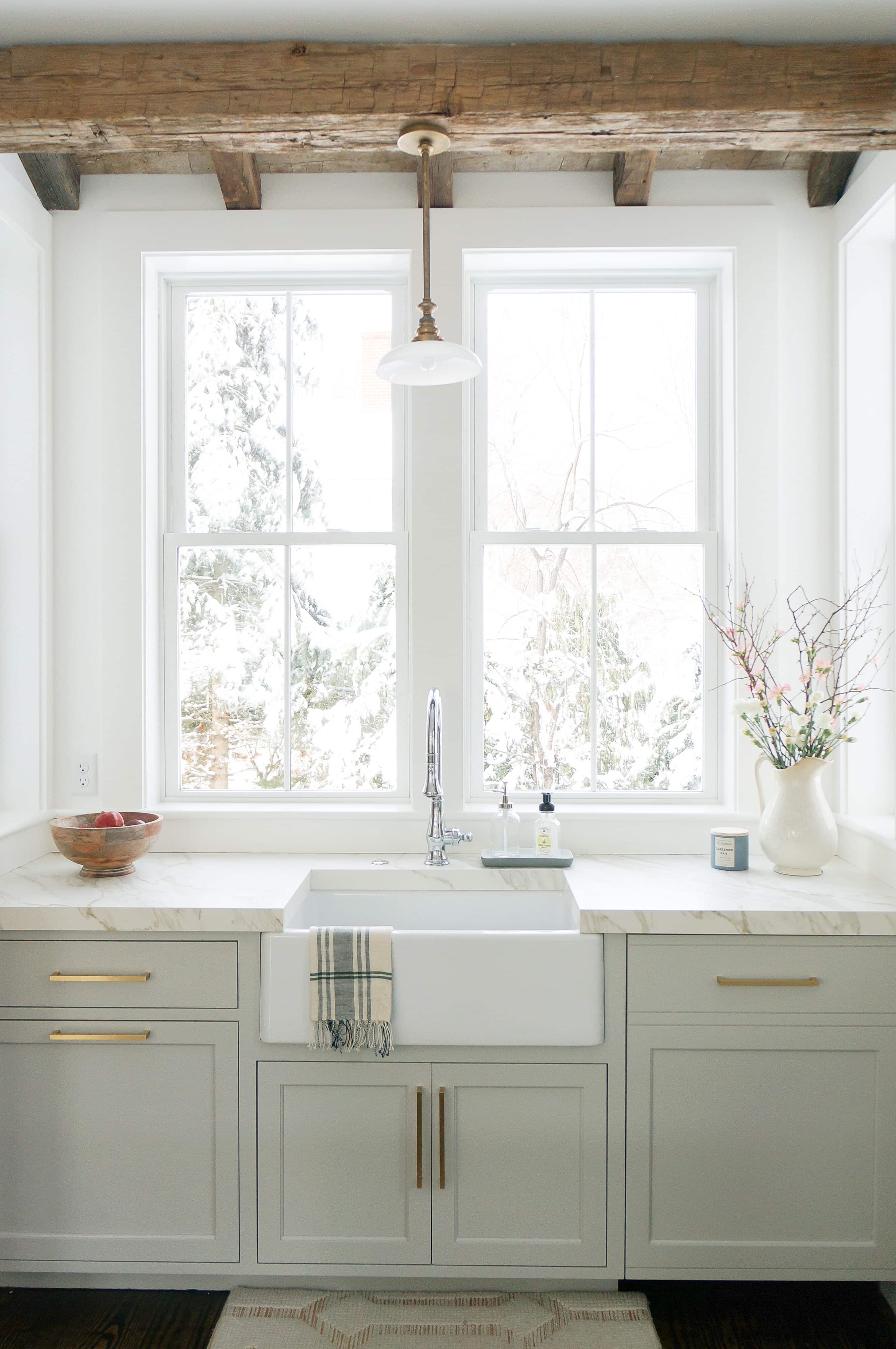 Living Rooms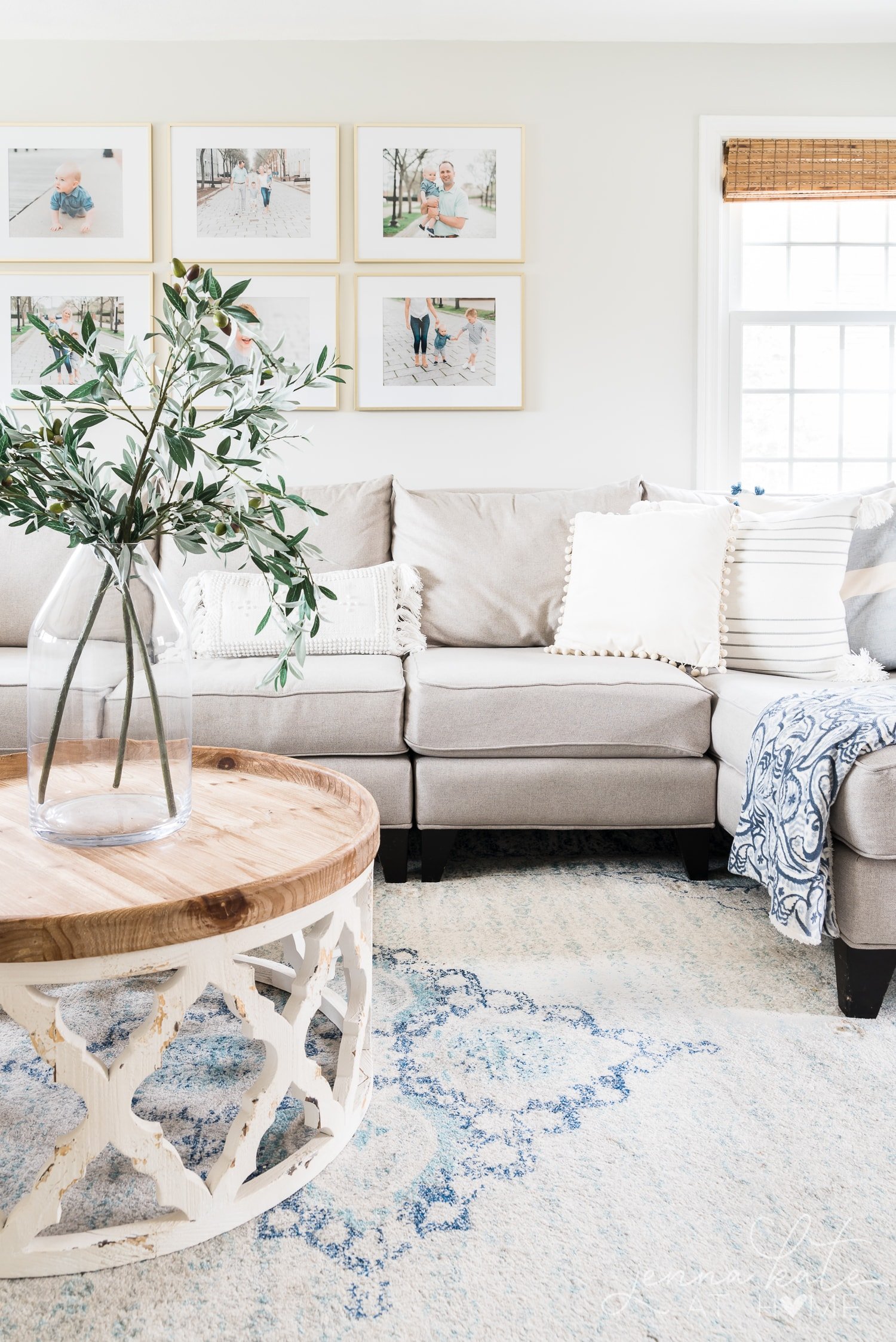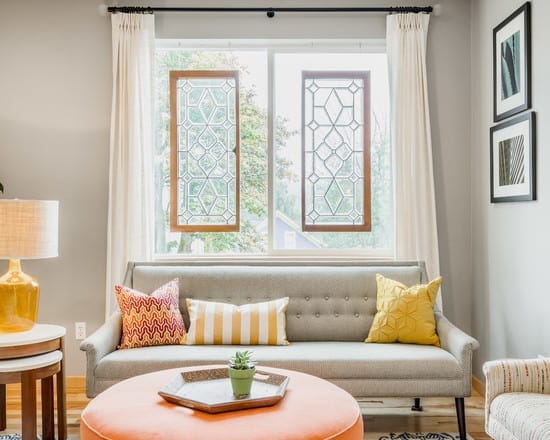 Bathrooms
Repose Gray never feels cold and works well with so many colors and finishes. It really is such a great paint color for any room in your home, bathrooms included!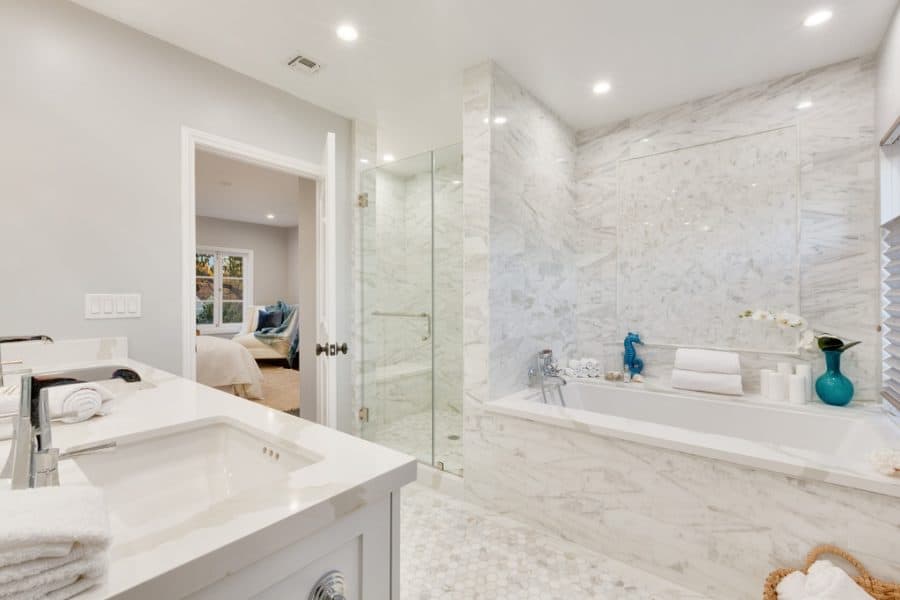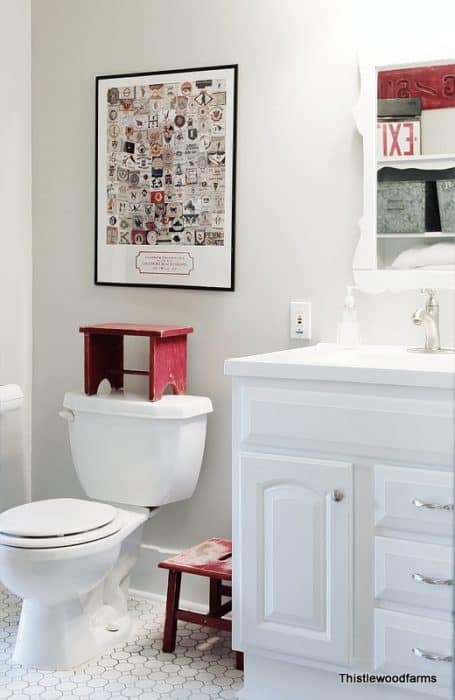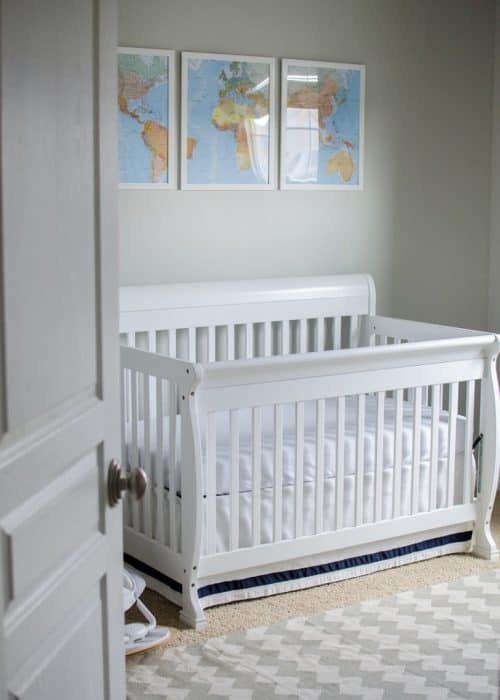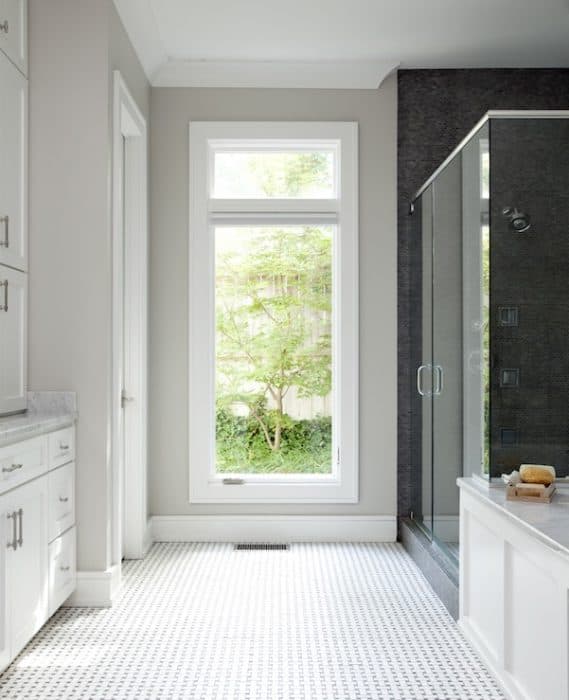 Bedrooms
White trim, bright light and light colored furnishings definitely help favor the cooler side of this paint color. So if you want it to lean towards gray more than its warmer side, keep that in mind.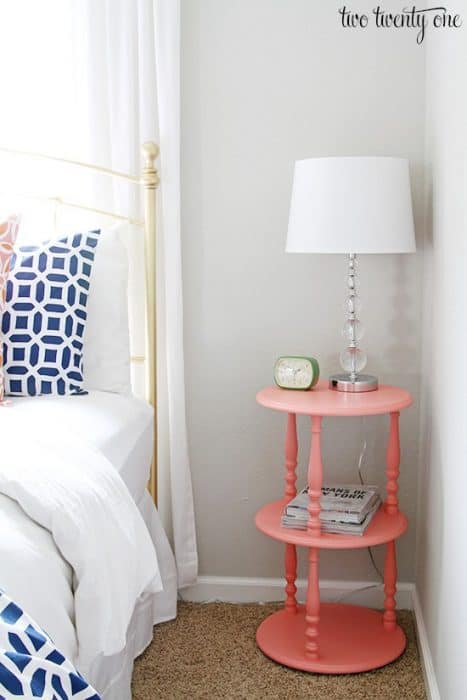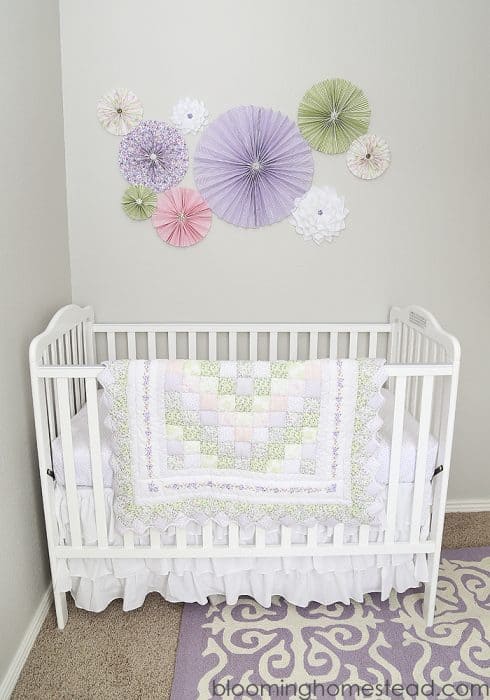 Entryways and Mudrooms
In the following photos, you can see how well Repose Gray works when paired with warm woods. A lot of warmer grays will start to look muddy or too beige when paired with darker woods, but this one still maintains its gray color.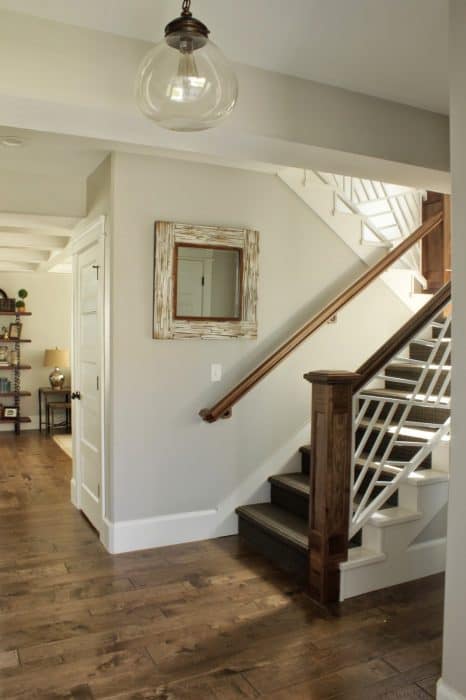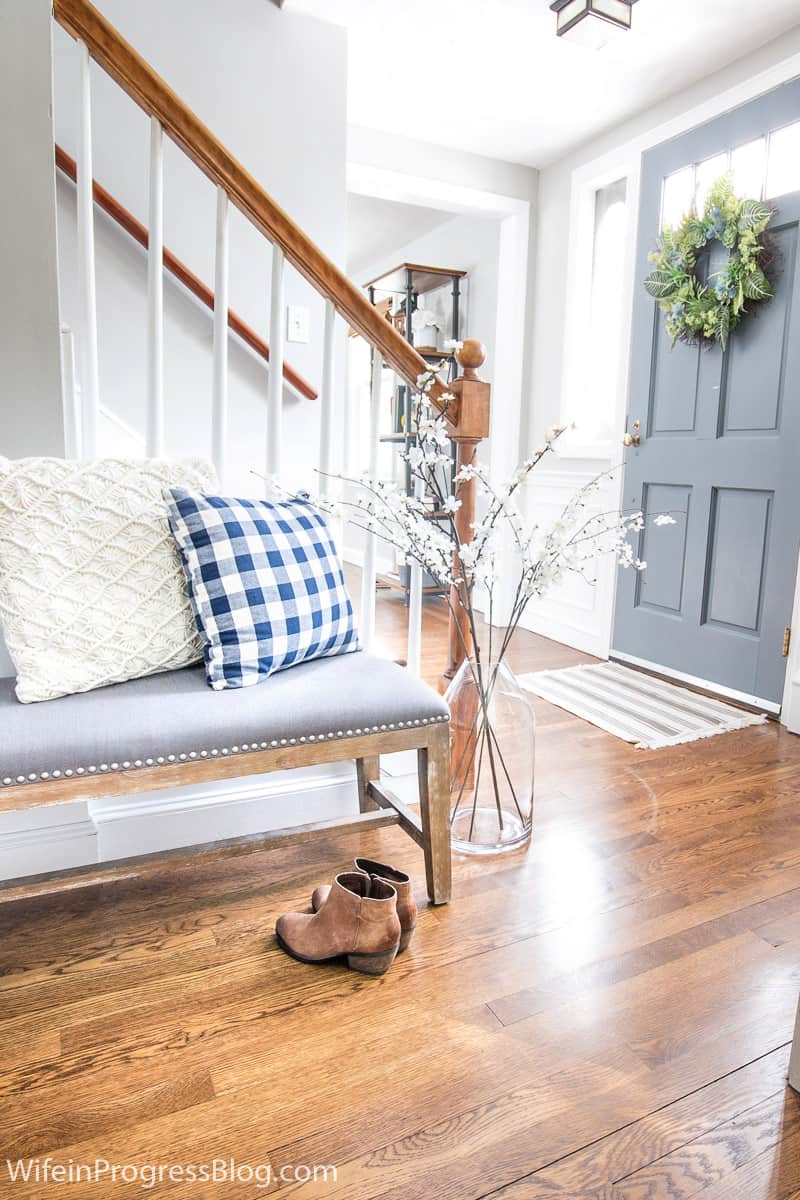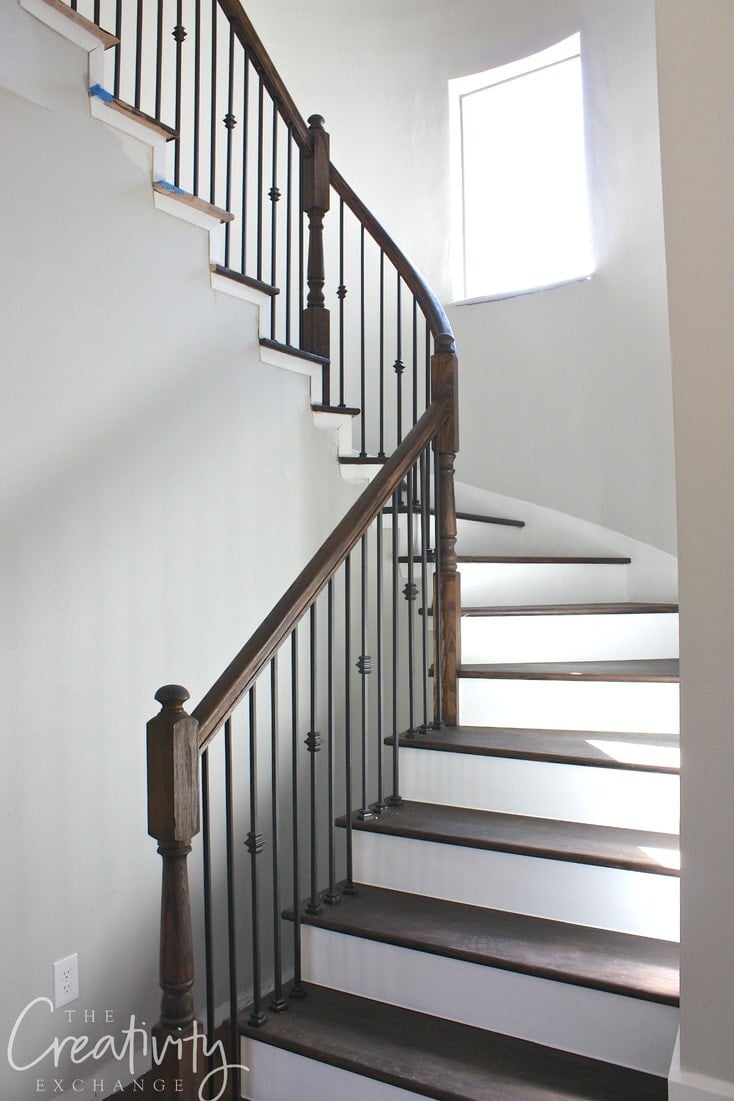 Final Thoughts
Recently, I've had a couple of readers tell me that in their homes, Repose Gray looks blue. While in the majority of spaces this won't happen, if you have cold northern light it may look the tiniest bit purple or green at certain times of the day. I recommend using a very large swatch of the color before committing to ANY paint color to ensure that it works in your particular lighting situation.
Still undecided?
Watch this video from Jacob Owens Designs. He does a great job sharing lots of helpful information about Repose Gray that you need to know before deciding if it's the perfect paint color for you.
Have I persuaded you to choose Repose Gray for an upcoming paint job? Or have you already used it in your home? If you think Repose Gray is too light for you, read about Mindful Gray which is a shade darker.
If you're looking for an even lighter gray that has just a hint of warmth like Repose Gray, then Paper White is also a great choice that I'm currently loving!
Don't forget - no matter what you've read or photos you've seen online, it's really important to sample paint colors in your home before committing!
Samplize provides real paint samples that are easy to move around your home, and cheaper than buying a gazillion paint pots! It's the only way I buy paint samples.
Try Samplize For Yourself Here
Other Posts You May Like