This post may contain affiliate links | For further details, please read our privacy policy
White cabinets are the easiest cabinet color to work with when choosing a wall color because it's such a blank canvas color, and brings a classic look to any kitchen.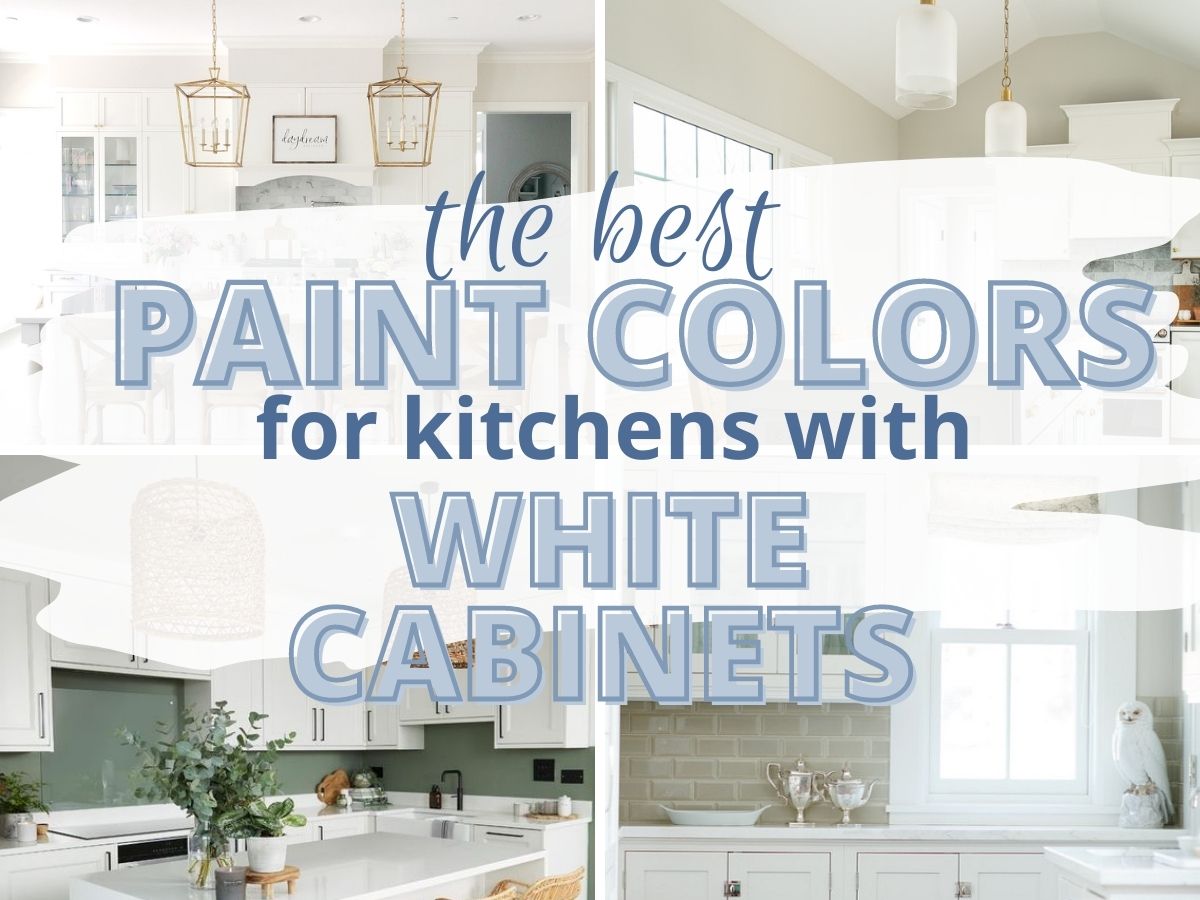 Determine The Undertone of Your White Cabinets
Before you even think of choosing a paint color for your kitchen walls, it's important to determine whether your kitchen cabinet color is a warm, neutral or cool white.
If your cabinets are a cool white, you can opt for a cooler wall color or something slightly warmer to offset some of the coldness in the cabinets.
If your cabinets are a warm white, you'll want to stay clear of cool toned colors that may bring out the yellow undertones in your cabinets.
If your cabinets are a neutral white, like Benjamin Moore Chantilly Lace, or a white with both warm and slightly gray undertones, you can pretty much pick any color for the walls and not have to worry about how it will work alongside your cabinets.
Consider the Direction the Windows Face and the Amount of Natural Light
When choosing a paint color for your kitchen walls, it's important to determine the exposure of the room and how much light it gets.
If your kitchen is north facing, a color such as a cool white will make your walls look a bit gray and dull. In this case, you'll want to pick a color with some warmth to offset the dullness that comes with north-facing light.
If your kitchen gets lots of warm southern light all day long, you can get away with a cooler color because the warm light and bright sunshine will diminish the coolness from that color. Conversely, if you choose an already warm paint color, the southern exposure will up the warmth in that color.
East and west facing kitchens (my kitchen has both – morning light from the east and afternoon light from the west) will benefit from a slightly warm to warm paint color the most, as the cooler toned paint colors can look blue or cold when the sun is not shining directly into the room.
With that being said, let's delve into some of the most popular paint colors to paint your kitchen walls if you have white cabinets.
Warm Gray and Greige
Shades of gray and greige (gray + beige) continue to be popular choices for kitchens with white cabinets because they are neutral colors that don't compete for attention.
Whether you have warm or cool toned white cabinets, a warmer gray in particular is an excellent choice.
If like me, you chose white cabinets and countertops for your kitchen – and you don't want that light and bright look to look cold and stark – adding in warmth is very important.
For this reason, I painted my kitchen walls Sherwin Williams Repose Gray, lightened by 50%. While I love the color at full strength, the lightened version of it lifts the light in my kitchen making it feel light and airy, even during the darkest part of the day when I have no direct sunlight.
In my personal opinion, I would say it's hands-down one of the best colors for anywhere in your home.
If your kitchen is open to another space, such as your living room or dining room, don't forget to continue the same paint color throughout. It's important for paint colors to flow from one space to another when you have an open plan layout, or your home will not appear cohesive .
Warm Shades of Gray and Greige to Consider
The warm tones inherent in greige paint colors serve as the perfect color to add life to a white kitchen. There are many different shades of to choose from, but these are some of the most popular to narrow down the perfect choice for your kitchen.
Sherwin Williams Repose Gray
Repose gray is my go-to paint color for every room in the house! If you're looking for a whole house paint color, this is one of the most popular choices.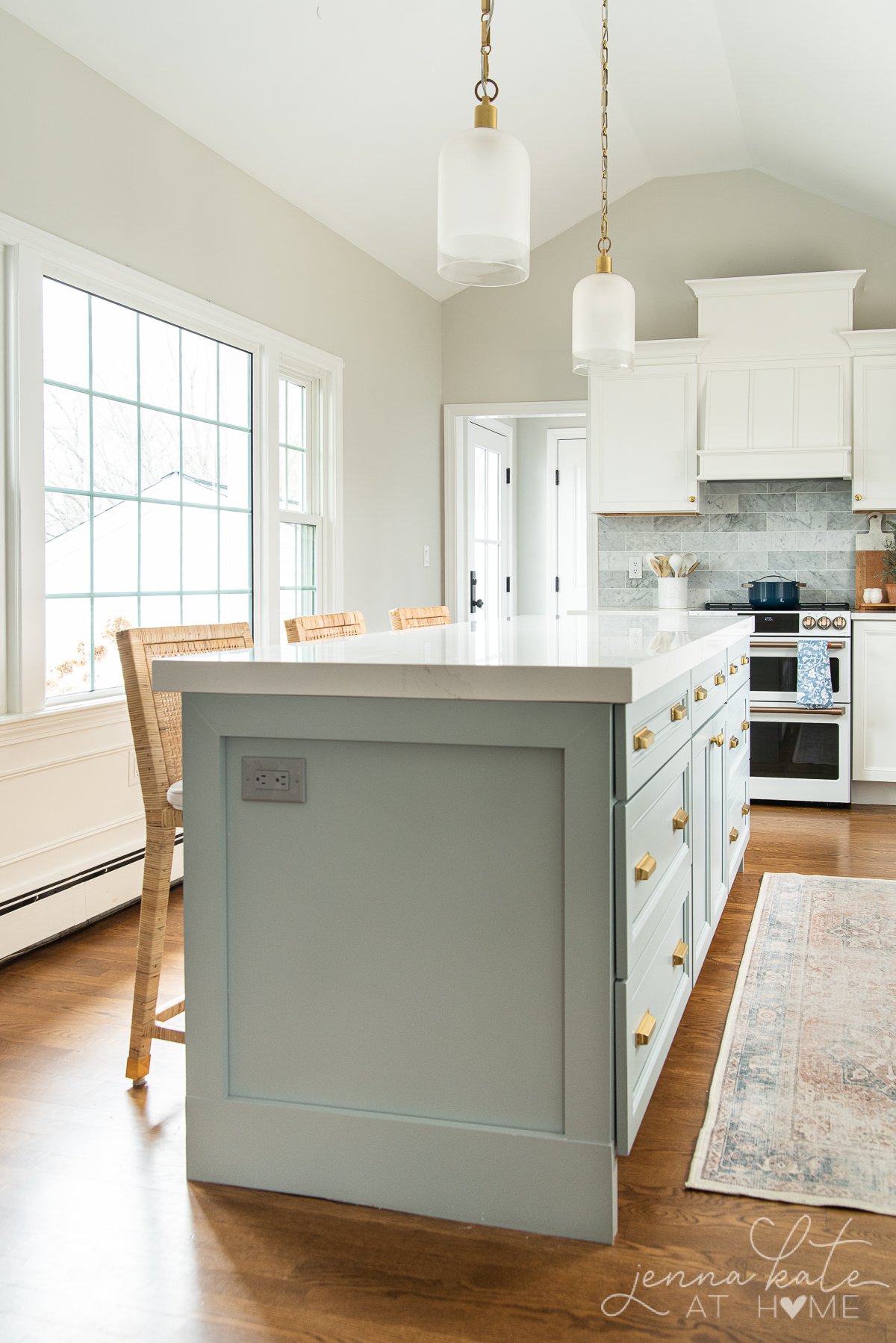 I originally painted the majority of my main floor Repose Gray, then repainted it a few years later but just lightened the color by 50%.
As much as I loved it at full strength, half strength is legitimately the most perfect color for a kitchen with white cabinets, or any room in your home.
Sherwin Williams Crushed Ice
If you are looking for a gray with a tiny bit more warmth to it – Sherwin Williams Crushed Ice is an excellent choice.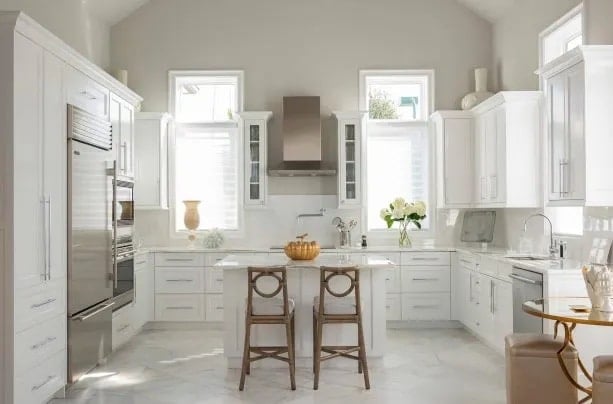 It is a beautiful light gray with a taupe undertone which looks amazing with the warm toned kitchen cabinets and some natural accents.
For reference, it's a bit more saturated in color than Repose Gray while being a bit lighter.
I actually tested it in my kitchen while we were remodeling but it didn't work well in the dining area that doesn't get a lot of natural light. If you do have an abundance of light, you'll love it.
Sherwin Williams Agreeable Gray
Agreeable Gray by Sherwin Williams is another great choice to pair with a warm toned white kitchen cabinet. It is quite similar to Repose Gray however leans slightly more warm so may be more suited to a room that needs an injection of warmth such as a north-facing kitchen.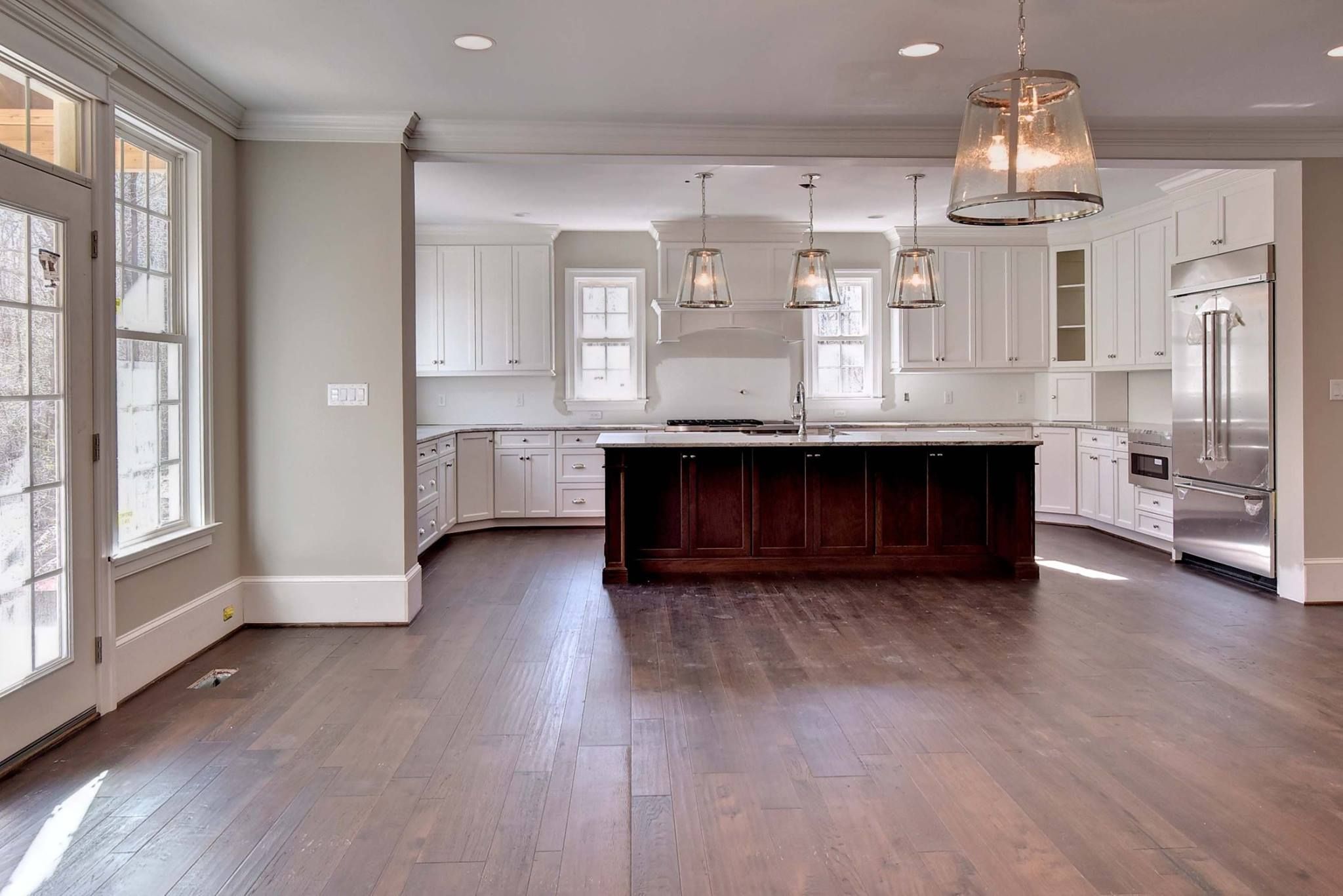 Benjamin Moore Classic Gray
Classic Gray was actually my first choice for our kitchen remodel, and I changed my mind at the last second.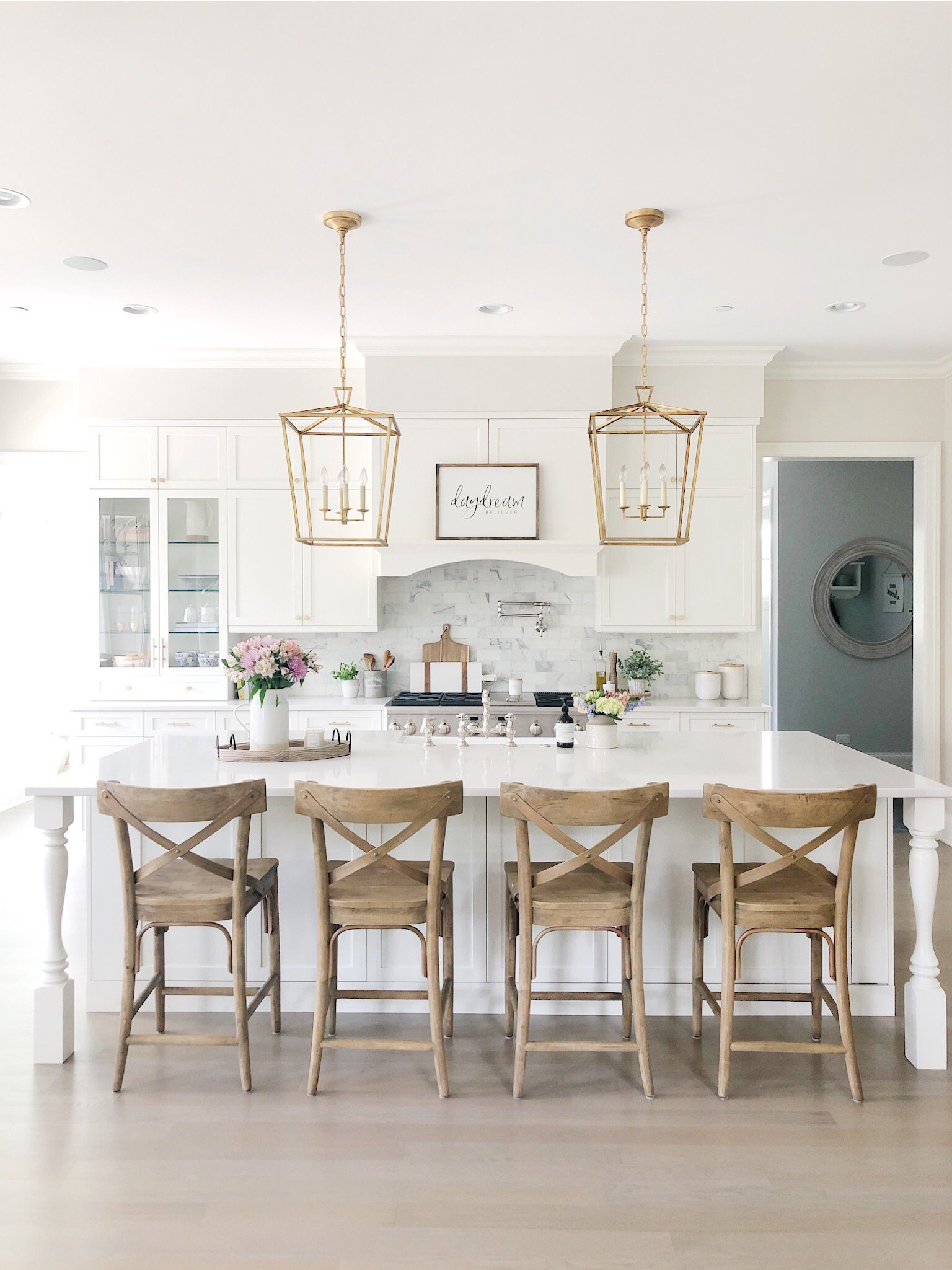 It's considerably warmer than my favorite Repose Gray, but it's another really really great choice that looks amazing against white kitchen cabinets.
Benjamin Moore Worldly Gray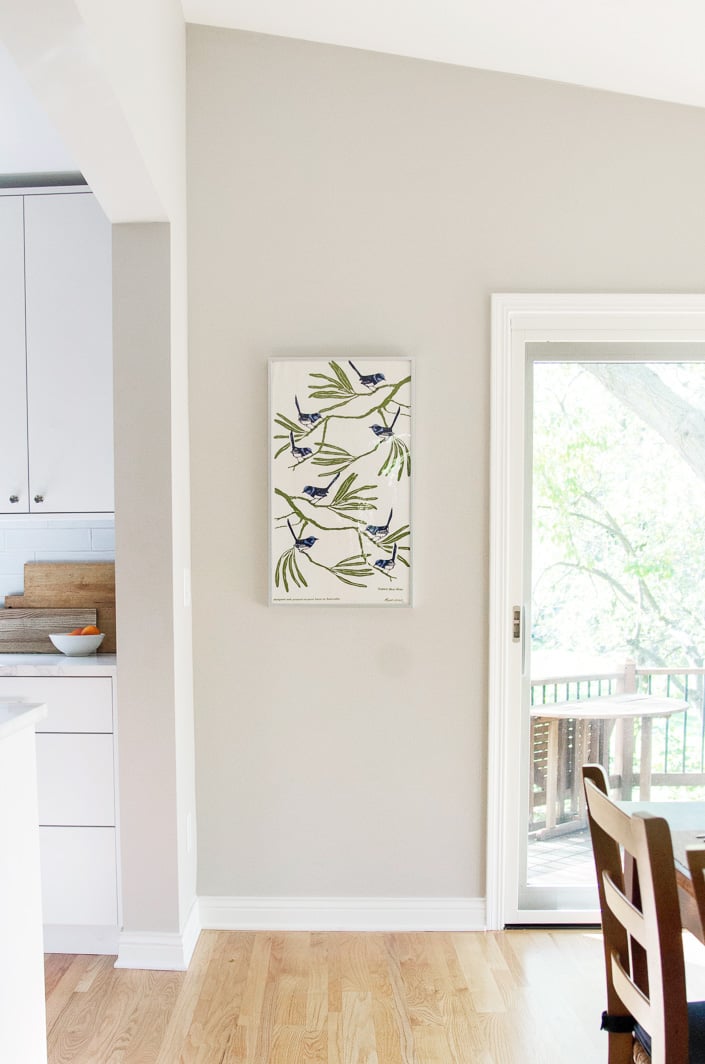 I would describe BM Worldly Gray as being a little bit darker than SW Agreeable Gray. It leans a little more into its green undertones, and in a well lit space, the slight purple undertone may become more apparent.
Don't let that scare you, though! It's a beautiful light and bright warm gray that adds the right amount of contrast between walls and white kitchen cabinets.
Benjamin Moore Edgecomb Gray
Benjamin Moore's Edgecomb Gray is a really popular choice for a paint color that leans more beige than the rest. It just have just enough gray to stop it being overly warm, but it's definitely warmer than the other colors we have discussed.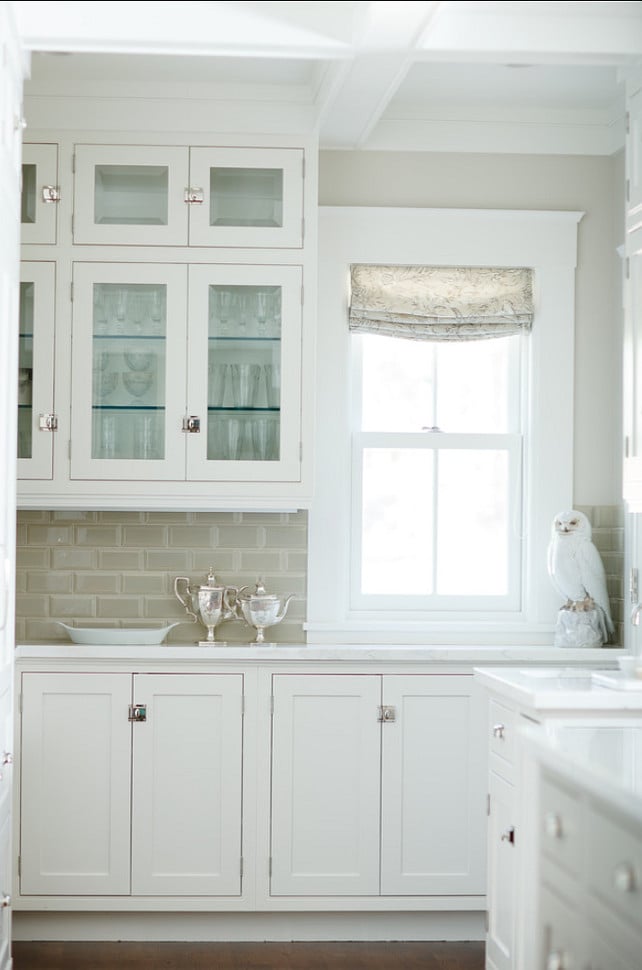 It works really well with warmer whites, cooler whites as well as wood tones.
Cool Toned Grays
If you are already working with a cool-toned white cabinet, or have lots of warm light pouring in that can handle cool-toned grays, then these are some great options for your walls:
Sherwin Williams Passive
If you're looking for a cool, modern gray then Sherwin Williams Passive is a long time favorite of designers.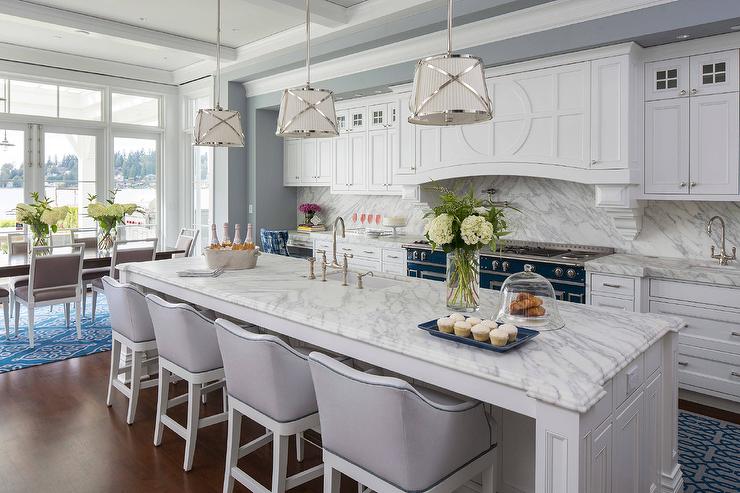 A cool toned gray like Passive looks amazing when paired with cooler whites and marble, lots of polished chrome, as well as other cooler colors like bright blue.
Sherwin Williams Light French Gray
In a well lit kitchen with an abundance of natural light, many will tell you that Sherwin Williams Light French Gray is the perfect medium neutral gray.
However (and I know from experience in my own home), that if you get northern light or your room is poorly lit, it can look too dark and a smidge purple. Lighting with everything with this paint color!
Benjamin Moore Gray Owl
I've found that Benjamin Moore Gray Owl can be a divisive color in the design community. Like so many gray paint colors, it can change depending on the light.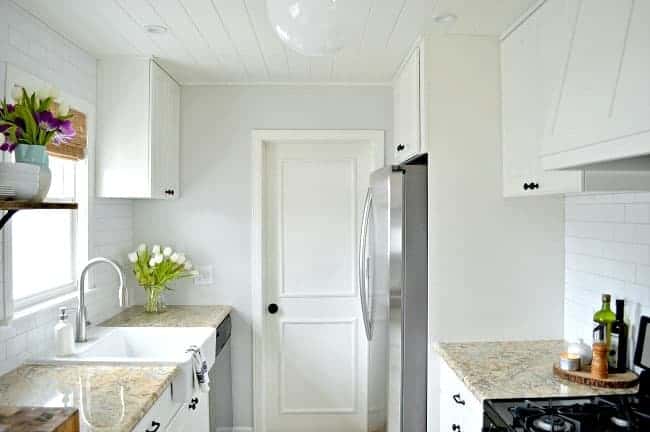 In the right conditions, it's the perfect light gray. In the wrong room, it can look green, blue or even purple!
White Paint Colors That Work With White Cabinets
White on white is also a stunning choice if you are looking for a beautiful bright and airy kitchen. Sticking with white is also the easiest way to make a small kitchen appear larger.
While white walls may not be the most practical especially for those of us with young families, you cannot deny the beauty of a simple, clean look.
To make the most of white on white, choose the same shade for cabinets and walls, then break it up and provide contrast by choosing brass, black elements or gold elements, depending on your preference.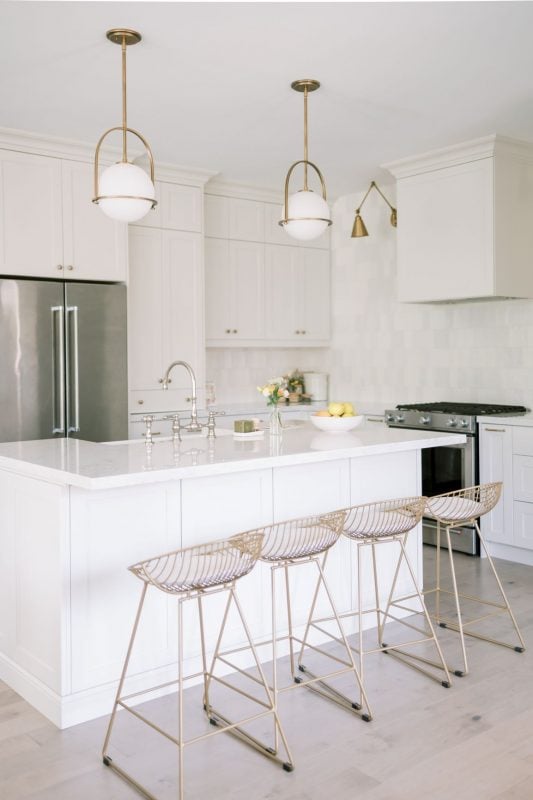 Choosing a white paint color that works with and not against your white cabinets can be tricky. For this reason, it's really important that you determine what color your cabinets are painted (if possible) or figure out whether they are a cool, warm or neutral white.
The easiest way to figure out the undertone is to take a piece of bright white print paper. Put it up against the white cabinet and see how the color compares.
If your cabinets suddenly look yellow next to the white paper, they are a warm white. If they look bluer, or about the same as the white paper, they are a cool tone. If your cabinets just look fractionally warmer, but not yellow at all, then they are probably a pretty neutral white
If you already know what color your cabinets were painted, and you want to paint your walls white, it's best to use that same color. That way you don't have to worry about the wall color making your white cabinets look yellow.
However, if your cabinets are a really bright white or a cooler white and you want to soften the look, you could definitely go for a significantly warmer white on your walls and not worry about how it would affect the cabinets.
For instance, if your cabinets are painted Sherwin Williams Extra White or Benjamin Moore Chantilly Lace, you could paint your walls White Dove or Alabaster which will bring out the creaminess on the walls, but keep your cabinets looking bright white.
Blue and Green Paint Colors
While not as universally popular for kitchens as they are as bathroom paint colors, blue and green can look really nice when paired with white cabinets.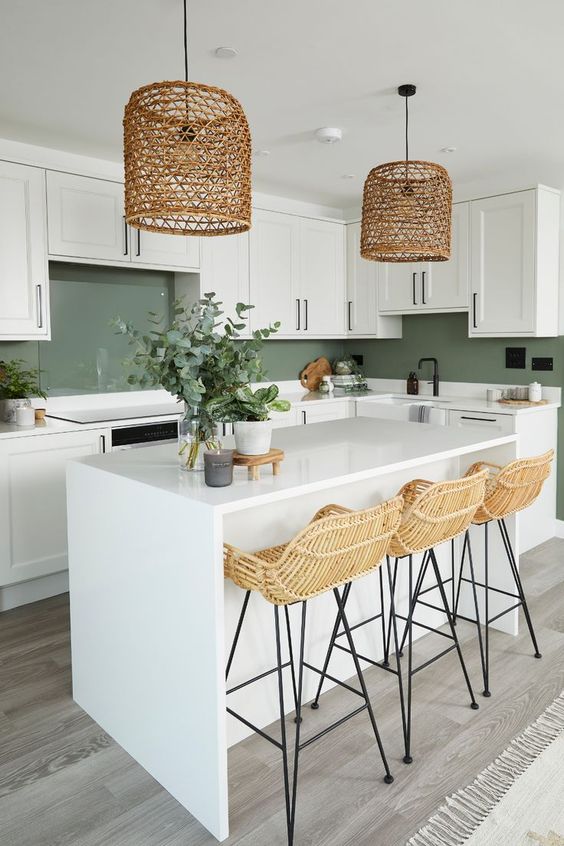 With neutral white cabinets you are very lucky that you can really choose any wall color to compliment your kitchen. The world is really your oyster!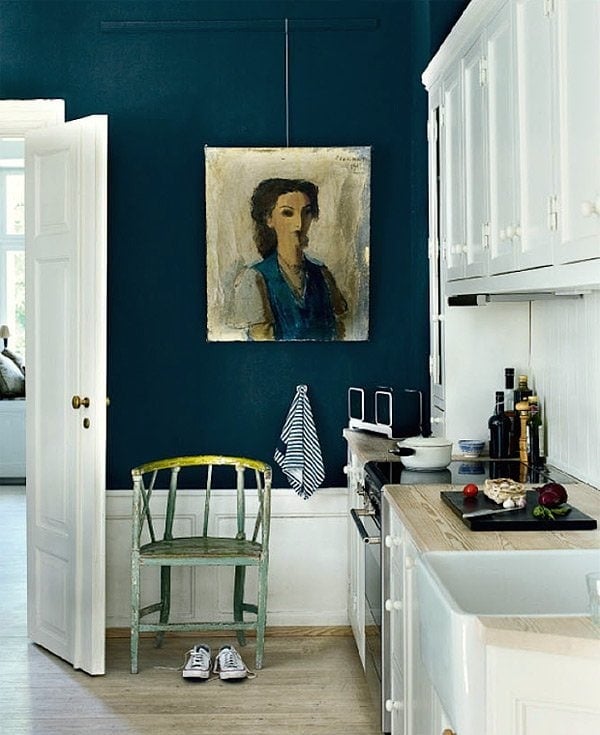 Bold colors such as blue/greens are a wonderful way of adding a trendy design aesthetic to your kitchen and look wonderful against white.
Green is especially trendy in recent years and really lends its hand to bringing the outside garden into your space.
Sherwin Williams Rock Garden or Ripe Olive are two beautiful choices if you are looking to emulate this earthy green aesthetic while Sherwin Williams Rainstorm is a gorgeous dark teal which looks stunning against white cabinets for a real statement look.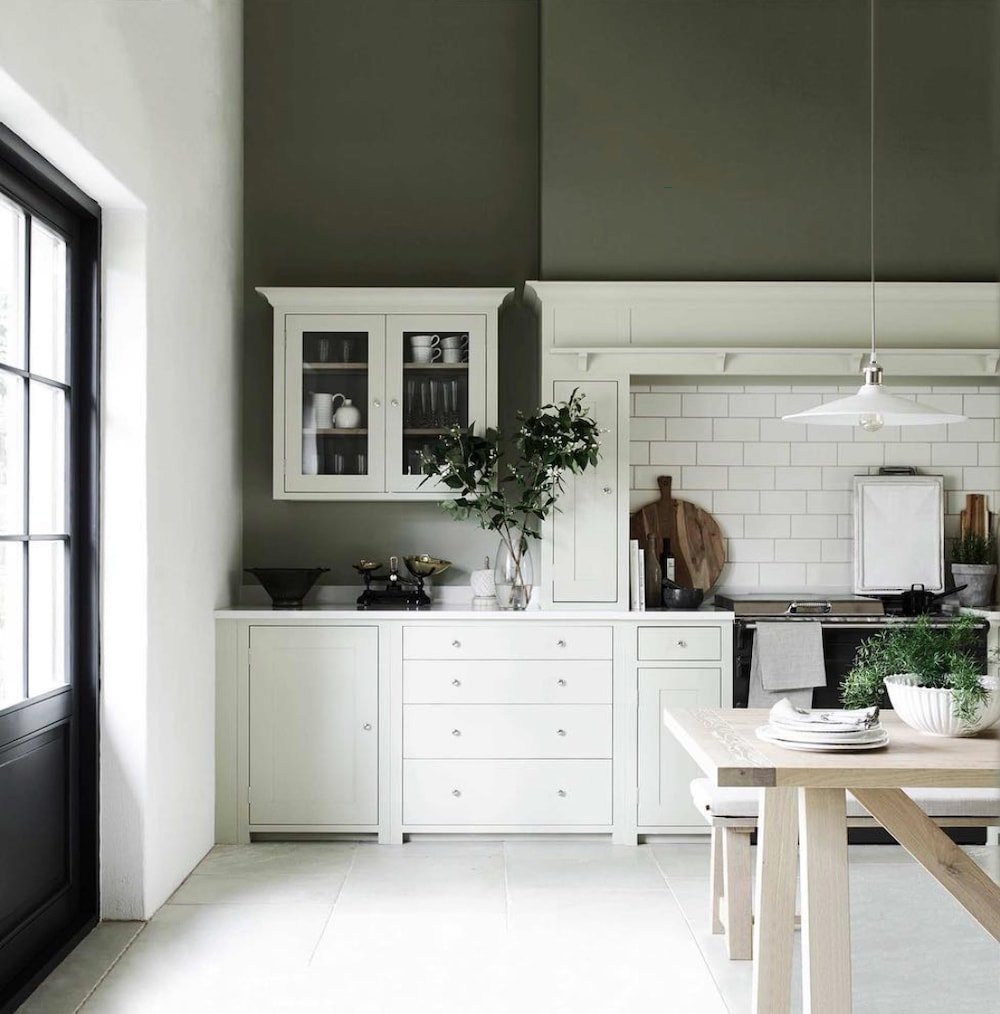 Adding Striking Contrast
Darker paint colors look stunning and provide a wonderful contrast against a cool white kitchen cabinet, and really create a modern look.
This is probably not a fantastic choice for a smaller kitchen but if you have adequate space and plenty of natural and artificial lighting – this can be a really trendy and eye catching look for your space.
Cool white toned cabinets tend to give off coastal vibes so it would only make sense that dark blues and navy would look amazing as a bold wall color to compliment this.
While I'm not sure of the exact shade in the photo below, Sherwin Williams Naval or Hale Navy would be two great paint choices to emulate a look like this.
The addition of dark wood tones really helps to balance out the cooler tones of the cabinets and blue walls, too.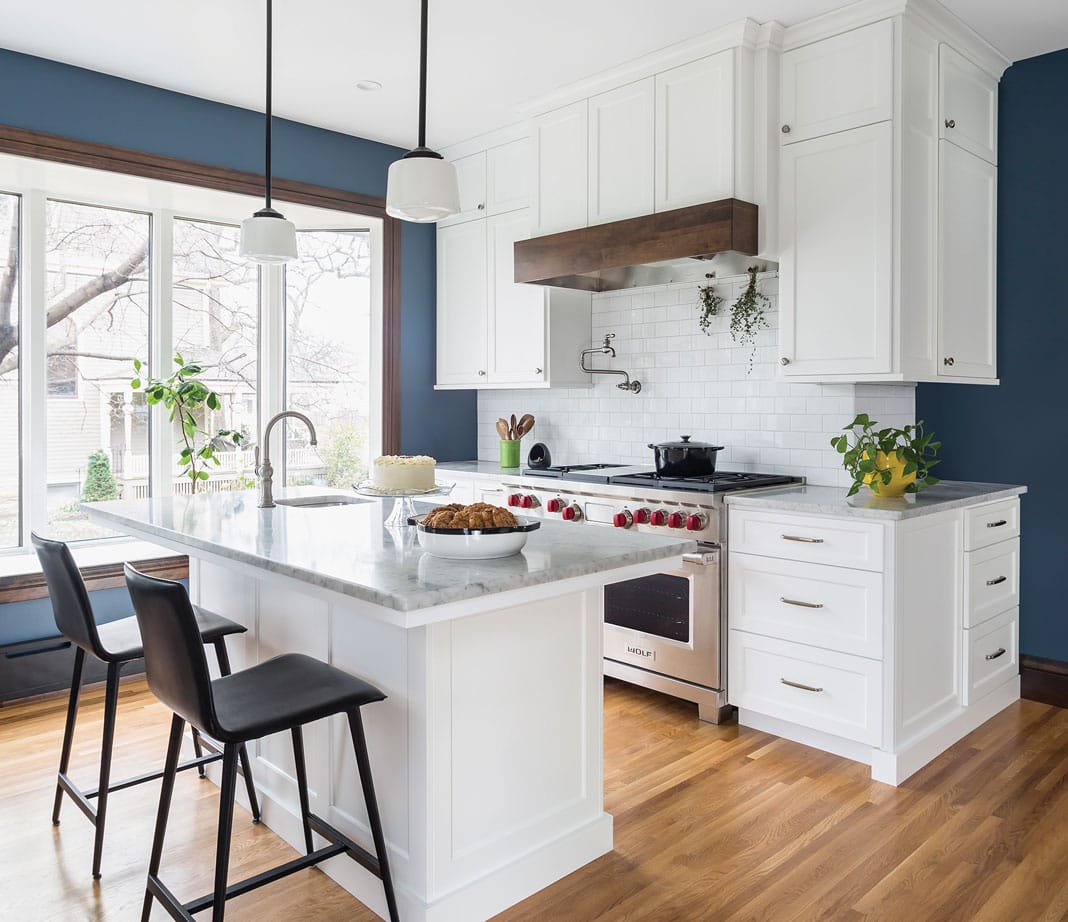 A Word on Trim
To really ensure the white cabinet aesthetic works well you're going to want to make sure your trim is the exact same paint color as your cabinet paint color.
This will ensure you create a cohesive look and will make sure there isn't too much contrast and confusion to the eye. Sometimes the devil really is in the detail.
If your cabinets are painted in a satin finish, you'll want to keep the trim similar – so either a satin finish or a semi-gloss finish will work.
Final Thoughts
Choosing the right wall paint color to match your white cabinetry shouldn't be an overwhelming process.
Whether you are on the hunt for the best white paint color to match your cabinets, the perfect warm color to inject life into the space, or a cool toned gray that reinforces the rest of your home's color palette, be sure to test the paint samples first!
The best way to see if a color truly works in your kitchen is through COMPARISON! Place the paint sample next to the white cabinets so you can see how the look together.
Watch how the color changes in the morning, afternoon and at night with artificial light. And move it around the room and see how it looks, too.
Don't Forget To Always Use Real Paint Samples!
Don't forget – no matter what you've read or photos you've seen online, it's really important to sample paint colors in your home before committing!
Samplize provides real paint samples that are easy to move around your home, and cheaper than buying a gazillion paint pots! It's the only way I buy paint samples.
Use code JENNAK10 at checkout and get 10% off your order
Coupon entitles all customers to 10% off the entire order with no minimum purchase requirement. This is a one-time use coupon and it cannot be combined with other discounts.